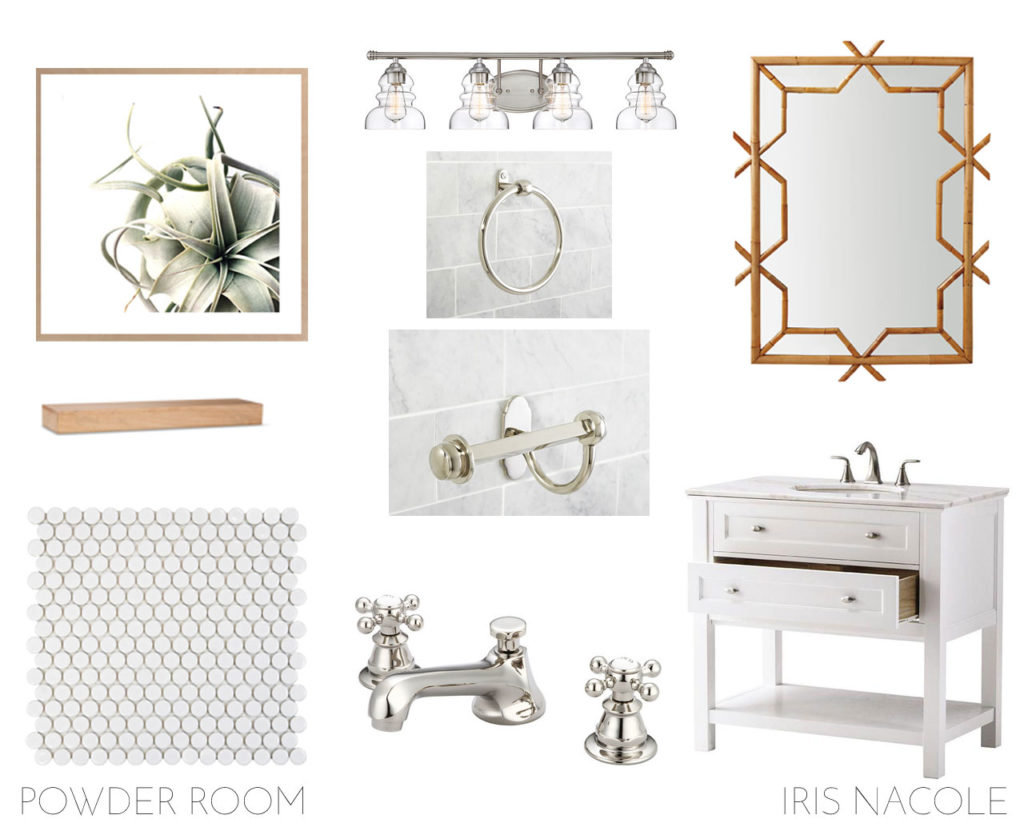 We're making over our powder room! Finally! The vanity has been sitting in my house, outside of the powder room, for almost a year now, and I'm determined that it be done before we hit that year mark. That's one thing about buying during a good sale. Sometimes you just have to hold on to the product until you have time to get the renovation going. In our case, that seems to have been stretched to the limit, but I'm happy with my savings so I wont complain.
I wanted a neutral beachy vibe to continue with the rest of my home renovations, and after a long time contemplating the different elements for the space I've settled in this classic design.
We will have a few different obstacles to jump before getting everything in. I'll list our project plans below, and as I go along with this renovation I'll scratch them off the list
Purchase Supplies: Tile, Vanity, Lighting, Hardware, Faucet, Decor, Mirror
Demo
Lay Tile
Move Plumbing
Move Electrical
Install Vanity
Paint
Style
As you can see, we have a lot on our list to do, but I'm hoping to find a handy man that can do the demo, tile, plumbing and electrical, so maybe it'll all go faster than expected. If not, we will be doing some DIY as far as the plumbing and tile. I'm not holding onto any hope of this being a weekend makeover though, because we're notoriously slow when it comes to DIY projects these days. Wish us luck getting this going soon! I'll be sure to update you all when we start, and of course, I'll be sharing the progress here on the blog.
If you'd like a peek at how the room looks now, here's a link to the last makeover of the space as shown in our 2016 Home Tour post. I can't believe how much the house has changed since then!
Talk to y'all soon!
-Iris