For a design lover, there's nothing better than watching a space take shape!  Follow along with us on a six week journey to make our master bedroom the bedroom of our dreams!
Hey guys!  It's that time again!  The One Room Challenge is back for another season of amazing room makeovers, hosted bi-annually by Linda of Calling it Home, as well as Media Partner House Beautiful.  Every Wednesday for six weeks, "Featured Designers" share their progress of a room makeover.  Yep, SIX WEEKS to make over an entire space!  Luckily our wonderful hosts allow for other designers/ design bloggers to share their progress of a makeover they are working on too, as "Guest Participants".  That's what I am.  We will be linking up to the Calling it Home blog each Thursday.  Y'all, that's a ton of decorating and renovating inspiration at your fingertips!  I encourage you to take advantage of it!  For the sake of keeping with my blog schedule, my posts will go live, but I invite you to check in with us on Thursdays as well to link up to see all of the progress made by the Guest Participants.


Those of you that have been following along for a while know that I've been addicted to this challenge, and have participated by linking up as a Guest Participant for the last five challenges.  For those of you new to my blog, welcome, here are the last three makeovers for reference.  You can find all of the makeover posts by following this link.
So yep, we're making over our master bedroom for this challenge!  We've never really given this space the attention it deserves, though we have tried to update things over the years, we have always found ourselves with an incomplete design in the space.  The One Room Challenge really lights a fire under your butt to get things done, so it was a no-brainer that we would use it as motivation to finally complete this space once and for all.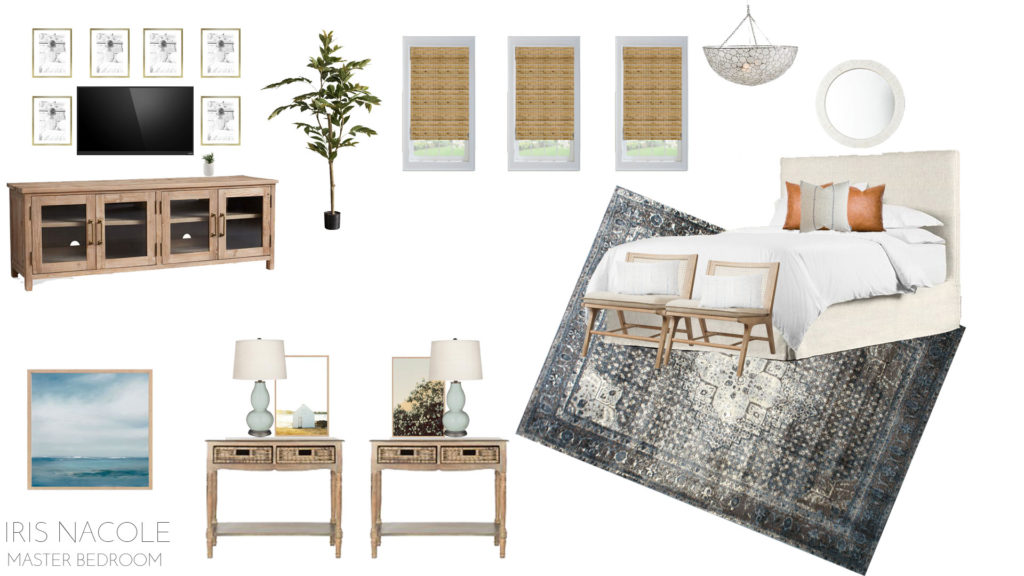 My roots are firmly planted in a classic home style, but my heart loves so many styles of design, as you can probably see from my past ORC makeovers.  My challenge is always to combine those styles into a cohesive design.  Recently I've discovered that my heart is craving a "California Casual" design style.  Like its name, it's casual and not fussy, which is perfect for someone like me who wants their bedroom to be a retreat.  Basically, think the most effortlessly pulled-together eclectic looking room.
To be completely transparent, I have been collecting pieces for a while now for the makeover of this space.  Like I said above, it has been something we always intended on doing, just never got around to doing.  That makes this challenge a bit less stressful, and I couldn't be happier about it!  I've been through a lot this past summer, losing my great-grandpa (who raised me) and his daughter, my grandma, within a month of eachother.  It's all been a bit surreal honestly, and I think keeping myself busy with completing home makeovers has been helping me cope.  Plus, it's fall, and I've got Halloween decorating to do, birthday party planning for my son, and mine and my husband's 20 year "dating" anniversary to celebrate, so I've got my plate full!  The projected ease of this makeover makes my heart giddy, but I know how these challenges go, and I'm sure we are going to run into some sort of roadblock.  Plus, I still have some decor decisions that need to be made, and until I get the basics laid out, I'm not really willing to commit to anything.  After all, I have to spend a good portion of my life in this space, and with our past as an indication of how easily we will redecorate this space in the future, I'm going to be living with this stuff for quite some time!
Well y'all, I'm going to cut it short and let ya'll go, but know that I have a lot of great ideas for this space that I'm not sharing with y'all yet!  Stay tuned for next week's post, where I talk about architectural design options that I'm considering for this space, as well as paint, and any updates to our progress that we've made in the week.
Thanks for joining for this challenge!
Until next week, friends!
-Iris
LIKE THIS DESIGN?  THANKS!  HELP US SHARE IT BY SAVING IT TO PINTEREST!