Decorating with faux pumpkins offers many perks, especially when you consider using them outdoors!
For one, those of you like me that love decorating for fall the moment the clock ticks over to September 1st, don't have to wait for stores to start stocking real pumpkins!  That's a huge perk, don't you think?  Two, they last!  Too many times, I have purchased real pumpkins to display on my porch, and by the time Thanksgiving rolls around they are a soggy, rotting mess.  Maybe it has to do with the heat here in Texas during the fall, but either way, it can feel like a letdown when your guests come over, only to be greeted by a wilting display on your front porch.  Three, they can be used year after year, so they will save you money.  That may be one of the biggest perks for some people, and most certainly doesn't hurt anyone.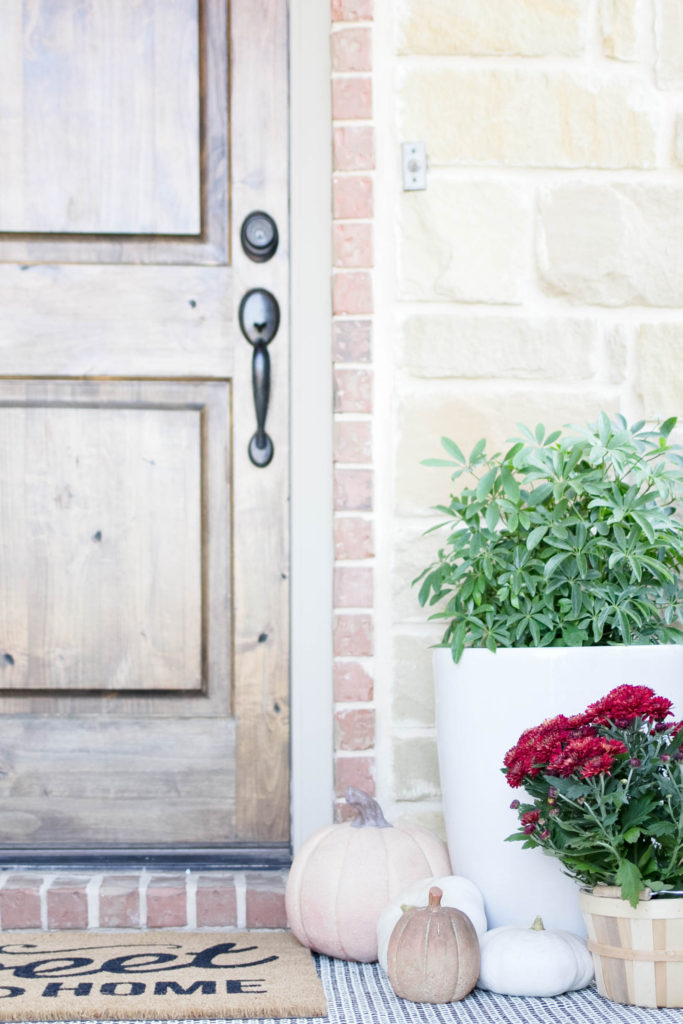 When I started out to decorate our porch this past week, I honestly thought about the faux Smith & Hawken pumpkins I found at Target last year as being the easiest choice to put out.  I had one problem though, I had only purchased two!  Ah, what was wrong with me?  I hoped Target would offer them again this year, but I hadn't seen them while browsing that section, so I knew I was out of luck, at least for now.  Some of you may remember them.  They came in two sizes, are terracotta, and are stinking adorable in my opinion!  You can see the smaller one in the picture above.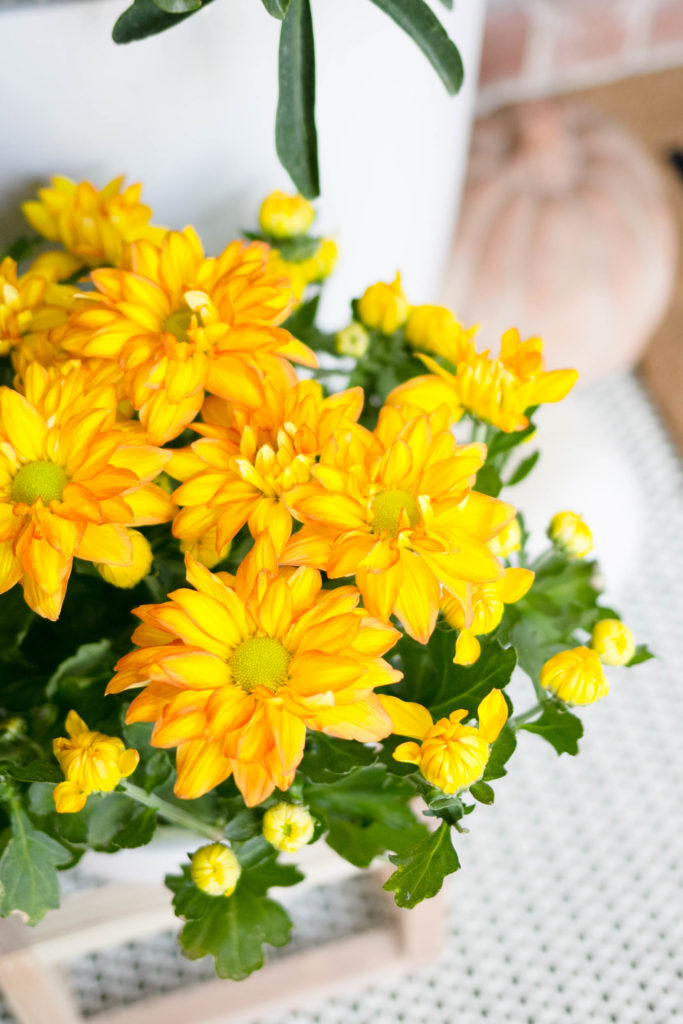 Even though the idea of minimalist decorating has been pulling at my heart-strings recently, I felt like using just the two little pumpkins would be a little too minimalistic for my taste, so I set out to find some other realistic-faux options.  Of course the quickest option for me was to hit up my local HomeGoods and Marshall's, and guess what, I found exactly what I was looking for!  Some amazingly realistic small white pumpkins which quickly found their way into my basket before my fellow HomeGoods shoppers could get them, and one large orange one to add to the mix.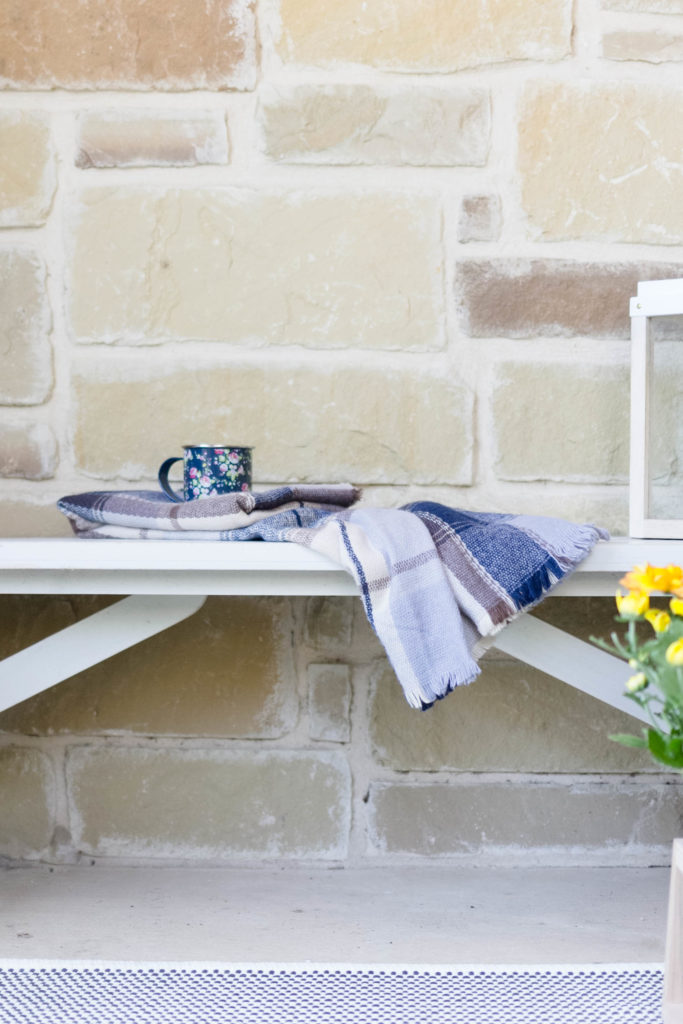 I know not everyone has the time nor the desire to search their city for faux pumpkins, so I'm linking up some of my favorite online shopping choices for you to take advantage of.  Admittedly, some can be a bit pricey, but when you consider purchasing real pumpkins year after year, they seem worth the investment.  (Affiliate links included.)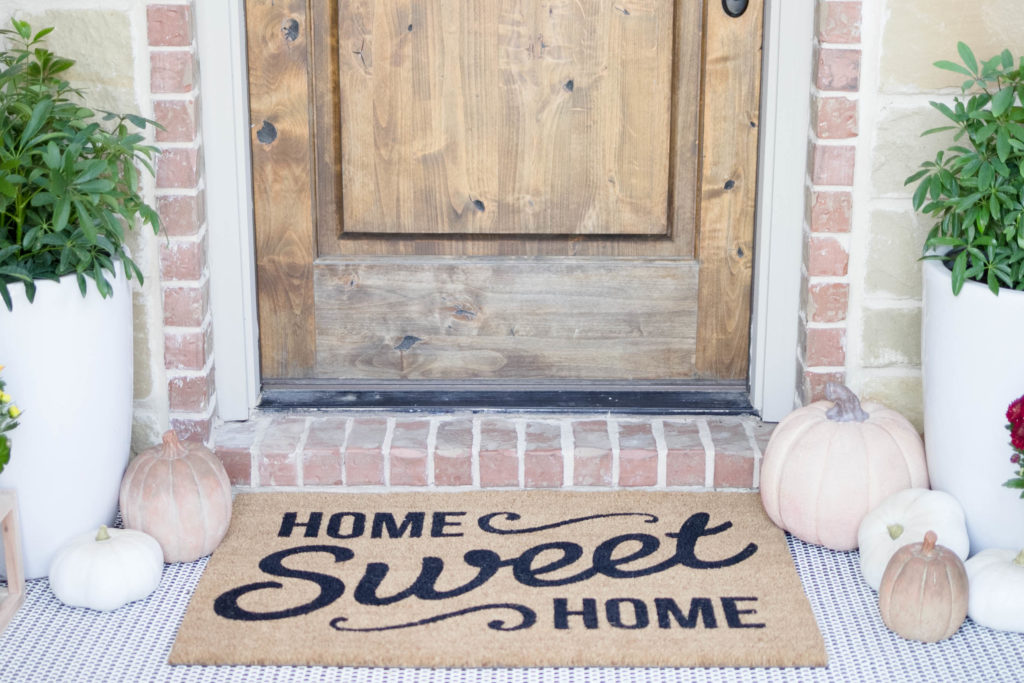 Once I got my pumpkin situation under control, I moved on to style the rest of the space.  Actually, I almost called it a day with the combination of white planters mixed with the faux pumpkins, because it was very simple and pretty that way, but I like to be a bit festive for the sake of the blog, so I searched for some more details to compliment, and not distract from the simplicity of the overall look.
Strolling through my local Target, I found the prettiest little planter on sale.  Stoneware.  Wood.  Two of my favorite elements right now, combined in one perfect little planter!  I popped a pretty yellow mum inside, set it by the larger white planter and that was it!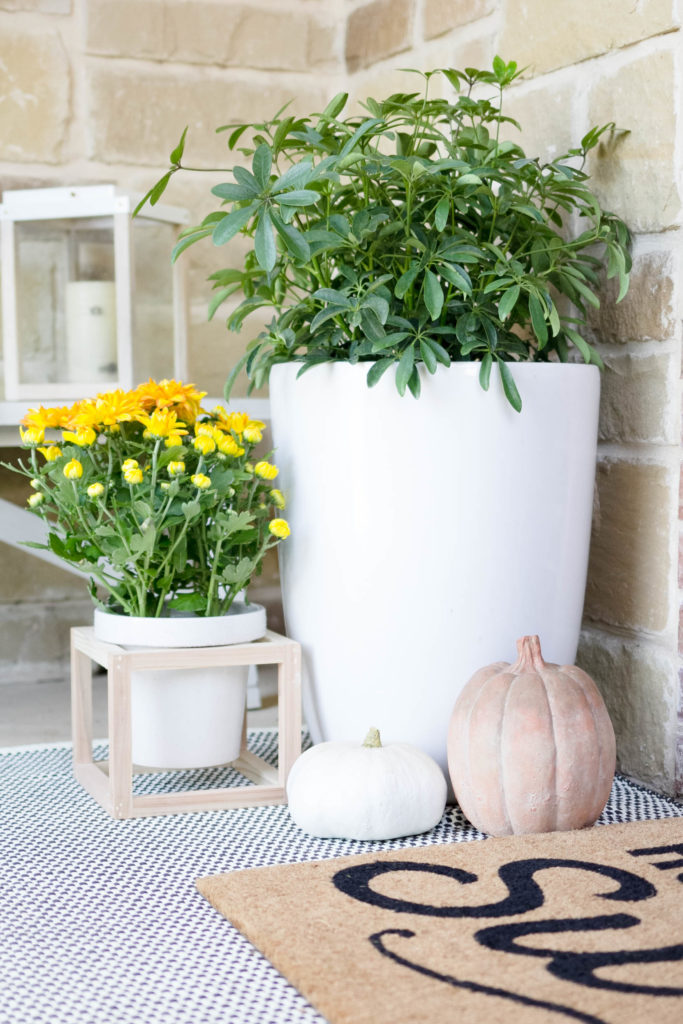 To even the space out, I used a small harvest basket I had on hand to display another mum on the opposite side.  I love the pops of color, but I think if I come across some white mums in the near future, I'm going to replace these with them.  I think it would look so elegant!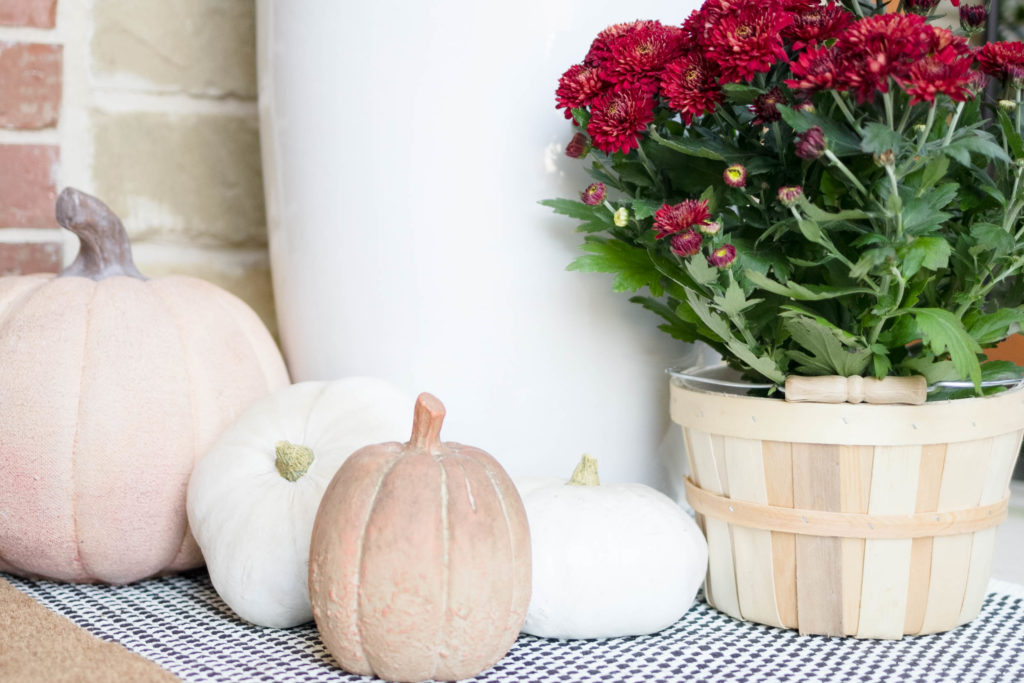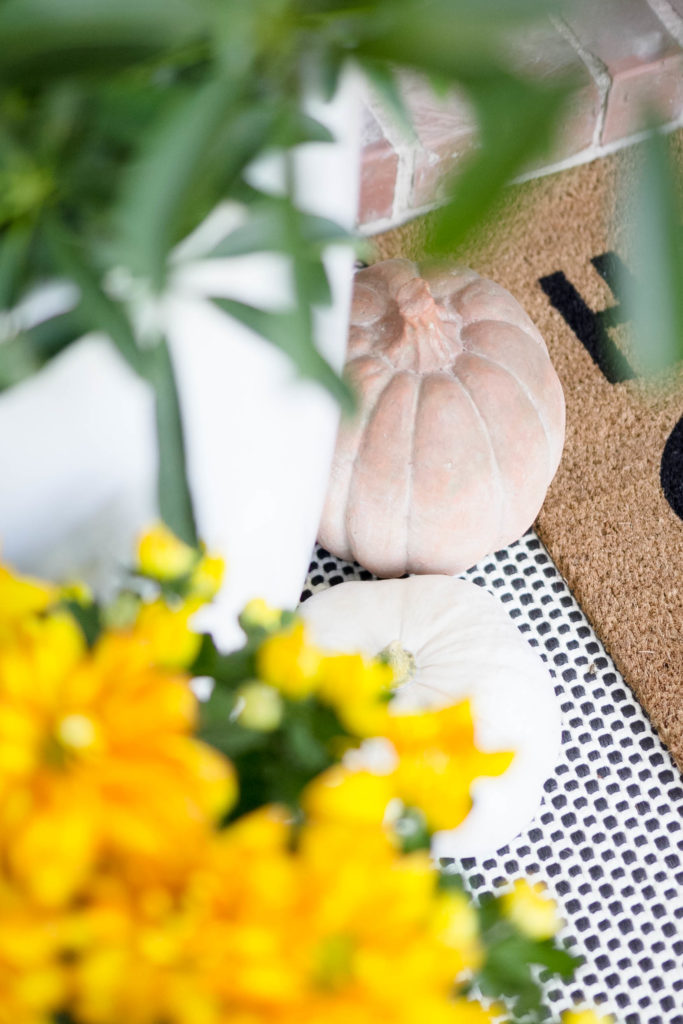 I don't want to forget a few of the other details that make up this space.  The faux fern wreath that I shared with y'all a few weeks ago is hanging on the door, and it looks exactly as I had hoped it would!
Also, the layering of rugs outdoors is quickly becoming a favorite decorating trick of mine.  You see, the concrete slab I call a porch has a few cracks that have been plaguing me since we built.  Instead of committing to tiling the space, and giving myself another project to take on I decided to put down a 5×7 outdoor rug, and layered a welcome mat on top of it.  Now the space is as pretty, cozy and inviting as I always hoped it would be.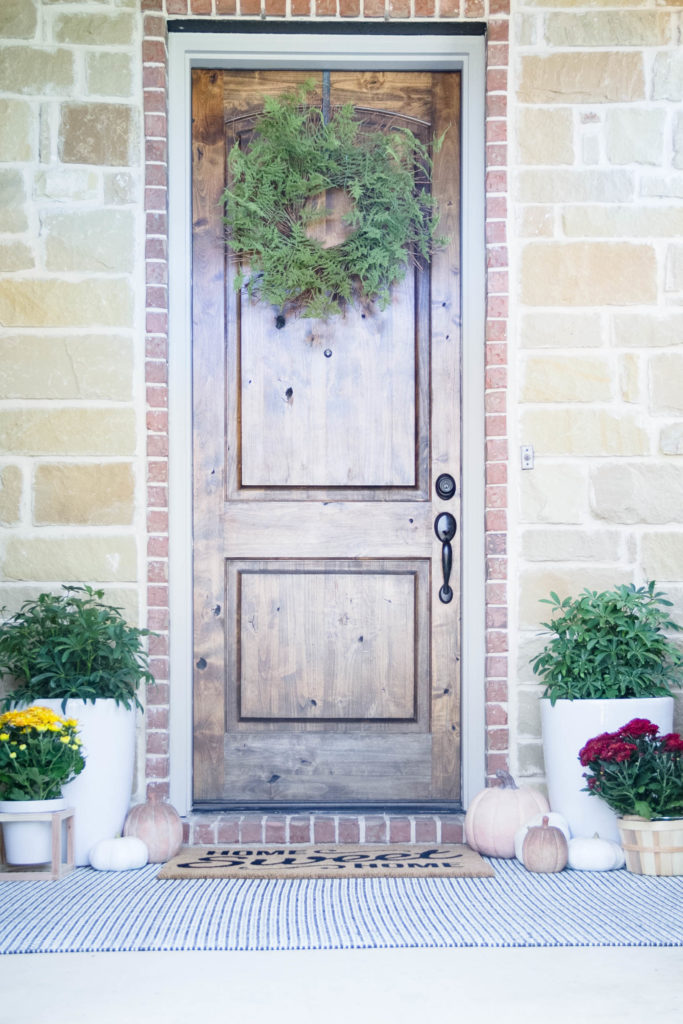 Well friends, I hope this post gives you some ideas to incorporate in your own outdoor fall porch decor!  I can't wait to see what you all are going to do!
-Iris
Get the look! (Affiliate links included.)
See below for even more fall inspiration!