Hey there, friends!  We've been gearing up to participate in the One Room Challenge, for a while now.  To tell the truth, I almost always have an idea of what space is going to be next for these challenges, because starting as the last challenge ends gives me some time to really pull a design together for the next.  For those of you just finding me via the challenge website, welcome!  I'm Iris!  Currently I'm a full time homemaker, with aspirations of becoming part of the design world once my little one starts school.  I've been blogging for the last three years, because I love to design and makeover spaces in my home, and I love sharing that with others that appreciate the work that goes into it.  I've participated in quiet a few One Room Challenges, and I'm pretty sure I'll continue until one day I don't have a space to make over.  It's such a fun process to be a part of!

A little bit of background on the One Room Challenge, in case it's new to you.  It was started by Linda, of Calling it Home, and took off to be a huge success in the design/blogging community.  As of last year, the One Room Challenge has taken on a huge media partner; House Beautiful.  Twenty design bloggers are featured on the Calling it Home website for six weeks during the challenge, and they are extremely talented so you wont want to miss them.  In addition to the twenty, tons of design bloggers link up as "guest participants", which is how I participate.  It's seriously exciting to see all of the talent that pools together here!
Here are two of my most recent makeovers for the challenge.
Click here to see all of my One Room Challenge posts!
So let's get to the new makeover space, shall we?  I told y'all a while back that I had plans to make over our downstairs powder room, and that's been in the works as far as gathering supplies, and playing around with ideas for the styling of the space.  I think I have it down, but I have a few ideas that I'm still playing around with, that I think will make the space really stand out.  I also happened upon a really awesome idea while browsing Pinterest one day, which is going to make the space multi-functional.  I saw an image of a bathroom with a mudroom built-in included in the space.  Now our powder room isn't all that big, but since the design of our home allows for the space to be built as either a powder room or a full bath, and since we chose the powder room option we were left with extra space outside of the powder room where the builder created an entrance to the space.  Here's a look for you to get a better idea, and please excuse the mess.  We've been holding things here, like the vanity for the powder room, for a while due to lack of space, and well, general laziness on our parts to put some of the stuff away.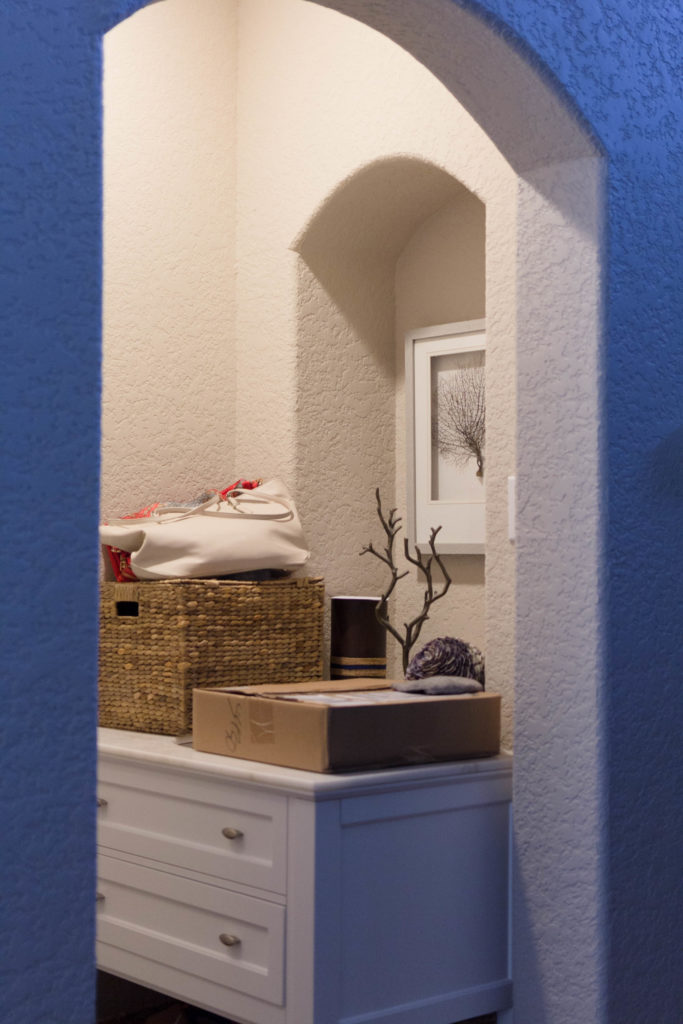 What I'm hoping to do is demo that useless niche area all the way up and down the wall to create room for the built-in mudroom space. Here's a couple of ideas that I'm using as inspiration.
Perfection, huh?  I think the upper cabinets are a definite yes, and I will be paneling across the back of the wall, so our space will resemble the second photo more. What I'm still questioning is the color of the seat, whether or not I want to stain it or paint it, and then the lower area is still in question.  Drawers would be pretty, but I think the cubbies add a bit more character to the space, since you can use any sort of material for the baskets.  I'll be painting the built-in the same color as my kitchen cabinets, which I don't have the name of on hand at the moment, and I'll paint the walls around it Benjamin Moore White Dove like other areas of my house.  I'm thinking it would be really nice to change out the lighting in that space as well.  Maybe we could get it wired to accommodate sconces?  I just thought of that, and I'm pretty excited about the idea!  We will see!
Let's have a look at the powder room now.  Here's how it looks after the last mini-makeover I gave it.  It's cute, but the design of my house is going in a different direction and it no longer fits my vision.  Plus, I wanted a bigger vanity, and now that we have one, we figured why not make over the entire space.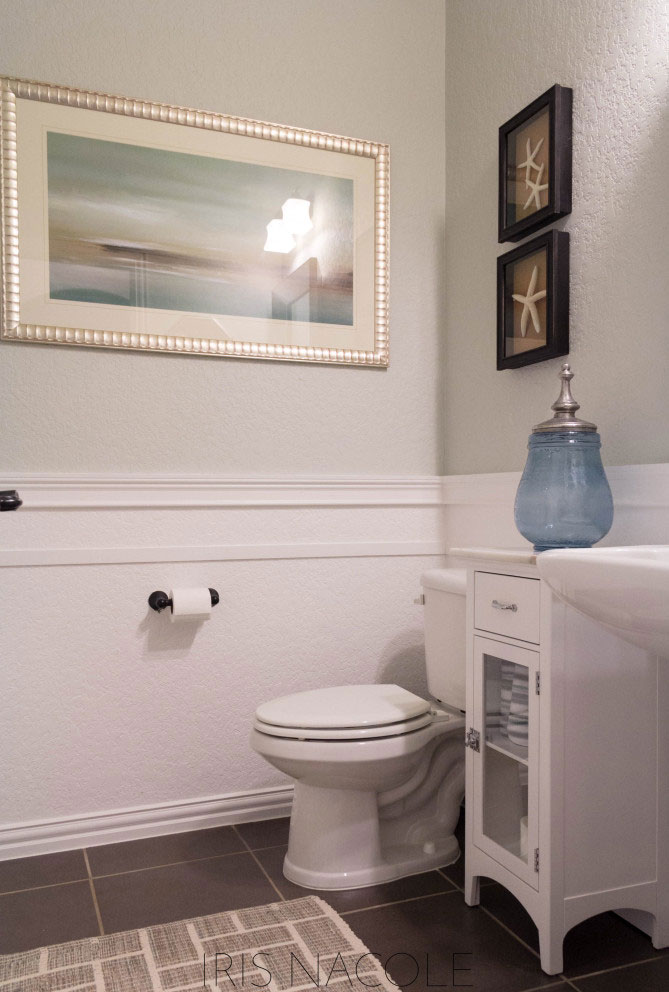 Here's my mood board for the powder room area.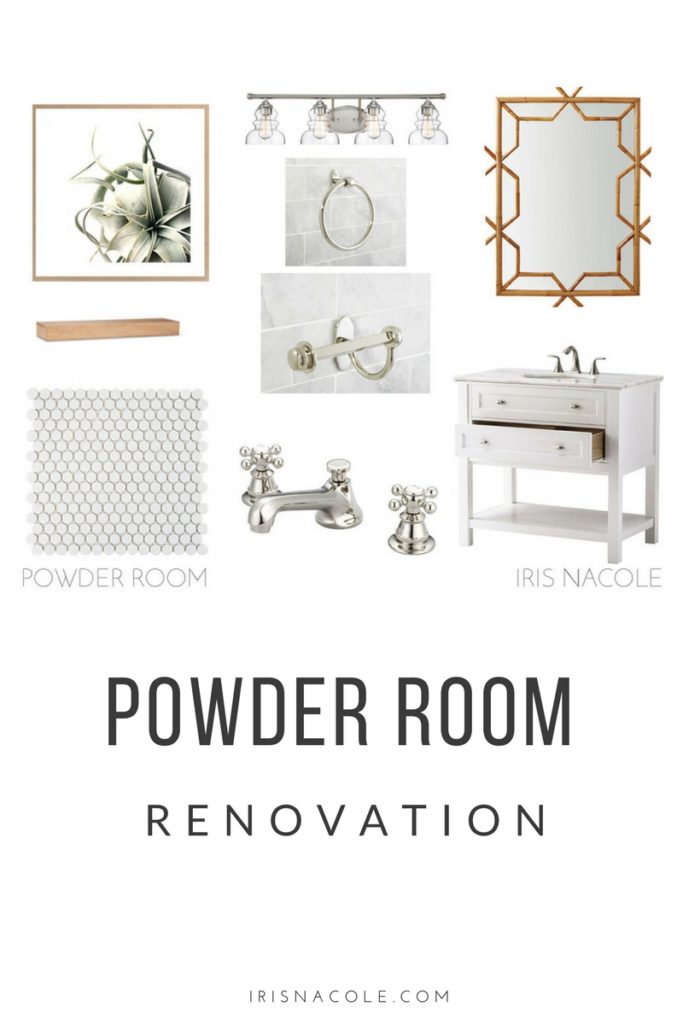 As you can see, pretty much everything is changing from the current design.  Some elements not pictured are the planked walls that will wrap around the lower section of the room, the paneled ceiling, and maybe wall paper, if I can convince John that I won't tire of it in months, and that the ones I really like aren't too girly.  Haha!  So far I'm not winning that battle.  Case in point, here are a couple that I'm fawning over at the moment.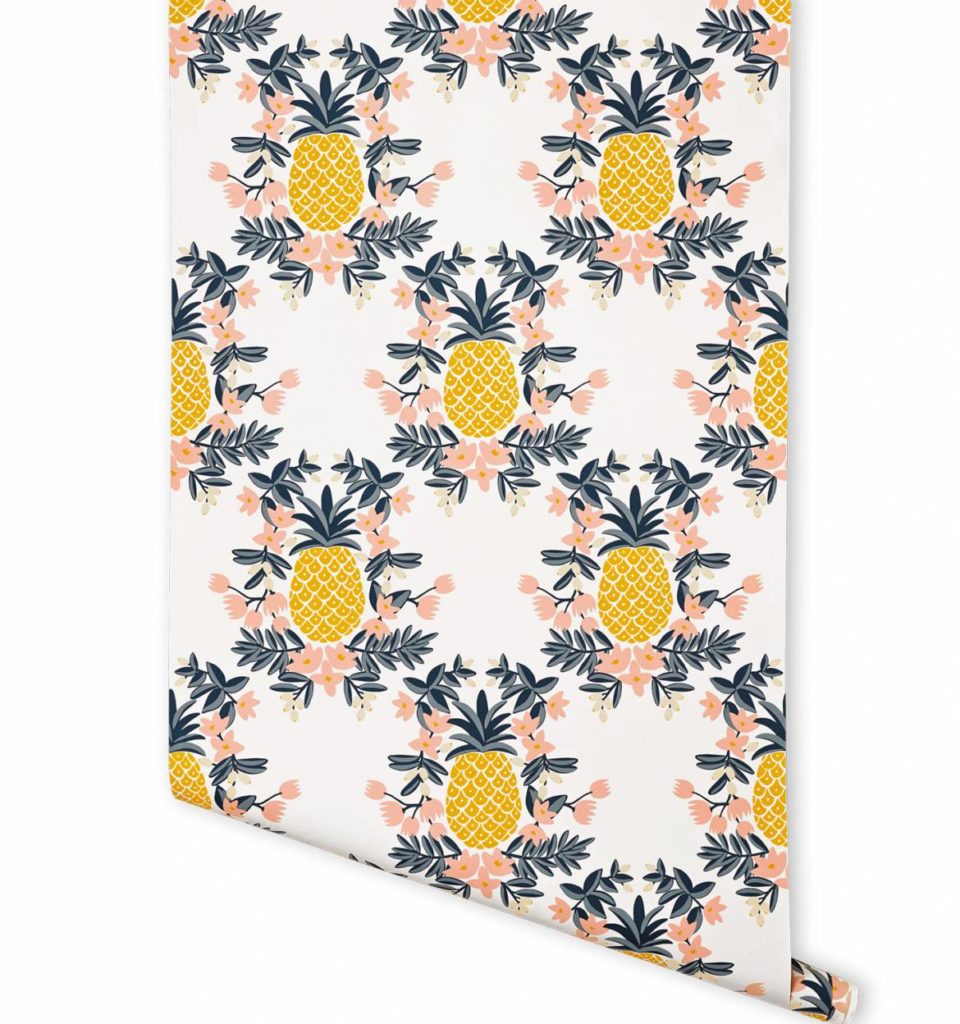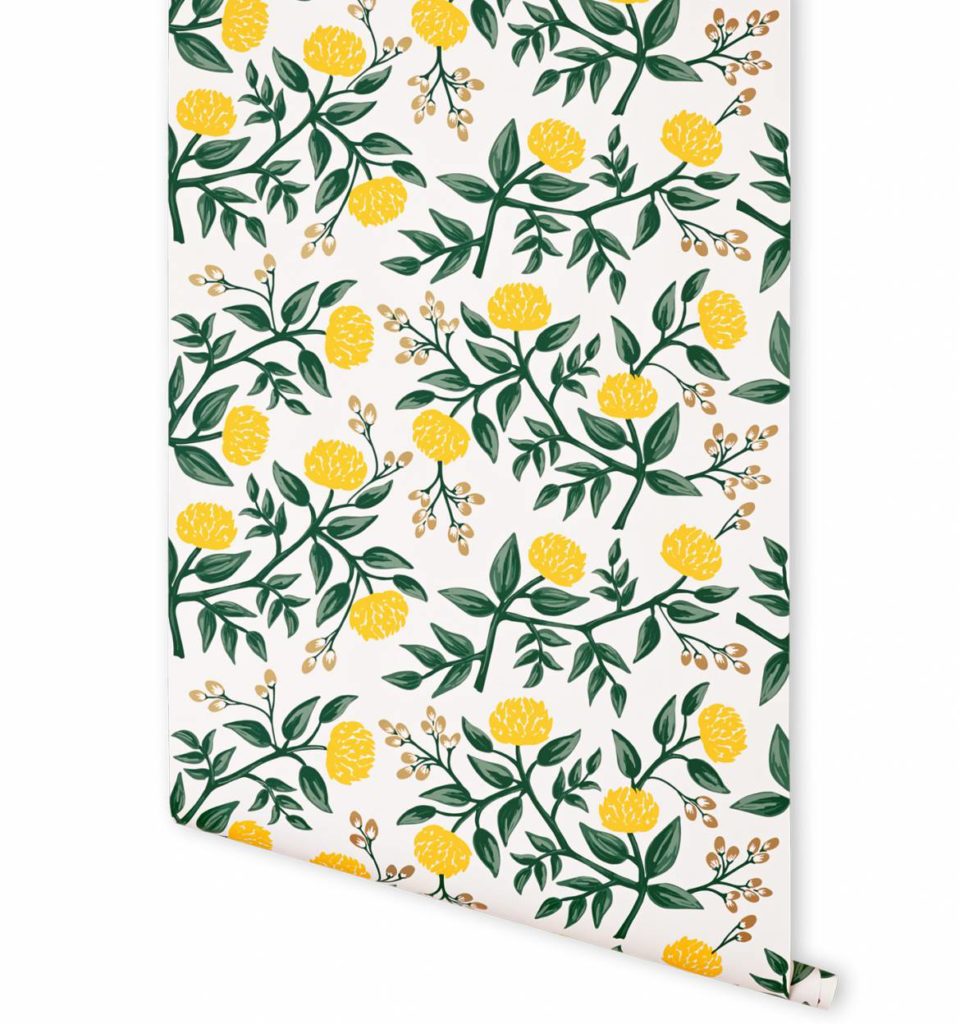 I normally stray from using a lot of pattern in my home, but I loved using the removable retro palm print wallpaper from Walls Need Love in my New Year, New Room Makeover, and since this is such a small space, using more paper in here wouldn't be so bad.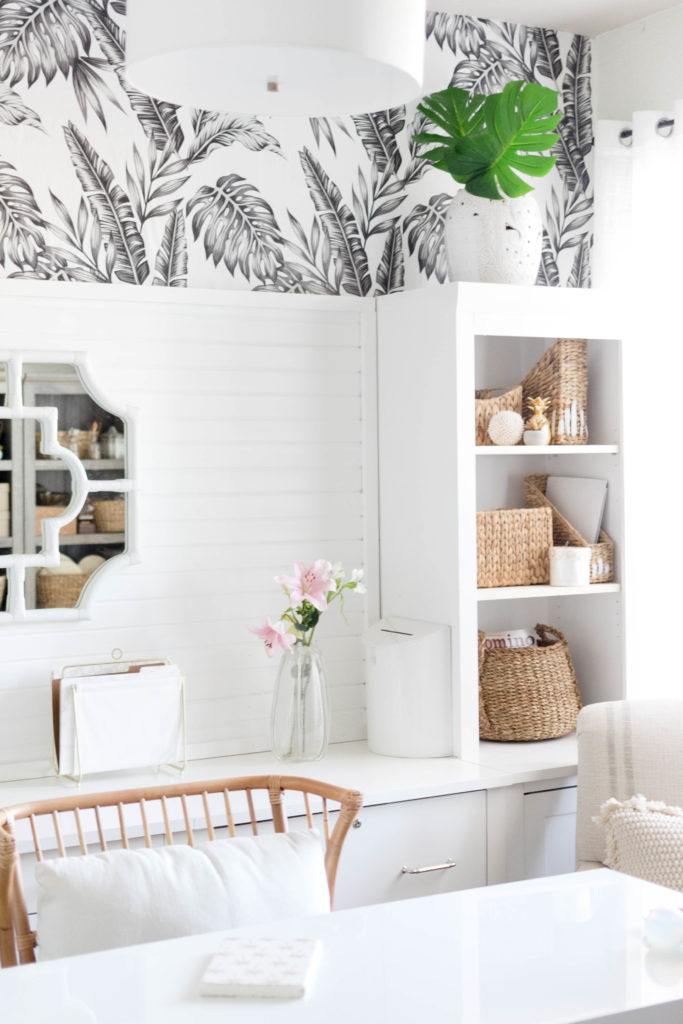 So here's what the design board with the wallpapers included looks like.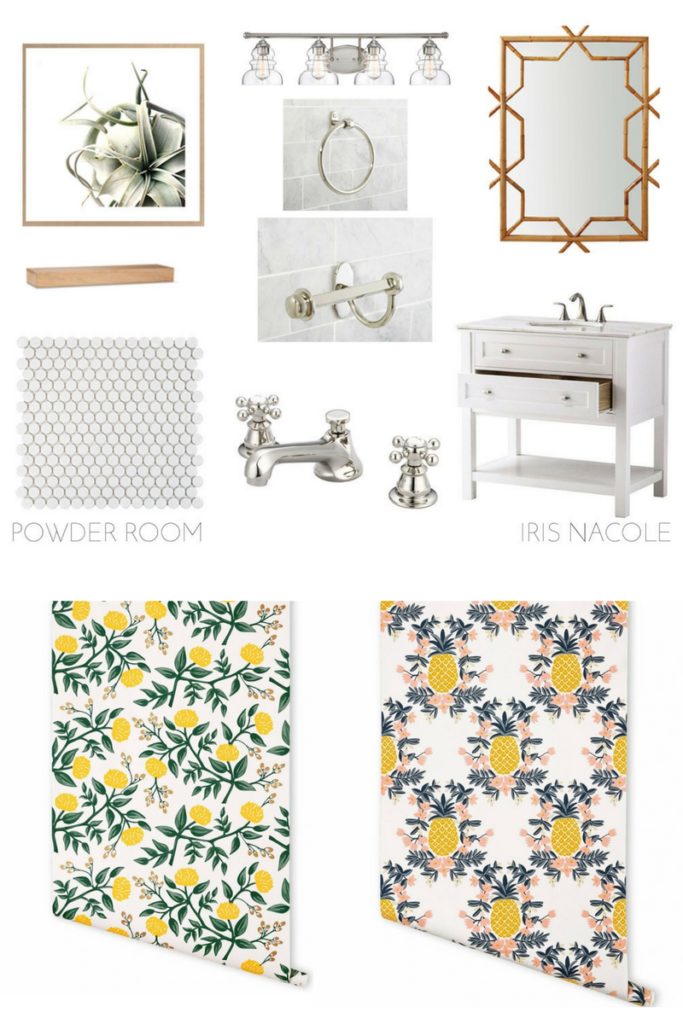 I really like it, but two things are holding me back.  One being that I truly can be indecisive about things pertaining to my own home, and two is cost.  I doubt the amount of paper that I'll need for this space will be a lot, but once you add in installation to the mix I'm thinking I'd be adding a pretty penny to the total cost of the renovation.  Since we are hoping to hire out most of the work to ensure a great outcome we don't have much money left to play around with.
So that has me thinking that maybe I'll go with different style all together and seek out some really great textiles for the space instead to give it that California vibe that has been catching my eye recently.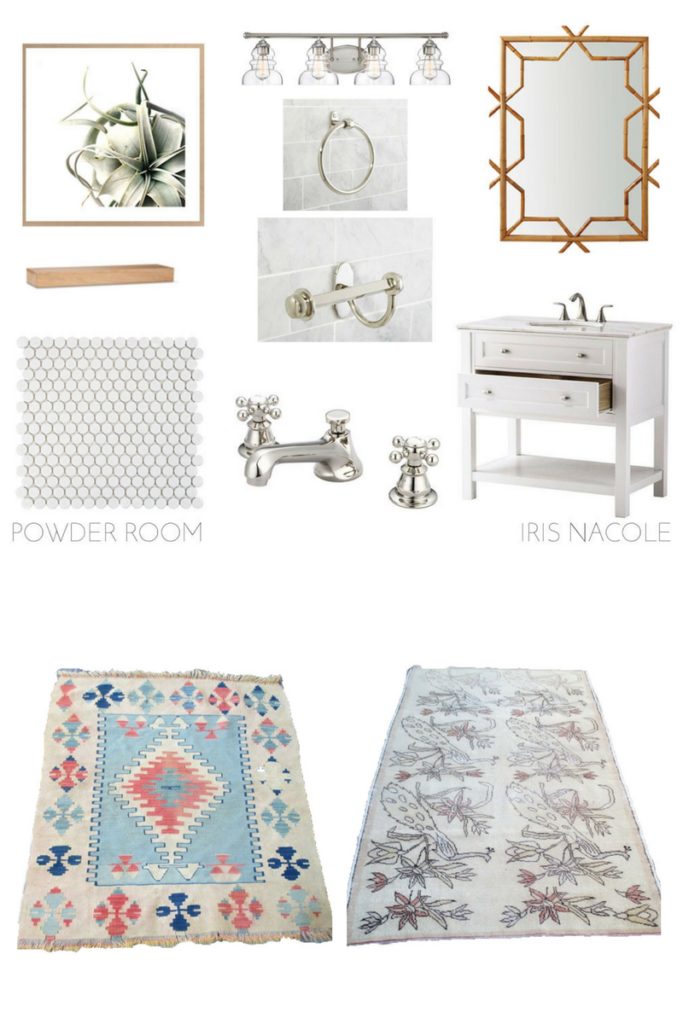 At the moment, I'm leaning towards the second look.  Mostly because I feel like it would fit in with the overall look of my home.  Speaking of, gosh, I can't wait to share more of how the house is turning out!  I think I've finally figured out a way to really combine all the styles of decor that I'm drawn to, and with most of the renovations being completed this year, it's turning into a dream home for sure.
Well, that's all for now.  I'd love to hear what you think about the design options I shared above, and I hope y'all will come back next week to see if we've made any progress.  I sure hope we have!
Until then!
-Iris