Happy New Year, friends! We took a couple of weeks off in December to slow down and spend time with family. It was wonderful, but I'm ready to get some projects going around here for the new year. We're starting with the playroom, giving it a refresh for the New Year, New Room Refresh Challenge, hosted by my friend Stephanie of Casa Watkins Living. This is the third year of the challenge, and so far we've used it to refresh our living room, and our home office. If you're new to Iris Nacole, thank you for joining us today! Be sure to head to my main page to see more of what has been going on around here recently. Of course, things are ever evolving around here, so those spaces have continued to change since then, but I can't say enough about this challenge. It truly motivates you to get going on those projects that you may otherwise just leave on the back burner. Case in point, our playroom. If I had thought to take pictures, you would see just how terrible our playroom looks right now, and how badly it is in need of a little attention. Okay, a lot of attention. We had plans to start the makeover a few months back, but with all of the holidays we just never got around to it. It's so bad we actually wont let our son go in the room. He managed to completely destroy the room after the last cleanup my husband and I did to the space, so as a lesson we left it like that for him to clean up. Well, he didn't. He made it worse, and in the end I felt like he had too much junk on the floors to even set foot inside the room again. It's been sitting there, taunting me everyday that I pass it, but I just haven't had the time to do anything about it. I'm glad too, because I feel like this refresh is really going to feel like a huge makeover once all is said and done, and I love that feeling of a new space coming to life.
I thought a lot about what he uses that space for, and I realized we really didn't have it set up to accommodate his style of play. He needs wide open spaces, but also structure, so I sat down and designed this new space to fit his needs. The last time we put it together he was a toddler, and oh boy has he changed since then!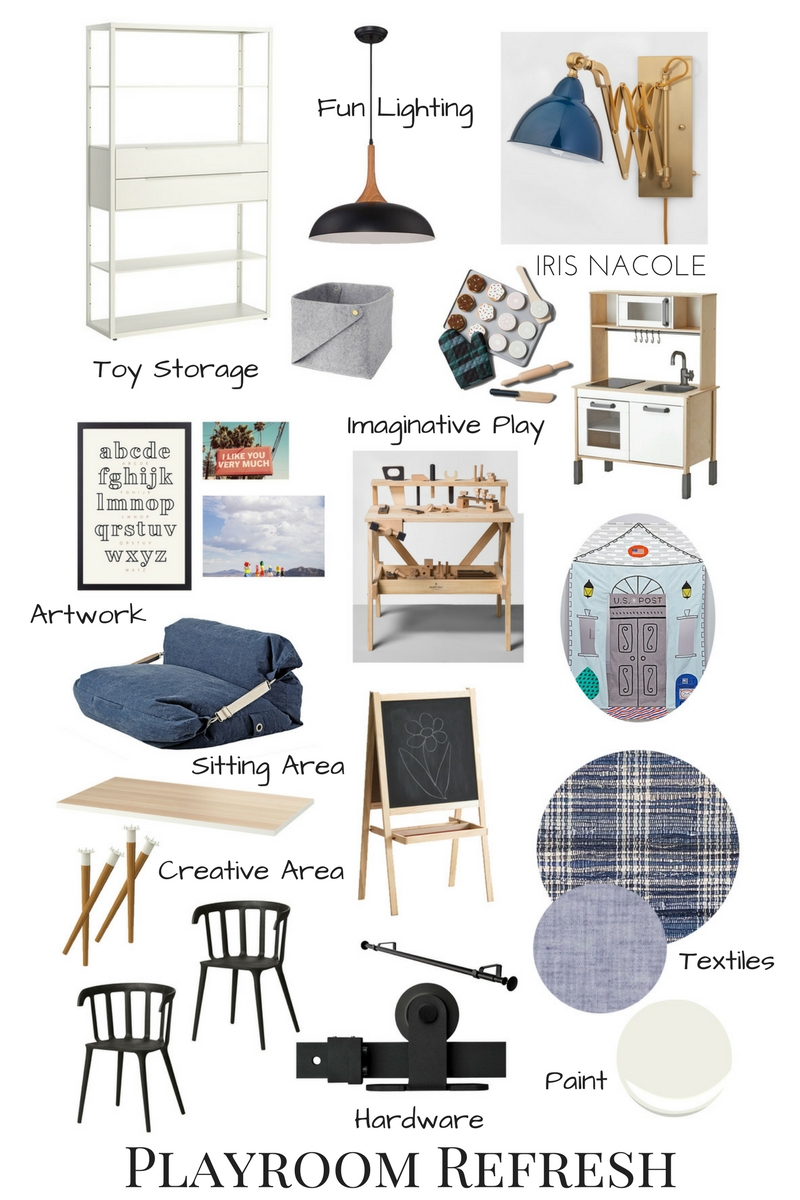 I put together the mood board you see above, with the top categories of design that I thought would work for him. I think they will work for any child really, but you know your kiddo best, so please don't think you must have these included if you are thinking about your own space. My son loves imaginative play, so setting up an area dedicated to just that should help him focus while he plays. He also loves to sit at his desk and play with Play-Doh, slime, magnetic rocks, Legos, etc.. With school starting soon he will probably show more interest in art and I know he will need a place to work on learning his letters, numbers, and writing, so I am setting up a desk area where he can focus on that sort of stuff. He also loves to sit back and watch a fun movie or tv show, so I have a little sitting area for him to relax in and do that.
We had our home built, and while looking at the floor plan we realized that adding an opening between this room and our entertainment room would allow for the extra "bedroom" to be used specifically for our child. The builders added double doors between the spaces, but to open a close them takes up so much valuable space in the room, so we are going to mount the existing doors to barn door hardware so we can slide the doors open and close instead. We're new to this sort of install, so wish us luck that we can figure it out and make it work!
Although he is still pretty young, I want to create a space that will grow with him over time. I chose textiles and fixtures that should do just that. Here's a look at his "Big Boy" Bedroom Makeover that we did over the summer to get an idea of how I mix that all together.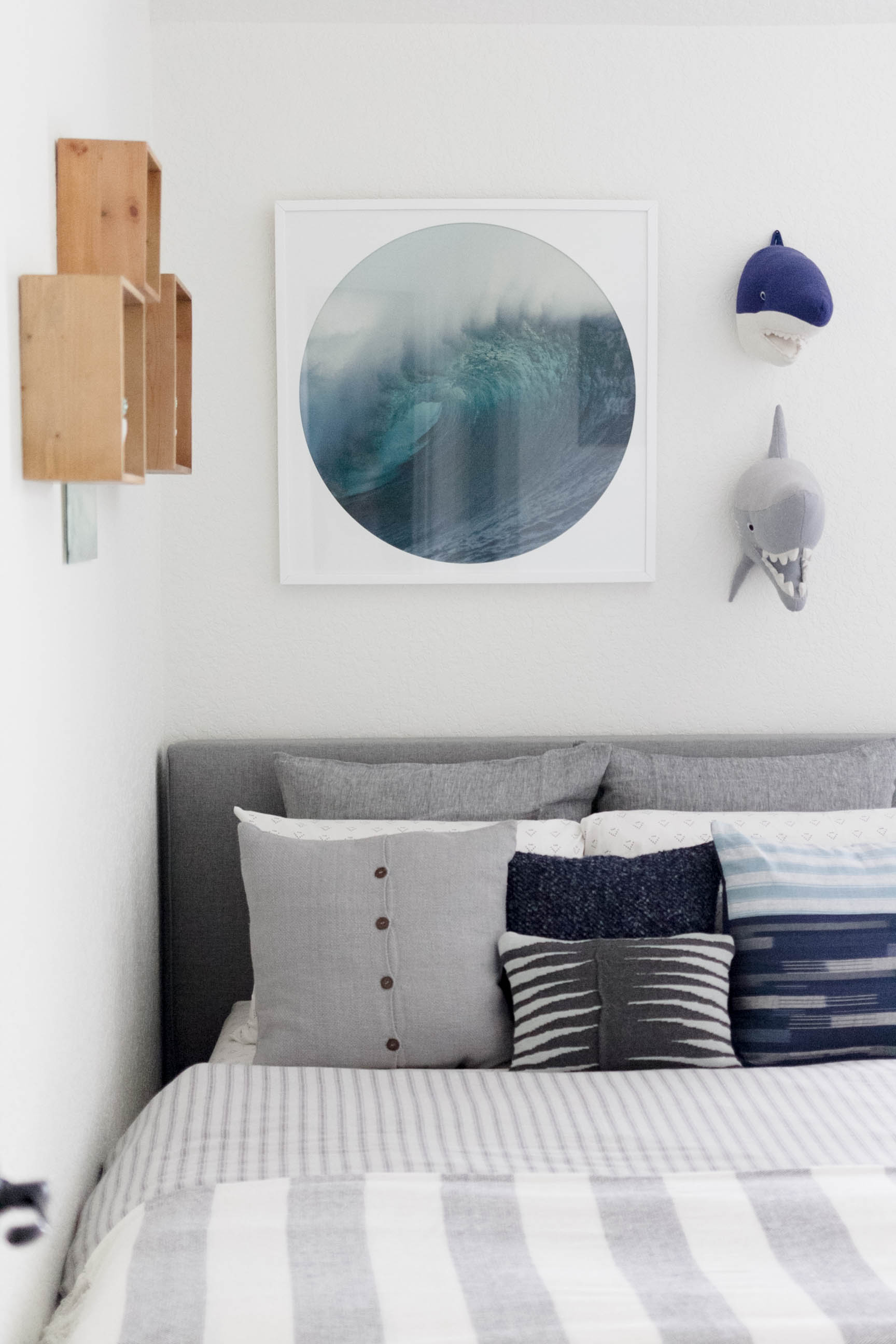 I can't wait to get it all installed, but first we have to pull it all out, sort and donate the items he no longer needs/uses, and then paint and deep clean the room. We're keeping the walls in line with the rest of the house, so it will be painted Benjamin Moore White Dove.
That's our first task in the push to refresh this space, so I'll be back next week with an update, and even more info for you all. If you have any questions about designing a space like this, feel free to leave me a message in the comments and I'll be glad to address them in upcoming posts too.
Here's the list of the official participants in the challenge this year. These ladies are wonderful designers/bloggers, and each are worth visiting and following along with. Be sure to click over to see what spaces they are going to be making over this year!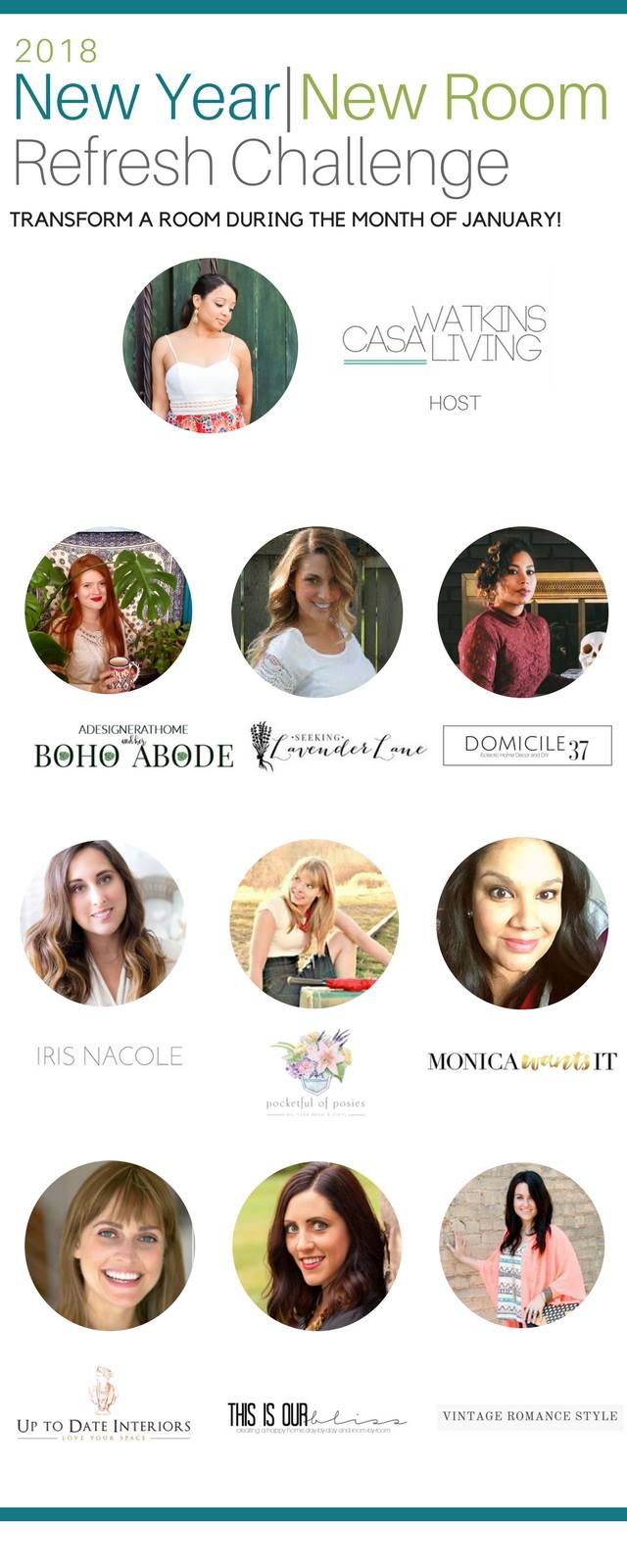 Casa Watkins Living // A Designer At Home // Seeking Lavender Lane // Domicile 37 // Iris Nacole // Pocketful of Posies // Monica Wants It // Up To Date Interiors // This Is Our Bliss // Vintage Romance Style
Now, it's your turn! Link up your own room progress below. We would love to see them!
* Please do not link up any posts not related to the New Year New Room Refresh Challenge. *
-Iris
Have a look at my NYNR makeover from last year!