I did a bit of shopping this week.  Not for anything fancy though.  Mostly groceries and a few home items that I'm trying out right now, so I'll share those with you in the future. As I was browsing though these are the items that really stood out to me to share with y'all this week on The Friday Five.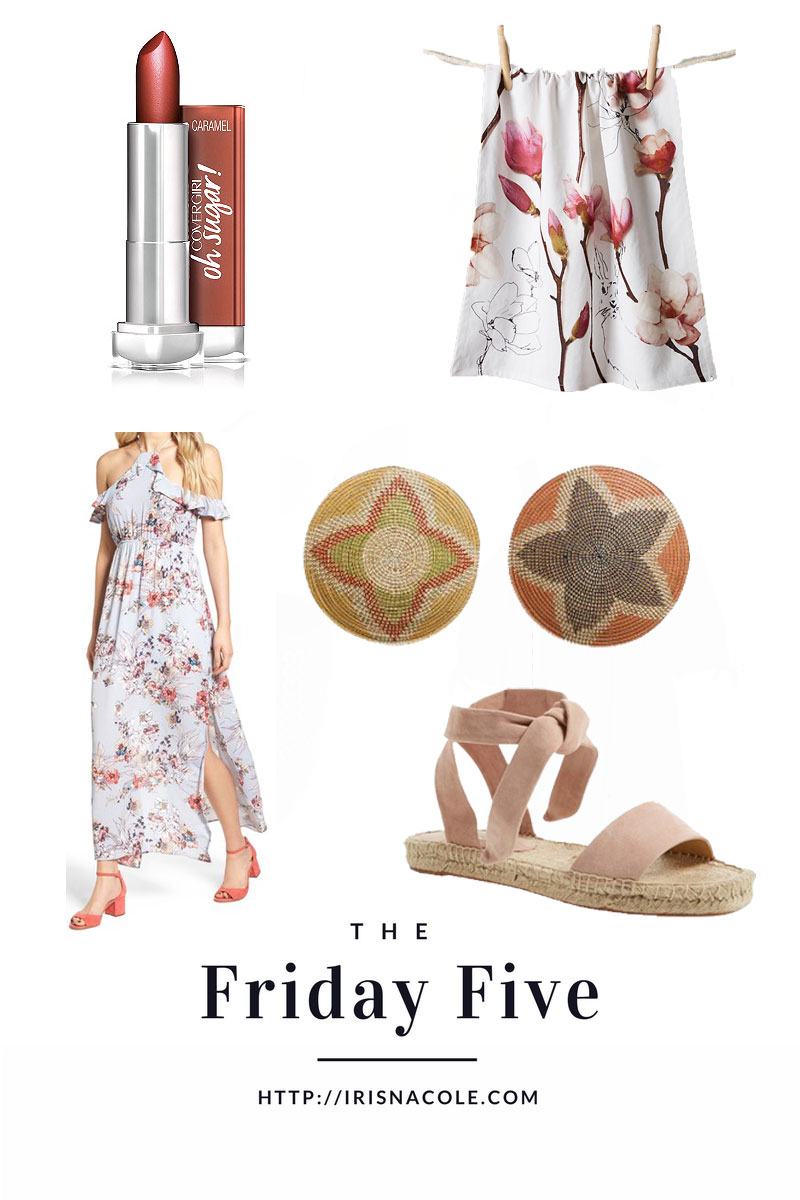 I needed some new foundation for the warmer months, so I went to Ulta to pick some up. Of course, I can't walk in and out of those places without browsing around.  I've also bee looking for a new lipstick or gloss to wear daily, since I don't care for a full lip color.  My favorites are sheer and I always look for something that moisturizes my lips, so as I was browsing I kept my eyes peeled. That's when I saw it. The CoverGirl Colorlicious Oh Sugar! Lip Balm. I scanned the colors and landed upon Caramel as the perfect shade for me. As soon as I got to the car I opened up the package to try it on. I was right! It was the perfect color, since it matched my lips, but just darkened them enough to stand out and blend with the rest of my makeup. I ended up getting two more tubes just in case these ever go out of stock!
Once my kitchen makeover got underway I got excited and started shopping for kitchen accessories.  I think I've accumulated a good collection of tea towels at this point, and I would love to add this one to my collection!
I told y'all a while back that I was starting to gain control over my weight, and since then I've lost 10 lbs, which is wonderful since it's due to a change in diet and exercise. I can see this lifestyle sticking since we aren't adhering to a drastic diet, but rather cutting out junk and takeout and focusing on making food here on our own.  Of course feeling better about myself and fitting into clothes I haven't been able to in a while makes me excited for new clothes.  This dress would be a gorgeous option for spring/summer!
Soon our entryway is going to have a new look, and these baskets are contenders for some wall art I have in mind.  They are so pretty!
And how cute are these shoes?!  I swear, this season I've been seeing so many wonderful shoe options!  I may become one of those shoe crazed ladies before you know it!