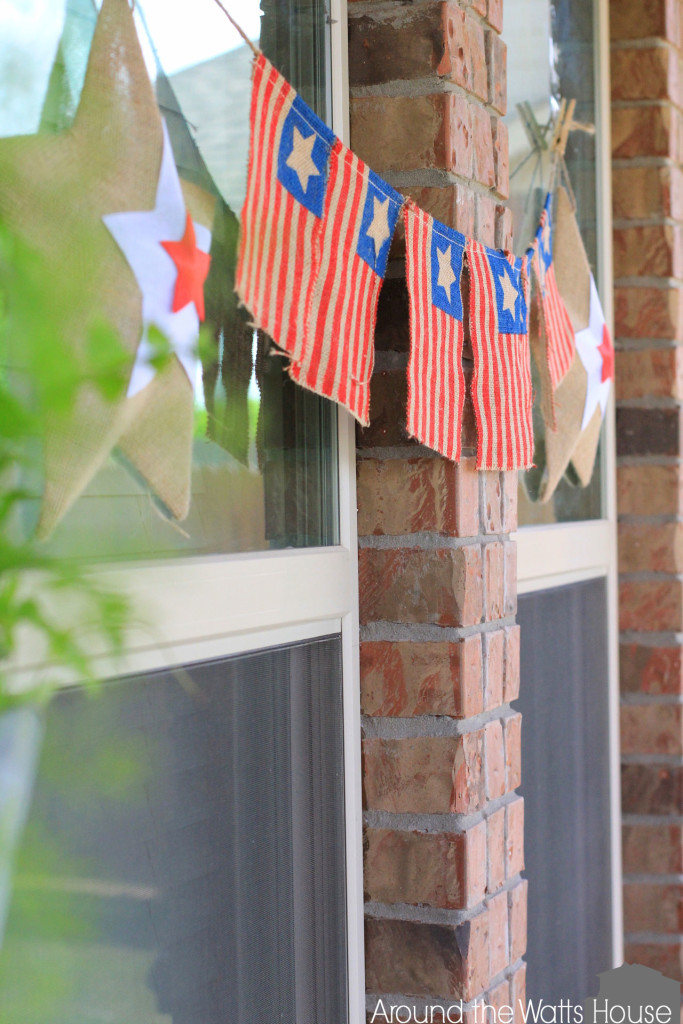 Maybe it's the fact that it's only a couple of days away from my birthday, or maybe it's the buzz of excitement the whole city seems to exude around this time of Summer, but the 4th of July is always a day I look forward to.  Last year we spent the day at the circus, then a bit of fun shopping, and a free fireworks show, compliments of my lovely neighbors, and surrounding neighborhoods.  It was probably the most exciting 4th yet!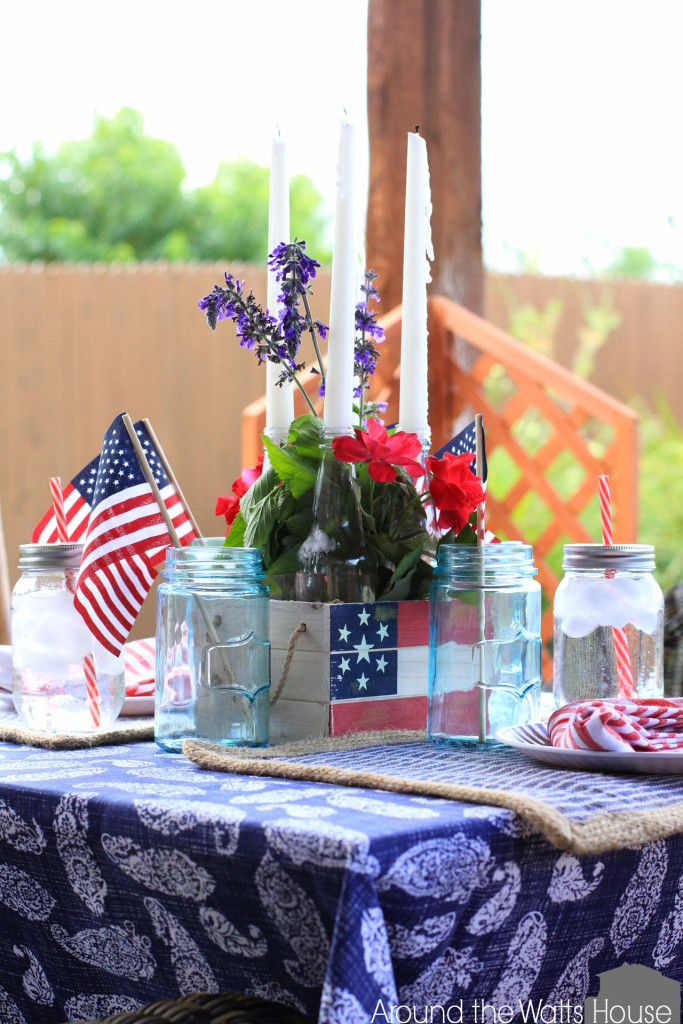 This year, we haven't set any plans into place just yet, thanks to my terrible immune system allowing me to get so sick recently.  The good news is that I'm on the mend, and I think we just might be able to do something similar again this year.  Most likely it'll end up being John, Rordan and I spending the day alone, but with them I'm complete, so it will be wonderful.  I got to thinking a while back about what I'd like to do if we happened to celebrate at home, and sitting outside on our back porch while Rordan runs around playing was the first thing that came to mind.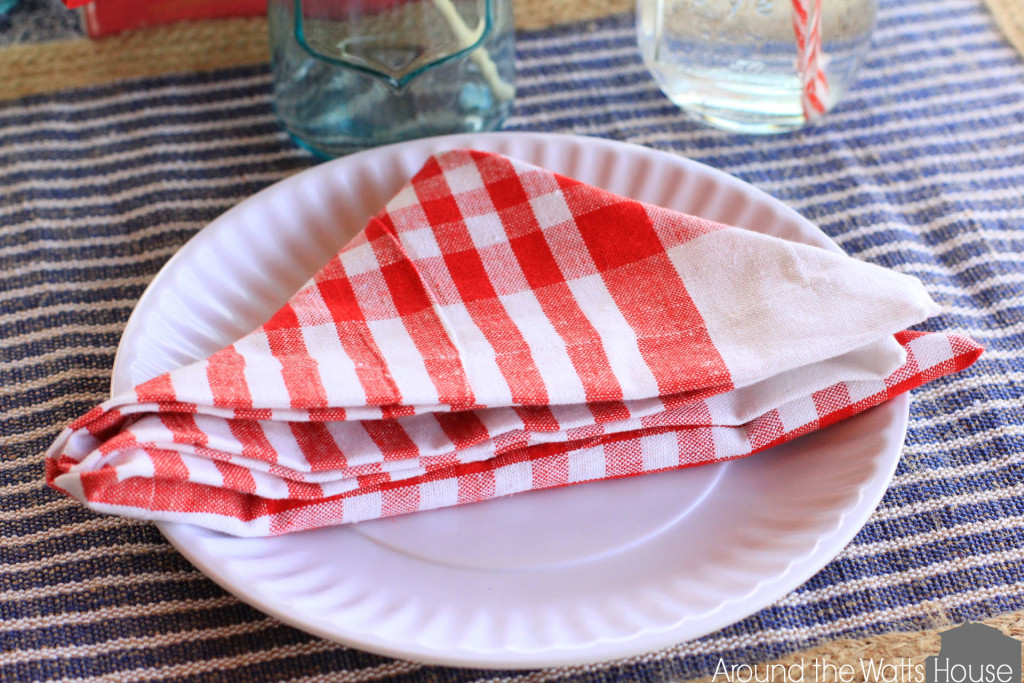 It's in my nature now to decorate for holidays, so of course, I had already been brainstorming ideas of how I'd like to decorate the space, and this  patriotic porch design is what I came up with.  It is a super simple setup consisting of various low cost items.  I'm almost positive nothing I purchased was over $10.  As a matter of fact, most of it was under $5, thanks to shopping at various craft store dollar spots, as well as Target's dollar spot!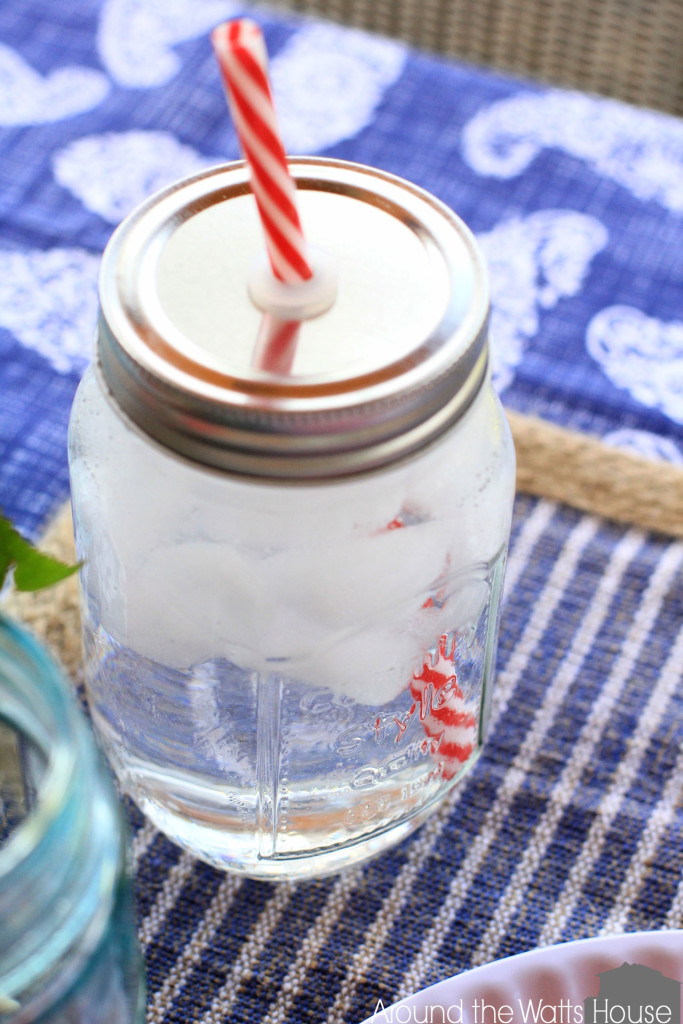 That's my kind of decorating! I'm positive if you happen to need to decorate your own home, you would be able to find many items easily right now.  I know Michael's and Hobby Lobby are both having sales right now, and of course, if you find something you like that isn't on sale, take advantage of their coupons.  I'm always amazed when I see that people aren't using them.  I've even offered mine to a lady that checked out in front of me before, because it just made sense to help her out.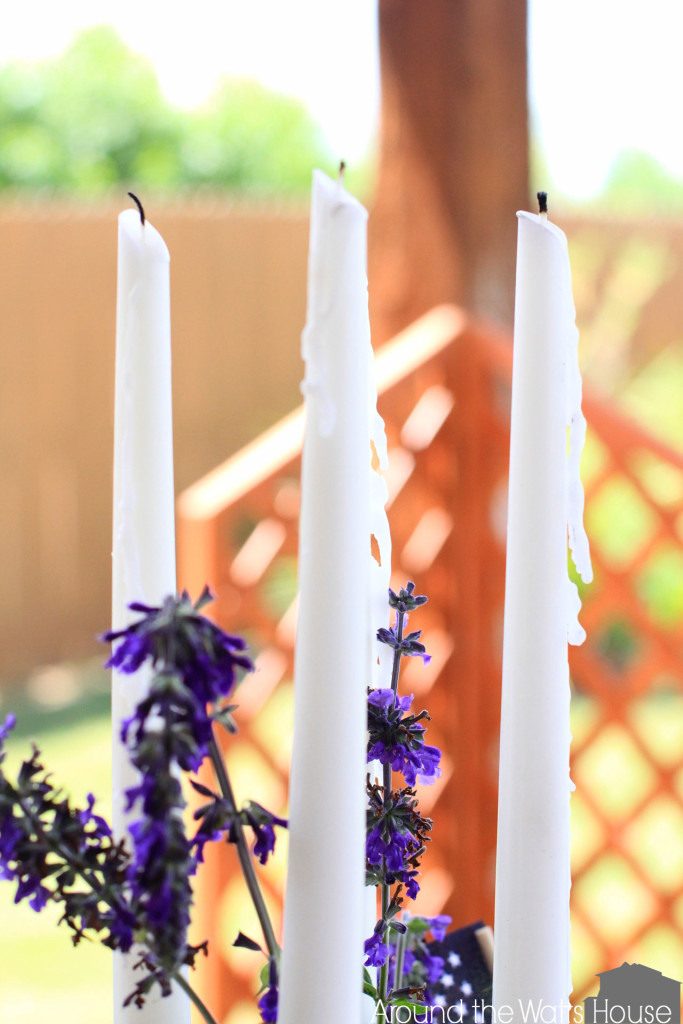 All I ended up doing was using a small pack of American Flags, and displaying them throughout the space.  Since I was decorating our porch I thought it would be pretty to place them in with the potted plants.  It's such a pretty look!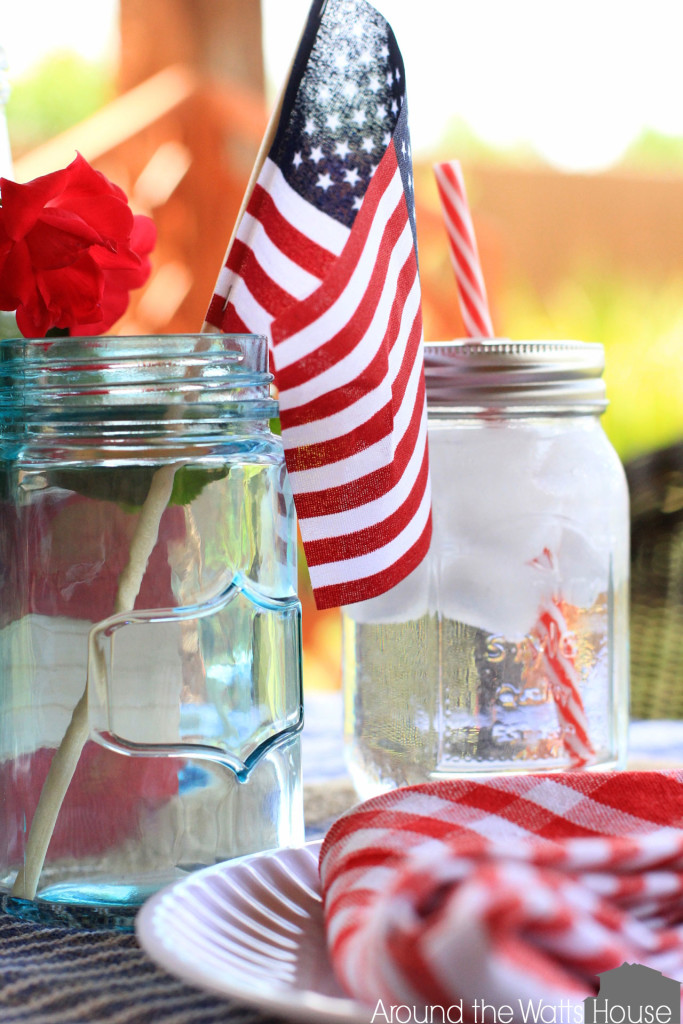 We have a small table the seats four, but of course it would most likely just be John and I eating at it, since Rordan is a bite, chew, swallow, and run sort of kid right now. I'm trying to break that habit, but that seems to be slow going. I chose to set the table for two because of that. John and I rarely get a "romantic" meal, but I was determined to bring a bit of romance to the table centerpiece, using drippy white candles held by clear glass bottles. Those bottles are resting inside a small patriotically painted wooden box, and for a bit of whimsy I added a few flowers that I cut from our flower garden.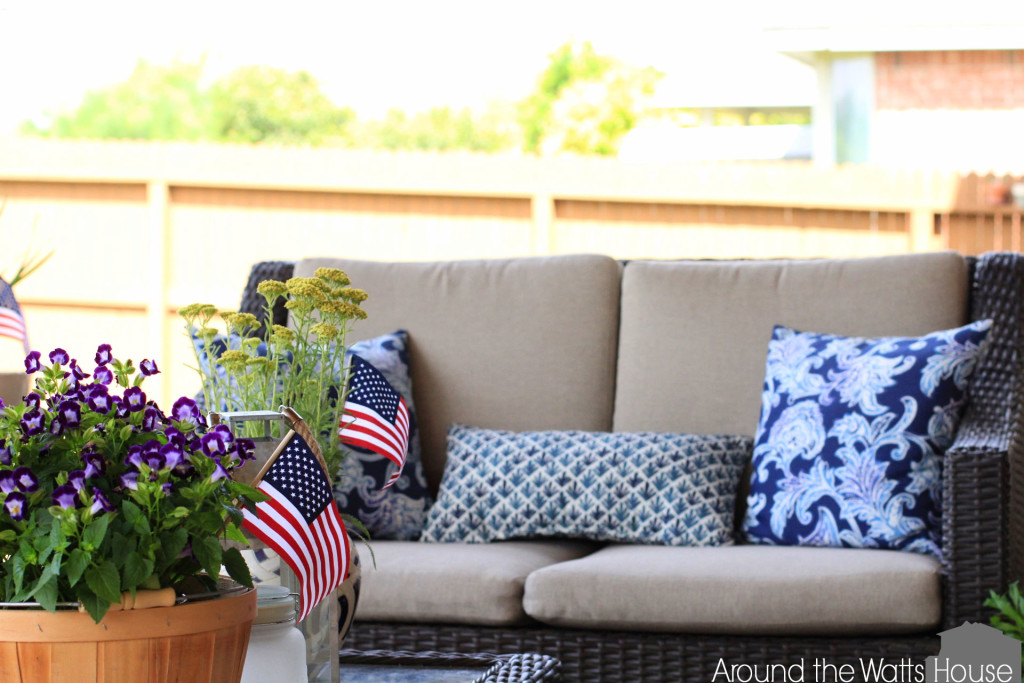 I'm excited to see what we actually end up doing, and if I will get to set this up again or not. It'll be fun if so, but whatever we end up doing will be fun, so I won't complain either way.
I always wonder what other people do for the 4th. I know some are very traditional, and some are like us and tend to do whatever on the day. I'd love to know what your plans are, so leave me a comment below!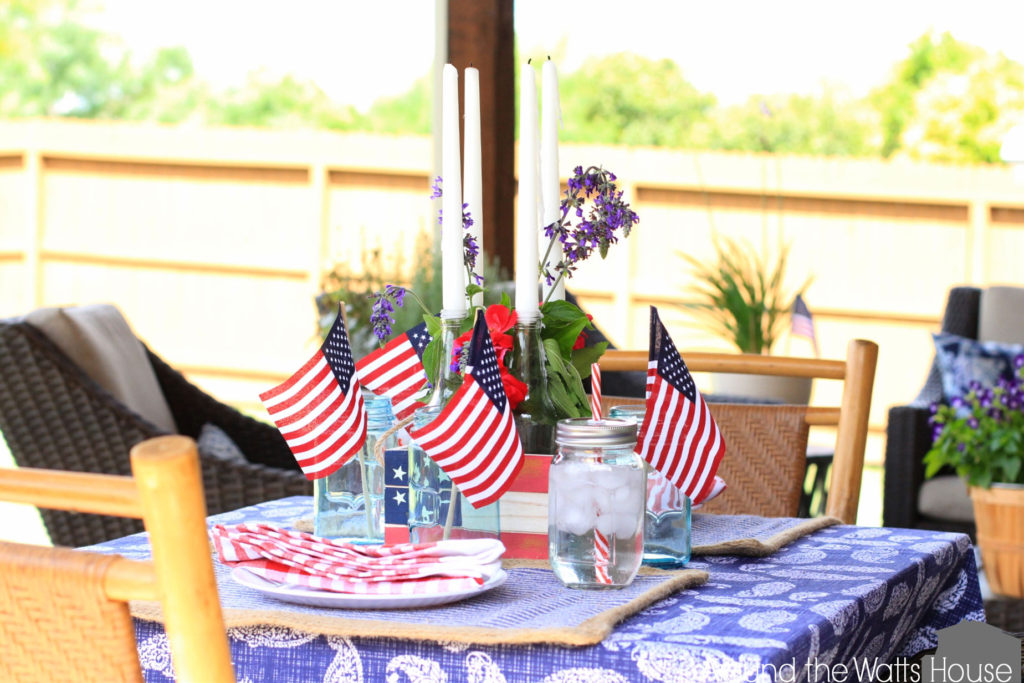 Have a wonderful holiday, friends!
~Iris