This shop has been compensated by Collective Bias, Inc. and its advertiser. All opinions are mine alone. #CelebrateLosMuertos #CollectiveBias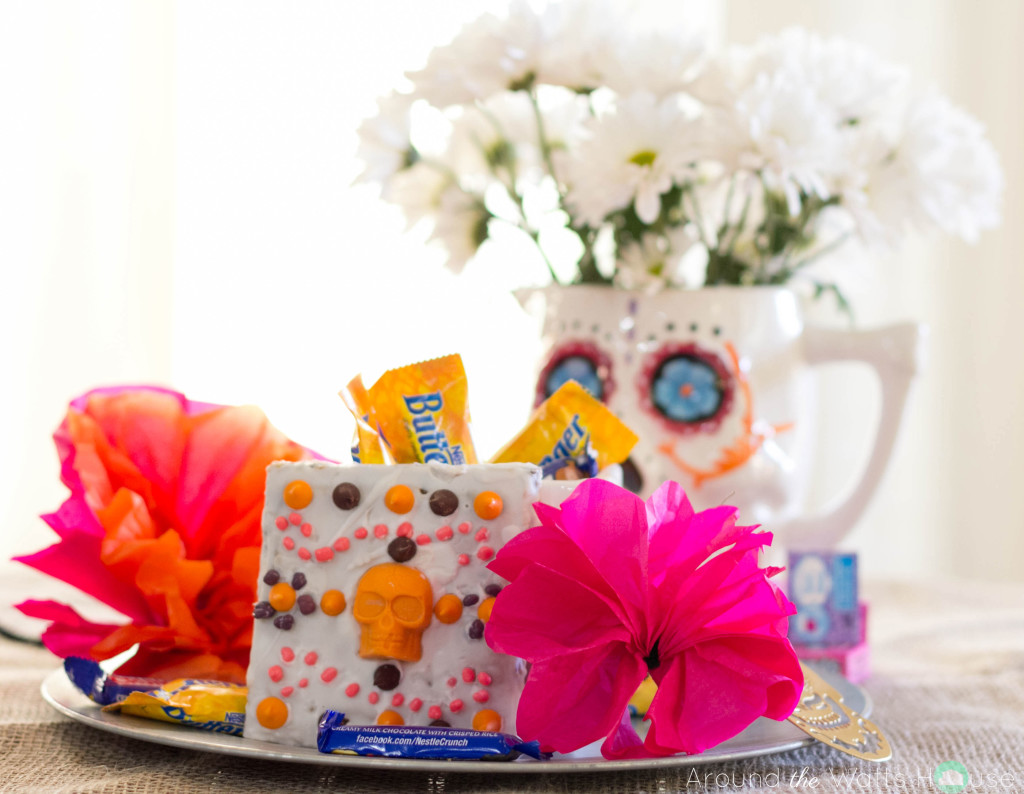 Growing up in Texas I've seen images depicting Dia de los Muertos (Day of the Dead, celebrated October 31st-November 2nd) all my life.  This Mexican holiday is widely recognized and celebrated by many in the Latin American community to remember loved ones who have passed.  Although the subject matter may be macabre to some, the imagery associated with the holiday is very beautiful, and can easily capture your attention at a glance, which is why you might see it being used as art/decoration by someone who normally doesn't celebrate the holiday.
This year H-E-B has a variety of Dia de los Muertos paraphernalia to help you decorate for the celebration, but if you'd like to take it a bit further I've come up with a way to incorporate the imagery of the holiday using a variety of NESTLÉ® products to create your very own edible decorations!
Here's what you'll need:
A container of your choice. (To hold fun sized candy.)
NESTLÉ® BUTTERFINGER®
CRUNCH®
NERDS® Fun Size Candy
NESTLÉ® TOLL HOUSE® Refrigerated Cookie Dough
NESTLÉ® TOLL HOUSE® Morsels (either Halloween or Pumpkin)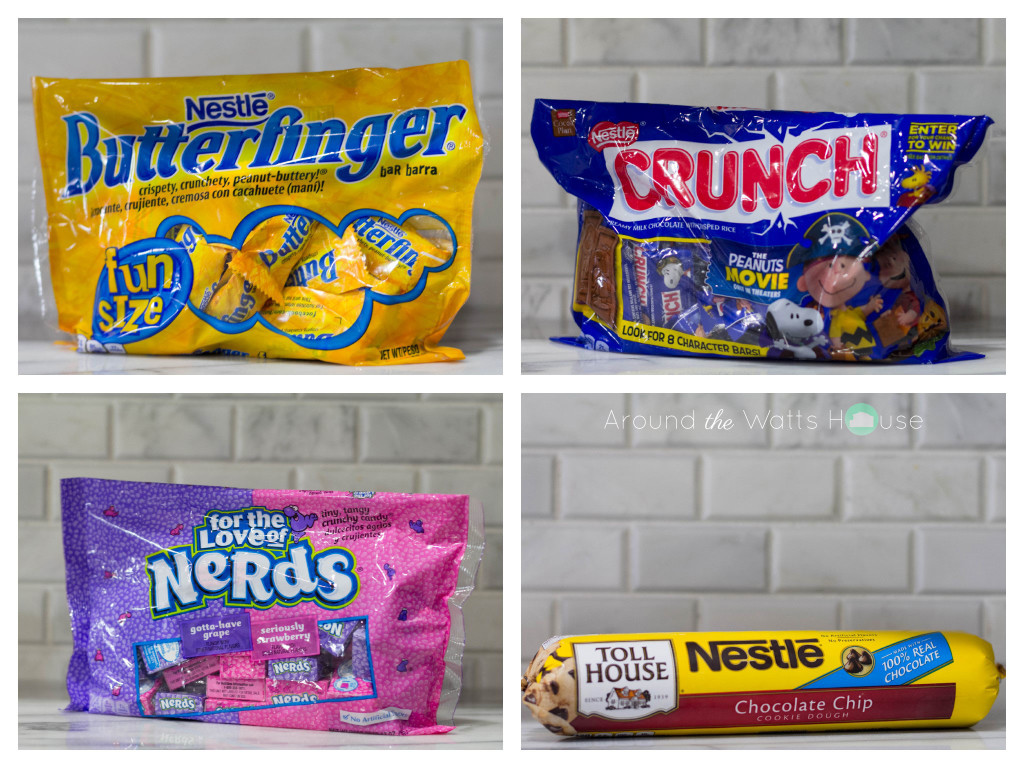 Cut off a large section of NESTLÉ® TOLL HOUSE® Refrigerated Cookie Dough.
Roll it out to the desired size. (We are using this cookie to cover the top of the container seen below.)
Place the container on top of the cookie dough to make sure the size of the cookie will fit on top.
Cut around the container, and remove extra dough.
Place your container shaped dough on a cookie sheet and place it in the oven to bake. (See instructions on package.)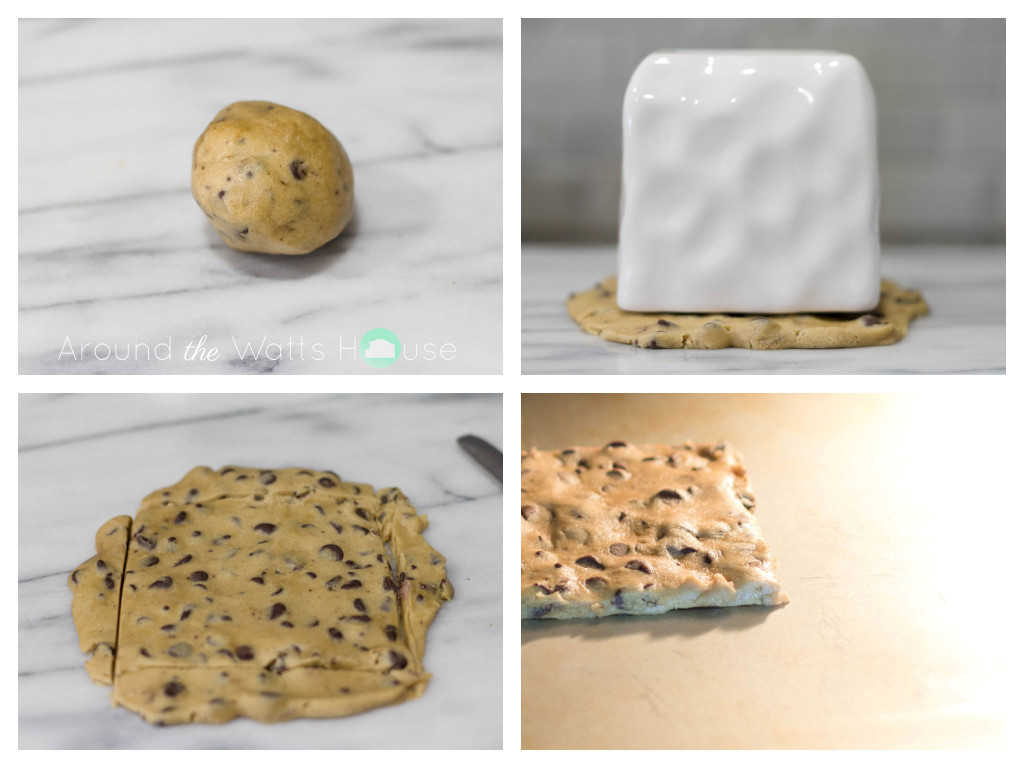 Once the cookie has baked, remove it from the oven and place the container on top to check the size.  The dough will have expanded so you will need to cut off extra cookie and discard (or in my case eat it.).
Let the cookie cool.
Once cooled, cover the cookie with desired icing.  

For the decorations, use NESTLÉ® TOLL HOUSE® Morsels (either Halloween or Pumpkin) combined with NERDS® Fun Size Candy .
Just so you know, I was able to purchase all of my ingredients from my local H-E-B.  As you can see below, I found the NESTLÉ® TOLL HOUSE® Morsels (Halloween) conveniently located at the end aisle display of aisle 9, along with plenty of other fun Halloween themed baking/decorating items.
Because the use of skulls is widely used on this holiday I decided to create one using an ice-cube mold shaped like a skull.
Melt your morsels.  You may choose to melt the two colors together resulting in a milk chocolate color, or to separate them and melt them for individual colors.  I chose to use the orange morsels for this project.
Once the morsels are melted fill the mold and place it in the freezer.  It took about 10 minutes for mine to freeze.
Once frozen, remove the frozen morsel skull from the tray and place it in the center of the cookie.
Take whole morsels and create a border around the cookie (as shown below).


From here I suggest you play with your design.  Scrolls, flowers, loops,  and more are classic shapes you will find in Dia de los Muertos art.  Play with those shapes and use as much color as desired to create your own personal design.  I chose to use the NESTLÉ® NERDS® in a scroll pattern, as well as to depict the petals of a flower around some of the morsels on mine.
Once you are done decorating your cookie let it dry for about an hour so that your decorations don't slide off.
In the mean time, fill your container with NESTLÉ® Candies.
When your cookie is dry, place it on top of your container, like a lid.  The contents inside will be a fun surprise for your guests when they remove the cookie to eat it!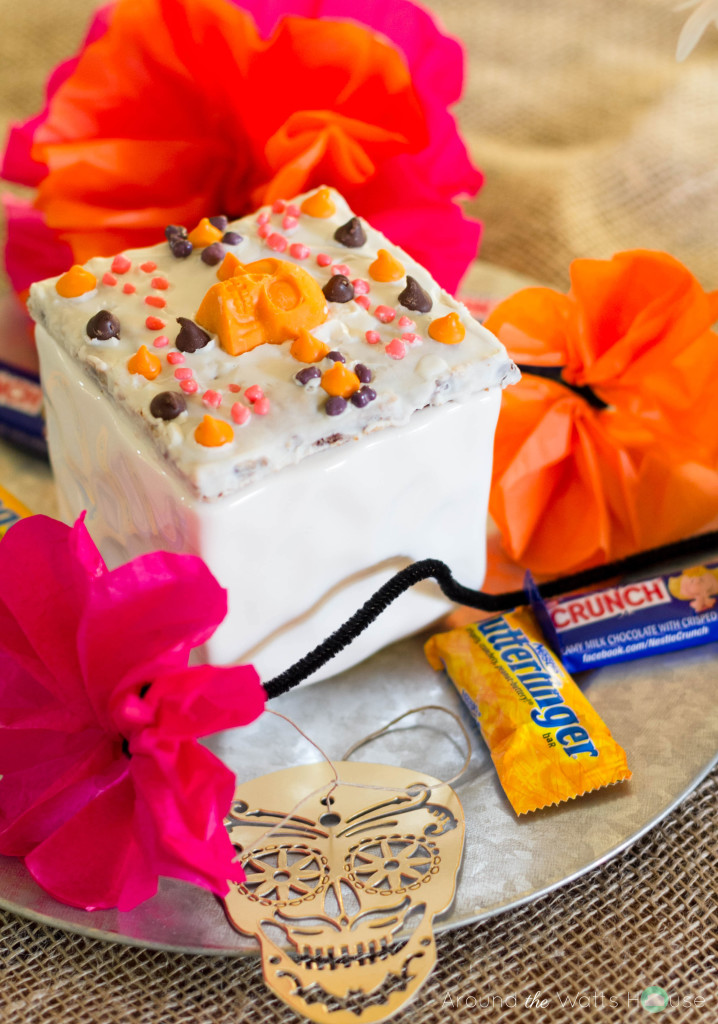 I hope you have enjoyed this recipe/tutorial on how to create your very own Dia de los Muertos edible decor!
For more great Dia de Los Muertos & Halloween recipes be sure to go here!
If you have an H-E-B nearby be sure to give them a visit soon for all your Dia de los Muertos celebration needs, and check here  for locations and dates to find the nearest store sampling Pumpkin Cooke Butter dip with LIBBY'S 100% Pure Pumpkin and HEB Specaloos Creamy Cookie Butter!  Sounds yummy!
-Iris