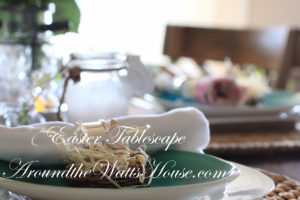 With Easter less than a week away, I surprised even myself when I suggested to John that we host our family gathering for the holiday.  I've dreamed of the day that we would since Rordan was born.  For his first Easter we sat in his room on the floor, and had him explore his Easter Basket.  It was so much fun seeing him pull everything out and examine it.  Last year he hunted eggs at his Momo and Popo's (and Jules' Rordan says) house.  He had a wonderful time, as did we.  Even still, I've looked forward to the day that I would watch my son hunt for his eggs in our own back yard.  This is the year!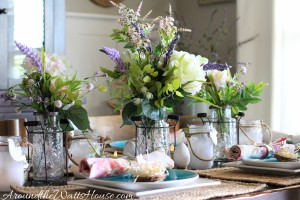 The menu is being left to John.  He's much better with food prep than I am, and I trust his judgment, so I'm sure it'll be good whatever he chooses.  It'll just be John's parents, and my Grandpa and Aunt Debbie joining us, so not a huge gathering, but they are very dear to us, so we are happy to spend time with them all together.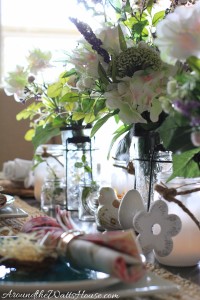 Of course I want to make sure that everyone enjoys the day,  and one way I can contribute is to set up a nice tablescape for us to enjoy while eating.  I didn't want to spend a huge amount of money on it though, so I crafted up a few items to add to  the items I already own.  I really wanted to have a nice light and Springy table, so I opted to use a lot of glass.  I added a bit of whimsy with flameless tea lights, faux flower arrangements, and small birds nests being displayed throughout.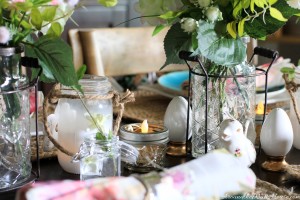 The crafts were quick and easy to complete, and to top it off didn't cost much either!  A lot of what I used was under $5.  Actually most of the jars were under $2, and since I used so many of them, the savings is well appreciated.  Other small details were created with items that I already owned or were purchased from the dollar spots at Michael's and Target.
I hope y'all enjoy your holiday, and if you happen to decorate for the holiday, I'd love to know so I can see your beautiful work!  Thanks for stopping by!
~Iris
Source List:
Centerpiece Jars: Ross Dress for Less (Under $5 each)
Flameless Tea Lights: Ross Dress for Less (12 Pack for under $6)
Small jars holding flowers: Target Dollar Spot
Mason Jars with nesting tea lights: Michael's (Jars $1.50 each, and basket filler under $5)
Small Wreaths on plates: Michael's (under .50 cents each)
Clothespin Birds on nest: Michael's ($1 for a pack of 8)
Mason Jars with Tin Birds and Flowers (s0ld separately): Michael's ($1 each)
Flowers for arrangements: Michael's (40% off plus 20% off my entire purchase price!)
Bird Creamers: Marshall's ($3 each)
Napkins: Marshall's (Under $10 per pack)
Plates: Marshall's (Already owned)
End seat Placemats: Marshall's (Already owned)
Side setting Placemats: Walmart (Already owned)
Egg Shaped Salt and Pepper Shakers: HomeGoods (Already owned but under $5 for both)
Napkin Rings: Pottery Barn (Already owned)