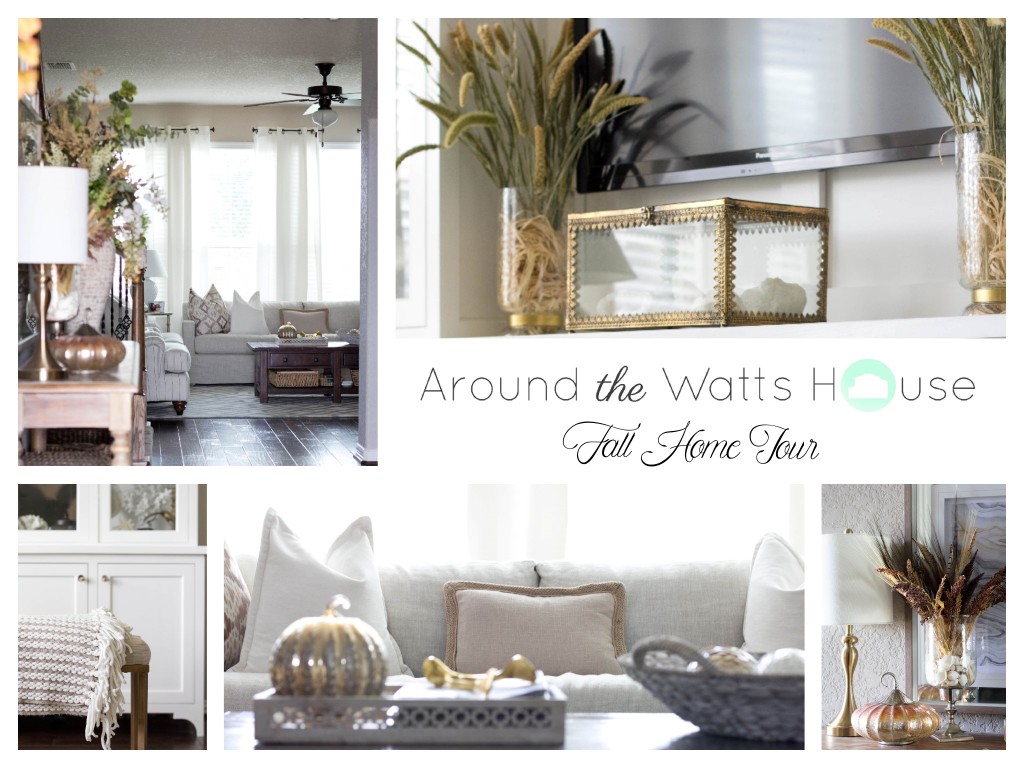 Friends, this has to be my favorite tour to share with you yet!  I have slowly been making changes to my home over the past month to prepare for Fall, and I am finally ready to share all that I've done with you!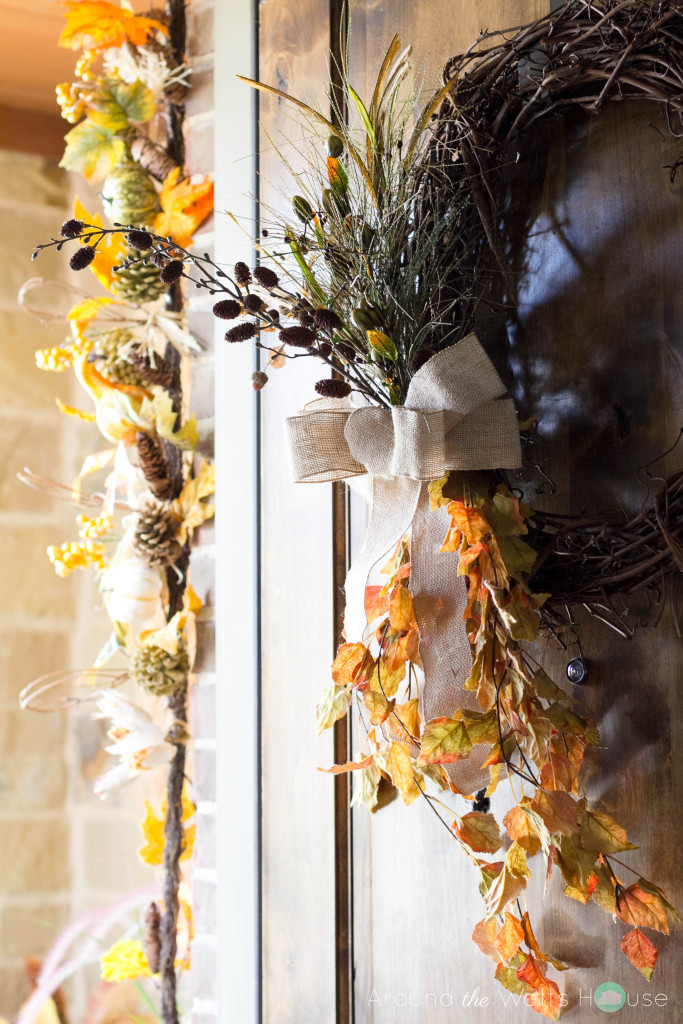 First though, I'd like to thank y'all for visiting my home today, and to those of you that are new to Around the Watts House, I'd like to say welcome, and that I really hope you enjoy what you see and continue to visit!  Of course, I hope the same for all of you wonderful friends that visit time and time again too. *kisses*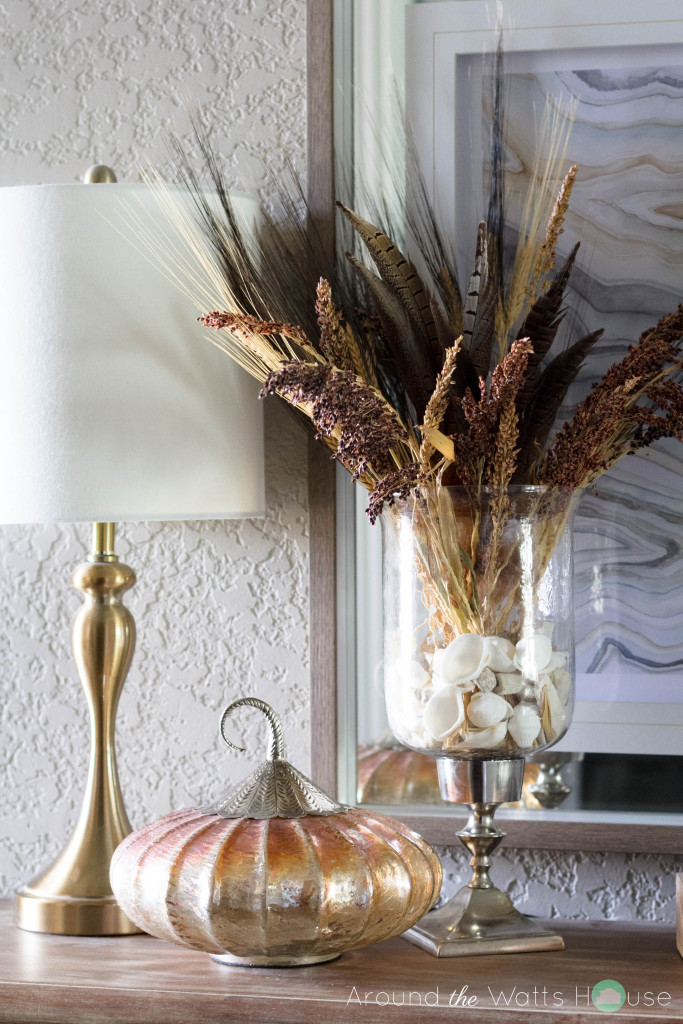 Last year around this time I was just settling into the idea of decorating my home and sharing it with the masses.  Here I am a year later, a completely changed person, obsessed with design and decorating, and on a mission to have my home reflect me, and what I am sure I can offer others one day, as an Interior Designer/Decorator.  Of course, I have a few hurdles to jump before then, so I will happily continue to share my progress with you all here at Around the Watts House.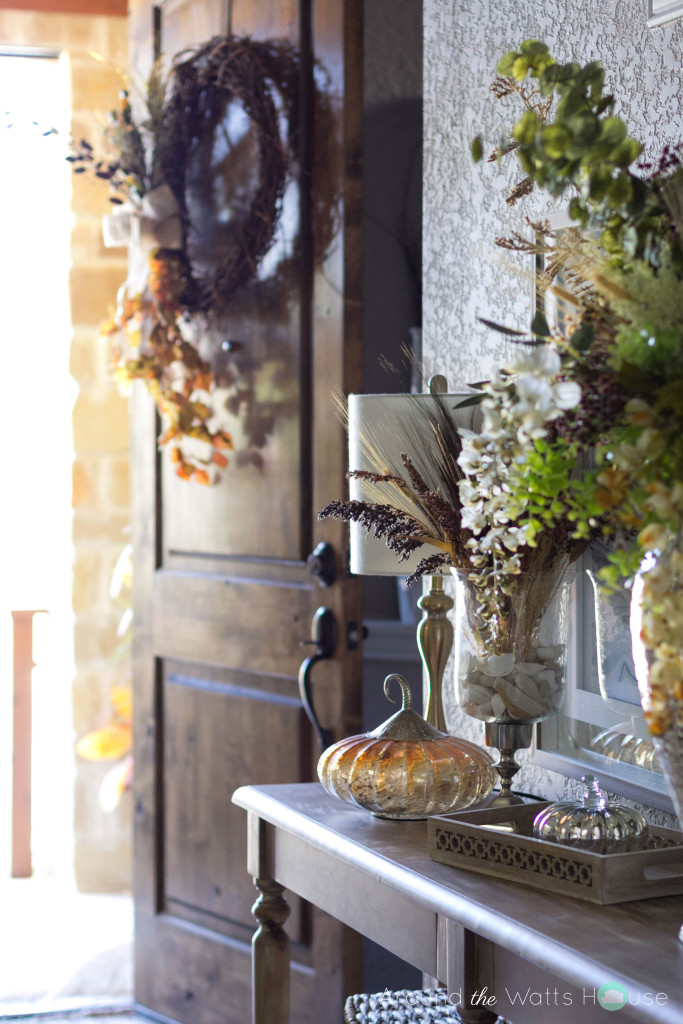 To be honest, I was trying to hold off on sharing my Fall Home Tour until next month, but I've had this nagging voice in the back of my head telling me to share it now.  Maybe that's because I'm just so darn proud of how it all turned out, or maybe it's because I have an irrational fear that my computer will crash I and I will lose all of the photos I took of the space.  That in turn would mean I'd have to clean up again to take pictures, and well, haha, that's such a chore, and who knows if these glass pumpkins will survive my almost three year old, and his rambunctious ways!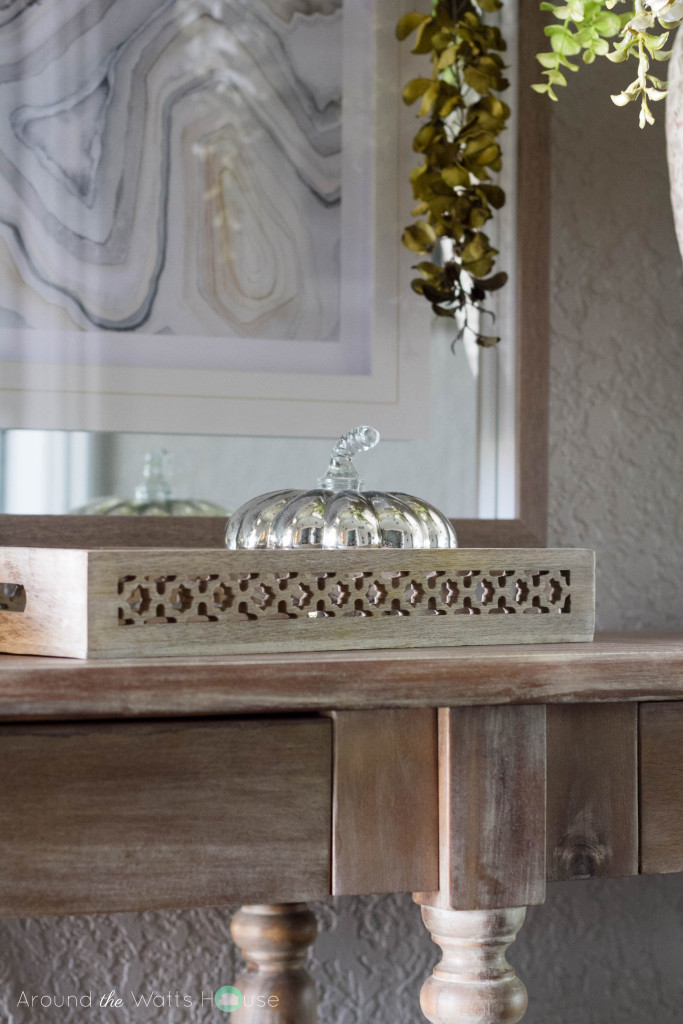 Seriously though, when I started thinking about Fall, and how I wanted it to reflect in my home, I felt the need to glam it up a little bit in here.  Still, I didn't want it to get too overwhelming, so I did my best to keep it simple.  With my plan in hand, I went searching for pieces to add to my home.  I bet you can imagine how I felt when I ran across this beautiful glass pumpkin one day while out shopping!  I seriously had a Gollum moment, (My precious!) when I laid eyes on it.   I may have another one sitting in my closet just in case something happens to this one.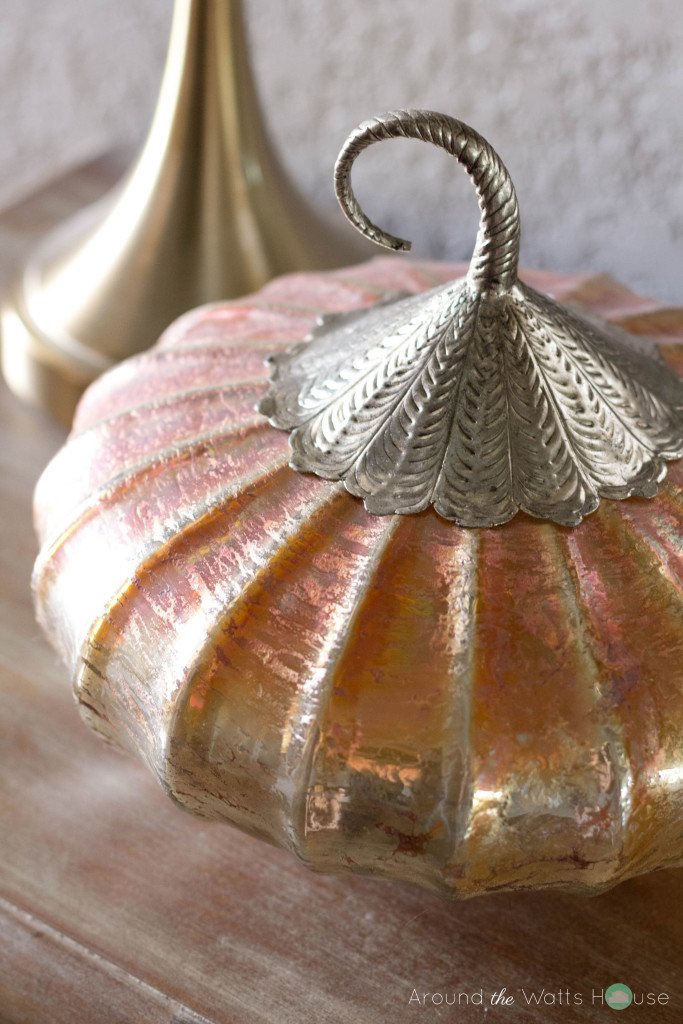 Mixing it in with the rest of the decor on my entry table created my most favorite table styling in my home to date!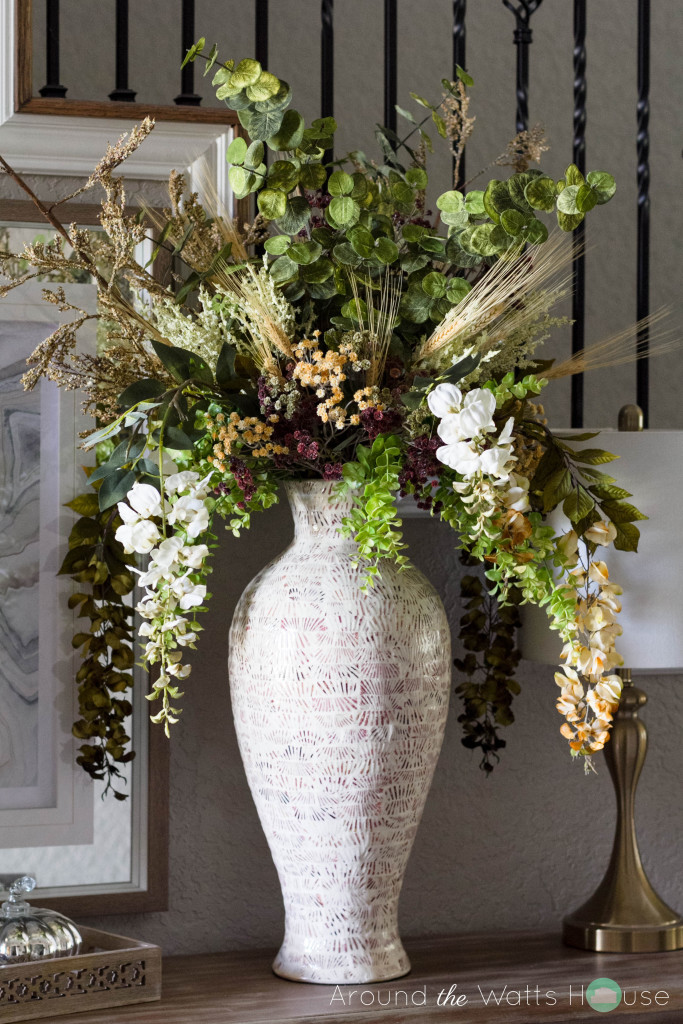 You might remember me mentioning that I was going to make my own floral arrangements using faux flowers for the season.  I even shared a tutorial on how to create your own a few weeks back.  You should take a look if you like what you see!  I really wanted to deviate from the traditional look of Fall arrangements, and try something a bit lavish, with a hint of traditional Fall thrown in.
The idea of using a large arrangement to fill up most of the negative space on this side of the entry table came to me one day, so again I was on the hunt for another critical piece to make that happen.  Lucky for me, HomeGoods was transitioning their inventory from Summer to Fall, and had this beautiful vase on sale.  Of course, once I saw the colors on the vase, I knew it was perfect to keep my coastal vibe going throughout the season, but fit right in with Fall.  Soon after, I started shopping for floral stems to create this arrangement.  It took a week to complete it to my liking, but I am so happy with the outcome that I don't mind.  Of course, what Fall decor is complete without some feathers thrown in, and about?  I just had to make this little arrangement to compliment the larger one, using them.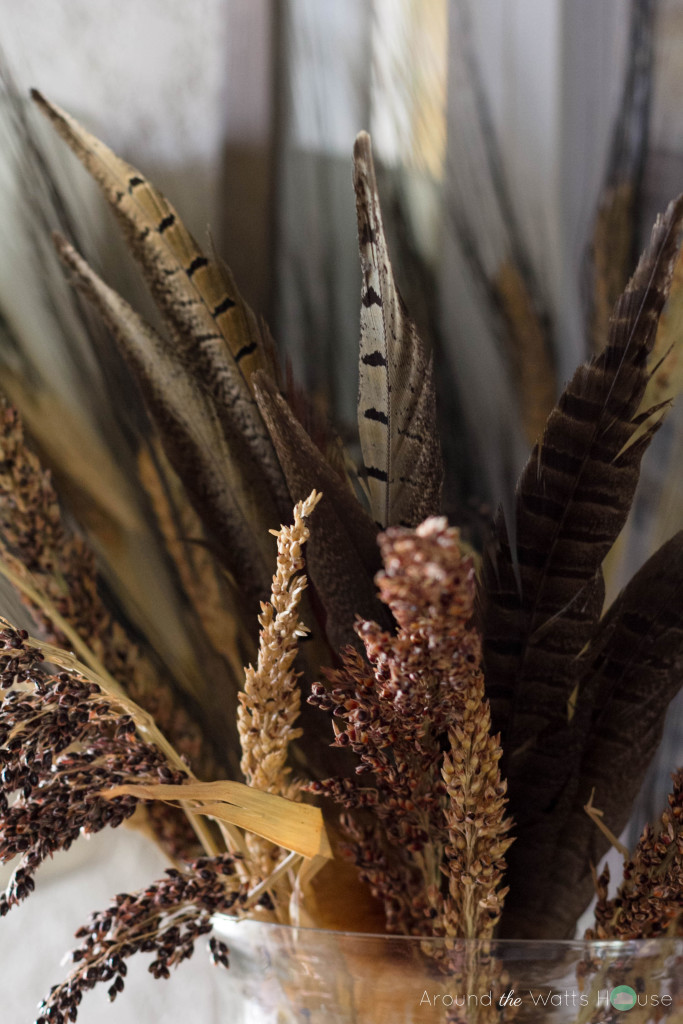 Now here is the part I'm most proud to share with you all.  You might notice my living room looks a little different from the last time you saw it.  We purchased a new couch from Restoration Hardware over the summer, along with a couple of new chairs from Bassett Furniture.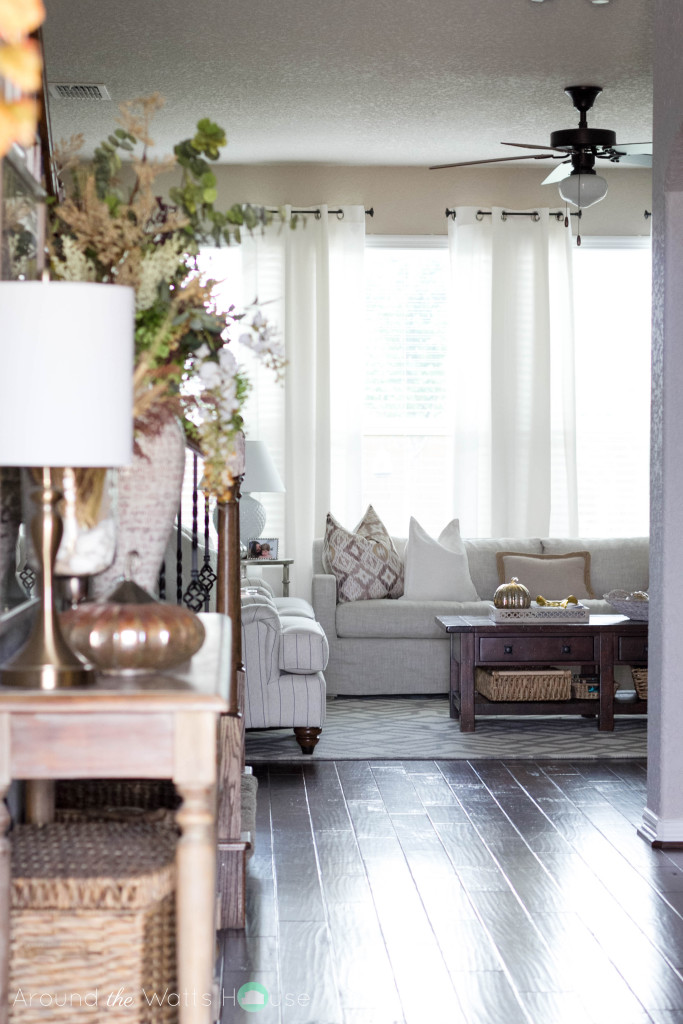 That lead to a couple more additions, and now the entire space reflects me to a T. Don't get the wrong idea though.  We did splurge a bit by actually moving forward with the purchases to make over the room, but I got  all of them on sale, or at a low cost.  It's how I work!  Paying full price is excruciating, especially when I know that a bit of patience and a watchful eye will get me a better deal.  Sometimes that's a hard rule to follow, but I've learned the hard way that it is worth doing.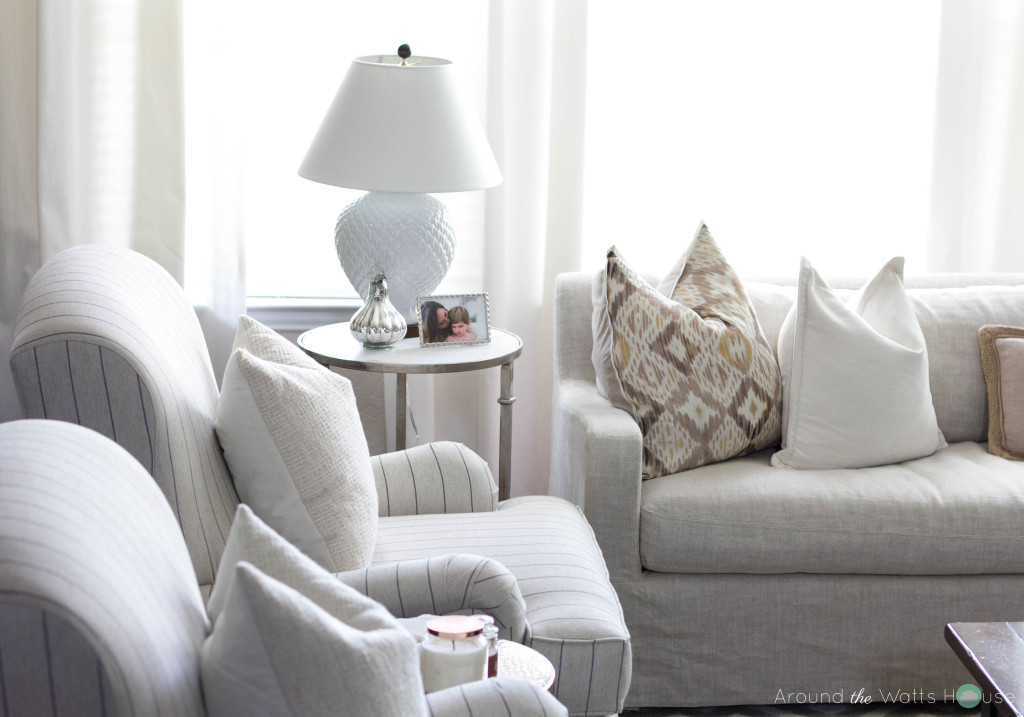 This is sort of embarrassing to admit, but I did my best to not go pillow crazy this go round, by using pillows that I already owned and adding in accent pillows to bring in some color.  I have such an obsession with buying throw pillows, that this concept seemed foreign to me.  I know, I'm nuts.  Haha!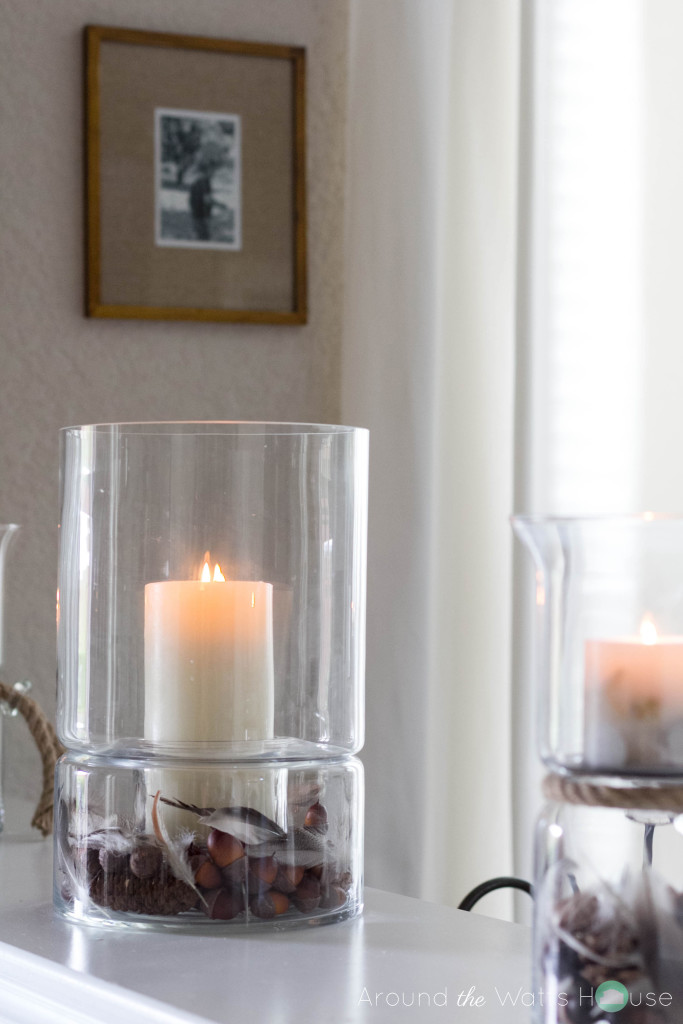 Wanting to keep a few of my favorite decor pieces out from Summer, I decided to switch out the vase filler in these hurricanes to give them a new life for the season.  I really enjoy how they help to keep the Fall vibe moving into the dining area!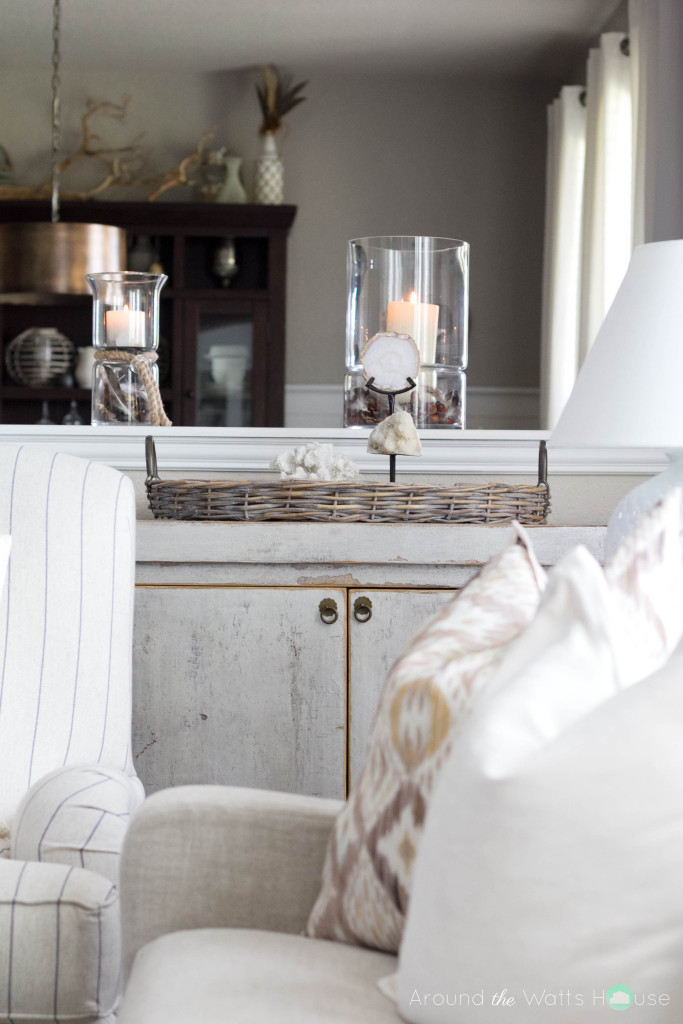 It's funny, but I always laugh when I see this cabinet looking pretty and tidy.  I purchased it for the sole purpose of hiding away the gazillion toys that inhabit my living room on a daily basis.  Of course, on most days you will find a lot of those toys out and about, but knowing that this piece of furniture can house those toys when my son is done with them, and make my living room look like a dream again, is wonderful!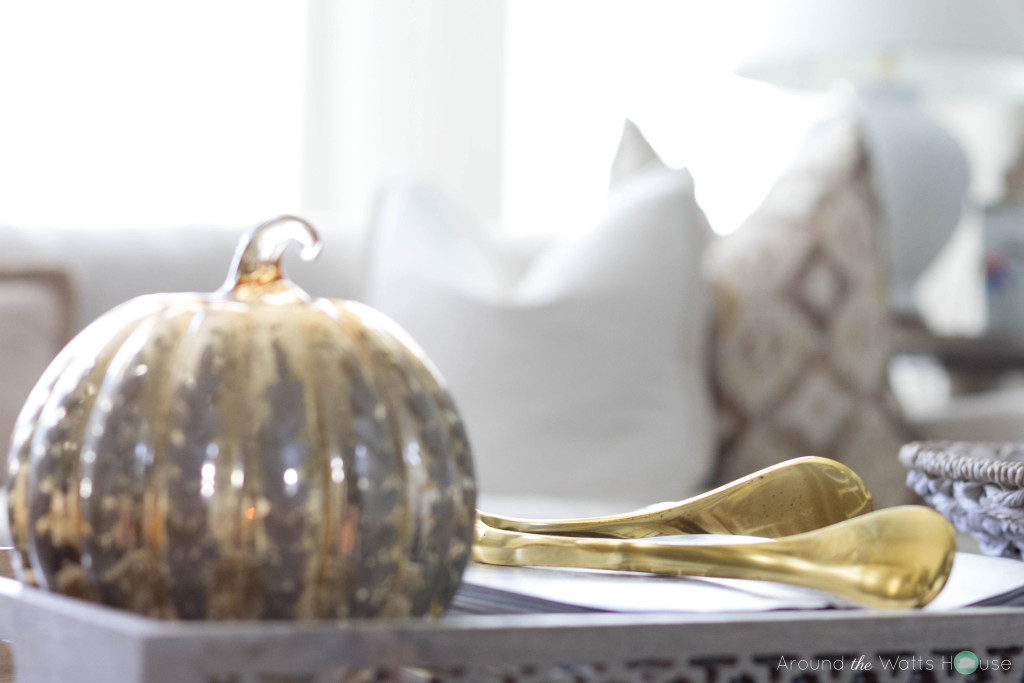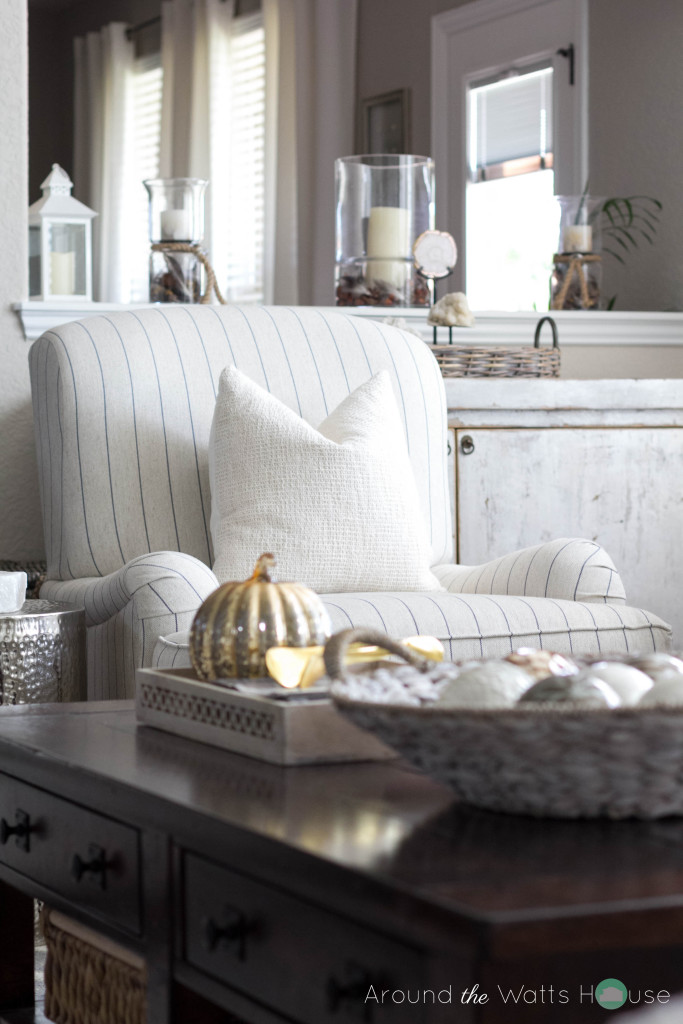 Here's a good view of the new chairs, for those of you that have been wanting to see them.  Even though we had a bit of a hiccup in getting them made and delivered correctly, they were worth the headache, hands down.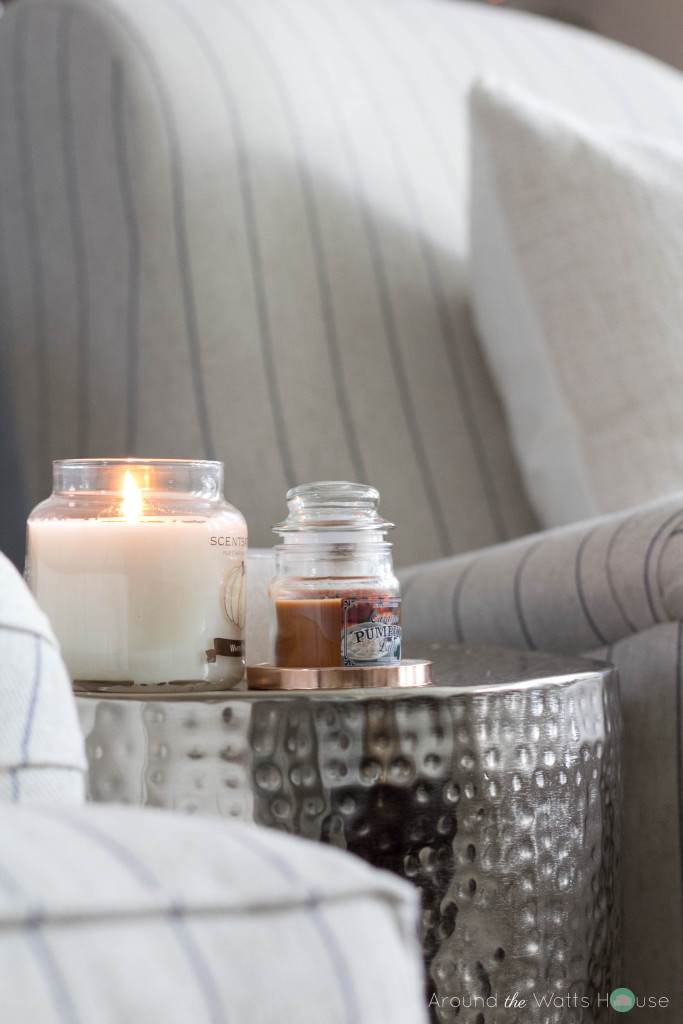 I love the smell of pumpkin scented candles, don't you?  I have so many at home this year that I doubt I'll end up burning them all before the season ends.  You can bet I'll try to though!  Haha!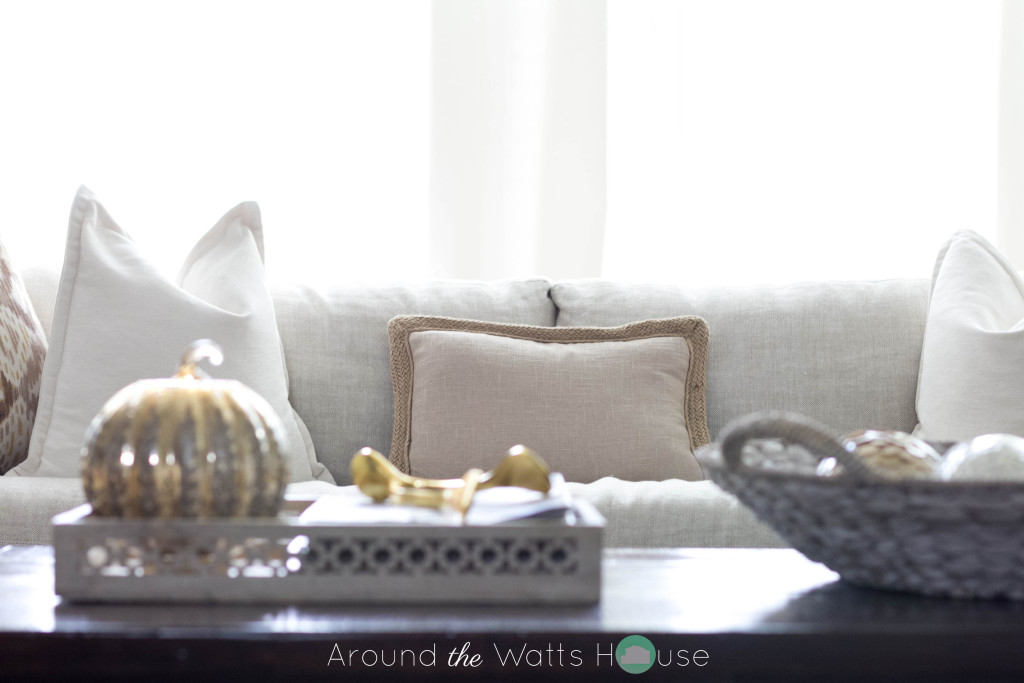 I kept the decor simple in here, by sprinkling some identifiable Fall decor around the space, like this gourd (below), glass pumpkin, and golden wishbone (above).  I added a few other pieces that you'll see in the pictures below too.  I really wanted the space to read "Fall", but in a very unsuspecting way.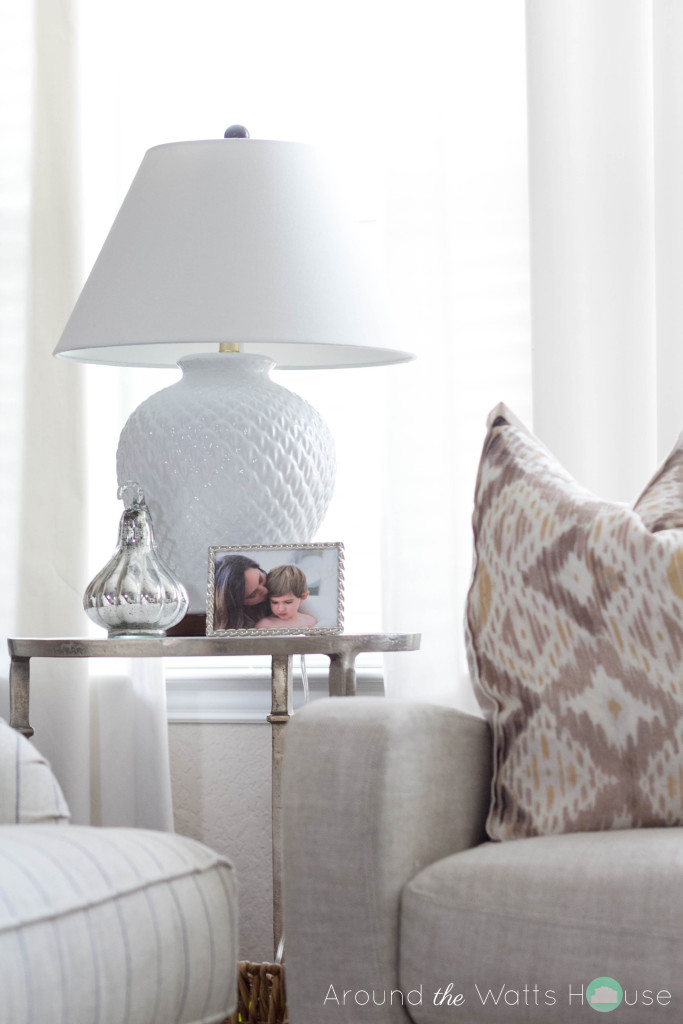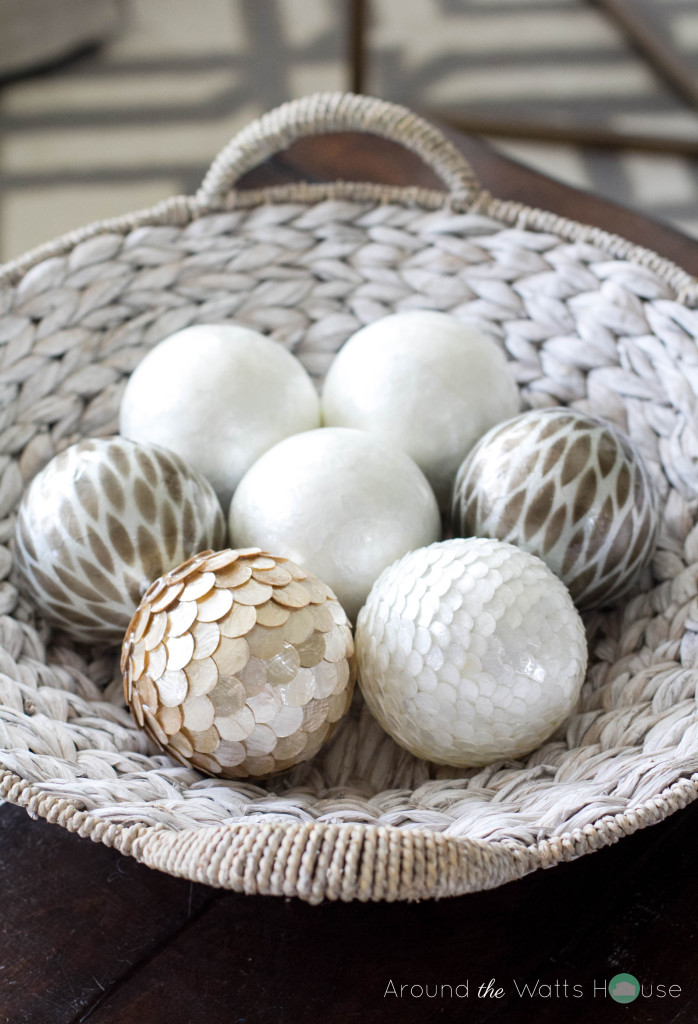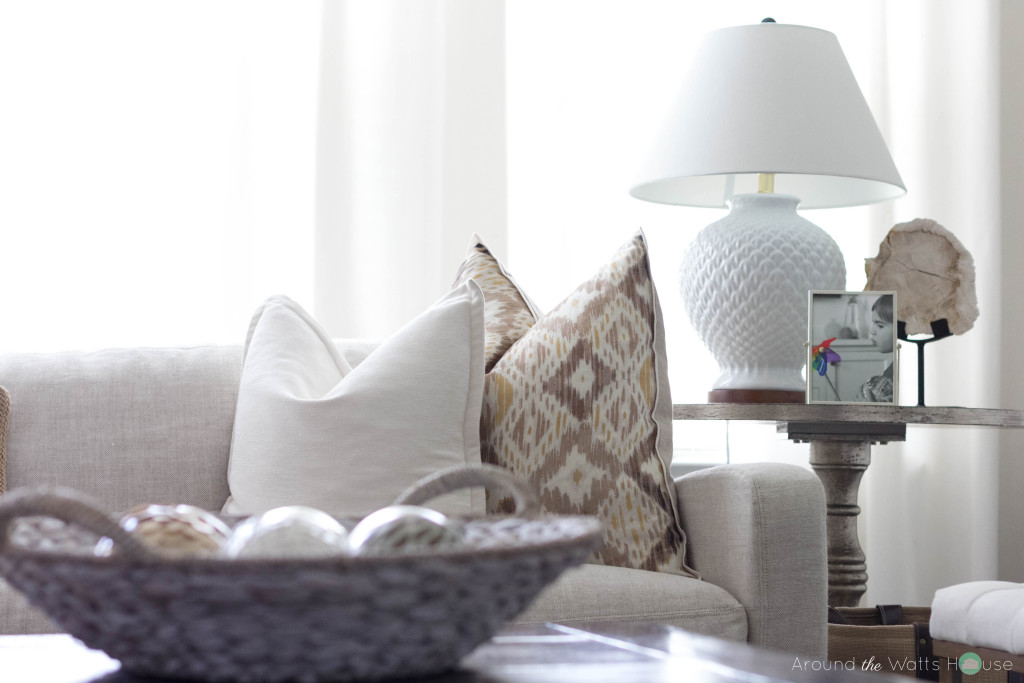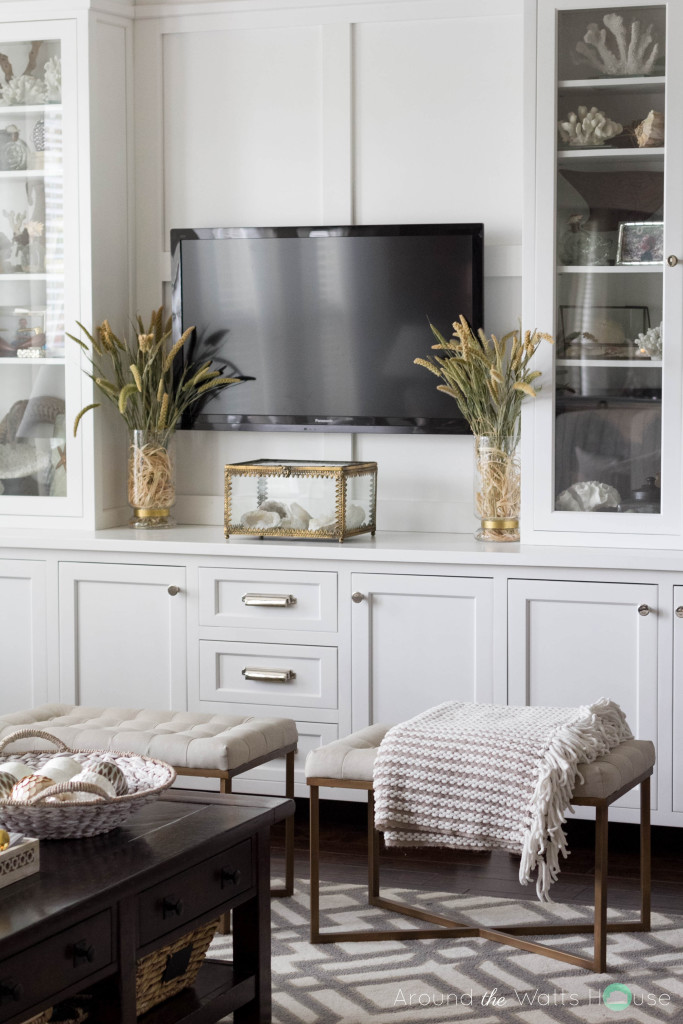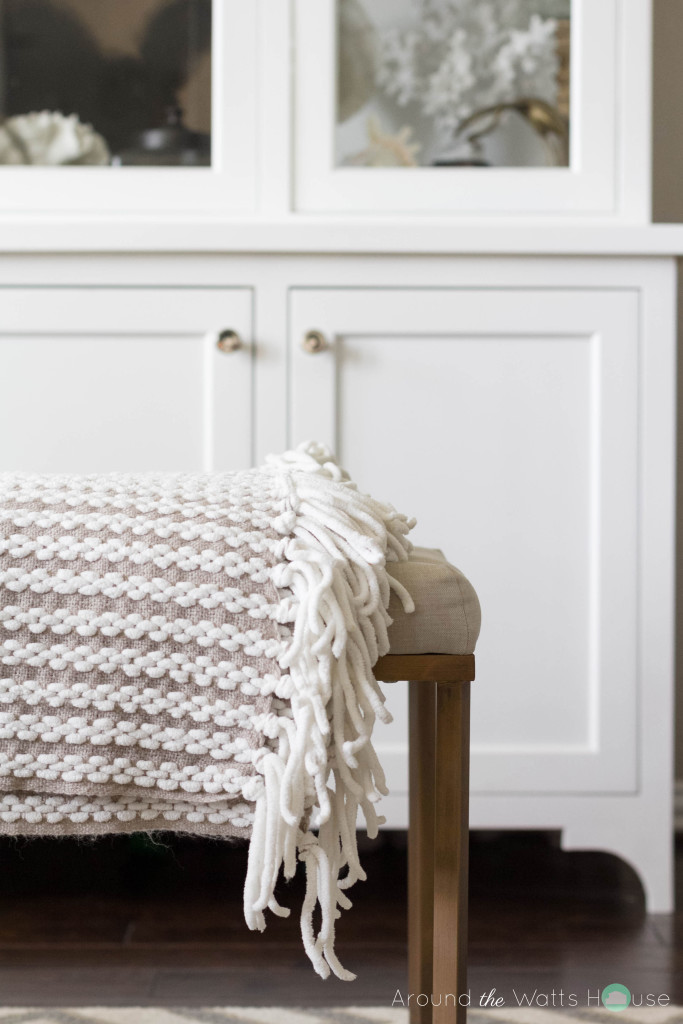 Every space needs a cozy throw to bundle up with!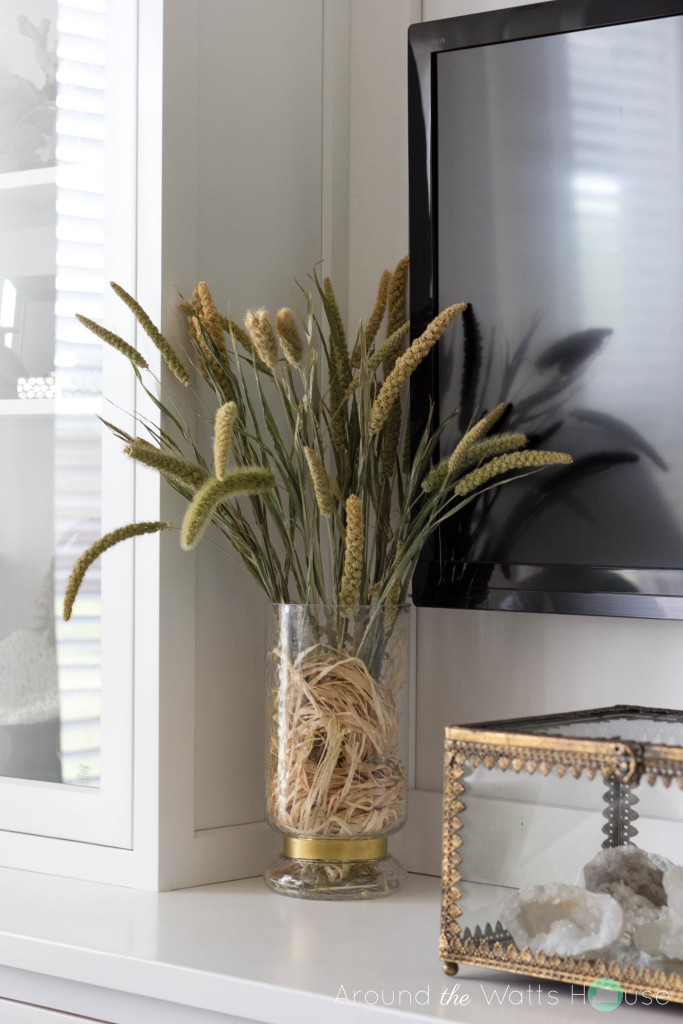 Here, more simple Fall arrangements flank the television.  I kind of wish I could keep them out year round!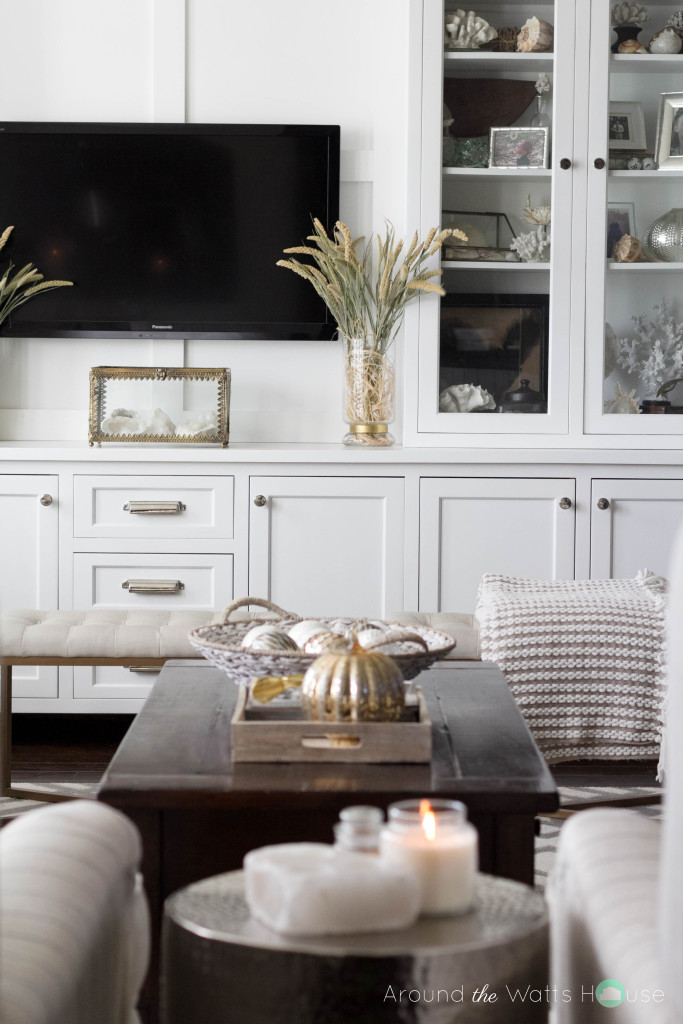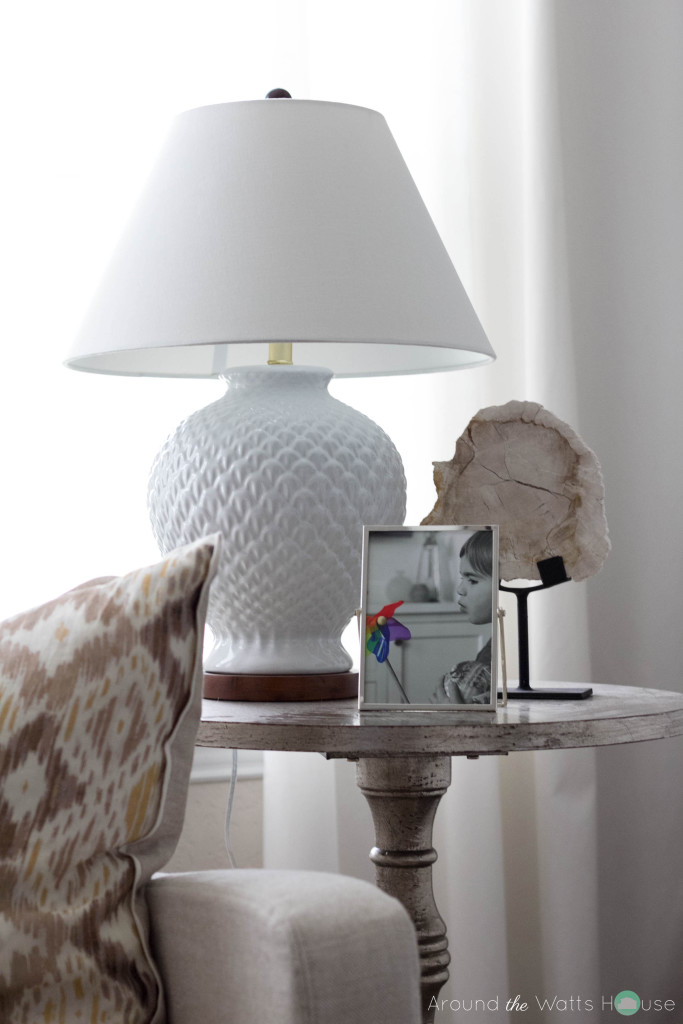 A while back I saw an image on the internet of a wooden-glass box displaying geodes, and fell in love with the idea.  Knowing that those babies aren't cheap, I pushed the idea to the back of my mind, but on a particularly lucky shopping trip to HomeGoods, I ran across a few being sold for less than $15 each.  What a deal!  I brought those home, and set my sights on finding a display case for them. I ended up making a purchase from Joss & Main that turned out to be too small (Oops!), but I wasn't deterred.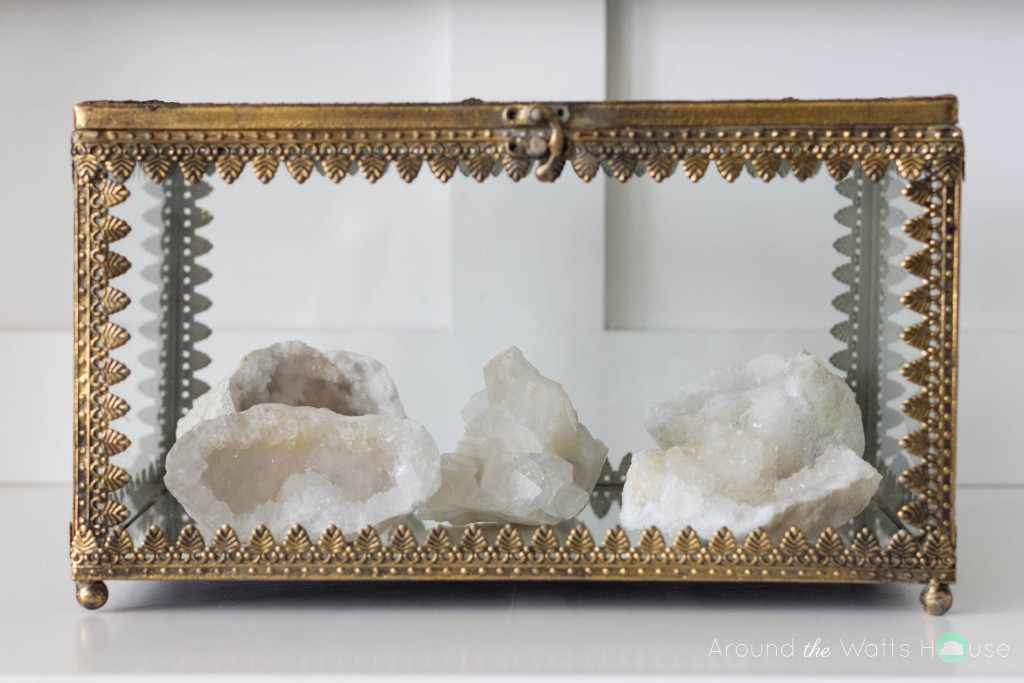 Ultimately I found the perfect display case for them, when I ran across this beautiful display case at HomeGoods a few weeks later.  Good ole HomeGoods!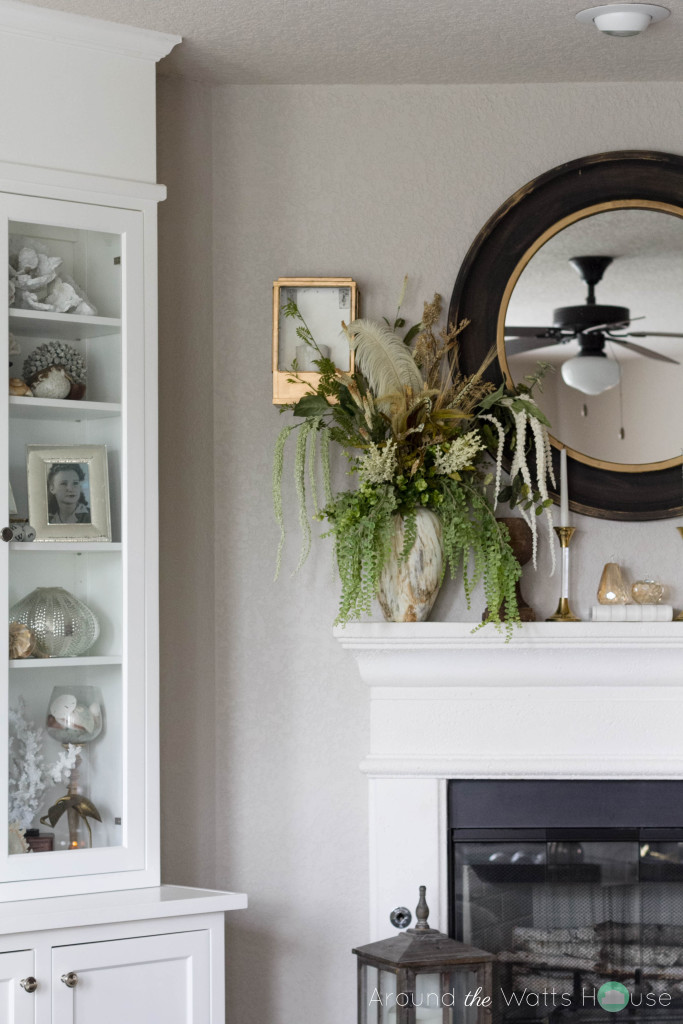 Friends, here we are at my favorite space to decorate each season, though sometimes it can be a challenge since my mantel is pretty shallow.  As you can imagine, I was ecstatic to find that these marbled vases were just the right size to fit on it.  Decorated with floral arrangements made to compliment the one in the entryway, they turned out to be beautiful and elegant.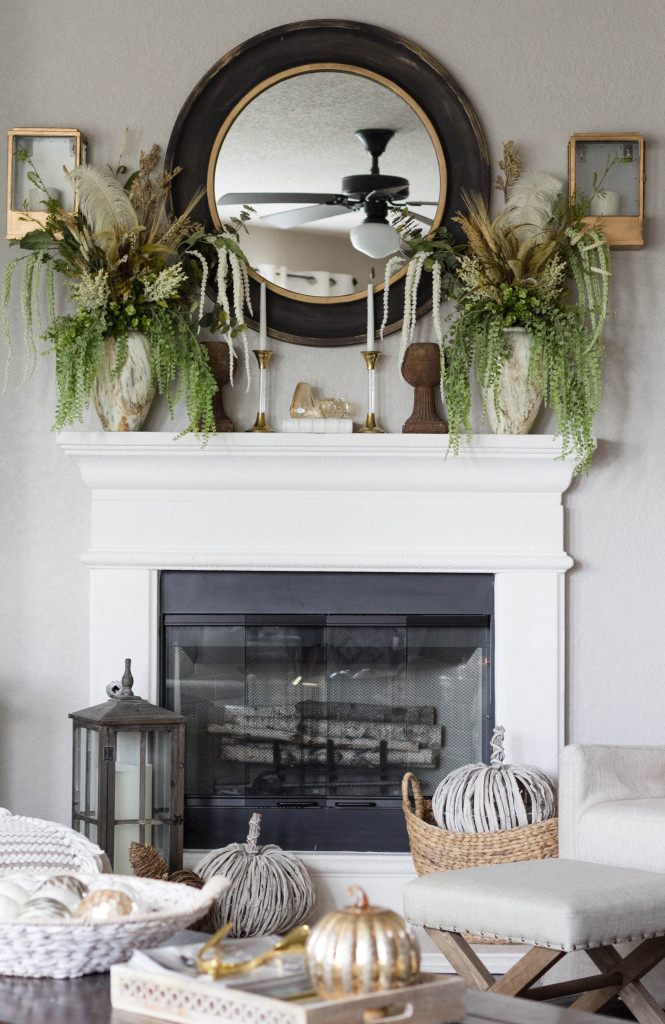 Here is a prime example of how I shop frugally.  Pretty much everything you see in the photo above was found at HomeGoods, TJ Maxx, or Marshall's.  Shopping those stores brings me so much pleasure knowing I'm finding quality items, but at a much lower price than retail.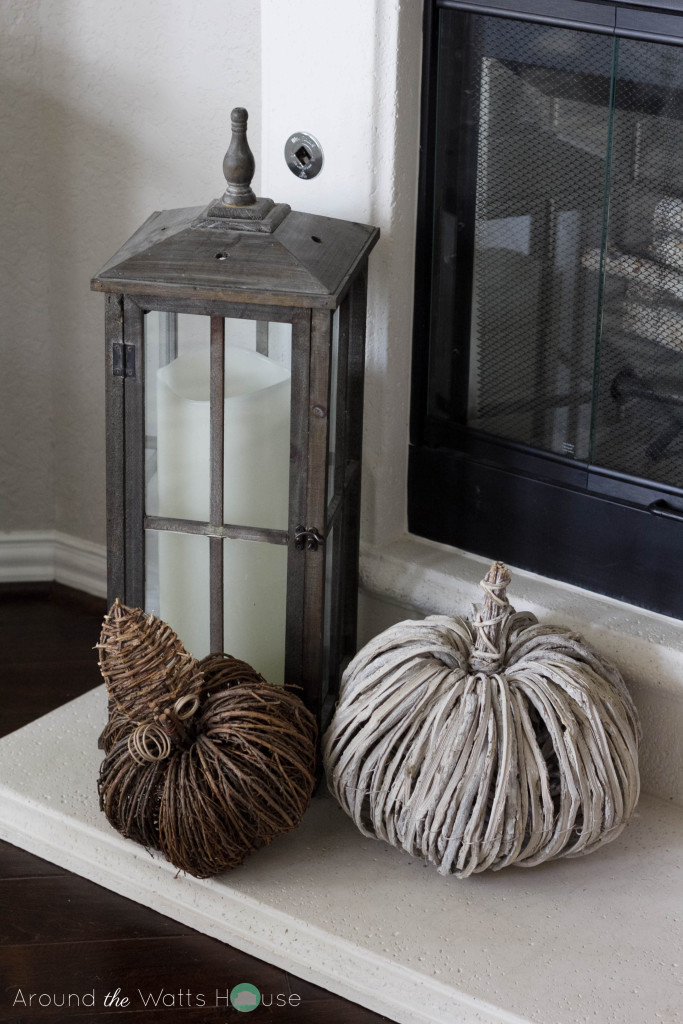 How neat are these pumpkins!  I wasn't sure if they would fit in with the rest of the space, but I decided to try them, and I'm glad I did, since they are perfect!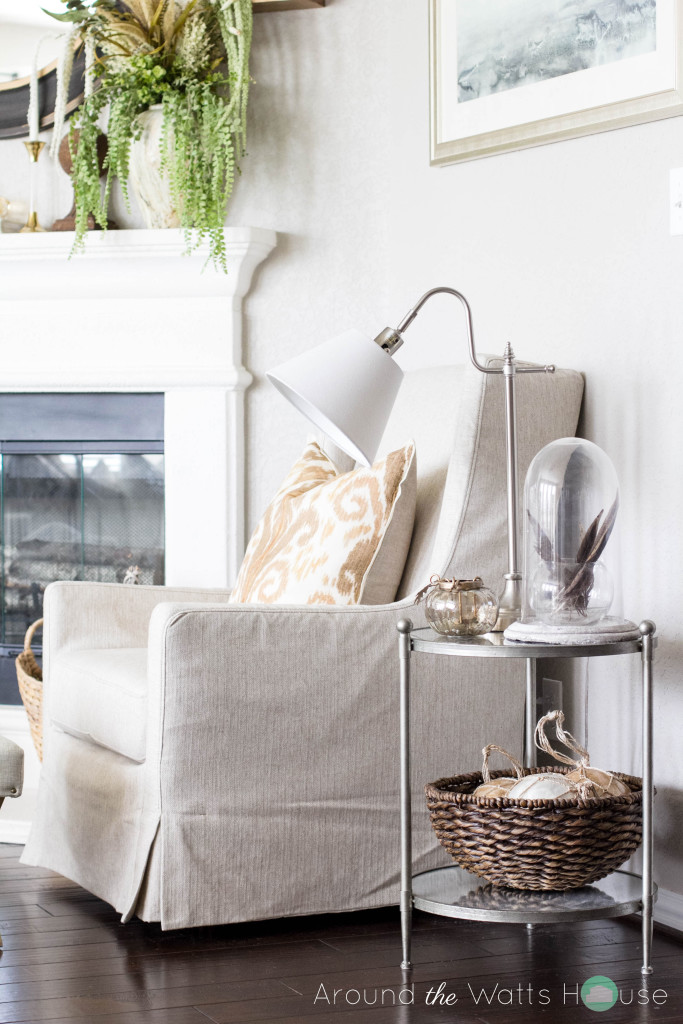 This slip-covered swivel chair is another HomeGoods find that I absolutely adore.  I still need to steam out the wrinkles, but other than that, I'm in love!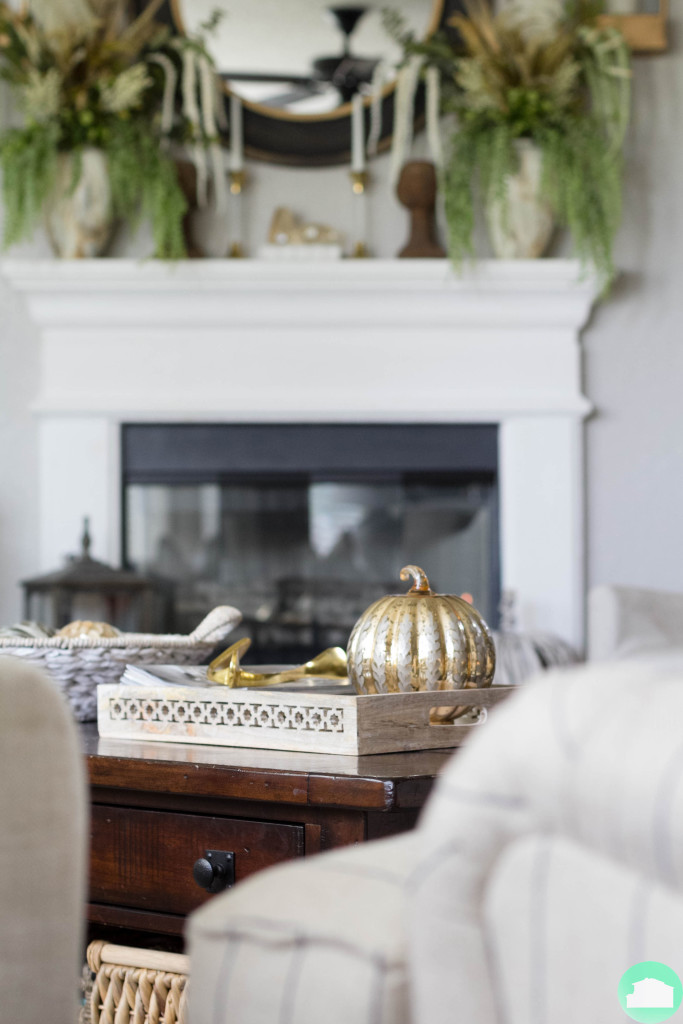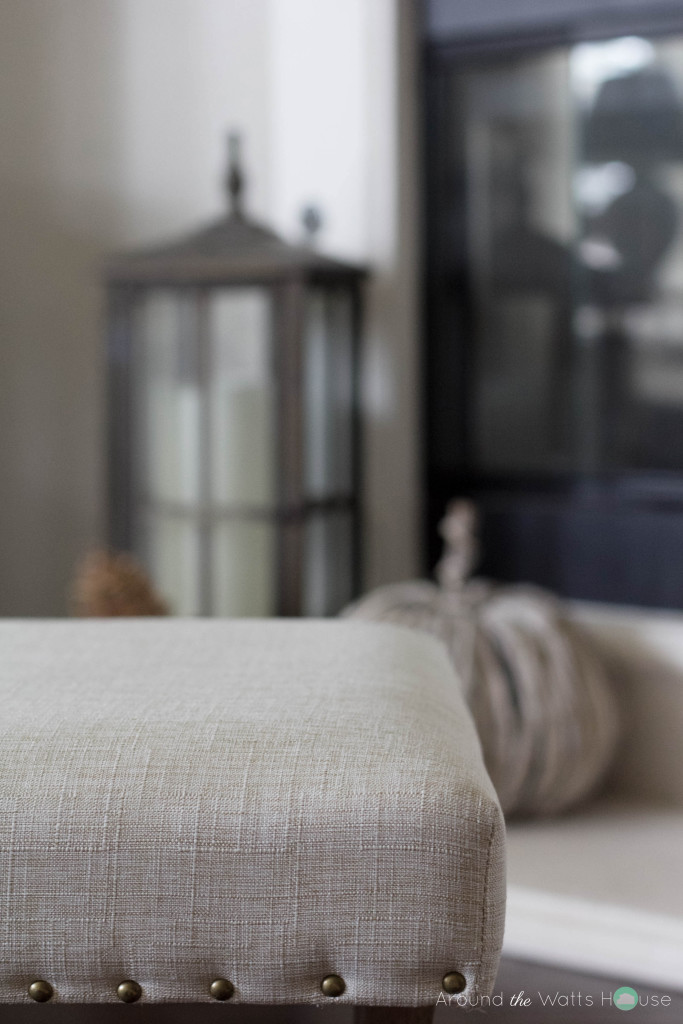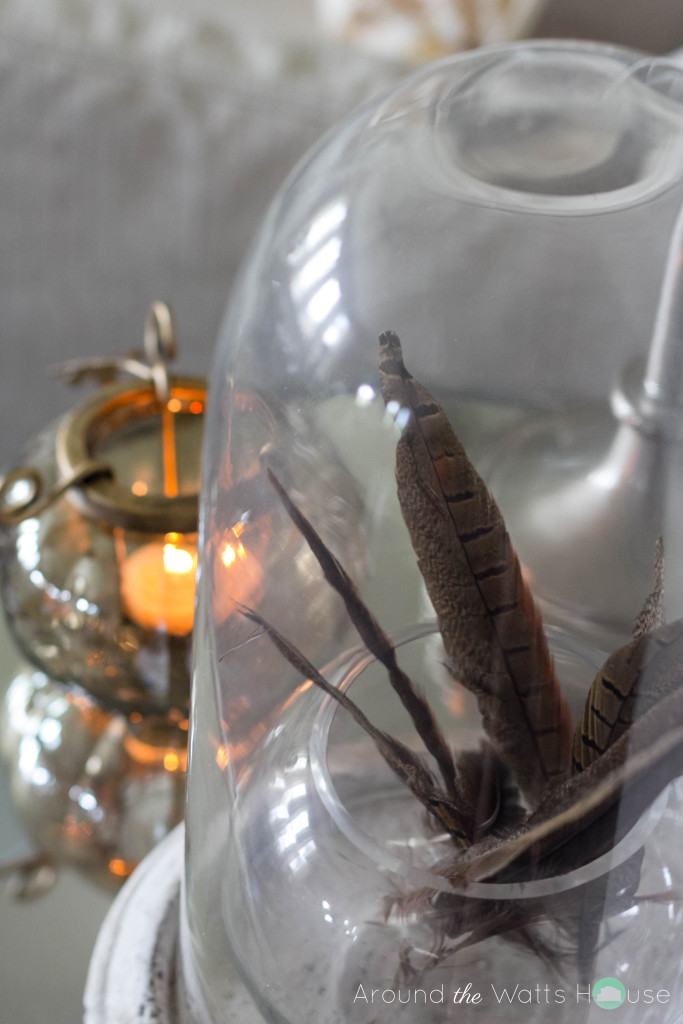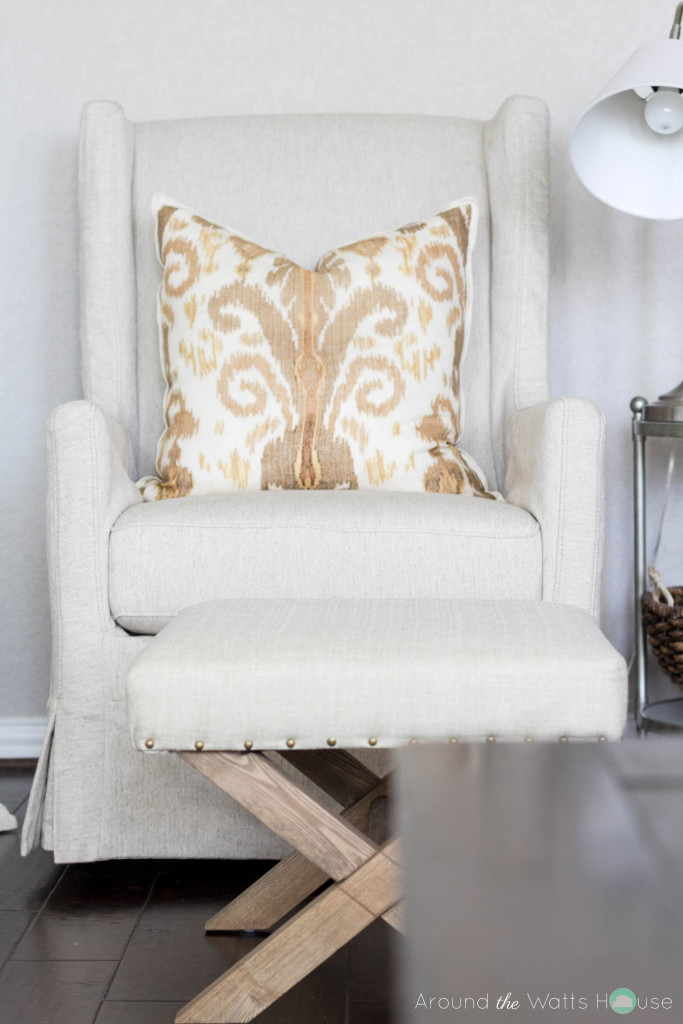 I want to thank y'all again for touring my home!  I hope y'all have enjoyed it, and even better, gotten some inspiration from it!  Check back here soon, because I have SO much more to share with y'all this season.  It's going to be good, I promise!
 I'd love to hear from y'all, so leave me a message below!
Happy Fall, friends!
-Iris
Linking up to the following Link Parties!  Be sure to take a look!