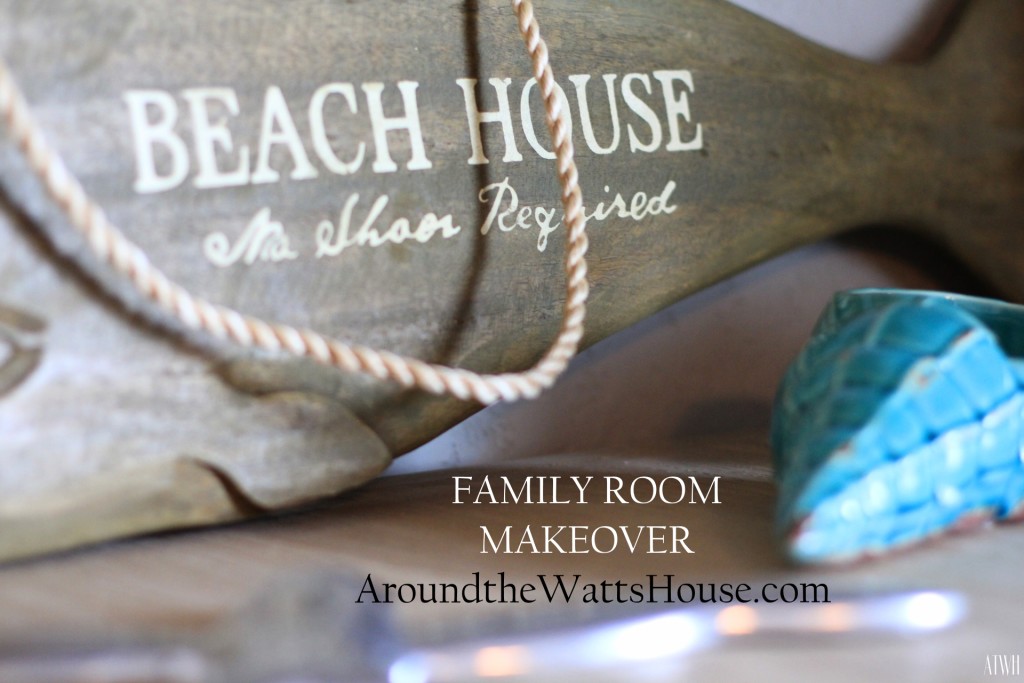 I'm so excited to be writing this post!  The day has finally come to share my Family Room makeover with you all!  I've spent hours upon hours working on the design of this room, researching the best deals for the new items I wanted, and putting it all together.  It's finally complete, and I couldn't be happier with the outcome!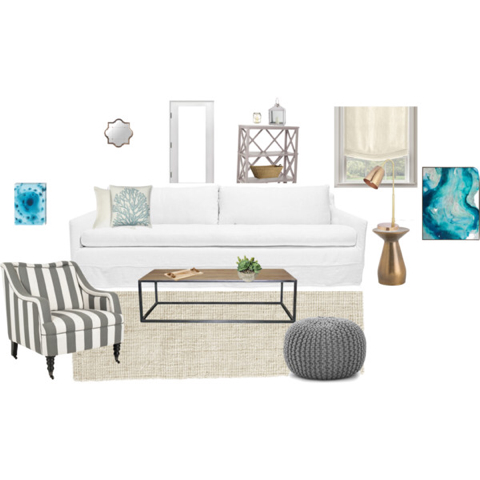 I'll start with the design board I put together for the room.  I knew I wanted to decorate with coastal accents, since I already had a few pieces not being used from last Summer.  That, and I just LOVE coastal décor, so why not dedicate a whole room to it?!  I also wanted to be budget minded, so that played well into my goal.  Since it's our family room I had comfort and functionality in mind.  It can be the prettiest things in the world, but if it doesn't function for my family, it's out of the running.  You will see a white media center (not pictured in the design board) that I built last year, in the room.  It holds a lot of our movies, games, and other family items inside.  I am so glad that I took a leap of faith and built it.  It's not perfect, but it does the job, and I'm thrilled to have it in our home.
Back to the design.  I wanted a white couch, and I know what you're thinking; my toddler is going to destroy it, but I have hopes that I have taught him well enough to avoid any accidents.  That and I am not allowing any food or drink in this room for at least a year.  Haha!  I toyed with the idea of a small sectional vs. a normal sized couch.  In the end, with the shape of the room, the regular couch won out.  Plus we got it for a great price during a sale at Star Furniture.  Can't beat that!  The striped chair stood out to me immediately, and I just couldn't get it out of my mind when making the mood board.  It really pops, and honestly, it's a bit exciting to have something that has a pattern in my home.  Haha!  A lot of you know that I keep things pretty neutral in my home, and I've decided that strips are my new neutral.  Notice I went with striped curtains instead of white Roman Shades.  I'm still a bit nauseous over the fact that I stepped out of my comfort zone with the curtains, but they are just so majestic in this room.  Once we got them up, both John and I were amazed at how much taller the room felt.  In person, they are much more beautiful too.  The sun hasn't really shown it's face much this week, so these pictures don't do them justice.
I played around with the rug for the space the most.  I wanted a natural fiber rug, but was unsure how the jute would feel under foot.  I have read so many reviews on so many different websites, and a lot of people complained that they weren't soft, and weren't suitable for a family room.  That was perplexing to me since I have seen them in so many homes that I have admired.  Fearing people were just putting up with the terrible feel for the sake of having something "in style" I started looking for a different rug.  I stuck to wool, and looked for blue rugs instead.  In every mockup I was excited with the thought of color on the floor, but it never looked "right" to me.  I ended up reverting back to the jute rug, and found one on sale at Pier 1.  They don't offer reviews of their products online, so I called and asked an associate to tell me what she thought about the sample they had in store.  She said it definitely wasn't an outdoor feeling rug, and that she thought it would work well inside.  I trusted her and ordered the rug online.  I even found a promo code to use, that saved me a lot more money.  I'm always excited to save!  Once we got it home and rolled it out, we all walked on it, and agreed that it's actually very comfortable.  I'm glad I trusted her judgment!
The artwork I already had, so I didn't have to search for it.  Money saved!  I found the bookshelf at HomeGoods marked down from $800 to $119.  Hello!  I had passed it in the store for weeks, and admired it, but I never had a need for it until we decided to go ahead with the makeover.  Knowing it was still in the store, I asked John to run over during his lunch to purchase it, and have them hold it until we were able to get his dad to help us pick it up.  We got it home a few days later, and it couldn't be more perfect for this space.
Okay, I know, enough with the jabbering, and just show you the pictures!  Heck, you may have skipped everything I just wrote, but I wouldn't blame you.  I tend to go straight to pictures myself.  Haha!  Here ya go!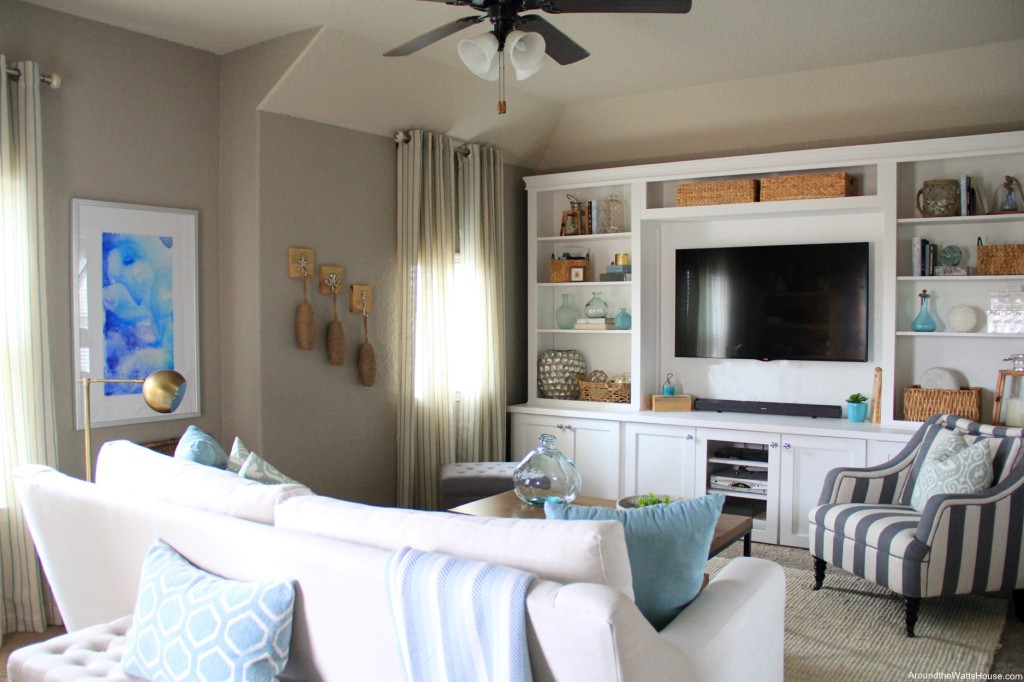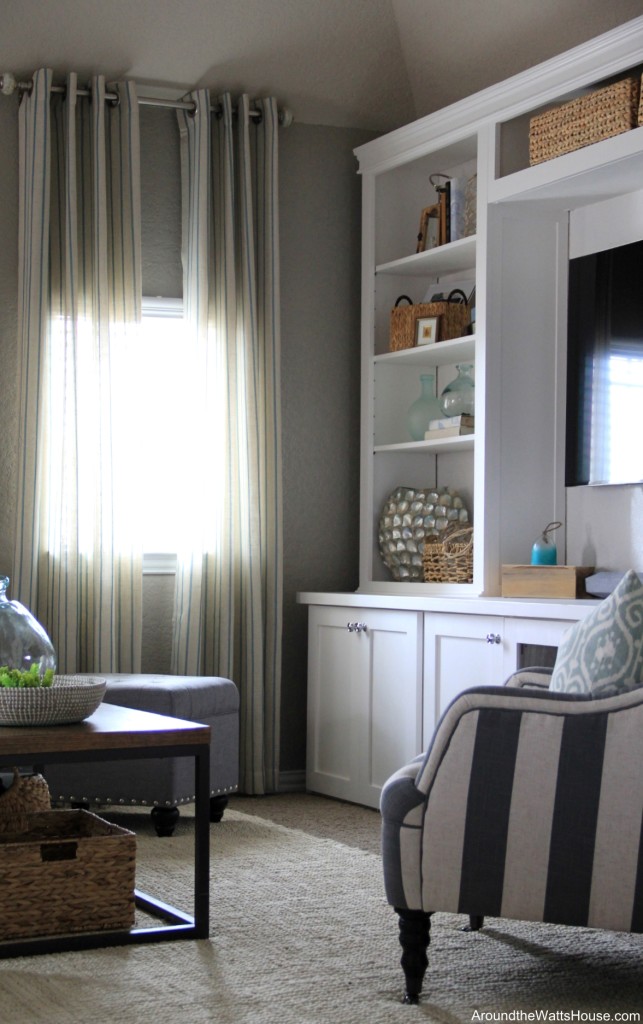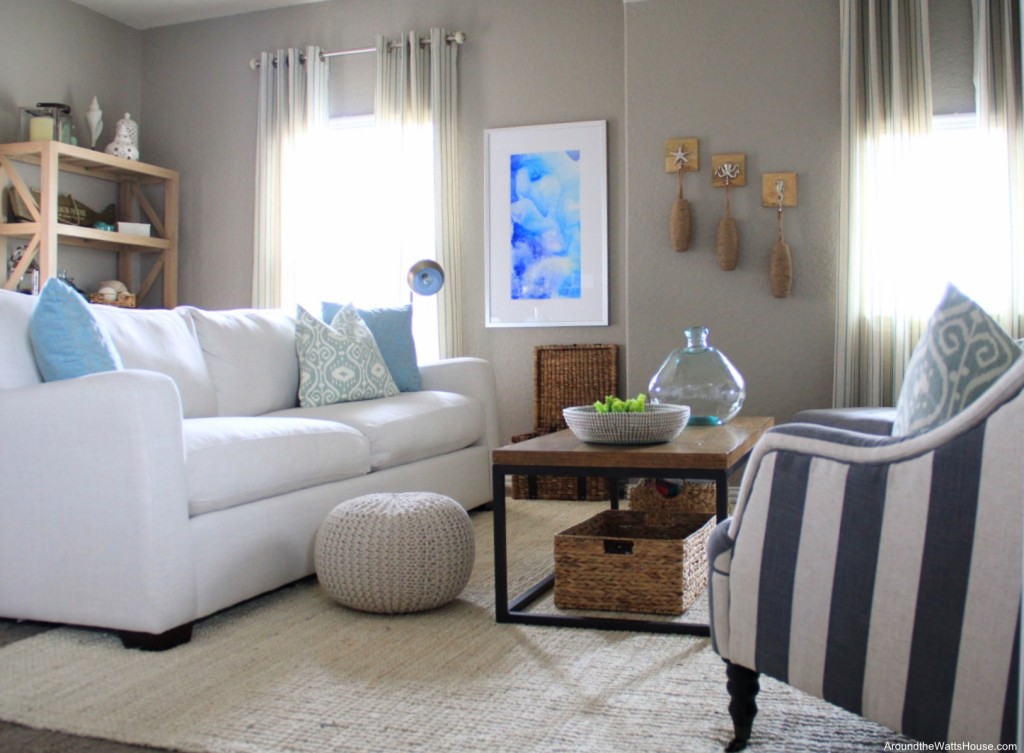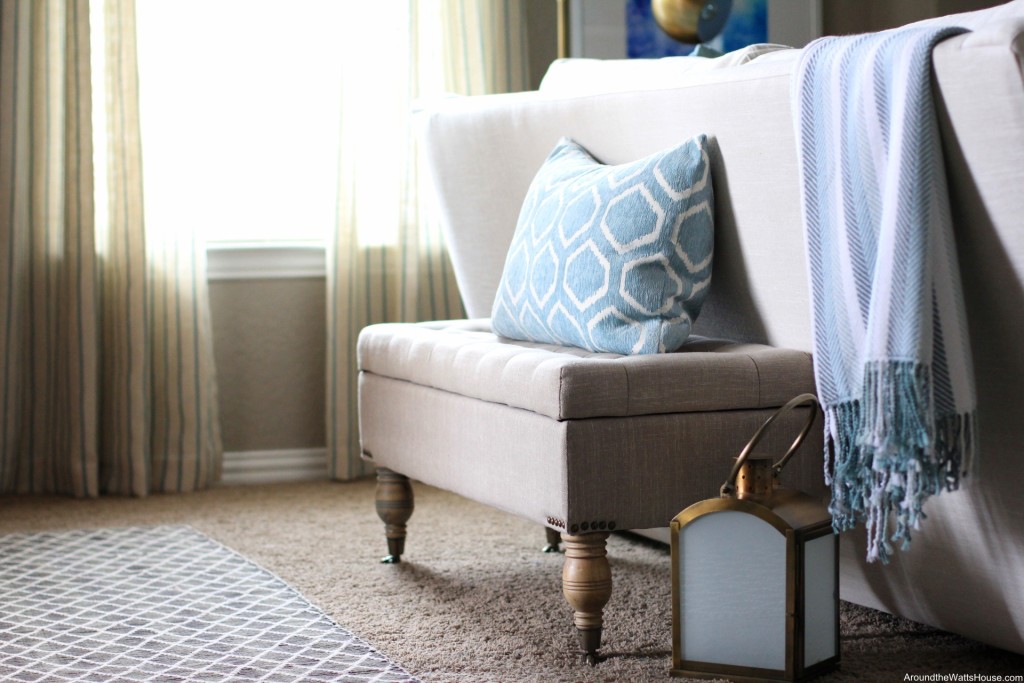 Having literally put my blood sweat and tears into this room, I couldn't be more pleased with it all. It's the first room that really screams "me", and I can't wait to enjoy it along with my family for years to come.
Thanks for stopping by!
~Iris