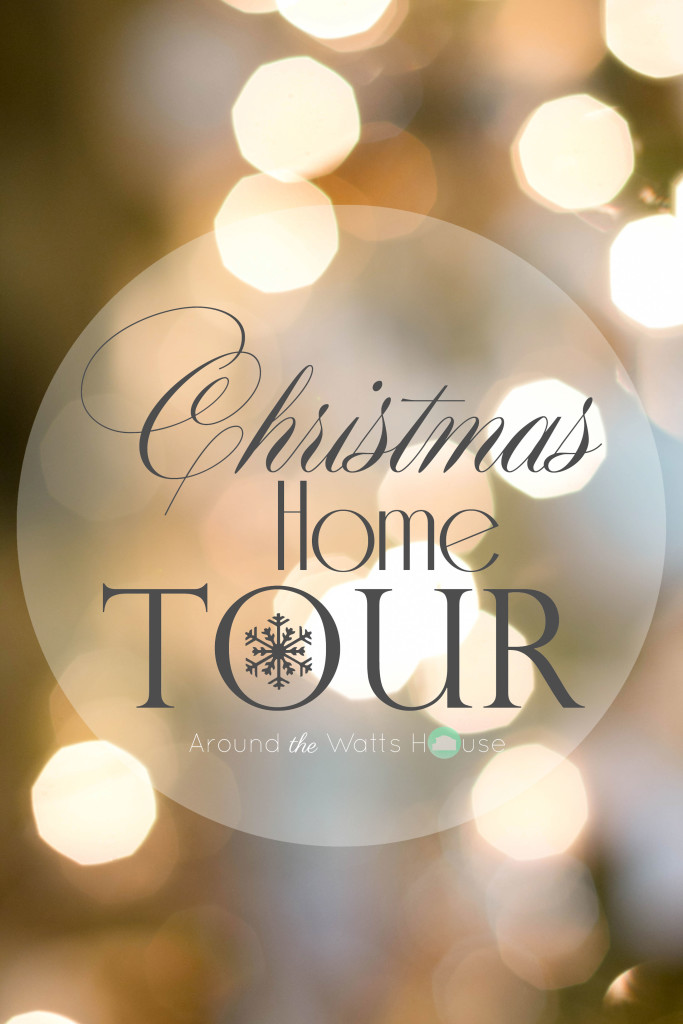 Ah, Christmas.  It has always been my favorite holiday to decorate for.  Some of my earliest memories are of pulling out boxes of Christmas decorations from the attic with my grandparents and preparing to celebrate our savior.  Inevitably the record player would be playing the likes of Silent Night, Rudolph the Red Nosed Reindeer, and Little Drummer Boy, as we'd set up our tiny faux tree in front of the living room window.  Those were the days!
My memories of Christmas's past are what motivate me to continue the tradition of decorating in hopes that my son will some day have similar memories to think back to.  Of course I'm a bit more "enthusiastic" about decorating these days, so I might be decorating a bit more than I have in the past, but there is nothing wrong with that.  New traditions are to be made, and with each year I feel that we are cementing our own.
This year I decided to create our very own "winter wonderland" indoors. To do so, I used a combination of white, gold, and silver to add some sparkle, and plenty of flocked garlands throughout our spaces.  I couldn't help myself though, and added a few pops of red under our tree.
Funnily enough I had a completely different vision for the space, think Moroccan – modern, but once I pulled out my decor from last year, and the new pieces I purchased this year I saw  the space in a different light.  I was seeing a cozy-rustic-glam space with a touch of whimsy.  Enter the burlap bows!  I'm a terrible bow maker, but I ran across a simple tutorial on Pinterest that was easy enough for even me to complete.  Due to this you will see plenty of them throughout.
Entryway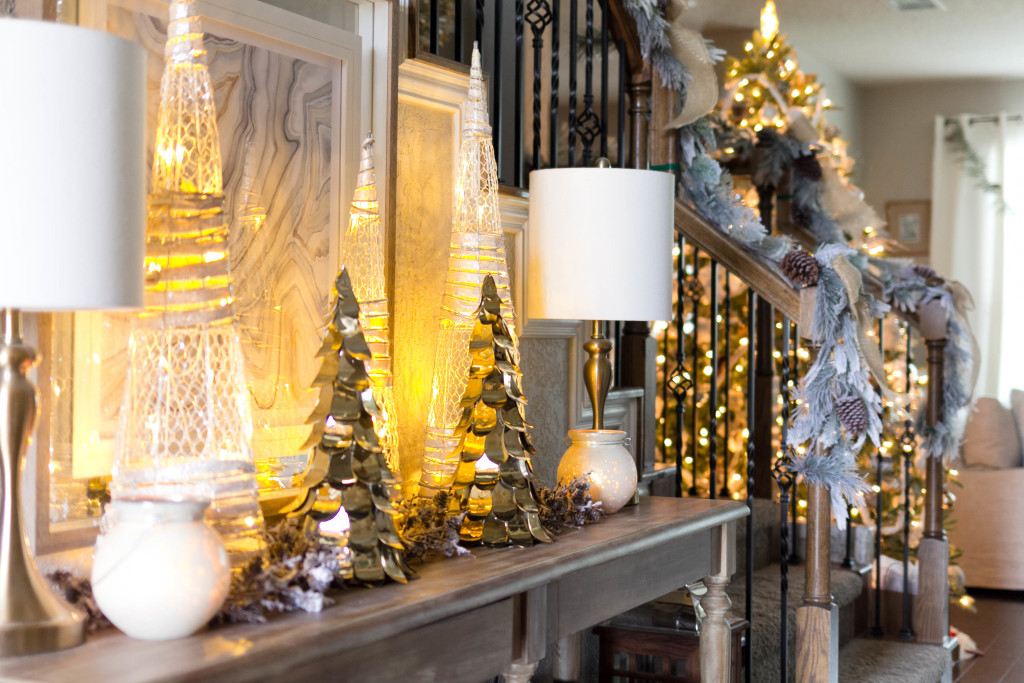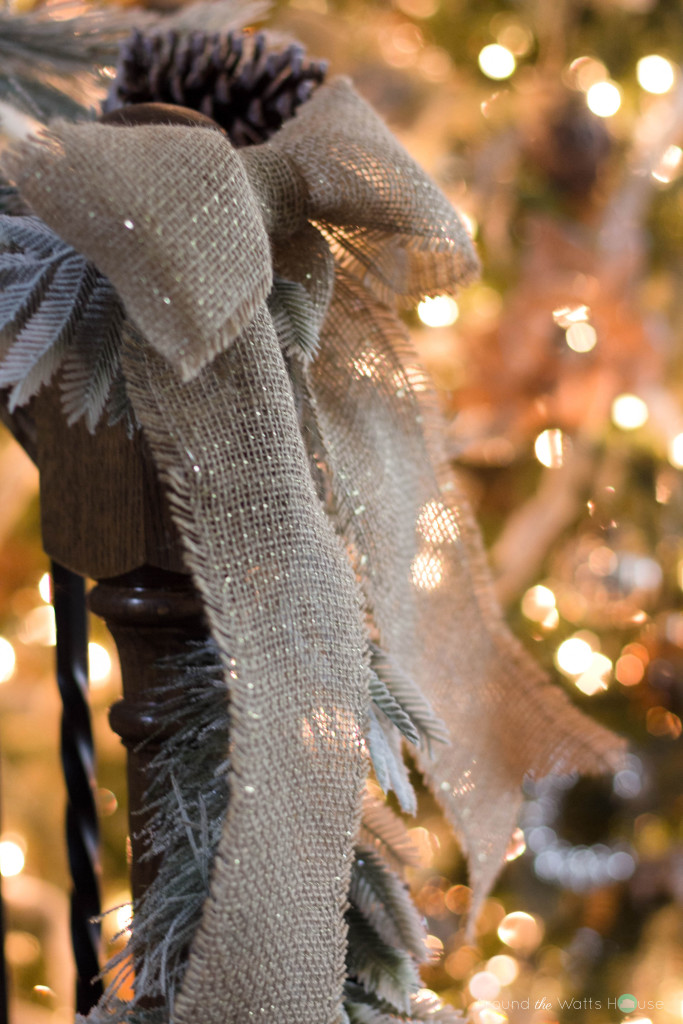 Living Room 
Our living room has transformed over the past year with us bringing in new furniture.  It's a much brighter space than it previously was, and because of that I wanted to let the space speak for itself without too many decorations being added into the mix.  One major change for this space occurred when I moved the furniture around to a new layout that had been brewing in my head for a while.  Really, it's amazing how much bigger the space feels now!  I'm thinking this will be the layout for quite some time.
I draped this beautiful garland throughout the space, along with a few little faux flocked trees lining the countertop on the built-in.  They bring in the necessary greenery needed for our winter wonderland theme without going overboard.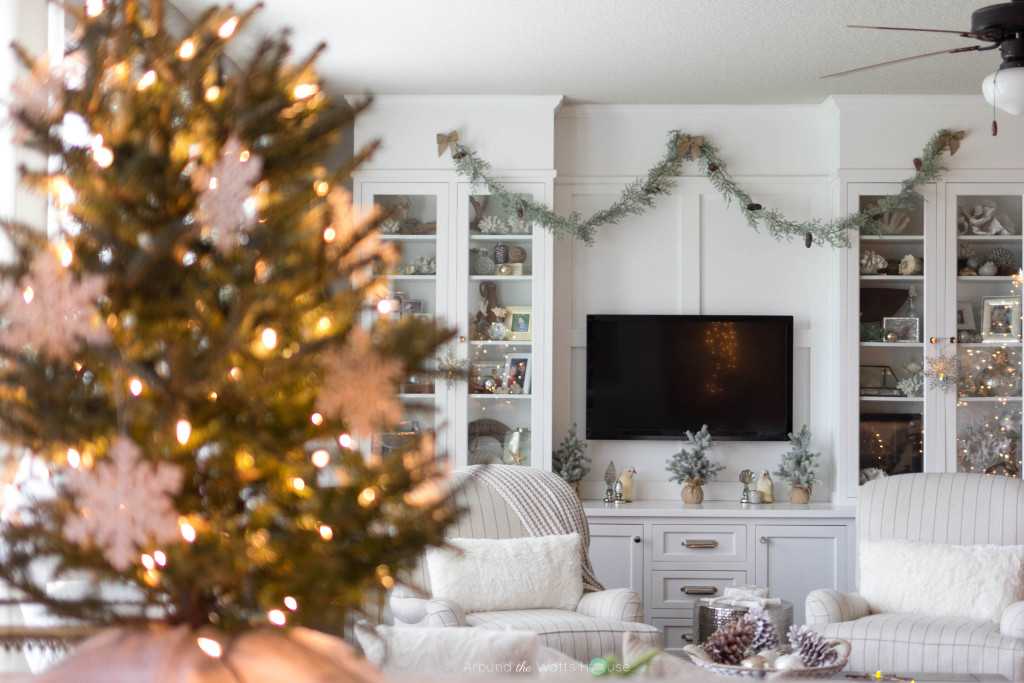 And I was lucky enough to run across these beautiful decor pieces while out shopping recently.  The nativity is the very first for our home, and I don't think I could have found a better one for us.  It's so simple and elegant!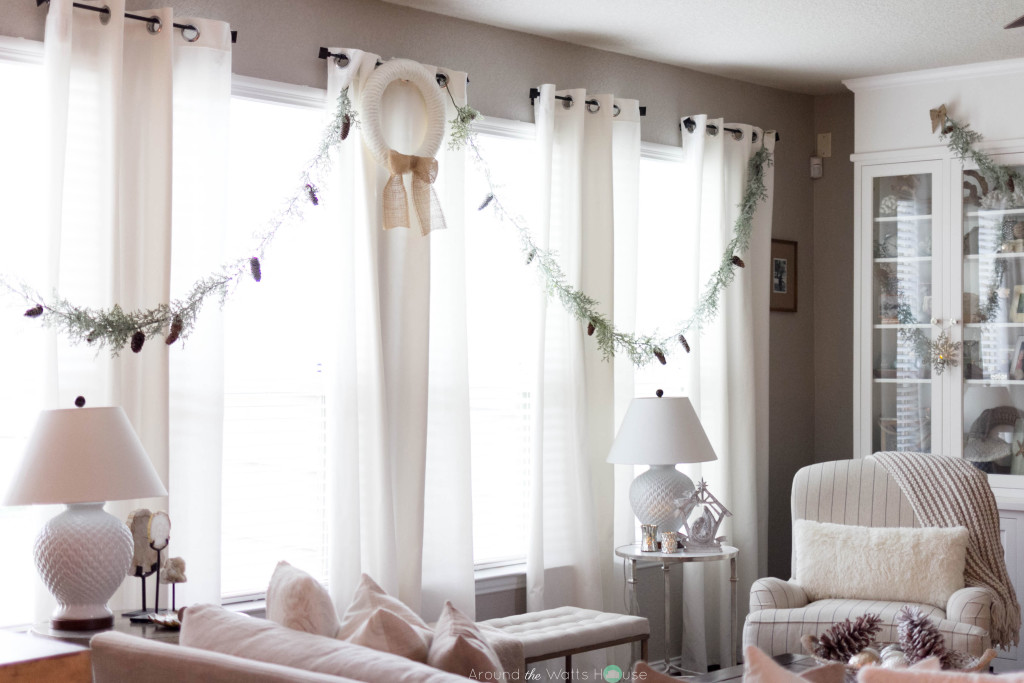 Beautiful burlap and fluffy pillows in colors of white and cream adorn our couch and chairs, making it one of the coziest spaces in our home today.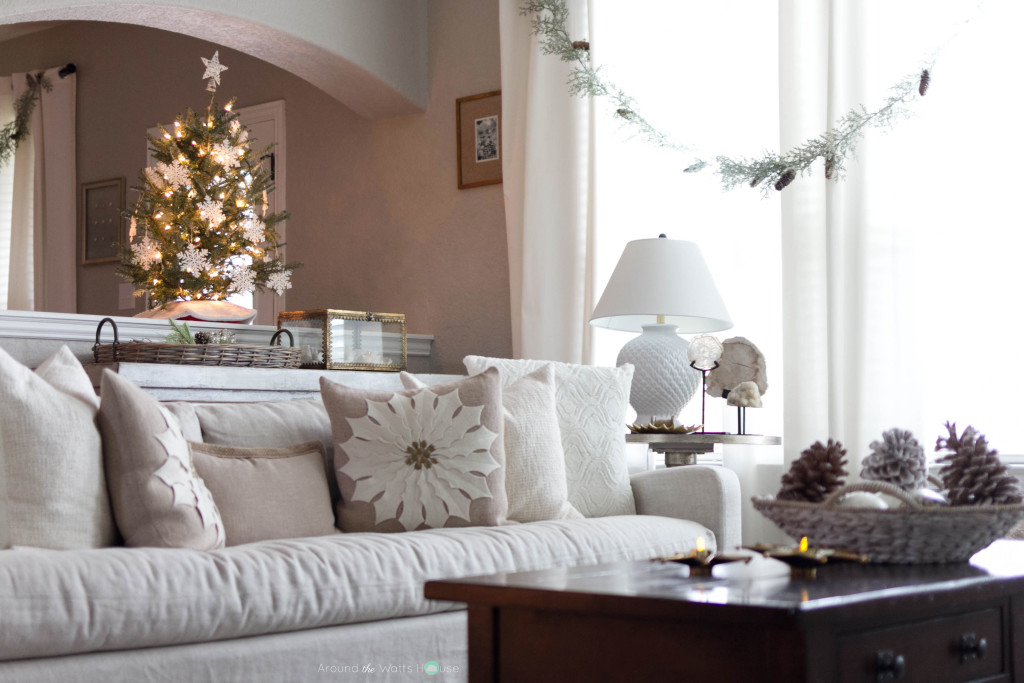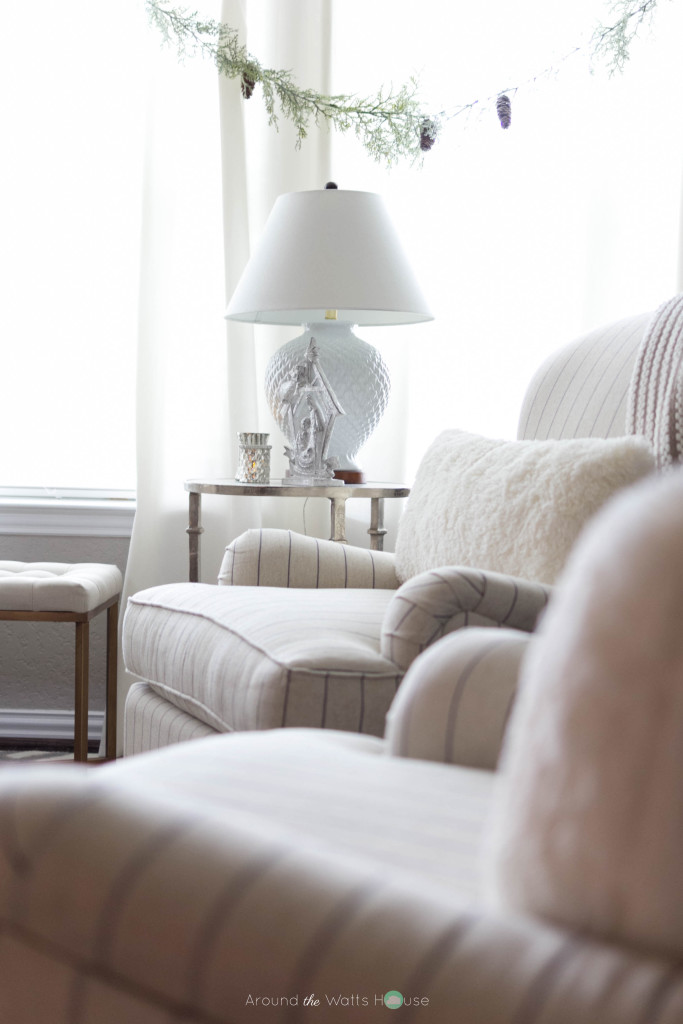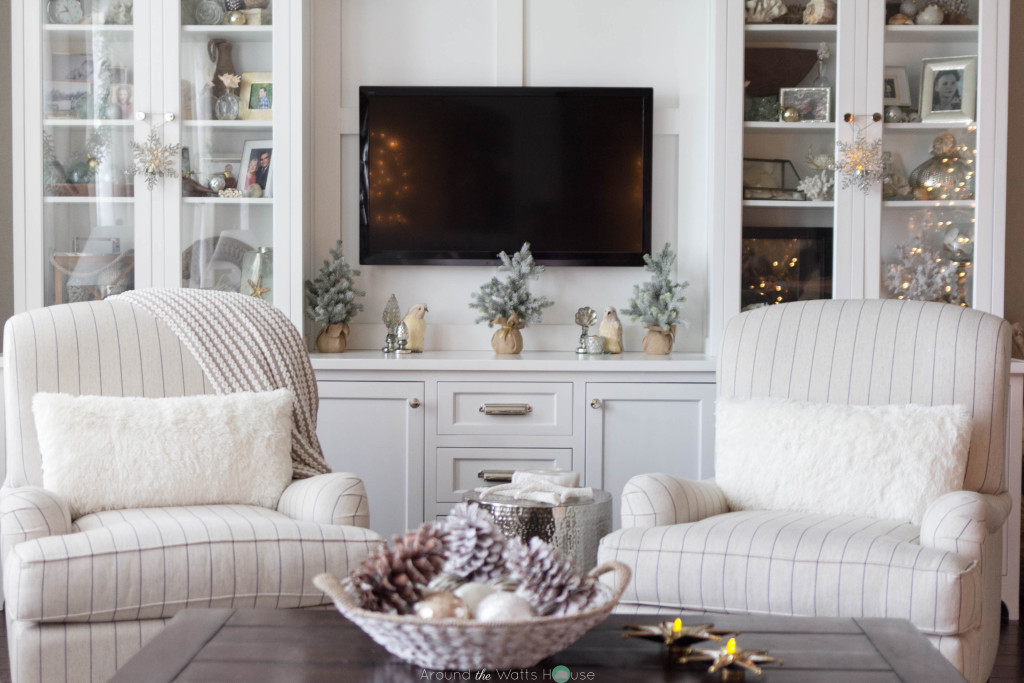 Of course, I couldn't help myself when it came to decorating our mantel.  You know it's my favorite thing to decorate for the seasons!  As it came together I was envisioning a walk through a wooded area blanketed in snow, as a light snowfall fell, glimmering in the sun.  I think it reads as such, but what do you think?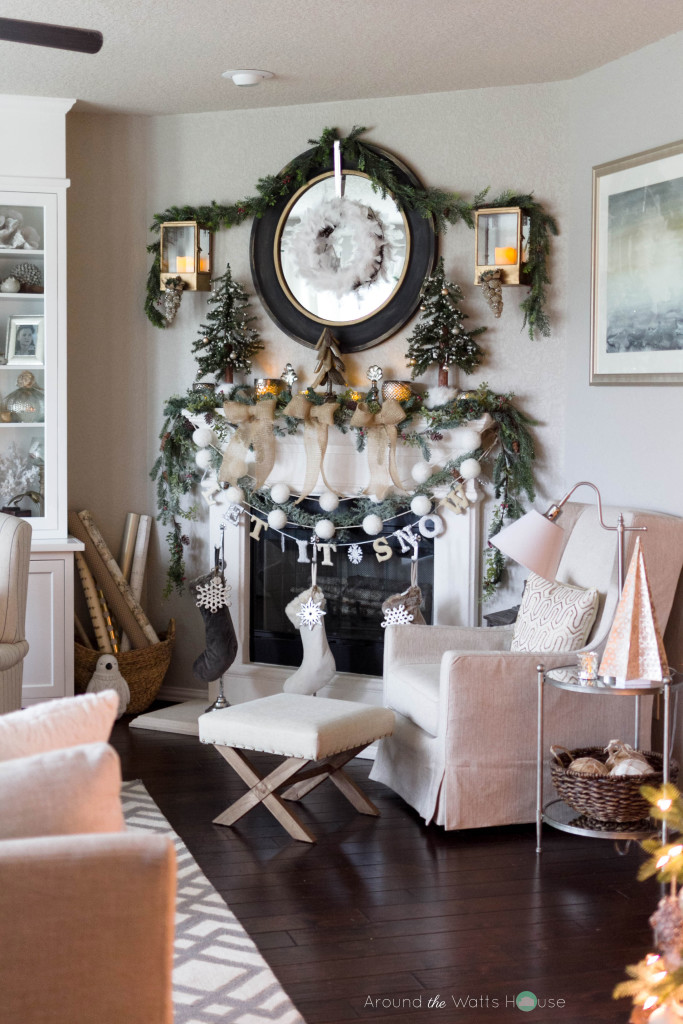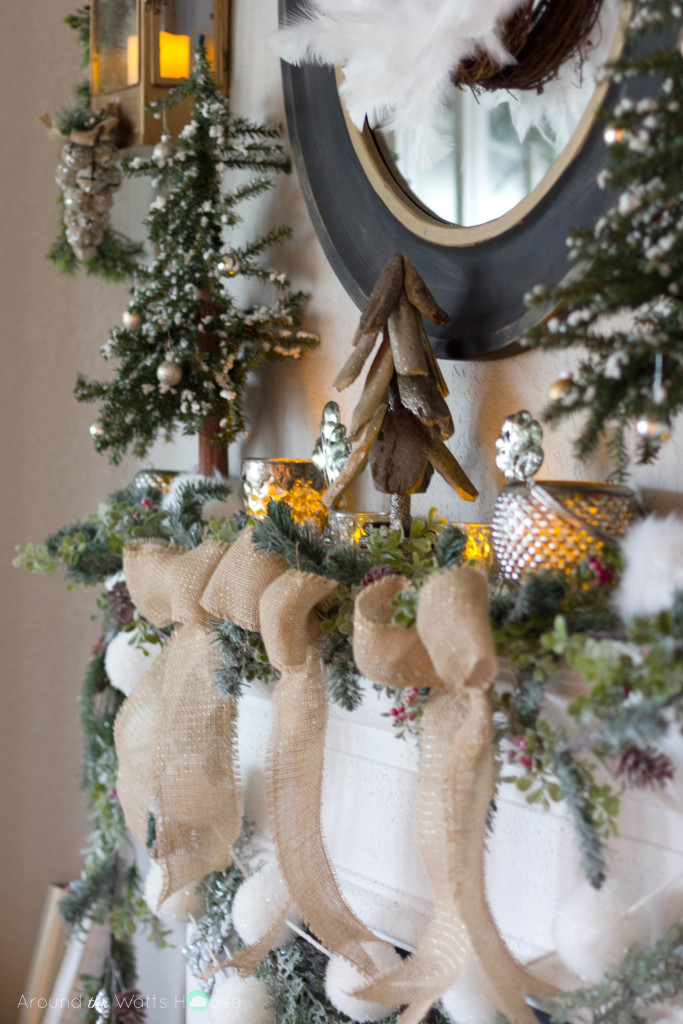 Instead of hanging our stocking from the mantel as I normally do, I chose to use these beautiful wreath stands to showcase them instead.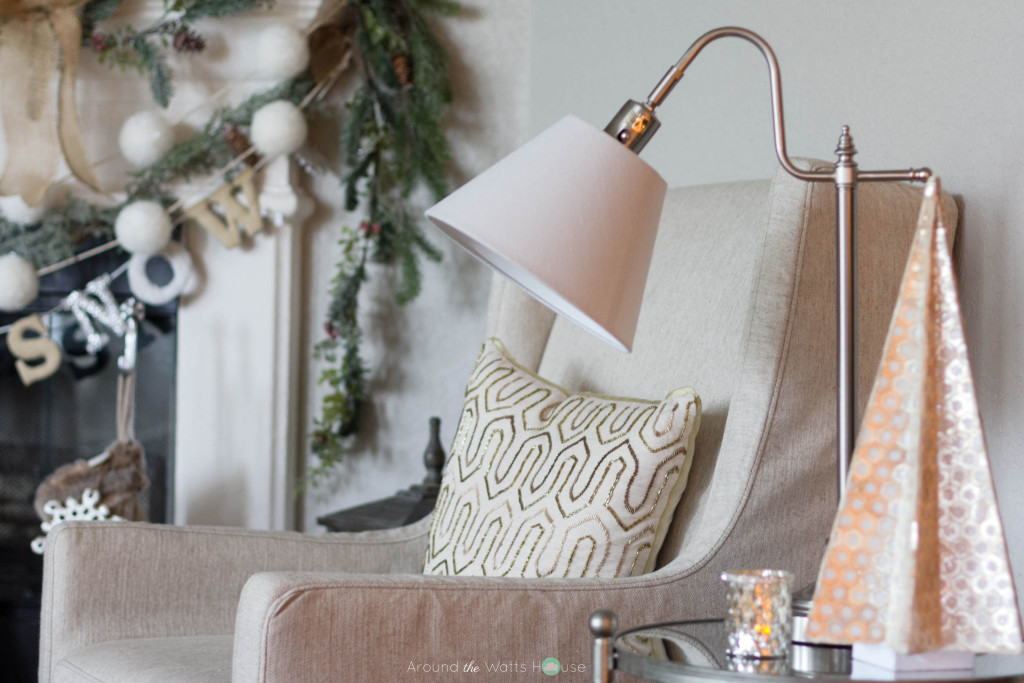 And although we have a beautiful new tree, I just had to have this little guy when I saw it at our local home improvement store.  I find something so endearing about the look of mini Christmas trees.  I really don't have an explanation for it, I just do.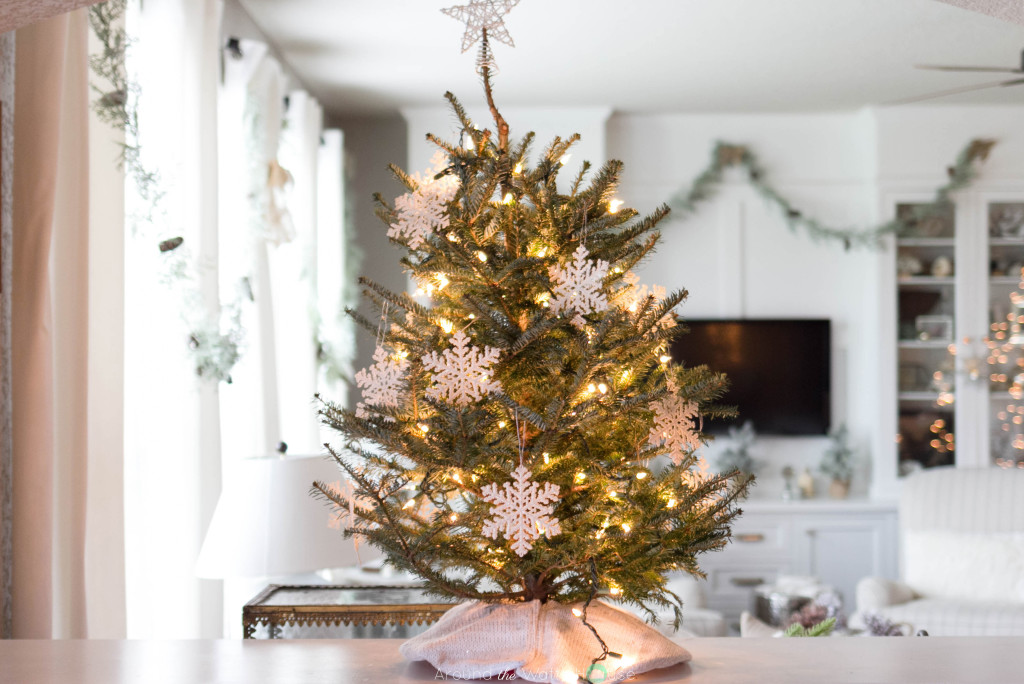 Dining Room 
Let's move on to the dining room, shall we?  Because this space is open to the living area I wanted to keep the theme going in here as well.  Again, I draped garland along the windows, and along the hutch, and added small Christmas trees as decoration.  Then I flanked the hutch with a couple of taller slim trees from Michael's.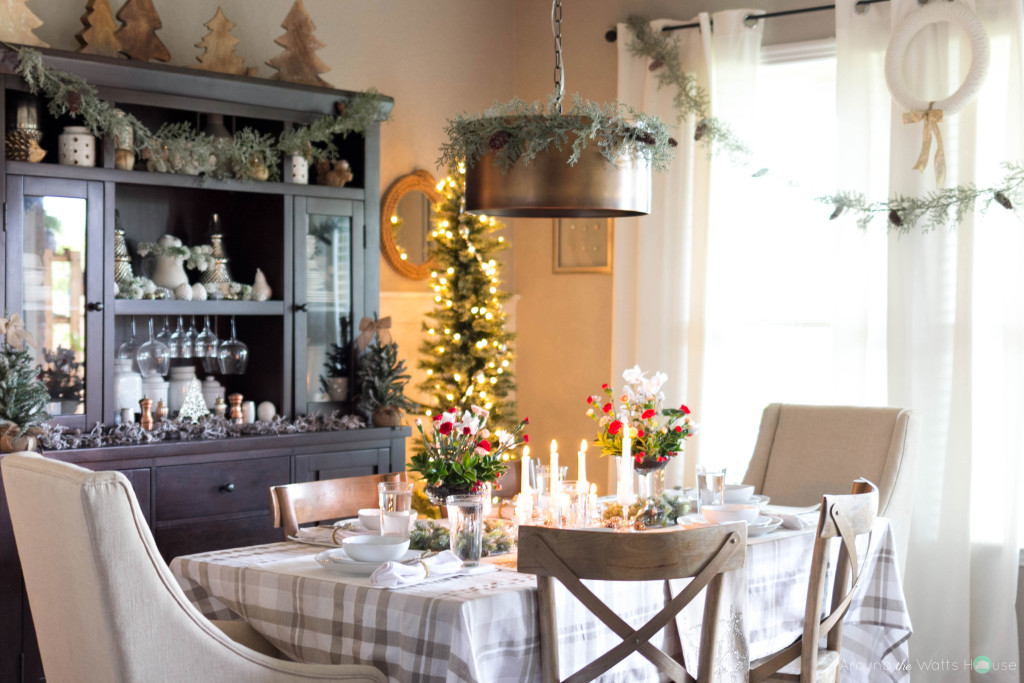 This beautiful dinnerware from West Elm is a recent purchase that I've been waiting to make for years.  I've always wanted gold rimmed dinnerware, and while I was checking email one morning I saw they had a sale going on, and jumped on it.  I ended up getting both gold and silver, which I have alternated here in each setting.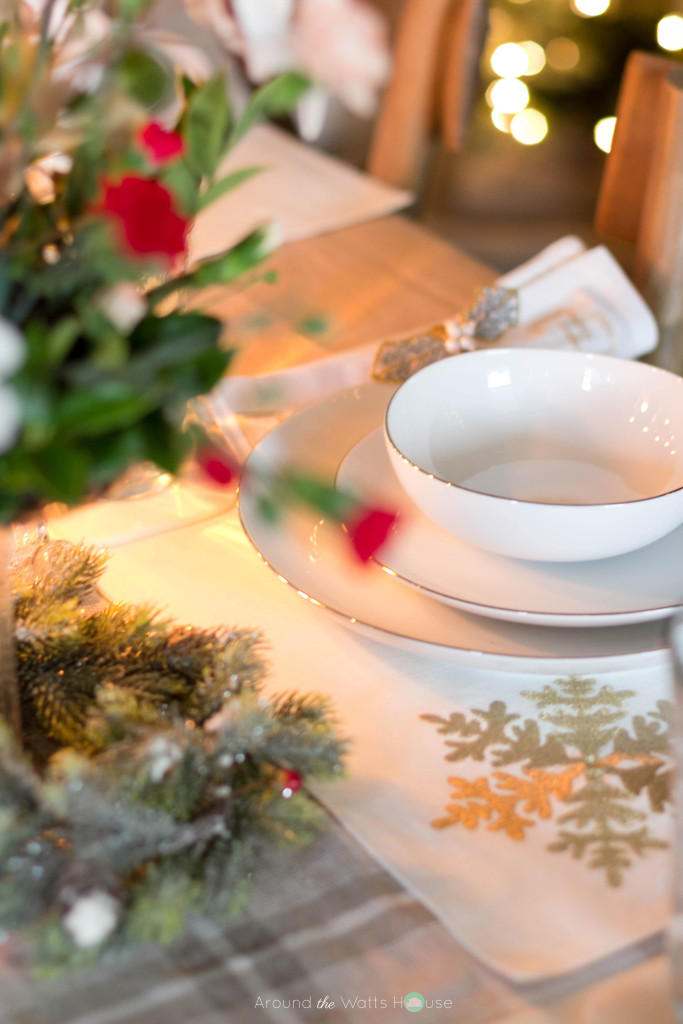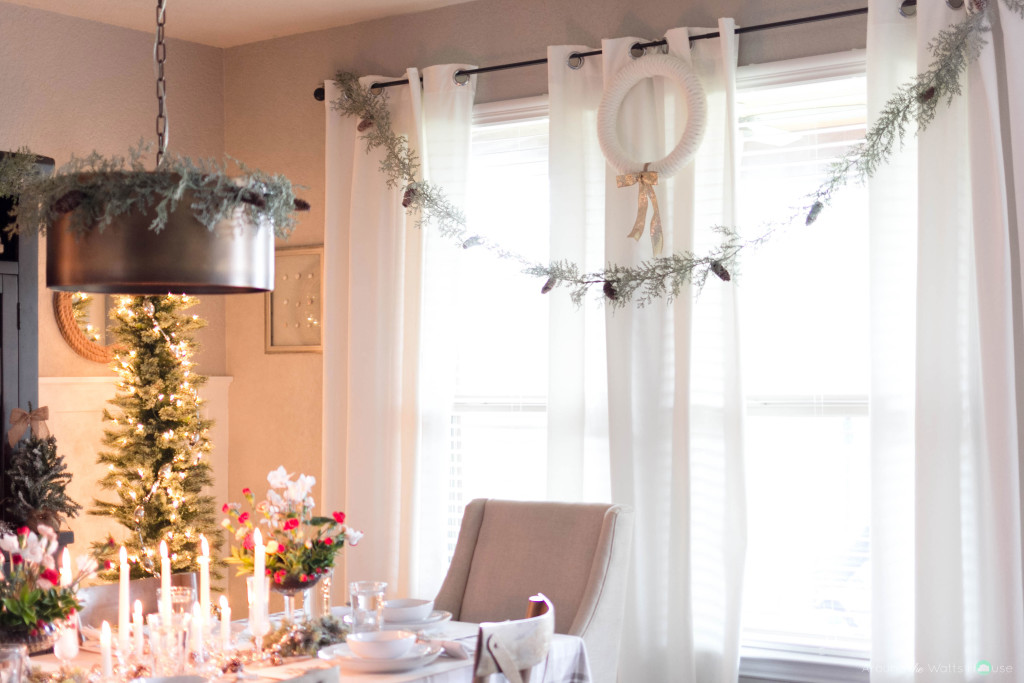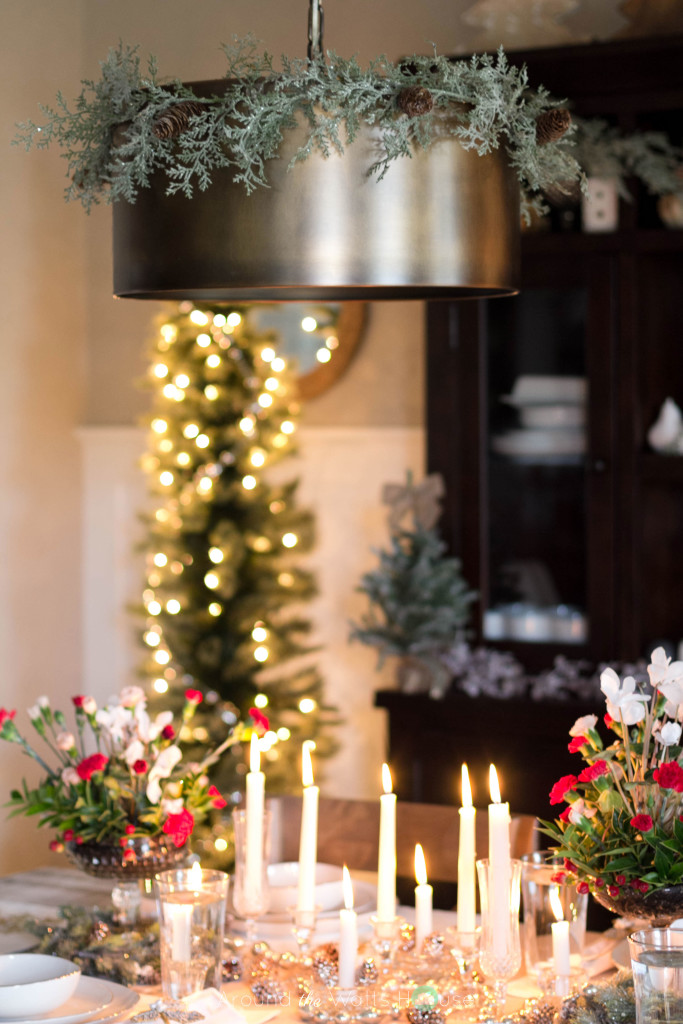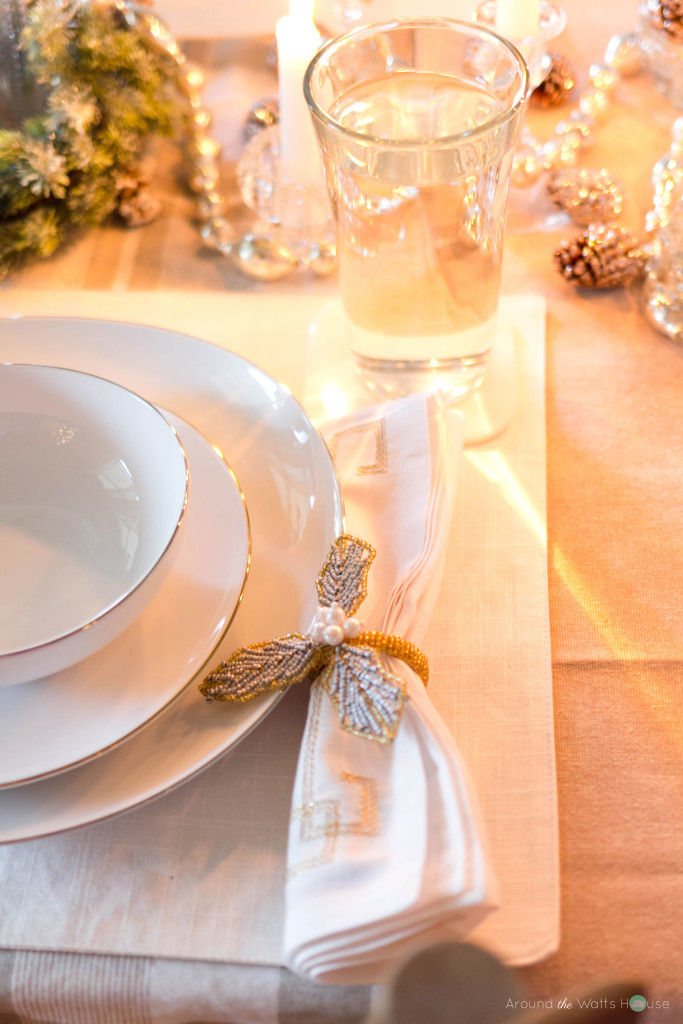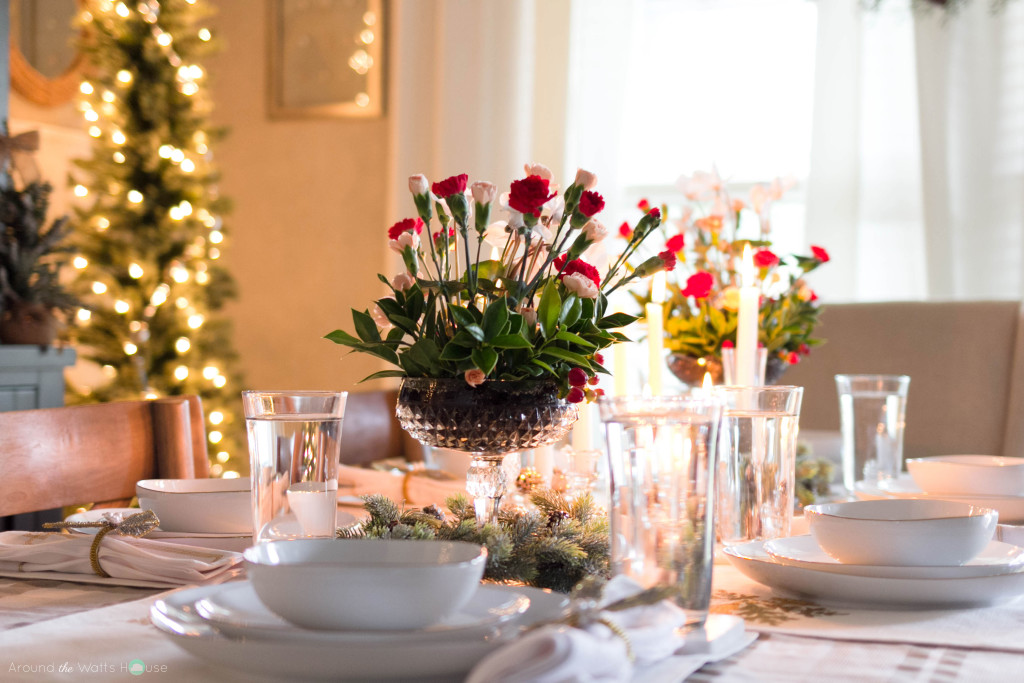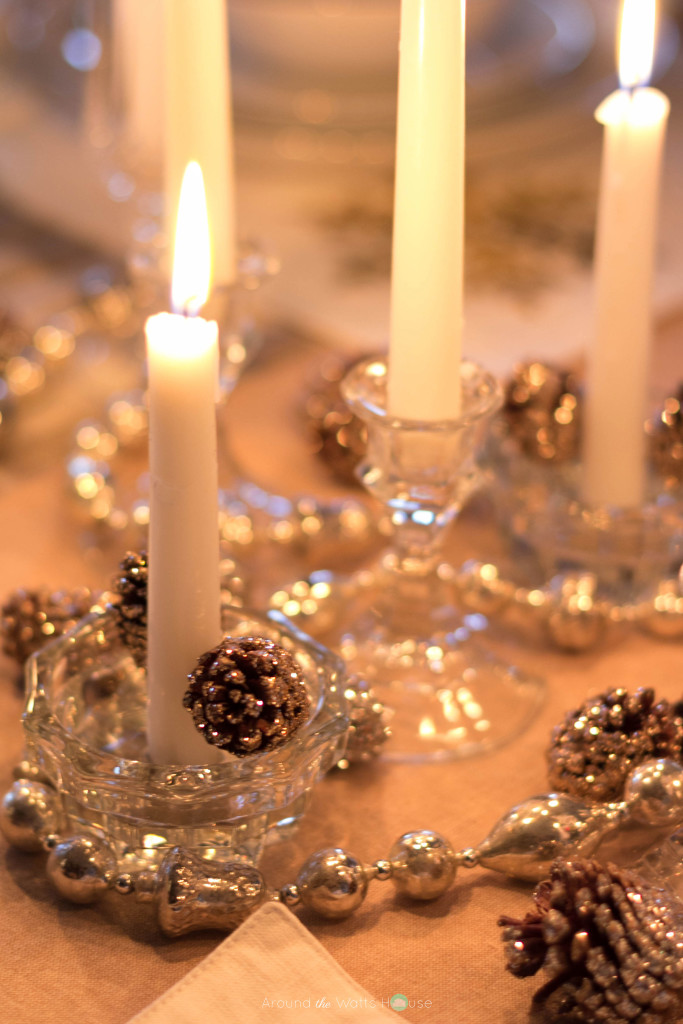 I've been daydreaming about this tablescape for a few months, and knew that I wanted to add some crystal pieces to the mix.  If you ever need things like this I suggest visiting your local thrift store.  I frequent our Salvation Army a couple of times a month, and while I was browsing I ran across the perfect pieces.  The gorgeous crystal bowls, and candle holders really make the statement I was hoping for, and the floral arrangement, made from a potted plant and stems from the grocery store add the whimsy I desired.  It's been a few days since I planted them all, and with daily watering they have been thriving well.  I'm actually surprised by that fact, but thrilled with it too!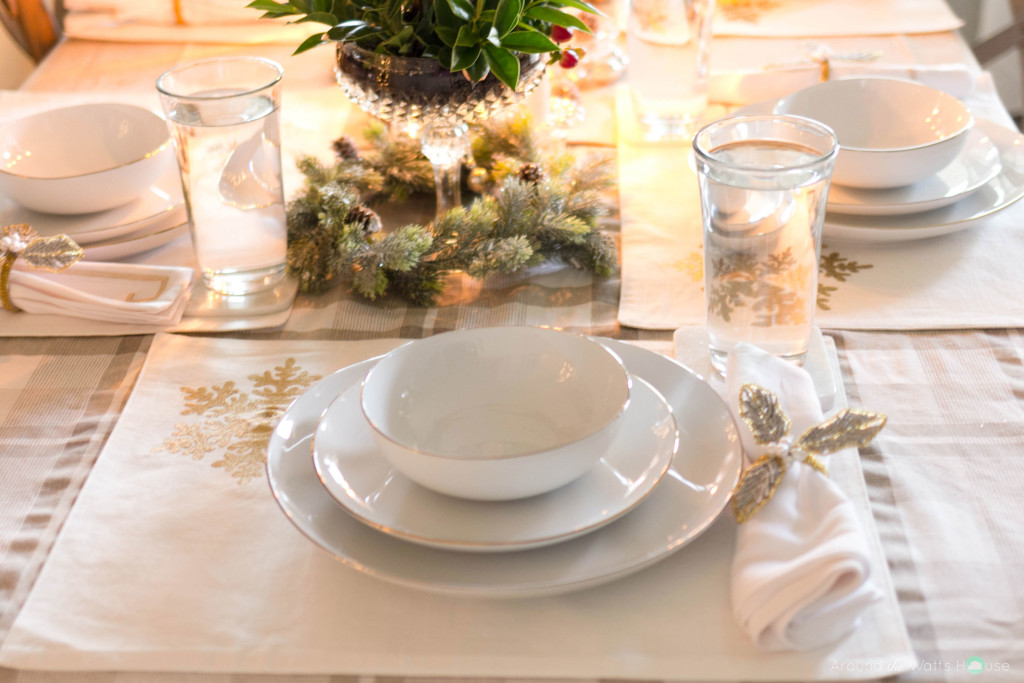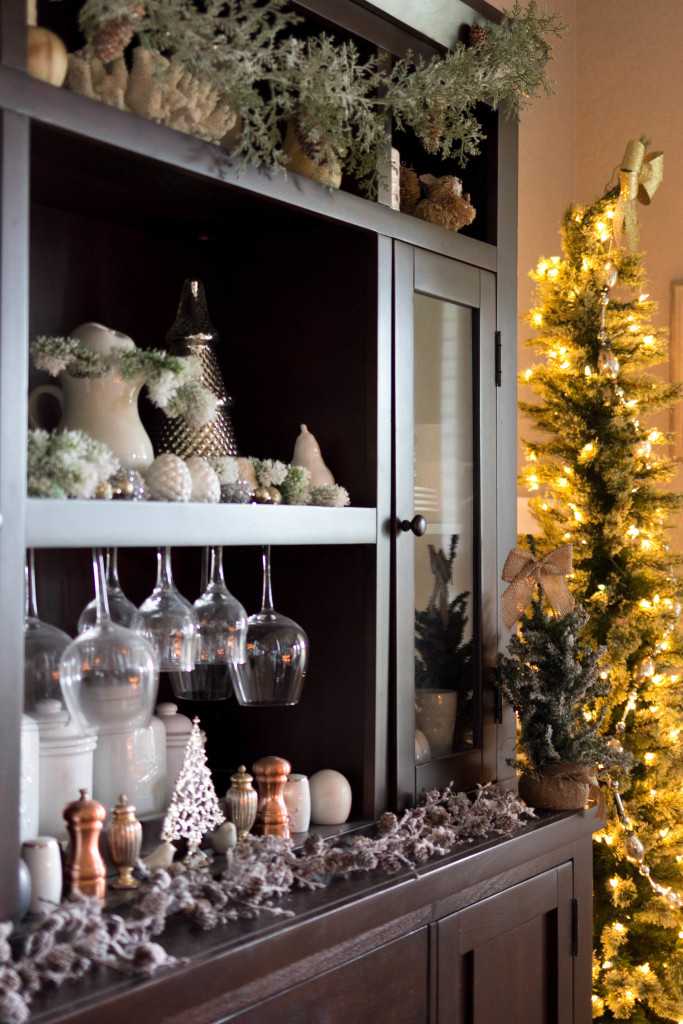 And last but not least, our main Christmas tree!  This is the first year since becoming parents that we've been able to decorate the tree with glass ornaments.  Our son is finally old enough to understand that pulling the ornaments off the tree isn't a good idea, haha!  Honestly though, it was so nice to pull out our old ornaments and revisit the memories associated with them, and then mix them in with some new ones, as well as some homemade ones.  It makes the tree so much more than just a showpiece.
I'll be sharing more about our tree in an upcoming post, so check back in with us for that, as well as part 2 of our Christmas Home Tour!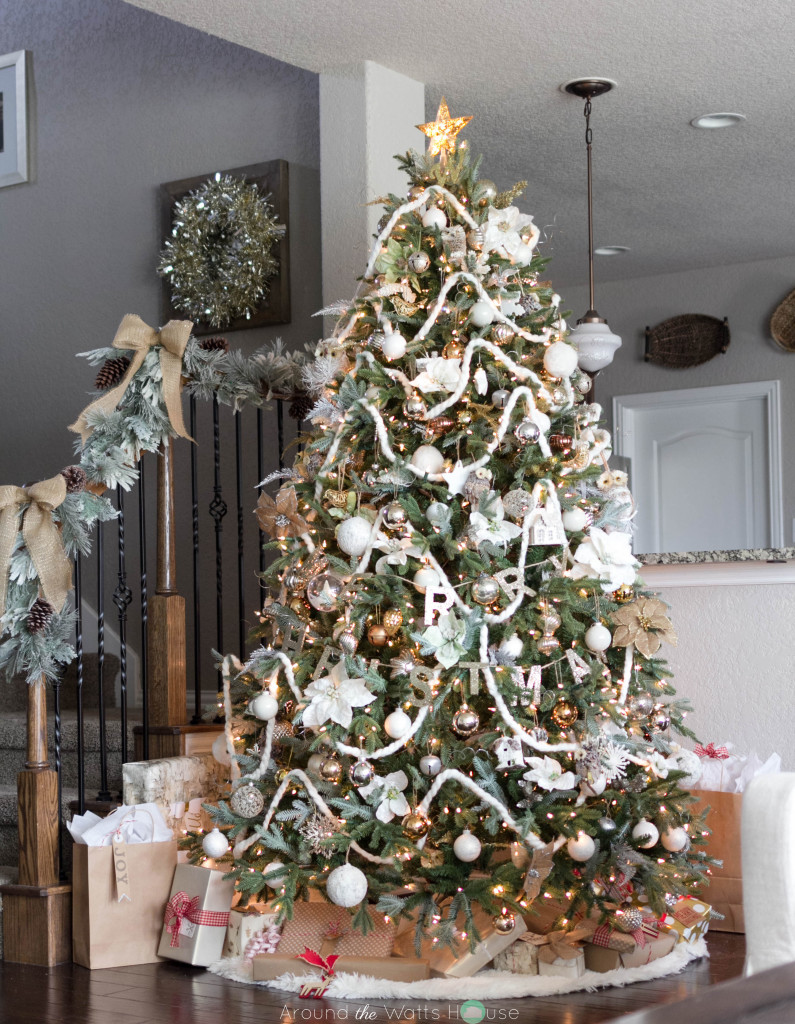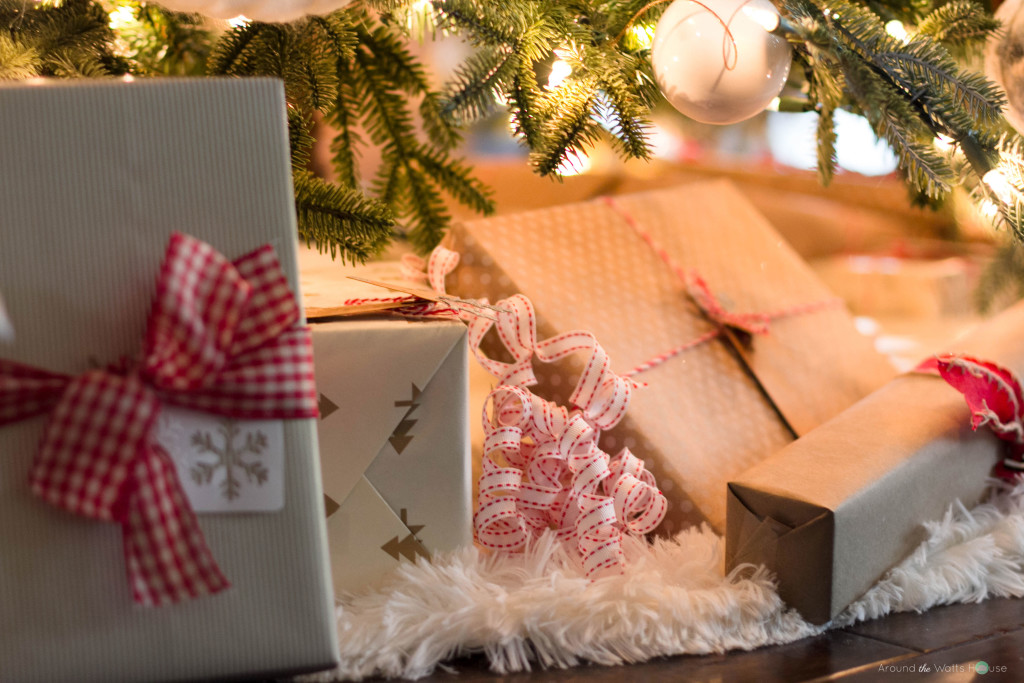 I hope you enjoyed this little tour of our home, and that you may find some inspirations in it as well, but please remember, this season is about so much more than decor.  To us it's about coming together with family and friends to celebrate the relationships with each, and celebrating the birth of our Lord and Savior Jesus Christ.
From my family to yours, we wish you a Merry Christmas!
-Iris
Don't go yet though!  I've joined up with nine of my Instagram/Blogging friends to bring you even more Christmas/Holiday cheer!  Be sure to follow the links below to see some of the most beautiful home tours of the year!