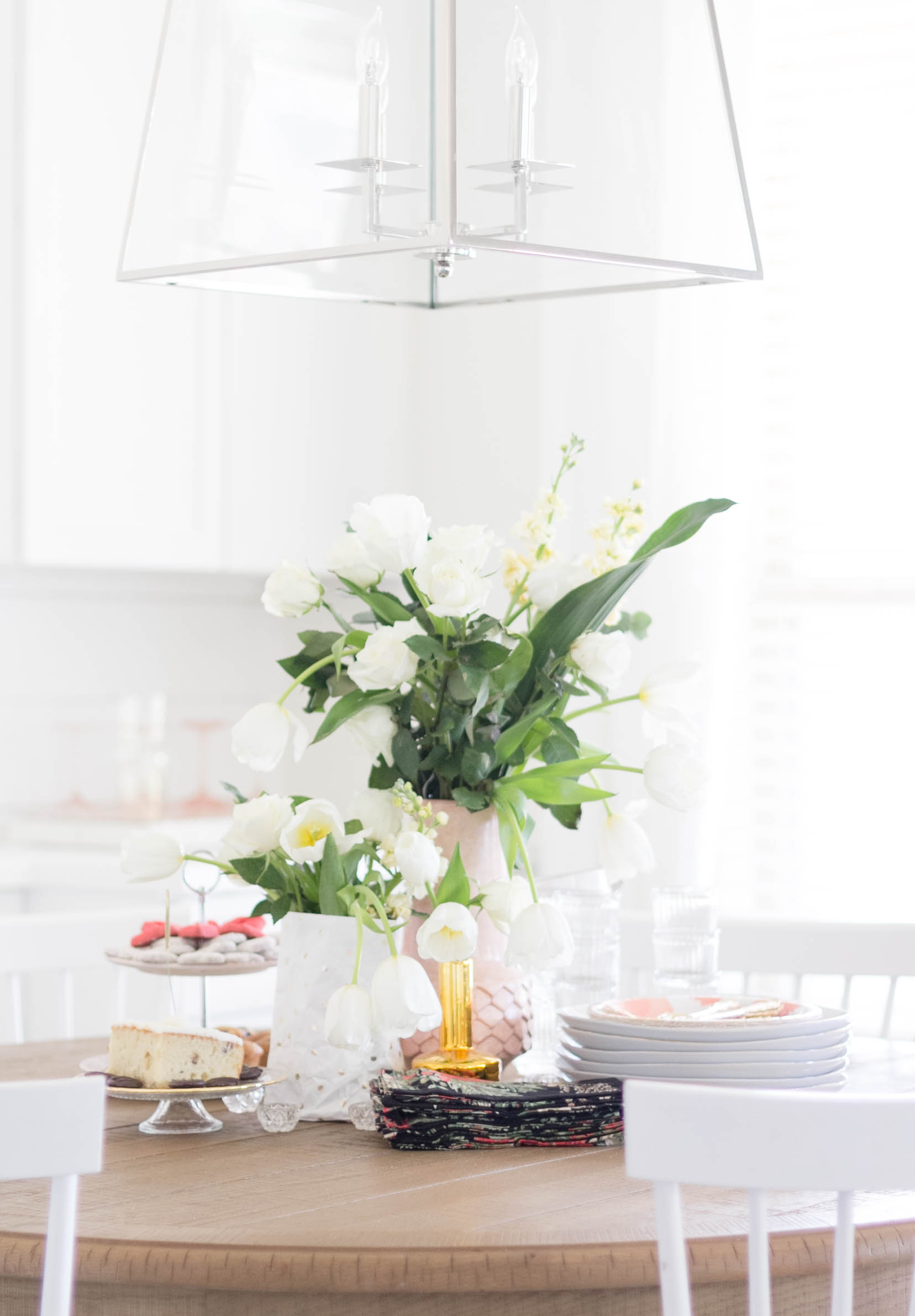 Valentine's Day is right around the corner, so I pulled together a little V-Day Party Tablescape for y'all. I'm sharing how you can get this fun, elegant, and budget friendly look for yourself!

Centerpiece
Let's start with the centerpiece. You'll need three vases of varying height. I placed my smallest vase inside a paper lantern that I had stashed away for a special occasion. This was it, it seems! Isn't it pretty! Fill your vases with your favorite flowers. Mine happen to be filled with a mixture of white roses, white tulips, and a couple of random fillers that I purchased from my local grocery store. I love how effortless the look is, especially with the tulips wilting towards the tabletop. To complete the look, I sprinkled a few small glass candle votives around vases, however I did not add candles to the mix.
Three Vases
Flowers (Grocery Store)
Paper Lantern (Don't have a paper lantern? Wrap patterned card stock around your vase instead!)
Glass Candle Votives (Thrifted)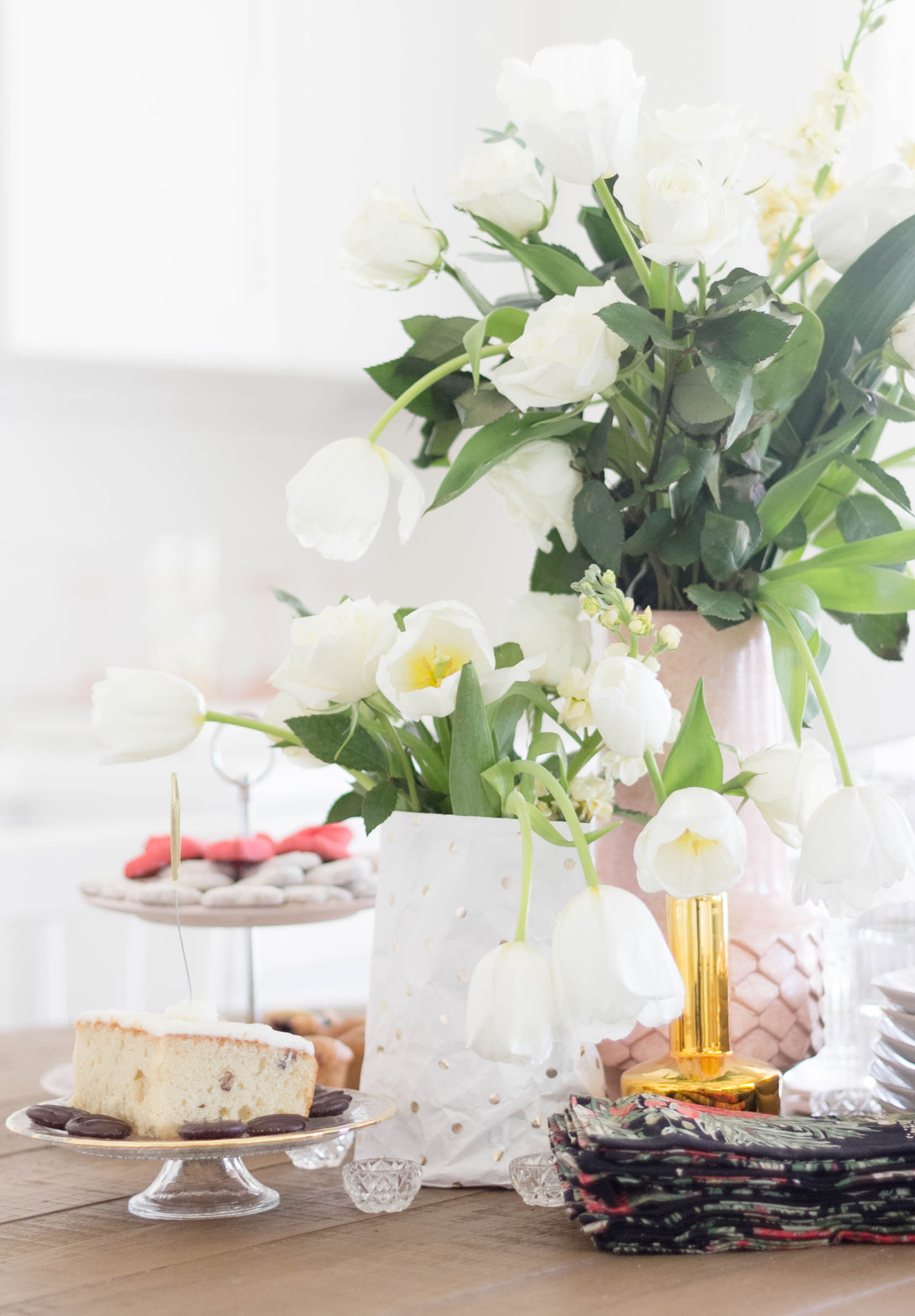 Dishware
Probably my favorite part of this particular tablescape is the dishware I chose to use. To achieve a playful and elegant look I mixed high and low pieces together, meaning I chose to use a set of my white gilded dinner plates, and top them off with small patterned paper plates. I paired them with a set of ornate plastic cutlery and patterned cloth napkins to finish off the look. For drinks I pulled a set of glass juice glasses and an ornate pitcher. You'll see that I didn't actually set the table, as I wanted a more casual look to everything.
White Dinner Plates
Small Patterned Paper Plates
Metallic Plastic Cutlery
Patterned Cloth Napkins
Juice Glasses
Ornate Pitcher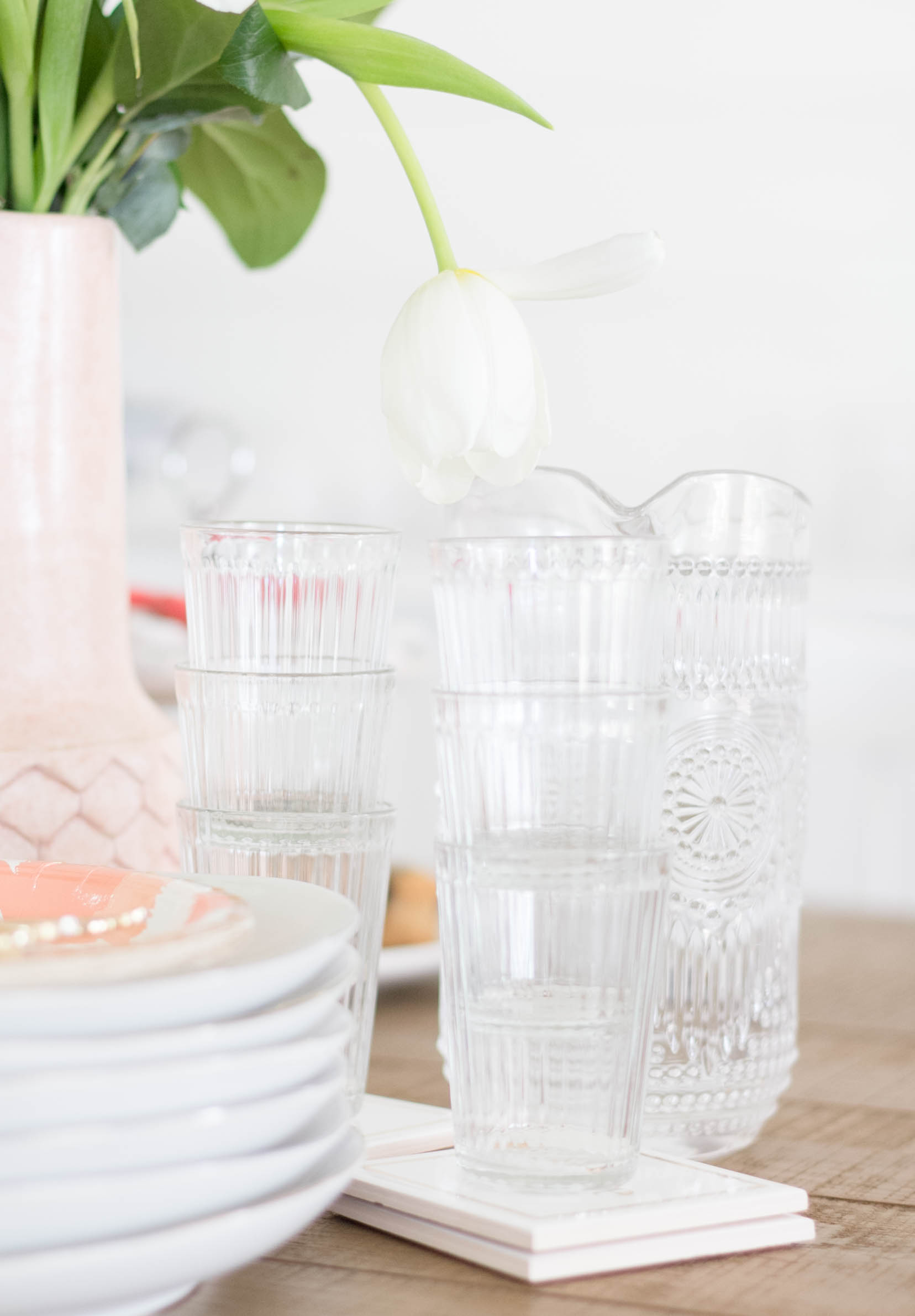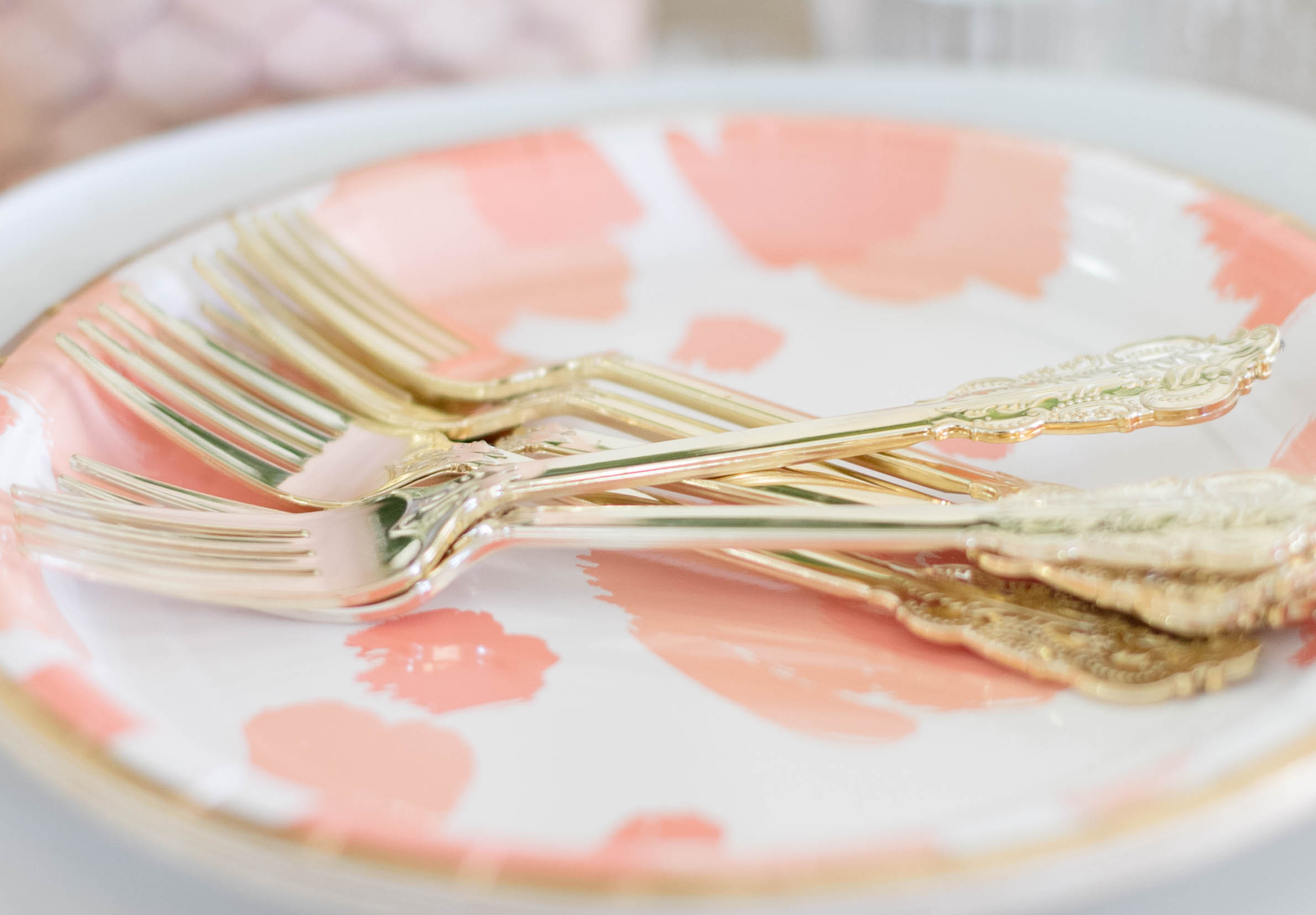 Event Appropriate Decor
Since these tips could work for any occasion, my best tip is to look for event appropriate decor to define the space. In this case, all it took was mixing pink and metallic pieces, and a heart shaped sparkler candle.
Heart Shaped Sparkler Candle
Serveware
I put together some small snacks, in this case cookies, muffins and showcased them on a two tiered cake stand. A yummy piece of cake, and some delicious chocolates are also displayed on a small gold rimmed cake stand. It makes for a beautiful display of such simple foods!
Cake Stands in various heights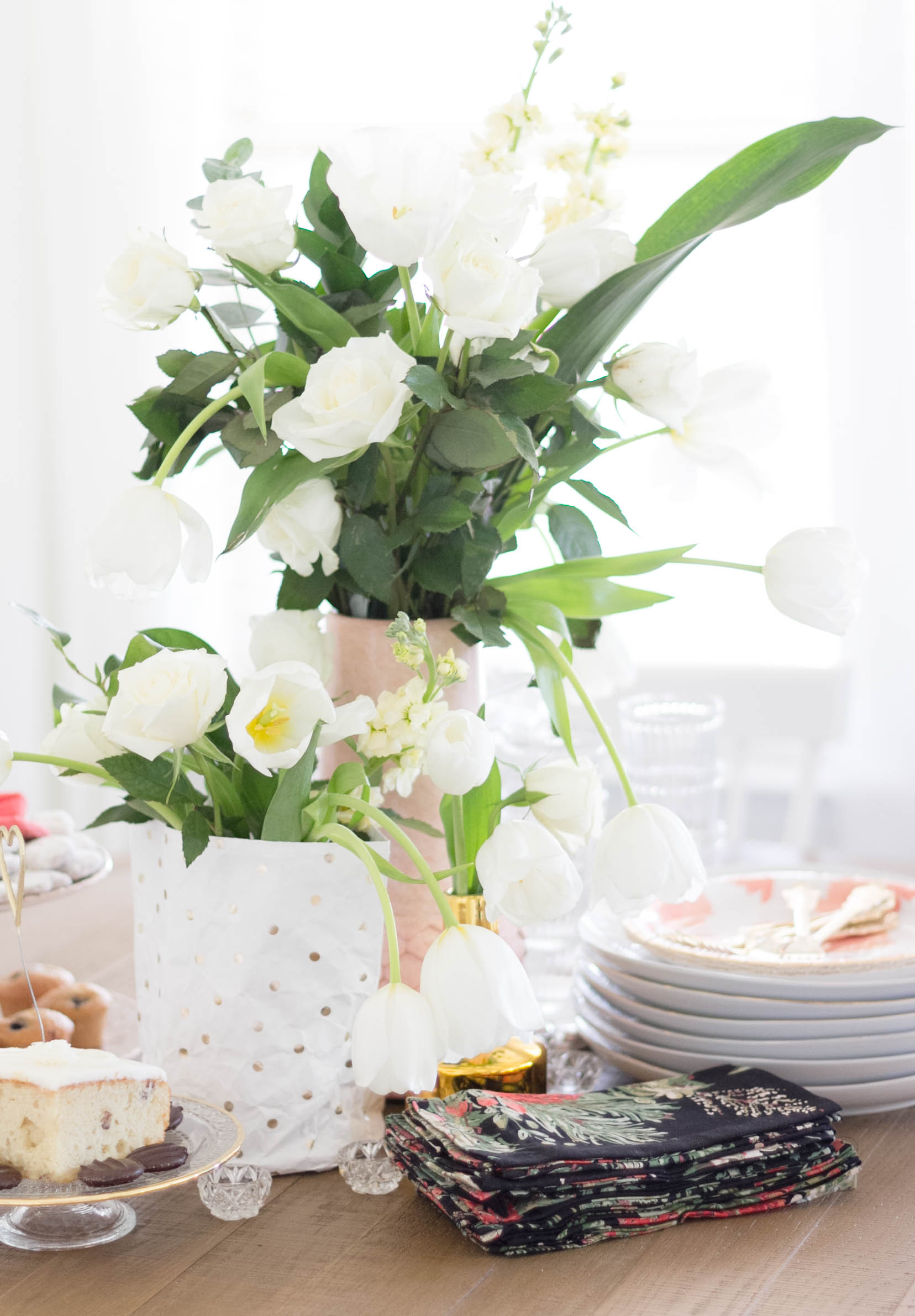 I found the majority of the dinnerware and serving pieces that I used in this tablescape at HomeGoods. They have a great selection of party pieces to choose from. I always pick up pieces to store away for the right time. The rest are pieces I already owned or pieces that I thrifted. Keep an eye out, and you'll be amazed at what people donate!
If you don't have the time to commit to pulling these pieces together, I'm linking a few of my favorite online options for you below. Enjoy my friends!
-Iris
Get the Look! (Affiliate links included.)