New year, new styling!  Well, sort of.  I'm pretty much keeping the rest of this room the same, but this particular area of my living room is rarely seen, because I've despised it for a while now.  It's awkward to style, with the arch pass-through always being an issue for me.  I enjoy the light that it lets into the dining area, but honestly, I'd love to drywall it up and then cover that sucker with some shiplap.  It's still on my, "If I can get it done myself, without my husband knowing." list.  Ha!  Since I sort of doubt I'll ever do anything like that without his consideration into the matter, I'm changing my mindset about how I feel about this space.  It's workable, and with just a little effort today, about twenty minutes, I was able to pull together some of my decor to create a very easy decor style that works well with the rest of my living room.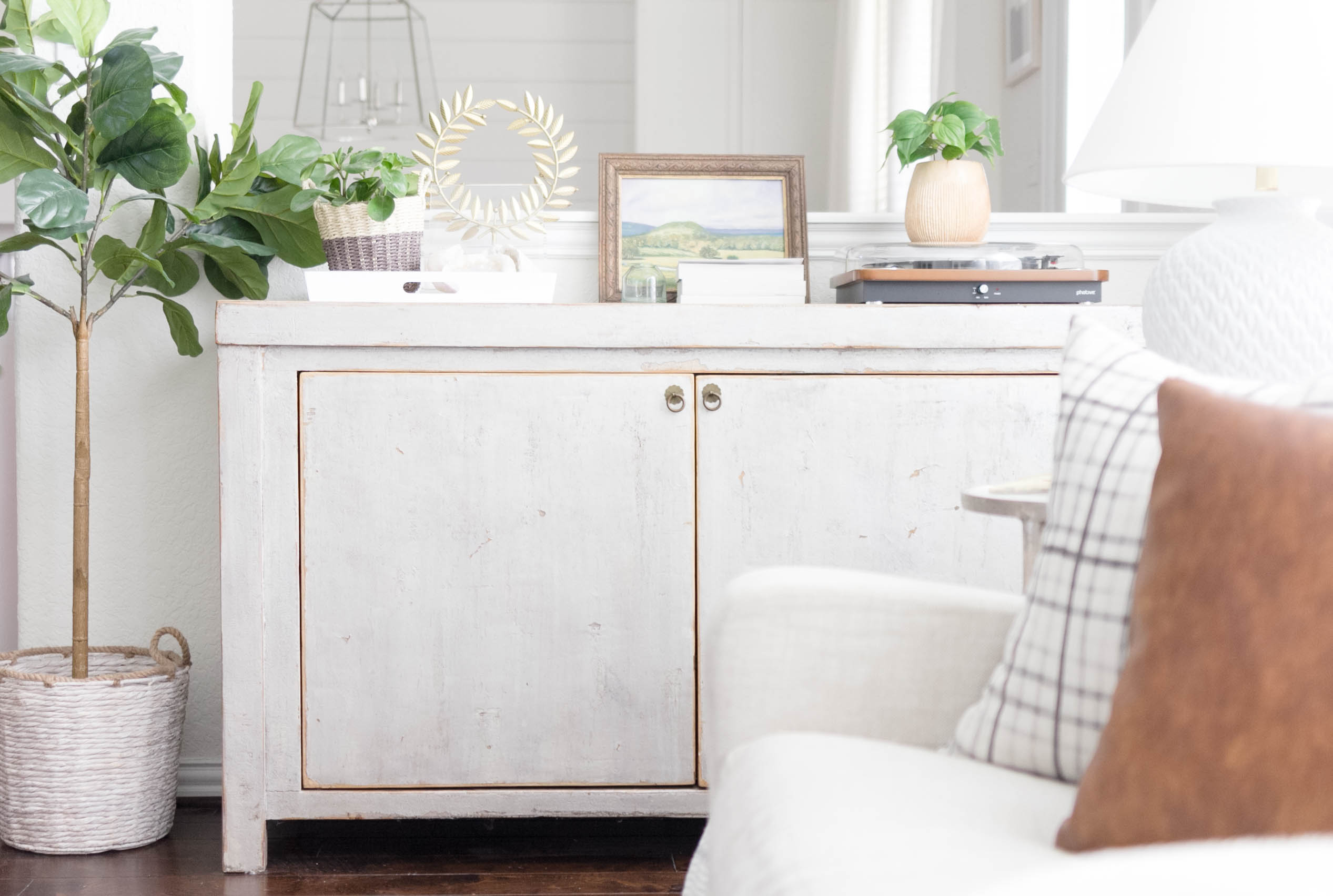 One piece of decor that really makes an impact in the styling of this space is the artwork.  Before deciding this piece should go here, I was standing back looking at the bare wall behind what felt like naked books.  It was just too lackluster for my taste, and though I've always tried to avoid artwork here, due to the arch, I figured I would try it out.  As I was going through some stuff in my office I came upon this art piece that I found a couple of months ago at the antique store.  That's my favorite place to find hand-painted artwork at a reasonable price.  I don't care who painted it, only that it speaks to me, and it seems to have been done by someone with talent.  I'm almost positive the piece only cost me around $10 too.  For a while I thought about taking the artwork out of the old frame and re-framing it with a more modern frame, but I really like how the old ornate frame mixes with the clean lines of the white tray on the tabletop so I'm keeping it as is.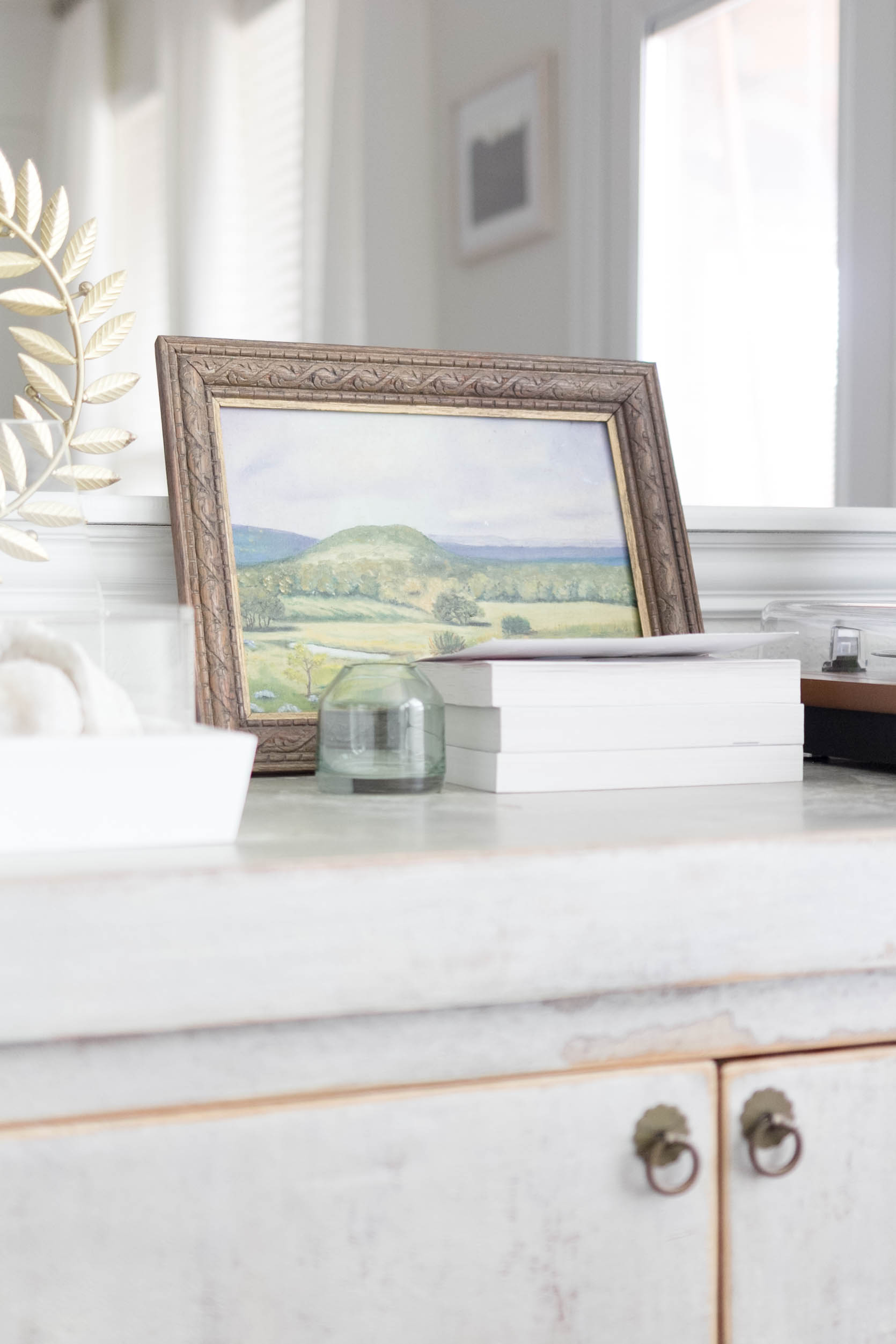 I like to incorporate natural objects within my styling whenever I can, and crystals are always so stunning and can vary between colorful and exciting to neutral and calming.  I had these three pieces stacked in this acrylic box just to keep them out of the way, but they really work as a styled piece, and so they stayed.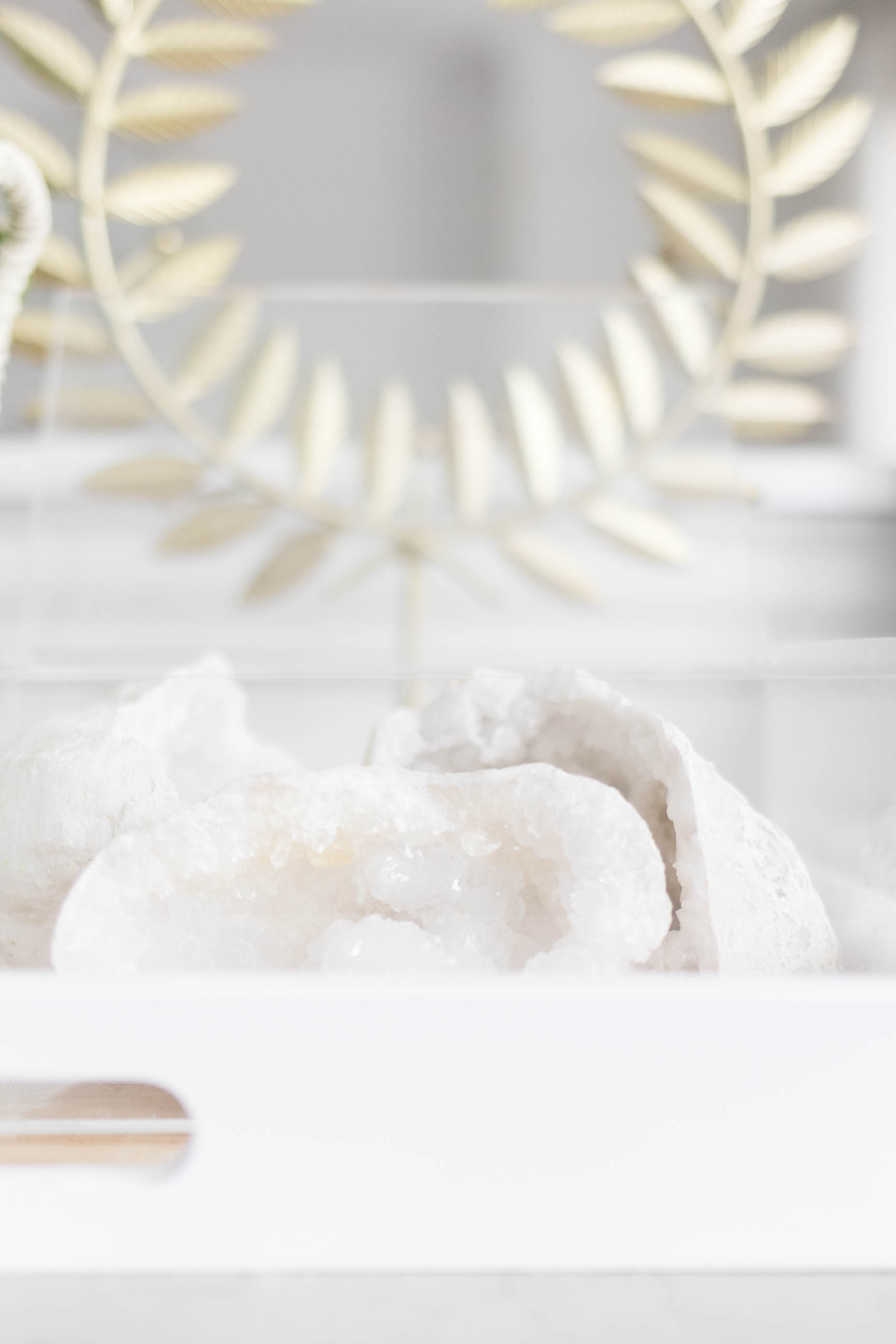 Last fall I got the itch to get a record player.  It's nostalgic for me, since my grandparents almost always had a record playing in our home, while I was growing up.  The times that stood out the most though are all centered around the holidays, and I had kept a few Christmas records for myself and wanted to play them for my son, so we purchased on on Amazon.  I like that it's stylish and slim, but still gives me that, "I have a record player!" feeling.  It's sleekness is pretty wonderful, but because it has to be on this side of the table it throws off the height variations needed to create a pleasing styling result.  I figured a faux plant in a a small wooden vase would work, and it did.
Can you tell that I pretty much winged it while styling this space?  I love that I did!  The pressure was off, and I wasn't feeling the desire to throw away all of my decor and run out and buy new.  Good thing too, because one of my resolutions is to slow it down on the shopping, especially for duplicates of things I already own a ton of.  Ahem, vases.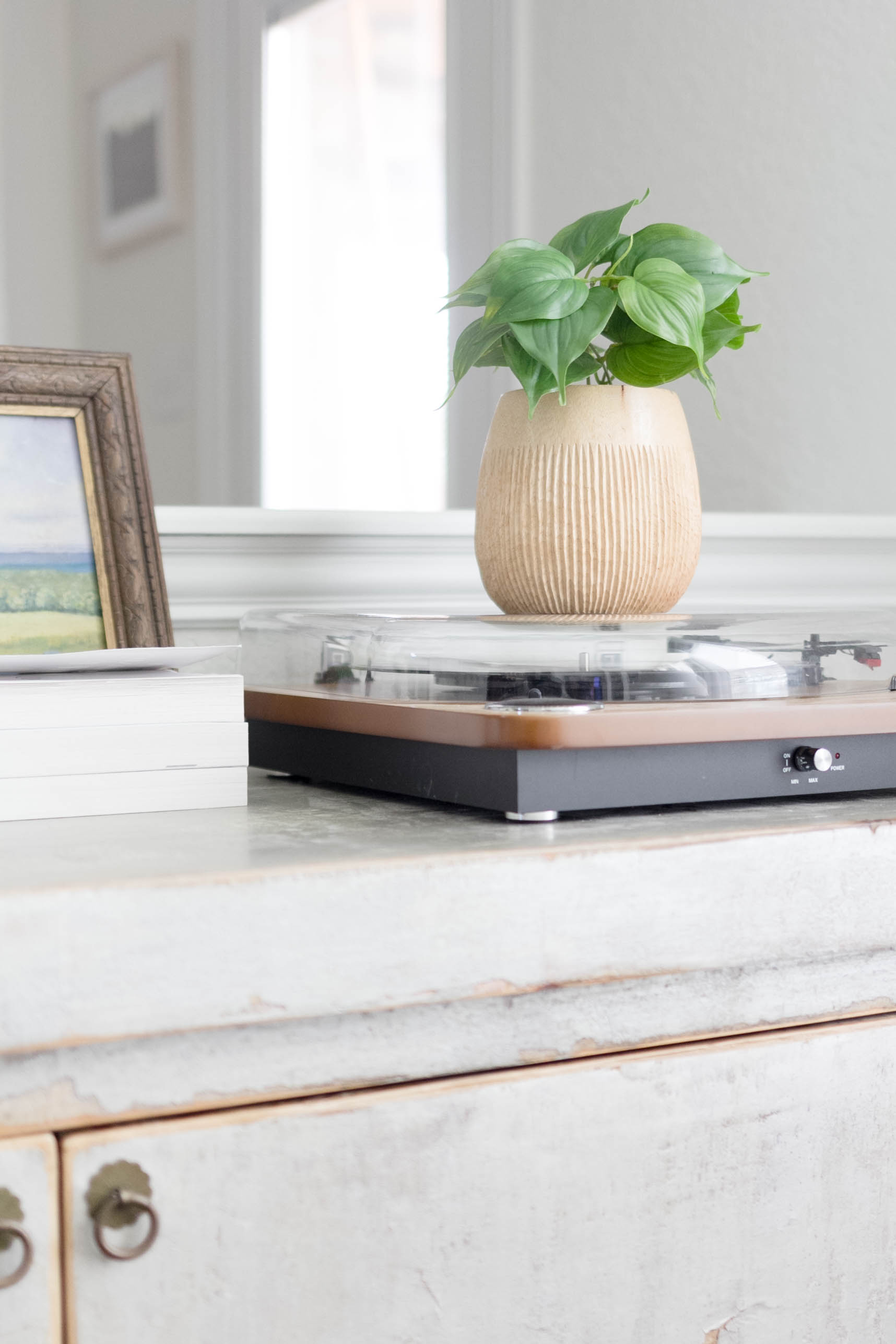 Oh wait, did I say vases?  Haha, don't look at that cute little Hearth & Hand jug vase then.  That was purchased before I decided that I needed to stick to my resolution, or re-stick to my resolution.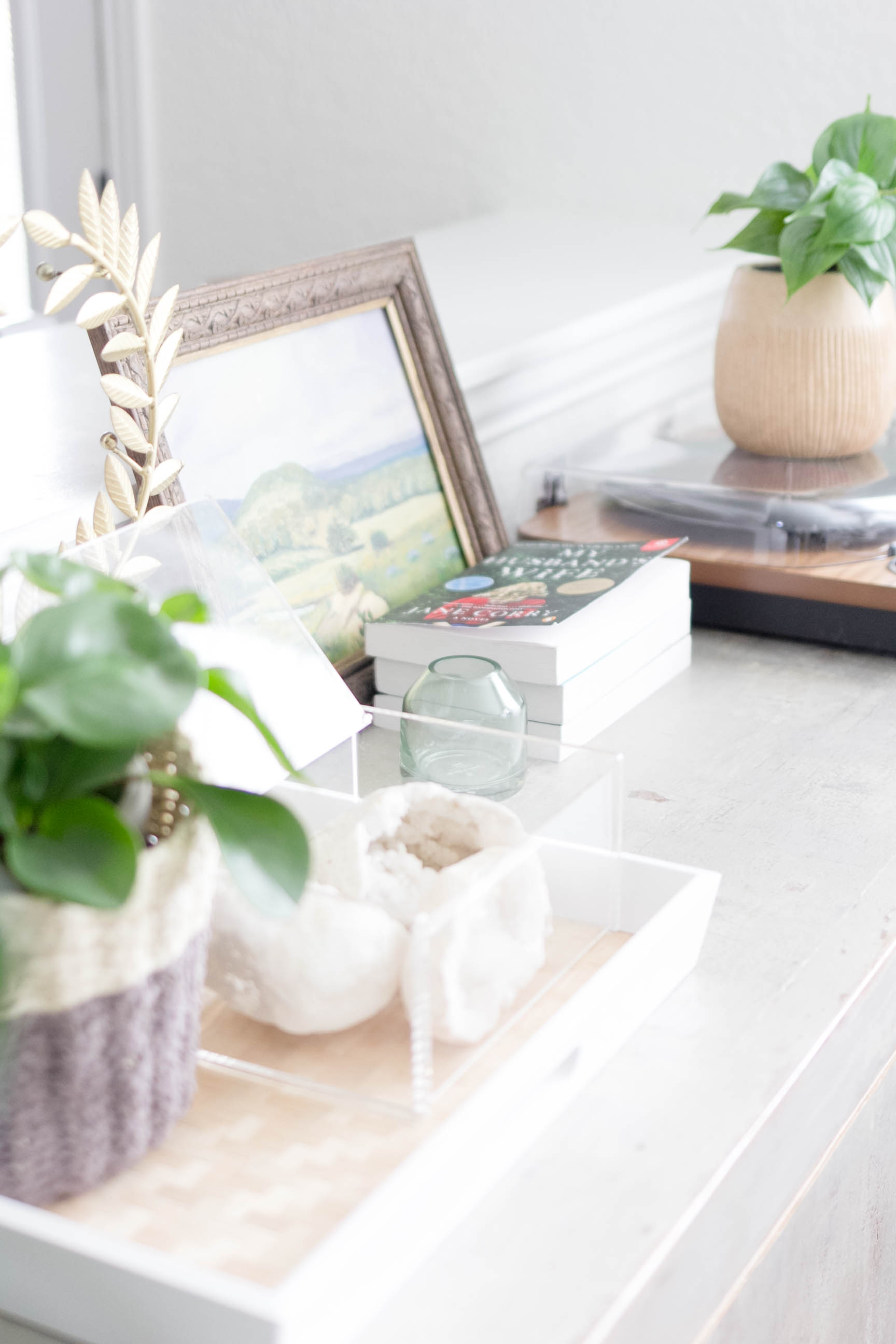 Speaking of Target, have you been to the dollar spot lately?  I have had a change in routine recently so I've been to Target a "few" times over the last week.  Honestly, I keep forgetting something and having to go back for it.  Of course I end up browsing around, hoping my store has finally gotten their act together and put out all of the new lines.  Anyhow, each day I have fond something completely unexpected in the dollar spot, and this adorable little painted basket is one of them.  It's only $3!  I had to have it on this tabletop, so I stuck one of my live plants inside of it.  It's still planted in an old planter, and this is an amazing way to update the look without much effort.
Oh, and have I convinced you that HomeGoods is the best place ever to find decor pieces on the cheap?  This metal wreath, or one that looks exactly like it, is being sold for almost $200 in some shops.  Guess what I paid for this one? Nope, not that high.  I paid $15 for this beauty!  I know it's not a sure thing that you'll find this exact piece at yours, but I just wanted to mention it to you so that you know just how valuable a little stroll through the decor objects section at HomeGoods can be.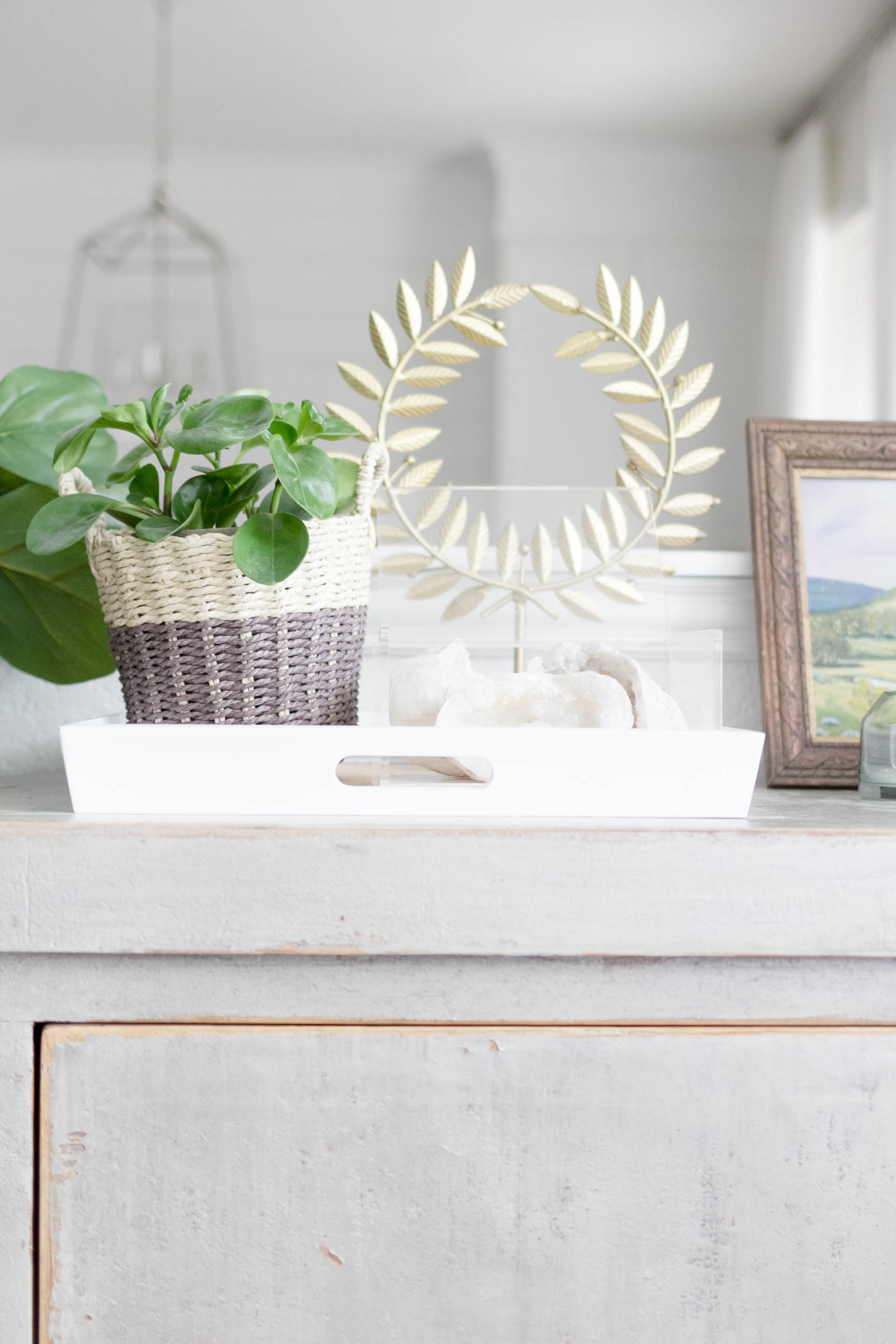 And that my friends is the story of how I started out the new year with good intentions, fell back on them a bit, but managed to make it work for me in the end anyhow, and ended up with a pretty satisfying styling job in a space that I despised before.  I'm excited about my new outlook on decorating around here, and I hope that I can entice you to come back and see more of how I style with stuff I already have, or have found on the cheap.  After all, isn't that how most people do it anyways?  Of course, some of my projects will require new pieces, and higher budgets, and that's exactly why I'm taking the approach to decorating the rest of my house in this way.  Overall, I think it's going to be a much more productive year than any before, and I think the payoff is going to be much higher too.  I'm talking about having more money, less stress, and comfortable home to boot!
Check back with us soon to see more of our New Year, New Room Refresh Challenge progress.  I'll be honest, we haven't even started, we've all been sick, so that blog should be a good one!  I may even share the disastrous before photos with you all! 
Until then!
-Iris