Welcome back to week four of the One Room Challenge!  I'm so glad to report that our powder room and newly demoed mudroom are in the home stretch of this renovation process!  If you're new to my blog, you can catch up on all that we are planning here!  Today I'm sharing some demo progress pictures with y'all so you can see just how much is going to be changing with this design.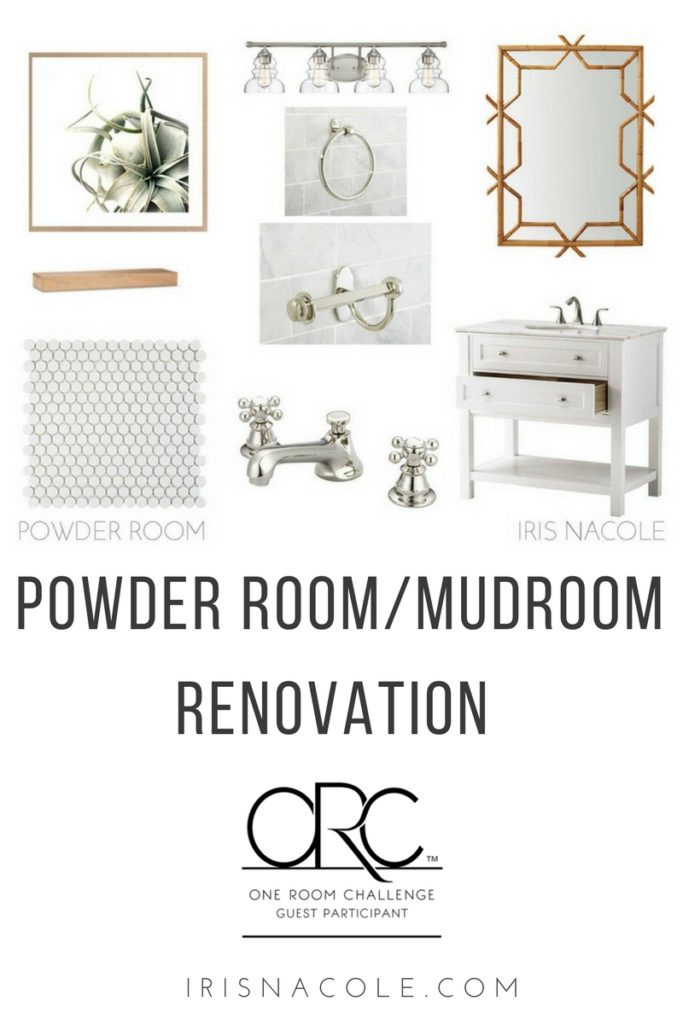 Here's the before picture of the powder room….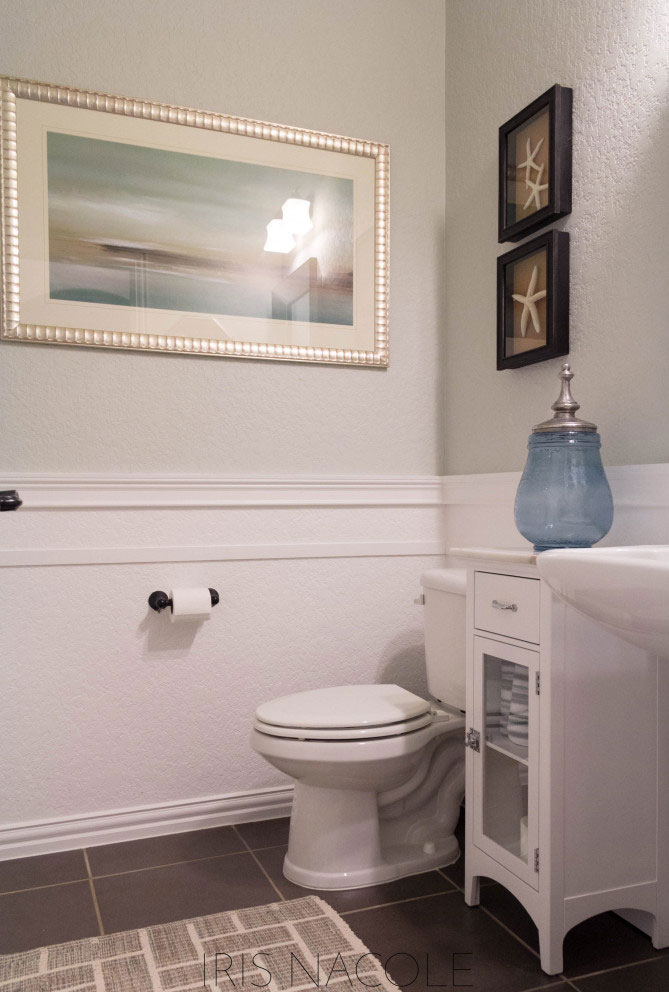 ..and here's the after.  Okay it's just a small look, but you can see that we pulled the trim that I added a few years back, and you can see just how much damage occurred to the wall while doing it.  I swear, I tried my hardest to not cause damage, knowing that we might not be able to repair it easily.  Well, no matter how slowly I pried it off, the liquid nail was holding it too the wall too tightly, and I ended up with quite the mess.
Last week I had said we would probably just have the areas patched, but after having a conversation with the contractor, I decided it wasn't worth the cost, and instead decided that we'd go ahead with the original idea to attempt to add a faux shiplap wall using .25″ MDF boards.  This was something I had discussed with the contractor during our initial interview, and during a few follow-up calls.  It turns out he wasn't familiar with the process, which I wasn't aware of until they showed up to work, but I was able to teach him and his team about the application process, and they ended up really liking the idea.  Of course, I should have kept a better eye on that part of the project to make sure it came out exactly as I expected it would, however, I thought it was a pretty straight forward process so I didn't.  It turns out they may have taken some "liberties" in how the installed the planks, having the far wall line up differently from the two adjacent walls.  The one thing I will say about that, is that it actually looks nice, and the walls mimic each-other, so it look purposeful.  I figure I can live with it, and I bet once it's painted I wont even notice or care.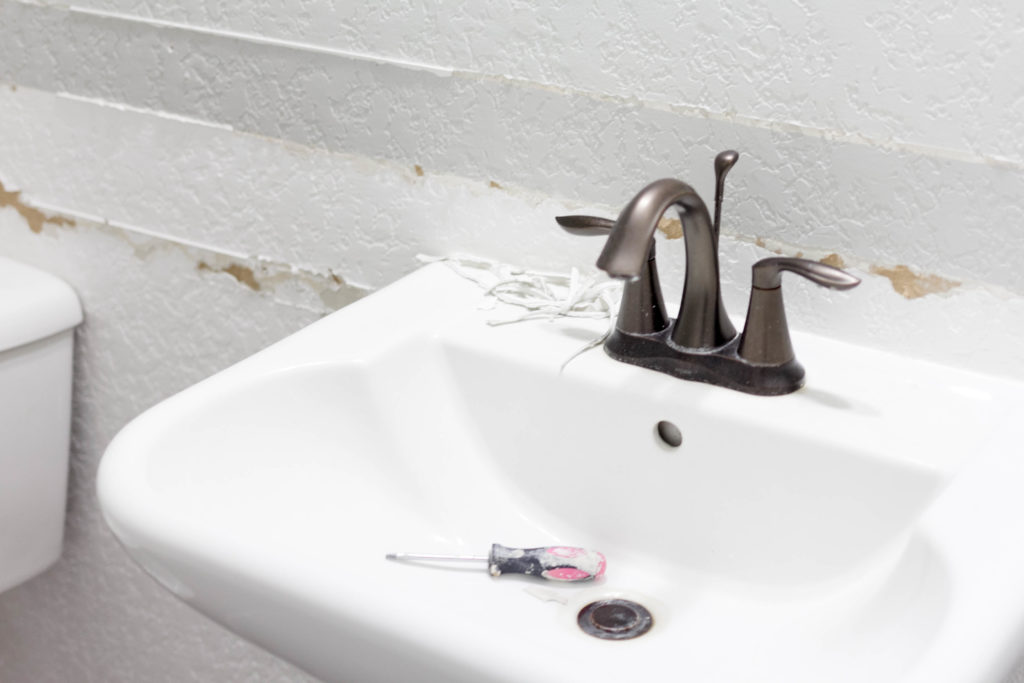 That first day, the crew came in and removed the sink, toilet, tile, and busted out the drywall for the mudroom area.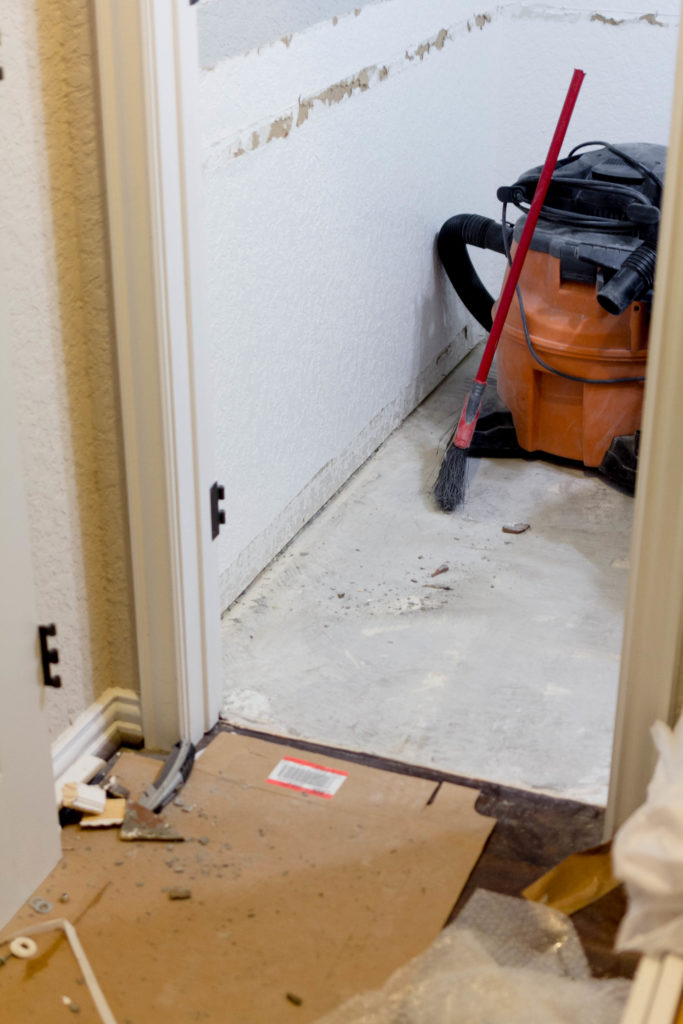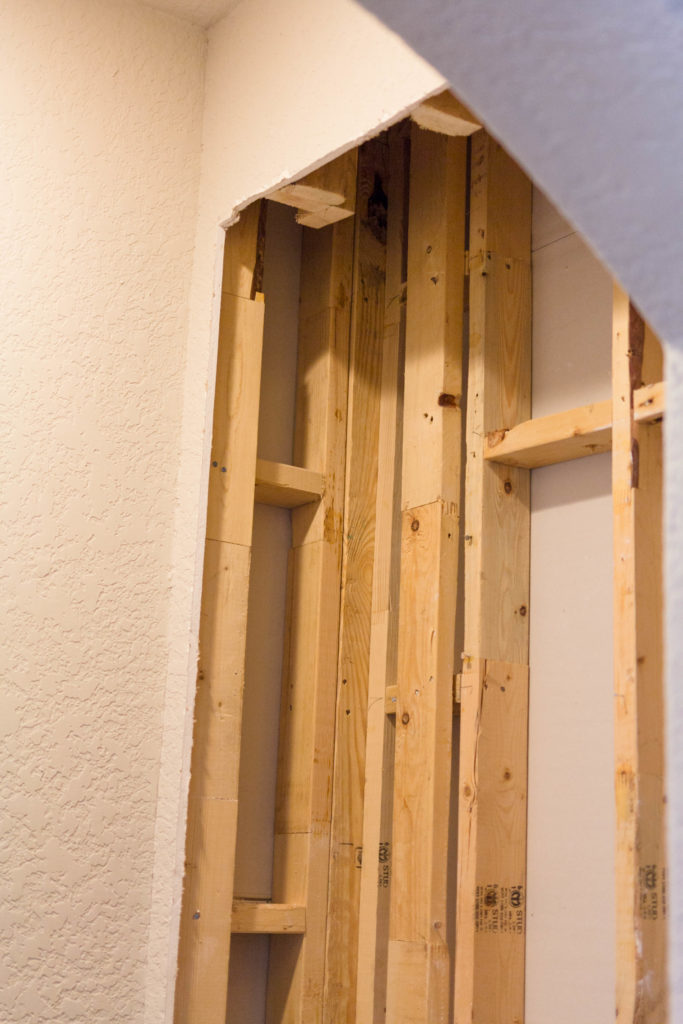 This was all a pretty quick process, which left them time to start adding the new tile to the floor.  We chose white penny tile from Floor & Decor, and after much consideration I chose to use white grout instead of gray.  I know, some people may not agree with that idea, due to how quickly it can get dirty, but we sealed the grout, so hopefully that wont be an issue anytime soon.  Also, the rug that is going into this space runs the length of the room, so not a whole lot of tile is going to be exposed to daily wear.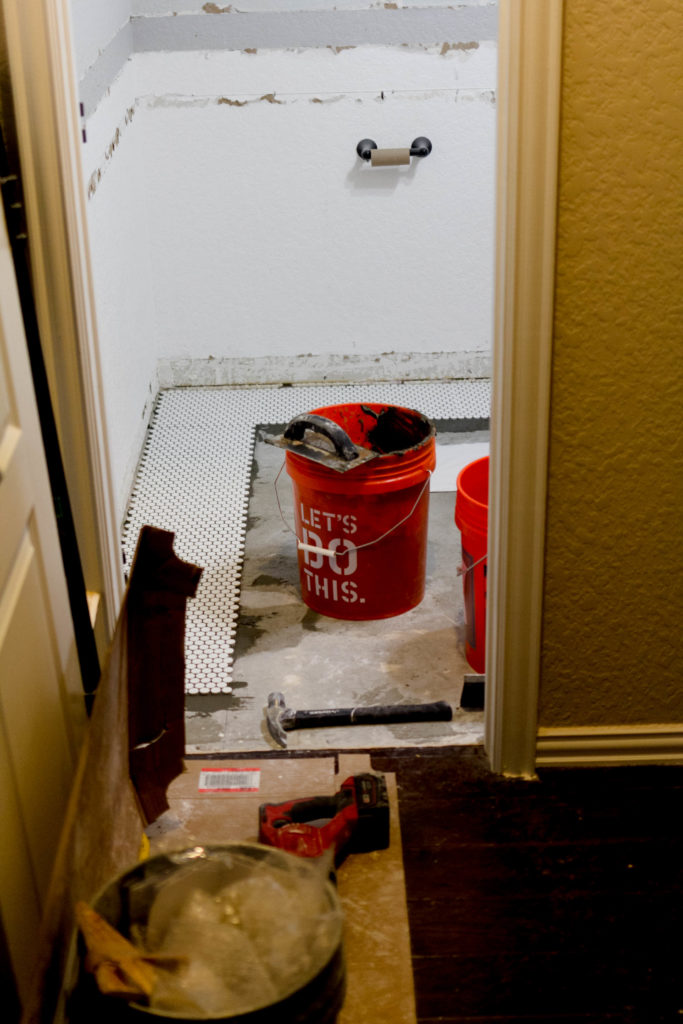 On the second day of work, the crew came in to construct the mudroom bench built-in and to install the rest of the bathroom pieces.  The new light went up, the vanity and faucet went in, and the toilet was put back.  I'm so glad the .25″ MDF worked out behind the toilet!  I was worried to death that it would fit, but as far as I can tell they didn't have any issue installing it with the planks on the wall.
Here's a quick iPhone picture of the space after they left that day.  It looks pretty good, huh?  We noticed some issues with the mudroom built-in upon closer inspection, so we are hoping the contractor will be able to come back and fix them before we are to reveal the space in week six.  I honestly don't think they are hard adjustments to make, and if I hadn't paid him to do it, I would probably do it myself, but since I did, I expect the work to be done correctly.  Am I wrong?  I'm such a softy when it comes to this stuff, because I really believe people are good at heart, and I never want to offend anyone.  Anyways, he's coming by today to discuss it with me, so wish me luck that he's a man that stand behind the quality of his work!  It seemed to me that he was, so I hope I'm right.  I'll let y'all know next week what ends up happening.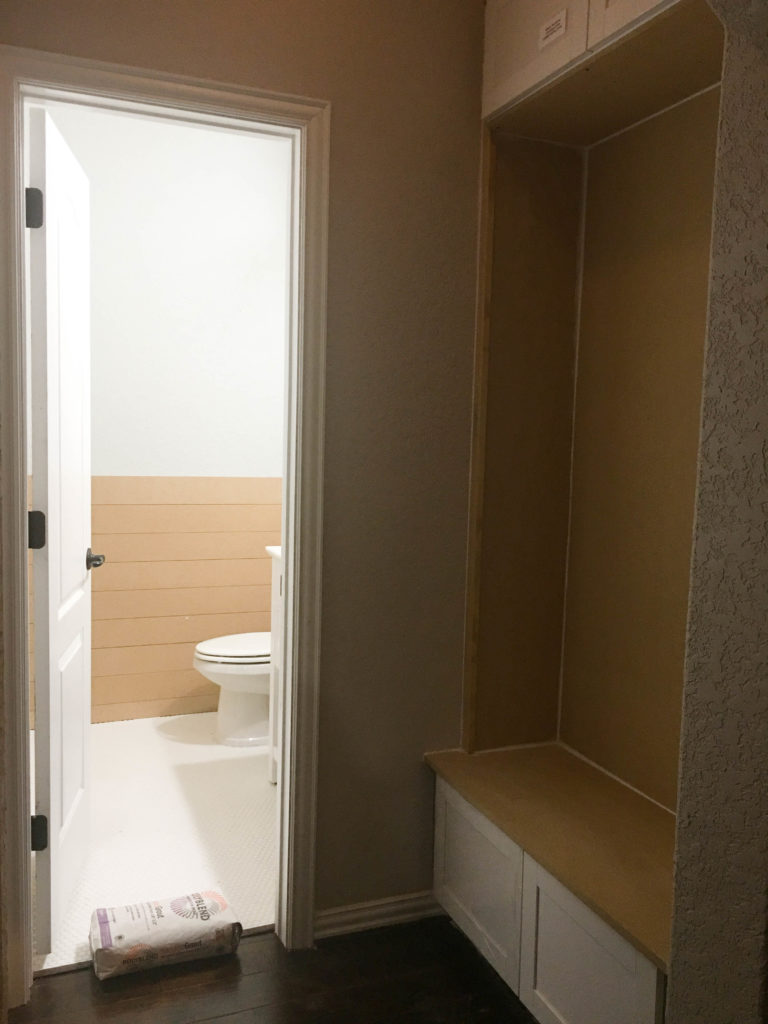 Be sure to check back in with us during week five!  I should have a lot more done in this space!
Until then!
-Iris