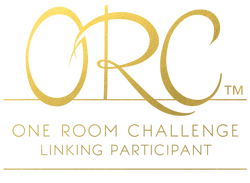 Welcome back friends!  It's week FIVE of the One Room Challenge!  I have to say, with all the stress, that comes with completing this challenge, come just as much fun.  Exploring everyone's rooms as they come together has been such a treat for me, and I bet for you too if you have been following along.  Linda, you have created such an exciting challenge to be a part of, and I know I can say this for everyone that is involved, thank you for allowing all of us to be a part of it.
This past week has been filled with painting furniture, finalizing décor options, and prepping for a couple of DIY projects that need to be completed before the big reveal.  I finally found a light that I think is perfect for the room!  I ordered it on Friday, and it should be here today.  I can't wait to put it up!  All the art for the room has been picked out too.  You know, it's funny when you don't put things together right away, but then the perfect idea pops into your head and it's one of those, "Duh!" moments.  That's how the art came together.  That's what I love so much about decorating.  The constant creative state you exist in!
This is part of the "kids zone" I created for my son.  I just can't wait to get this room pulled together so we can enjoy it as I planned!  With one more week, the pressure is on to get it all done, but I have confidence that it will be.
Be sure to check out all the participant's rooms here.  So much talent!!!
~Iris