Welcome to Around the Watts House!  If you are just now finding us via the One Room Challenge, we hope you like what you see, and continue to follow along.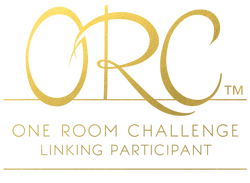 Can you believe it's already week two of the One Room Challenge?  (Find my week one post here.)  I've always been pretty quick to decorate spaces, but I never realized how much time I actually took to prepare for each space.  With one week already under my belt I'm finding myself a bit overwhelmed with the ideas I have about the space.  Will it all work out?  Will the pieces I've chosen actually look good when combined?  Am I being too safe?  So many of the rooms I've seen completed before were quite striking, as are many of the mood boards for current makeover.  Will mine catch anyone's eye?  Wasn't this just for fun and a good push to get this space completed?  So you can see my mind is whirling with thoughts, but luckily I have good ones too, such as: I'm so excited to be participating is such a wonderful event, even if I'm just a linking participant!  This space is going to be so awesome when I'm done with it!  I really love the challenge this is presenting to me!  I love decorating!  Haha!  So as you can see, when I put it all into perspective, I think I'm going to be fine.
Last week I showed my mood board for the space.  I promised to share the before pictures this week, and as reluctant as I am to share the slob in me with the entire world, I know it's part of the process, and will show just how much this makeover is needed.  Sooooooo…without further adieu, I present my office in its current state!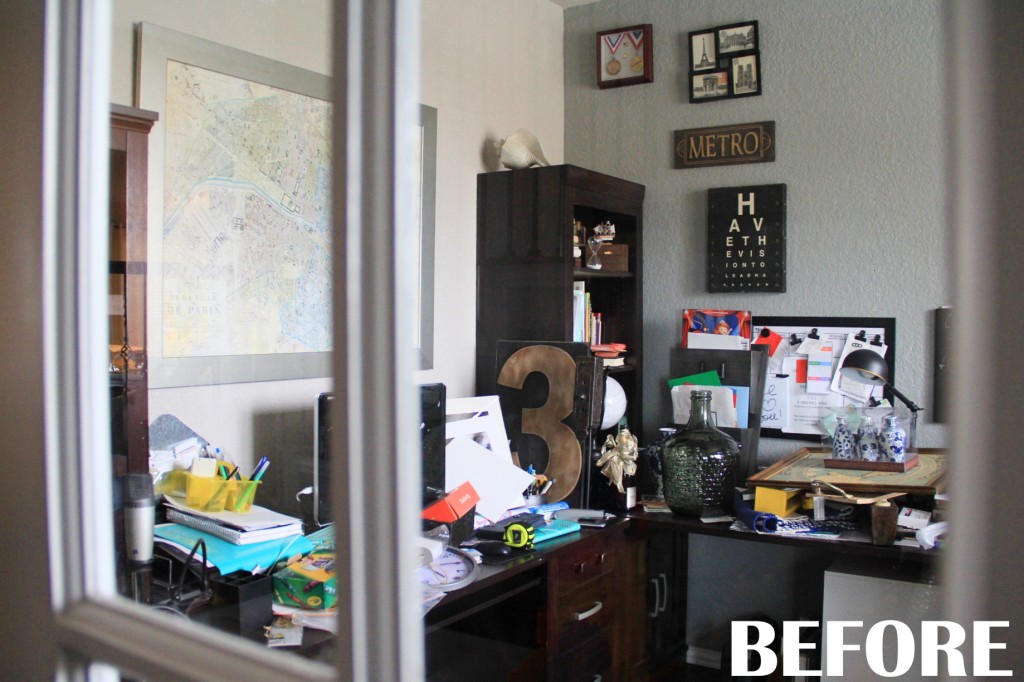 Quick! Someone get the smelling salts!  I know, it's a MESS!  Here are couple more pictures just to prove my point.
Okay so that's done, thank goodness!  In my defense this is after I started to dismantle the space to clean it up, but honestly this place is where craft supplies and old décor go to die.  I have a note on the chalkboard that should have been erased over a year ago, because the task was completed that long ago!  Terrible I know.  The saddest thing about the room being in this state is that even if I wanted to go into this room and create with my son, or work on a project of my own, I don't have the space to do it.  We haven't even attempted to buy a new ink cartridge for our printer, because we can't even get to it with the mess in front of and on top of it.  I purchased the office set over a year ago in hopes of having a space to file documents and supplies thinking it would help keep us organized.  All we did was shove old stuff inside each drawer and cabinet, and call it a day.  Whomp whomp.
So the plan is to get everything out, and sorted through.  We have a community garage sale coming up so if anything is worth going into it we will attempt to sell it.  The rest is going to be shredded or filed correctly.  Since blogging has pretty much become a weekly thing for me, the craft supplies is overflowing, and even though I recently found a solution for some of it, I quickly found that I didn't have enough space for it all.  That's why I'm doing my best to come up with storage solutions for the smaller items to stay in the office, and the rest to be placed with the new storage.
Some of you know my obsession with baskets.  I love baskets of all shapes and sizes.  If you are a basket, and I happen to pass you while shopping you can be sure that I will be ogling you, deciding if I really need to take you home.  I have been lucky to run across a sale recently at Michael's, where all of their baskets were on sale for 50% off.  You can bet I took advantage of that for this room!  I also found a few wire baskets that are going to make a huge difference in the kids corner of the room.
Honestly I think the shopping gods were on my side when I visited Home Goods this past week.  I walked through and easily found major pieces for the space that corresponded with my mood board.  It was as if I made the mood board after purchasing all of the pieces, but honestly I didn't.  I've never experienced such luck shopping!  For sure, that has to be a good sign, right?
Here's another look at the mood board just as a reminder.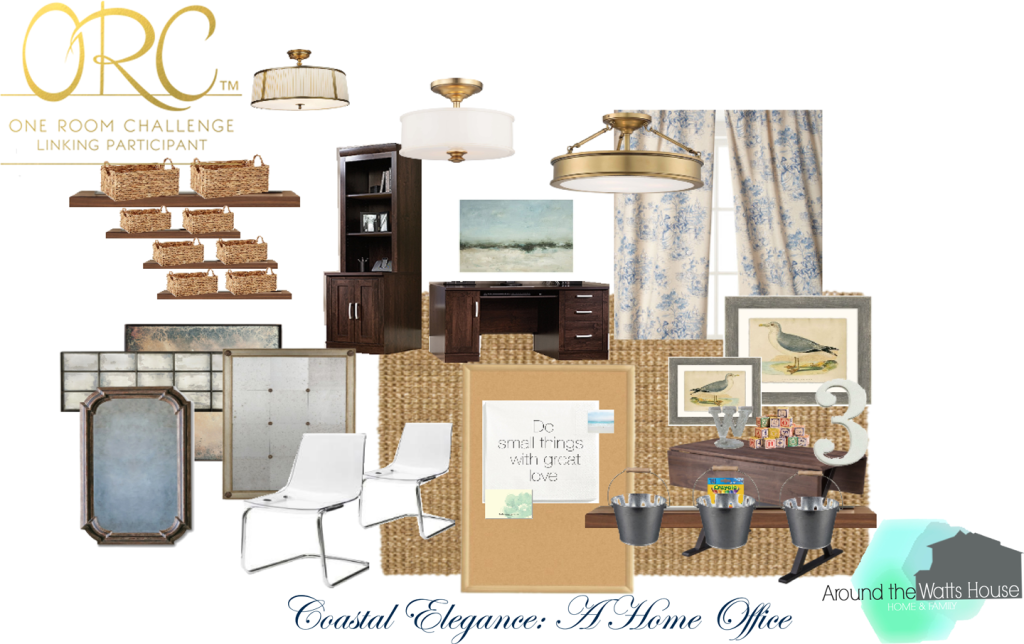 I took a few minutes to draw up a design plan for the room using Paint.  Remember Paint?  Does anyone even use it anymore?   I don't know why I haven't invested in good design software yet, but after drawing this out, I really wish I had.  Haha!  I'm decorating three walls of the room, because the fourth wall is mostly windows.  Of course I'm using drapes, and maybe a bit of décor on that wall, but it wasn't worth drawing out.  Here are the three walls, as I envision them with the before pictures so you can see the changes I plan to make.  They are subject to change upon a moments notice though!
Main Wall and Side Wall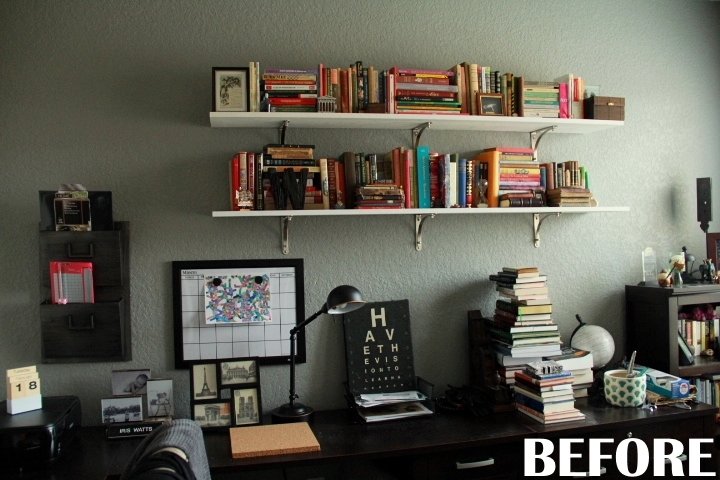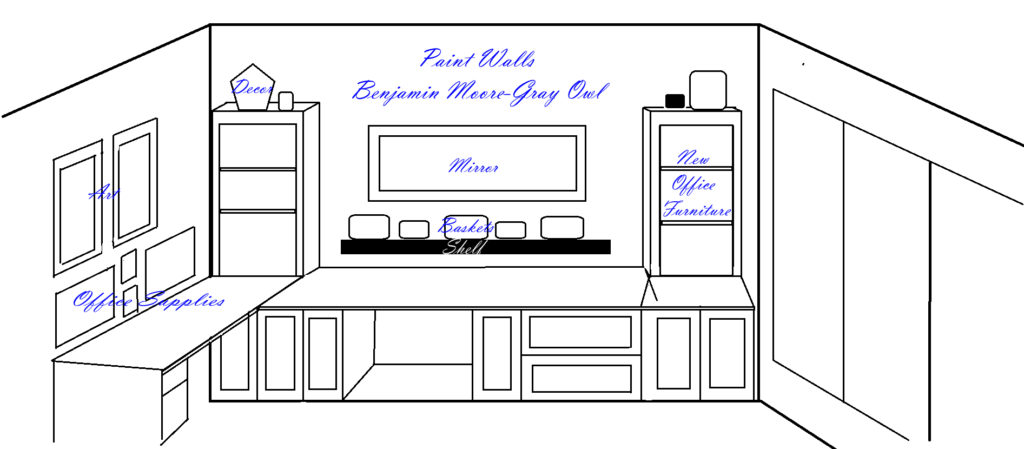 Kids Corner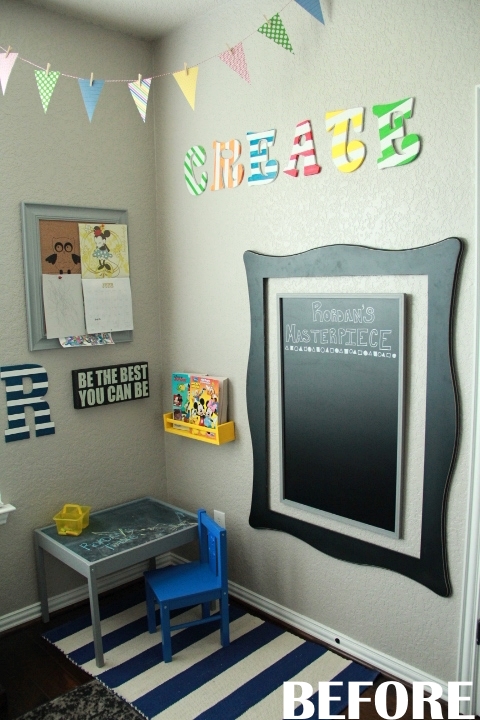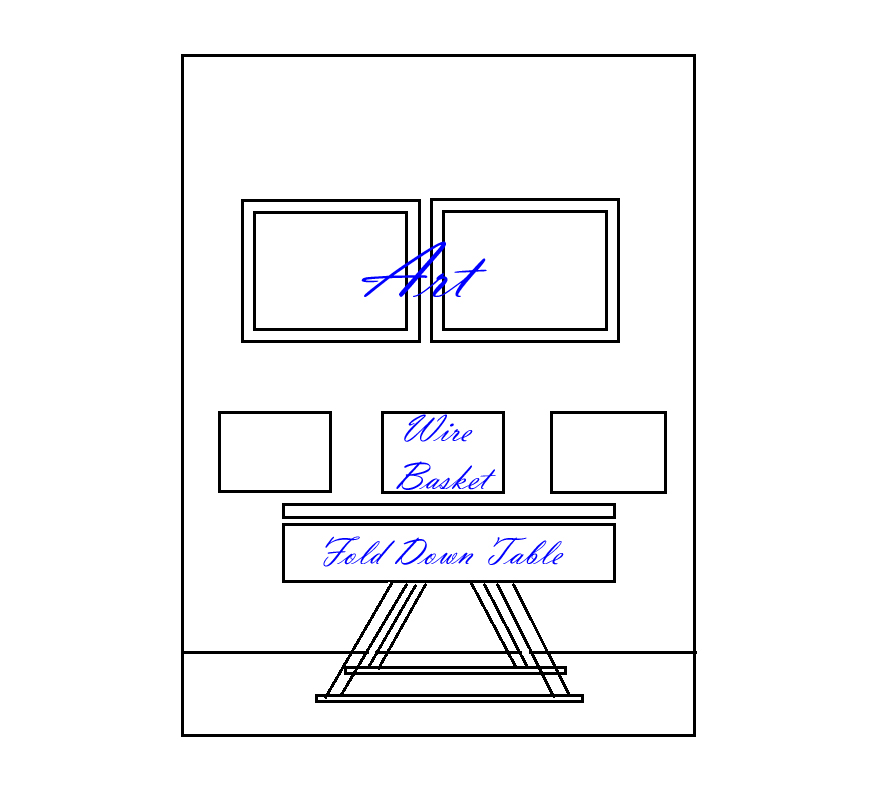 So those are the plans!  Nothing is to scale of course, since I've used primitive means to create things.  I'm hoping I've eyeballed it well enough to get by though.  Quickly before I leave you, I want to let you know what I have accomplished so far.  I've purchased the paint, décor, office furniture (to complete the current set), and set up a date for the cable company to come out and move the outlets for the computer.  I see lots of moving stuff out of the room, and painting in my near future.  Is anyone else as tired as me already?  Luckily this is the ONLY room I'm working on for the next few weeks.  Maybe I'll build up a bit of momentum going forward.
Thanks for checking in on us this week!  Come back next week to see what we have going on.  Who knows, I might have changed my mind about it all and have a whole new plan to share.  Let's hope that doesn't happen though.  Haha!
~Iris
Check out the other participant's posts here!