Welcome back sweet friends!  The last time we met here was to take a tour of my living room, all dressed up for Summer.  Since then, I've managed to go out of town on vacation, come back, and put together a little tour of my kitchen and dining room to share with you all.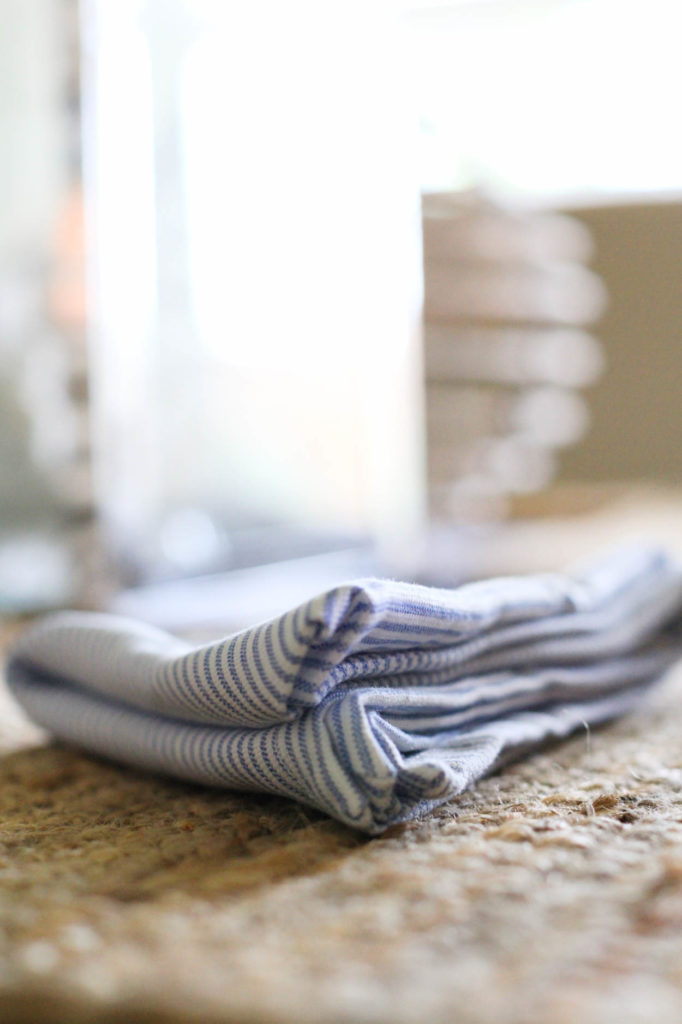 I'm really excited about this one too, because I feel like I've made some personal progress, accepting the things I have and not wishing it was something different.  I'm actually referencing my love for white cabinetry, and stunningly designed kitchens.  I see so many of you that have them, and I'm a bit envious, I won't lie.  My kitchen is pretty standard, with dark cabinets, which we chose ourselves when we built our home.  I'm not even sure white was an option from the builder at the time, and honestly, I had no clue about designing a kitchen back then, haha!  We've already made a few updates, like the backsplash, and cabinets above the refrigerator.  We also added the open shelving at the end of the cabinet next to the sink.  It's moving things in the right direction, but I have a few more things I'd like to accomplish to be completely satisfied with this space.   For now, I'm choosing to love what I have been blessed with, and make the best of it.  Sure, I still have a vision of my dream kitchen, which I hope to get one day, be it a major remodel in this house, or in a custom build home, which we've talked about for our future.  I don't think I'd be very honest to say that I didn't still want it right now, but I feel like God places things in your path as he sees fit, and at this time in my life, he is teaching me about patience and acceptance.  Two things I need to improve upon across the board.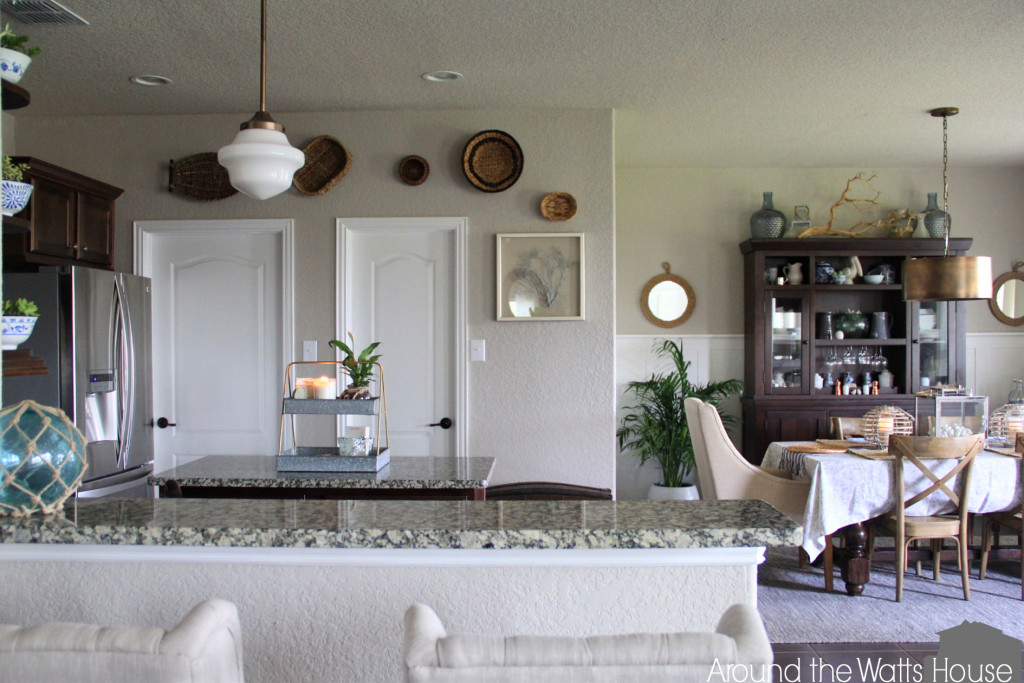 The "dining room" is actually the breakfast area, but it is ridiculously large in comparison to some we saw when we were house shopping, so we chose to use the official dining room as our home office, and use this space as the dining room.  It's much nicer since we aren't really a formal dining family, to have the spaces combined.  Sometimes during meal prep, Rordan wants to start eating his meal, so it's easier for us to enjoy time together as one of us prepares the food and the other sits with him as he eats.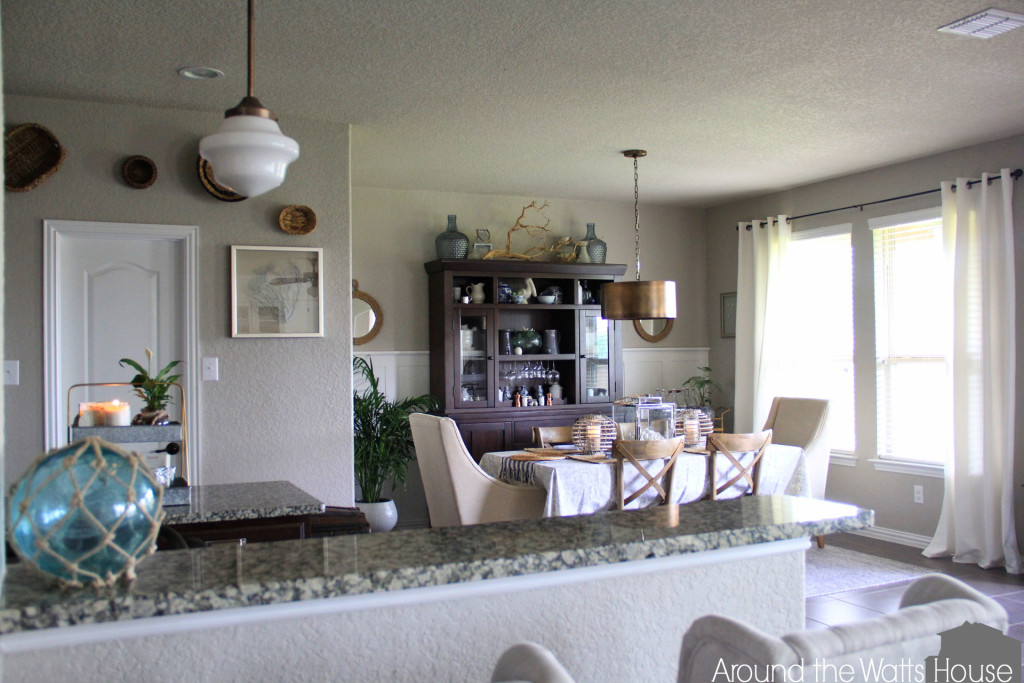 This is what you see as you leave the entry way hall, and enter into the living room, and look to your left.  The dining area is staring smack at you, waiting to say hello, so I was on a mission to make it say just that.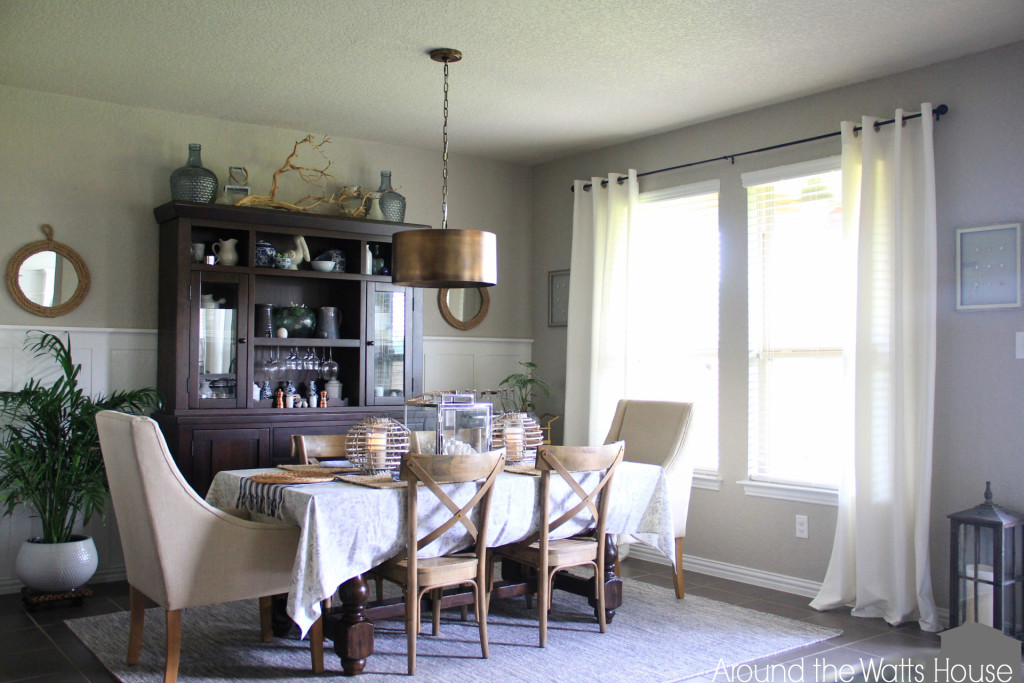 You might remember a few months ago, when I got a wild hair to add faux board and batten to the dining room.  Well, I'm happy to say that I really like it still, although my tongue & groove wall in the office has me thinking I should add that in here as well.  We will see what happens with that, but for now this will do, and I love it!  If you have been on the fence about attempting it, it's honestly pretty easy, and quick.  Just be sure to measure!  Haha!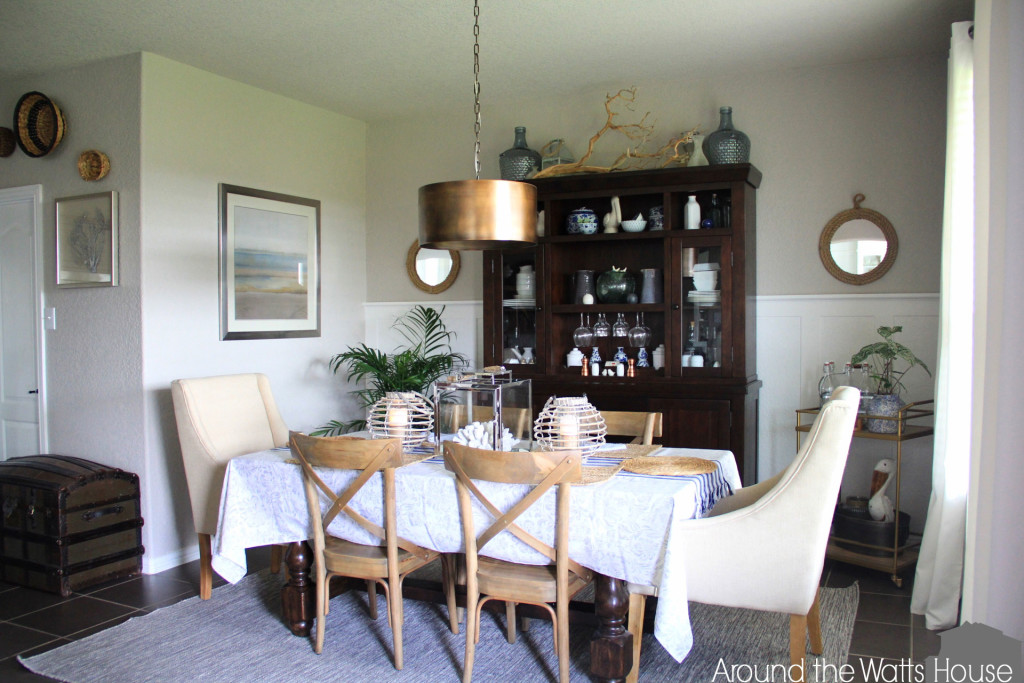 During the last makeover I hadn't found any art for the far left wall, so I was on the hunt for it.  I of course found this at HomeGoods.  Where else, right?  Haha!  I love the soft colors and the abstractness of it.  I see waves crashing onto a sandy beach, but John doesn't.  That's okay, that's what's beautiful about art.  It's all up to interpretation!
We welcomed two new family members to live in this space.  The Majestic Palm and the White Christmas Caladium, make the space liven up, and easily ties the dining room to the living room, and entryway.  I'm really happy that we chose to go this route, because I love having a bit of the outside world, inside.  That, and keeping fresh flowers in the house can be sort of tedious at times.  Especially when your favorite place to purchase them is half way across town!  Eep!
That's another reason I chose to decorate the table with lanterns and coral.  I ran across these at HomeGoods, and since the price was right, and my vision was clear, I picked them up and brought them home.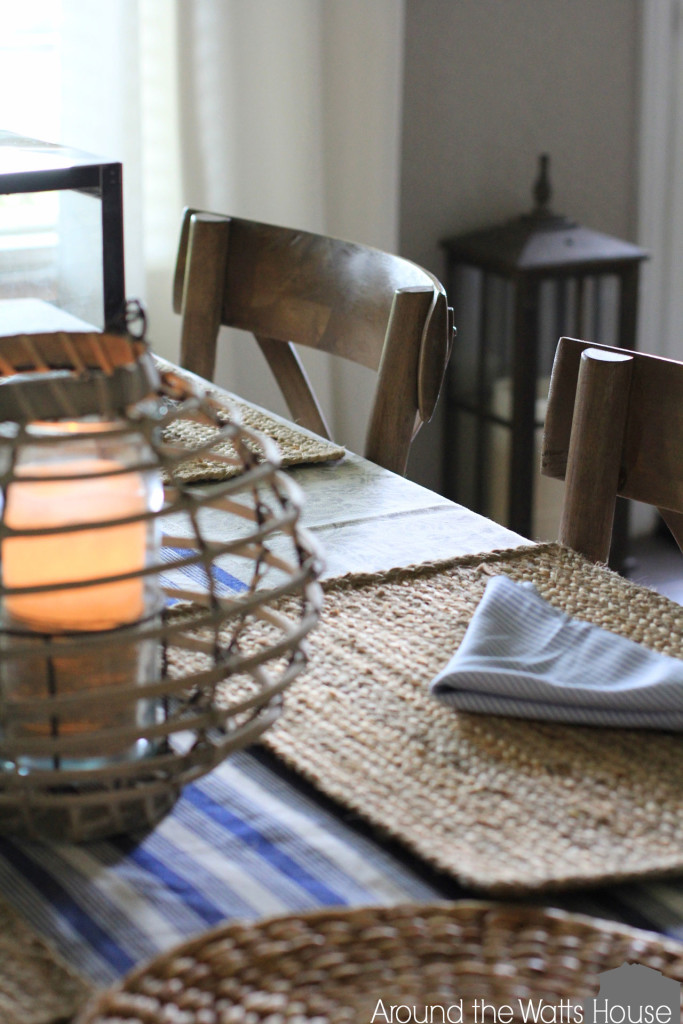 A little fun fact about the table cloth is that I was going to use it as a curtain in the office, when I was designing off my original mood board.  I liked it so much, I only returned one, and kept this one in hopes that I could use it one day.  I didn't think it would be so soon, but it meshes well with the striped runner, so it's the winner!  Oh and if you are thinking about the fact that I have a two year old that eats at the table, I have found a solution to keeping it clean.  That's to use a couple of cloth napkins placed around the mat to avoid messes.  Of course, I'm positive it will end up with something on it, most likely by me or John of course.  Haha!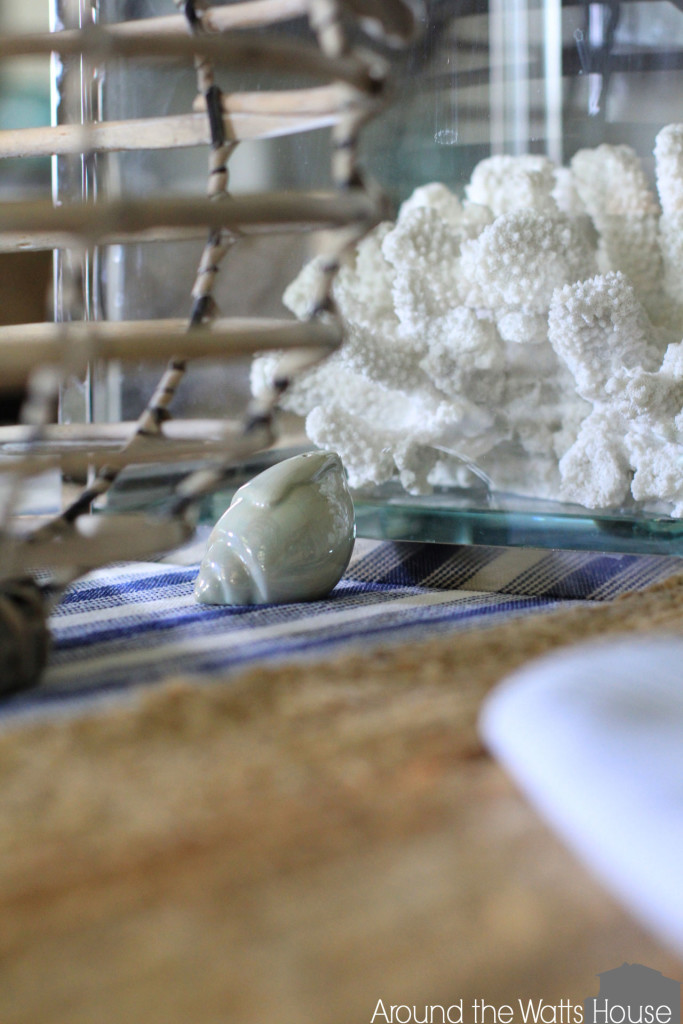 I found the little shell salt & pepper shakers at a small shop, during our vacation.  We had to venture away from the beach to shop for coastal décor, of course!  I also found a ton of beautiful shells that I'll have to share with you all later.  Oh, actually, I'm not sure if you can see my pelican sitting on the bottom shelf of the bar cart or not, a few pictures up, but it was also a purchase from our vacation shopping trip.  He was too cute to not bring home!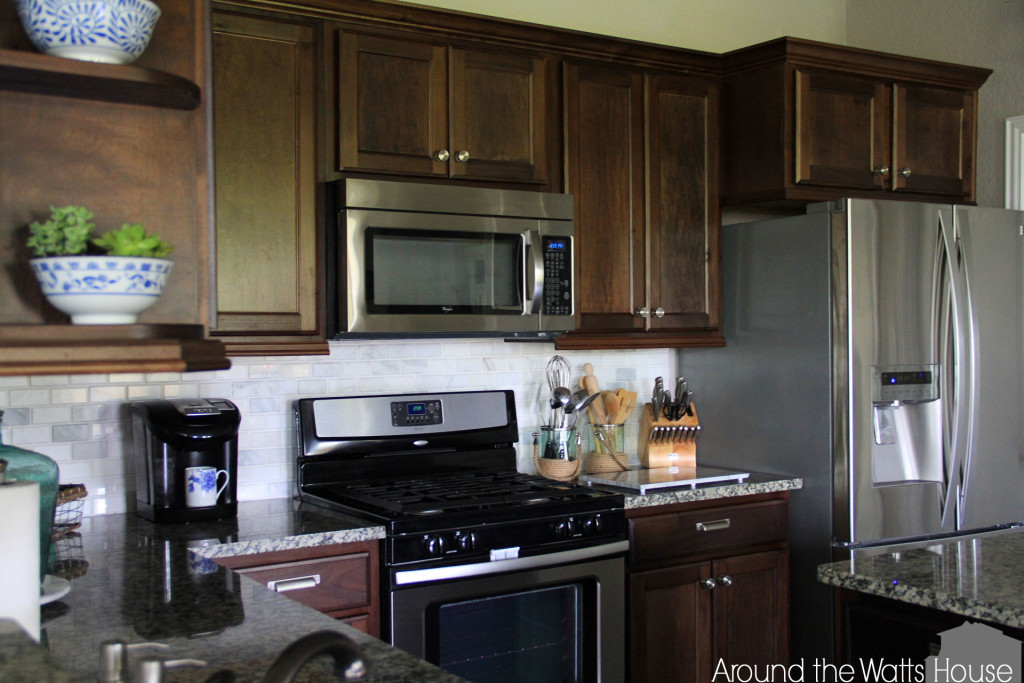 So moving on to the kitchen.  I'll try to make this short, since I just wrote a book above about the dining room.  As I mentioned earlier, I'm choosing to make the best out of what I have, and in doing so, decided to rearrange the space to freshen it up.  I moved all of the cooking utensils to the right of the stove, along with the cutting board, and created a coffee station to the left.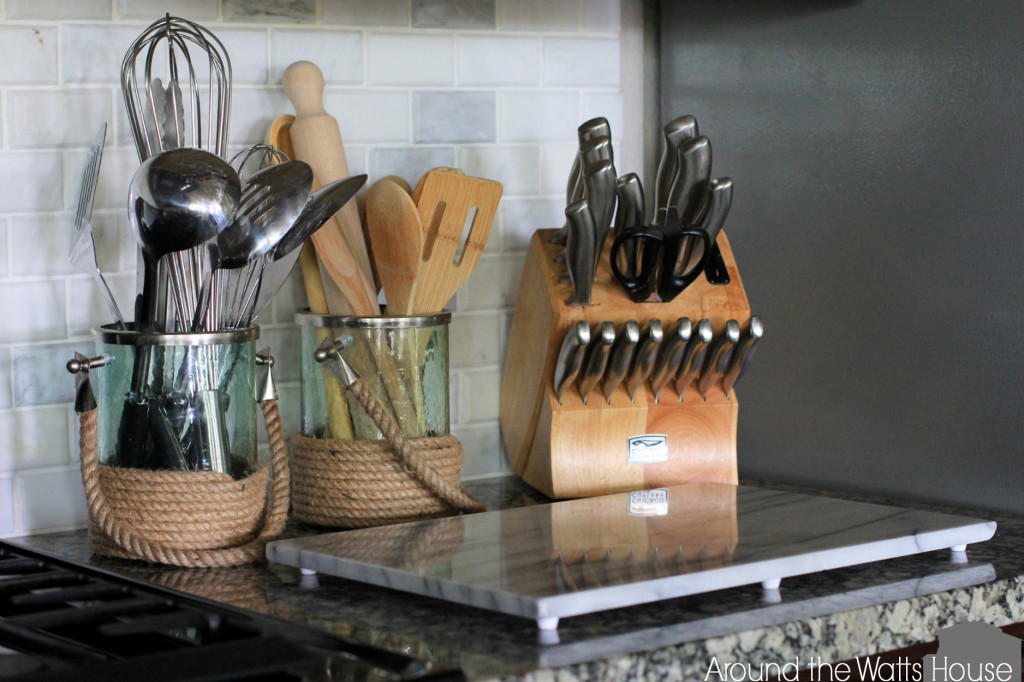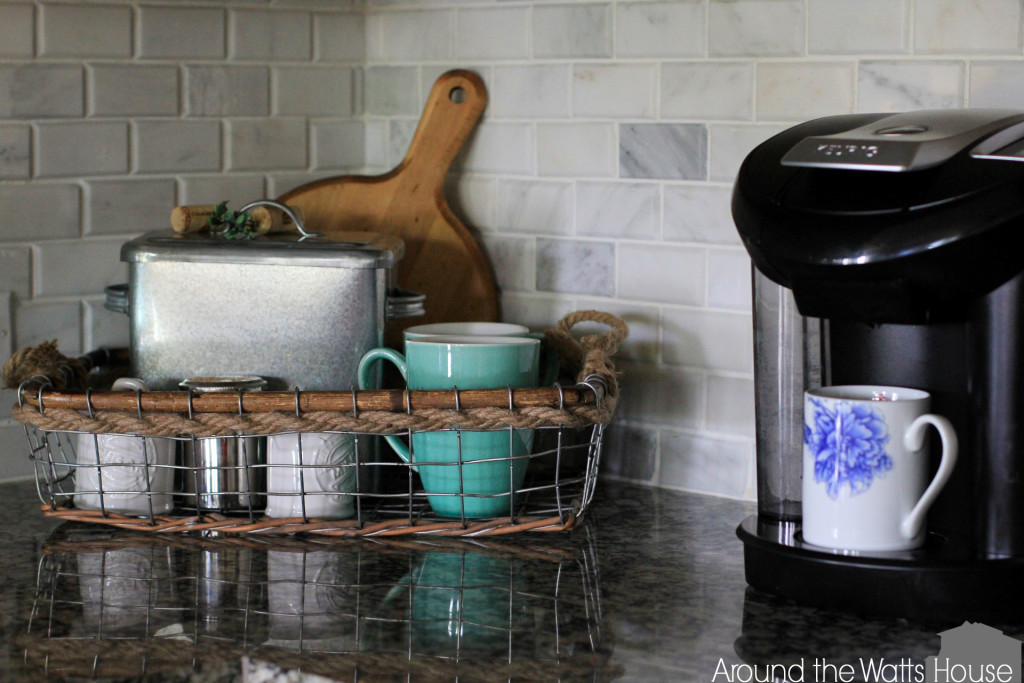 I tried to bring in natural elements by using glass lanterns as utensil holders, and rope woven wire basket to house all of my coffee needs.  I was hoping to achieve a more laid back, beachy feel, and I think I did it.  I really like the way it looks, although the jury is still out on how well the glass utensil holders will hold up.  I tend to be heavy handed, so they might end up broken sooner than later.  We will see!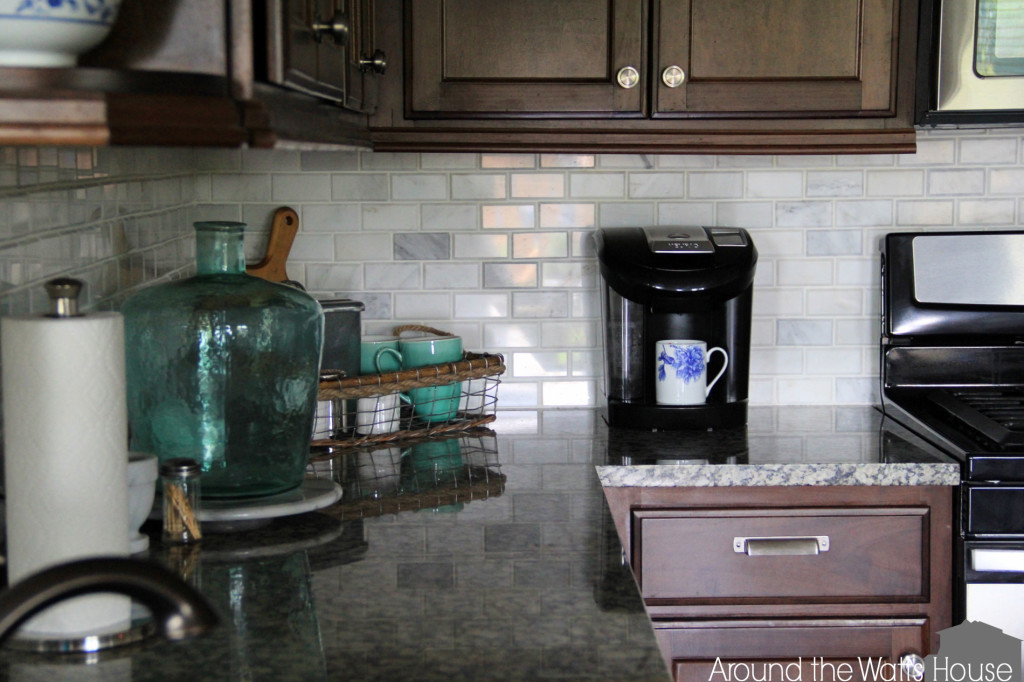 This jug is just decoration, and seems a bit out of place, but I'm being stubborn about keeping it out.  I love the color, and it truly fills the space up when you are looking at it from a different direction.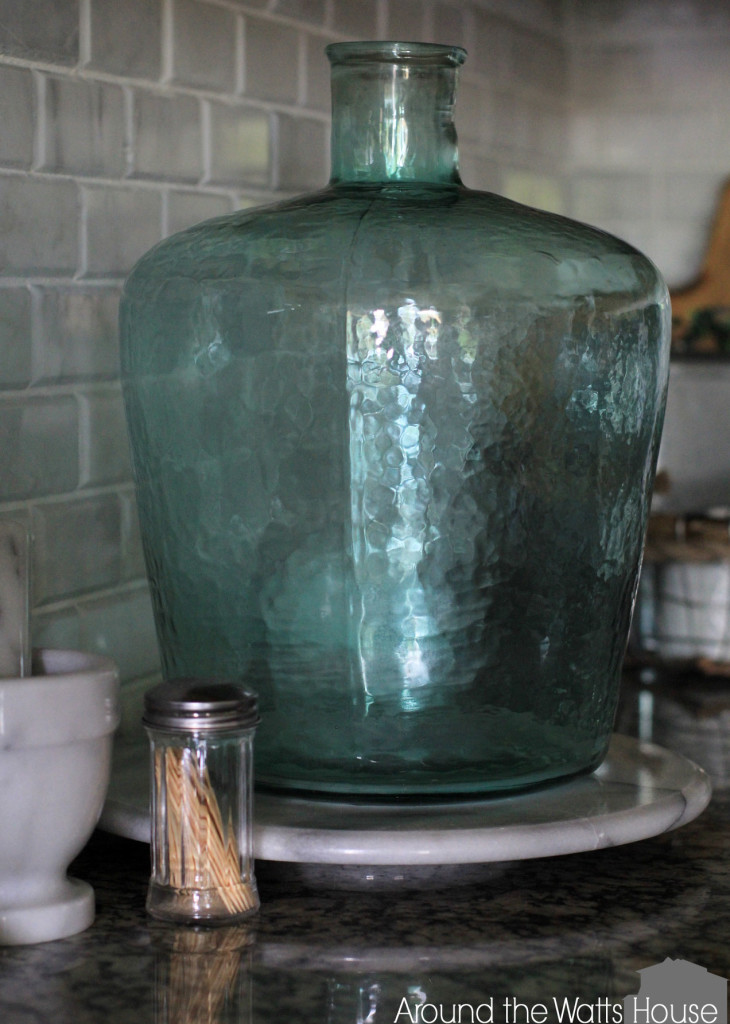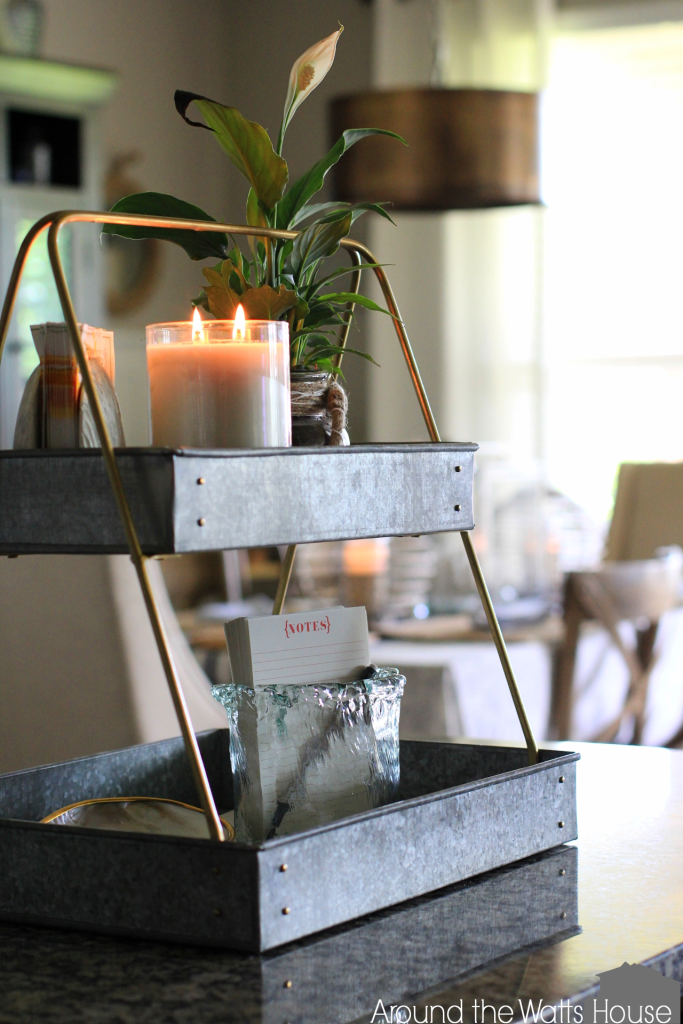 Some of you might remember back in January, when I shared a picture of this stand as my coffee station, on Instagram.  The idea kind of went mini-viral, and I have happily enjoyed the fact that I shared it being used that way, and people like it enough to do it themselves.  Of course, I'm not vain enough to think that I am the only one in the world that had used it in that way, but I did see a lot of people using it the same way soon after the post.  That's the beautiful thing about Instagram.  Sharing ideas with people that share your interests, and implementing them into your own home.  Anyhow, it's now sitting on my island, actually holding a plant, haha, as well as other random items we tend to need in the kitchen.  We are always making lists of things we need, whether it be things to do, or to buy, so I placed some note cards inside this little glass holder.  I found it at none other than HomeGoods for less than $5!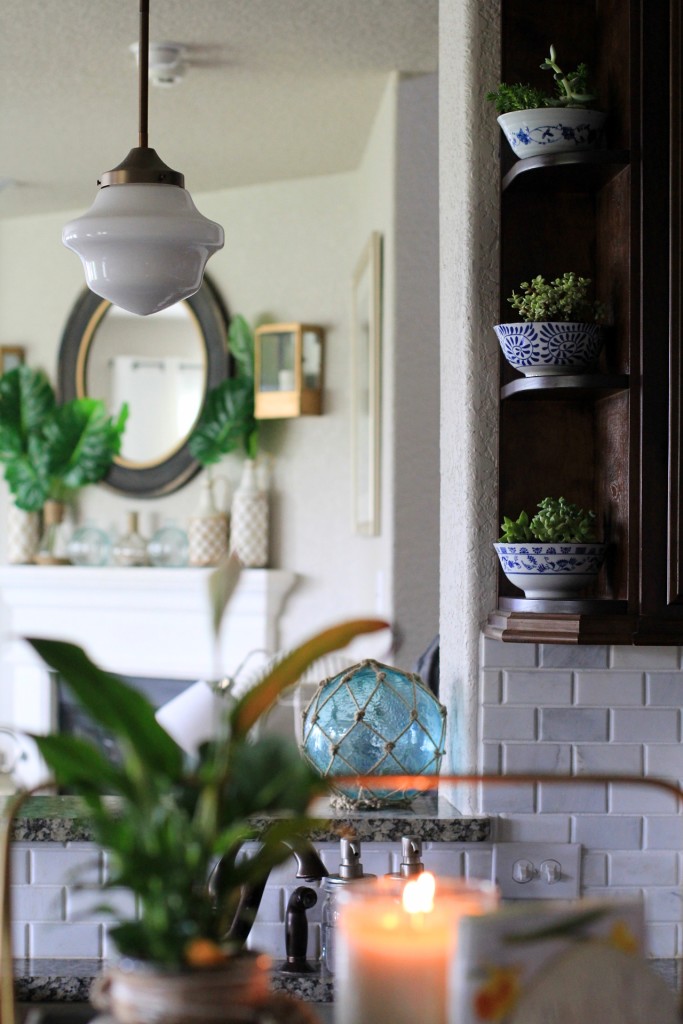 My open shelves at the end of the cabinets house the succulents I shared a while back too.  I won't lie, I killed some of the succulents I originally planted, but I figured out that it was because I didn't rotate them enough for all the plants to get sun.  I think I might have it down now, so these guys should live happily amongst the rest in the house now.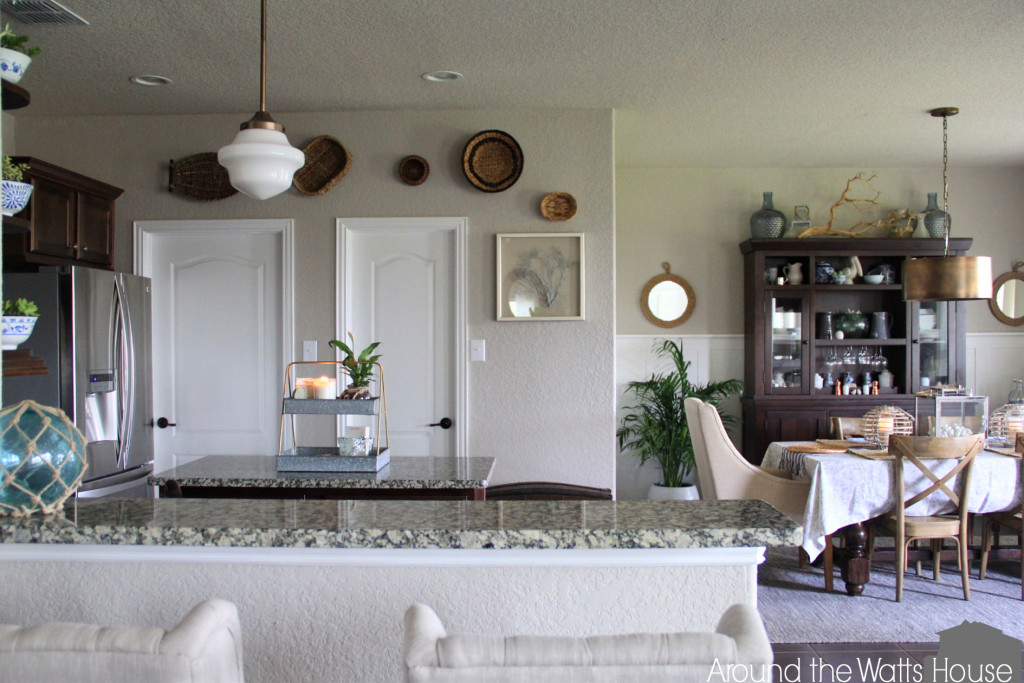 The last, but most exciting element in my kitchen is the basket wall. I had a smaller grouping where the framed coral is now, since January, but I wanted to make it more eye catching, so I spread them out along the wall, using big and small baskets. I really love it, way more than the conservative way I had it before. Come to think of it, I don't think I ever shared the before setup. Maybe because I wasn't really happy with it. It makes the space very casual to me, and for Summer, I absolutely love it. I wonder what I'll think come Fall, since I tend to think of new things all the time. We will see!
Thank you all for visiting, and taking the tour. I really appreciate y'all, and love to know what you think. If you have a moment, leave me a message in the comments. Have a great day!
~Iris