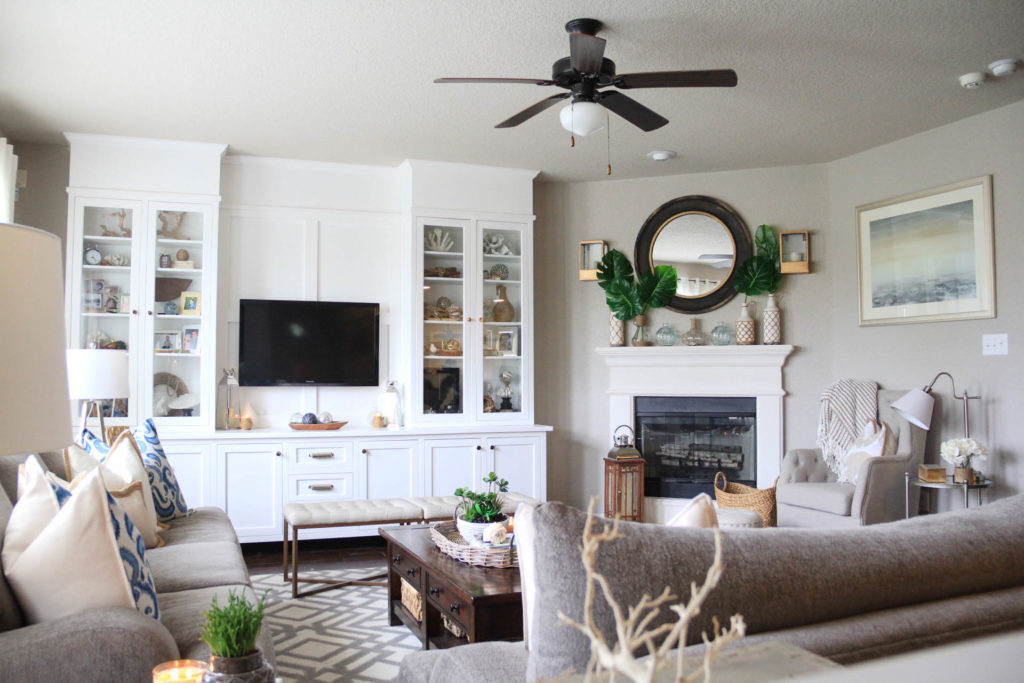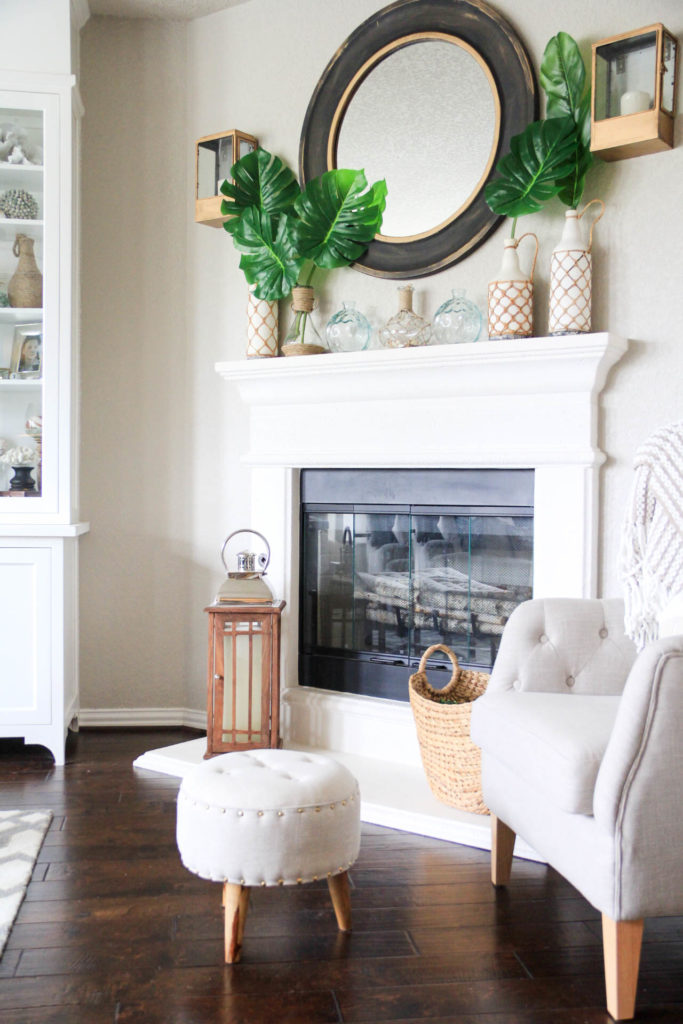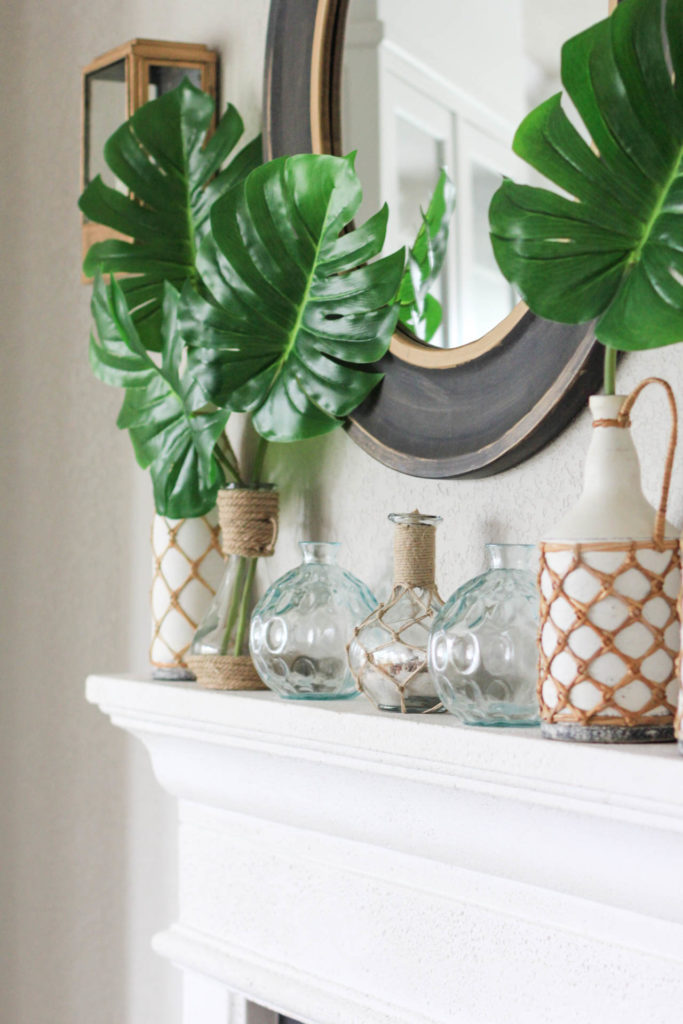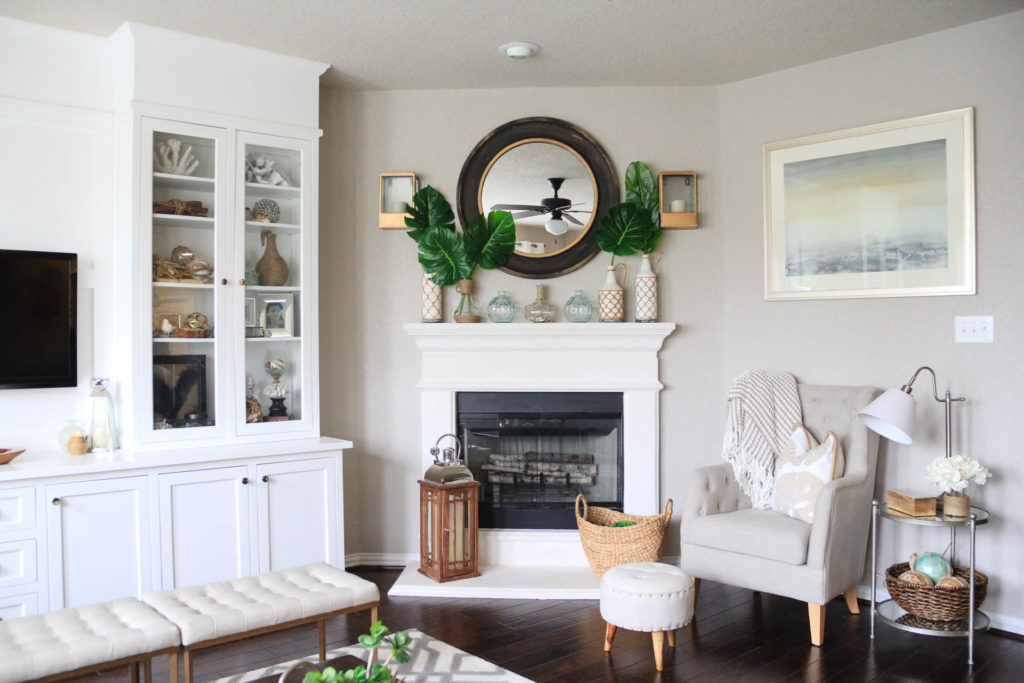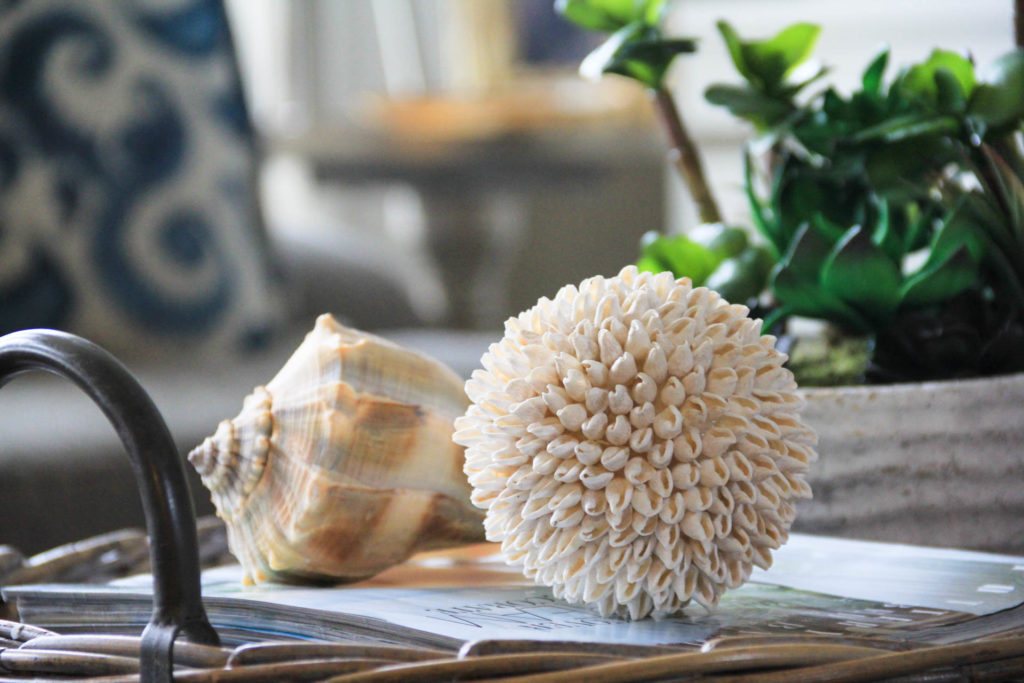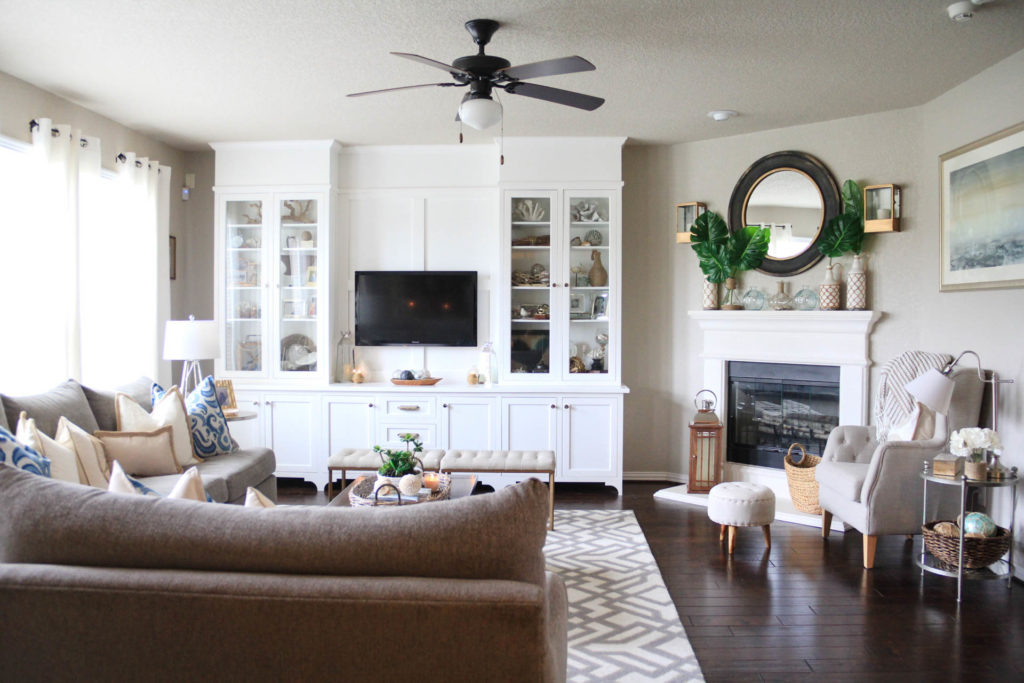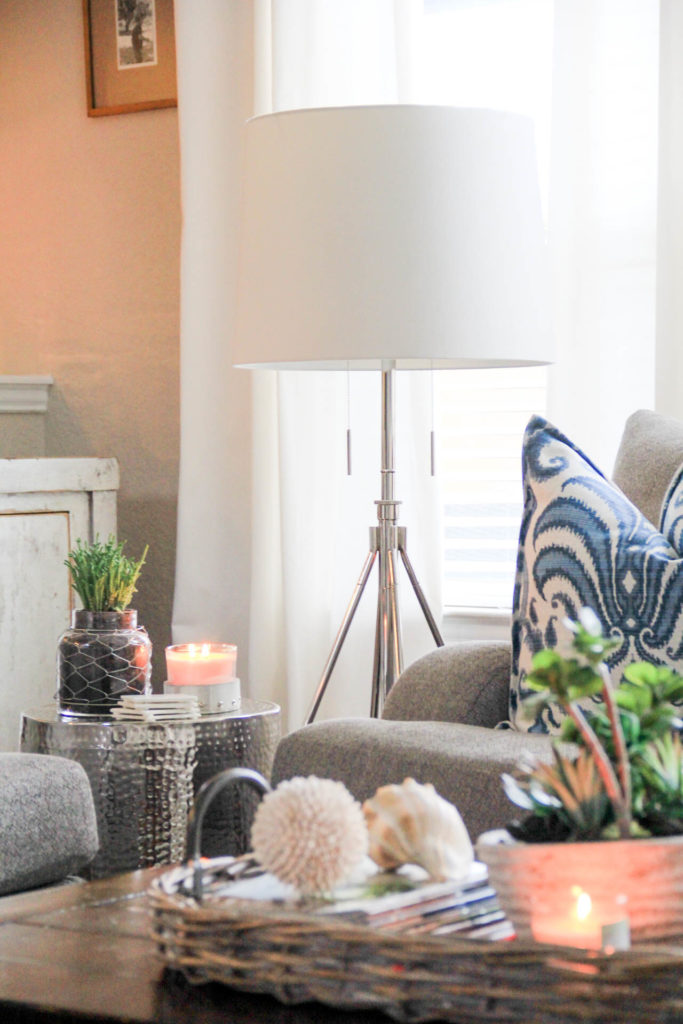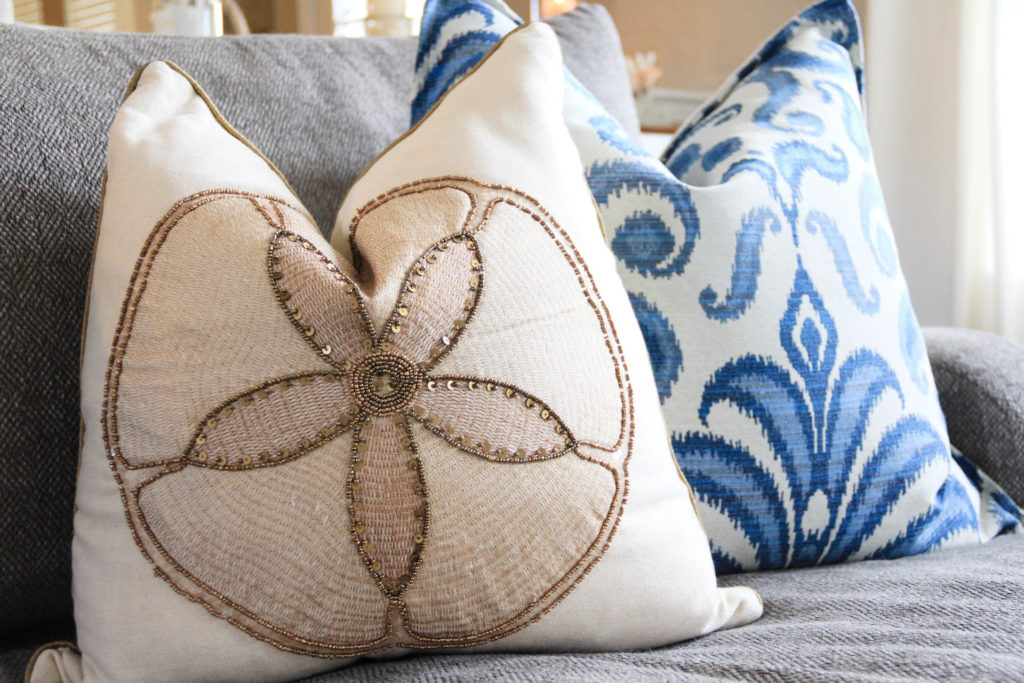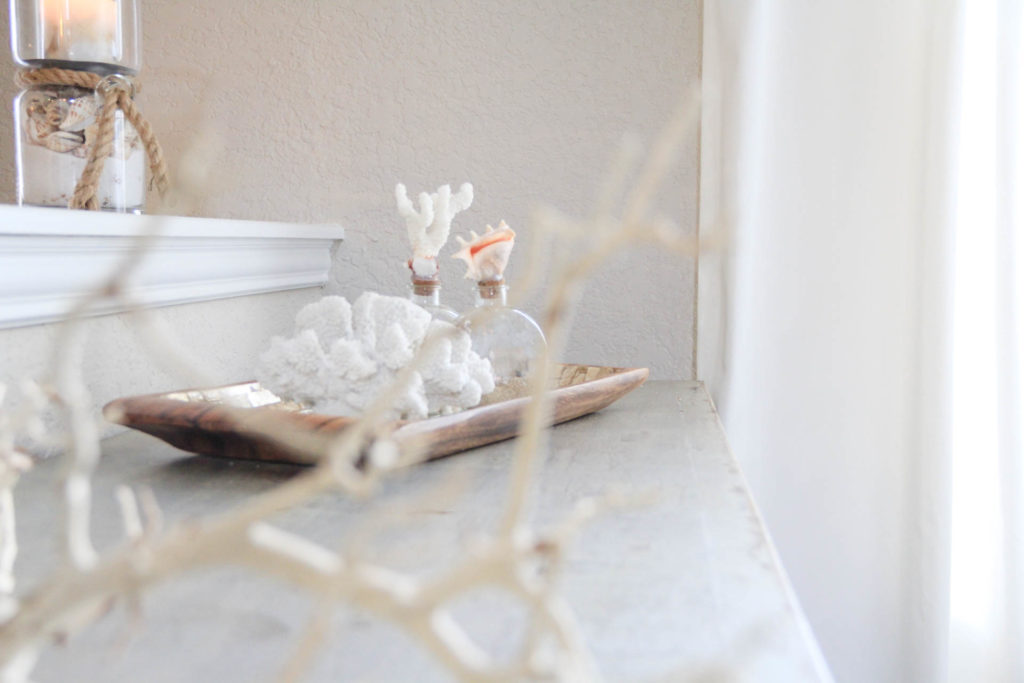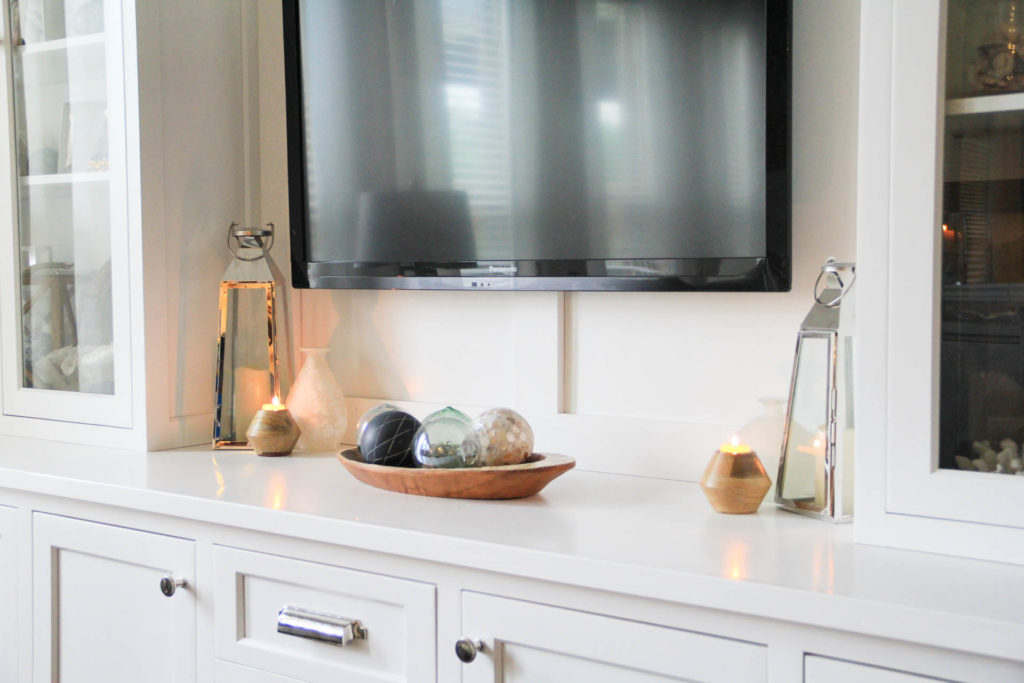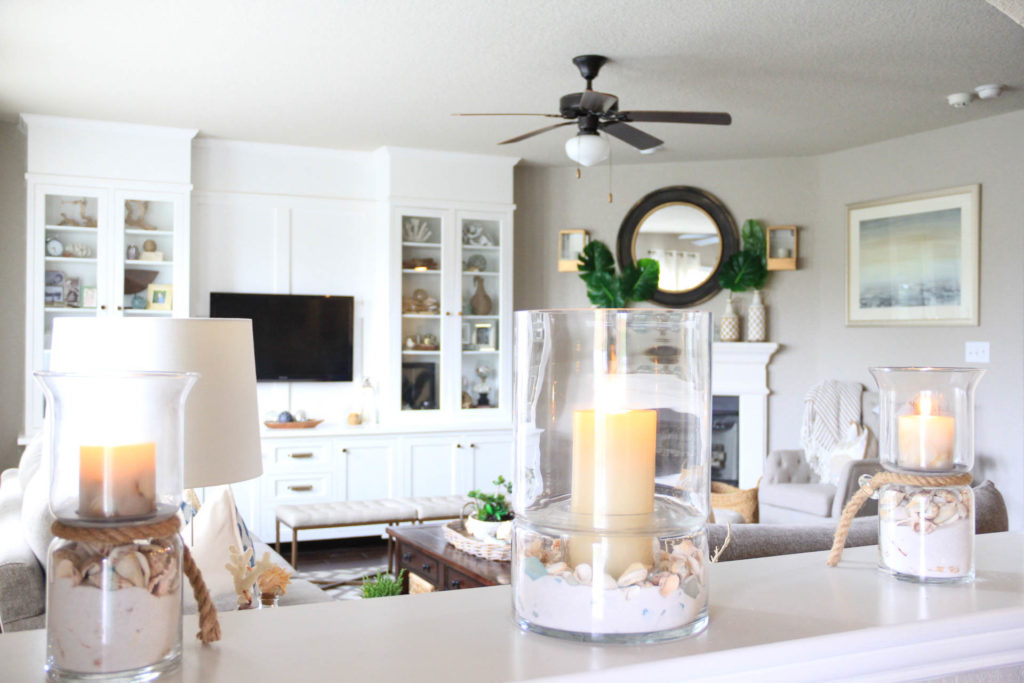 Welcome back friends!  I've been having so much fun transitioning our spaces from Spring to Summer, that I went ahead and completed the living room after I finished the entryway.  For some of you, Summer might still seem far off, but for a Texan like me, it might as well be Summer already.  It's HOT here, and only getting hotter!  I just can't wait for those 108 degree days! Insert sarcastic tone…  One would think having lived in Texas my entire life, I'd be used to the hot weather, but after I turned 14 and found that sitting inside in an air-conditioned room was much nicer than sweating all my makeup off outside in the hot weather, I've spent most hot days indoors.  I'm like a popsicle now.  After a few minutes outside I begin to melt!  Haha!
Just a few changes to the space really transformed it!  As most of you know, we have a two year old son.  He loves his toys, so I have been dealing with an overflow of toys taking over the living room, despite the built-in storage.  I knew we needed something else in this room to house all of them, so John and I were on the hunt for a sideboard with ample amounts of storage and no glass doors.  Do you know how uncommon that is?!  Really, I didn't know until I started searching.  Luckily a new consignment store opened up not too long ago near HomeGoods, so over the weekend we visited it to see if we could find something that fit our needs.  We ended up finding a beautiful Madera Home sideboard that did just that.  It's made from reclaimed wood, and each one they had in their showroom was different.  John overheard a salesperson speaking with another customer say that they purchased a lot of the items at auction, and she mentioned the sideboards specifically.  When we got home, we looked up the brand and were pleasantly surprised to find that we saved thousands of dollars on this purchase, having purchased it at the consignment shop.  Yes, I said thousands!  It was a crazy luck find, and we are so thankful!  We were close to buying a different one that was longer, but in the end, when I saw this one, it was a no-brainer.  The distressed paint job was superior to the first one, and the depth was perfect!  Come to find out, once we got it home, it is similarly finished to the Joss & Main side table we purchased last year, so I ended up having to rearrange the side tables so that they wouldn't blend into each other.  I'll be honest, I was freaking out for a minute when I realized that I was going to have to do something, because I was really happy with the way it was, but I'm so glad that I did it, because it feels so much more open now that I have.  Brining in the sideboard finally allowed me a chance to decorate the space inside, and around the arch as I have wanted to for a while.  I bought the three glass hurricanes from HomeGoods over two months ago, and have been storing them away for this day.  I filled them with decorative sand purchased from Michael's, mixed with sea glass and shells from HomeGoods.  The candles came from Hobby Lobby, and if you saw my post on Instagram for #projectvignette, you can see the detail involved in the candles.  So pretty!  I recently found out from a fellow Instagrammer that the "drift wood" is actually called a Manzanita branch.  Seriously, you learn something new everyday from Instagram!  Well, I took one that I already had, and placed it on top of the sideboard, alongside a tray filled with coral and decorative bottles.  I can't get over how pretty they look.  The pictures really don't do them justice.
Side note:  I realize that I have a lot of gray/silver in the room but I have plans to switch out the couches next year, so I'm just making it work for now.
As for the other changes, they are really small, but impactful.  First off I changed out the accent pillows.  The previous pillows were pretty, but for a pillow obsessed person like myself, I just needed to bring in something new.  I know some of you understand my issue!  I pretty much scour the pillow aisles at HomeGoods every time I visit.  I found the blue and white ikat pillows during one of those searches, and since I had already purchased the Jute Braid Pillow Cover's from Pottery Barn (Outlet) earlier this year, I knew they'd go together perfectly.  Turns out, I was right!  As luck would have it, I also found the smaller lumbar jute pillow at HomeGoods too!  Wanting to mix it up a bit though, I was on the hunt yet again for something that read "coastal",  and when I saw the sand dollar pillows during another trip to HomeGoods, I knew I had found what I was looking for.  HomeGoods may or may not be my home away from home.  Don't judge me!  Haha!
The next things I did was to change out the tray on the coffee table.  I kept the faux plant because I love the pop of color, and the convenience of not having to worry about it.  I already have enough plants to fill that spot!  The tray is another piece that I have been hording away for months.  I'm so glad to finally be using it, because it takes up a lot of space when it's not in use!  The only additions to this tray from the last are the shells, and the candle.  Oh and about six more Potter Barn catalogues!  Good thing I like them!
The only other big change to the room is the mantel.  Every bottle is again from HomeGoods, and yet again, I've been hoarding them for a couple of months.  You just have to buy what you like when you see it, if you really want it.  That's the only way to ensure that you will end up with it!  The large palm leaves are from Hobby Lobby, and bring a much-needed pop of green to the space.  It really came to life when I put them up!
The built-in only had a minor change, and that was to replace the small mercury glass votives with the wooden ones that had previously been on the mantel.  I'm sure during the holidays this space will get changed up, but until then, this is most likely the look it'll sport, and I'm okay with that.  I've wanted to slow it down  bit, and find way to decorate that doesn't require a lot of changing up, and I feel like I've finally hit my stride with that.
This makeover was simple, and fun, and I'm enjoying it more than any other I've accomplished in this room, so far.  I hope you have enjoyed it too, and maybe picked up an idea or two!  It's always my goal to stress how easy this is, and how it doesn't have to cost a zillion dollars to have a beautifully decorated home.  Hopefully I'm accomplishing that here on the blog.  I'd love to know what you think, so let me know below in the comments.  Thanks for stopping by!
~Iris
Linking up to: Something to Talk About Link Party