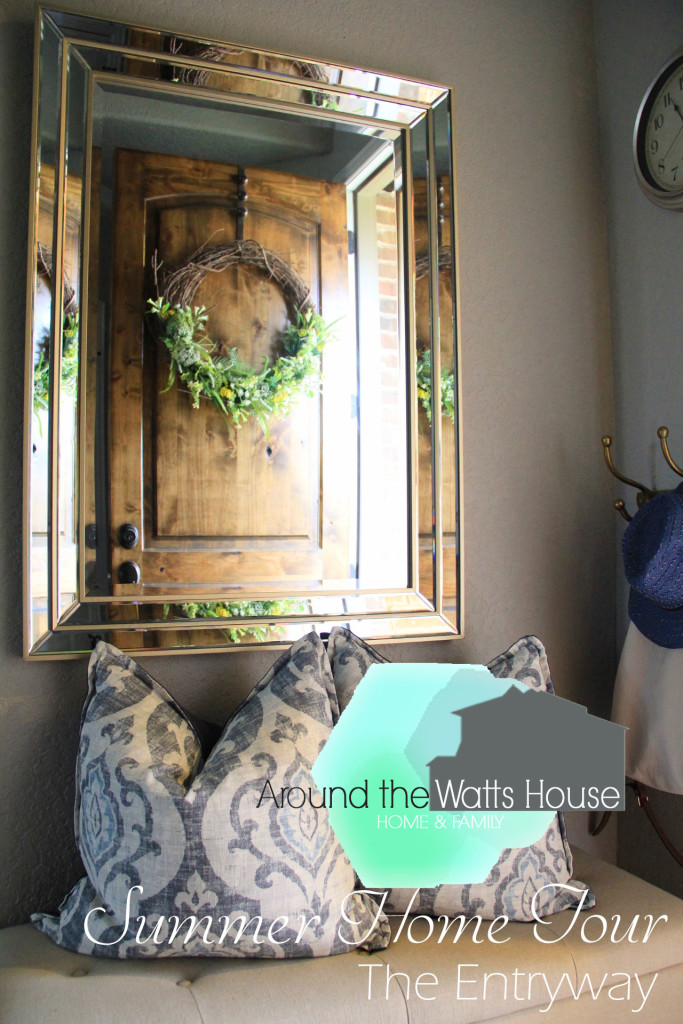 Hi friends!  Whew, what a whirlwind the One Room Challenge reveal was!  I just can't thank you all enough for all of the lovely comments I received, and so many of you signed up to follow along with my blog, which makes me so happy!  It's really nice to know that all my hard work paid off, and not only do we love the outcome of the office, you do too!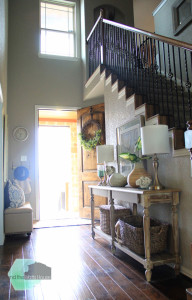 Having finished the office, I've been taking some time to update the house for Summer.  I'm sure you can tell by all of the coastal décor around the house, this is my favorite time of year.  Spring brings out all of the lovely colorful flowers, but when I think of Summer, I think of richly colored plants, blues across the spectrum, and natural elements, so you will see that I have incorporated that into this little makeover in our Entryway.
Summer is such a simple time.  All the coats get put away, and I finally have a place to hang my purse!  That thing has been floating around the house for far too long!  I recently decided that I need to wear a hat now and then too, so you can see my new hat hanging here as well.
I really didn't want to completely change this space up, because it has been working for us so well, so I chose to swap out just a few pieces from the previous arrangement.  I took the small hurricane away, and replaced it with a taller version, that sports a beautiful sea glass green vase.  I also moved the small glass box and bowl that were holding our keys, and brought in a beautiful Drexel Heritage shell that I found at HomeGoods.  It has the perfect area for our keys to rest as well, so we are still in business there.  The large hydrangea arrangement has been replaced with a really neat vase from Ross Dress for Less.  I saw it sitting amongst a glass display and snatched it up before someone realized that it was the gem of the bunch.  I filled it with greenery from Michael's, to complete the look.  It's probably my favorite thing on the table!  After I finished with that I felt that the right side of the table was a bit bare, so I placed a coral decoration to fill the void.  On the lower shelf I kept the baskets.  They are just too functional to get rid of.  I keep all kinds of junk in those things!  They only addition to that spot is the float that I purchased along with the others that you saw in my living room.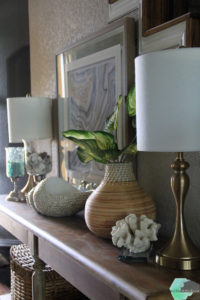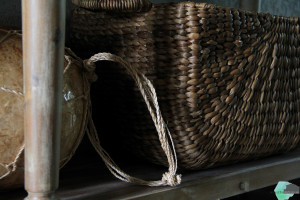 It's so nice and airy, and the only thing that would make this space better is a new entryway light.  I'm working on it!  Hopefully we will see something soon!   Thanks again for stopping by to see the update!  Let me know what you think!
~Iris
  Source List Table: World Market Baskets: Marshall's (left) Ross Dress for Less (right) Lamps, Art, Shell, Large Hurricane, Pillows, Mirror, Hat: HomeGoods Small Hurricane, Coral, Bench: Marshall's Plant: Michael's Purse: TJ Maxx Hooks: One Kings Lane
Linking up to Your Turn to Shine Link Party #31.