UPDATE!  I'm never one to leave a room alone, so this room has gone through another makeover.  Have a look!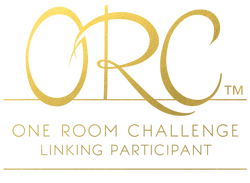 Welcome to Iris Nacole.com, formerly Around the Watts House!  I'm excited that you've found me and my little space on the net!  I hope you enjoy this One Room Challenge reveal, as well as my second One Room Challenge reveal which can be found here.  If you do, be sure to sign up for email updates so you can keep up with my newest renovations.  This year is going to be even better than the last, I'm sure of it!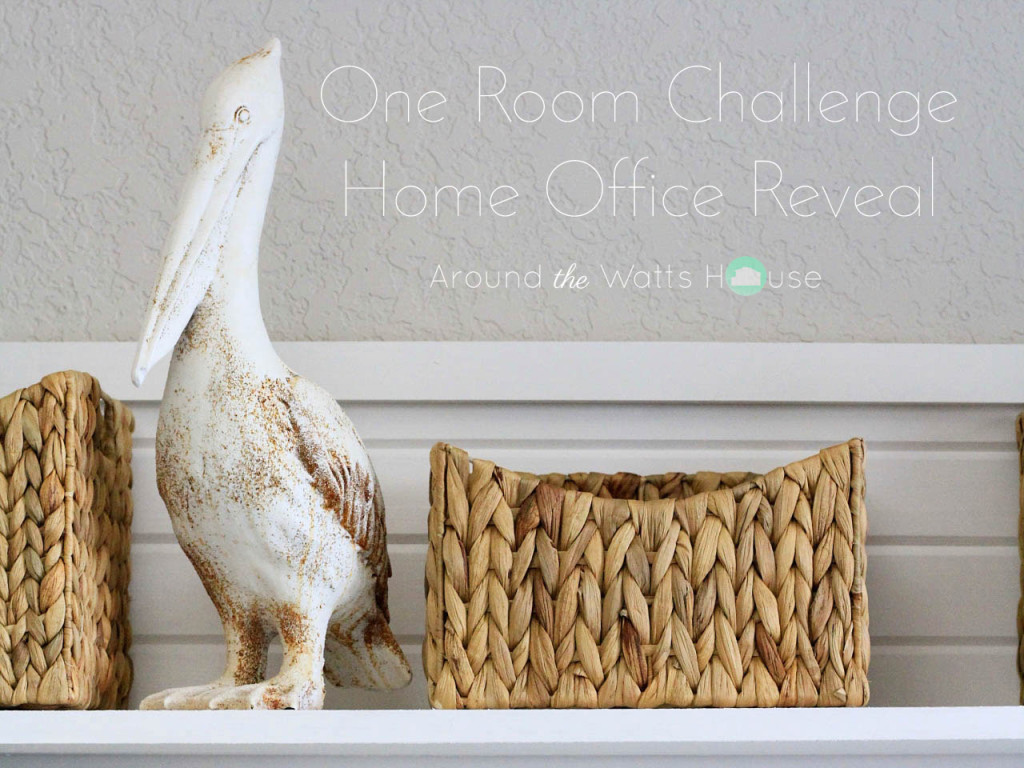 The day we've all anticipated is finally here!  It's reveal day for all Linking Participants to the One Room Challenge!  Six weeks ago, we all signed up to share our progress as we transformed a space of our choice.  I can't believe the six weeks have already passed!  Never in my life have six weeks flown by so quickly, and never in my life have I experienced such a multitude of emotions about a project.  It truly has been an experience that I will never forget, and one that I hope to get to do again.  Thank you Linda for creating such an amazing challenge!
If you are just now stumbling upon my little piece of real-estate here on the net, welcome!  You can follow all my progress throughout this process by following these links: Week One, Week Two , Week Three, Week Four, Week Five.  If you have been following along then you know that I chose to transform our home office.
Remember this?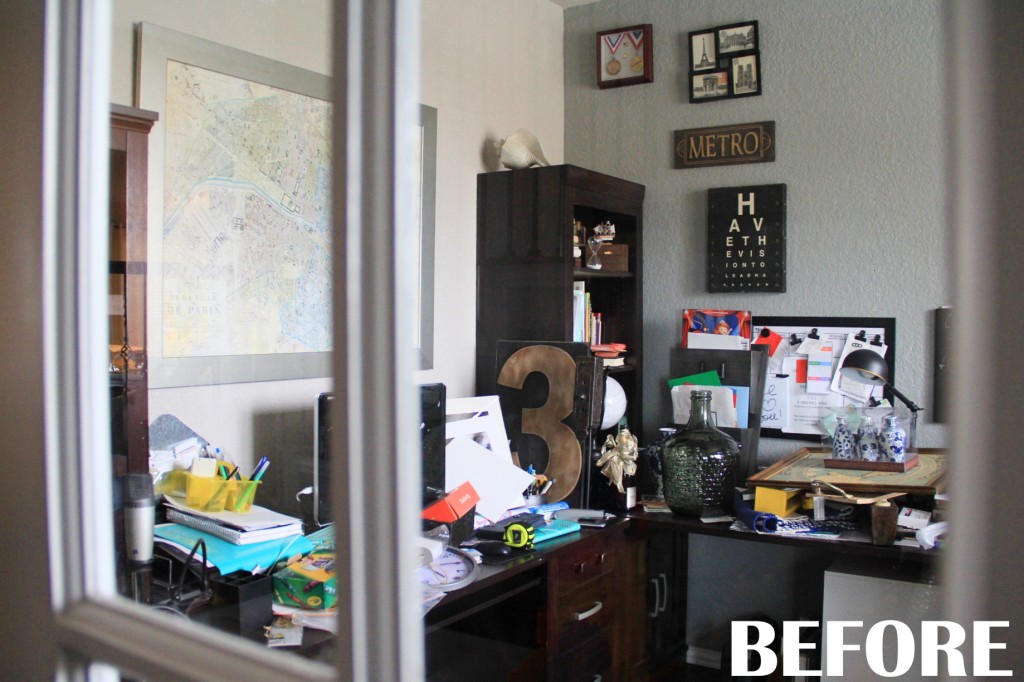 Yikes!  I can't believe I had to share that with the world again!  It's most definitely necessary to do so though, because you'll be amazed at how it looks today in comparison.  You may remember my mood board that I shared with you all during week one.  I knew I wanted to incorporate coastal elements to tie the room in with the rest of the house, but I didn't clearly express that in this mood board.  After a couple of week of shopping and working off this board, I determined that I didn't care for the direction I was going, and decided to switch things up a bit, and boy am I glad that I did!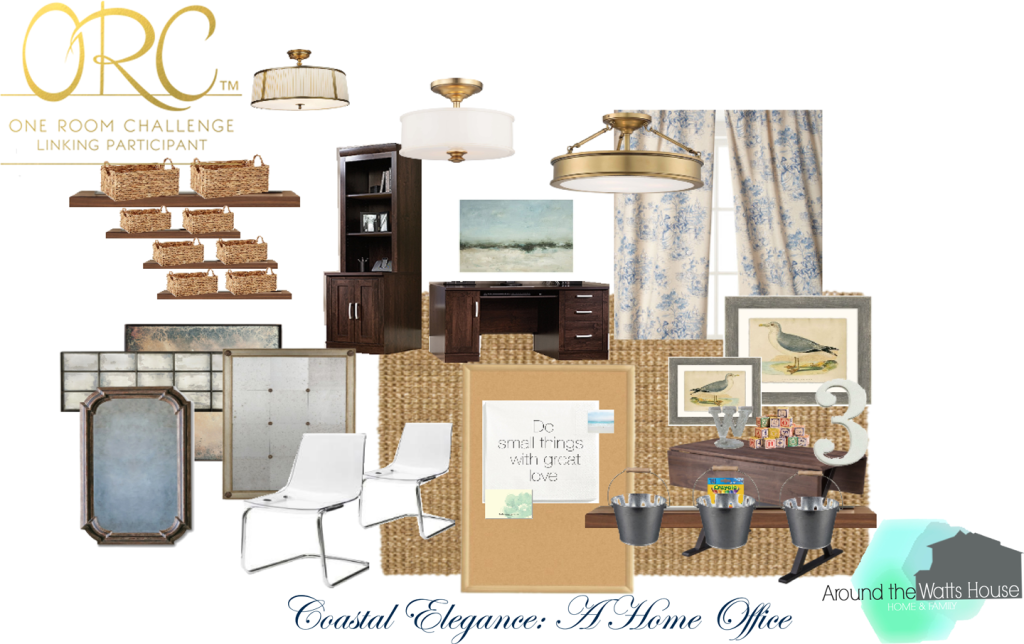 Now I know I haven't been too revealing with the room, when it comes to sharing pictures.  Not very exciting, I know, but I'm making up for that today! (Confetti and balloons fall from the sky!) So without further adieu, here is our home office!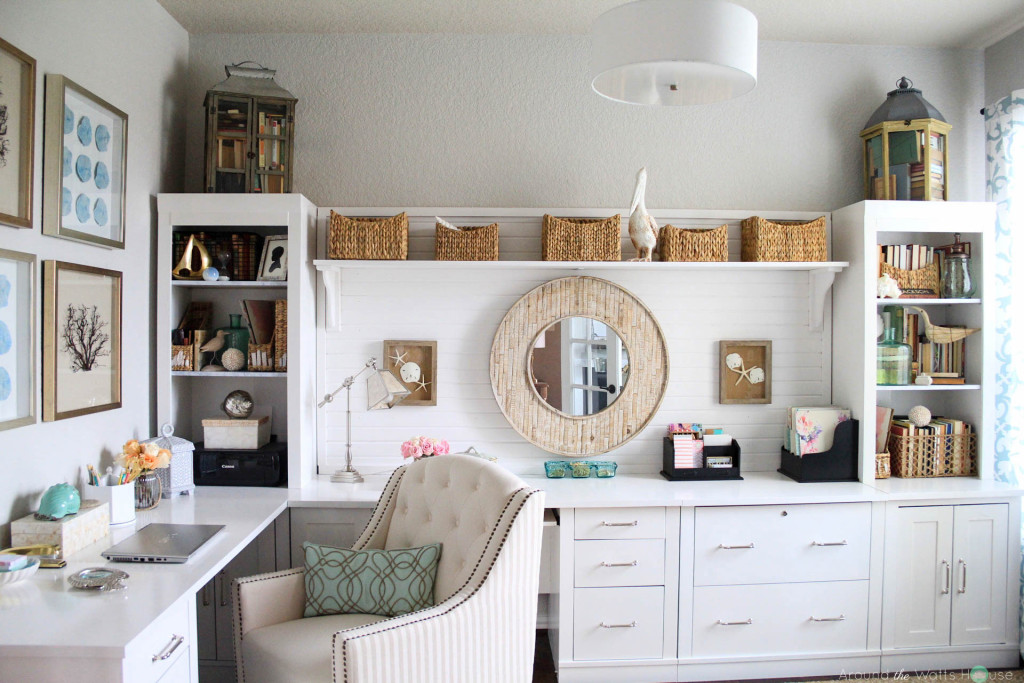 Huge transformation, right? One of the biggest changes to the room has to be this DIY planked wall that John and I added between the two bookcases.  It was honestly the easiest project I've ever completed, thanks to our recent purchase of the 18-Volt ONE+ AirStrike 16GA Cordless Straight Finish Nailer.  It made the process fly by!  Before purchasing the nailer we had attempted to hammer nails into the planks by hand. (What were we thinking!) The wood was so hard that we gave up after a few tries, and decided that investing in a nail gun was worth the cost.  Luckily for us it was on sale at the time, so we were able to save a bit of money too!
Since we were able to complete the wall with ease, I was able to complete another part of my vision for this space, and that was the shelf between the two bookcases.  It's perfect to house baskets filled with craft supplies, and it's equally nice that they double as décor too.  Of course, if you know me, you know I love baskets, so I'm extremely happy with how this turned out!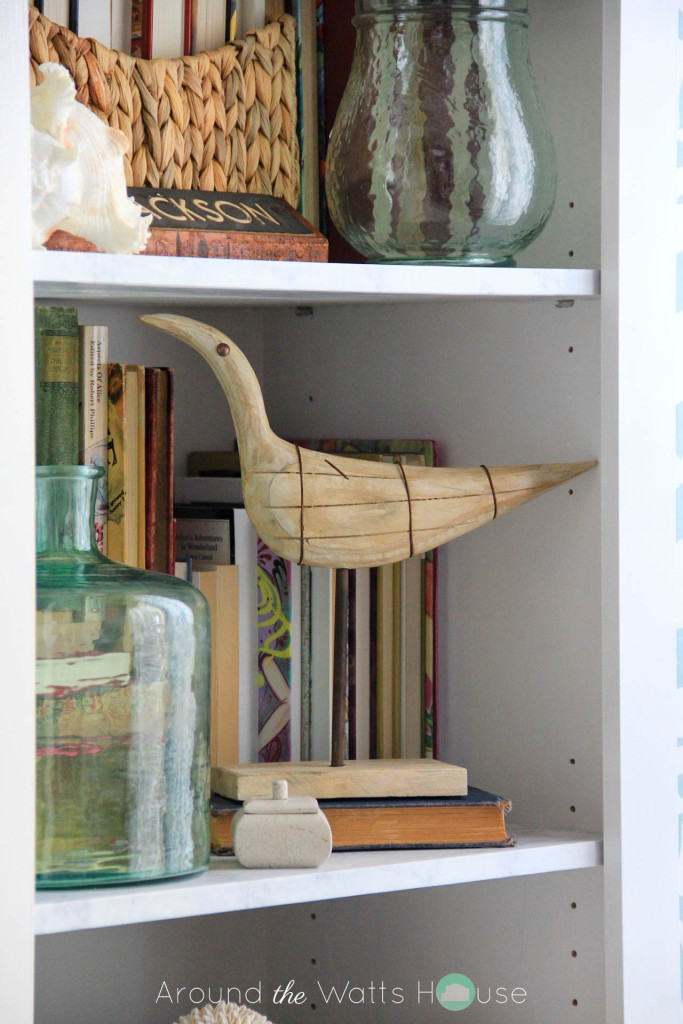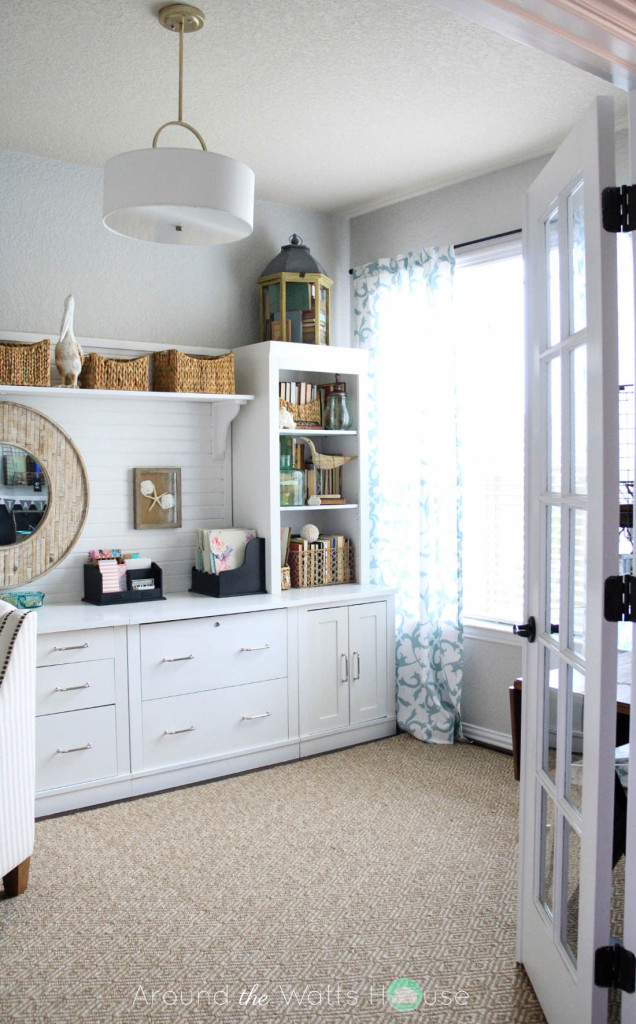 If you follow me on Instagram, you know that I've spent a lot of the last few weeks painting the office furniture white.  It is laminate, which for me was a terror to paint, so I had to come up with a process that worked for me with the supplies that  I purchased.  Wanna know something everyone should know?  If you consult a professional about a process, and they recommend a product, always follow their instruction!  Don't be cheap and choose to spend your money on a different cheaper product that will just make the process harder, even if it works, because in the end, all that time you will lose is worth the extra money!  (Hangs head in shame and guilt.)  Luckily I finished just in the nick of time.  Thank you God!  I think this might have been a personal challenge called, "How Much Can Iris Paint in Six Weeks?", since I also painted the entire room earlier on in the process.  We chose Benjamin Moore, Gray Owl, and had it color matched in Behr paint by Home Depot.  It really brightens the room up, and makes it feel much bigger!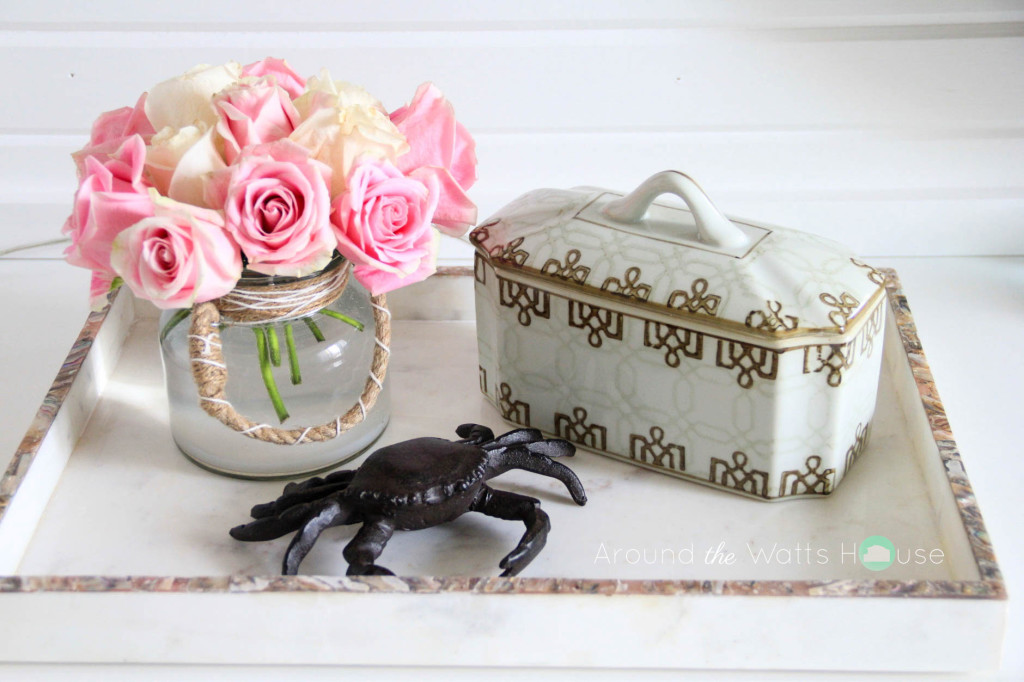 Since this is our home office, I wanted it to function for all members of our family.  For myself, I decided to create a small space to sit at and type up blog posts, or pay bills.  I tend to do all of the above at the kitchen table since the office has been such a mess, but I plan to put this space to good use now that it exists.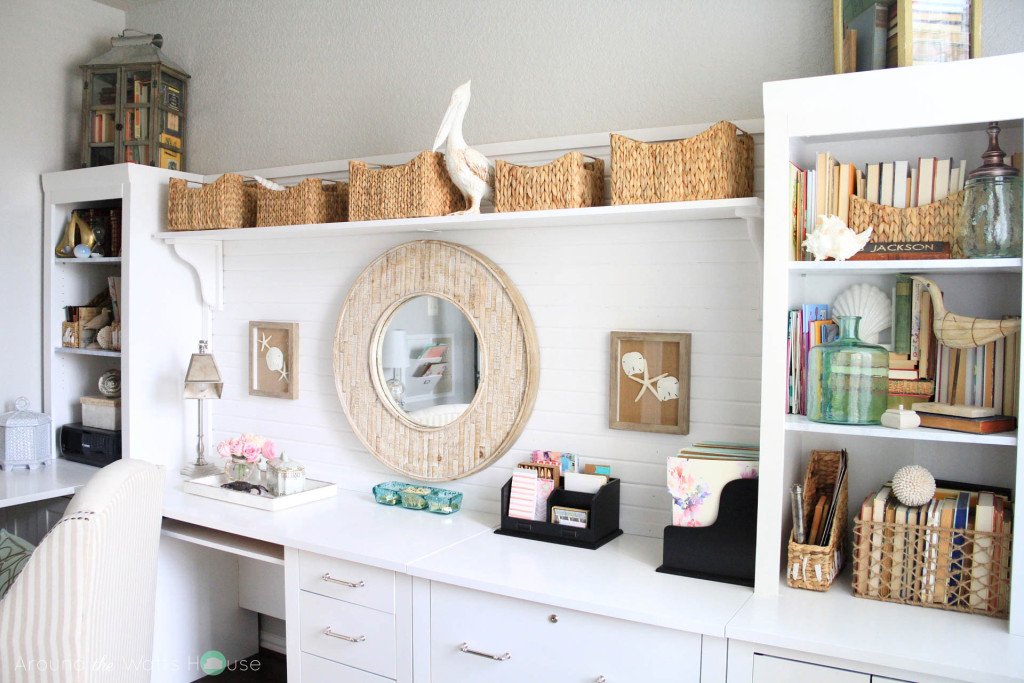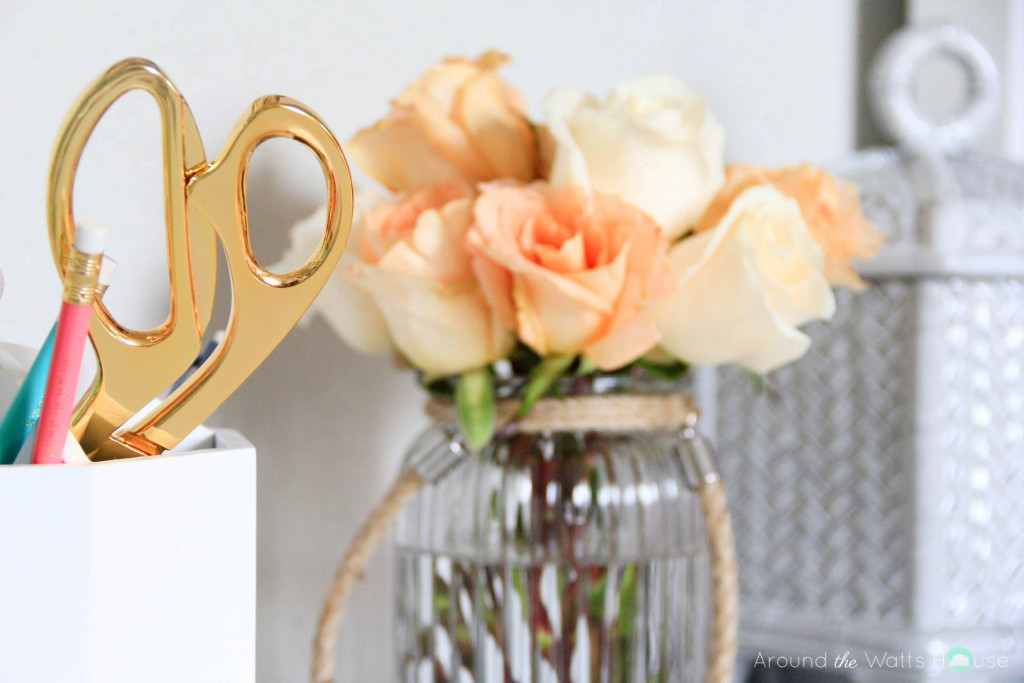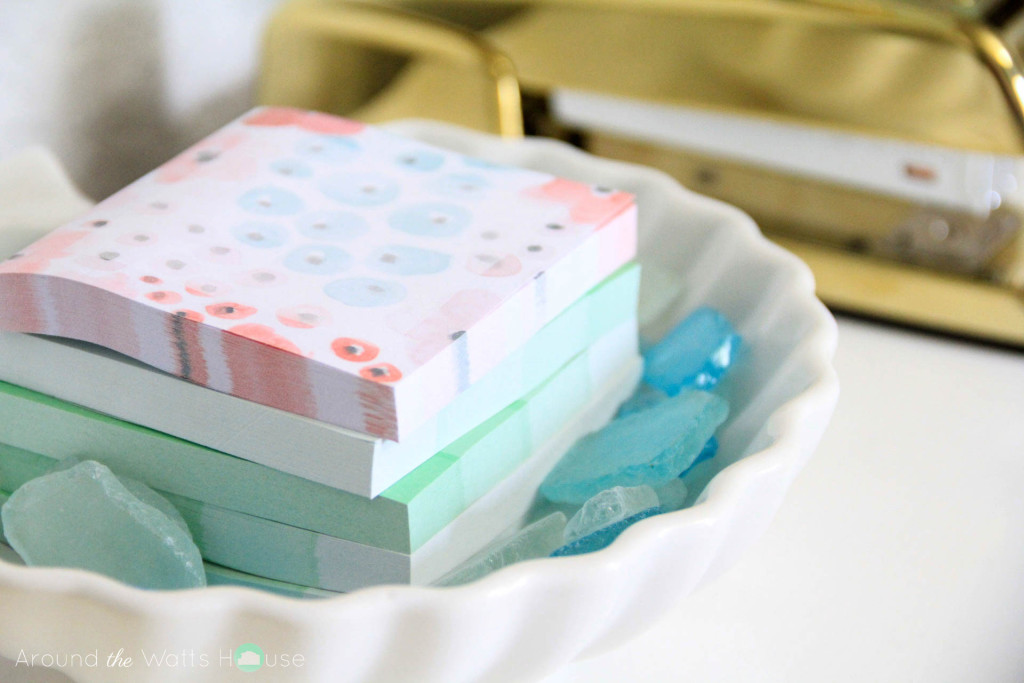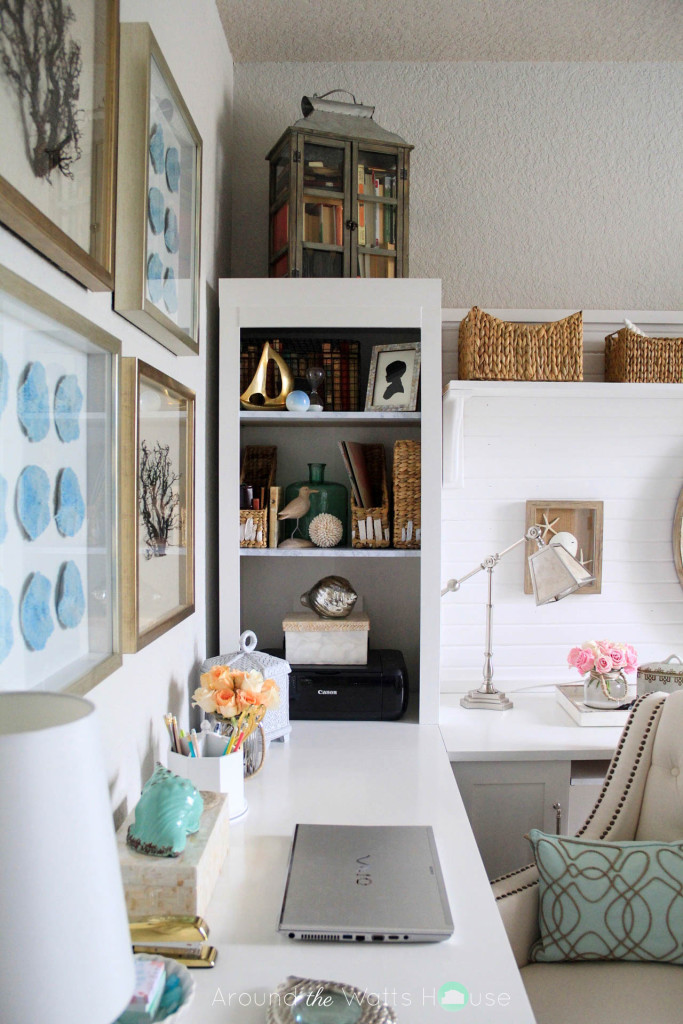 John doesn't work from home, but if he ever needed to, the desk set provides ample space for him to set up shop and get to work.  What I really wanted to do for him in this space is to find a way to display his collection of Alice in Wonderland books.  He's been collecting them for years, and has acquired quite an impressive collection!  My thought was to display them in a creative way that would allow for some of the space on the bookcase shelving to be used for other things, and when I came across the two lanterns, on top of the bookcases, on sale at HomeGoods, the thought of displaying books inside them came to mind immediately.  Ding!  We have a winner!  Of course his collection is so large that I couldn't get all of the books inside the two, but I am happy with the amount that I was able to get inside of them!  It freed up enough space for me to add a few of these beautiful Nate Berkus Magazine Holders on a couple of the shelves!  I love them, and they will most certainly be filled with papers soon enough.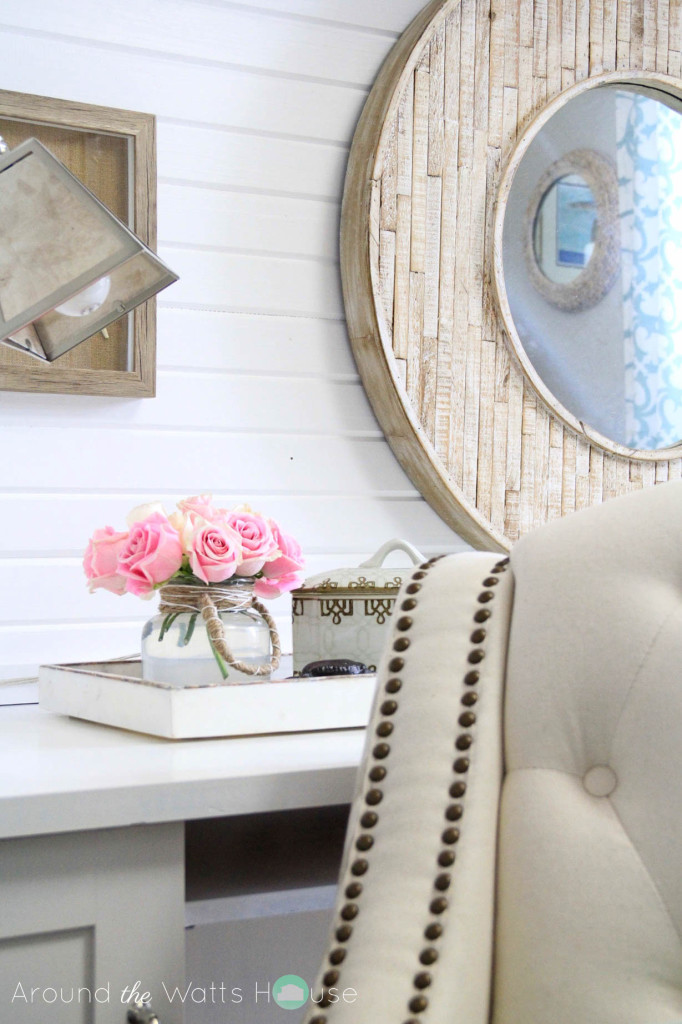 Rordan is two, going on 13 (Why do they grow up so quickly!?!?!?), so I figured we needed to set up a space for him that he can grow into.  I placed the wire baskets out of reach, because I plan to store his paints in them for easy access to me, but not to him.  I can only imagine the mess that would occur if I didn't do this!  Another project I dreamt up while designing this space is this activity wall consisting of a chalk board, and a magnet board for him to play with.  I hope we can add some alphabet and number magnets to the board so we can review them as he continues to learn his ABC's, and numbers.  The space below the baskets was perfect to set that up in, and it's just his height!  He's already been playing with the magnets, or "fish" as he calls them, (So cute!), so I consider this space a success already!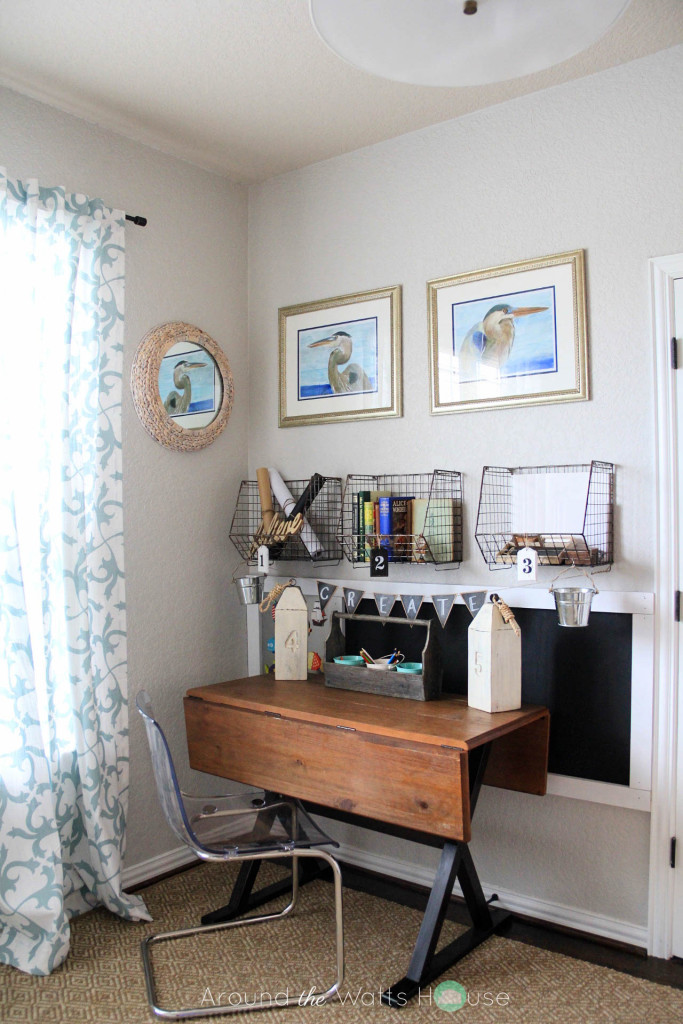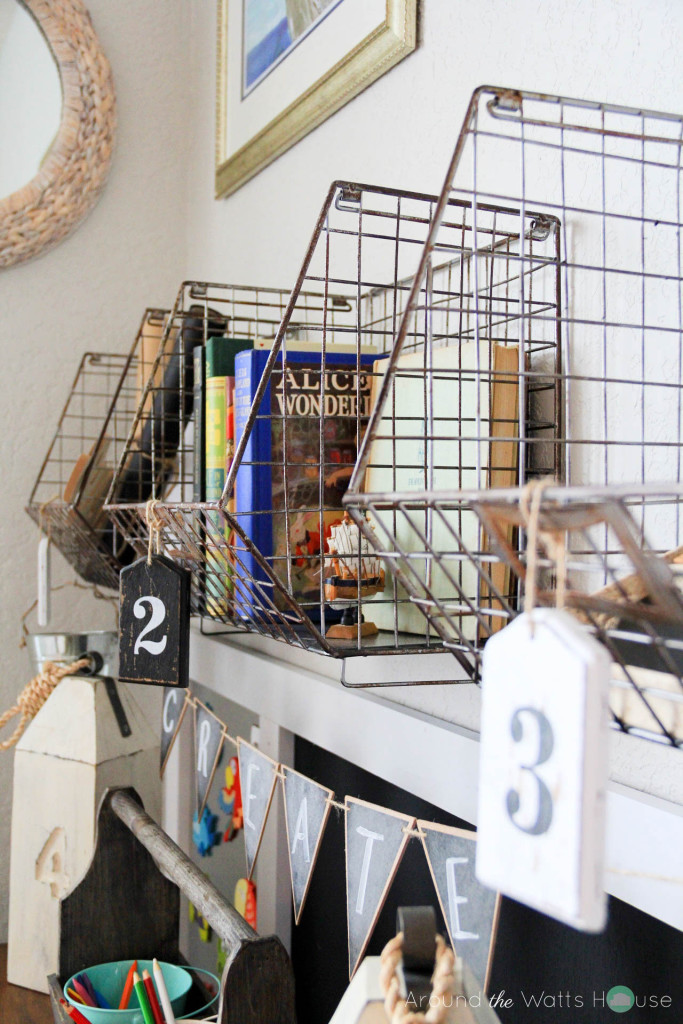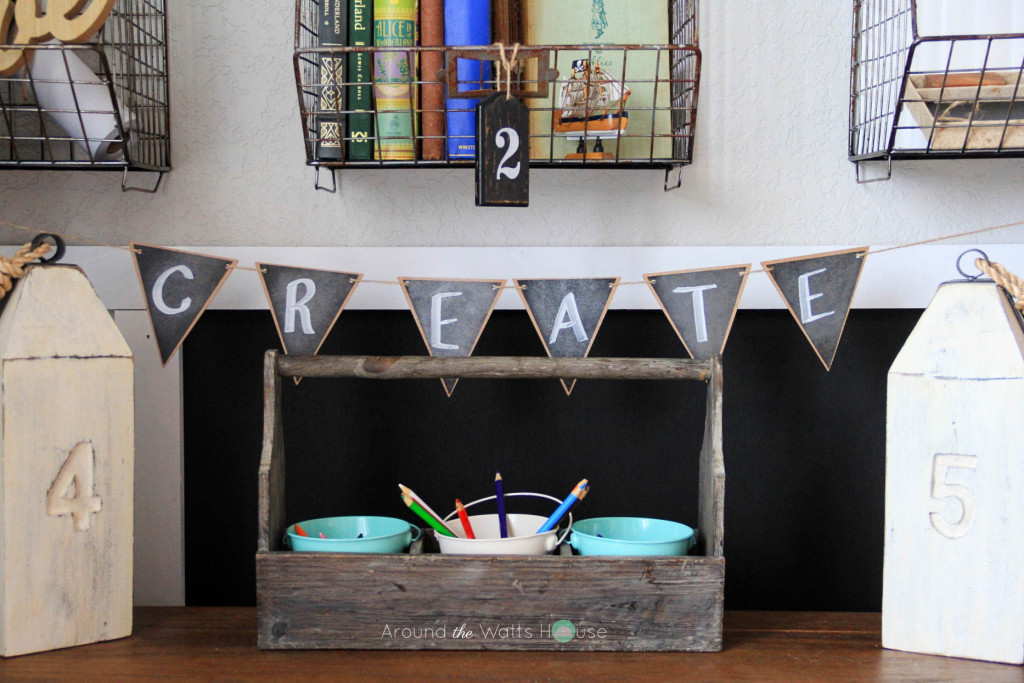 Since I like to craft, I wanted a space that would double as an activity table, and craft table.  At the beginning of the year I was on the hunt for such a table, and happened to find this one on Target.com.  It's a drop leaf kitchen table, but it works perfectly in this space, because I can pull the table out into the middle of the room, with the leaves out when we want to work on a big project, or I can push it up against the wall when we aren't in the room.
Now let's switch our focus to the décor in the room.  My favorite part!  I'd say that about 95% of what you see in this room that is new, was purchased at HomeGoods.  Honestly, their prices are amazing.  Their inventory is every changing, and I really love browsing the store to kill time on days that are unplanned.  Since I started shopping for the room during the Spring months, their inventory was slowly shifting to incorporate coastal/nautical/beach décor.  Perfect for this room!  One of the things I had the hardest time with was finding the perfect art.  After about 10 other options that made their way into this room, I ran across these beauties on a day that I didn't expect to even go to HomeGoods!  Seriously, God is our guide in everything, even decorating!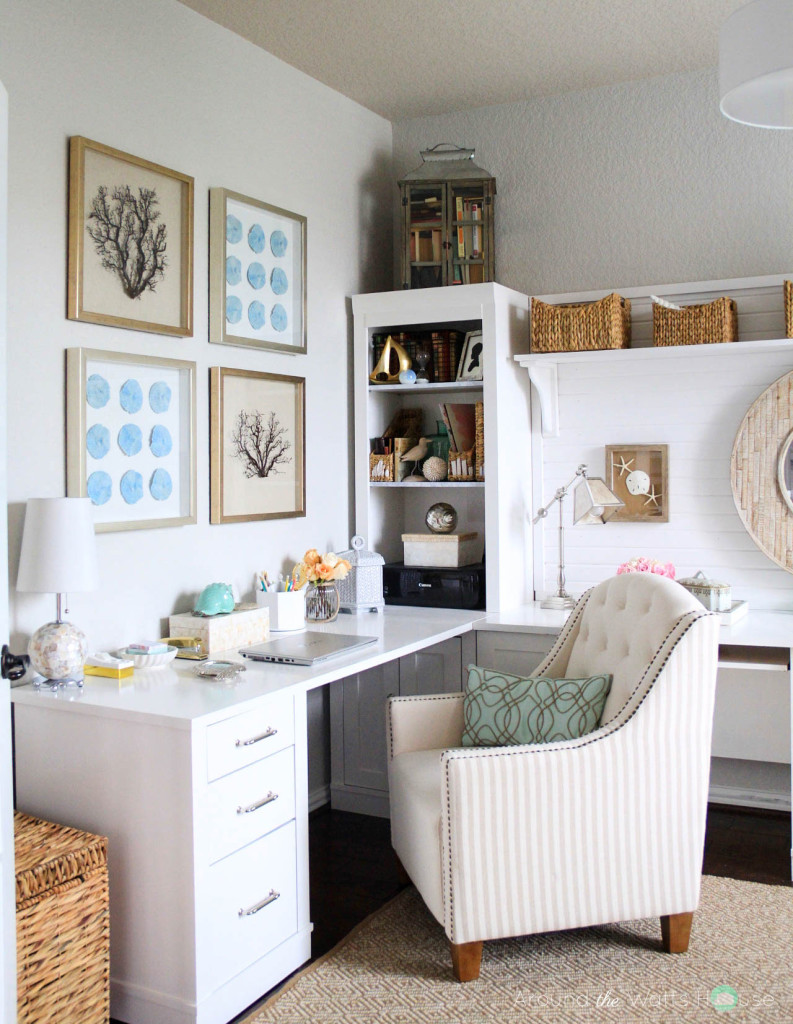 Before I go, I must thank my husband for all of his support, and help along the way.  I couldn't have done it without you John, and I think it proved that we really can accomplish anything together.  You and Rordan are my world, and I hope y'all enjoy this room as much as I had hoped you would.
Okay folks, that's all from me!  I really hope you enjoyed the transformation of our home office!  If you have any questions, or would like to share your thoughts on the space, please feel free to leave me a comment.  I'd love to know what you think!
Now may I suggest that you hop on over to Calling it Home, and take a look at all of the magnificent work being showcased by the featured bloggers, as well as us linkers.  Enjoy!  I know you will!
~Iris
Source List
Office Set: Sauder- Office Port (Painted white)
Large Office Chair: HomeGoods
Small Office Chair: Ikea
Activity Table: Target.com
Rug: Target
Mirror-HomeGoods
Curtains: HomeGoods
Art: HomeGoods
Décor: HomeGoods, Marshall's, TJMaxx, Target, Michael's
Baskets: Michael's
Office Supplies: HomeGoods, Target
Hardware: Top Knobs (tk323pn)
Light: Wayfair.com (Capital Lighting Halo 3 Light Pendant-Winter Gold finish)
You may also like: