Thanks for visiting!  Around the Watts House is now Iris Nacole!  Be sure to visit the home page for our latest projects and room reveals!  
Welcome friends!
Six long short weeks ago I set out to revamp my Laundry Room.  It has been quite the journey, but seeing the room transform has made all the hard work worth it!  I was surprised to find that making over such a small space could be as much work as making over a whole room, like my home office that I tackled for the Spring 2015 One Room Challenge.  Maybe I'm a bit busier this time of year?  Maybe we all are and that makes it seem like the days are flying by?
Whatever the reason, I honestly couldn't have gotten this Laundry Room done without the help of my husband, John.  Sure we bickered during the process, show me a real couple that never does, but we always made up and usually laughed about it later.  I have to say, he really stepped out of his comfort zone to help me.  I think he might have found that he is more talented than he thought he was when it comes to DIY'ing, too.  He may have even cemented himself as my "go-to" handyman from now on, which I'm sure he is loving to hear right about now.  Haha!  He's also my biggest supporter, always cheering me on, and motivating me to keep at it.  I just adore him for it all.
I'd also like to thank Linda of Calling it Home for organizing this event for all of us to enjoy.  It is a major undertaking, but she does it so well!
If you are just joining us and would like to catch up on all that's been going on follow the links below.
Week 1/ Week 2/ Week 3/ Week 4/ Week 5
Okay, no more delays!
Remember the plan?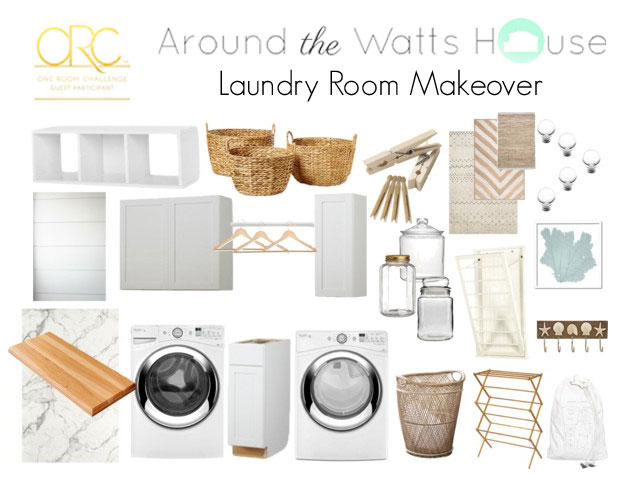 And what it looked like before?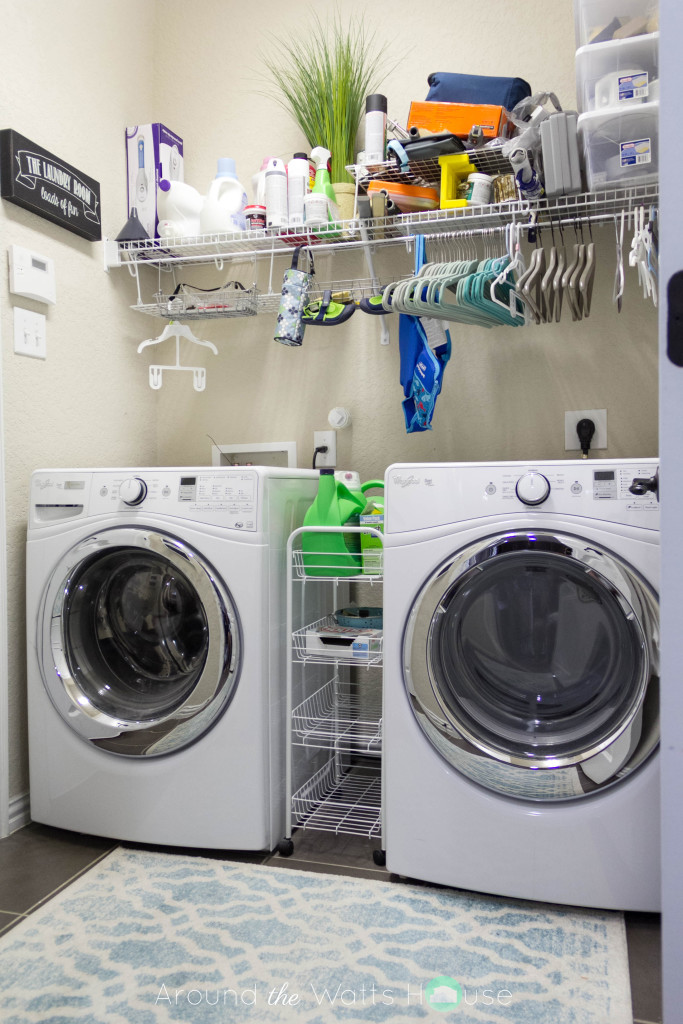 Here it is now!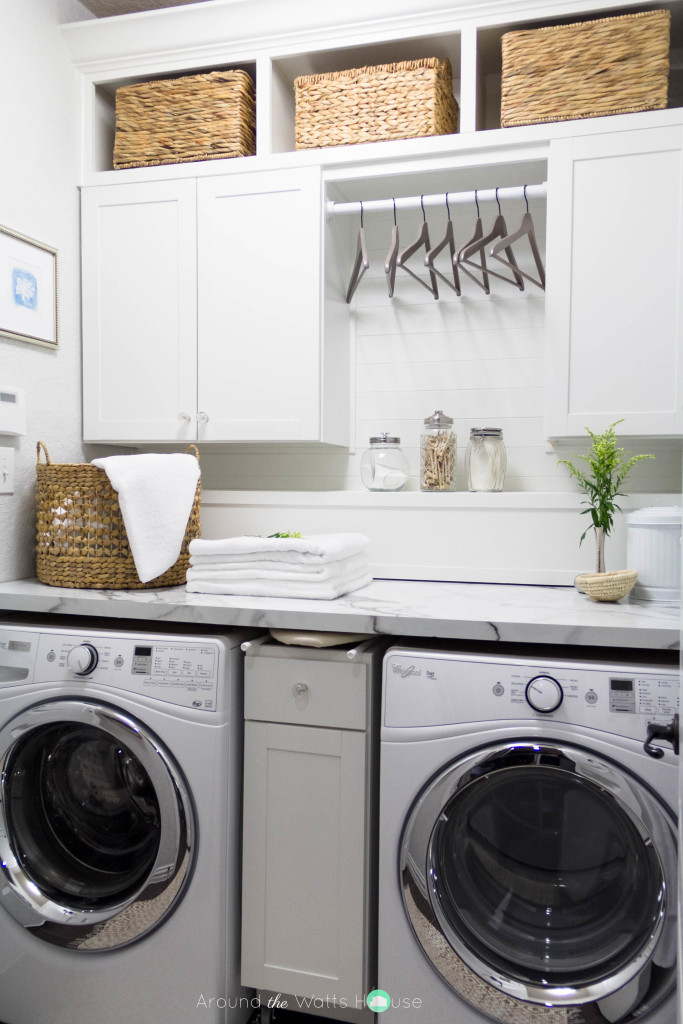 I'm amazed at what a few in-stock cabinets, and some DIY projects can turn into!  I now have a space to fold laundry, which is the most exciting outcome from this makeover for me.  The fact that we made the countertop ourselves makes it even more special.  Is it perfect?  Heck no, but it was made with love!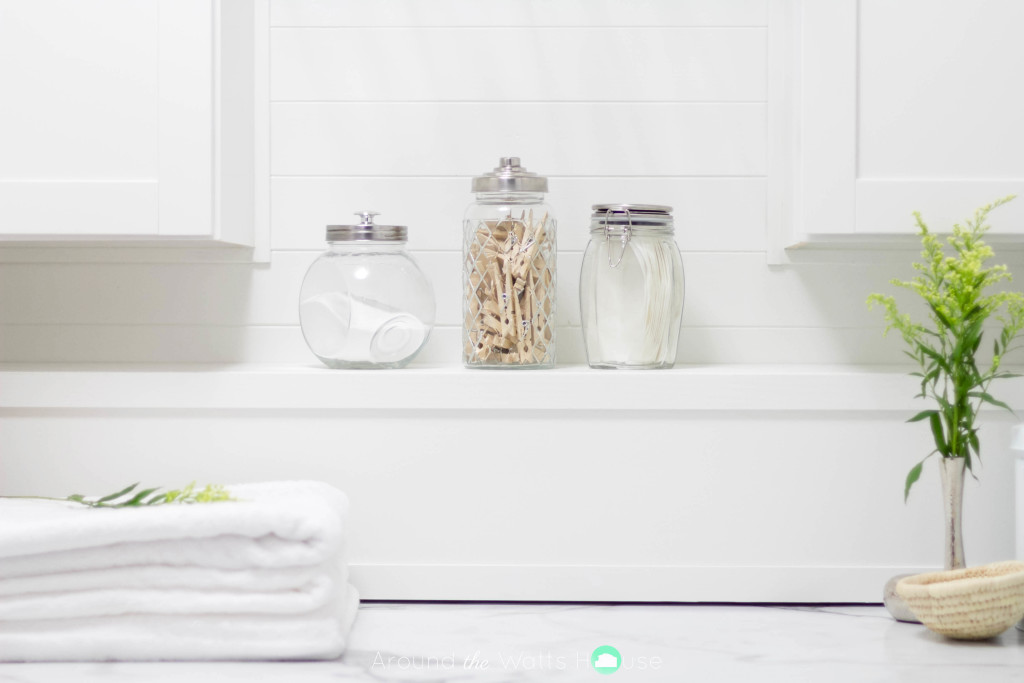 Of course, getting to style this space is my favorite part of the process.  These cute and inexpensive jars that I found at HomeGoods serve as the perfect containers for those everyday laundry items such as dryer sheets, but makes seeing them much more pleasing to the eye.  They sit atop a box we made to cover the hookups and outlets that were such an eyesore in this space.  It's easily removed, though I hope we don't have to do that very often.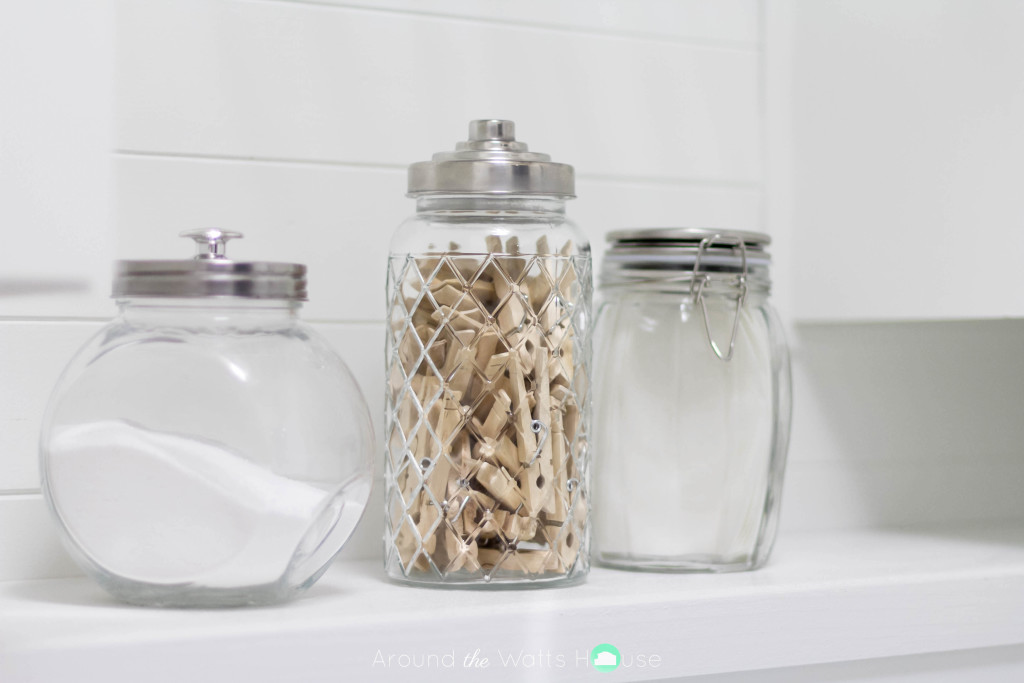 And I have space to hang garments again!  The clutter on the wire rack that was in here before never allowed for a clear and dedicated space to do so.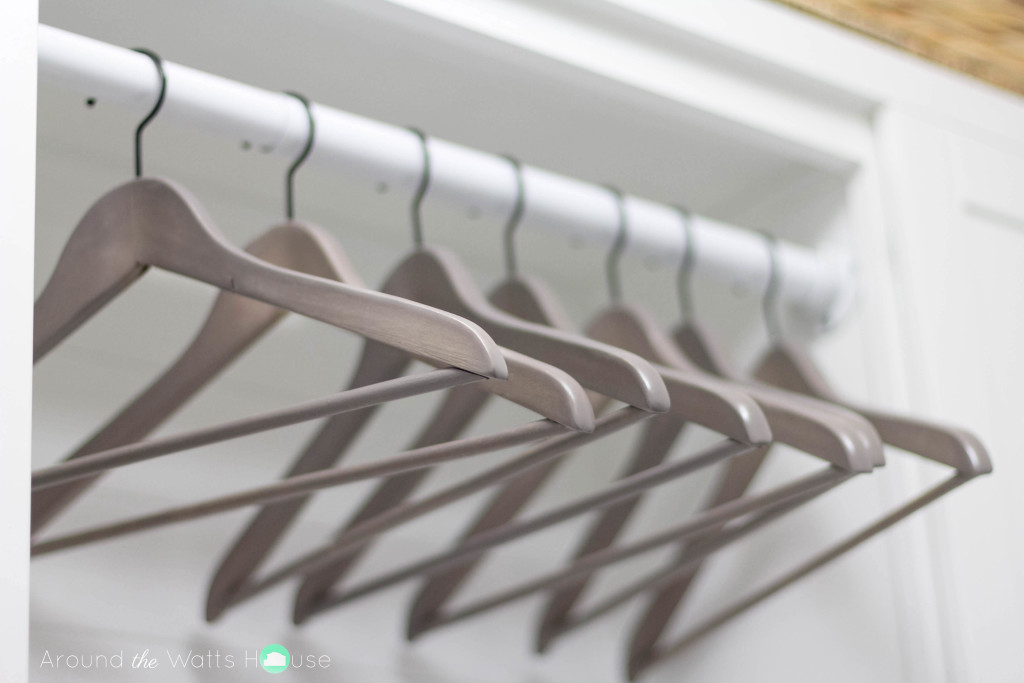 This 2-Section Butterfly Hamper from The Container Store, easily folds up and hangs on the wall when not in use.  I'm thinking it'll probably find its way to the ground more often than not, but it's nice to have the option.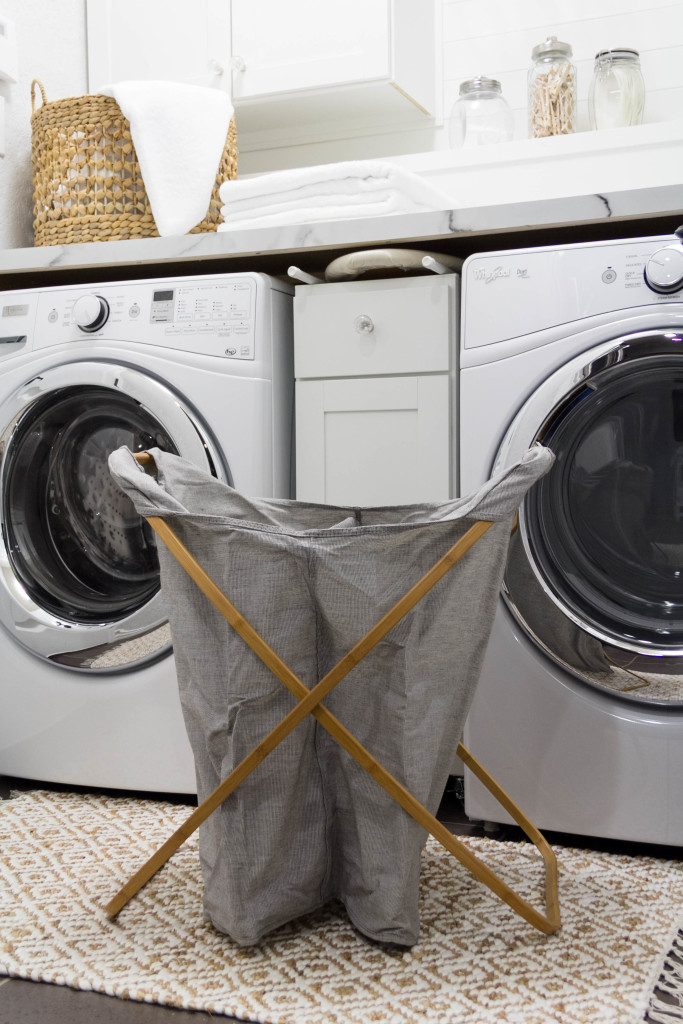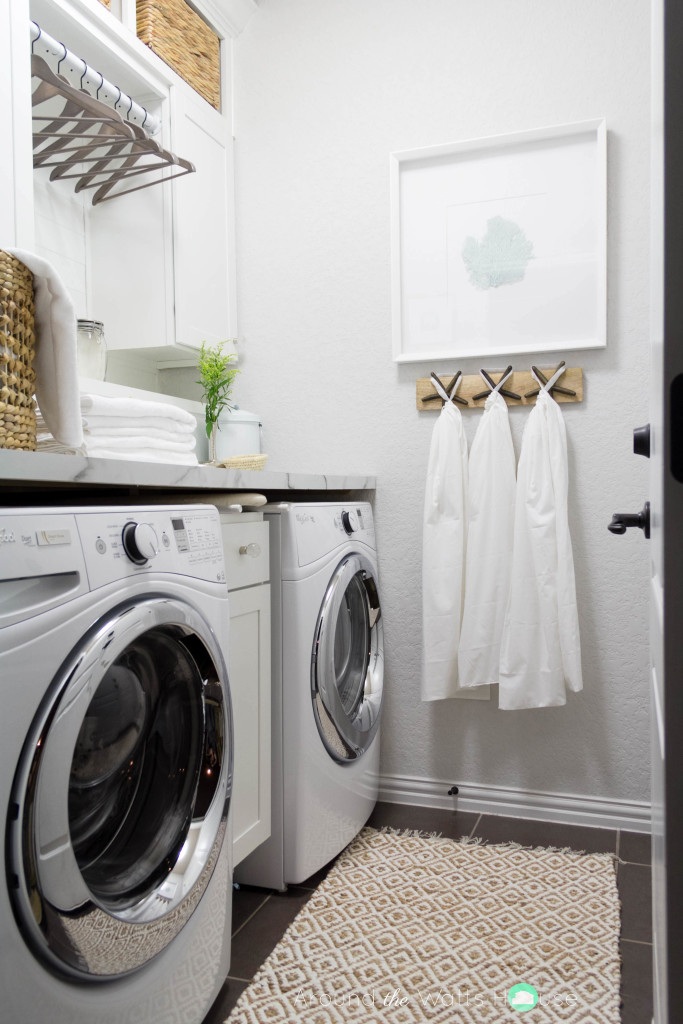 And now we have a space to hang a laundry bag for each of us!  We needed this, trust me!  I always find Rordan's clothes with mine.  Maybe that's because John usually does his laundry in one load.  Let's just say he's a bit tidier than I am.  Eep!  My clothes usually get strewn about the rooms, and of course, since I'm at home with Rordan all day, every quick change ends up joining them.  I'm not really proud of it, but it's something I'm hoping to work on very soon.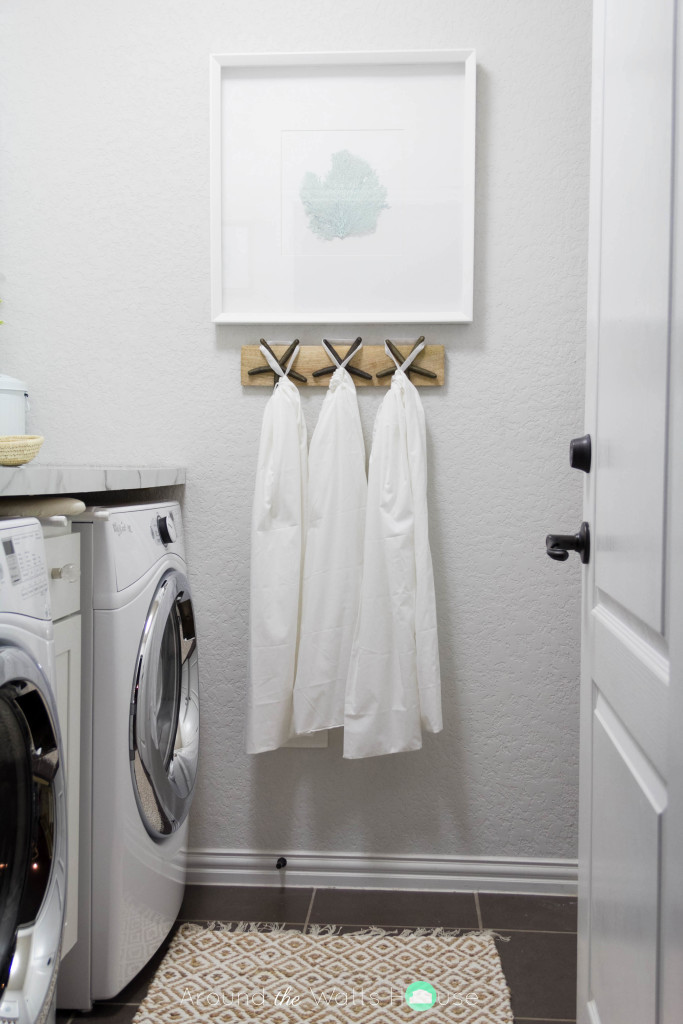 I purchased this art and these hooks months ago from HomeGoods knowing that they would be perfect for the laundry room.  I think it was right!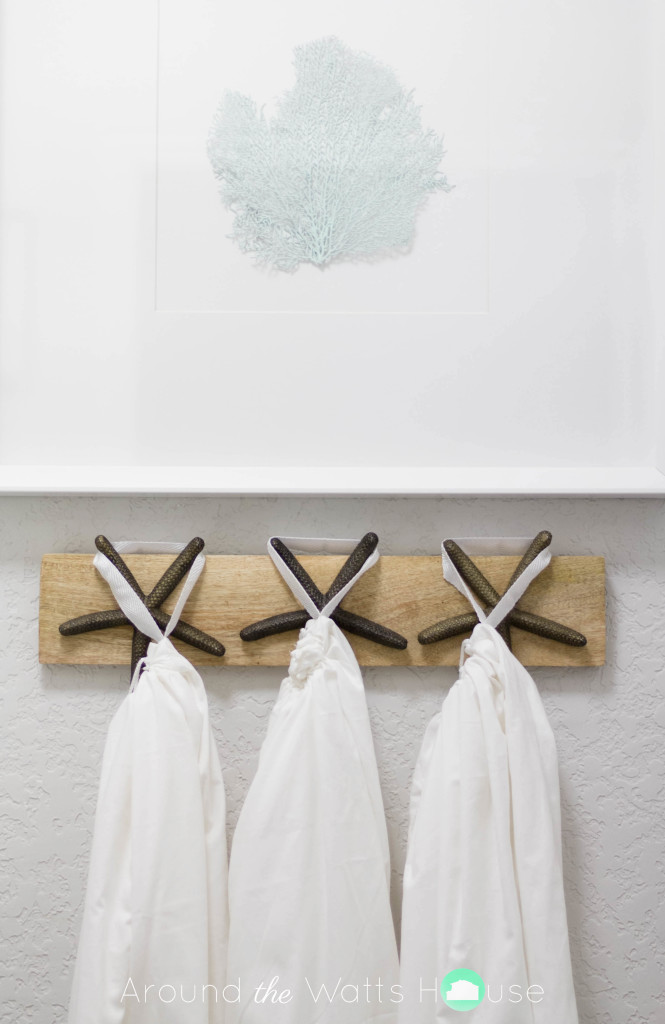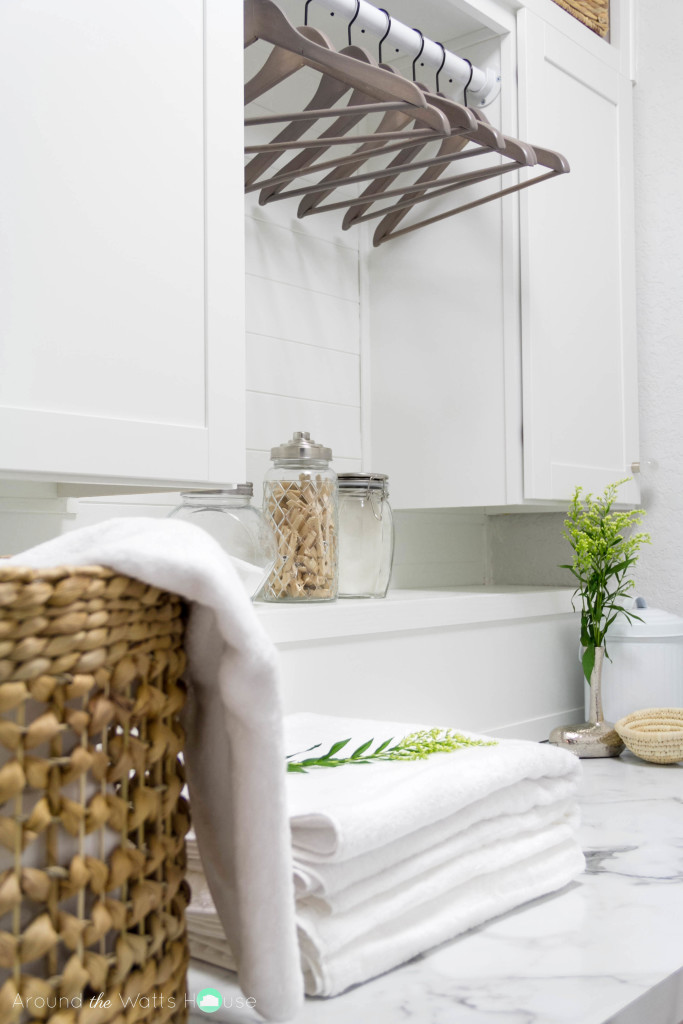 In my effort to keep this space tidy, I added a small waste basket to put dryer sheets, and other random things into.  I'm not sure why we never had one in the room before, because we were always having to walk out of the room and into the pantry to get to our main trashcan.
The cute little bowl was a find from The Container Store, and when I saw it I didn't even have a reason to get it other than that I thought it was adorable and that I needed in my life.  Haha!  When I was pulling everything together today it caught my eye, and its purpose hit me.  It can hold those random coins that end up on our pockets, and into the laundry.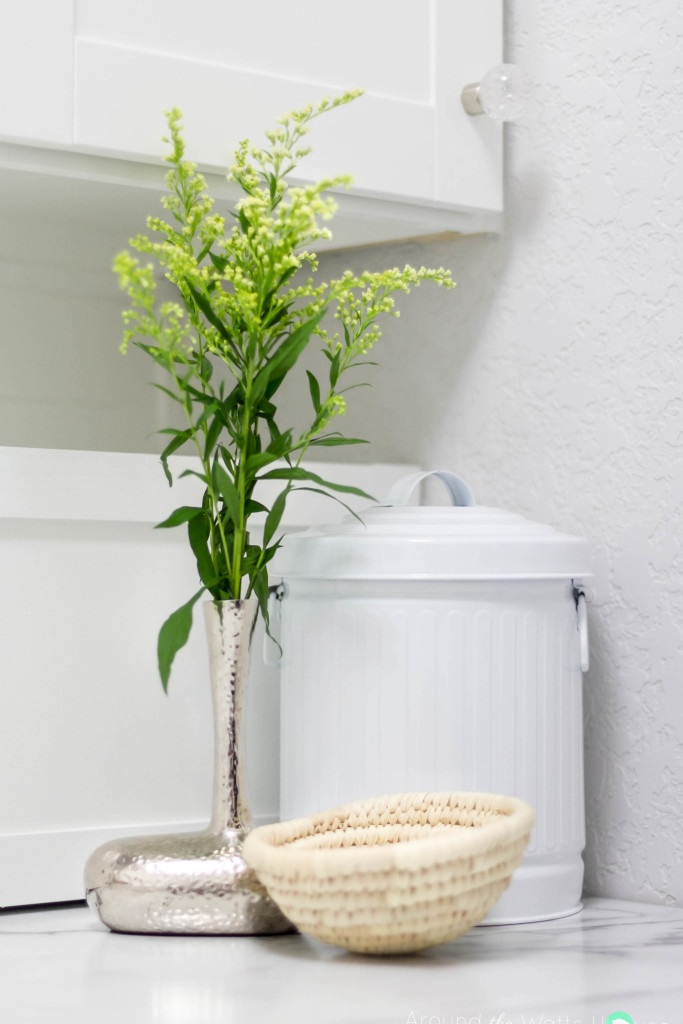 This space wouldn't look like this if it weren't for the purchase of our new washer and dryer last Spring.  I've always wanted front loading units even though I've read terrible things about them.  I love them, and we haven't had any issues with ours yet, so I'm crossing my fingers we end up in the minority of owners and come out unscathed.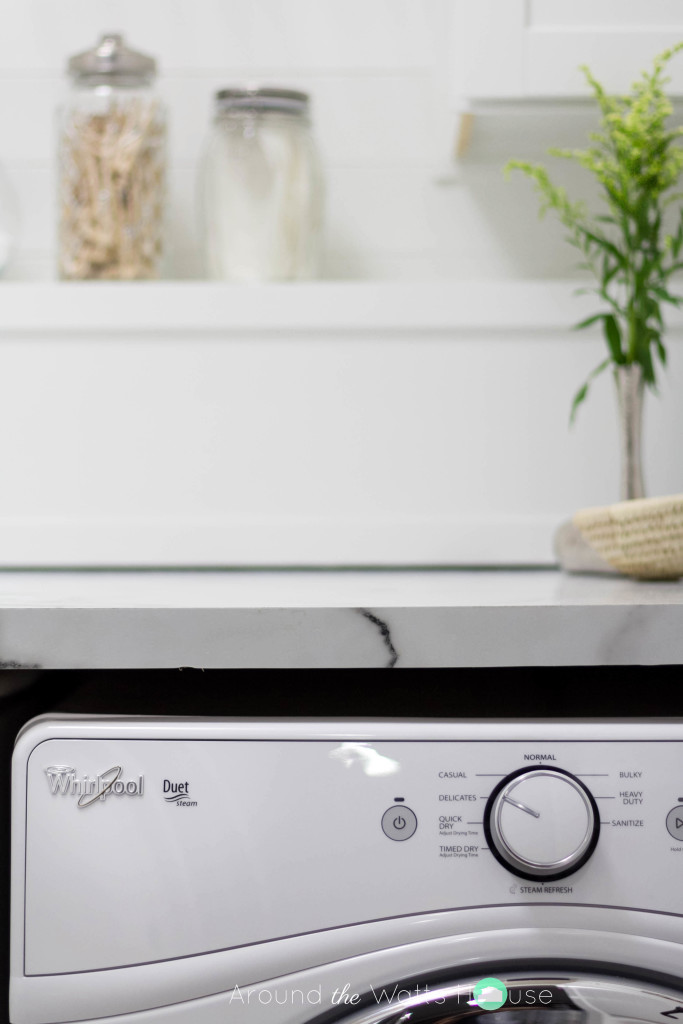 More coastal vibes….
…and some pretty knobs. Installing these knobs was about the be the death of us.  Let's just say we had to get creative, or you'd be looking at a drawer with a screw instead of a knob. LOL!  Thankfully John had a great idea that ended up working out!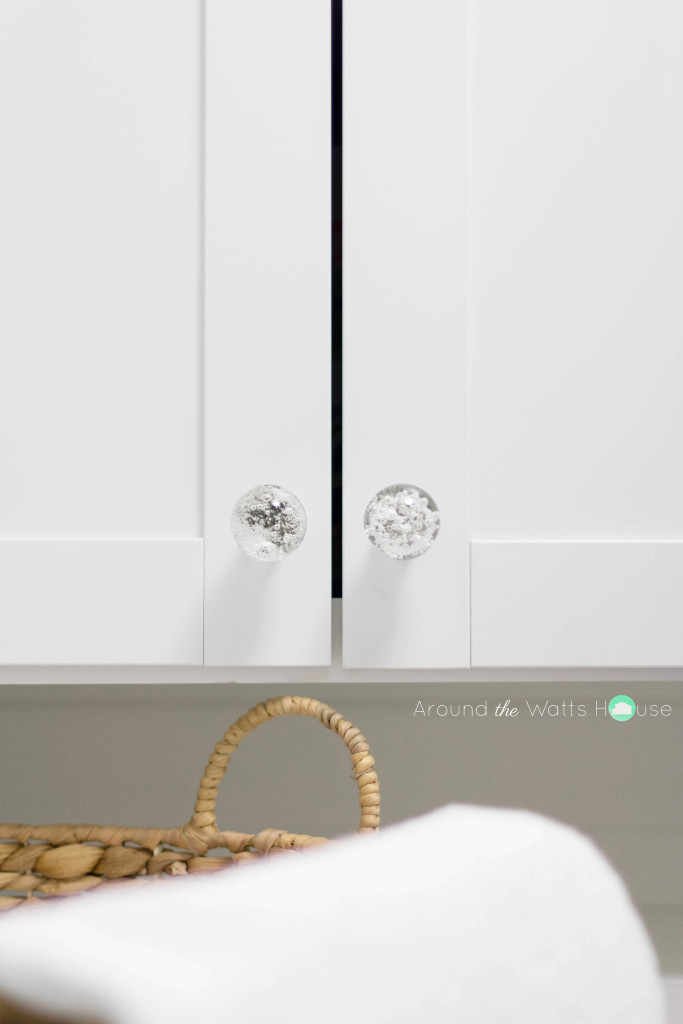 The baskets in the cubbies above the cabinets are going to store those rarely used items that were always taking up space on the old wire rack.  Being as short as I am, I'll have to use our step ladder to get to them, but I don't see that being an issue.
So that's about it!
I really hope you enjoyed the makeover and got some ideas for your own space.  I guess it can serve as proof that no matter what size laundry room you have, you can make it work by making wise decisions about utilizing the available space.  In our case we worked up to take advantage of the height of the room.  I always say it when I complete a project, but I couldn't be happier!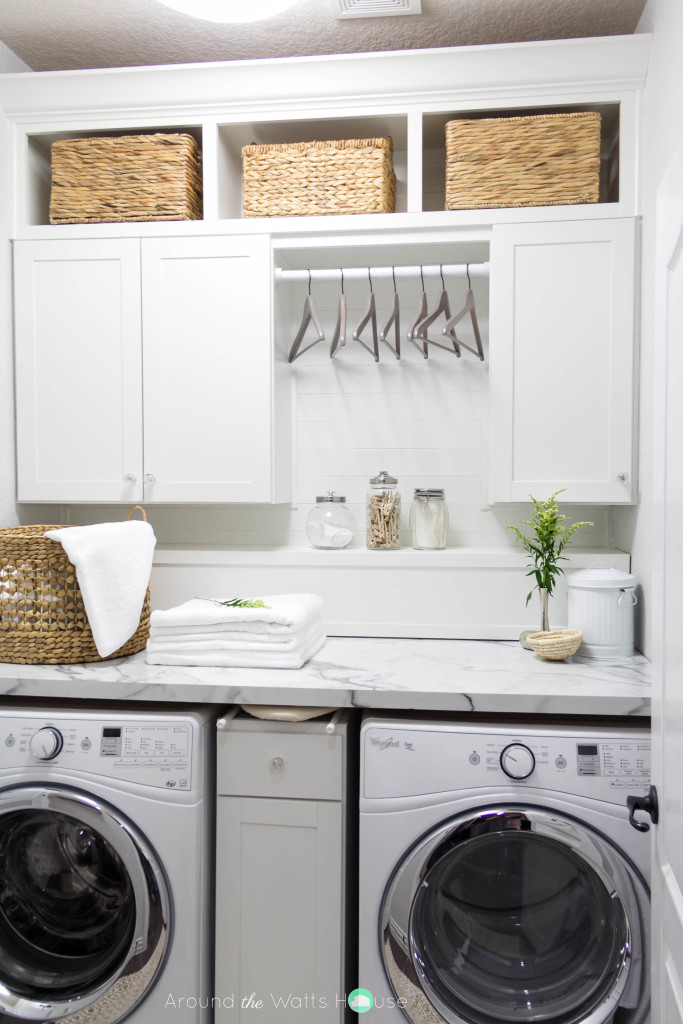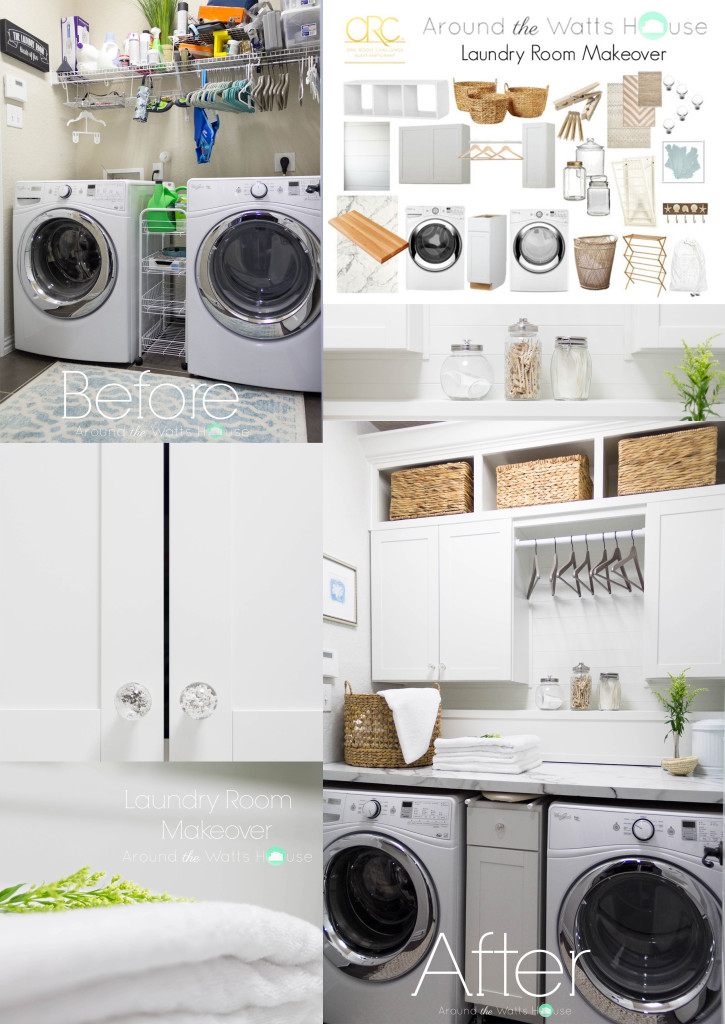 Thanks for joining us for the big reveal friends!
Now head on over to Calling it Home to see the rest of the great room makeovers being shared!  I know I am!
-Iris
Design/Styling/Photography By: Iris Watts
DIY Countertop, Hookup/Outlet Box Cover, and Cubbies built by: Iris Watts & John Watts
Cabinets-Lowe's Arcadia In-Stock Cabinets
DIY Countertop-Formica Brand Laminate Calacatta Marble Sheet with a base of MDF
Baskets-HomeGoods
Towels-Target
Knobs-Target
Jars-HomeGoods
Coastal Art-HomeGoods
Rug-HomeGoods
See more One Room Challenge room reveals below!