Hi y'all!  I'm back today with a continuation of my holiday home decorating tour.  This time I'm sharing a bit more about my main tree for the My Home Style: Christmas Tree Edition blog hop, hosted by my good friend Stephanie, of Casa Watkins Living.  Before I get started though, please let me thank y'all for all of the wonderfully encouraging comments on my holiday home tour post from yesterday.  I swear, this whole blogging thing isn't only about showcasing my work, it's about connecting with wonderful people like you all, and it seems like when I'm feeling exhausted, and ready to throw in the towel, you guys come to the rescue and encourage me to keep going.  I can't thank y'all enough for that.
So some of you might be new to the whole My Home Style series, while others may be finding me via This is Our Bliss' blog.  What a gorgeous tree she has, right!  For those of you that are new, the basics are that each blogger shares a space, or tree in this case, and describes how it fits into their personal home decorating style, using three words.  My words have evolved over the run of the series, and now I'm finding myself describing things as classic, eclectic, and glam.  I feel like I truly should add one more word, and that's casual since I like to make sure that my home is also livable while looking the best it can.
I mentioned in my holiday home tour that I had the idea of a floral tree pop into my head early last year, and couldn't-wouldn't shake it.  I'm so happy I didn't too!  This is my favorite tree out of all the trees I've decorated in my home.
So how did I accomplish it?  Well, I shopped craft store sales just about every time I could throughout the year, and purchased select greenery and floral sprays.  I was lucky enough to come across a bunch of white roses during one trip, that were on sale for a ridiculously low price.  I ended up buying the entire stock displayed in the store.  I'm telling you, I walked out of the store that day with a huge grin on my face, and extra cash in my pocket to use on other projects.  A complete win in my book!
When it came time to decorate the tree, I pulled out all of my floral sprays and separated them by type.  First I used the greenery to fill the bare spots on the tree, and then I went in with the larger floral sprays, filling it in even more.  Once I was satisfied with the look I added the roses.  My goal was to create a tree that looked as though it had multiple plants and flowers growing throughout it, all entangled and naturally displayed.  This took a bit of time to get just right, but I think it was worth it in the end.
Now, I could have left it at that and called it a day, because it was beautiful that way, but I wanted something more for the tree.  It needed to be even more whimsical than it was, and once I laid eyes on the iridescent ball ornaments being sold at Michael's I knew I had found what I needed.  I purchased them in various sizes, again taking advantage of sales, getting the entire stock of ornaments for around $60.  For a tree this big, that's amazing!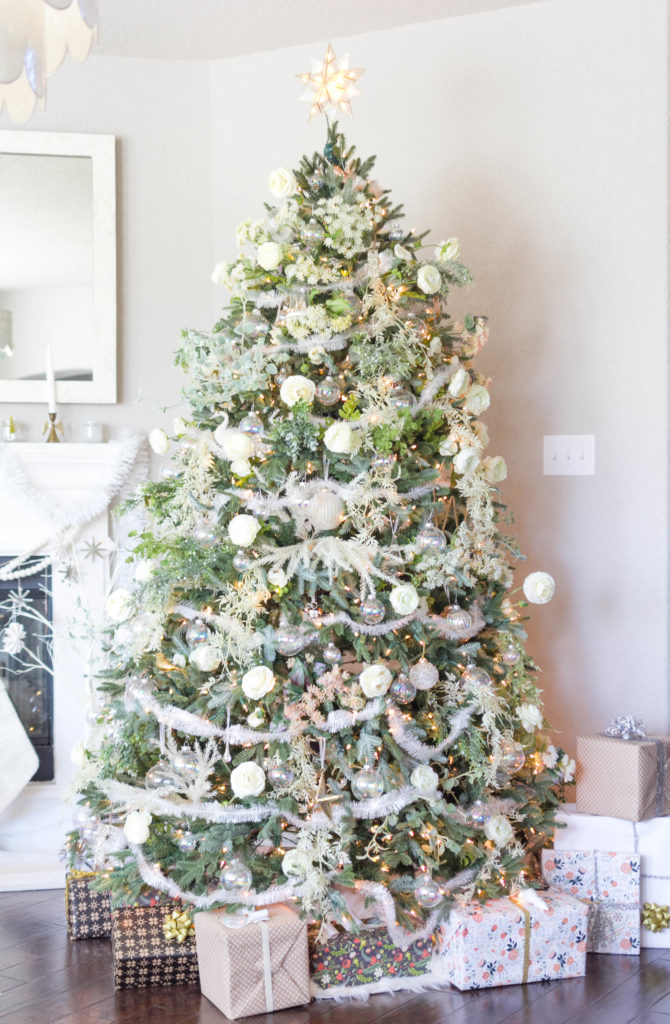 Of course, I couldn't help myself when it came to adding random ornaments into the mix.  I found a few beauties at HomeGood and Target that I just had to have, like these beautiful classic and glam ball ornaments.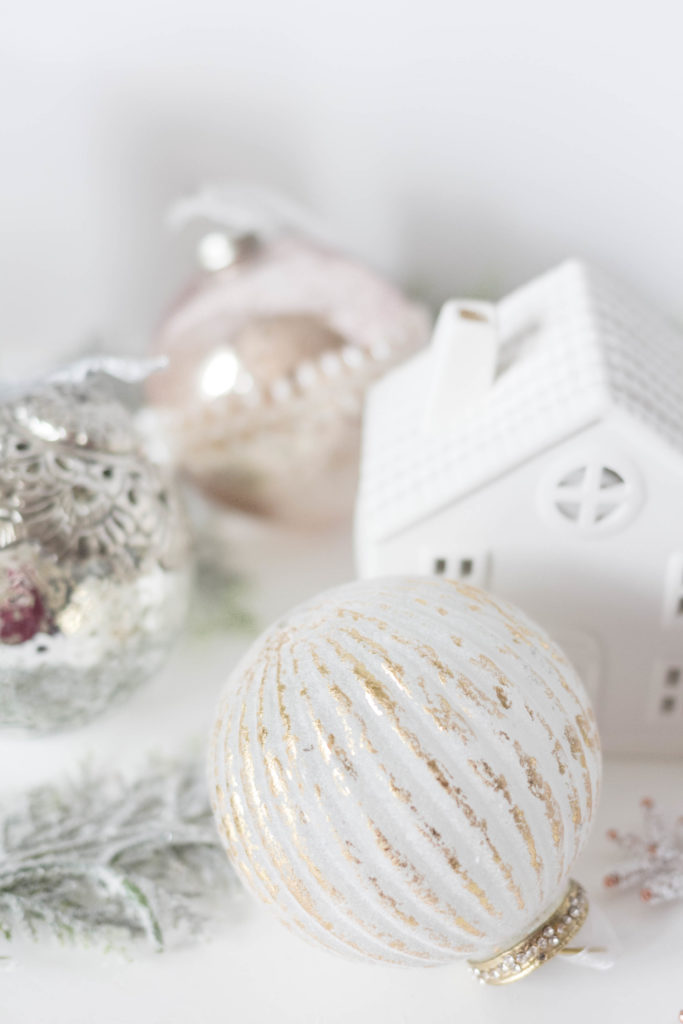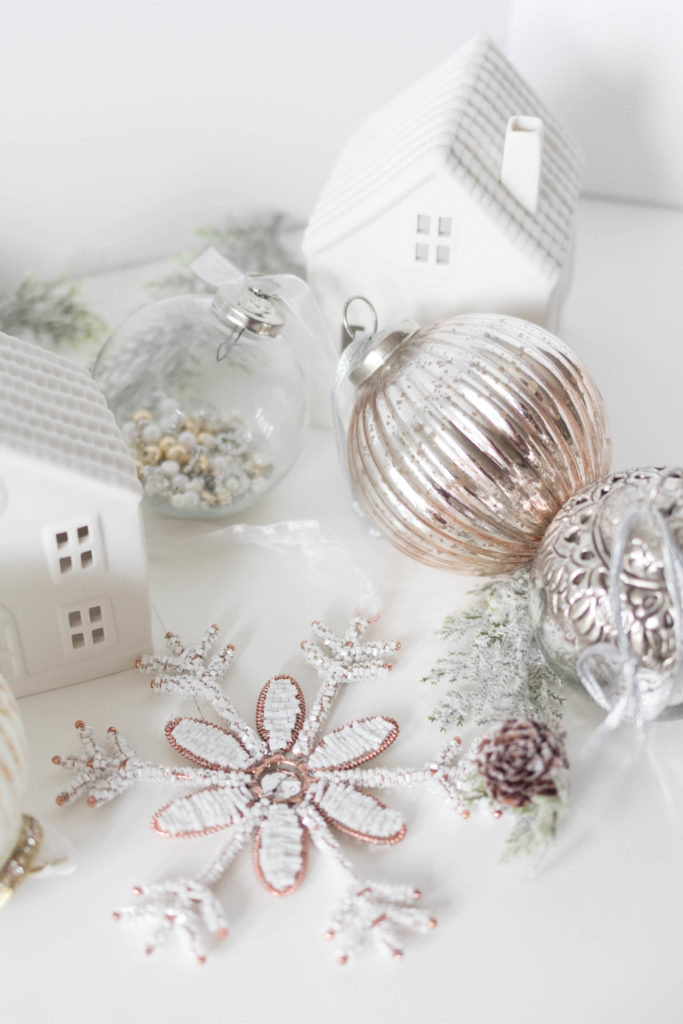 The best part about these extra ornaments is that I collected many of them with the purpose of representing each of my family members on the tree.  It can't be all about me, right?  Especially since I'm sure my husband's first thought wouldn't have been a floral tree!  He has complimented me on it many times since it has gone up though, which is sweet.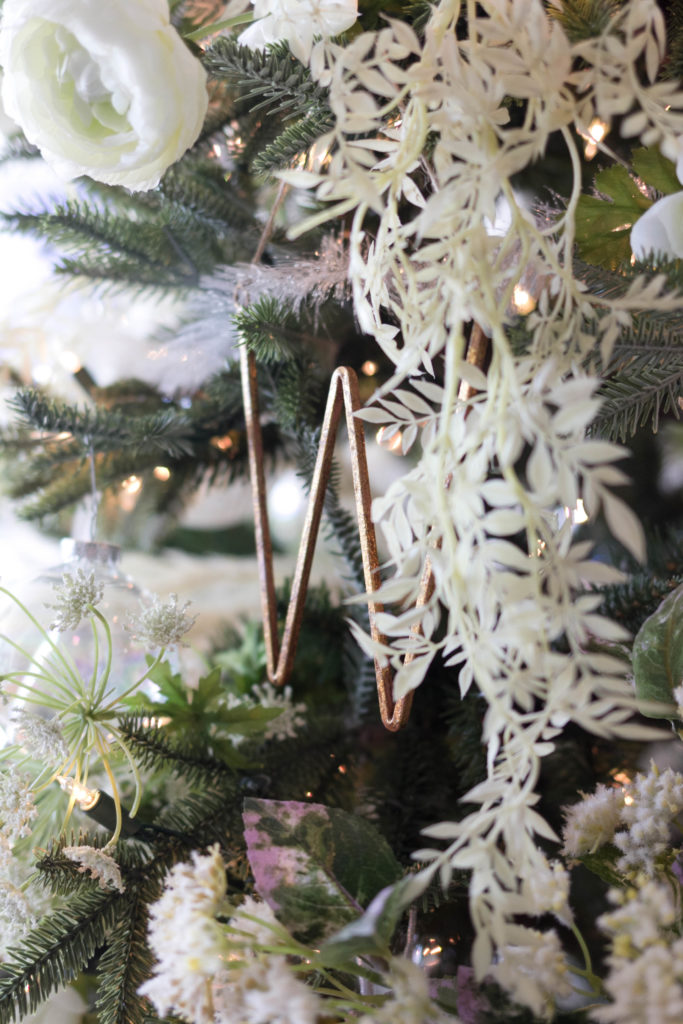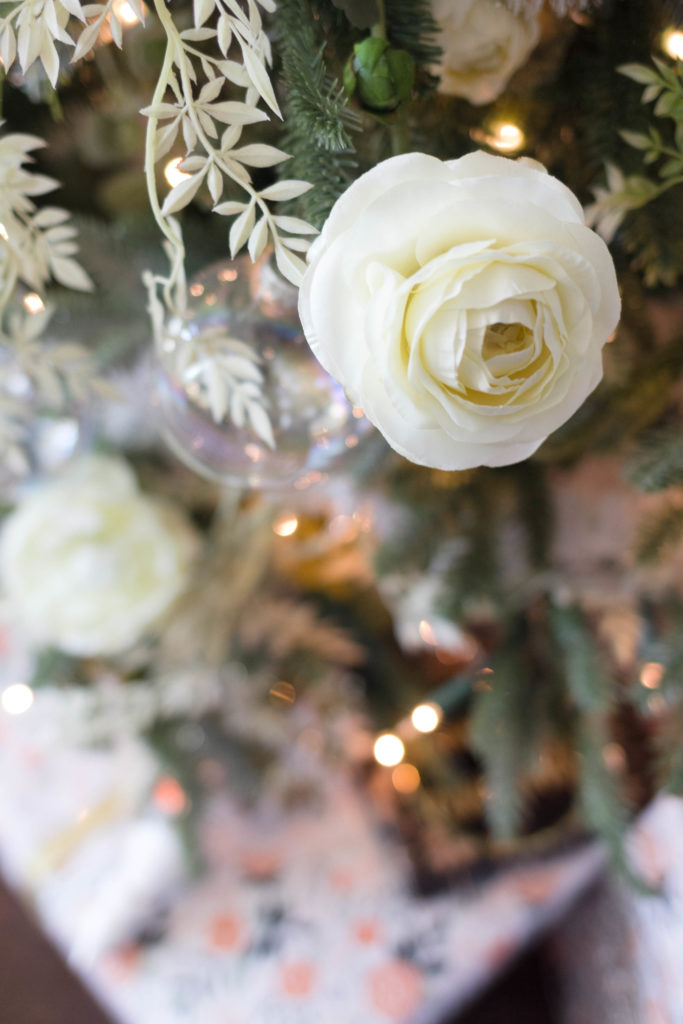 A swan for me, a narwhal for my husband, and a toy car for my son can be found throughout the tree, along with a few other ornaments of value.  It's sort of a "find-it" game at times, and I think it adds to the eclectic look of the tree.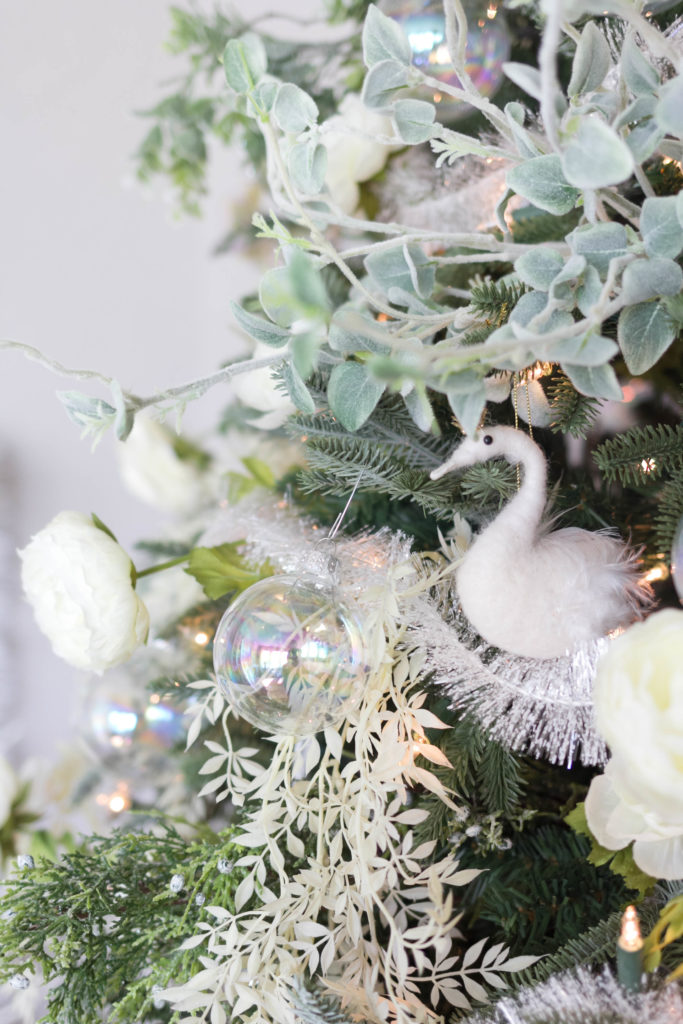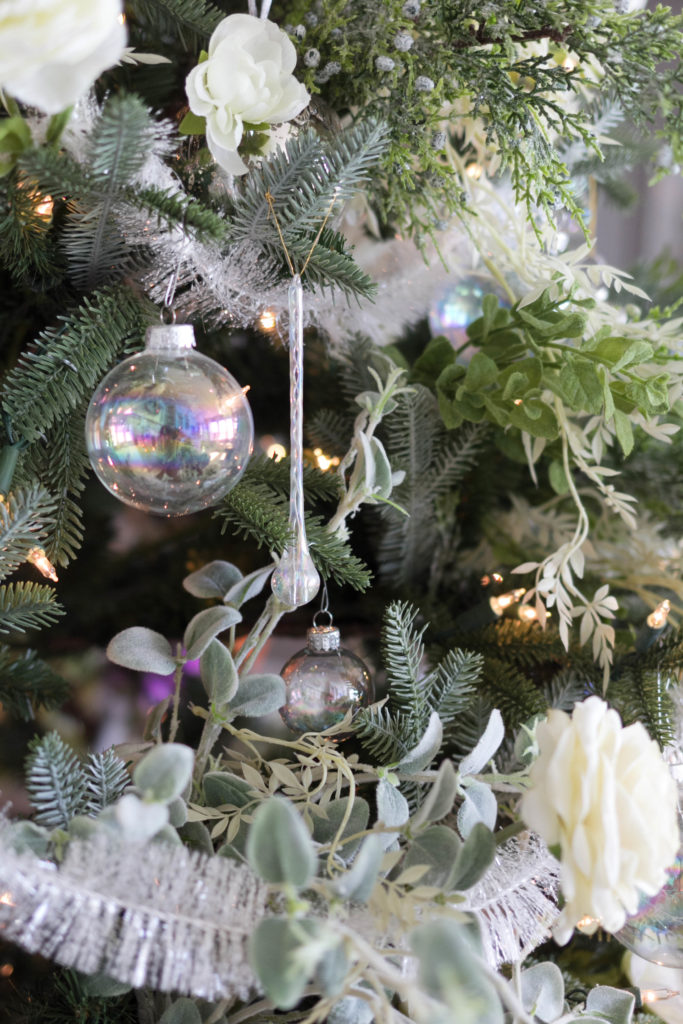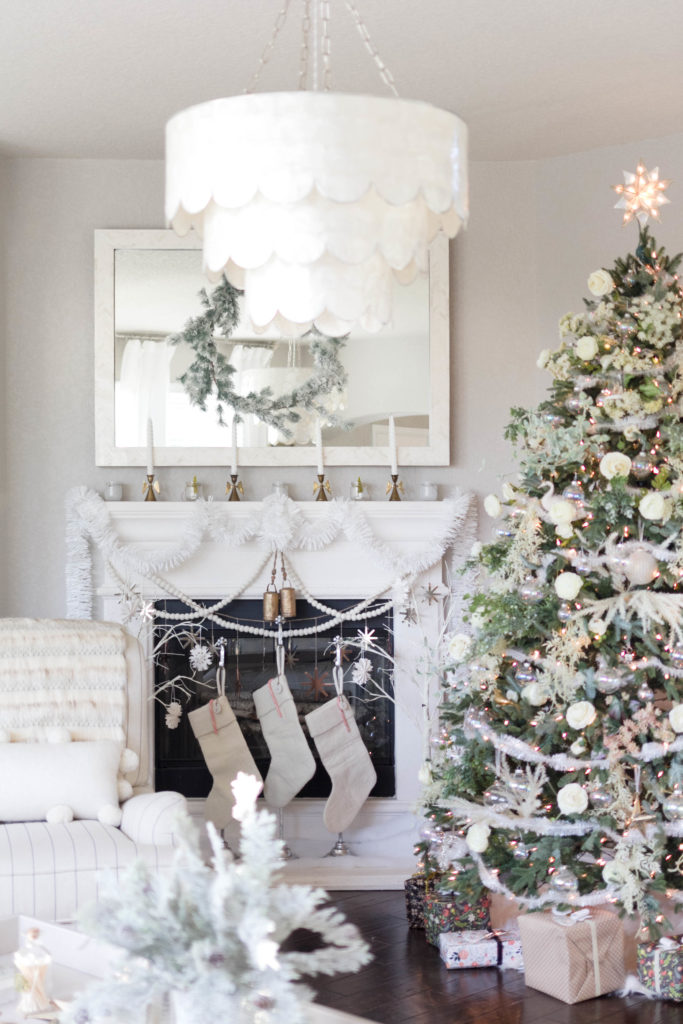 I was satisfied with how it was looking at this point, so I called it a day once the beautiful star was added to the top.  John has always had the pleasure of being the one to do that, so we kept with tradition and let him with this tree as well.
Hopefully this post helps y'all get a bit of insight into my styling decisions for the tree, and how you can take away some of it to help you with your own!  The best advice I can give you is that if you get a really great idea in your head, stick with it, and look for deals to help you make it come to life.
With all of the current sales, and the soon to be "after Christmas" sales going on you can scoop up a good amount of decor for next year, and save some cash!  If you are still trying to figure out how you will decorate this year, and really like this idea, I'm sharing a few affiliate links to some of the products I used to get the look.  I hope they help!


Now head over to see the rest of the trees decorated by my fellow My Home Style participants!  I know they are gorgeous, and full of inspiration, and don't forget to come back tomorrow to see the final set of trees being revealed!
-Iris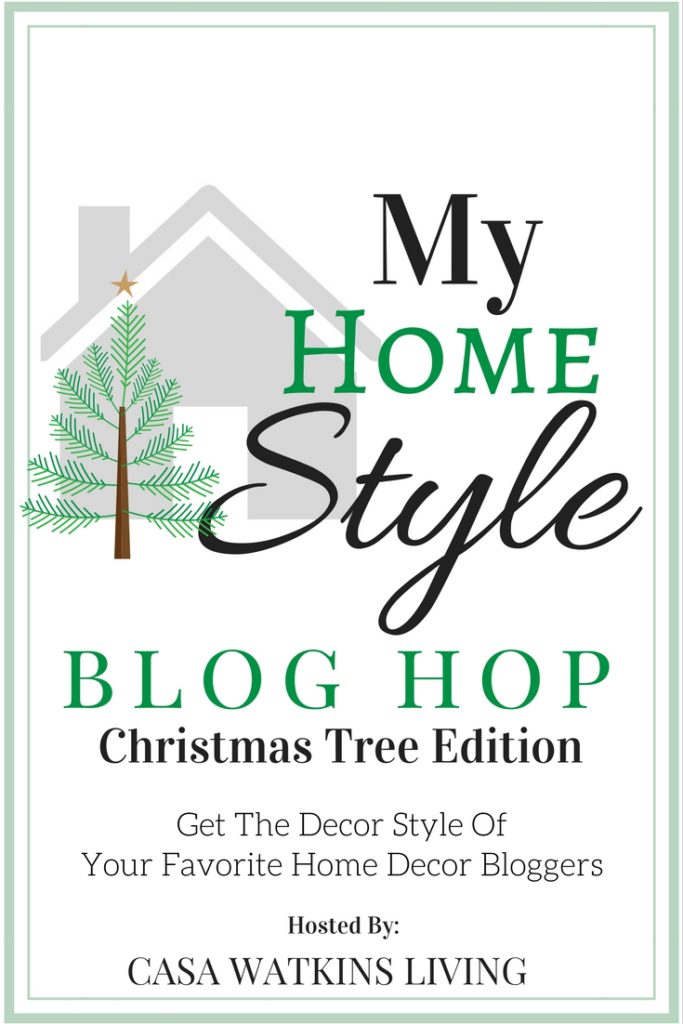 Monday
Tuesday
Wednesday
Thursday
Friday