Welcome friends!  I'm excited to welcome you into my home for a little Christmas cheer in the form of a holiday home tour!  I've been decorating for weeks now it seems, and I've finished just in time to share this little tour with you all as part of a wonderful "Winter Eclectic Home Tour"  hop, hosted by my sweet friend Jess, of Domicile 37.  If you're finding me via Erica's blog Designing Vibes, welcome!  I have no doubt you've been wowed by her gorgeous home!  I know I have been!  She's such a talent!
Around here, I did my best to create a warm, cozy, and bright home for the holidays.  I truly enjoy decorating for Christmas the most out of all of the holidays.  I find something magical in watching my family go about our normal activities surrounded by twinkling lights from the trees throughout our home.  If I could bottle it up and keep it forever, I would!
Since we are still going through some renovations around here, I only have a few spaces to share, but I hope you enjoy them all the same!
Let's head inside!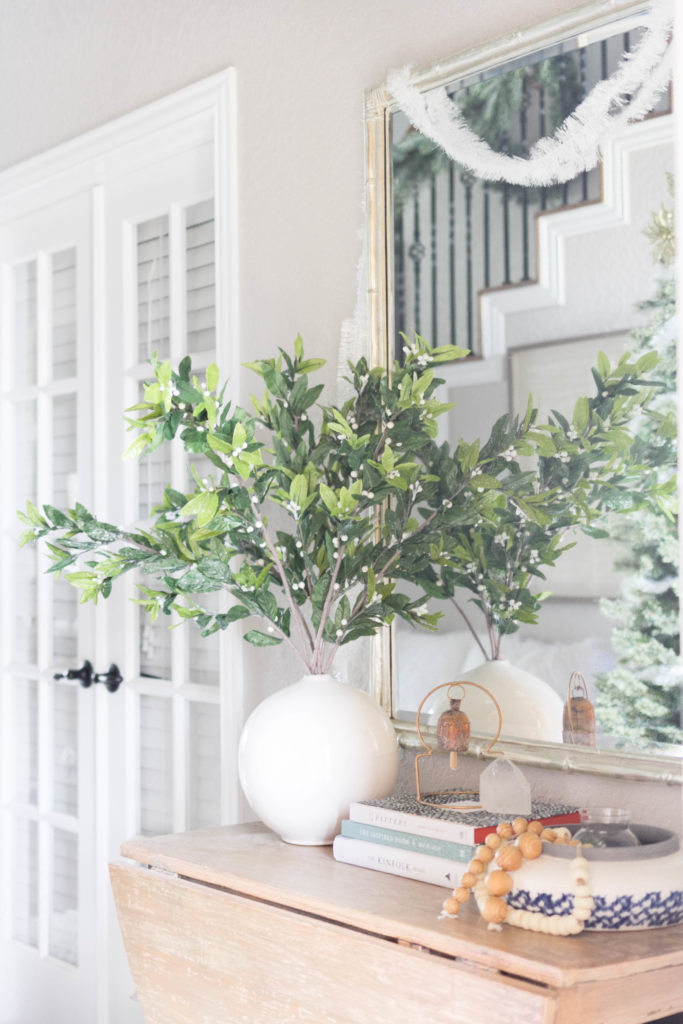 Our entryway is actually fully decorated, with two trees flanking a wooden bench that used to be in the living room.  Garland and silk bows are hanging from the stairway, and a wreath on the stair wall, but I couldn't for the life of me get a good picture of the space to share with y'all today.  Maybe I'll share it on Snapchat or Instastories in  video one day though.  If you want to see be sure to look for me (@irisnacole)!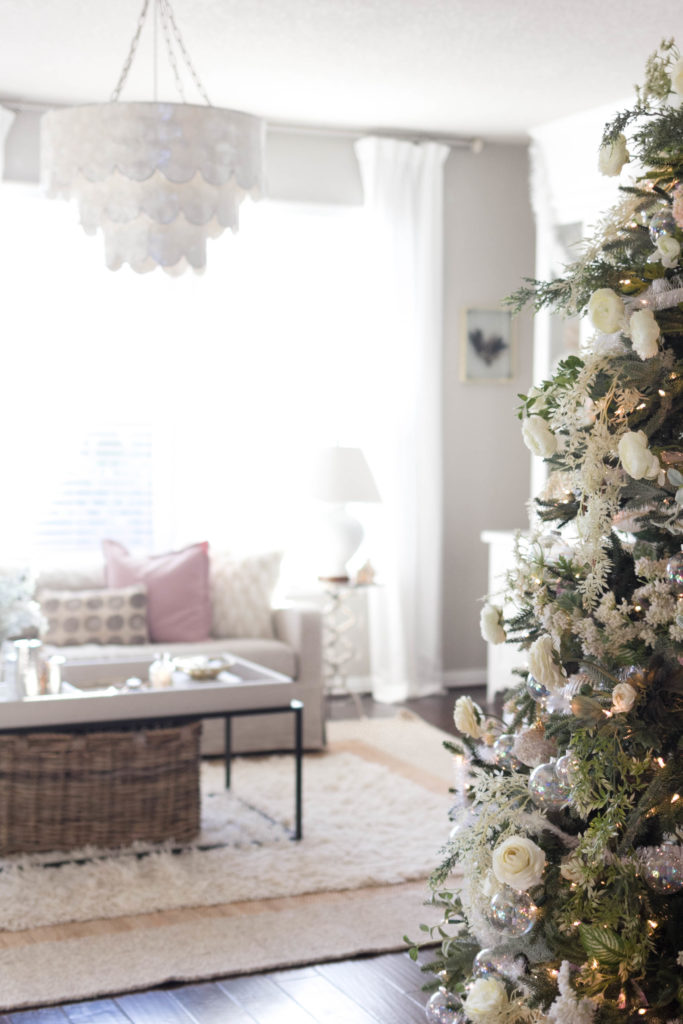 Over the last few years of blogging I've come to learn that not all of my good decorating intentions come to fruition.  However, early last year I got it in my brain that I wanted to have a floral Christmas tree, and I'm so glad that I didn't just brush that thought aside, because I think this is my favorite tree to date!  I'll be sharing more on how I decorated the tree in an upcoming post, so stay tuned.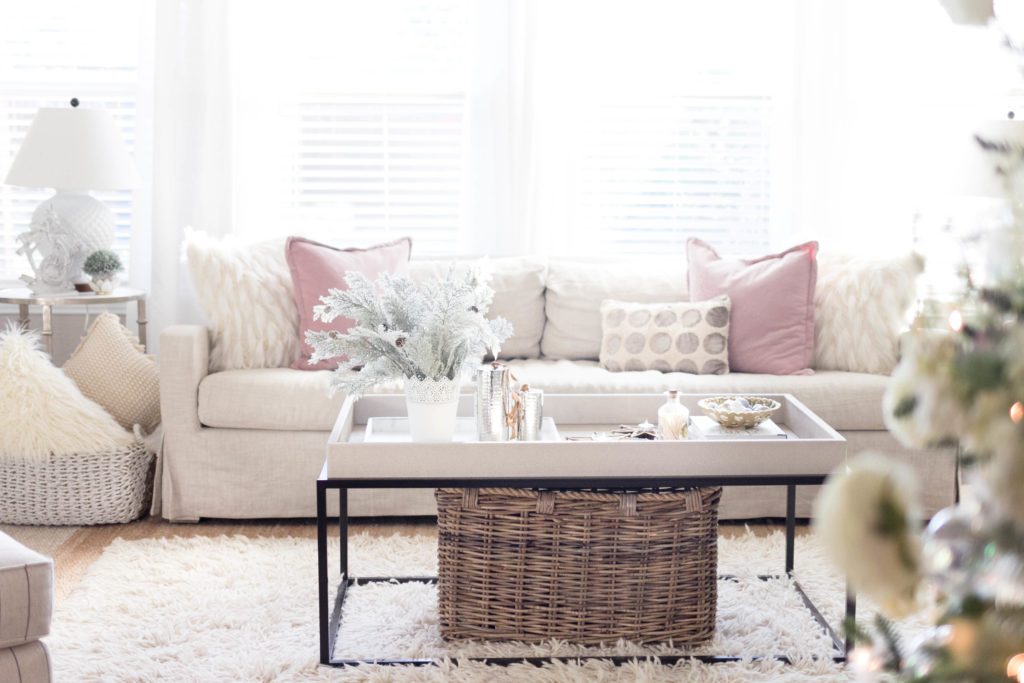 Around our parts, the average temps are in the 60's these days.  I can hope and pray for a winter wonderland Christmas outside all day long, but I don't think it's going to happen anytime soon, which is why instead of fighting the idea of a warmer holiday like I normally do, I embraced it.  I opted to use lighter colors of pink and purple throughout, instead of the heavier more traditional holiday colors.  Fluffy faux fur pillows add the warmth expected to be seen around this time, and keeps the space light and bright mixed with the furniture in the room.  I think that the decor in here suites the room so well that I don't believe I'll have to change any of it up for months, which is welcomed break from project after project around here.  The holidays can tire a girl out, ya know!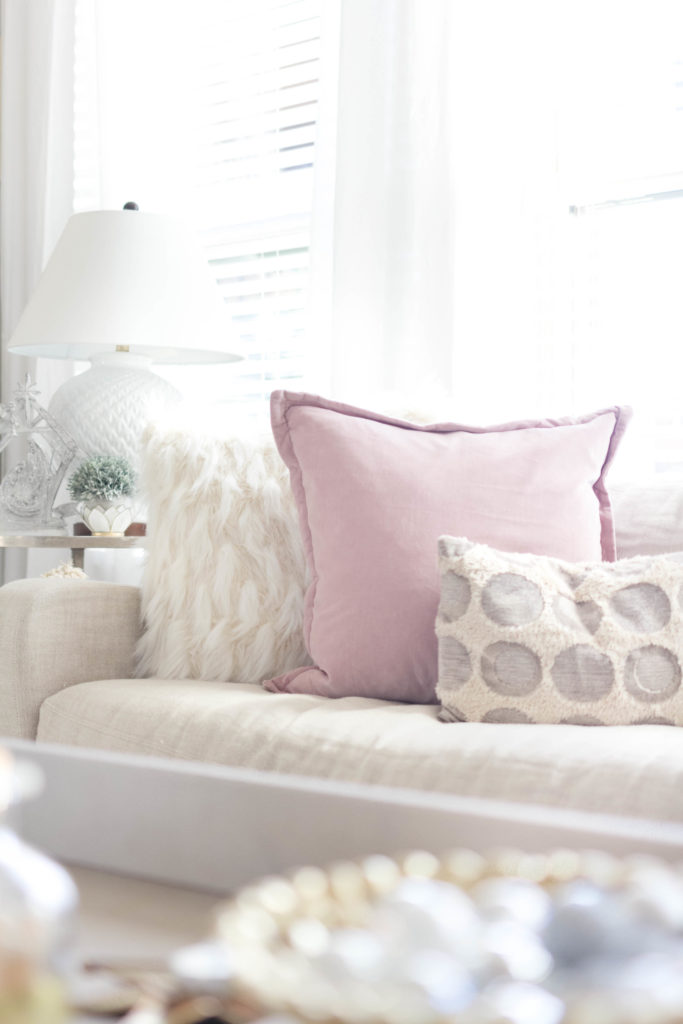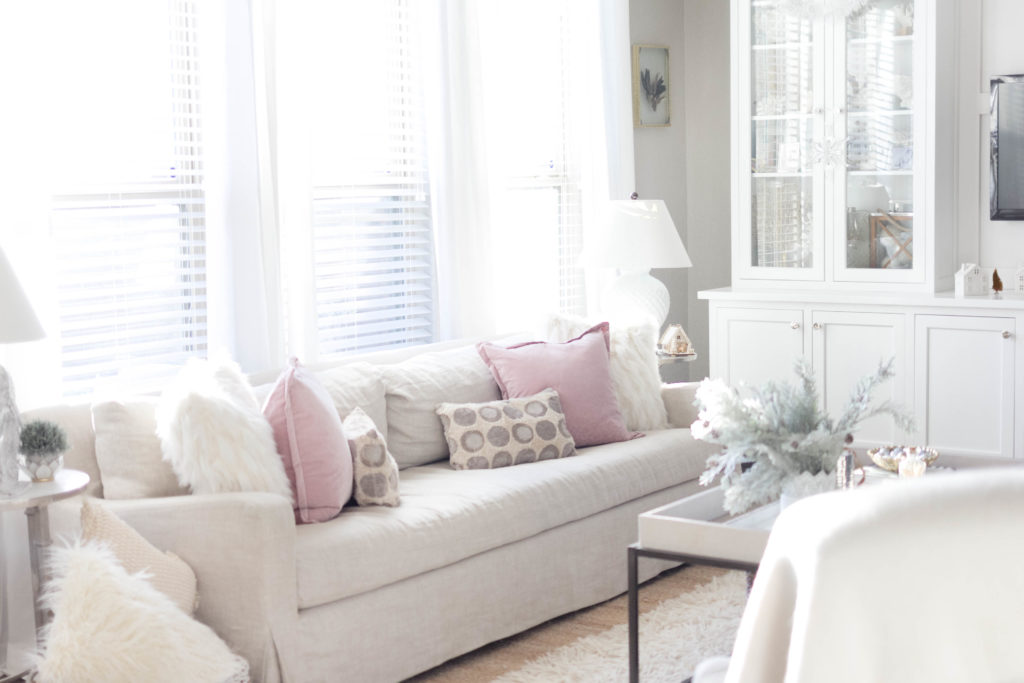 In keeping with the warm and bright theme, I draped white tinsel garland across the built-in, added a couple of hanging acrylic snowflakes to the knobs, and created a little city of houses and trees from products I found at Target, and on sale at Michael's.  It proved to be just enough decor to capture your attention, but not overwhelm the space.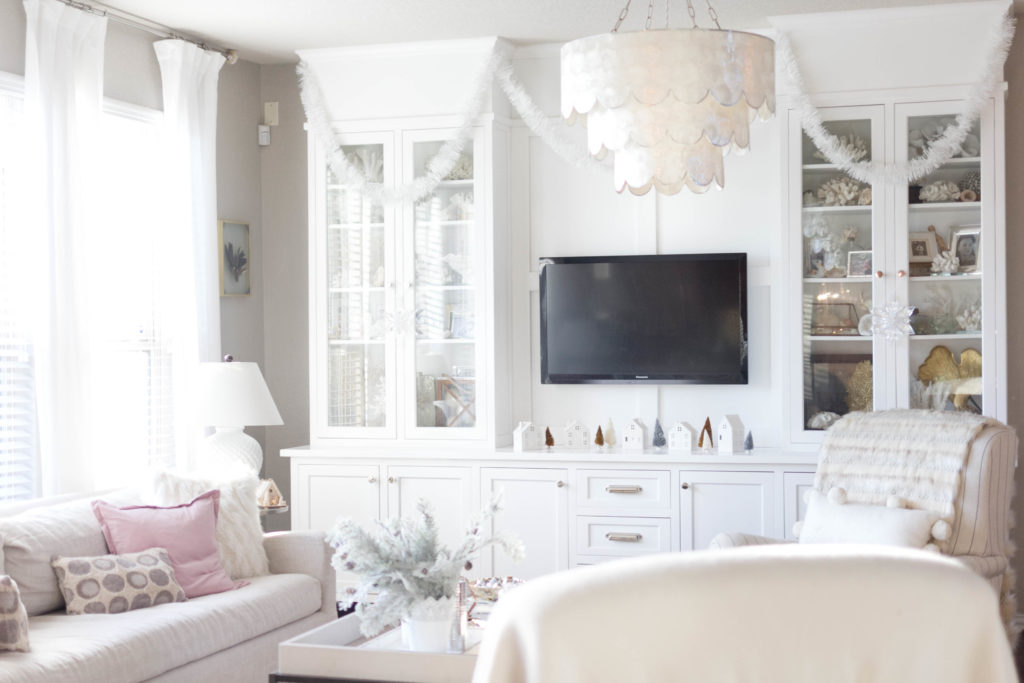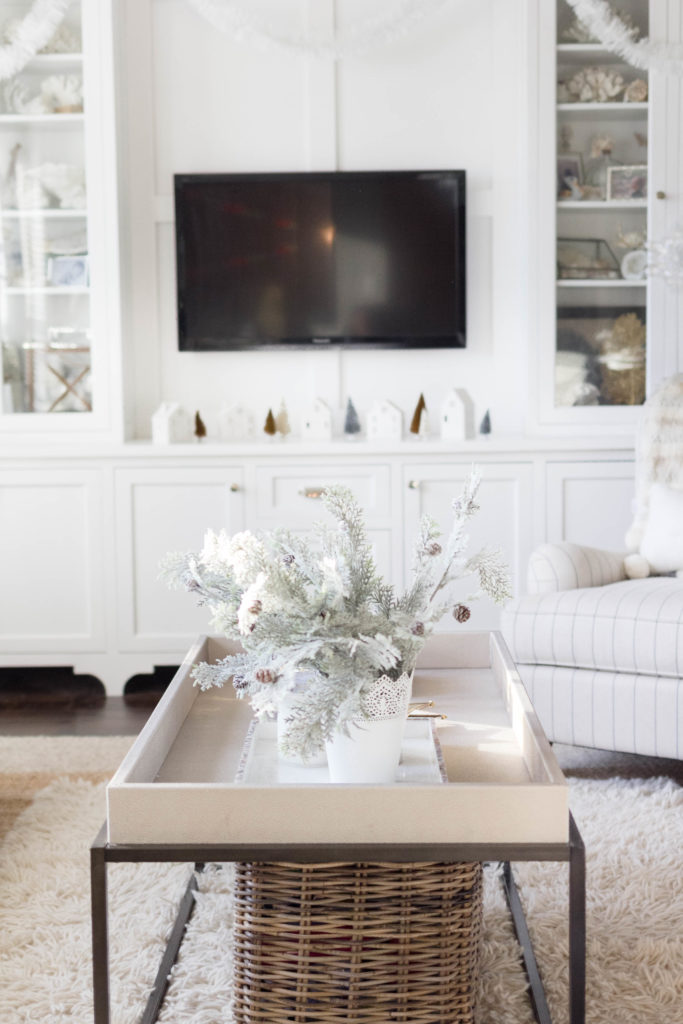 Some winter branches in a vase, and a handful of sparkling ball ornaments in a bowl take the everyday decor up a Christmas notch, on our coffee table.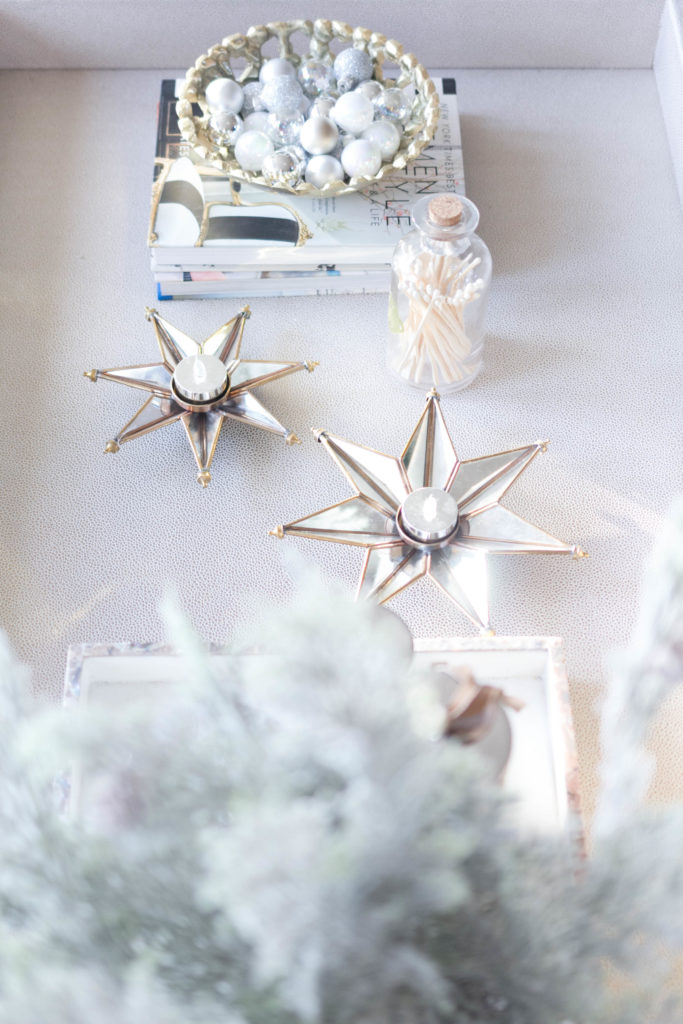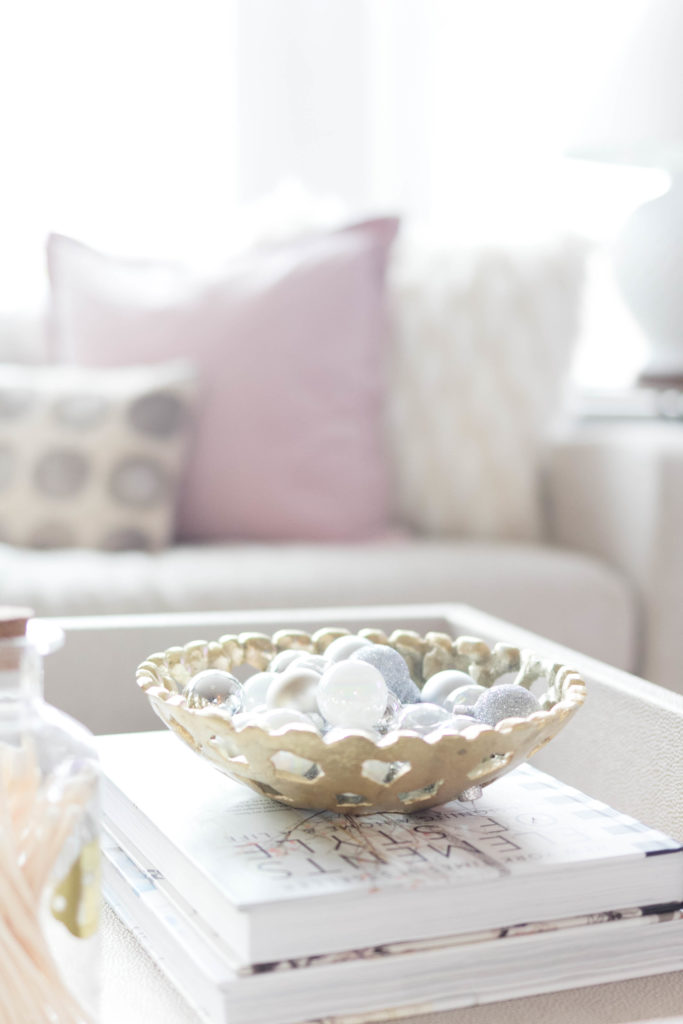 And now to our fireplace.  I just love this area of our living room!  It tends to get the most attention during the holidays, and I can't say I hate it.  I didn't intend to dress it up as much as I ended up doing, but once I started pulling out my garlands and hanging them, it became obvious to me that I wasn't going for a less-is-more look at all.  That being said, I made sure that it complimented our Christmas tree, instead of competing with it, since we decided to have them so close together this year.  By the way, did you notice the new layout in the space?  I love it!  We moved our furniture around last year and at the time I thought it was the greatest layout for the room, but now I think I'm going to change up the layout each year around this time to keep it fresh.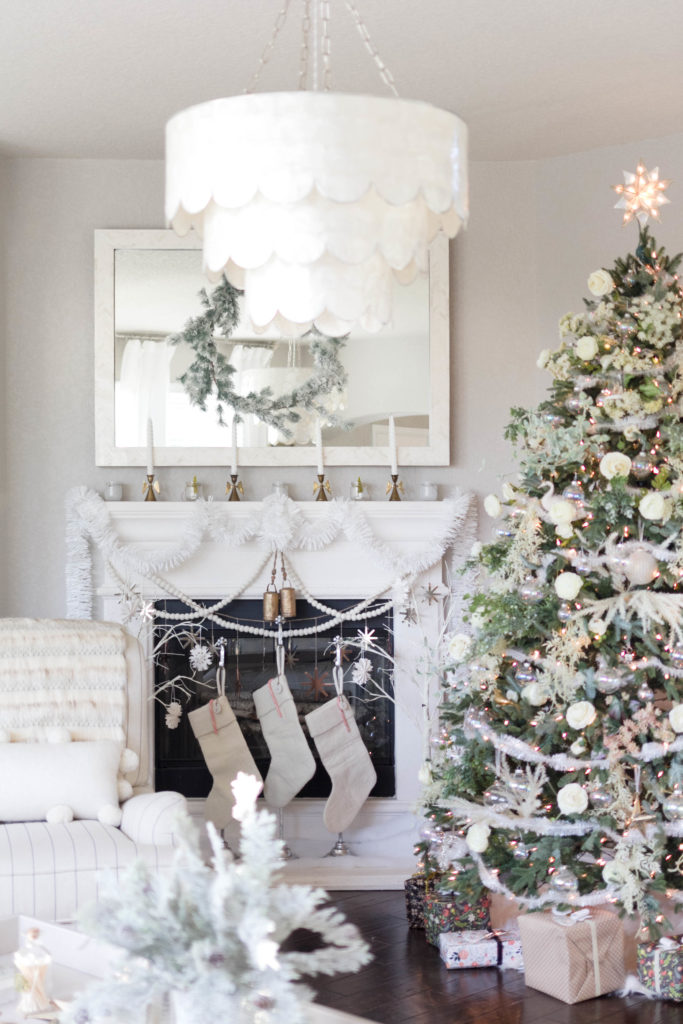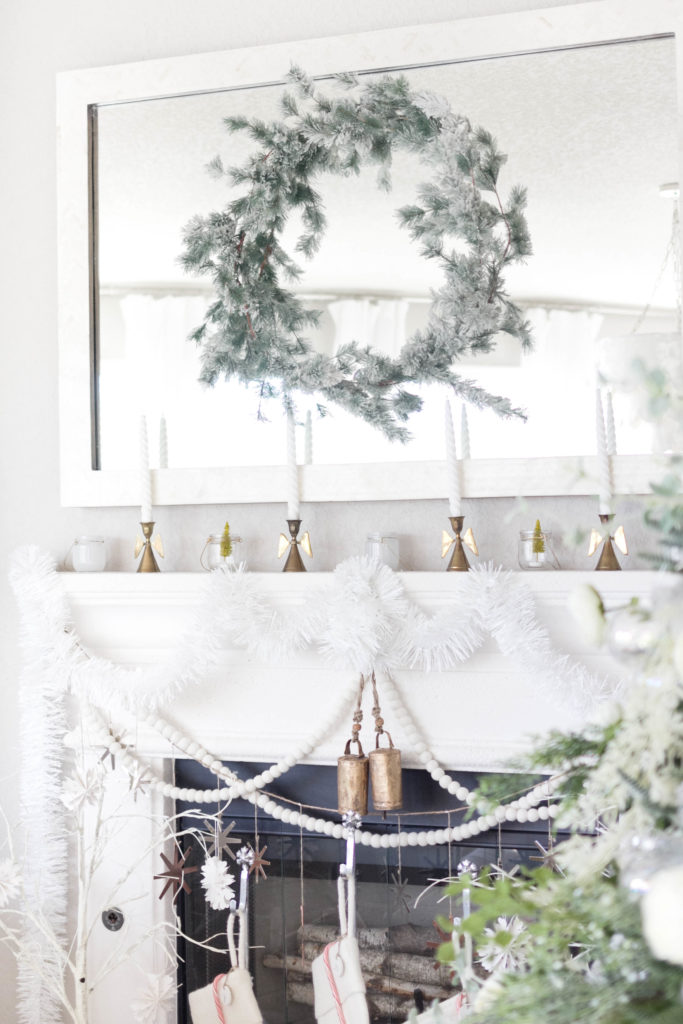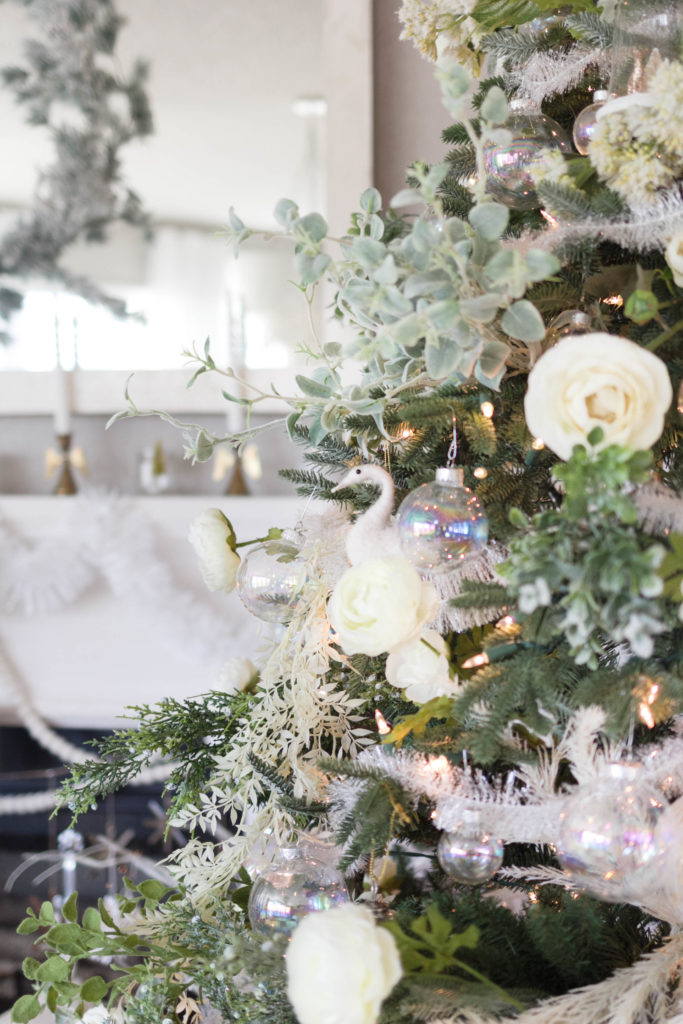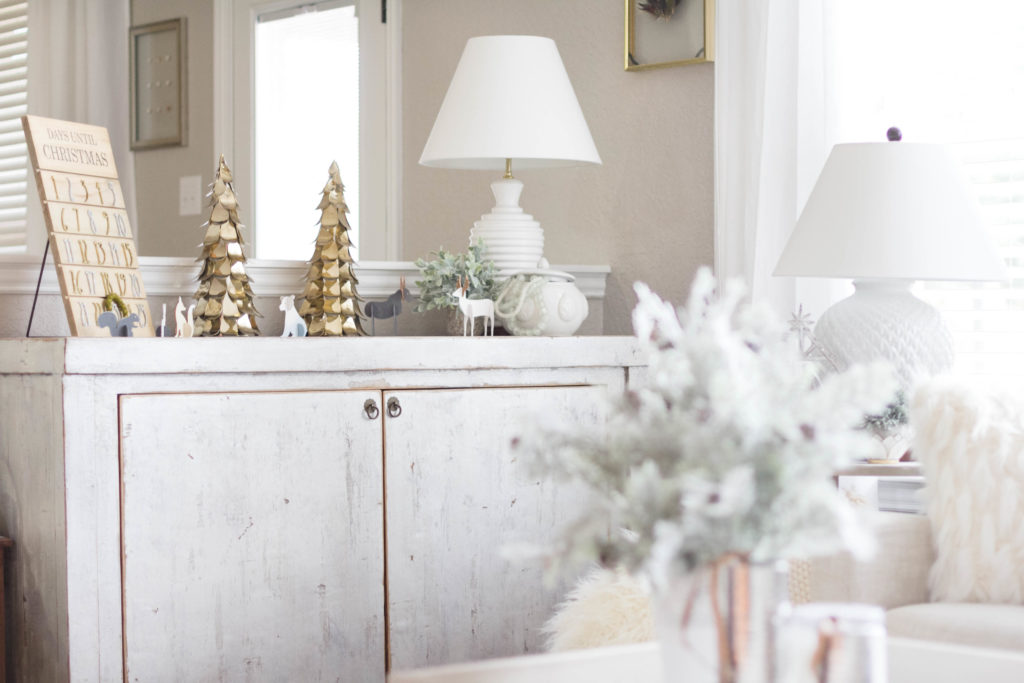 Let's head to the next space on the tour, shall we?  In my dreams I would be sharing our kitchen decorated for Christmas with y'all, but unfortunately we are still adding the final touches to the space, so I'll have to wait to share that with y'all in the future. (Longest kitchen renovation ever, I know!)  Instead, let's head upstairs to our family room.  I think I manged to decorate this space to compliment the downstairs space, but give it its own spin too.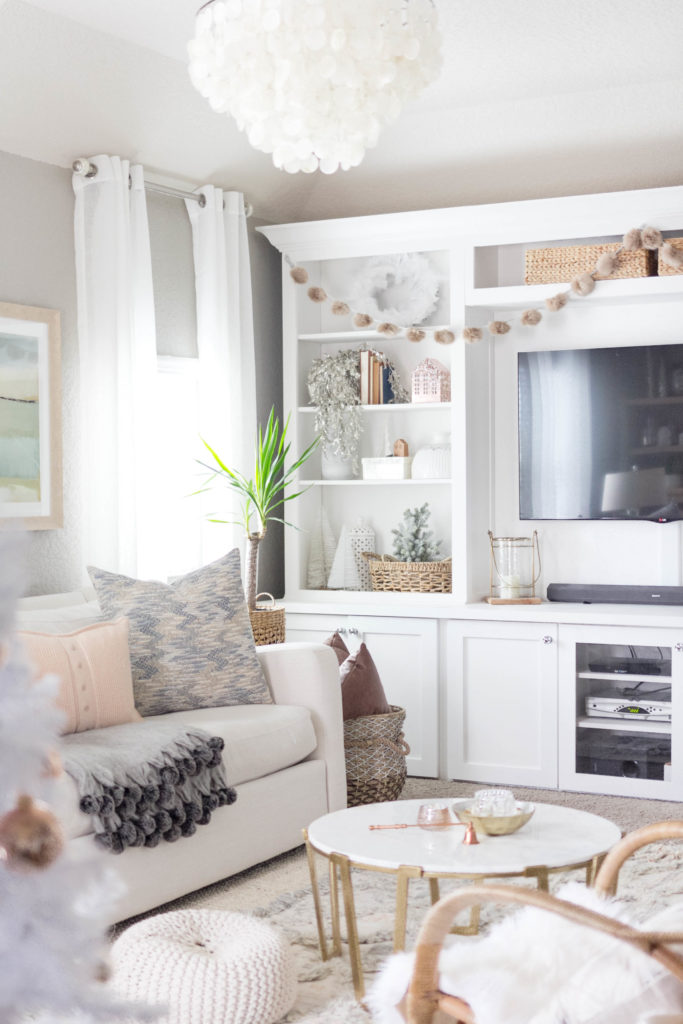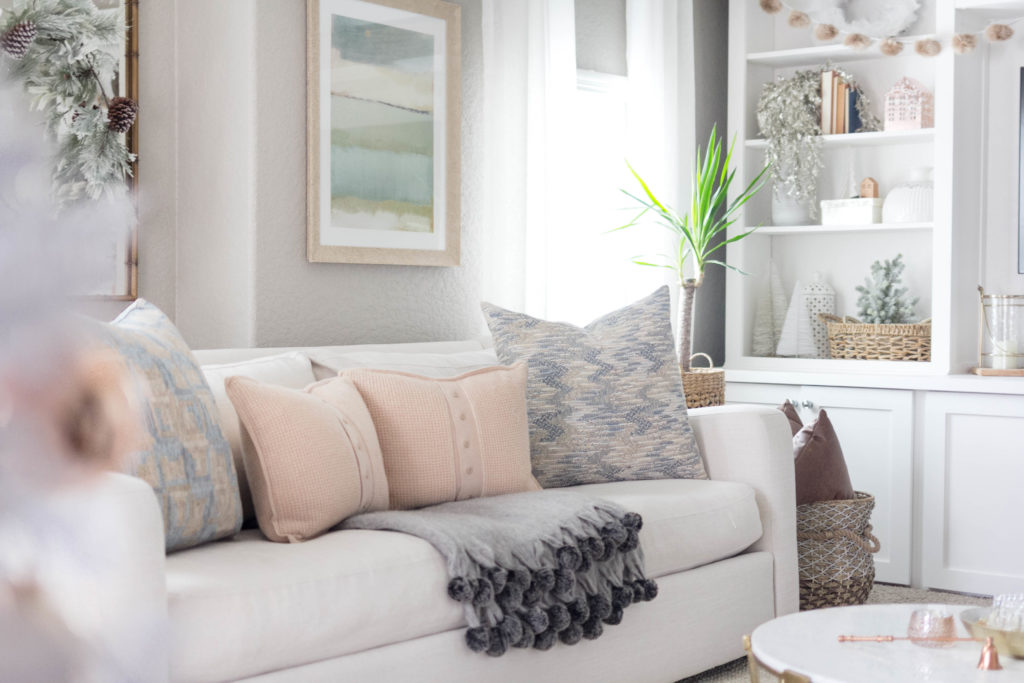 Since I moved the furniture around downstairs, I felt like trying the same in here, and I swear, I didn't know this room was so large!  We can easily navigate the space now, and I don't feel so enclosed anymore with the new layout.  Other than the new layout, I pulled out some of my decor that was stashed away, and restyled the shelves.  The easiest decorating job ever, in my opinion!  All I did was add some trees, paper houses, and a few sparkling winter sprays to the shelves, and they took on a sort of magical look.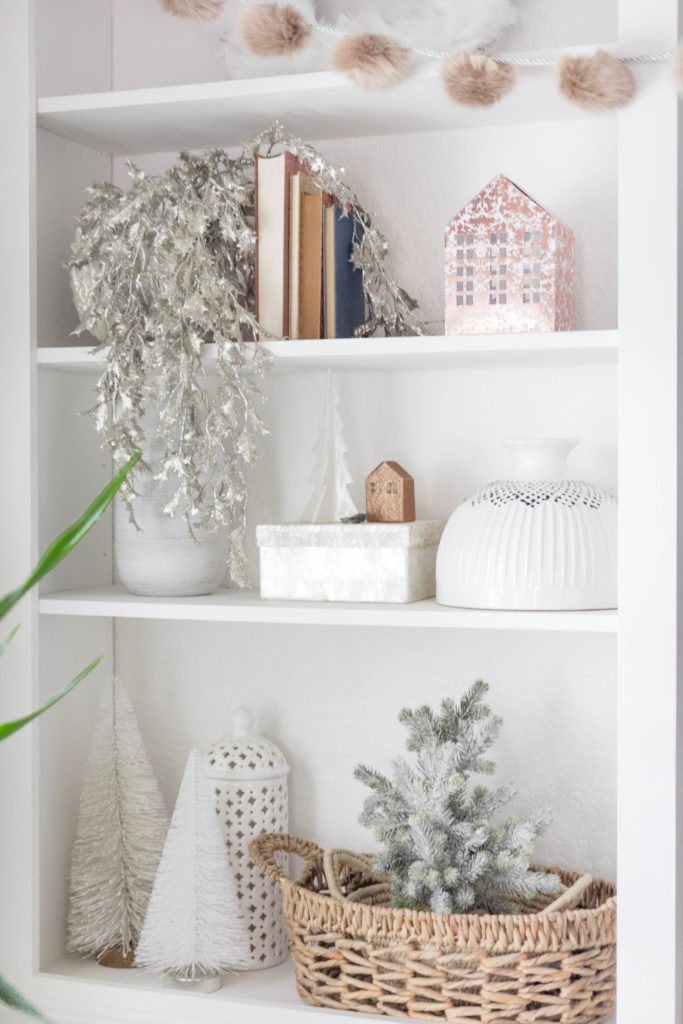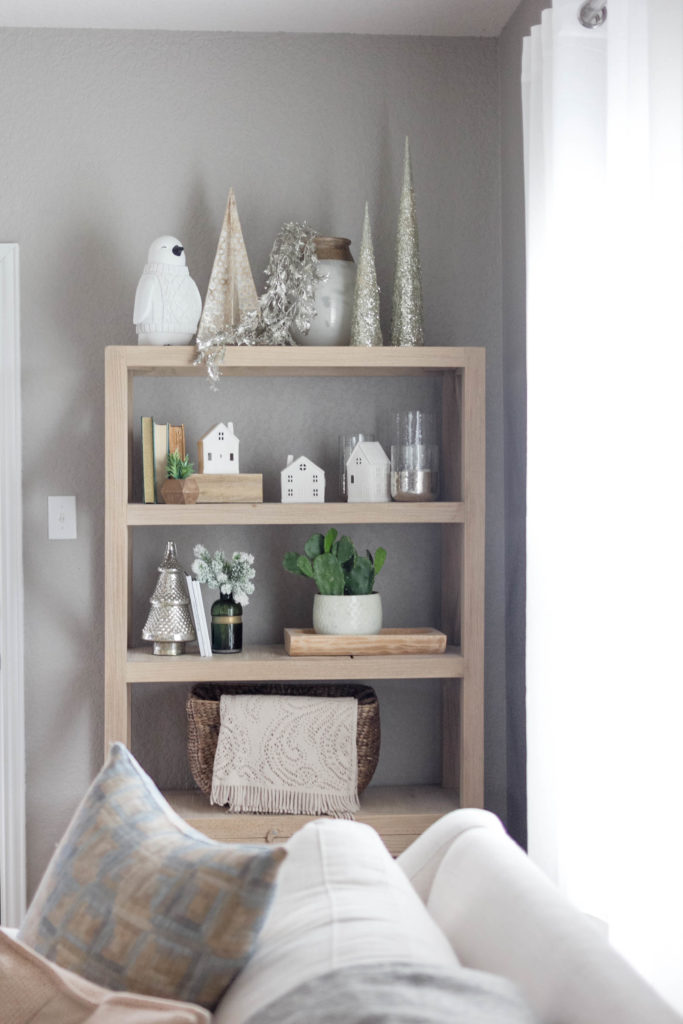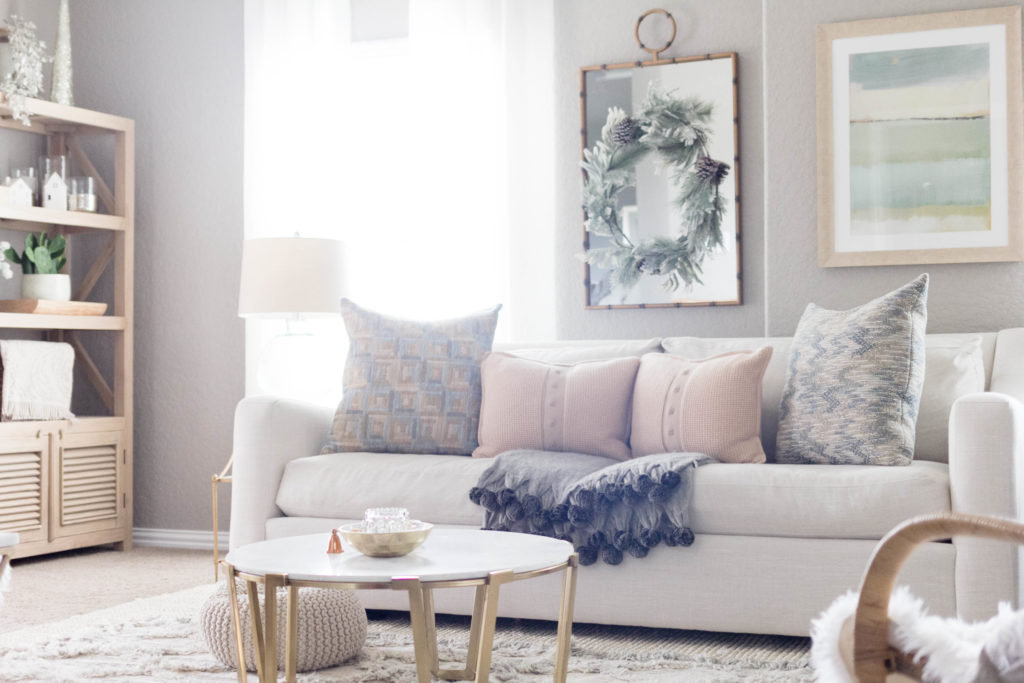 Of course I couldn't leave the room without a tree!  This small white tree, which we found on sale at Walmart, stands beautifully in the room, decorated only with varying sizes of metallic ball ornaments.  It's just enough for the space.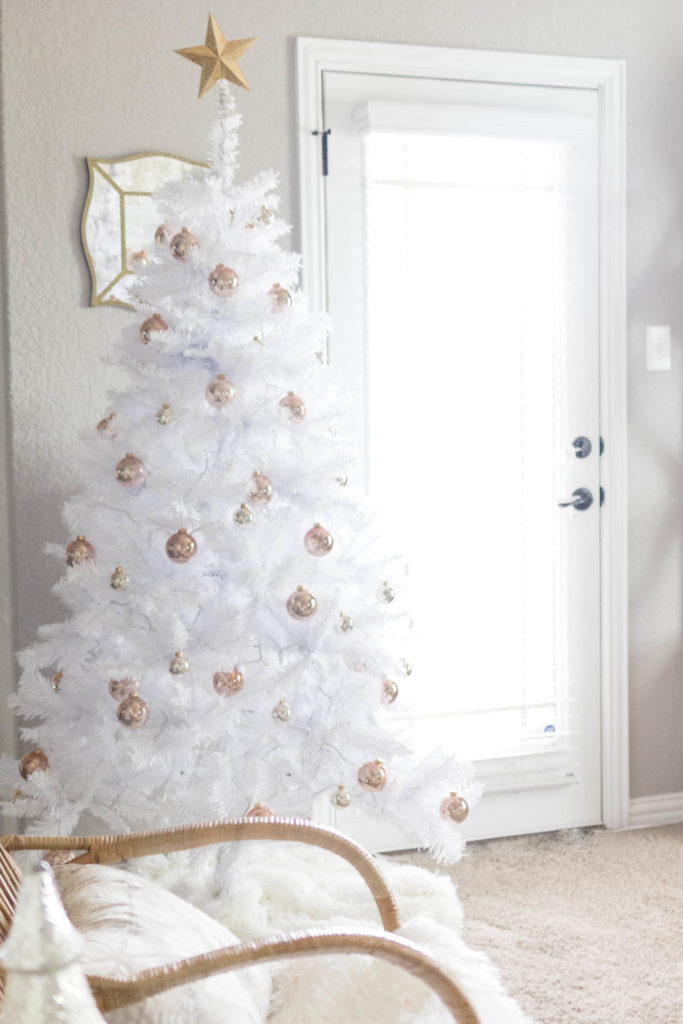 I've decorated a bit for my son in his playroom, and hopefully I'll be sharing that in a separate post as well.  It's too cute to not share, so I had better!  I hope you enjoyed our tour, and hope that you come back to see what else we have going on the rest of the year, and into the new year.
Now head on over to see what Carli, of Fearfully & Wonderfully Made has done for her home tour, and enjoy yourself!
Happy Holidays, friends!
-Iris
Get the look here! (Affiliate links used.)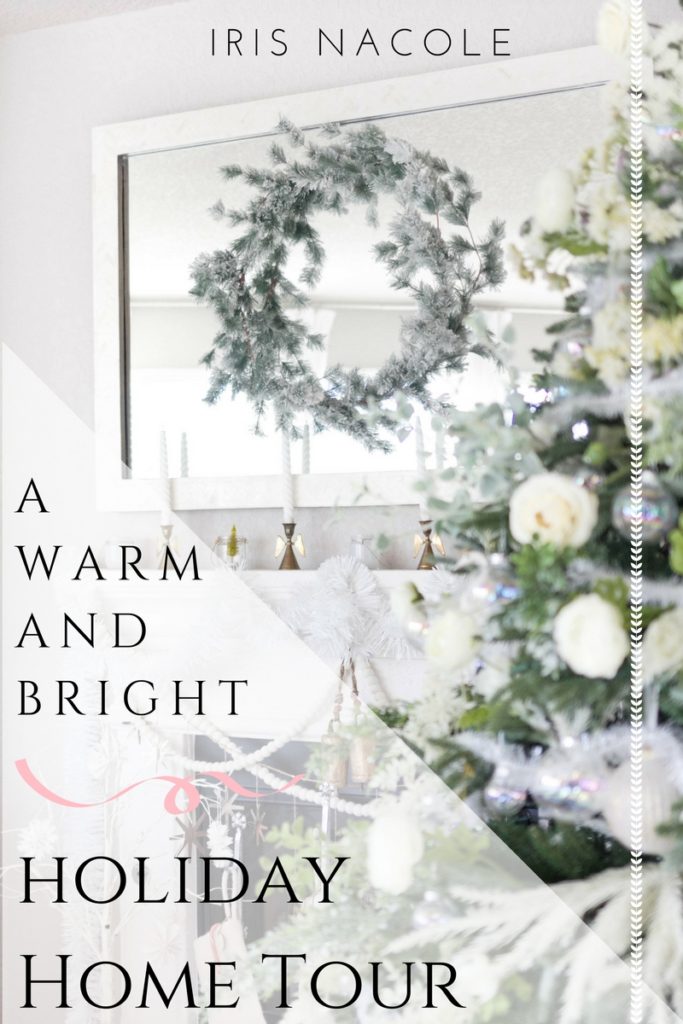 Please Note: Links to Home Tour are not live until day of tour
Monday
Bright Green Door // Michelle Matangi Home // Sharon Williams // CAD Interiors // Domicile 37
Tuesday
Casa Watkins Living // Maggie Overby Studios // House Homemade // French & French Interiors // Style Mutt Home
Wednesday
Up To Date Interiors // The Striped House // Designing Vibes // Iris Nacole // Fearfully & Wonderfully Made // Blue i Style
Thursday
PMQ for Two // Maker of Home // Go Haus Go // Whimsical Blue Living // FOXY OXIE
Friday
This is Our Bliss // Monica Wants It // Insieme House // Jest Cafe // The Gathered Home