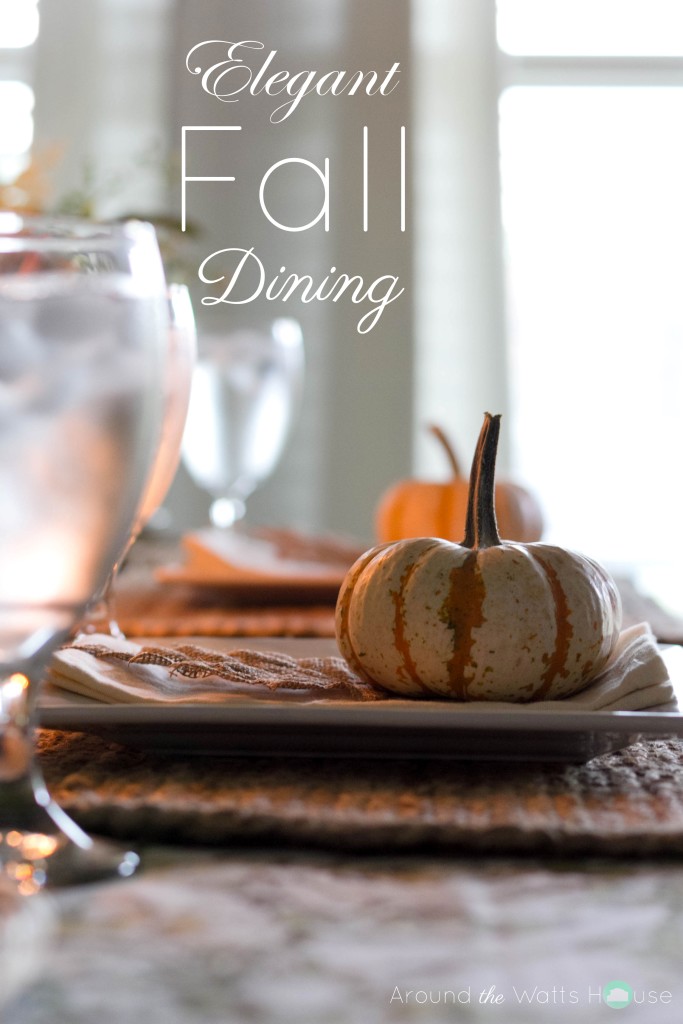 Welcome back friends!  You know, I'm starting to think that this whole holiday decorating thing is never-ending, and guess what, I love it!!  It's one of my favorite things to do of course, and I'm always pushing myself to think outside of the box.
This season is no different.  If you've had a chance to take a look at my home tour, you'll probably see what I'm talking about right away.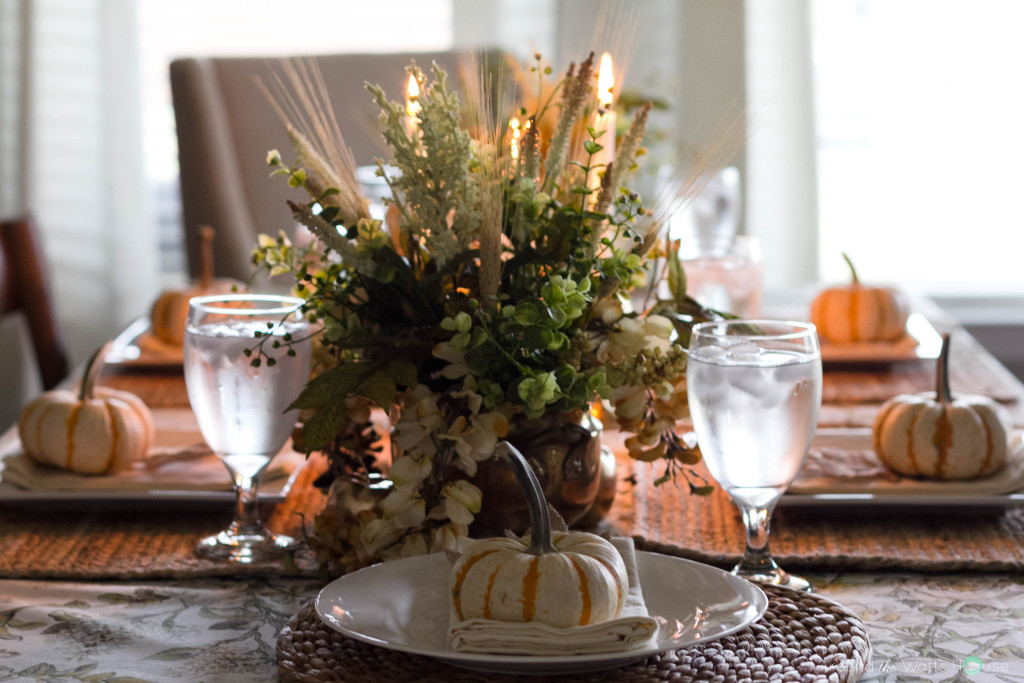 With extravagant Fall floral arrangements being the center of attention in most areas of my home this season, I felt the need to continue that on into my dining room.  My husband made a joke that I was channeling my inner Marie Antoinette, which made me laugh, because he might be right!  By the way, if you ever make it to France, be sure to tour The Palaces of Versailles.  You will forever be transformed after walking through such opulence.  Of course the juxtaposition of Marie's Petit Trianon and its immediate surroundings,  to the grandeur of the palaces will probably steal your heart, like it did mine.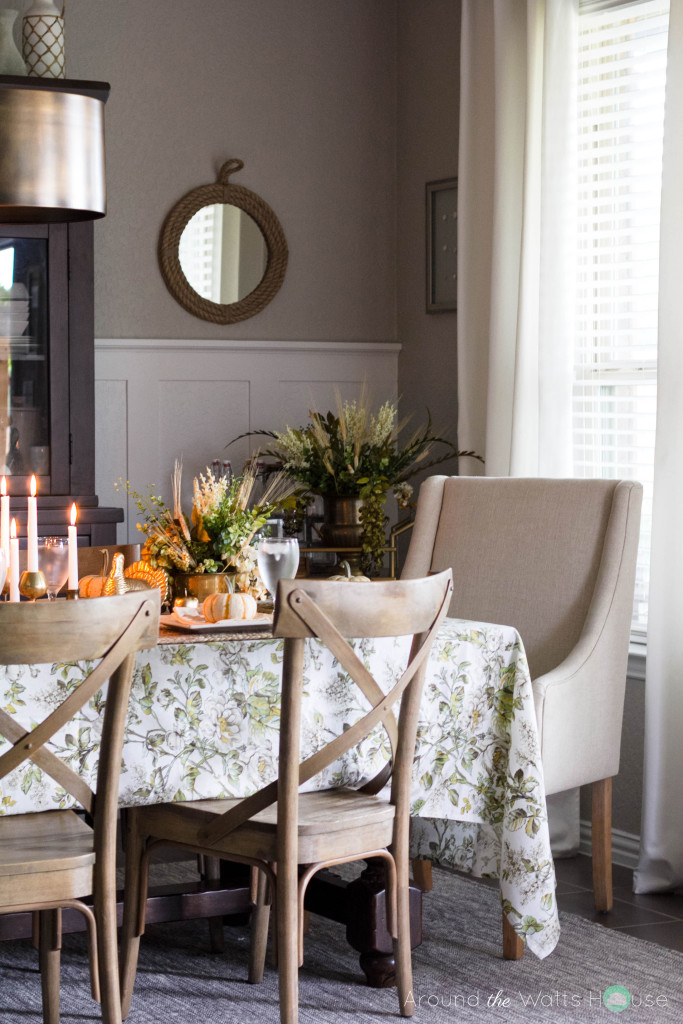 Oopsie, I went off on a tangent.  I'll get back to the point now.  A few of those floral arrangements adorn the space, with a couple of them being used as part of my tablescape.  It ties in nicely to the living room, which I'm very happy about.
I thought it would be fun to share how I came up with the tablescape with y'all today, and maybe give you some ideas for your own.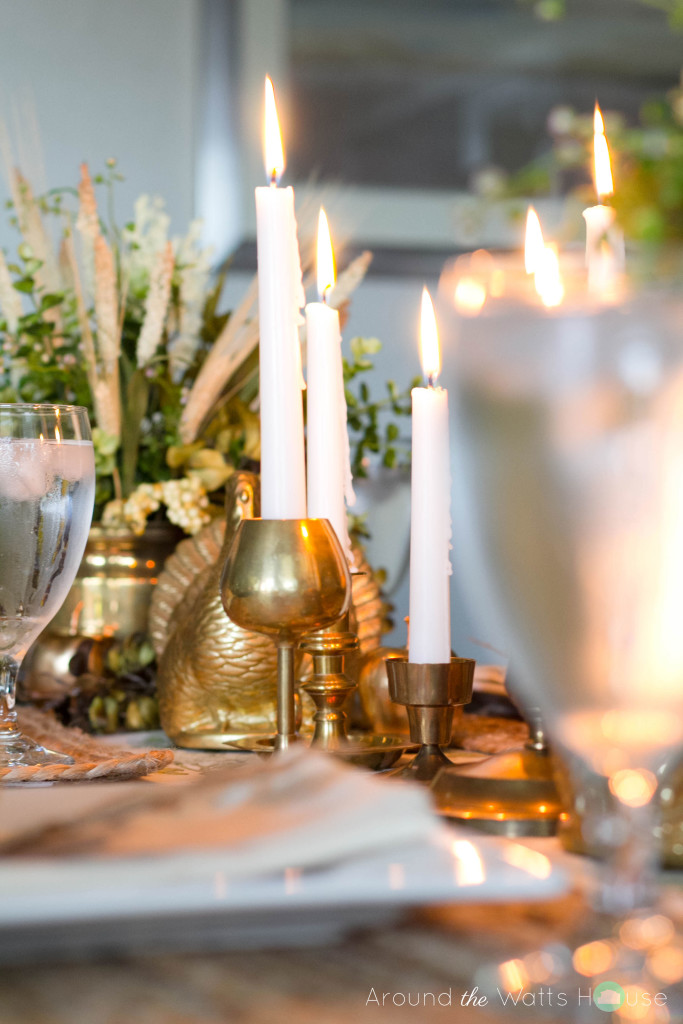 Although the floral arrangements seem to be the most intentional part of my tablescape, they aren't.  It's actually the tablecloth.  I've had it stored away in its original package, waiting to be used on just the right setting.  I think in some ways it influenced the rest of my Fall decor without me knowing, but as I look out into the rest of the house, I can see how it has.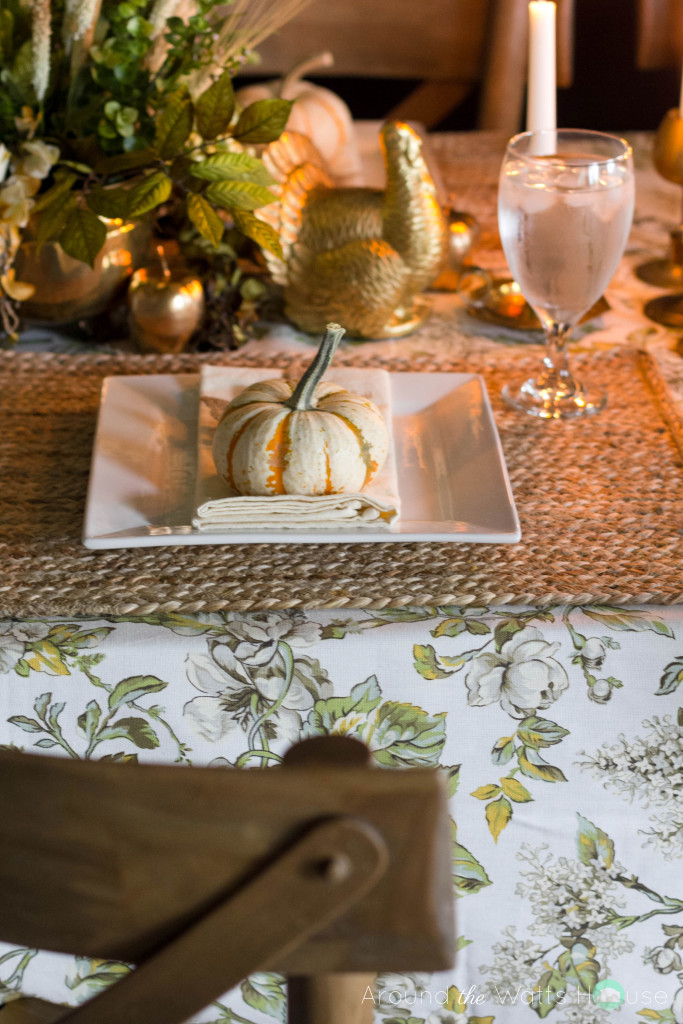 The cream, green, and yellow floral pattern brings in the natural elements I associate with Fall.  To compliment them, I chose to use natural fiber place mats for my settings, along with my white plates to keep it neutral.  I used glass goblets as my drinkware this time.  I didn't want to use my normal stemware, so I went looking for another option.  I found these as a set of 12 for under $15 at Ross Dress for Less recently.  They hold just the right amount of liquid for our choice of drink during our meals.  I chose to not stack my dinnerware as I usually do, because most of the time my family doesn't eat a three course meal, and I was attempting to come up with the most appropriate setting for us to actually use on Thanksgiving day.  Though I don't show it here, I think placing your silverware inside of the cloth napkins would be a good way to store them until your guests are ready to eat.  Top those off with decorations, such as gourds and burlap maple leaves to complete the setting.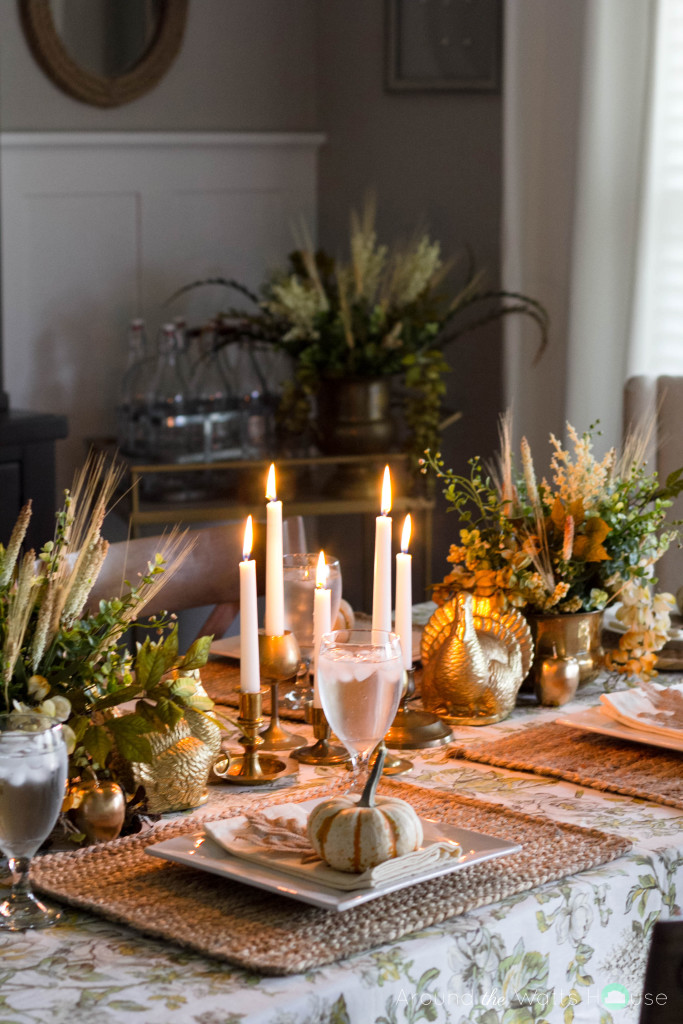 Now onto the centerpiece decorations.  Along with the floral arrangements I put together,  I had a bit of fun creating these faux gold apples a few weeks back. All I did was paint them with gold metallic paint from the craft store.  They came out looking so pretty, and though I hadn't thought to use them on my table, while I was setting it all up the idea came to me.  Luckily they complimented the gold turkey figurines that I found at Hobby Lobby well.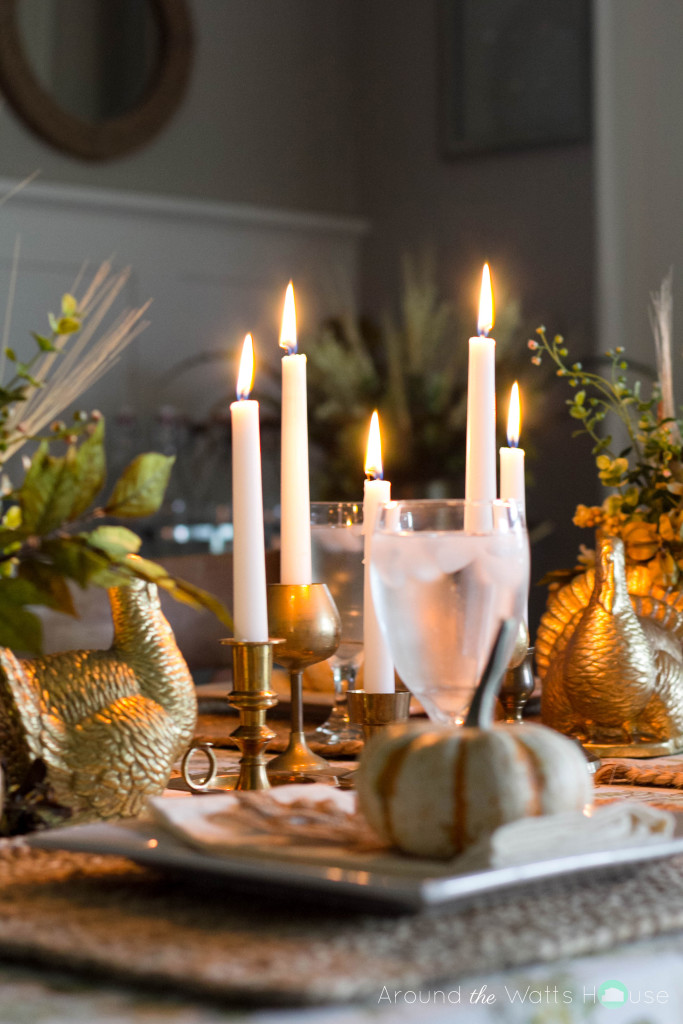 The rest of the centerpiece consists of a variety of brass candlesticks placed in a varying height pattern.  They make for a beautiful display, especially when lit!  Just look at how the light bounces off the place settings!  Gorgeous!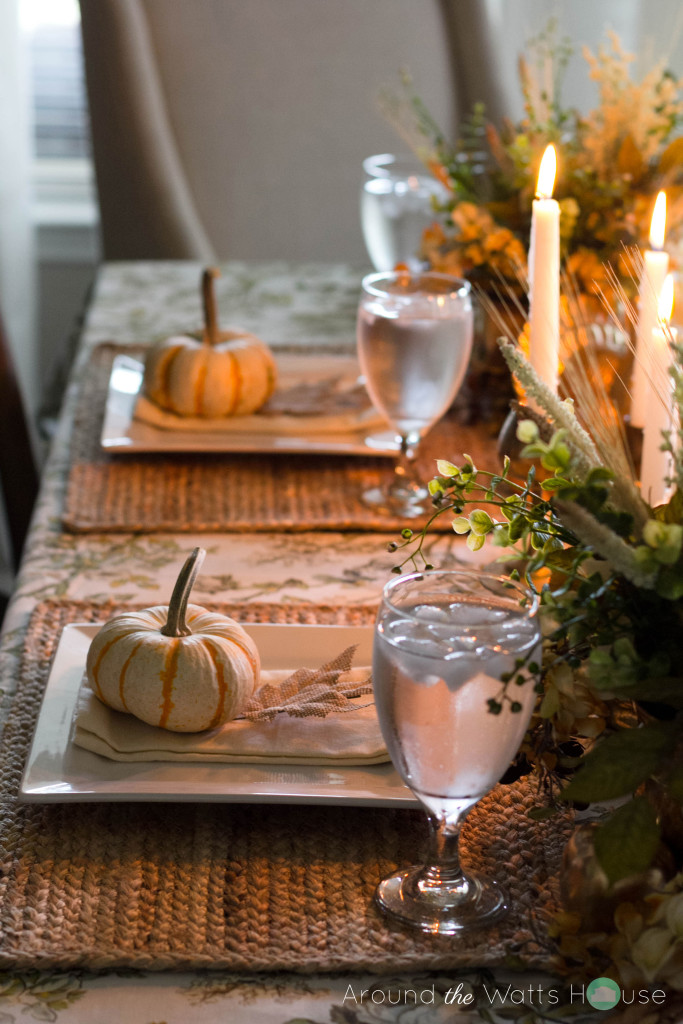 All in all, this didn't take a whole lot of effort or money to complete, since I used pieces I had on hand already, along with thrifted items like the candlesticks.  Even so, it's exactly what I was hoping for, and I hope you enjoy it too!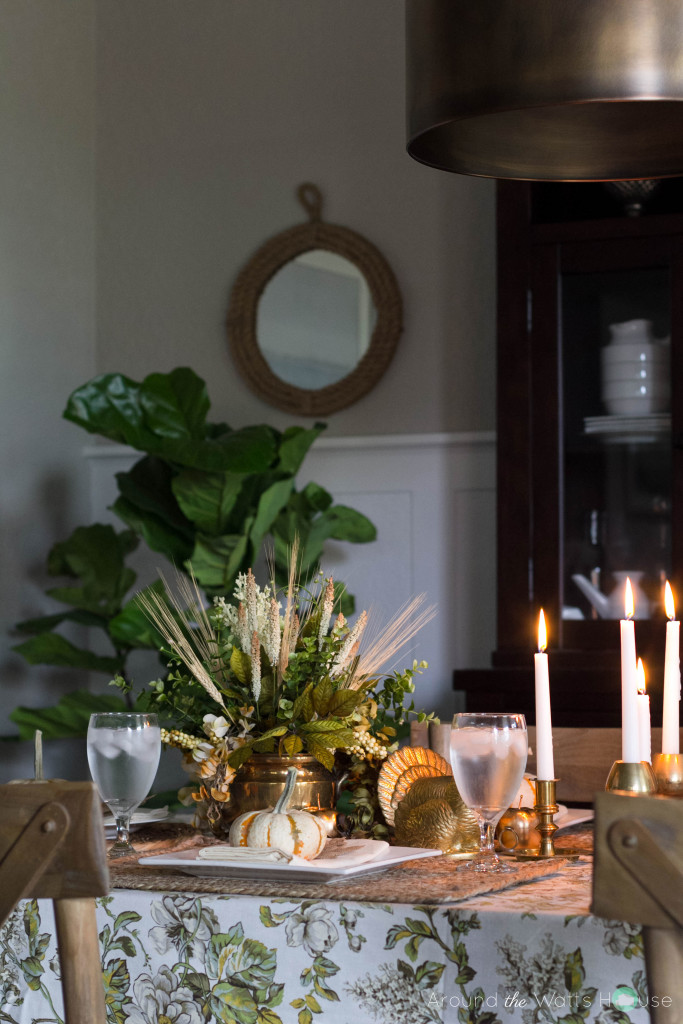 So how are you planning to decorate your table for Fall/Thanksgiving Dinner?  I'm already coming up with more ideas, so who knows what we will actually sit down to when the time comes.  Haha!  For now, this beautiful setup greets us at every meal, and we are thoroughly enjoying it.
-Iris
Linking to: