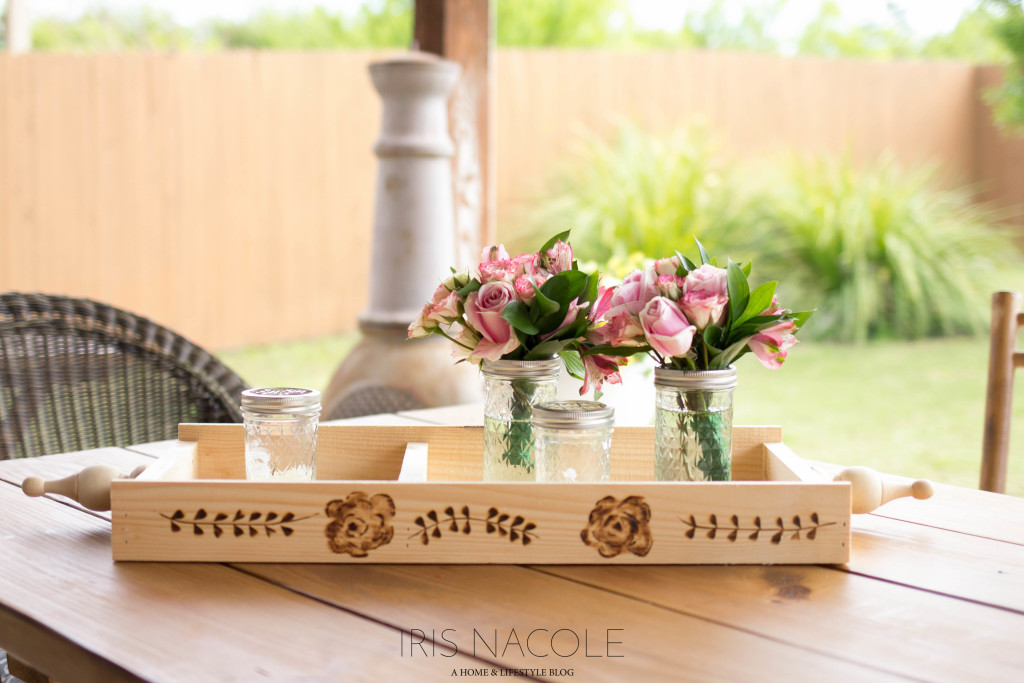 This post contains affiliate links.  If you click on a link and purchase from it, I will receive compensation for that purchase.  If you do, thank you so much for supporting my little blog! 
You are in for a treat today!  The Create and Share group has been lucky enough to have Walnut Hollow sponsor this post, and offer the participants the choice of three different products-their Pallet Tray, Medium Basswood Round, or Large Round Clock.  Each item came with a wood burning kit too, which is awesome!  From the graphic alone, I can tell you everyone knocked this challenge out of the park!  Be sure to scroll down to link over to each individual project to see how they did it!
I was immediately drawn to the pallet tray, and knew I was going to have fun making it over!  The bohemian idea was already in effect, but I just wasn't positive about the design, or any other aspect.  Would I want to paint the tray?  Burn designs into the tray using the wood burning tool?  Maybe I would stain it?  So after much consideration, and plenty of procrastination, I came up with what you see here.
I hunted around the house for some acceptable form of handles, and I while doing so I came upon a bag of finials, and wooden beads that I've had stored away from a project fail/upcoming project.  I'm so glad I found them too!  They are the perfect handles for the design I came up with.
Maybe you've noticed that I'm a floral-aholic?  I've got spring fever for sure!  So I decided a nice little floral design on each side of the tray would be perfect.  Here's how I did it, and what you'll need to do it yourself.
Supplies: (click for links) Pallet Tray from Walnut Hollow, Wood Burning Kit from Walnut Hollow, Wooden Finials, 1 1/2″ Wood Screws, Screw Driver/Drill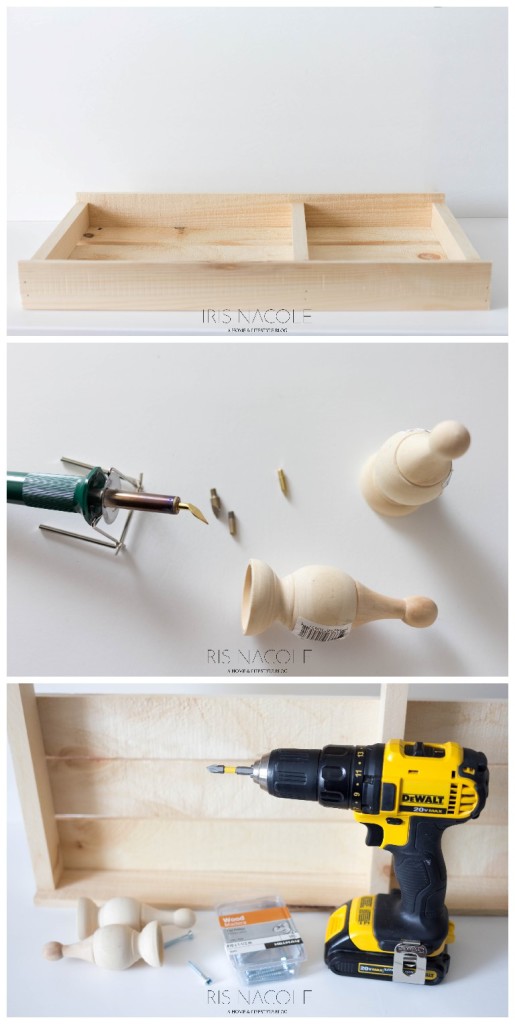 (Safety Warning: The wood burning tool gets extremely hot!  Be sure to use caution when using it!)
For the entire project I used one wood burning tip, and that was the shading tip you see in the picture below.  I was able to make impressions representing leaves/flower petals by pressing it down completely to the wood surface.  Point facing in,  hold the tip down for a second and pull up.  Each one may look different depending on your skill level, but I believe a beginner could get the hang of it pretty quickly.  Once you have completed your desired amount of petals/leaves turn the tip on its side and make a line down the middle.  I curved my line to add flow to the overall design.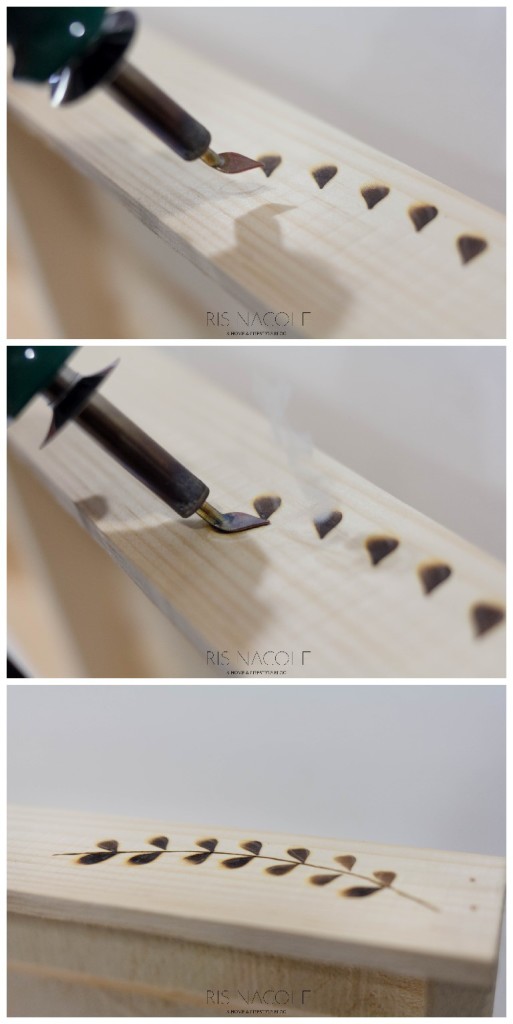 Now comes the fun part!  The flower.  I think we may have all learned how to draw this rose design at some point in our lives, but if not, it's just a matter of drawing arcs of varying sizes to create the overall picture.  Again, I did this using the side of the tip, and then shading the rose with the overall tip.  Lightly run the tip flat side down around the rose to shade it.  You might be thinking this sounds too hard, but let me tell you, this craft really sucks you in!  I would say I was almost in a trance while doing it.  It was therapeutic, so at least try it for yourself.  You just may uncover some hidden wood burning skills!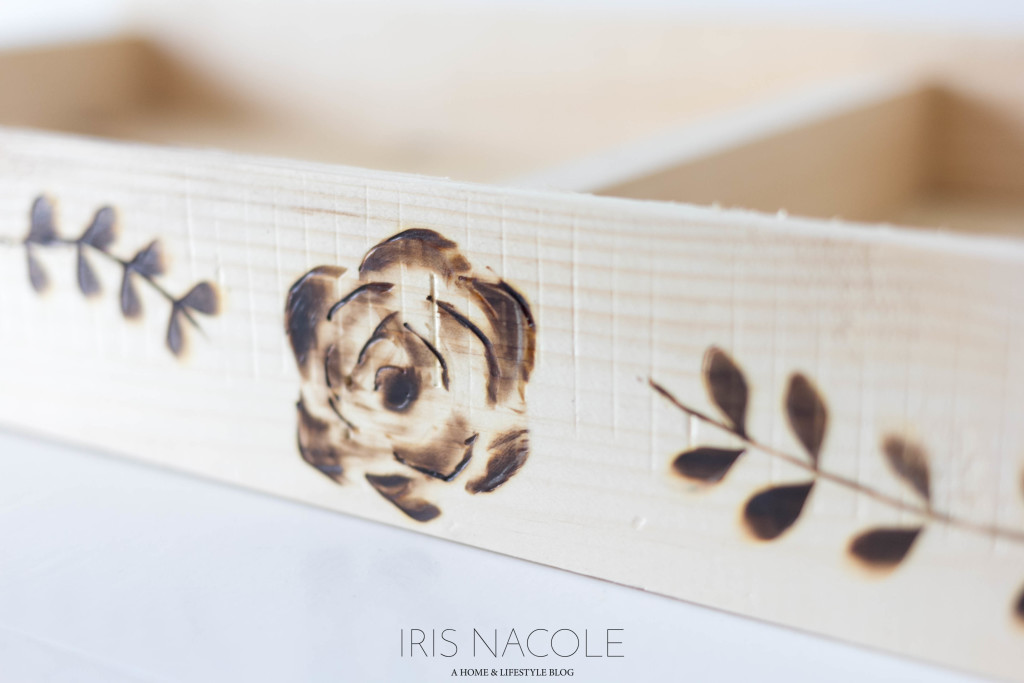 Once your design is done, be sure to turn off/unplug your wood burning tool, and let it cool in a safe place.  Now take your tray, and prepare to add your finials to each side.  I eyeballed the center of the tray, placed my finial on the outside and held it against the wood.  Take one 1.5″ wood screw and screw it through the inside of the tray towards the finial. Hold the finial tight, because once the screw makes it past the tray it will start to turn the final as it goes through the wood.  Once it's all the way screwed in, repeat the process on the other side.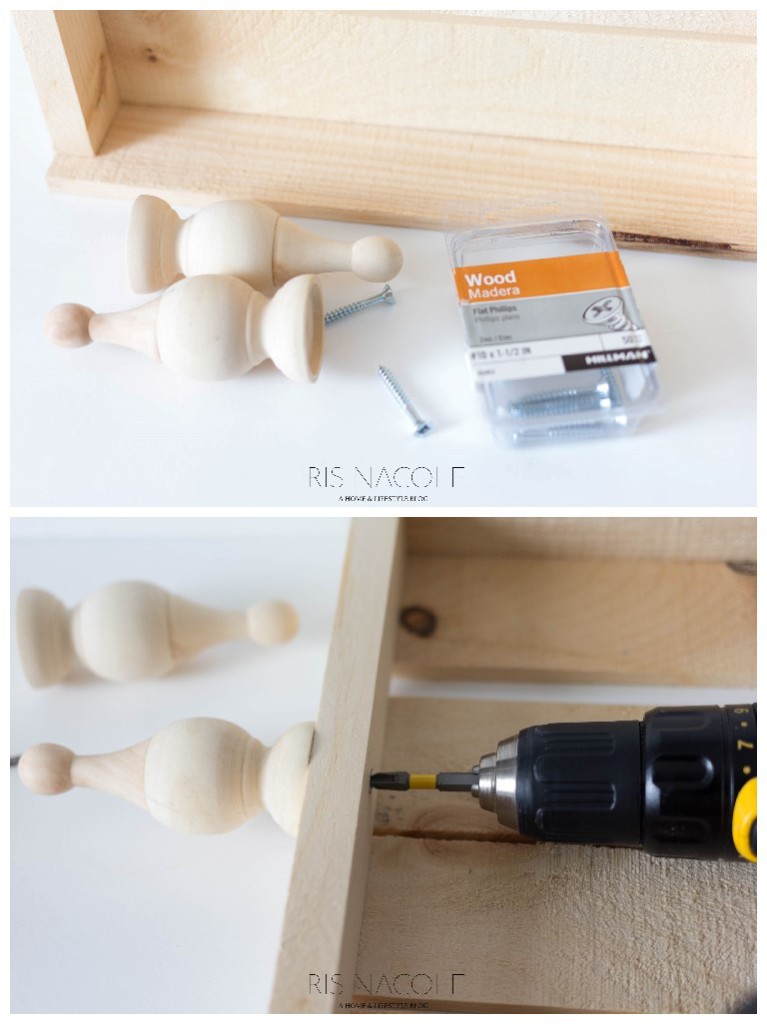 Now you have a beautiful bohemian inspired tray!  Decorate it with books, flowers, whatever your heart desires, just enjoy it!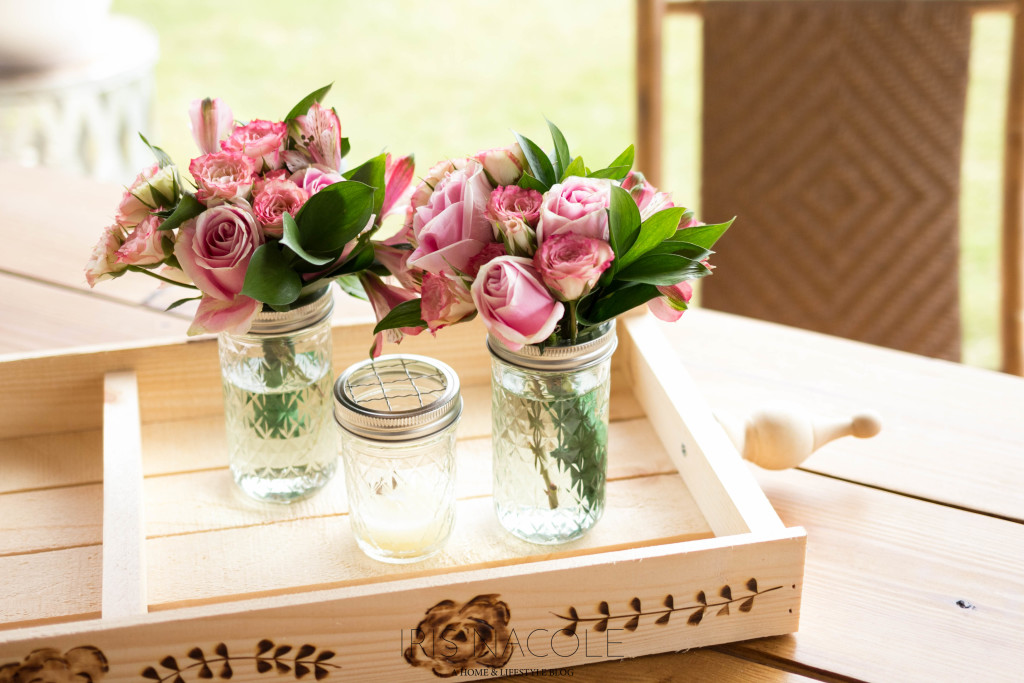 I am!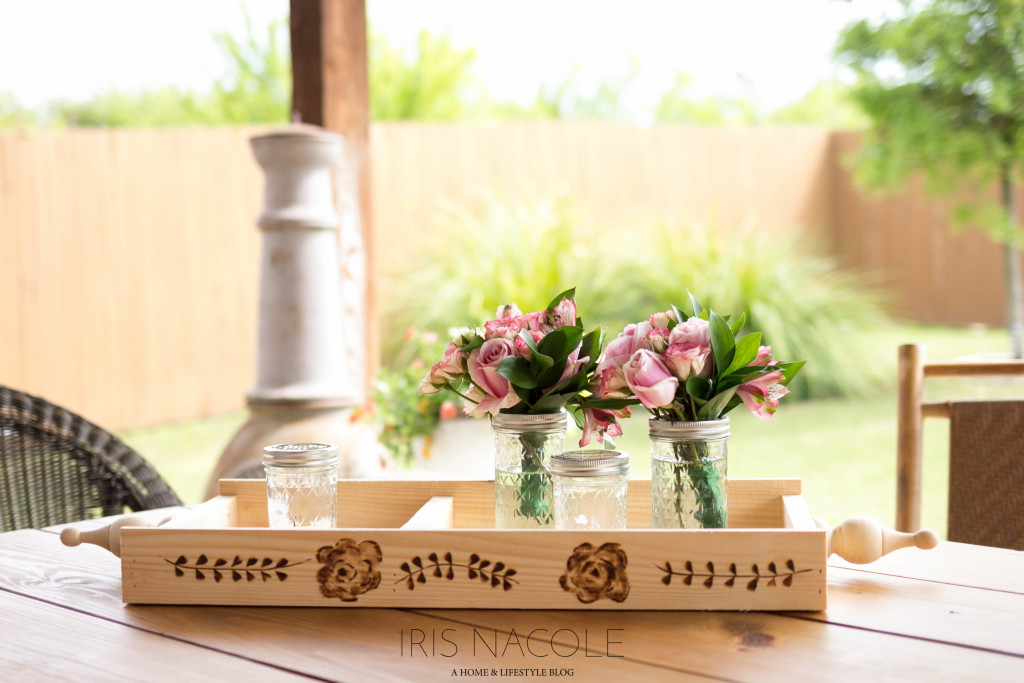 Now let's see what everyone else has been up to!
-Iris