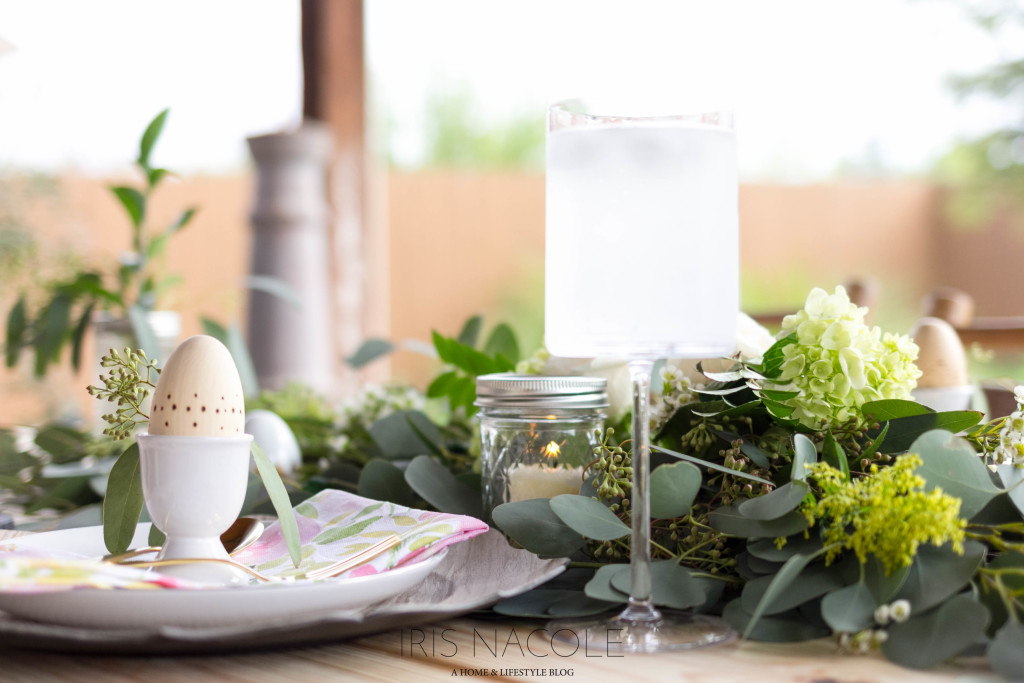 It's not too late to share this idea for Easter is it?  I hope not, especially since it's something that would need to be done pretty last-minute to make it work! I'm talking about making a fresh flower table runner for you and your guests to enjoy!
I've been oohing and ahhing over pictures that I've seen where they have been incorporated into the décor, but never really though about making one myself for two reasons.  One being that I wouldn't want to spend as much money as I thought it would take to make, and two, because I just didn't think I could!  Well, I was wrong!  They are super easy to make, and don't cost nearly as much as I would have assumed they would.
Let me show you how!
First off you'll need to collect your supplies..
I chose two forms of eucaliptus for my greenery, and random smaller flowers and some roses to complete the look.

Here's what you'll do with them.  Start with one sprig of eucaliptus.  Lay a second one on top of the first, only place it slightly lower so that it gives a fuller look.  Use your floral wire to secure the two together by wrapping the stems.

Repeat that step until you get about half way down the length of your runner, and then flip your eucalyptus to go in the opposite direction and repeat the process until you have reached your desired length.  You can go back and wrap your wire with floral tape to give it a nicer look, but that's optional.  I will say, it does help to avoid scratches from the ends of the wire, and it looks more finished, so it is a good idea in my opinion.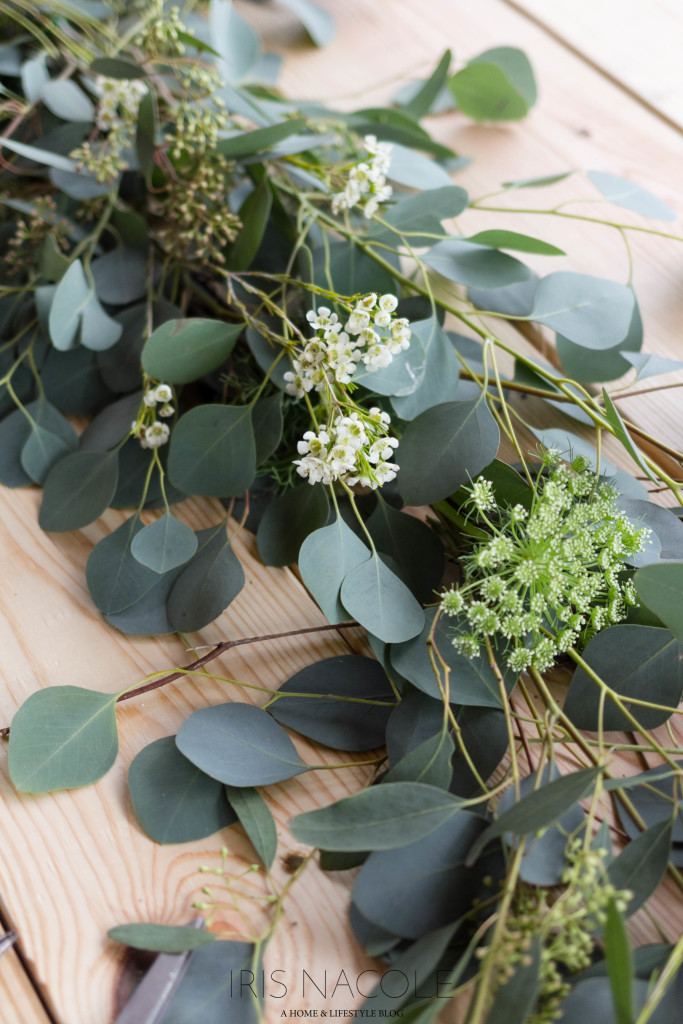 Next, take your smaller flowers, and break them down into smaller sections.  Add them throughout the runner as you see fit using the same method as above.  Wire or taping, your choice.  I'd suggest doing this instead of just placing them throughout because it makes transporting the runner much easier if you are doing this project somewhere other than directly onto the table you are decorating.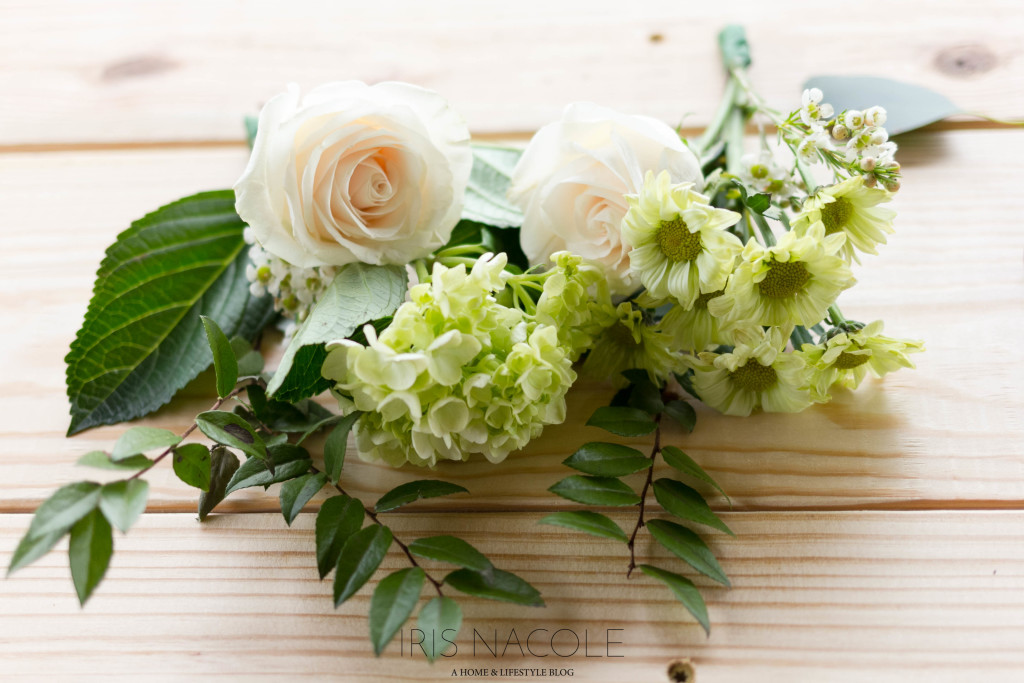 Next, take your flowers, roses and leftover greenery and make two small bouquets out of them.  They are super easy to make using the same method above.  Wire and then tape them to keep them even more secure.  Have I said, "wire and tape" enough yet?  Haha!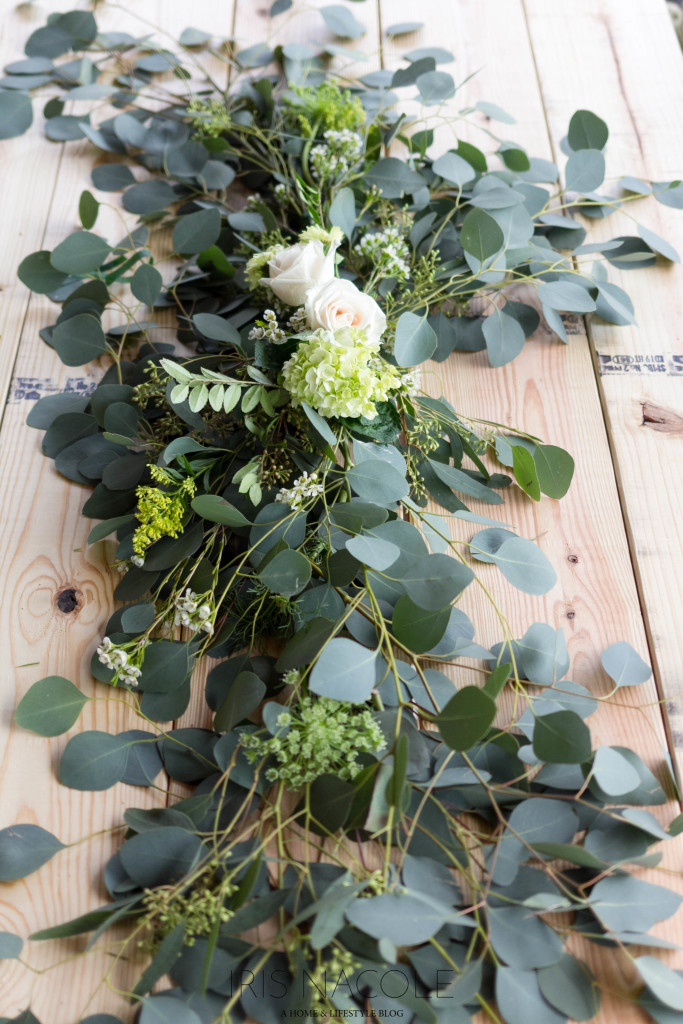 Simply place the two bouquets into the center of the runner where the directions change.  This creates a built-in centerpiece.  Now this time, I chose to NOT wire and tape the bouquets onto the runner.  Mostly because I felt like it was too much hassle, and it's easy enough to transport two small bouquets to the table without ruining them.
Once you are ready to decorate your table, place the runner in the center of the table, and start decorating around it!  I found some little mason jars and lid inserts at Hobby Lobby, that I knew would be perfect to use as votives, and as small vases to make a few more floral arrangements with my leftover flowers/greenery.  Cute, huh?  To style the table with them, all I did was place the two votives on each side of the "centerpiece", and the vases at the end of the runner.  Depending on the size of the table you could place many more about if you'd like to.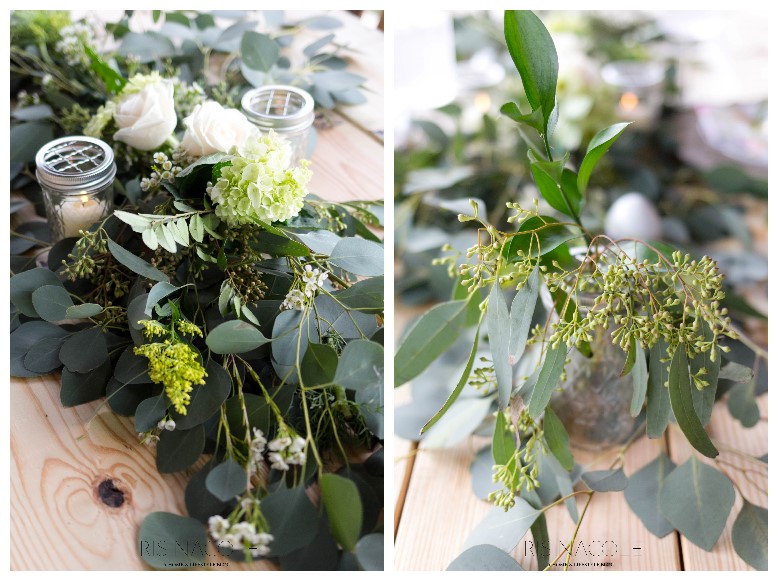 Now it's time for a place setting!  Remember these cute Bohemian Inspired Eggs I shared with y'all recently?  Well here they are, as I intend to use them this Easter.  I love it, don't you?  I hope so!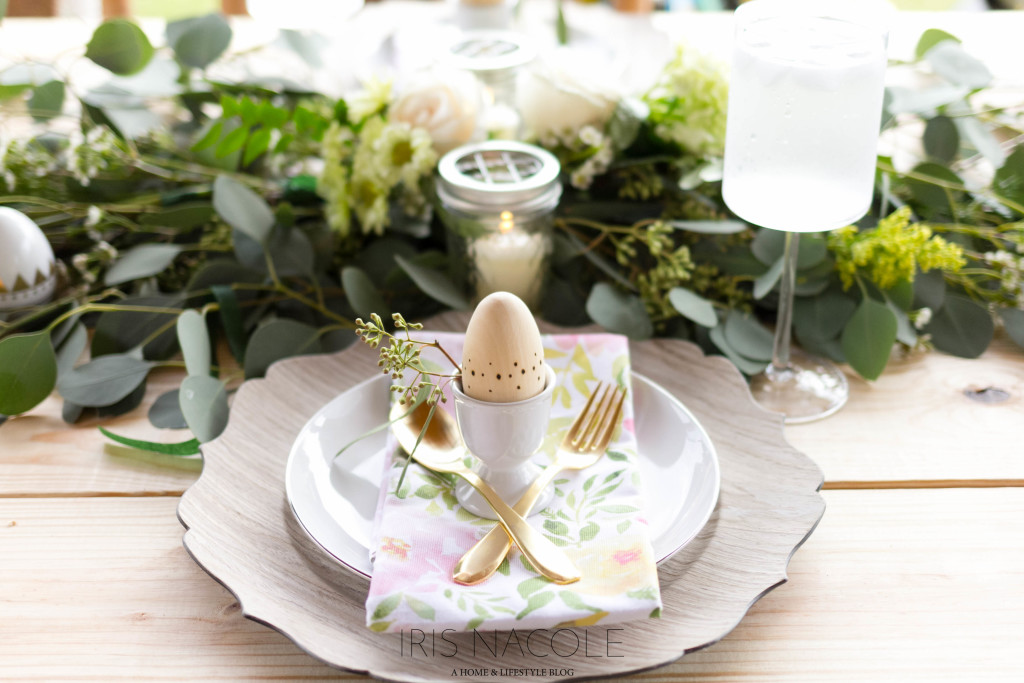 So once you are done with setting your table, you're all done, and ready to impress you guests!  They'll probably be extremely impressed with the gorgeous atmosphere you've created for them, and even more so at just how little you actually spent to make your runner!  That's if you care to share such information, of course.  Get this friends, it cost me less than $20 in flowers to make the entire runner!  Really!  So see you can do it and save a good deal of money too!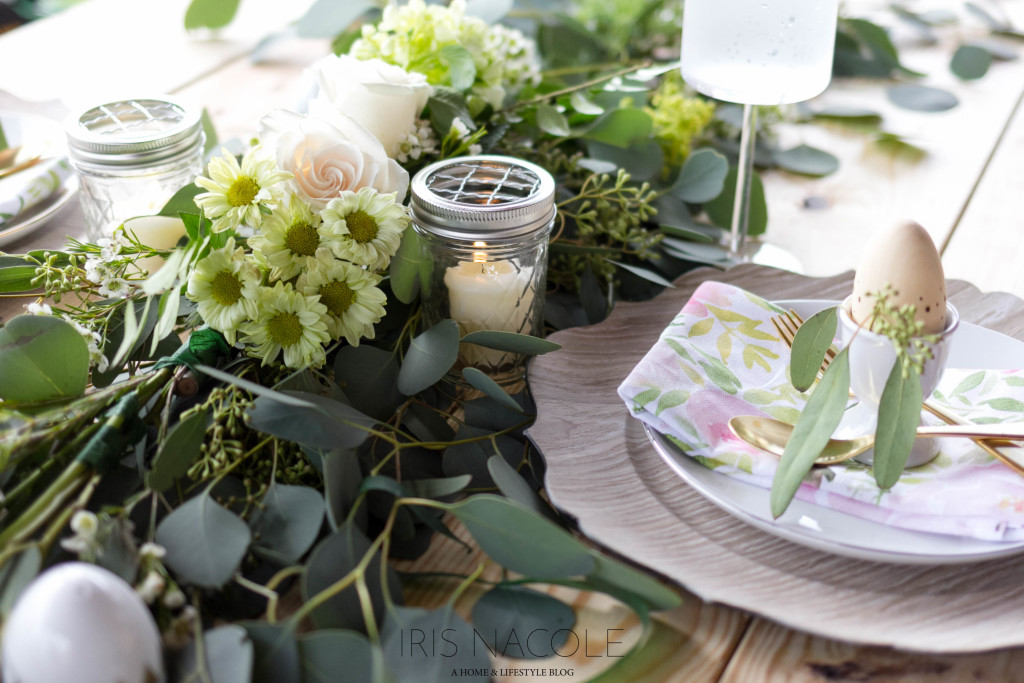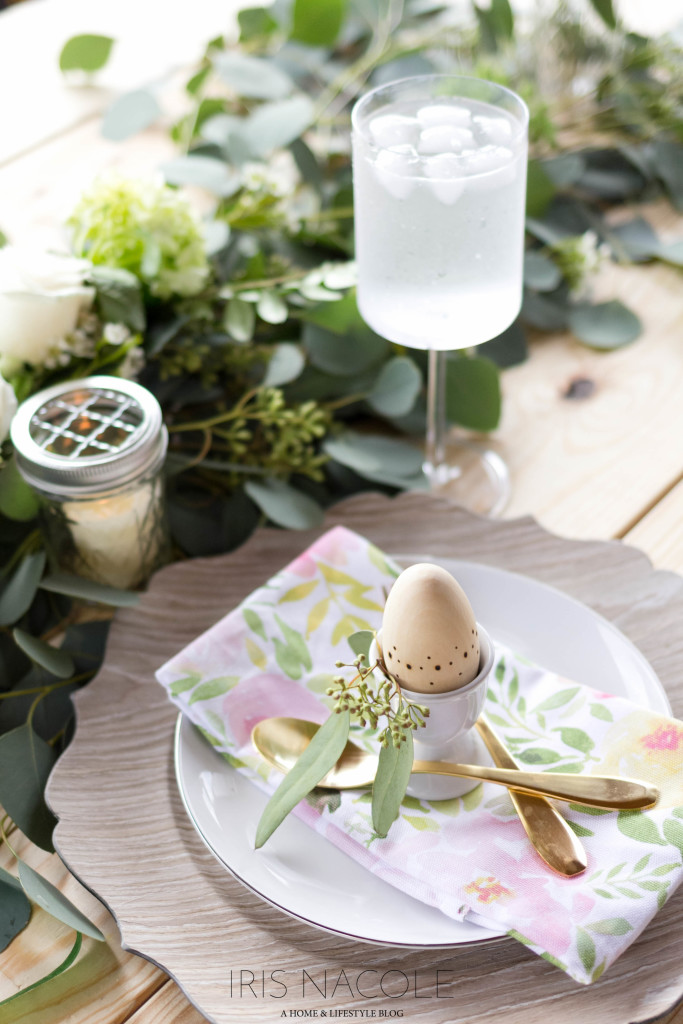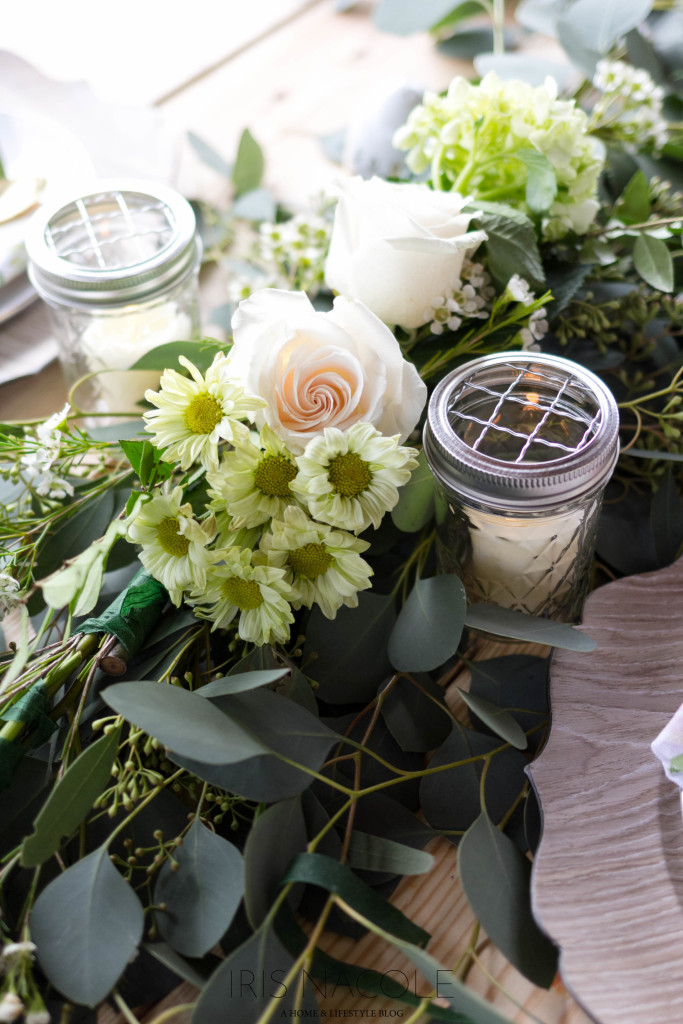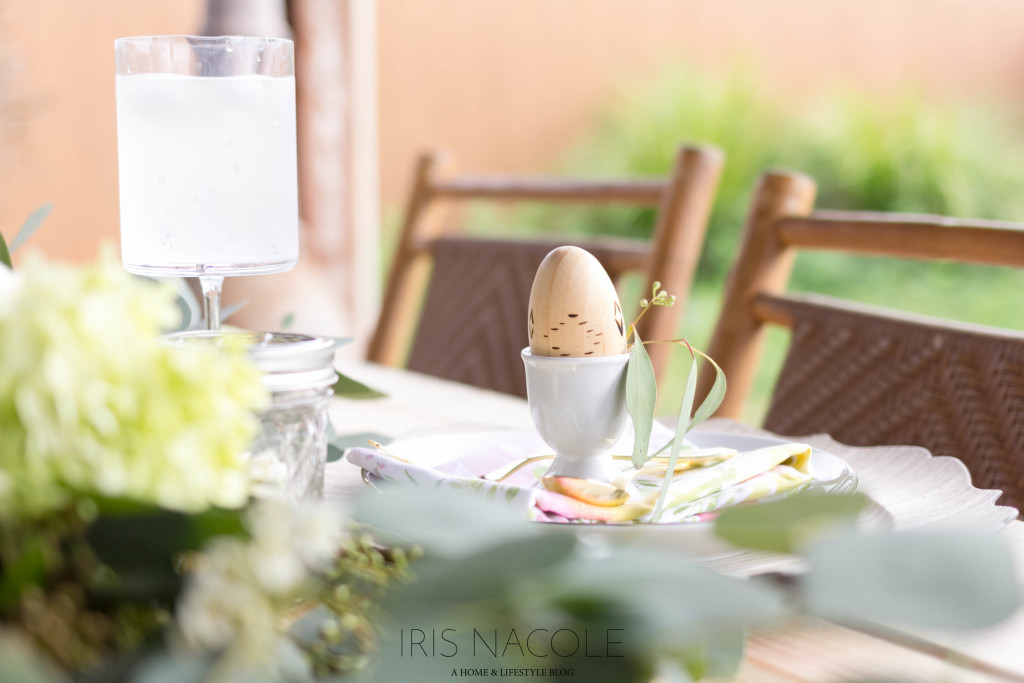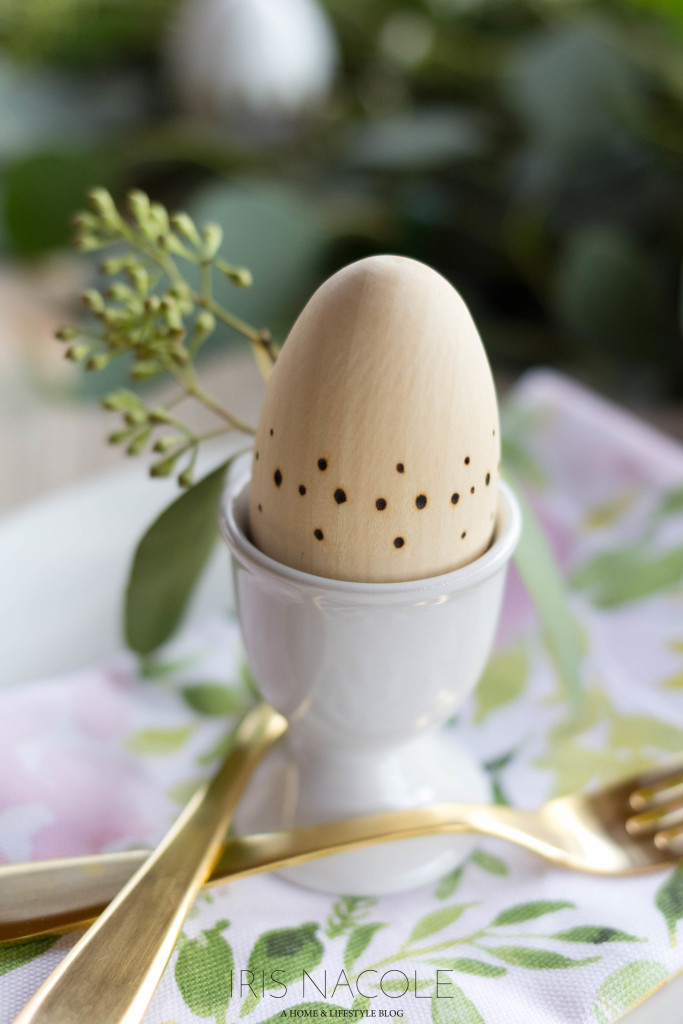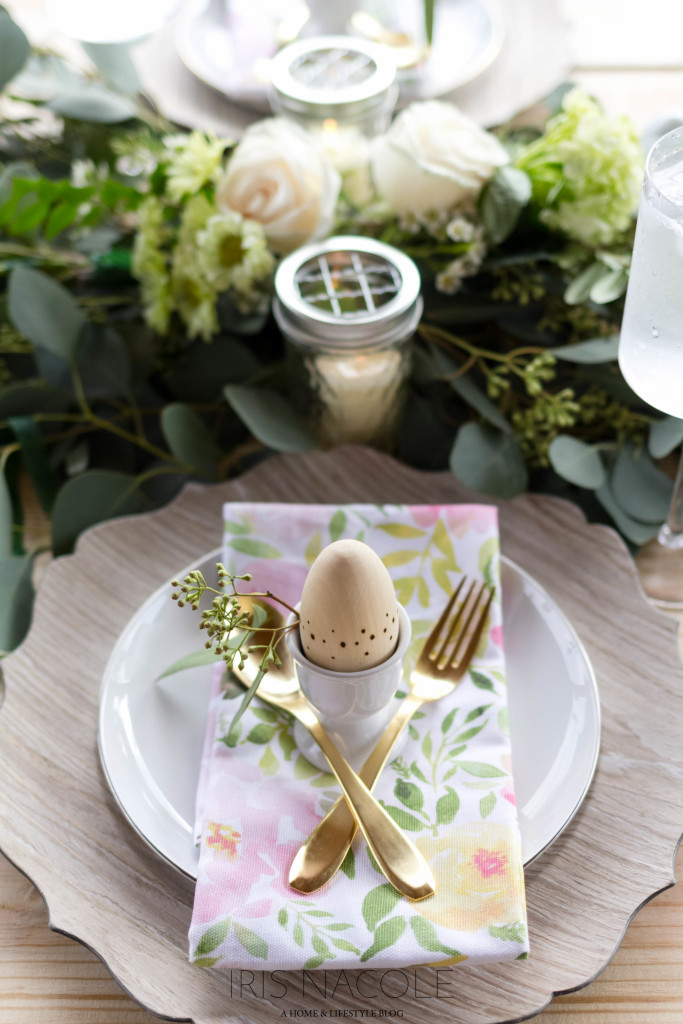 Thanks again for stopping by today!  I hope you'll share this with your family and friends!  Especially those that you know love to host parties, or some newly engaged couples looking for ideas on how to save for their wedding.  A little DIY can go a long way in your budget, you just have to know where to spend it!
Until next time!
-Iris
Post you may also like:
Linking up to: