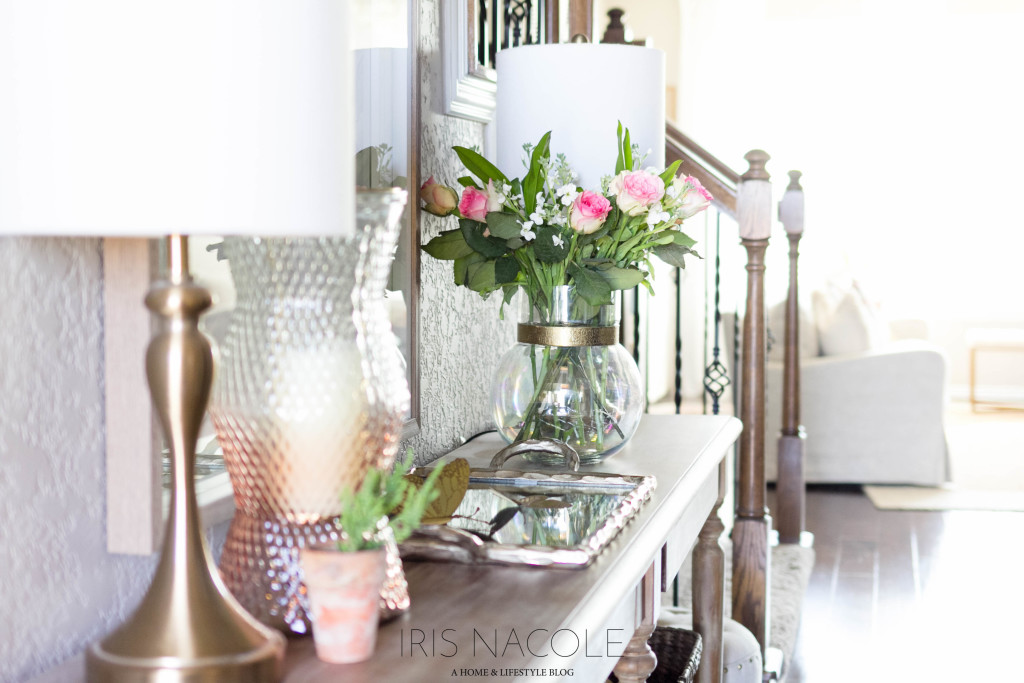 Hey friends!  It's finally spring around here, and I recently did some decorating to reflect it in our house!  Let me show you!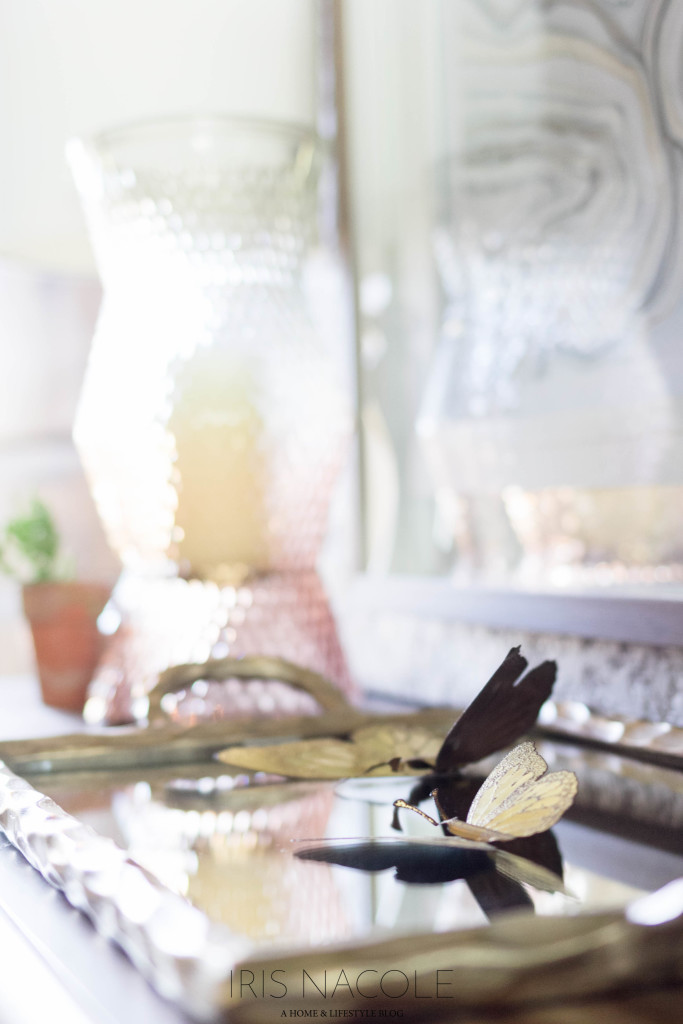 Just so y'all know, I'm truly a lover of all seasons, and although the holidays are pretty much my favorite, I love the transitioning weather we experience around here in Texas, during spring and fall.  The air is filled with warm/cool days, enjoyable enough that I am willing to remove my hibernating self from inside my home, to go outside and enjoy it all.  That's saying a lot!  Come summertime though, I'll be back inside most days, until the sun starts to go down, because it's HOT here during the summer y'all!  Even born and raised, I still can't stand the Texas heat for too long.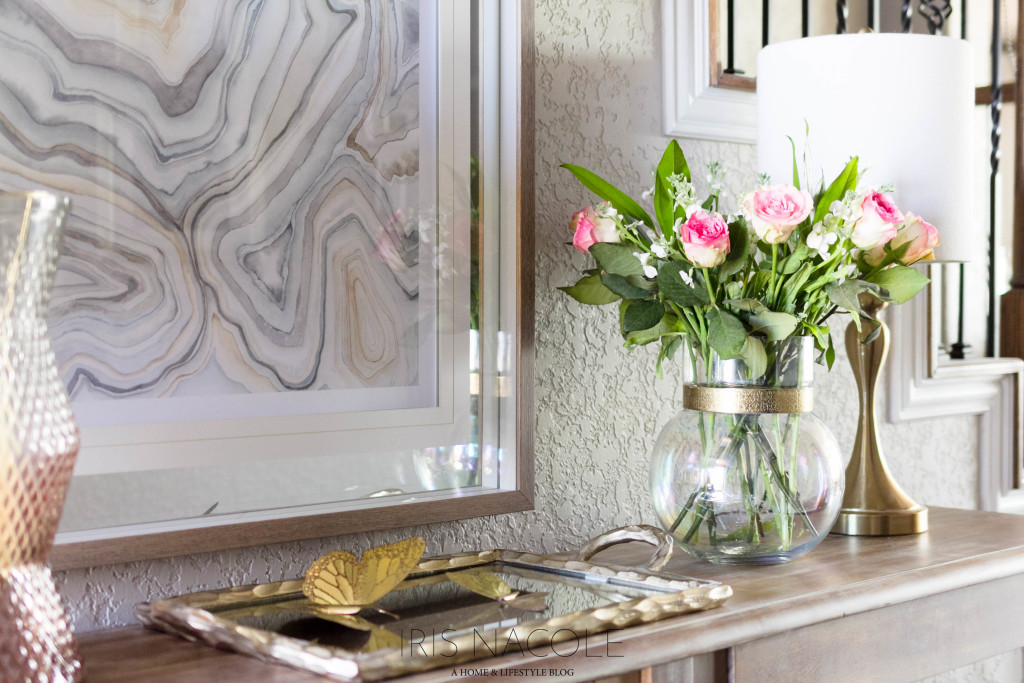 Anyhow, back to decorating inside for spring!  I figured out last year, that I like to surround myself with as many fresh flowers as I can during this time of year.  I bet a lot of you can relate!  Luckily, we have a Trader Joe's nearby, so during the week I'm able to run out and pick some up whenever I need.  Speaking of Trader Joe's, can we talk about their amazing selection and prices?  I mean, honestly I have another grocery store that's located right down the street that sells the exact same flowers, minus some of the really great ones TJ's has, but for twice the price.  I'm always appalled when I decided to venture into that section of the store, but I can't help taking a little stroll just to see what they have.  Haha!  If I'm not in dire need of flowers for a project, I most definitely make a trip to Trader Joe's instead.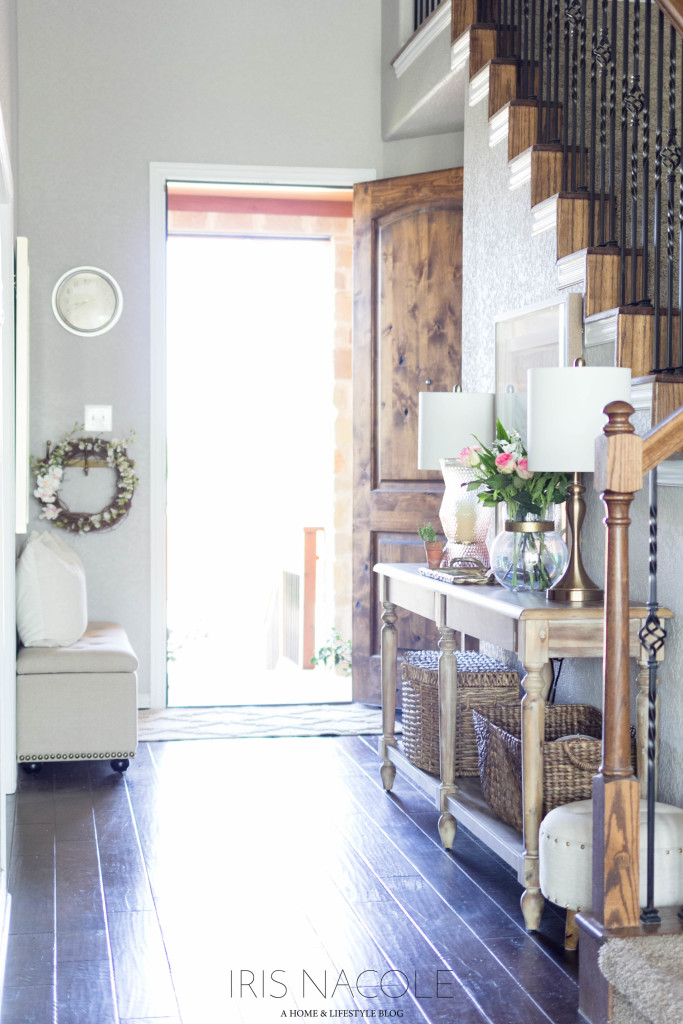 So after picking up some pretties from TJ's, I started to brainstorm about how I was going to decorate these spaces.  I decide to stick with my mantra, "less is more" and scale back on how much I'd pull out of storage to decorate with.  I ended up finding quite a few pieces that worked perfectly, but I still managed to pick up a few new items on a quick trip to HomeGoods that I ended up using in my entryway.  The ombre hurricane immediately caught my eye, and screamed "spring" to me, so it was in my cart within seconds.  I searched around for a complimentary piece to go with it, and ended up finding another beautiful hurricane that I'm using as a vase instead. You can't really tell from the pictures, but the glass is iridescent, and looks gorgeous in the sunlight.  Of course, I kept the lamps, picture, and mirrored tray that I had out for winter in this space, but I added a couple of thrifted brass butterflies to the mix to really promote spring on the table.  Other than that, my
spring wreath 
was hung on our coat hooks, and I took away a set of pillows from the bench.  Oh and that reminds me about the little stool at the end of the table!  I had it out in the living room for a while, before finding a larger one more fitting for the space,  and ended up storing it in the office.  It was always in my way, so I'm glad to have it out again.  Haha!
Let's move into the living room shall we?  Some of you saw
this space made
over
recently in the new year.  It's undergone a few more changes since then, and I expect it will continue to morph into the living room of my dreams as times passes.  For now though, I'm content to wait for the perfect missing pieces to come along at the right price, and enjoy what I have.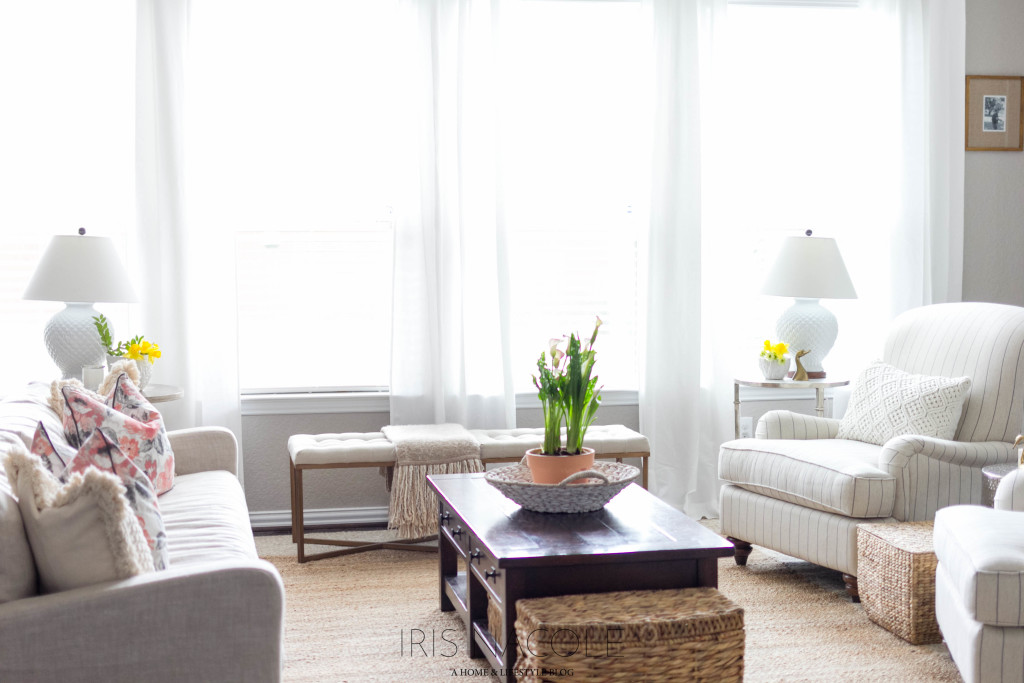 The two major changes to the space since the makeover, are the new rug and new curtains.  Pottery Barn has
this rug
on sale, but it's no longer available in the 9×12 size, shown here.  Maybe the will restock though, so check back if you are interested.  It's a pretty nice rug!  The borders are soft and cozy, and the inside is exactly as you'd expect from a natural fiber rug.  Soft enough, but I wouldn't roll around on it all day, that's for sure.  The
new curtains
are from Restoration Hardware.  We found them on sale at the outlet, and holy cow did I convice my husband of their worth once he saw how much we'd be saving!  Especially since I've been dying to get new ones, and these are pretty much my dream come true, though full price I'd probably never be able to afford them.  Thank goodness for the outlet mall and their amazing prices!  Already 70% off and then take an extra 30% off that! Haha!  It's crazy good!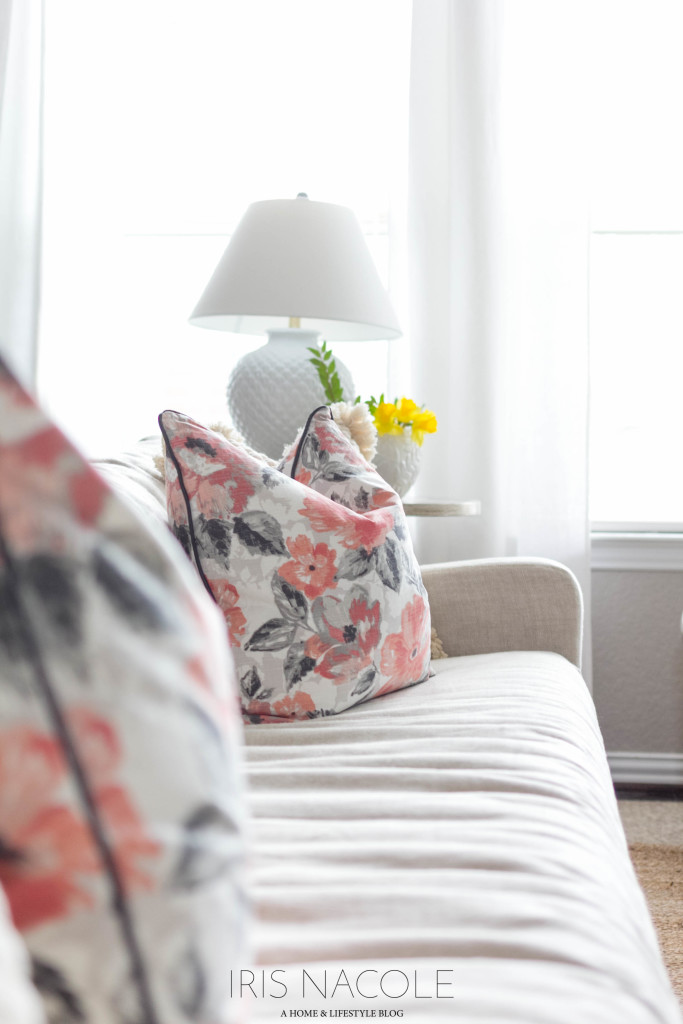 As always, I've had an idea of how I'd like to have the space decorated well in advance of actually putting it all together.  One major necessity on my mind was to find floral patterned pillows.  I've obsessively searched and searched, but never could find exactly what I wanted.  Luckily though, I did find exactly what I wanted for summer, so I decided to keep the cost of pillows for spring to a minimum and got these pretties 2 for $24 at Marshall's.  They dress up the space so nicely!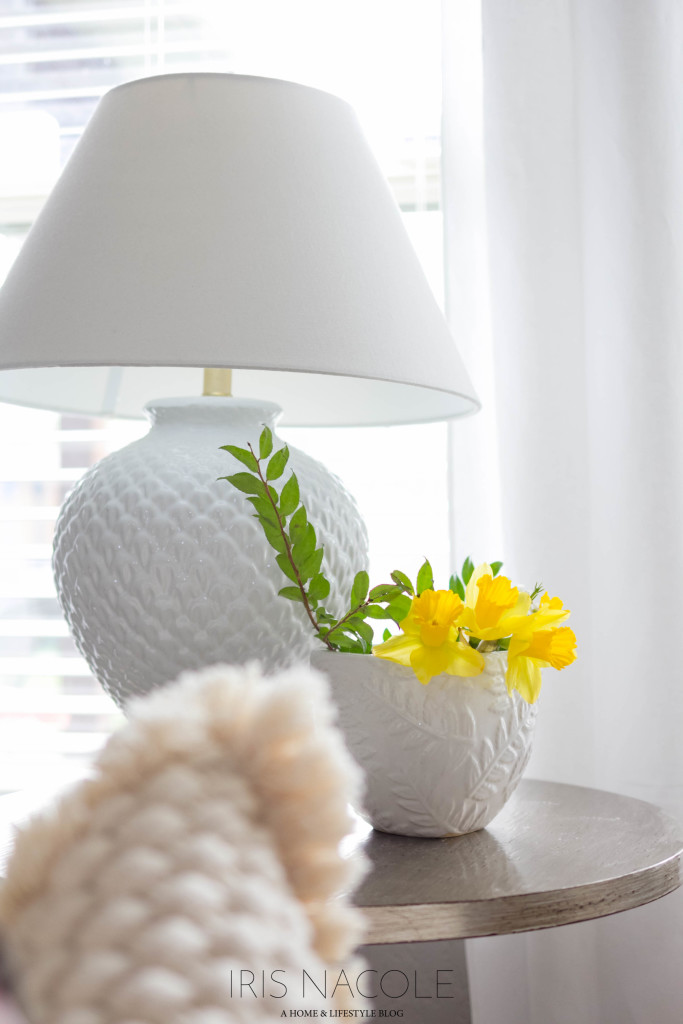 I told you I love fresh flowers.  Are you ready for even more?  Haha!  I sprinkled bowls filled with small floral arrangements around the room to brighten up the otherwise pretty neutral space.  That's actually one of the great things about a neutrally furnished space.  You can easily transition the look with minimum effort!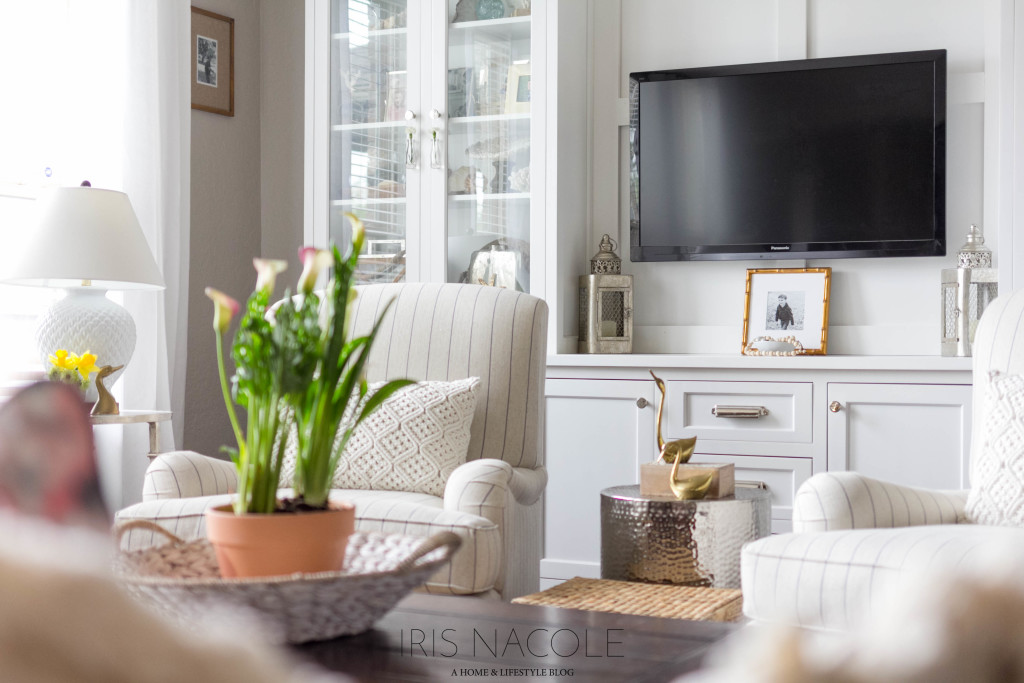 One thing I'm sort of obsessed with this season is terracotta pots.  You'll see that the fireplace houses some with succulents in them.  You even saw one in the entryway on the table!  A larger pot is sitting inside of a basket on my coffee table, with calla lilies potted inside of it.  And I'll admit, I might be going sort of overboard with this obsession, but I added yet another pot with a larger indoor plant to sit in front of the fireplace.  I just love the look!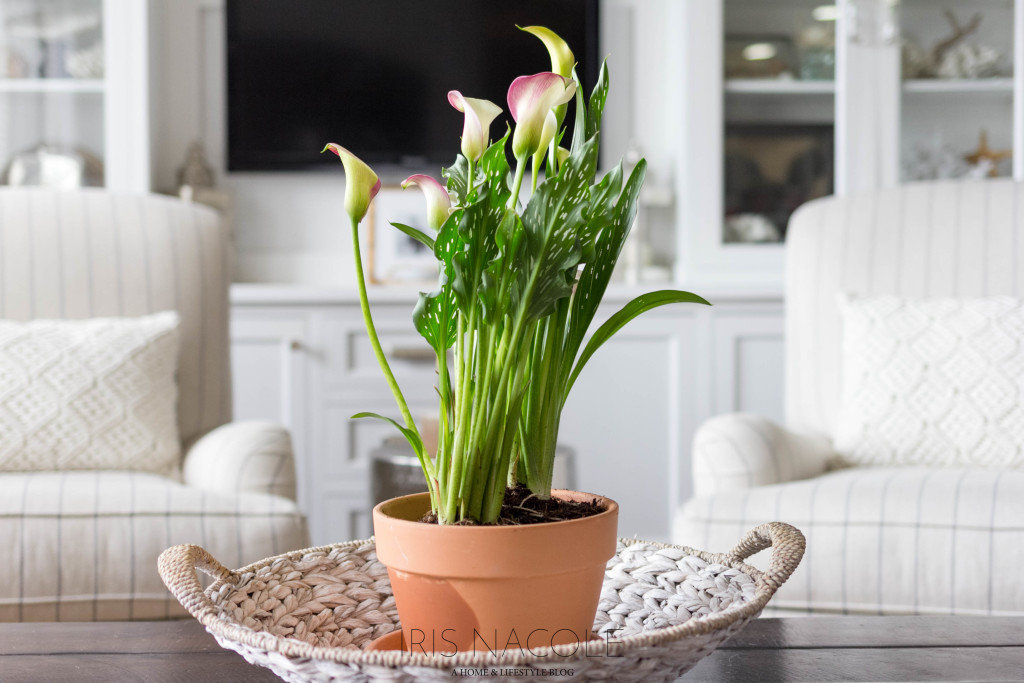 And now I am going to introduce you to another obsession of mine.  Brass!  Okay, you know about it already from this post, but my obsession goes far beyond just candlesticks.  If I pass a brass figurine in the thrift shop, you can bet it's going into my basket, much to the dismay of my husband, who is probably sure I'm certifiable considering the amount of brass we have stored away at this point.  Haha!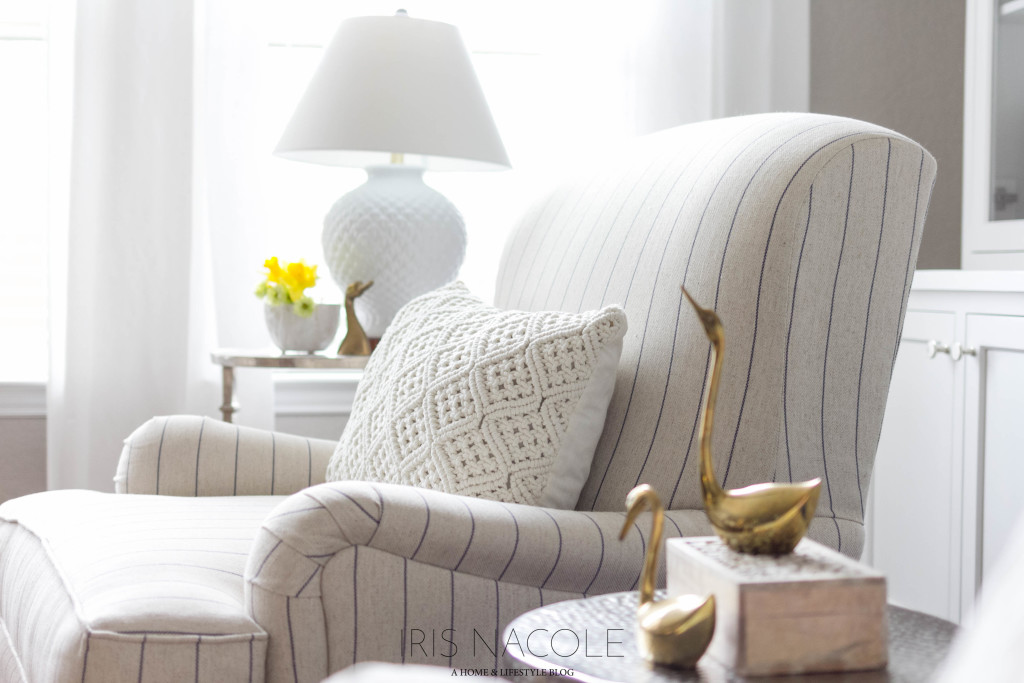 These swans are my favorite out of my collection.  I found them in Iowa, along with the set of brass candlesticks I shared with y'all in this post.  It was truly like hitting the jackpot!  Normally I come across ducks, or the larger brass swans, but these are so dainty and seem perfectly "spring" to me, so out of storage they came!  I may never put them away. *sigh*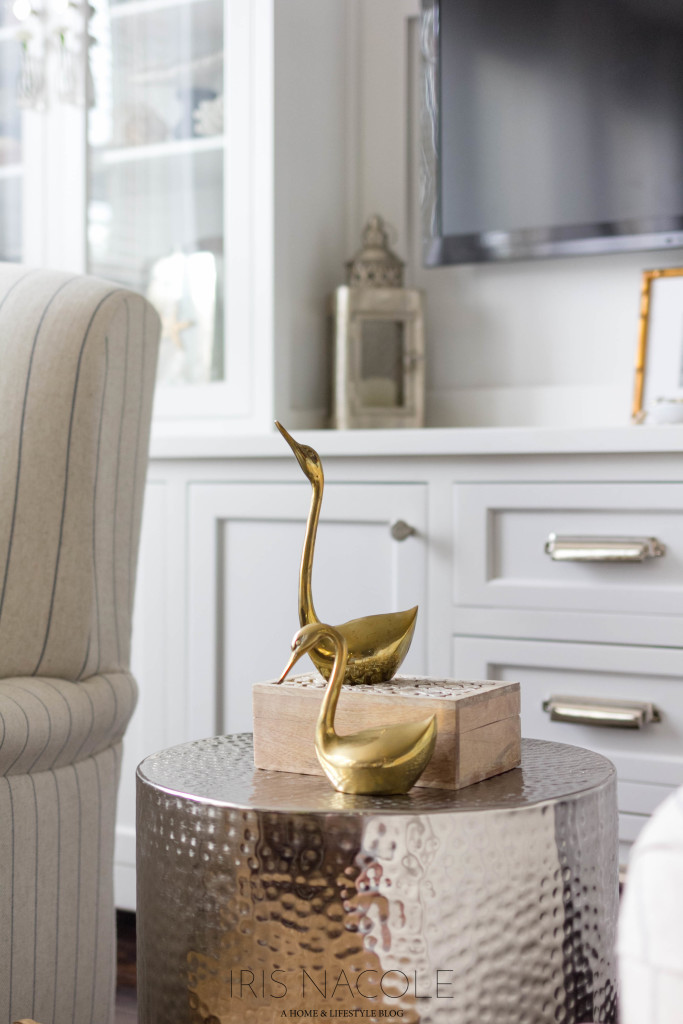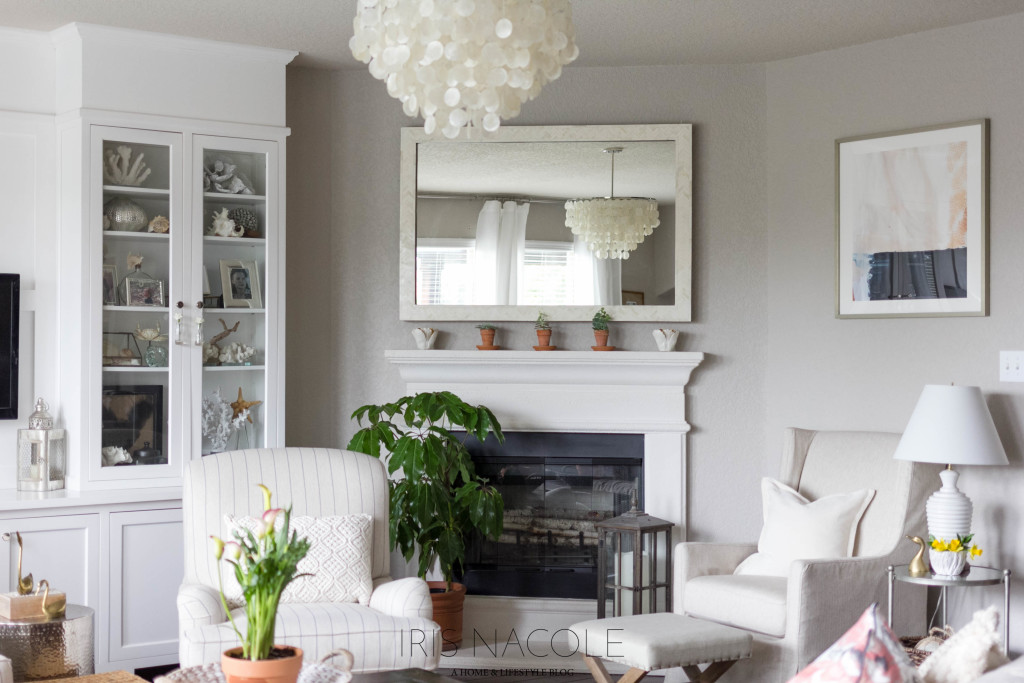 Here's another view of the living room.  I love that we have so much seating now!  Recently we had many family members over at once, and we were able to all find a comfortable seat.  That's always been my goal!  Oh, and is anyone else irked that my smaller succulent on the mantel isn't between the two taller ones?  Ah!  I'm such a sucker for symmetry!  How did I miss that?!?!  It's probably because one of my succulents died on me, so I had to remove it for the shot and didn't put much more thought into styling that space.  It sill looks good though, I think!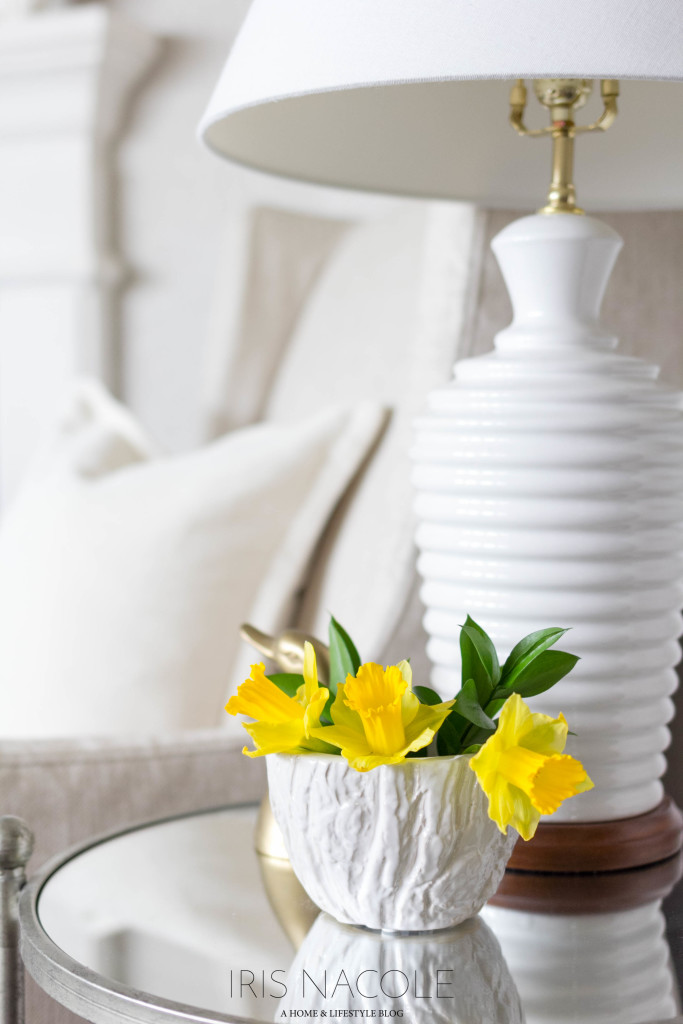 Here's another close-up of the small floral arrangements I made. It didn't take much to put these together.  Some greenery, a few daffodils, and viola, an arrangement!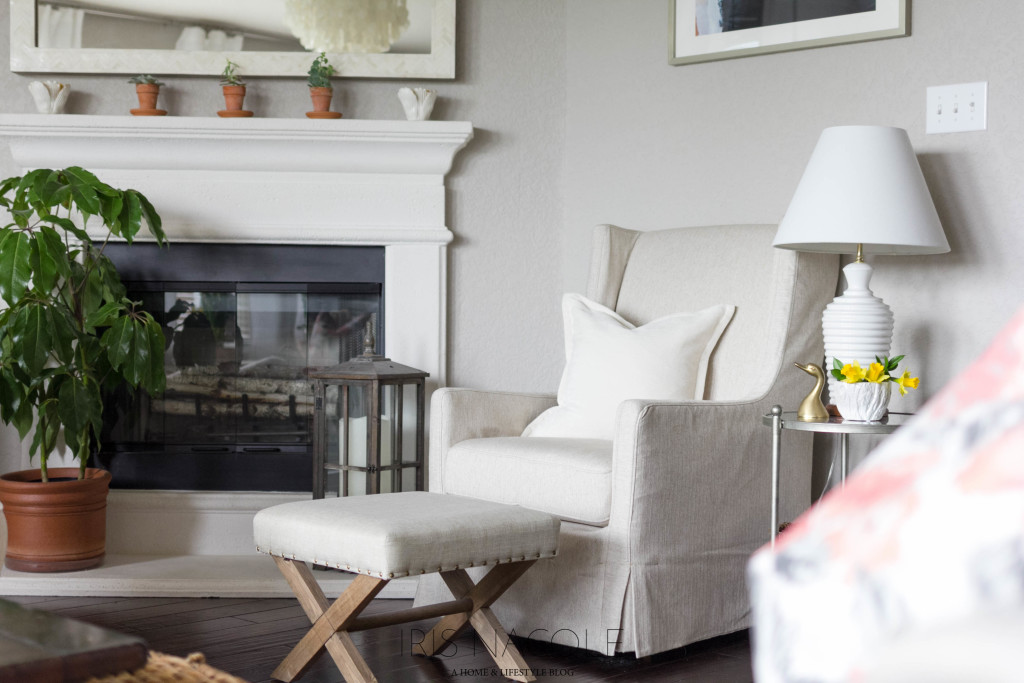 See my brass duck?  Love!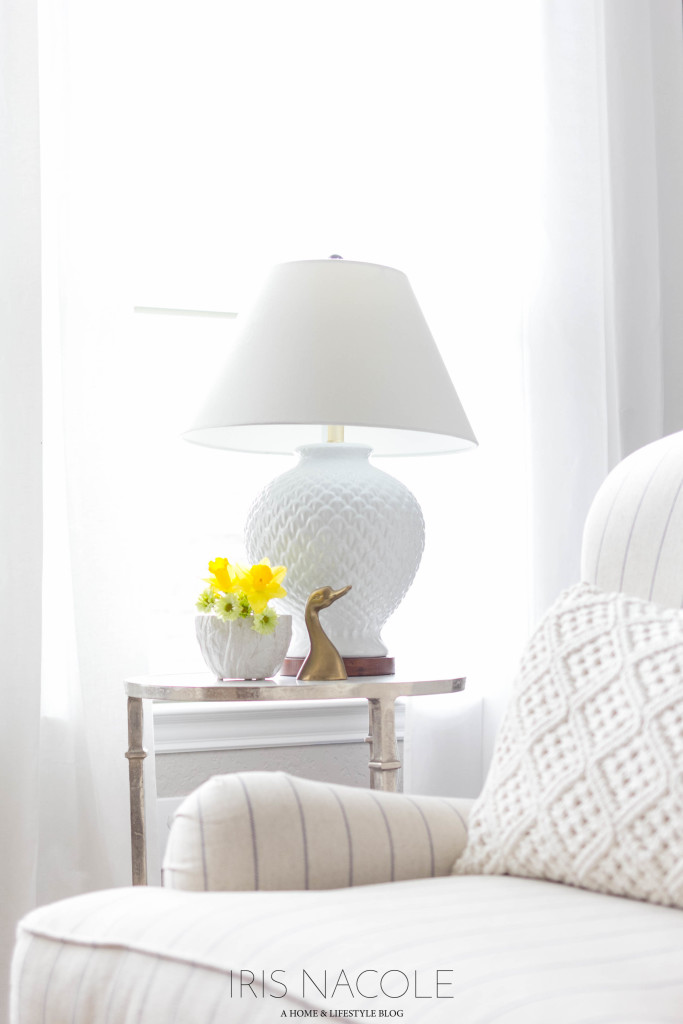 Another one!  Still love!  Haha!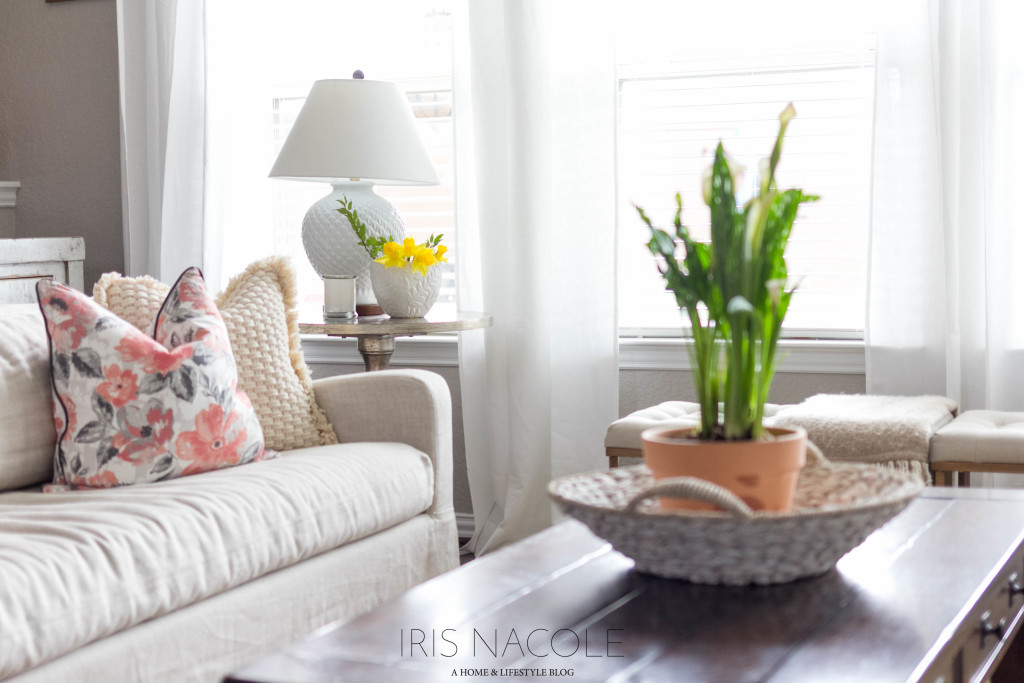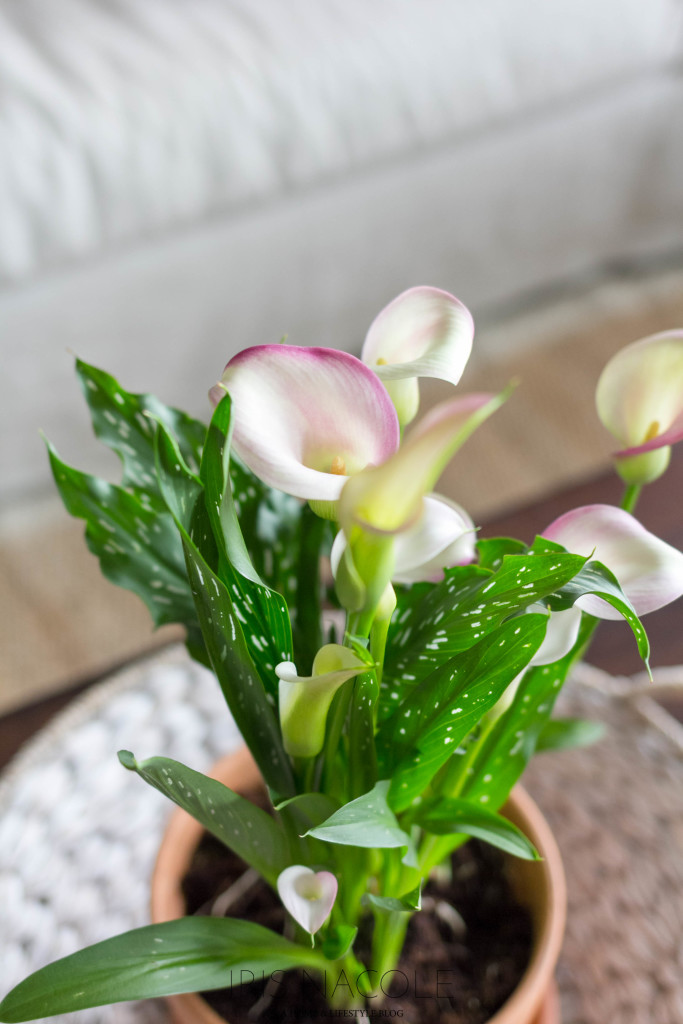 Well folks, that's all for now!  I had hoped to be able to share more, but the kitchen is still being renovated, and the dining room is a hot mess and too terrible to share because of it.  I promise I'll be sure to share it all once everything is done!  Until then, let's look again at this clean and refreshed space.  So calming!  I hope y'all think so too!  If that's not enough though and you want to see more of my home feel free to visit my 2015 Home Tour page, or my recently updated 2016 Home Tour .
Now scroll down a bit to see links to some of my very special blogging buddies, who I've joined up with for the "Spring Fling Home Tour" hosted by my friend Stephanie of Casa Watkins!  Each day this week I'll be adding new links to more tours, so check back for those!  You are going to love what you see!!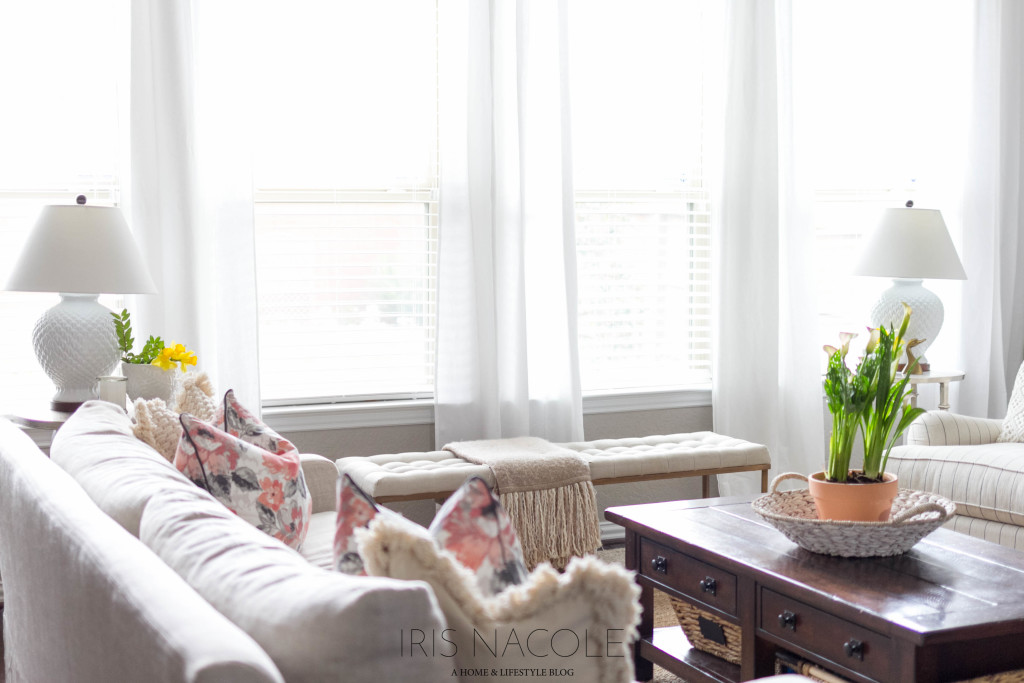 Happy spring y'all!
-Iris
Posts you may also like:
Linking up to: