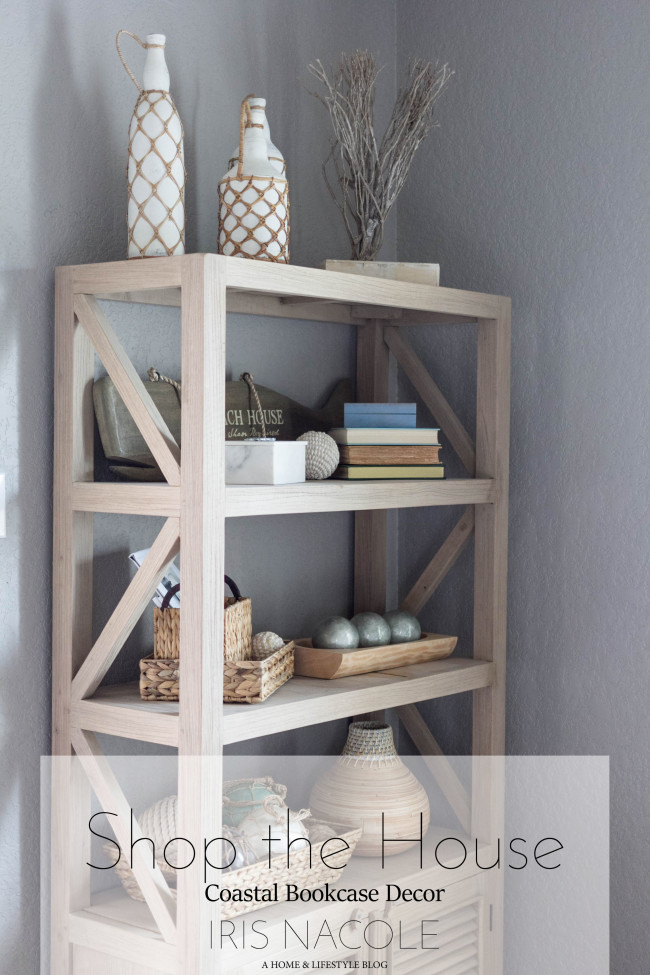 Welcome back friends, to this month's installment of the Shop the House series, where I'll be covering coastal bookcase décor for you all.  See previous posts here and here.
If you've been a long time reader, you'll already know that I love coastal decorations in my home.  Feeling like I'm on vacation instead of stuck at home is always a nice little pick me up on those really trying days, and just a little reminder of the beach can bring those waves of calm over me, that I so love from my travels.
So recently I've found that being a décor fanatic can have its good points.  Over the years I've collected a nice amount of coastal style décor, and transitional pieces that I'm able to switch up at any given moment.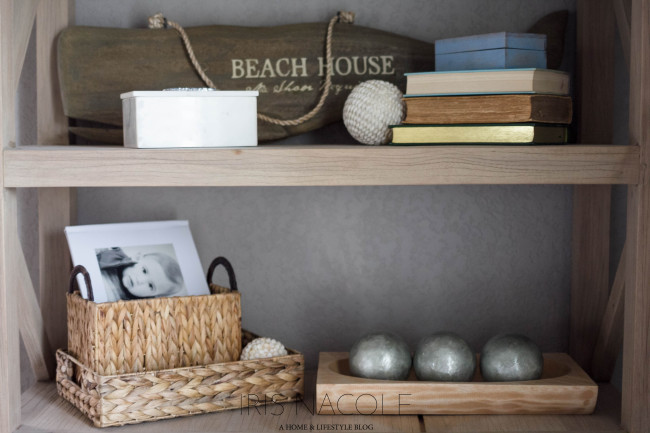 For this challenge, pulling from my existing displayed pieces, as well as from my "stock" has really allowed me to create a nice and serene setup for this room.  I almost doubted my ability to create a fresh space out of things I already owned, but I'm so happy to find that I was wrong.
To make it easy for you to decorate in a coastal style, I'm going to list some of the things I have collected over the years. Here they are:
Floats
Coral
Driftwood
Lanterns
Oars
Buoys
Fish/Whale/Sea Bird figurines
Nautical rope objects
Boats
Baskets
Weathered wood objects
Objects with natural fibers
Varying shades of blue décor items
Driftwood
Seashells
Vintage looking jars & vases
Decorative boxes with coastal style ornaments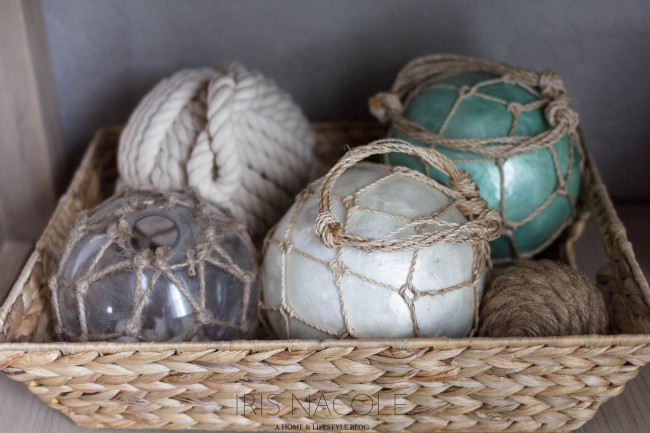 Whew!  That's a lot of décor!  Luckily for me, I have ease in finding these items at places like HomeGoods, TJ Maxx, Marshall's, Ross, and online shops.  I've even gone as far as visiting local shops on my beach vacations, to pick up a few pieces to take home, which are the most special to me.  I have quite the collection, so I hope I don't decide I want to switch styles anytime soon.  Haha!  Even better though, adding just a few of those items to your space can easily give it that coastal feel, so don't feel as though you have to have all of these items to get the look.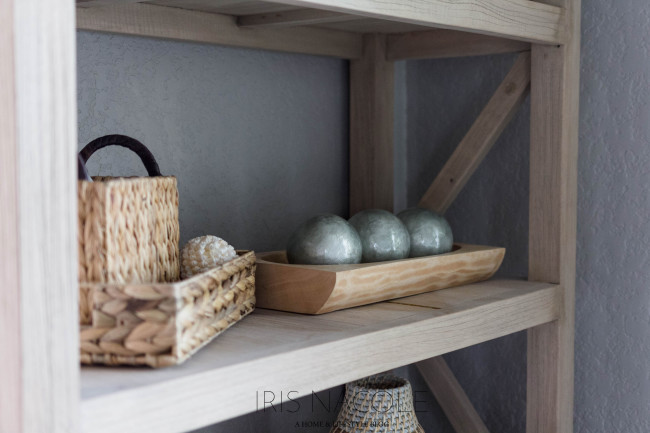 In this space you can see that I used a lot of neutral items, but added in a few pops of blue to keep the space from looking muddy, especially since this area doesn't normally get a ton of light.  If I have all the windows open it's quite beautiful though.
To be honest, I struggled with decorating this corner for a couple of years, before finding this bookcase.  It was on sale for a steal at HomeGoods.  Normally a piece that sells for well over $500, it was marked down to something like $125 or $150.  I had to have it!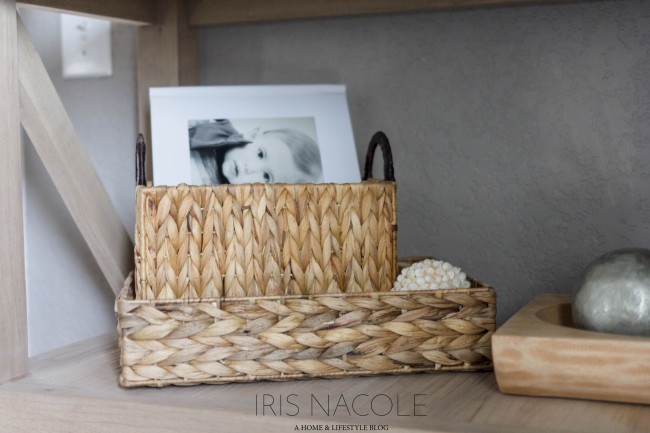 Besides adding all the decor, one thing I like to do in the spaces I decorate is to add a bit of a personal touch using family items, pictures, etc., so that they are actually relateable, and not just "pretty".  Year after year, I create a memory book of my son's activities as he grows up.  I decided to display those in this natural fiber basket again.  I did the same when they were on the entertainment center in the same room.  That reminds me, I need to get to work on the 2015 book!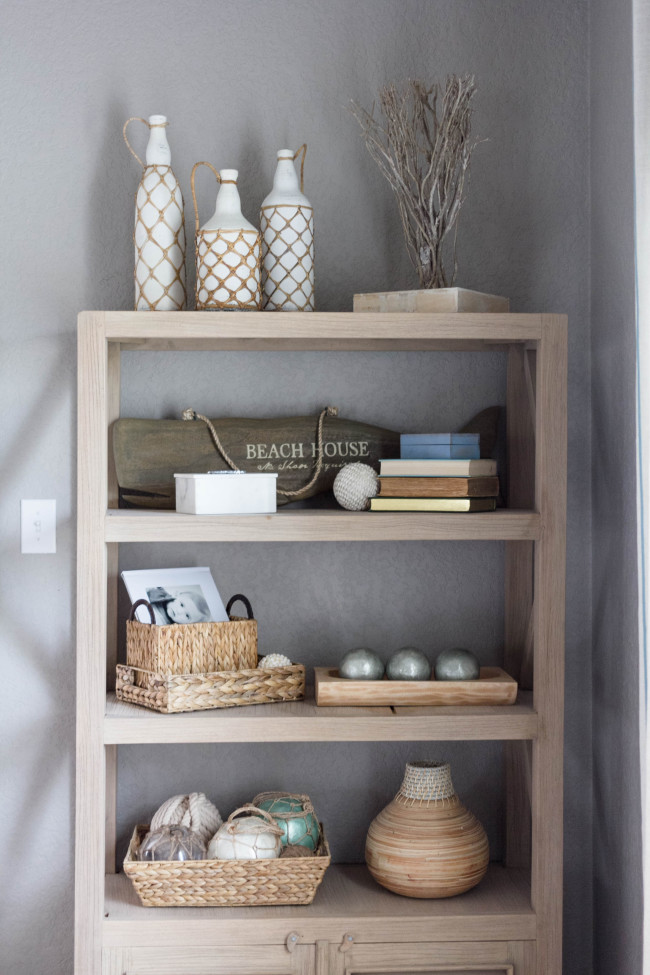 Coastal style décor is so much fun to play with.  It can vary from being extremely obvious like in this room, to just a little accent here and there.  I really believe there is a style for everyone, and however you choose to decorate with coastal decor, I bet you get the image of a sandy beach and crashing waves when you do.  I know I do!
Now take a look at the other updates the ladies have to share for the Shop the House series, and don't forget to check back with us in four weeks for the reveal of each of our spaces!
Here are a few more posts I think you'll enjoy!