Hey, friends!  We're rolling through week three of the One Room Challenge, and we've made a little progress!  Last week I shared a few different options for the space, and asked you all for your help in making a decision.  Thanks to all of you that responded and shared encouragements!  We decided to shiplap the main wall behind the bed with vertical shiplap boards, and to create a beam detail across the ceiling sans shiplap across the ceiling.  I'm sharing a couple of example below, and the second picture representing the ceiling gives you a better idea of the size and shape of beams we're thinking of doing.  Honestly, I'd love to do the while shebang, but I think it's going to be just the right amount of change to really make a difference in the space!  We put in an order for the shiplap, and are waiting for it to be delivered sometime next week.  I'll give y'all more info on the product we chose once I get it in.  I'd like to see it first to make sure that it meets my expectations, because I'd hate to suggest it to y'all and end up finding out that it doesn't.  However, I am crossing my fingers that it works out perfectly!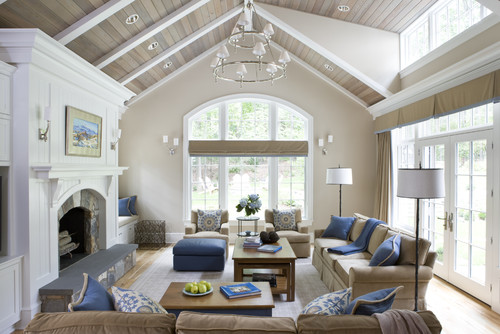 So what else did we get done?  Not much.  This is the reality of a renovation y'all.  At least it has been in our experience.  Life still goes on around all of the plans, and when you are the one in charge of executing those plans, sometimes they get shoved to the side to make room for the things that are really important.  Actually, we've been doing our best to get things done around the house as a whole, since we have been trying to purge and donate as much extra junk as we can.  I'm telling you, we've created the biggest mess ever while doing so.  Seriously, I thought my house was cluttered before!  There's nothing like seeing half packed boxes, bags to donate, and all the "maybe" items in a pile throughout the house.  It's crazy town, y'all!
Of course, I didn't want to come on here just to tell y'all that, so I pulled together a few of the items we're going to use throughout the space in the makeover so that you can get a feel for the vision of the space in real life.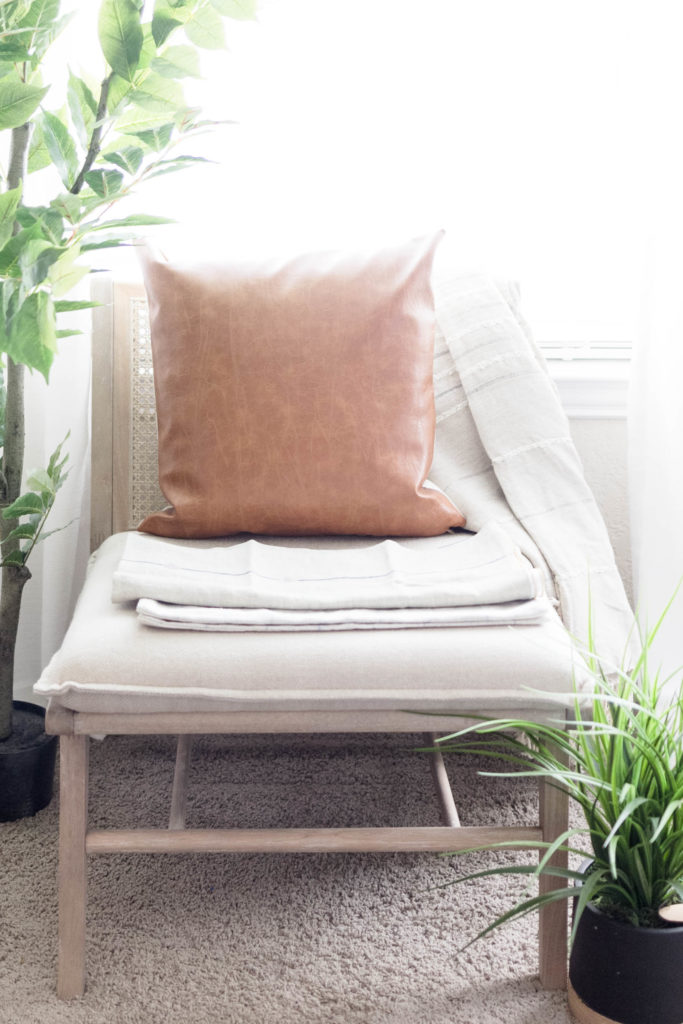 As you can see, we're sticking with a neutral pallet with a few pops of color here and there.  I think this is crucial to the space, so that it feels very spa/retreat like, but still fits in with our everyday living style.  Plus, I can play around with bed linen patterns throughout the year, without feeling like I need to make big changes to other things in the space.  Knowing me, that would end up happening if I went too specific on any other theme.  Oh yeah!  Do you see the blanket on the back of the chair (above)?  That's the one I mentioned in the last post, that we found being sold for a steal at a local fair a couple of weeks ago.  Isn't it a beauty!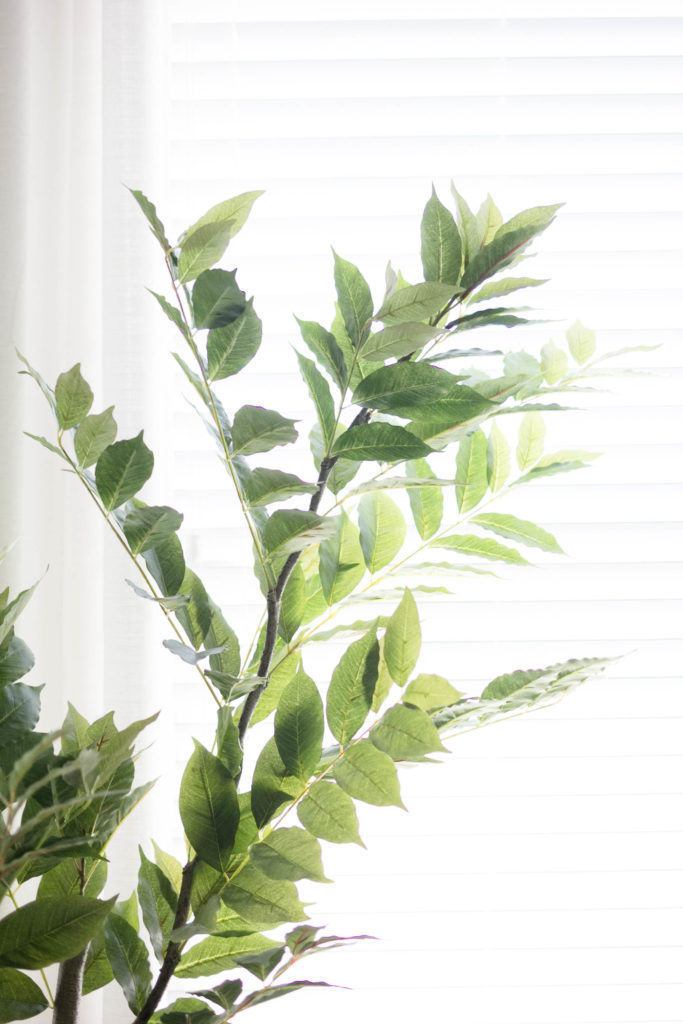 With the changes we're making we ended up with an empty corner, and what better to fill it with than a faux plant!  This one came across my screen one day as I was searching for the net for a different space I was making over, and the price was right so I ordered it.  I was a bit skeptical about the quality being as good as what it appeared to be on screen, but it honestly was better!  Sometimes I forget that it's fake!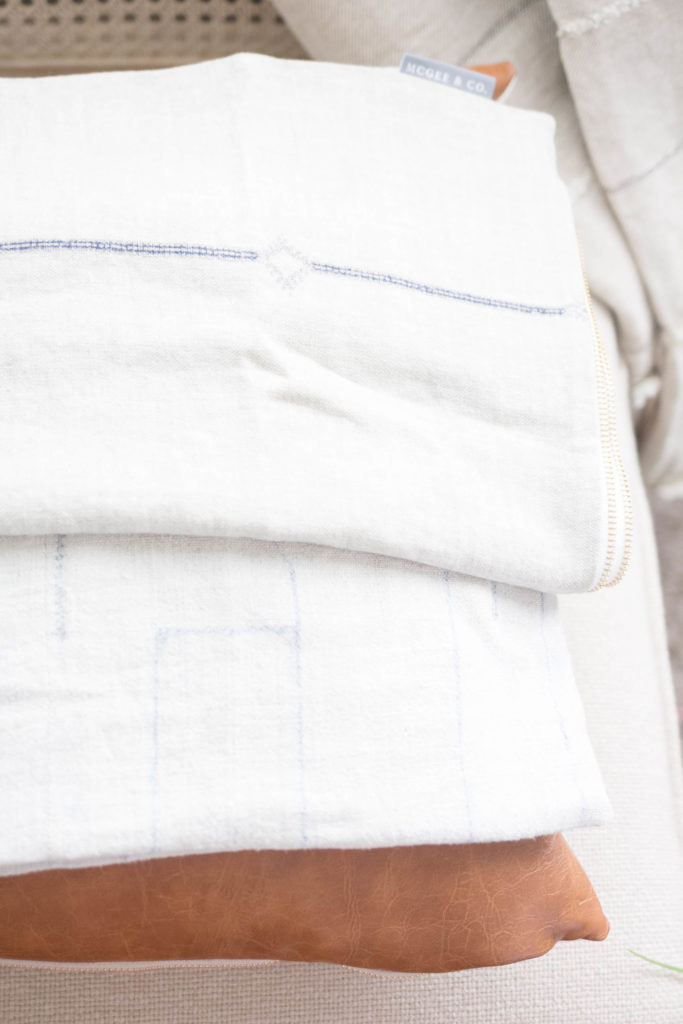 Collecting pillow covers for the space was another task of mine, and these pretties from McGee & Co., and Int'l Thread Co.caught my eye.  Y'all know how much I love pillows, so finding these and having them be priced reasonably was super exciting, because they are crucial to the design of the space.  Click over to see what these two shops are offering today.  You're going to love what you see!
Thanks for checking in with us this week!  Come back next week for even more updates, and hey, if you like Halloween, be sure to check out my post on Friday.  I'll be joining up with a great group of bloggers to bring you some Halloween tablescape ideas!  Fun!
Until next time, friends!
-Iris