Fiddle Leaf Figs have taken over the design world as one of its favorite go-to house plants. There's only one problem with that, and that's how fickle these trees can be when trying to grow one! The internet is abound with suggestions and how-to's to keep these guys alive, but so many of us have failed over and over again, even with such help. I recently decided it was time to try my hand at this tree in a completely new way, and that was to find myself an acceptable faux tree instead. Of course, this can come at a price, but I truly think that if you really desire something, sometimes it's worth the sacrifice. In this case, cash. If you're as bad at keeping these trees alive as I am, and you equate how many real trees you'll probably go through before hopefully hitting the jackpot, you may come to the realization that spending a few extra dollars right now is worth it. Recently I was lucky enough to find one at my local Hobby Lobby, but I am unable to find a link to one from their site. If you get a chance, I suggest visiting your local store to see if you happen to find one as well. Here's a peek at it in my entryway. I love it, and have already moved it around the house to find the best spot for it. Honestly, it looks good everywhere I put it!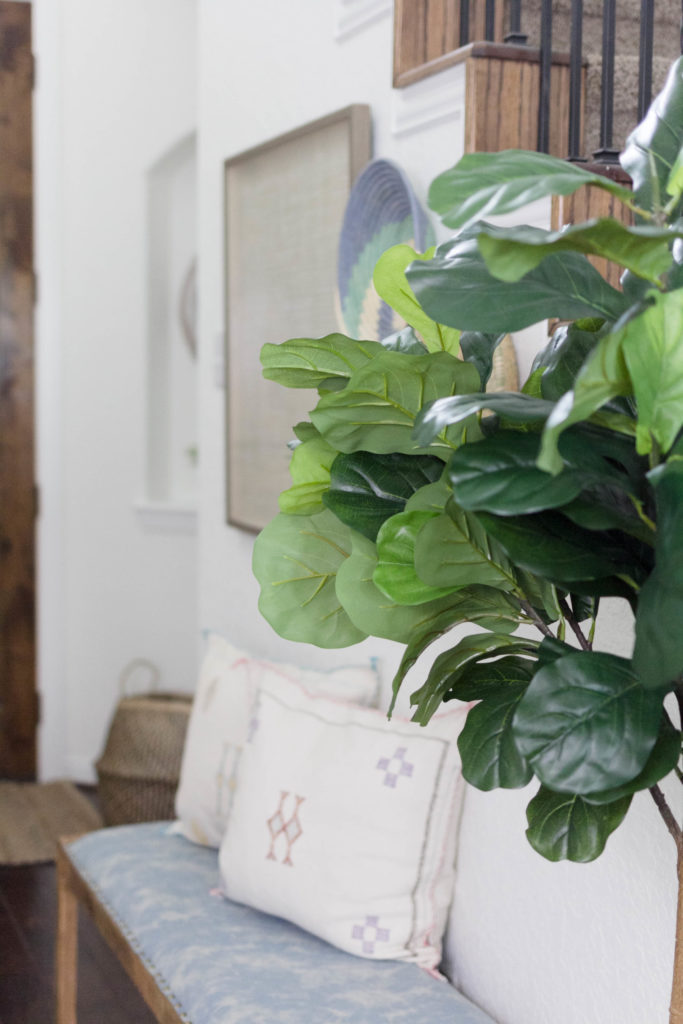 If Hobby Lobby doesn't work out for you, I've rounded up six of my favorite faux trees on the market, including various heights for all households. Quite a few of them are on sale right now, during the Memorial Day holiday, so if you're on the lookout for one, now is the time to grab one!
How about you? Have you found a great place to buy faux fiddle leaf figs? Share it with us in the comments if so!
Until next time, friends!
-Iris
Like it? Pin it!