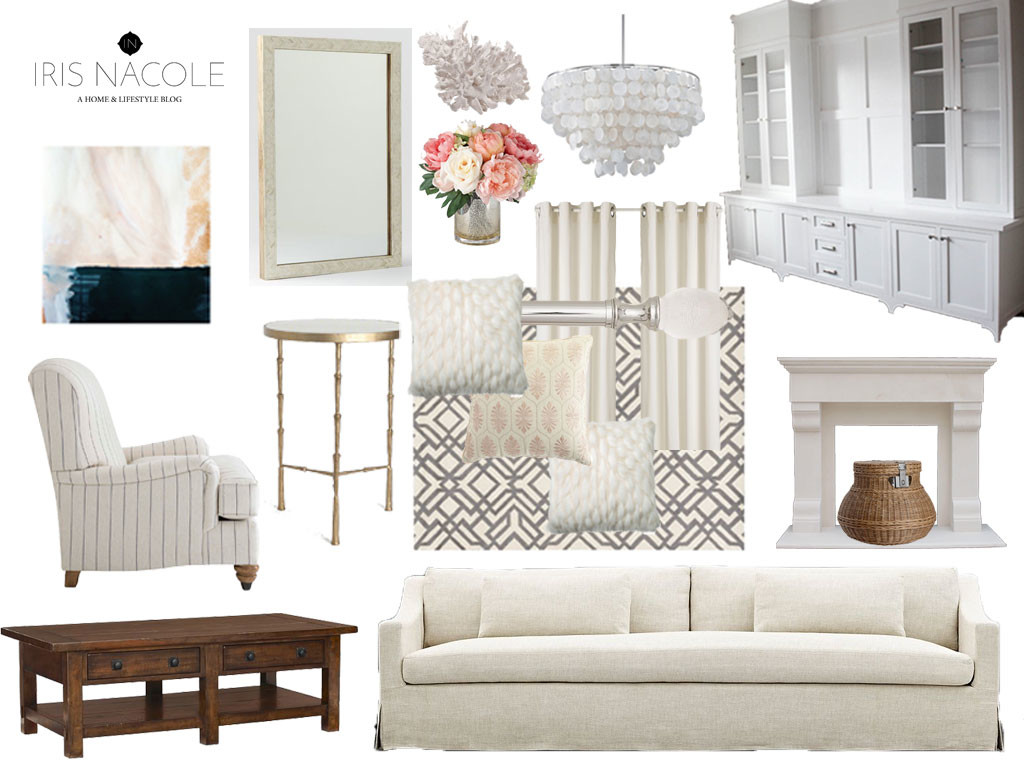 I'm not sure about you, but it seems as though my home style is ever evolving, not sticking to just one style in particular, but becoming a mixture of many styles.  I think for me, that's a good thing.  Over the last few years, since building my home, I've daydreamed of what it should look like.  At first, I was all for a mid-century modern vibe, and my husband was too.  Of course, we weren't so talented back then at designing/decorating a space, and so it never really came to fruition.  Not to mention, we got pregnant about a month after moving in, so all that good stuff took a backseat to prepare for baby.  All in God's plan I think!  Because of that, I've had time to develop my skills, and really feel out what I need in my home.
Do you ever notice that your house speaks to you, or is that just crazy ole me thinking mine does?  My house screams for storage space, and a classic/casual vibe in decor.  Nothing too fancy for this momma's house, but that doesn't mean it can't be pretty if I want it to be!
Recently a good friend of mine, Stephanie of CasaWatkins.net offered me, as well as a few other friends the opportunity to join her in a "New Year, New Room" room refresh challenge.  I'm always up for a good challenge, but at that point I just couldn't see what I was going to refresh that I hadn't already started on.  Then, as fate would have it, I decided that it was time for a new mirror in my living room.  I had been mulling over the idea of adding hardwired sconces to each side of the existing mirror, to close in the gap, but once I realized what was involved in that process, I decided against it and moved on to Plan B: Get a bigger mirror!  That's when the "Great Mirror Hunt of 2015-2016" started.  Haha!  Then the realization that I was in fact looking to refresh the space hit me, and so I quickly let Stephanie know that I would love to join her and my fellow bloggers in the challenge.
That brings us to today's post!  I have a pretty darn good idea of how this space is going to turn out.  Mostly because it's only minor details that are changing, but boy do I think they are going to make a HUGE impact to the space!
An unexpected perk to being part of the challenge is that we are now working alongside a few really great sponsors.  So far, we've confirmed sponsorship from Minted, Lamps Plus, RugsUSA, and Framebridge.  I am so excited to work with these companies, I really can't tell you!  Their contributions to the space are going to make a world of difference.  I've already picked out a piece of art from Minted that I'm dying to get up on my wall.  Since I just got a new rug last year, I didn't think it would be wise to attempt to get a new one, even if sponsored, so I ended up passing on that opportunity, but I do know that some of the other ladies taking the challenge have picked out some beautiful options for their own spaces.  You'll have to be sure to visit their blogs to see!  I'm still working out the details with the other two sponsors, so as soon as I know something, I'll let you all know too.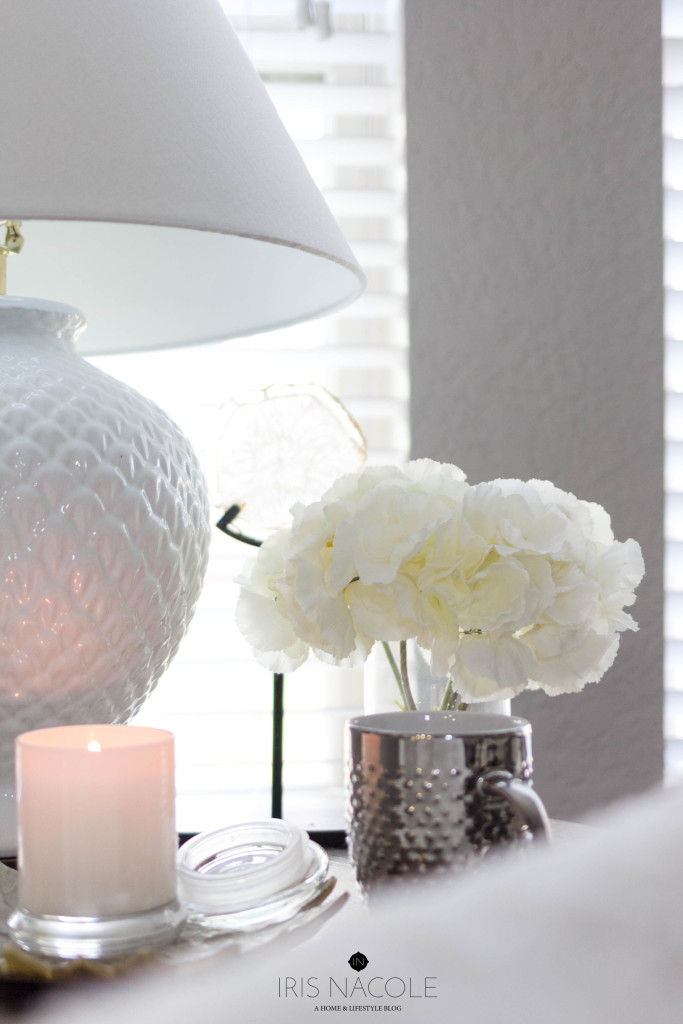 I'm betting about now, those of you that aren't familiar with my home at all, are wondering what this room even looks like.  Well, I wouldn't dare share a picture of it today because it's a real mess, let me tell you.  If you didn't notice in the picture above, I have all the curtains down off the wall, waiting to be put back up on a new curtain rod.  We ran into a small issue when working to get them up the other day, so we are currently living with the curtains draped across our chairs. Haha!  It's such a mess!
If you'd like to get familiar with the space though, I can offer this.  A link to my last home tour, which was just this past December.  Of course, take into account that most, if not all, of the Christmas decor is gone and packed away.  Let's pretend in our pretty minds that instead sits a blank slate, just waiting to be decorated.  Not the massive mess that is truly sitting in my home at the moment.  Eek!
Now that you have that in your mind, let's take a look at what I have acquired for the space already.  Note, not all items are sponsored however I will note the ones that are.
Isn't she a beauty?  I felt like it was calling my name the moment I saw it.  Out of everything, I think this is the product I'm most excited about.
I searched like a mad woman for what seems like weeks for the perfect ceiling light for the living room.  Why so crazed you ask?  Because for the first time ever, my husband agreed that having a light instead of a ceiling fan in the room would be a good idea.  I didn't let that opportunity pass me by.  No way!
Here is the mirror I finally chose. The story behind it is a pretty good one, I think.  I was searching for a mirror to really take my living room in the direction of my dreams, and I knew right away, once the sconces were decided against, that I wanted a large mirror for the space.  Do you know how hard it is to find a medium sized "big" mirror?  Hard!  Everything I wanted was either too narrow, or just an inch too tall, and after trying out a couple of options I found this one online.  I was a bit heartbroken at the price though, and kept pushing it to the "No Way, Can't Afford" list.  Then a coupon showed up in my husband's e-mail, and it became a consideration.  We wanted to see it person before actually taking the plunge though since it would still be a good sized investment, so we made a plan to travel out of town to visit the nearest West Elm store.  I called and made sure they had the item in stock before taking the trip, and I must say, ended up having one of the best customer service experience I've ever had with a retail shop.  The girl handling the call was upbeat, professional, quick, and super nice.  A customer's dream!  I really feel bad though, because even though I had her hold it, another stroke of luck happened and we never made it to her store.  We ended up stopping off at the outlet mall that is located on the way to the West Elm store, since it had a West Elm Outlet that we could visit.  I hopped out of the car once we got to the mall and made my way to the store as quickly as I could.  I missed out on a trip to the Disney Store because I was so antsy about missing out on a possible opportunity.  As I entered the outlet store I scanned the walls, and sure enough, ONE of these mirrors was up on it.  I immediatly walked over to it, examined it, and asked a rep to pull it off the wall to hold it at the counter for me.  I mean, why not shop around while I was there?  Haha!  One of the great thing about outlet stores is that items are on sale automatically, and to top that off, because it was after Christmas they had an even bigger discount on the mirror.  I saved way more than I had ever dreamed!  I'm going to call it a decorating miracle, because I think I might have chickened out on the purchase at the higher price.  So now this lady is up on our wall, and though she needs some minor adjustments in leveling, I am loving her already!
That's all from me for now.  I have a good amount of work ahead of me, and living in a construction zone, combined with a torn apart living room is proving to be a bit maddening.  I can't wait for the day that it's all cleaned up, and pretty again!  I think about that time though, the Spring One Room Challenge will be starting, and I'll be taking on another space and making a big mess in the process.  It's never-ending!  I'm still on the fence about what space that will end up being though.  I have a couple in mind, and if budget allows, either would be great.  We will see, but I guess that's for another post.
Now head on over to my fellow challenge participants to see what they are up to!  I can't wait to find out myself!
-Iris
New Year, New Room Refresh Challenge Participants: