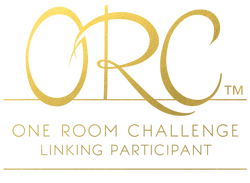 Welcome back to the never-ending saga that is my One Room Challenge Office Makeover.  Oh wait, it will end, in TWO WEEKS!  Honestly, I know everyone says it, but where in the world have the past four weeks gone?  I was so confident that I'd be done with the room by now, just twiddling my thumbs waiting for the reveal.  Ha!  Instead I'm spending most of my days searching HomeGoods for the "perfect" art, and painting my entire office furniture set.  You read that right.  All of it.  All seven pieces.  I'm absolutely nuts!  I even have a DIY that I came up with, that needs to be worked on soon.  I'm loving it all though, and I bet I'll get it all done before reveal week.
So what else have I done?  Well since you asked, I ordered the hardware for the cabinets.  They should arrive sometime today, or tomorrow, according to the online tracker.
I almost went with a different pull in a completely different finish, but I just couldn't get these out of my mind.  They were twice the price of the other ones, but still under $10, and since I really liked them I felt the price was still good enough to purchase them.
Some of you might remember I mentioned last week that I've taken this room in an entirely different direction.  Think beach!  It's going to be bright friends!  Sometimes I wonder if I'm making the right choices for a room that is going to mostly be used as a craft room/blogging spot.  I have trust my gut though, and remember all the other times I've questioned my choices for the same reasons, mostly fear of mess, that I've lived through all the past messes, and surely will live through any future messes.
Oh yeah, and I finally settled on a rug, but you'll have to wait until the reveal to see which one.  As for lighting, I'm still playing the "Maybe this one?" game.  I actually have one in my house that I purchased from World Market, but I'm just not sure it's "the one".  I know once the furniture is back in the room, I'll be able to see if the direction I am heading is actually working out.  Cross your fingers for me!  Untill next time friends!
Check out the rest of the participants and linkers here!  Good stuff!