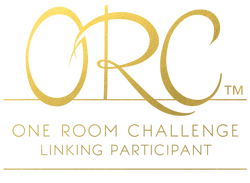 Welcome back friends!  I've got to start out by saying I had a post already typed up and ready to share for week three, by Monday of this week.  Since this week has brought many changes to my "idea" for the room, I am scrapping that and starting over.  For those of you that have just found me via the ORC link, welcome!   You can find my past posts concerning the ORC here, and here.  As for the rest of you, you may remember my mood board for the room looking like this: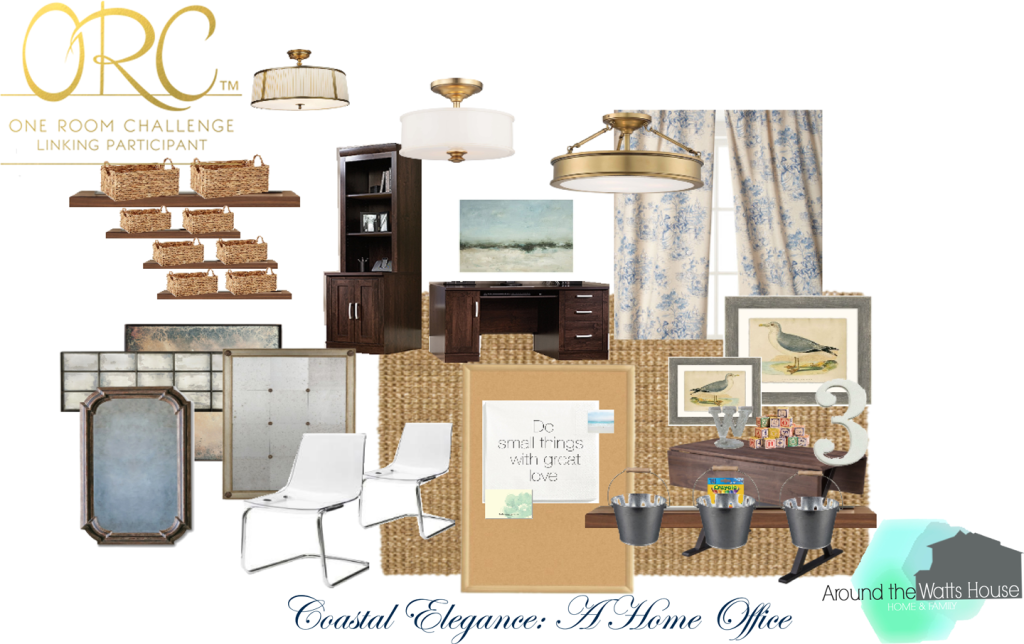 Well, I can tell you that the room is going to look very little like this now.  As I have been working on the room  I realized I wasn't following my heart with the design, so I am making some changes.  For one, the shelves with the baskets are out.  I thought they would be nice to store smaller items away in, but then the thought of my toddler using them as a ladder came to mind, and that mixed with the fact that they just don't make sense in my room/design made them easy to cross off the list.  The jute rug pictured is just blah against the color of the office furniture, which is why I have been going crazy trying to find a rug this past week.  Thank goodness for HomeGoods, and Target!  Here's a picture of the few I've considered and brought home.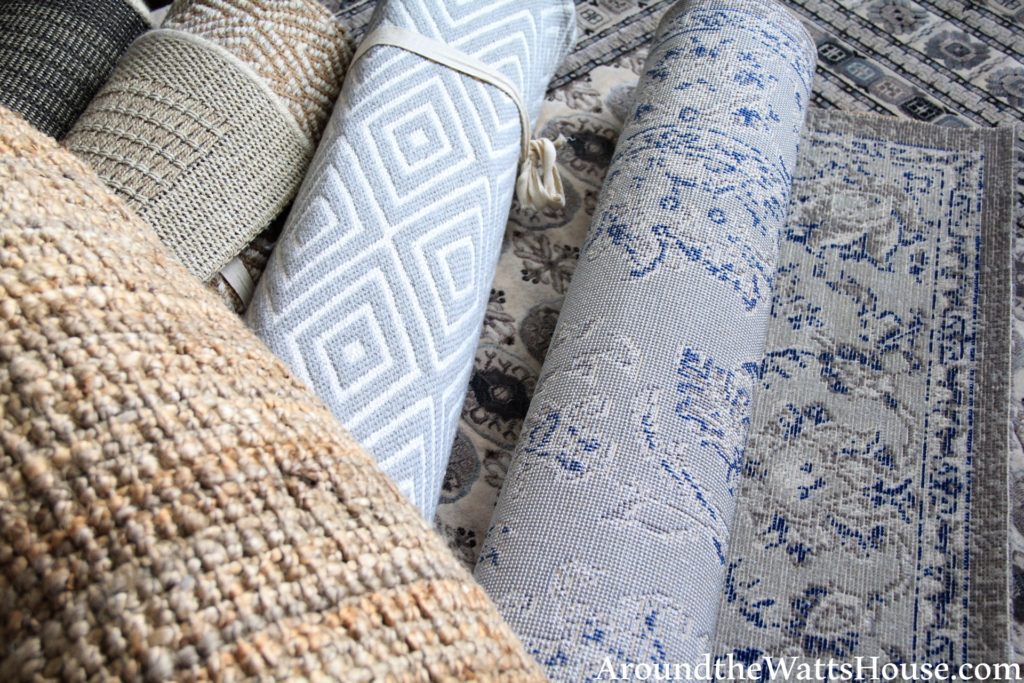 Yeah, just a "few".  I am dreading having to lug all those back to the store to return them. That's why I hope at least one makes the cut once I complete the next step I'm going to talk about, and that's painting the office furniture.   Since it's MDF with a laminate overlay I've been a bit hesitant to start.  Painting laminate scares me, but I've consulted with the best person I know  when it comes to painting furniture about my options, and I think I've devised a plan.  Luckily I have a scrap piece that I can test, before starting.
You might have guessed, if you have seen the rest of my home, that I'm going to paint them white.  I have a thing for white cabinets, and since I have them in other rooms of the house I think it would be nice to bring that into this room too.  One day ALL of the cabinets in my house are going to be white.  Just don't tell my husband that.  (Hi John! *waves*) Haha!  Anyhow, we will see if that plan pans out or not sometime this week, so stay tuned for that.  I'm sure I'll live either way as it's only and idea I have to make it even brighter and more "coastal" in the room.
Another thing I've been working on nailing down is the mirror for the room.  As I mentioned in my past post, I found a lot of the bigger pieces for the room last week, but once I started laying them out and/or hanging them up, I found they just didn't work as well as I had hoped, but the mirror I found then is still a possibility if we paint the cabinets.  Here are a couple of mirrors that have made it home along with the rugs.  They live on opposite sides of the décor spectrum, but I love the impact each has on the room.
So yes, it feels a little like going crazy, but I think that's just part of my process. At least that's what my husband has pointed out to me. Haha! It's the truth, so I don't take any offence. After all, decorating is an art, and I guess I fall into the "tortured artists" category.
I did make some progress in the room this week though, despite my indecisiveness.  I was able to paint the entire room, as well as figure out our cable jack situation.  Would you believe it took two visits from our cable company, to find out that they couldn't do what we were asking of them?  I was a bit perturbed about that since we were obviously speaking with a representative on the phone about what we desired to have happen if their technician came out.  At least the second guy that visited gave some good information on how we could do it on our own.
Lighting, and hardware are next on the list, so I will do my best to cross everything I mentioned above off the list this week, and get to those ASAP. I will be ordering them, so I need to make sure I have time to get them here without having to pay astronomical costs to do so.  Those will probably end up being shared on Instagram as well.  Wish me luck!
Be sure to visit Calling it Home to follow along with the other participants, and linkers.  I'm amazed with all of the progress, and wonderful design being presented, but I guess I really shouldn't be.  We have a lot of talent on this side of the net!
~Iris
[subscribe2]