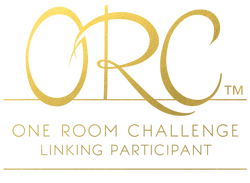 Don't you just love it when God sends you a message that you were secretly hoping to hear?  For me it came in the form of the One Room Challenge.  Let me explain.  I'd been feeling a bit down about things in general this week.  I'm not sure if it was because I was feeling run down from all the work I did around the house this past weekend, or just other negative ramblings in my head that pop in from time to time, but God knew I needed a pick me up and so He sent me one.  A wonderfully supportive challenge to create a new space in my home!  You might know a bit about the One Room Challenge, but let me fill you in, just in case you don't.  Hosted by Linda from Calling it Home, 20 design bloggers are chosen to share the transformation of a room of their choice, over the span of six weeks.  Luckily for those of us that have blogs, and weren't chosen as one of the 20, Linda gives us the opportunity to participate via a link party.  That means that for the next six Thursdays I will be posting updates concerning my chosen room for each of you to see. Okay, so enough with the formalities!  I am super excited to participate in this challenge.  If you have found me via the link I welcome you to Around the Watts House.  I'm Iris!  If you looked me up in the dictionary, you'd see the following description:  Wife, Mother, Designer Wannabe, Crafter, Builder, Determined, Astrological Sign: Cancer (Should explain it all!).  So that pretty much sums me up!  The posts I share here on the blog chronicle all of the above (Minus the astrological sign.), and I would love for you to stop by every once in a while to see what's going on "Around the Watts House". On to the good stuff!  The room I have chosen to transform is my………Home Office!  I know that the majority of my friends from Instagram asked me to share my Laundry Room, as I posed the question to them on Monday, but after looking at the design options that I had come up with, as well as a bit of a push from my husband, I chose the home office.  I'm sure one day I'll share a Laundry Room makeover, but for now, it's closed up behind doors for no one to see so I can live with it for a bit longer.  My home office on the other hand is located in the most in-your-face location of the house; right off the entry. I had already started cleaning it out over the weekend, or as I would like to call it, making a bigger mess of things.  I wanted to rearrange some of the crafting supplies and overflow of home décor that had been sitting in the room for the past few months.  It's been so full that we haven't actually gone into the room for anything other than to sift through the mess to find whatever it was that we were looking for.  Imagine how embarrassing it is to have that mess welcoming my guests each time they come to visit.  I won't claim to be a very tidy person, but I do not like to share that trait with the world.  Haha! The plan for this room is to organize it in a way that will be functional for the adults in the house, as well as our little one.  Now that he's two, he is much more excited about participating in small crafts, or just scribbling beautiful pictures of our "vacuum cleaner".  I really want the space to be a place that he and I can escape the eye of the television, and just enjoy creating and learning.  As for John and I, we could really use a space that helps us organize all of our paperwork, and keep it from piling up in other areas of our home.  I mean, in a world full of technology, I still can't figure out why we get so much mail!  Each day, piles make their way into the house, and I'd say only half make their way out. As far as design, I know John (my husband) would love a more masculine place, but I have to admit, it really doesn't fit the rest of the house.  I wouldn't say anything is extremely feminine, but it definitely leans more towards that direction.  Knowing this, I've decided to try and create a nice mix of the two, combining a few rustic elements along with more elegant décor choices, and since the whole house has coastal elements throughout, they will be carried into this room as well.   To get a better idea of my plan, here is the mood board I created depicting my ideas.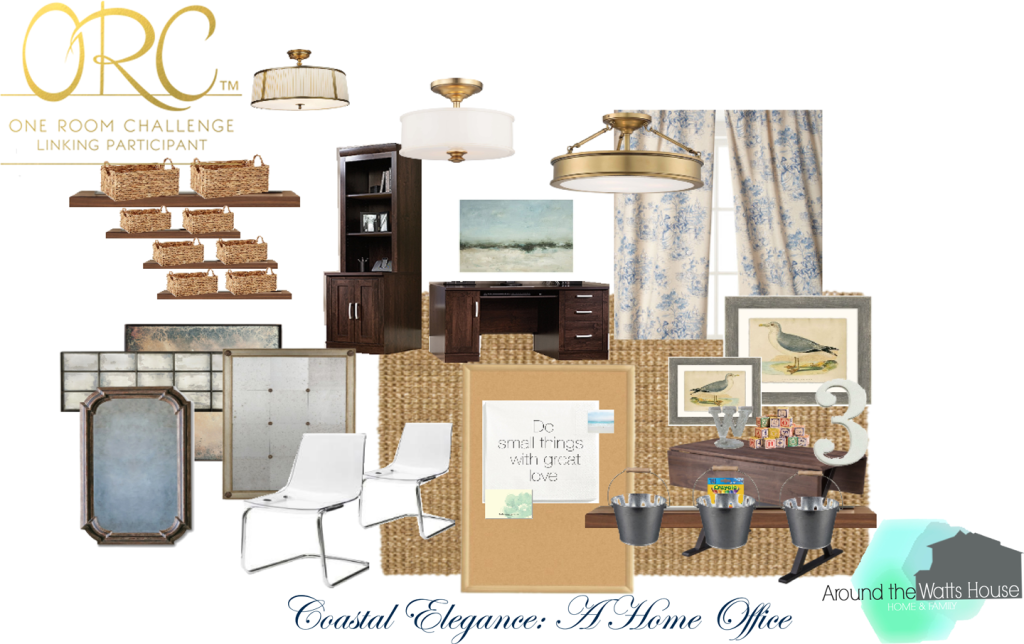 The Plan
Paint Walls-Color TBD
Purchase office furniture, to complete current set.
Find new rug, art, baskets, lighting, and mirror.
Have outlets moved to accommodate new furniture arrangement.
Sew Curtains
Build Floating Shelves
Style and Enjoy!
Be sure to visit again next week!  I'll be sharing BEFORE pictures of the space (eek!), and a more in depth description of my plans for the space.  Don't forget to visit Calling it Home for links to all of the participant's spaces.  I'm positive you will enjoy all of the designs being presented!
One last thing.  Now that my first ORC post is finished (I've been so nervous about it!),  I'd love to hear your feedback, so click the comment button to let me know what you think.  Thanks so much!  I look forward to sharing this journey with you all!
~Iris
[subscribe2]