Thanks for joining us again for the continuation of the Playroom Makeover series!  We're glad to have you back!  If you're new here, you can catch up on our plan, some helpful tips, and the progress we've made by visiting our Week 1 & Week 2 posts.
To refresh your memory, here is the mood board for the makeover this time.  To say that I'm excited about this design is an understatement!  I've allowed for space to play freely, dedicated spaces for imaginative play, and for him to focus on homework and art, and the best part, tons of storage for toys!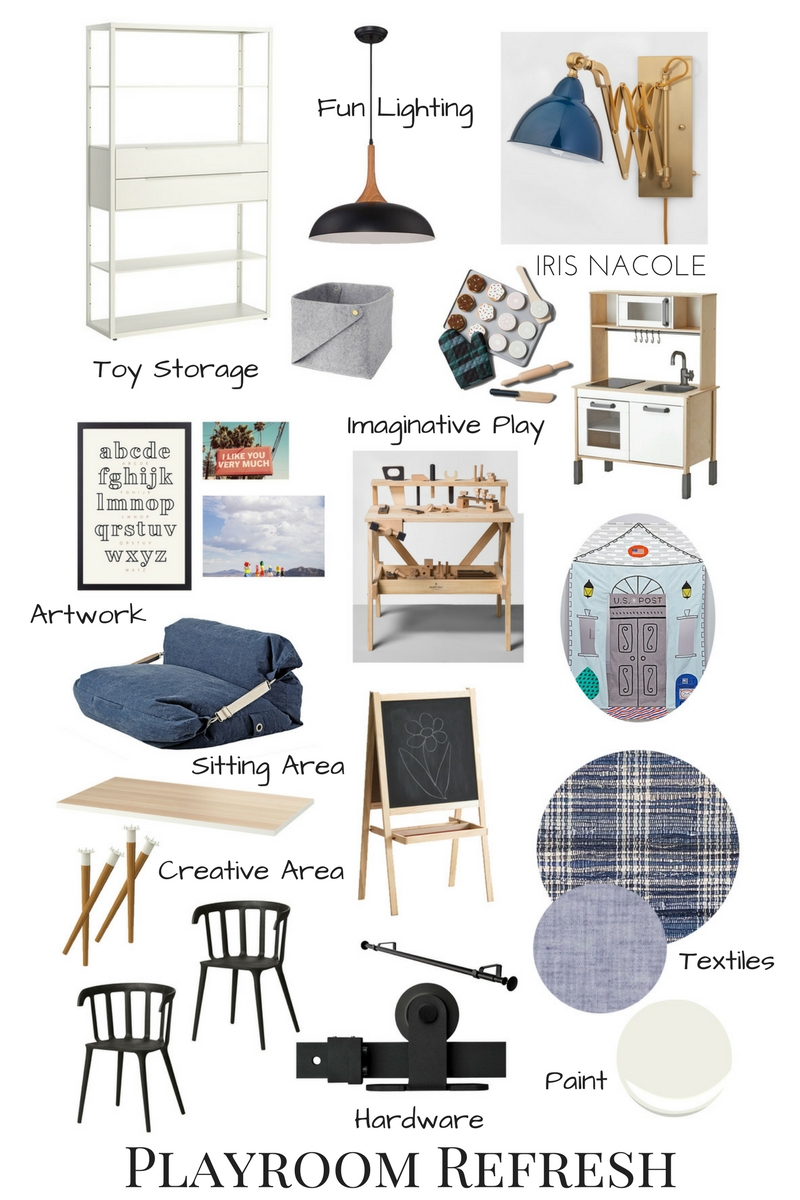 Here's a little look at the mess that existed in this space before we tackled it that past weekend.  Yikes, right!  Just to clarify, once it got this bad, we shut the doors to the space so he couldn't get back in until we found time to clean it up.  I didn't want any injuries to come from this mess, for him or us!
We managed to dedicate an entire day to cleaning up the room this past weekend.  We got pretty far, but I will say that I don't think we will be able to get it all out until we prep to paint this coming week.  The shelving units are attached to the wall, so we will need to move all of the toys and books from that before moving them to paint.  That's going to be a pain, but we will get it done.  I can't wait to see a bright white and fresh wall in here!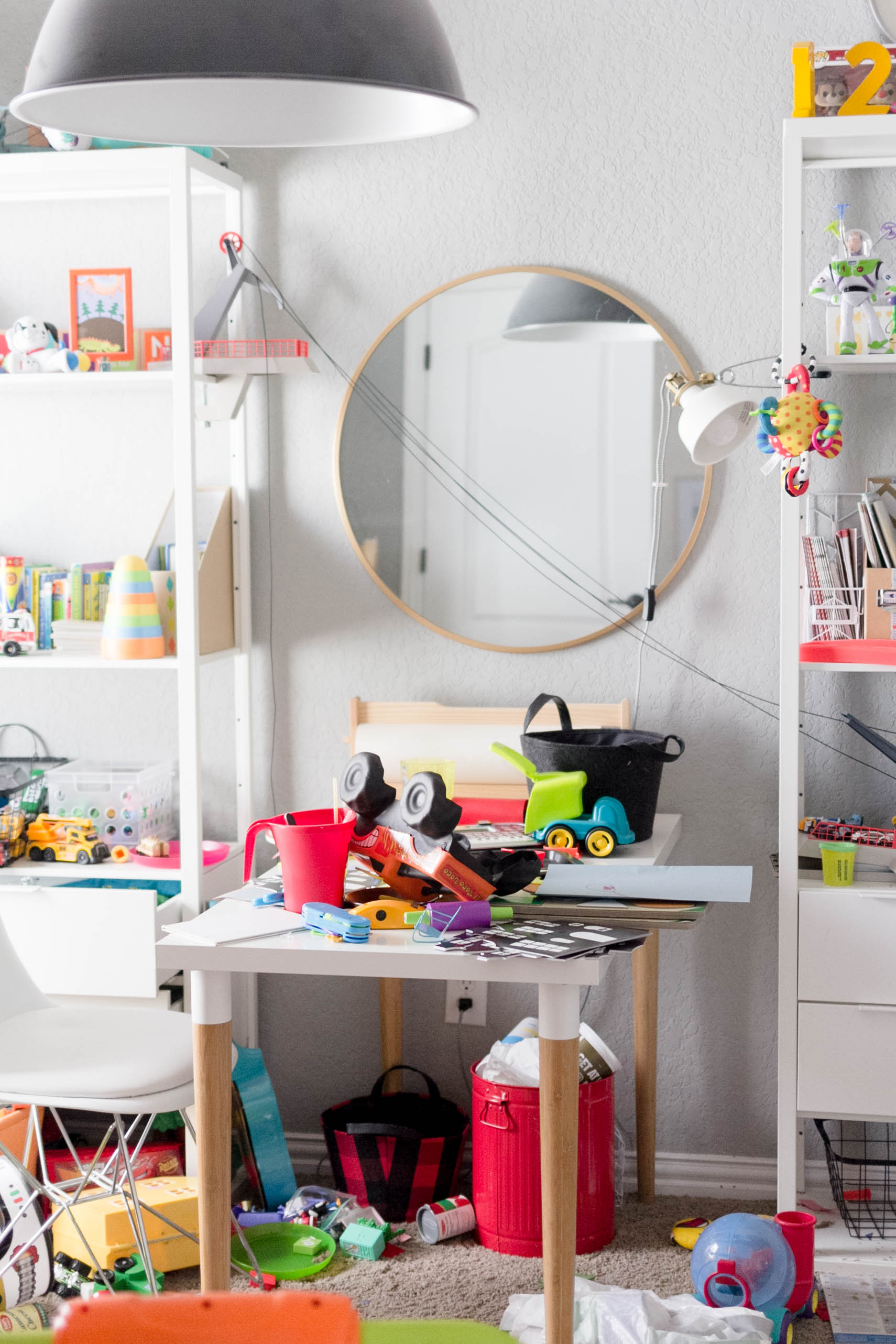 During the cleanup we managed to put together a huge box of toys to donate to some family friends, and a couple of bags of toys to donate to Goodwill or the Salvation Army.  I don't think I shared it before, but we've been hoarding toys for this boy since he was born, so it was a bit overrun with them.  Over the years we've donated toys, but we could never bring ourselves to make him donate things he really wanted to keep, and you know the drill, you ask about a toy and all of a sudden they are in love with it.  I'm so glad we've moved past that stage as parents!
We also threw away anything that was missing parts, or that looked like it wasn't worth keeping.  We had a couple of bags of that too.  I kept asking myself how it all accumulated to being such a huge mess, but I know how.  We would clean up for him, and he wouldn't feel the need to keep it clean, because his only consequence was that we were going to be fixing it all up for him.  That's changing going forward.  He will be responsible for cleaning up his space before he leaves it.  You know, he was always so good at putting his toys away when he was really small, but somewhere around three years of age that all took a turn.  I blame it on the mess that accumulated around the house during our renovations.  He didn't have a good example of how to manage a space well.
Well friends, that's our progress so far!  I hope you'll check back in with us next week!  Hopefully the walls will be painted, and we will be on our way to setting everything into place.  Fingers crossed!
Be sure to check in on the progress of my fellow New Year, New Room Refresh Challenge participants, and don't forget to share you own progress if you've been making over a space of your own!  The links are below.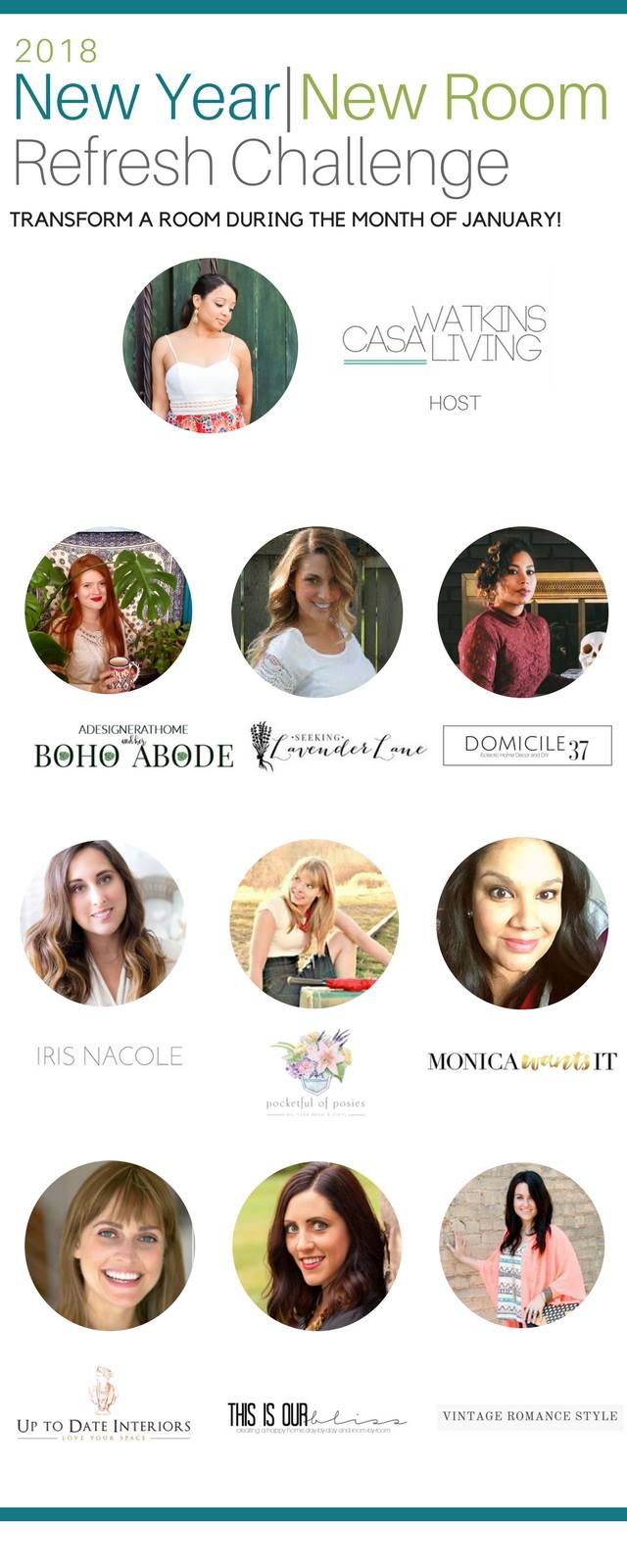 Casa Watkins Living // A Designer At Home // Seeking Lavender Lane // Domicile 37 // Iris Nacole // Pocketful of Posies // Monica Wants It // Up To Date Interiors // This Is Our Bliss // Vintage Romance Style
-Iris