Fall decorating has officially commenced around here, and as usual I started playing around with ideas for my fireplace and mantel right out of the gate.  Okay, you know me, I've been thinking about this since summer started, so it's no surprise that I found part of my decor at Hobby Lobby over a month ago!  Haha!  I'm sharing how I got the look, and how you can too, as well as joining in with some of my favorite blogging buddies for a fall mantel blog hop, hosted by my sweet friend Amy, of My Life from Home.  We hope you enjoy all of the wonderful ideas shared with y'all today!

I couldn't believe my luck when I ran across these cement and gold pumpkins at Hobby Lobby.  Having spent the summer browsing local and surrounding antique stores, I've been feeling drawn to a more crafted style of decor.  I wouldn't go as far as to say it would fit "farmhouse" style only, but because I do come from small town Texas, a lot of what I saw was just that.  The thing is, these pumpkins can fit many styles.  The gold stem works well in the glam style, and the cement can lend itself to an industrial style as well.  What really caught my eye was that that are just so simple.  That's exactly what I'm looking for these days.  Simple styled decor.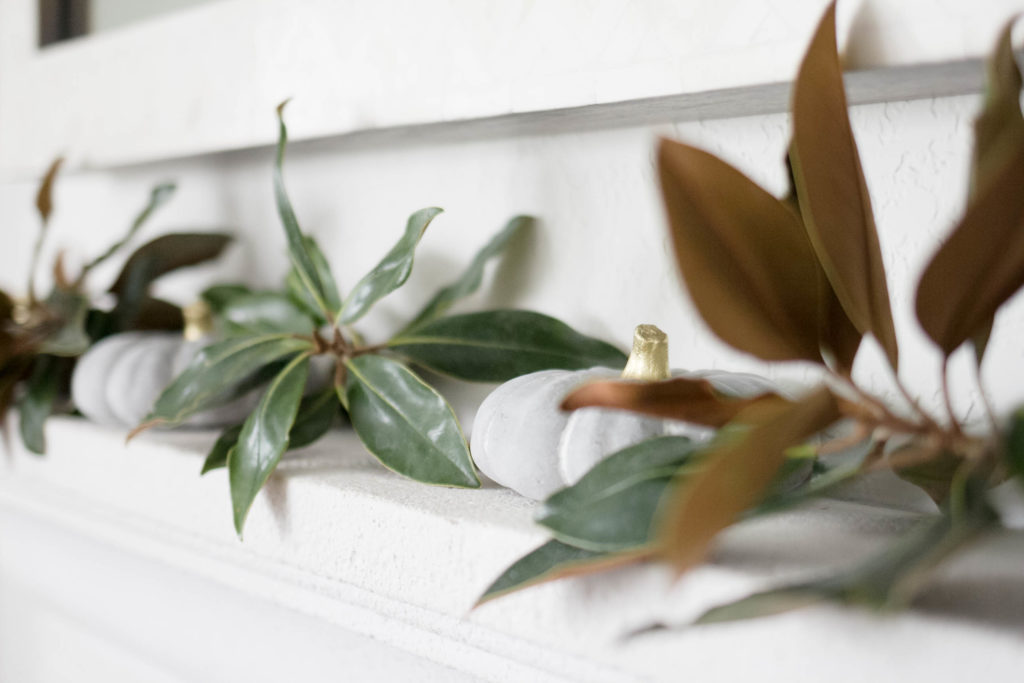 Of course once I had these babies in my possession, I had to figure out how I would display them.  Ultimately, they look great lined up along my mantel all by themselves, but I really wanted to make the fireplace pop, so I played around with a few ideas in my head.  I settled on the simple addition of a few magnolia branches.  I'm lucky enough to have a magnolia tree in my backyard, so I was able to trim a few branches from the lower section of the tree (which needed to be done anyways).
I simply tucked the branches behind the the pumpkins and between the pumpkins, almost giving it a garland look.  That brings me to the great part about this look!  These days you can find magnolia branches and garlands at just about every craft store, and then some!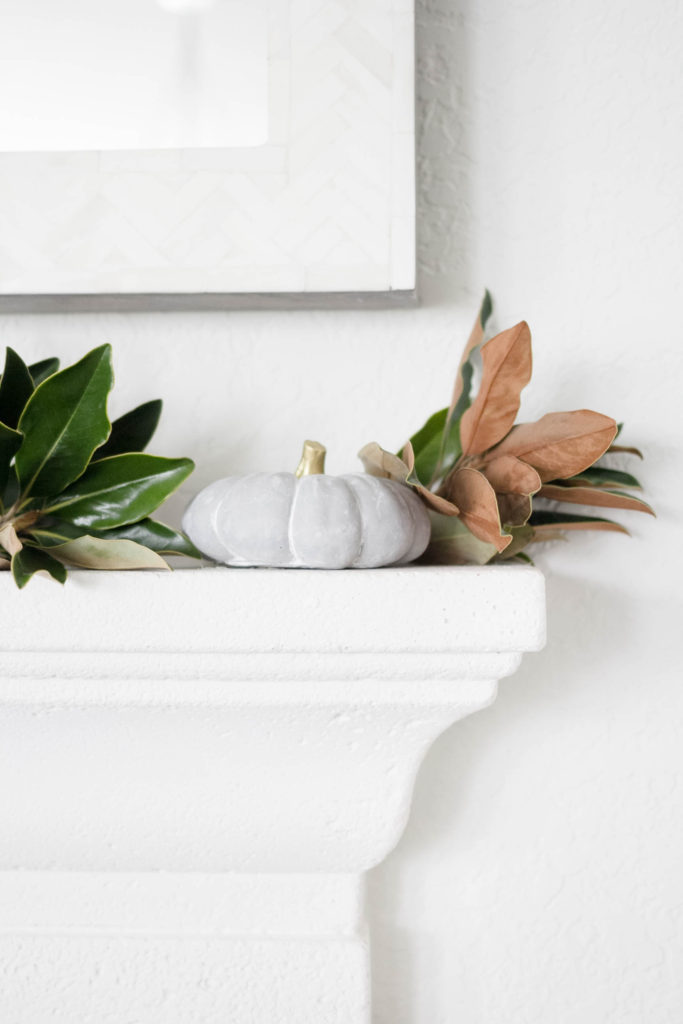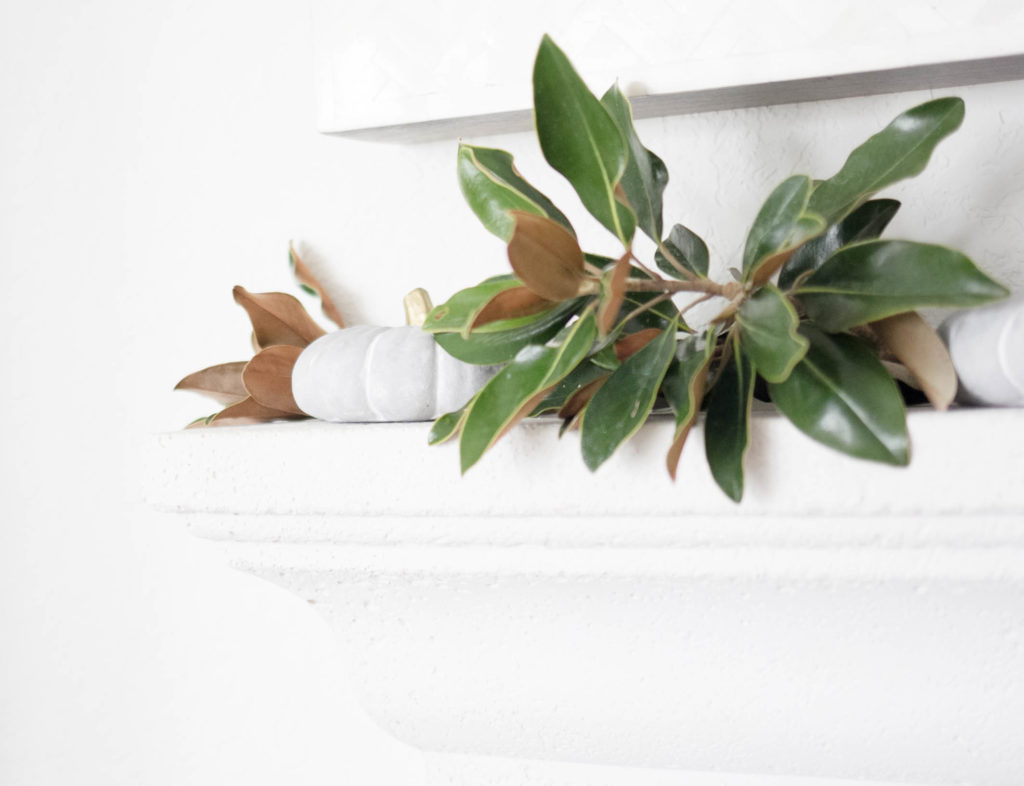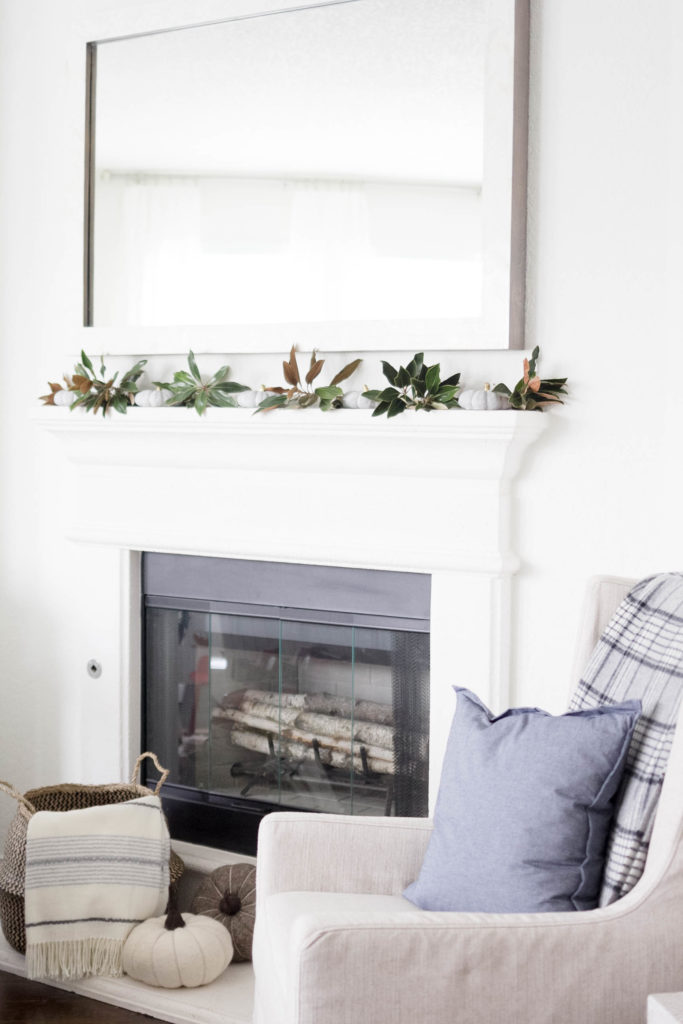 Get the look! (Affiliate links included.)