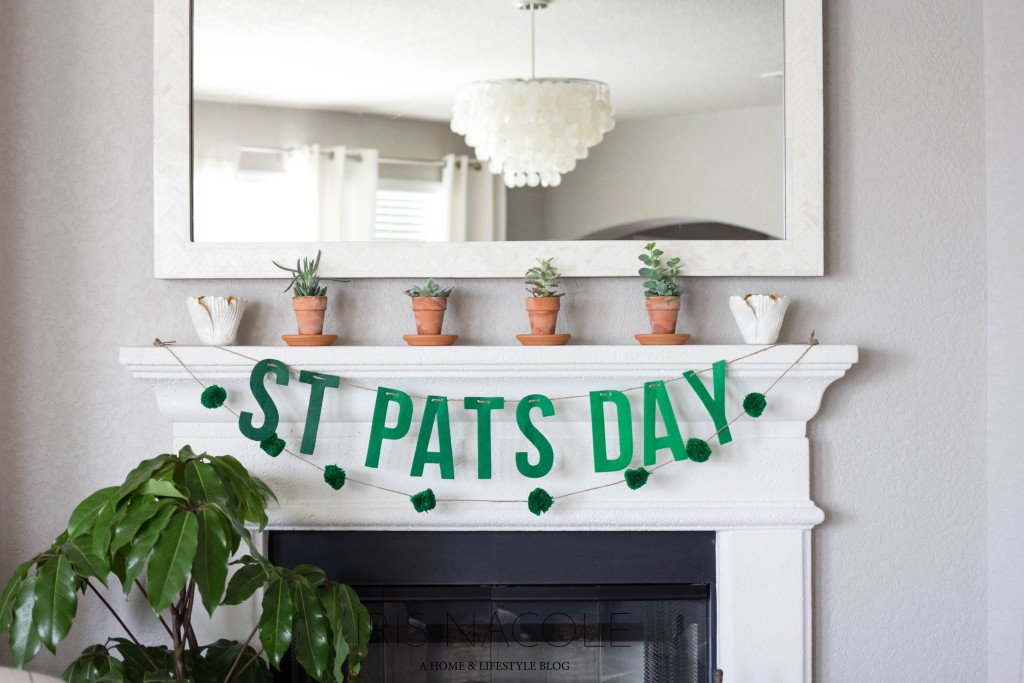 Hey there friends!  I'm back!  I've been on sort of a hiatus from all things blogging for the past couple of weeks, only taking the time to work on things I had committed to previously.  I'm responsible like that.  So why the silence?  I've just been overwhelmed with a few other responsibilities in my life, but things are looking better on those fronts so I'm getting my blogging mojo back, and getting back into the game.  I hope you forgive the lack of response to your comments too!  I have read every one, and truly appreciate you taking the time to share them with me.  I'll get around to getting back to you all very soon!
So what am I doing today?  Well, you can probably tell, I'm sharing my St. Patrick's Day mantel with y'all as part of a blog hop with my  some of my favorite blogging buddies.  Meg from Green With Decor invited me to join in on the fun, and I couldn't resist!  With so many different styles being represented, I always enjoy going on the hops myself, just to see what sort of imaginative things they have come up with, and I bet you will too!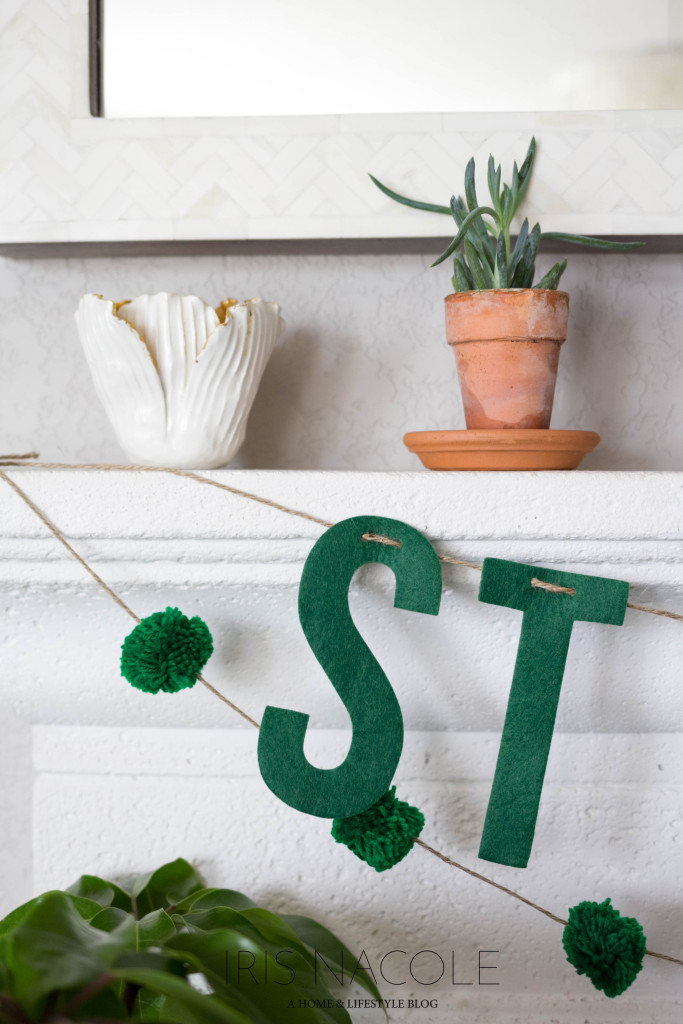 So this year I think I'm going through a transformation of sorts.  A "less is more, but I can't completely let go of everything" sort of transformation.  In doing so, I feel like you'll be seeing me take chances on ideas that I had not taken before.  No, I don't think I'll end up with a whole new style, really it's just that I think I'm much calmer about decorating these days than I was even three months ago.  I let the "must have it perfect" idea seep into my brain, and forgot that I am not perfect, and therefore my house isn't going to be.  So I'm trying to let go of that idea, and as long as my home can hold up and represent me in a positive way, I've won.
Enough about me!  You came here for St. Patrick's Day decor!  St. Patrick's Day has been one that I have celebrated year after year with excitement.  Every year, growing up, my grandpa would tell me that he was of Scotch-Irish decent.  I think he thought I would forget if he didn't.  Haha!  You could just tell how proud he was of that fact, so I went with it.  When it was time to dress up for school he'd come to my room, sing a little song, dance a little jig, and present me with this light up leprechaun pin that I would wear to school, along with a huge smile on my face.  He always made things so magical for me, and because of that wonderful experience I have a special place in my heart for the day, and I want to pass it down to my son.  Since my son is three now I couldn't resist adding this "St. Pat's Day" banner to the mantel, along with my other "grown-up" version of St. Pat's Day décor-the succulents and gold lined votives.  Creative huh?  Haha! I think it's sufficient enough though.  When he is older I'll probably do a lot more, and have crafts for him to make, but right now he doesn't care to sit and work on one thing for too long, so I'm leaving it at this.  Well this and some fun little toys for him to play with.
I found these adorable succulents at Trader Joe's a couple of week ago while on a hunt for some fresh flowers.  I just love them!  They were already potted and everything, making my life much easier too!  All I needed to do was to find the little tray to put under them so I could water them in place.  That was easy enough to do by visiting Lowe's.  So now here they sit, greeting me each morning with their beauty, and reminding me to water them at least once a week.  I have a terrible green thumb as some of you might remember, so having them front and center is a good thing.  Haha!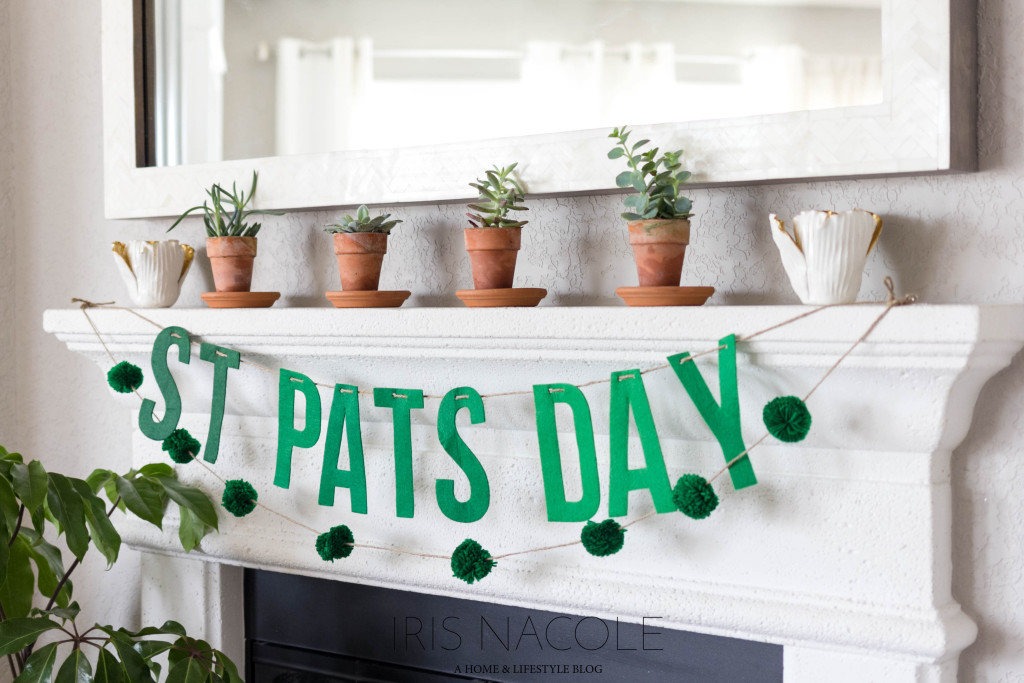 When I was brainstorming for this post I thought about all the cute banners I could make or put together, or wreaths I could make, but I just wasn't as inspired by those ideas as I have been in the past, so I decided to see how I could make my little succulents work for me instead.  So that's the sort of change I'm talking about when I say "less is more".  Thinking outside of the box for everyday décor to represent my holiday ideas.  I mean, truthfully the old me wants to sprinkle gold coins onto the mantel, and add a gold tinsel banner across the fireplace along with what I have up there now, but the new me says, stop and appreciate the simplicity of this and let it be.  So I have.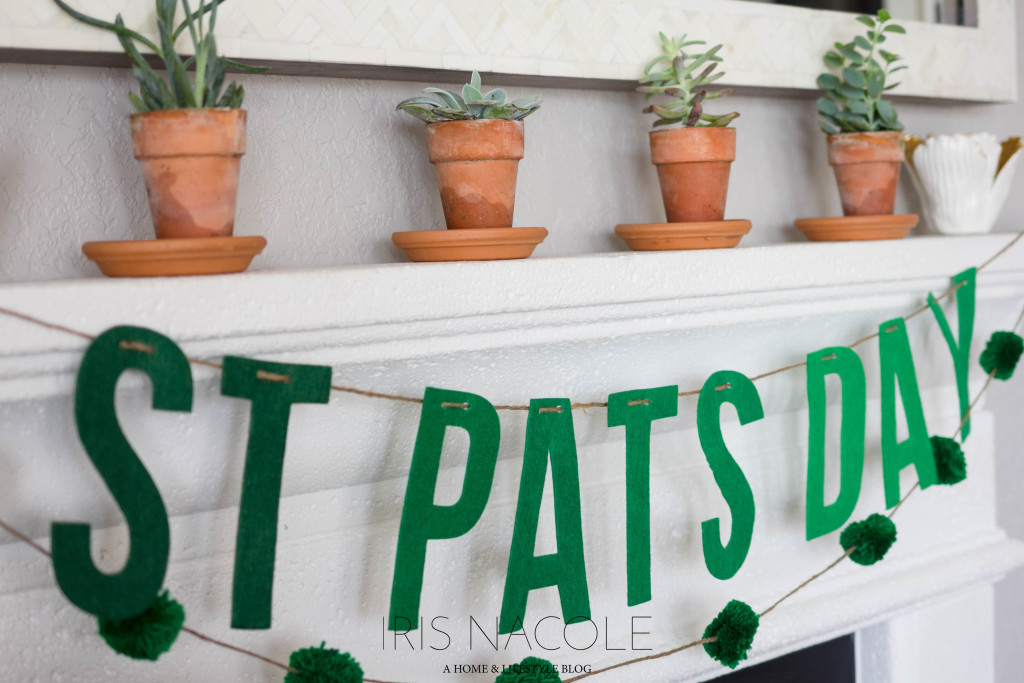 And now I have a disclaimer.  I can't be held responsible for the amount of Easter related decorating I do.  I am hoping I can keep it as interesting as this (I hope you find this interesting!), and bring you all something fresh, from me at least, but then again, Easter has always been a holiday I associate with going overboard, so we will see!
Thanks for stopping by and catching up!  I hope you'll head on over to see what everyone else has been up to for St. Patrick's Day!  It's been a really exciting hop so far!
-Iris
Monday, March 7
Tuesday, March 8
Wednesday, March 9
Thursday, March 10
Friday, March 11