This blog has been compensated in the form of product by Cutting Edge Stencils.  All opinions are my own.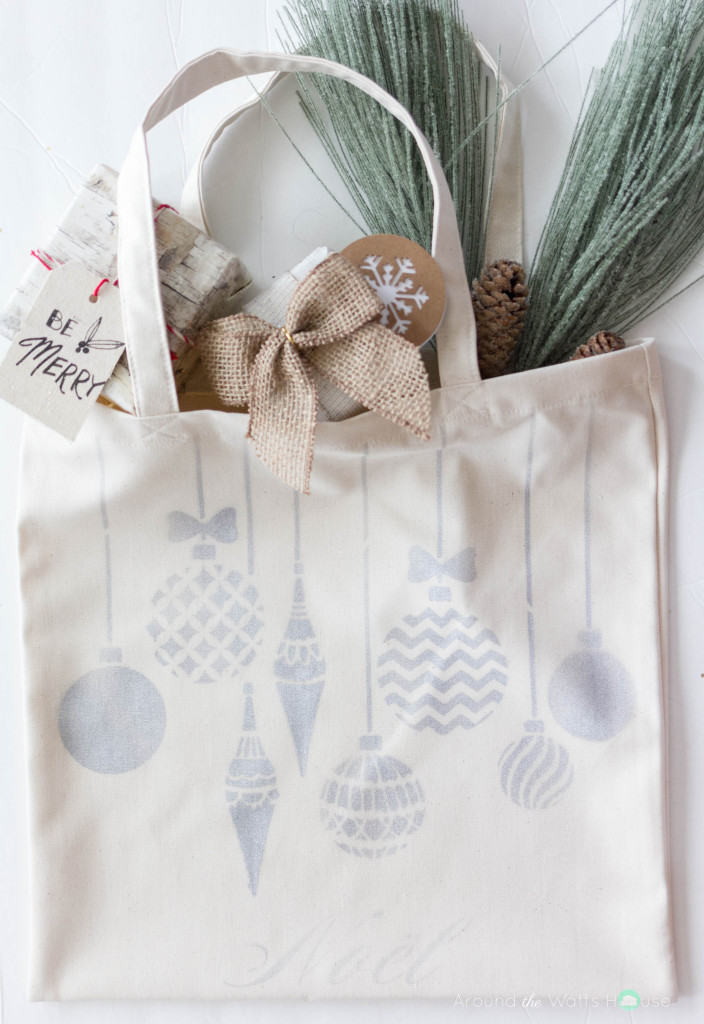 How fun is this time of year, you guys?  I mean, it's non-stop, but everything is so much fun to do and share.  Yes, I still have more to share!  Haha!  This time I've teamed up with my monthly Create and Share buddies, along with Cutting Edge Stencils to showcase their new Holiday Stencil Collection.
I was lucky enough to choose my favorite stencil of the bunch, the 17X17 Christmas Ornaments Pillow & Tote Stencil to create this beautiful tote.  The pretty designs on the ornaments quickly captured my attention, which I knew would be perfect for the season, and I plan to use the stencil again and again through the years.  With so many designs to choose from I'm certain you will find the perfect one for you too!
It only takes a few steps to make one of your own, and Cutting Edge Stencils even offers you the option to add a blank canvas tote to your order so you don't even have to go out and search for one.

Start by laying your tote out.
 The tote that came with the kit has a cardboard insert that helps keep the surface area flat, which makes it easy to apply your stencil.
Position your stencil on to the tote.  I just lay the stencil on top myself, but you could use a Paint-a-Pillow Stencil Frame, for Pillows and Totes, which you can also add to your order when purchasing your stencil.  I've used one before and was really impressed with how easy it was to complete everything!
Once your stencil is in position all you have to do is apply the paint.  I chose to use a spray fabric paint this go round.  I've never used one before, but I really liked how easy it was to use along with the stencil.
Let the paint dry and then remove the stencil.
And there you have it!  Another easy project completed using a stencil from Cutting Edge Stencils!
Of course the great folks at Cutting Edge Stencils are kind enough to yet again partner with us for a giveaway for all of our readers to participate in.  Enter below for a chance to win a Cutting Edge Stencil Kit Valued Up to $50!!! 5 WINNERS WILL BE CHOSEN!
And now that you've done that, be sure to visit the other Create and Share participants to see their projects and tutorials.  As you can see, they came up with some really great ideas!