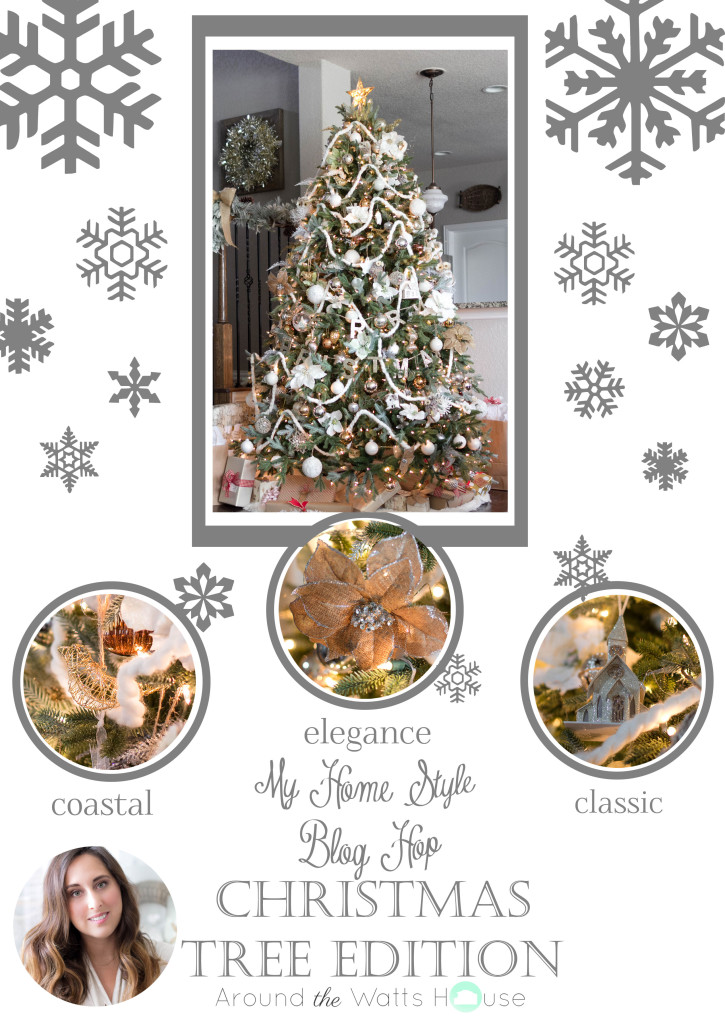 Welcome back friends!  Last week I shared Pt.1 and Pt.2 of my Christmas Home Tour with y'all, and you've all been so kind to me about it.  Thank you all so much!  Pt.3 is on its way very soon. Today I'm sharing a closer look at our main Christmas tree for the Christmas Tree Edition of the My Home Style Blog Hop hosted by my friend Stephanie of Casa Watkins.  Since this is day three of the hop I suggest starting at the beginning over on Casa Watkins to see all of the previous trees being shared.
You might be visiting us via Krista's blog The Happy Housie.  Welcome!  Wasn't her blue tree gorgeous?  I loved it!
The My Home Style Blog Hop is a series in which the participants pick three words to describe their home style, and show examples of what that looks like in their homes.  For the first hop I chose Coastal-Classic-Elegance to describe our home.  Here's how those descriptions play into our tree.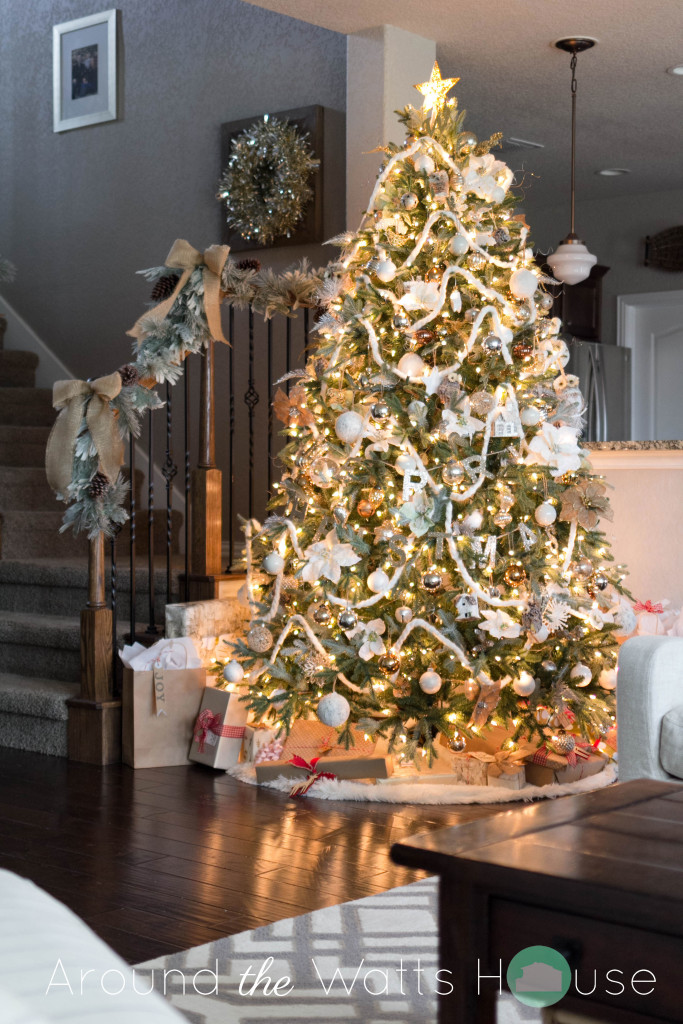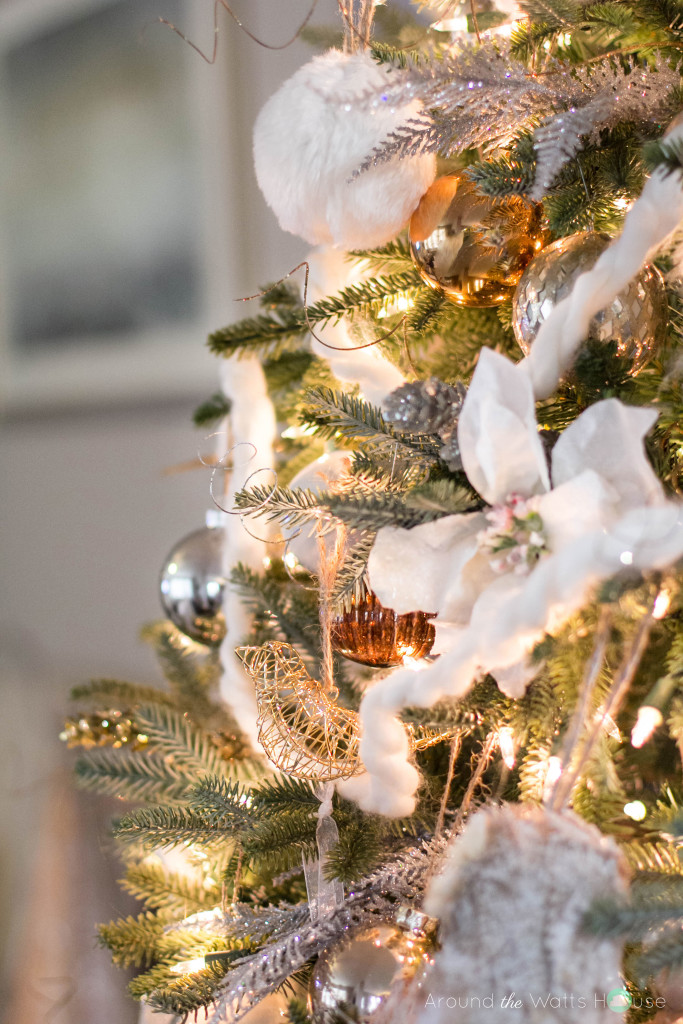 Using a roped style chunky yarn as a garland to wrap the tree lends itself to the coastal vibe I like to subtly add to my spaces.  Since this wasn't going to be a "coastal" themed tree it worked perfectly.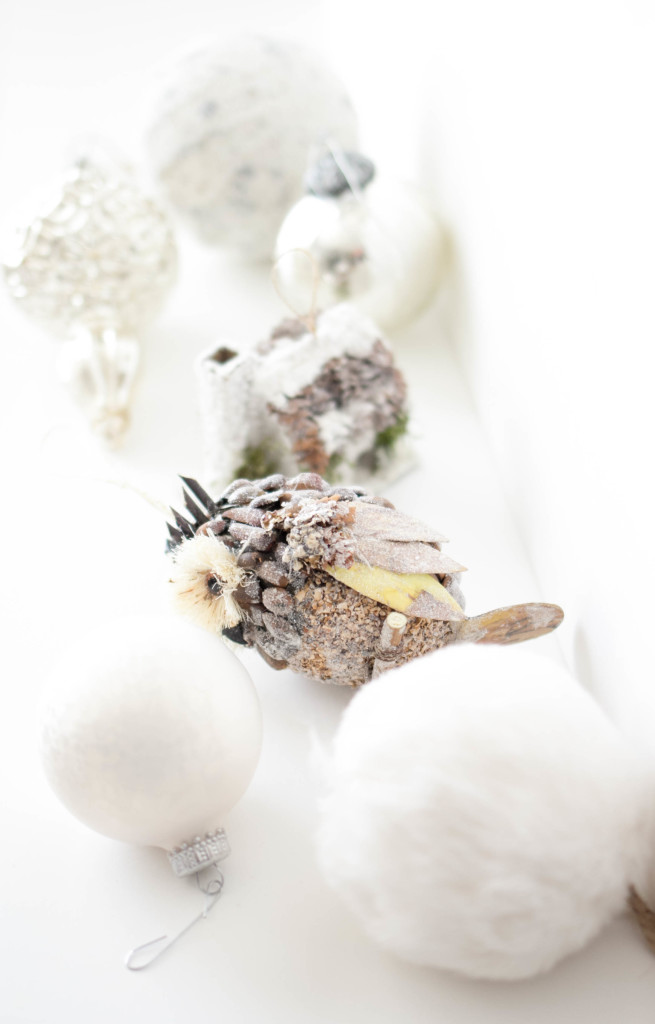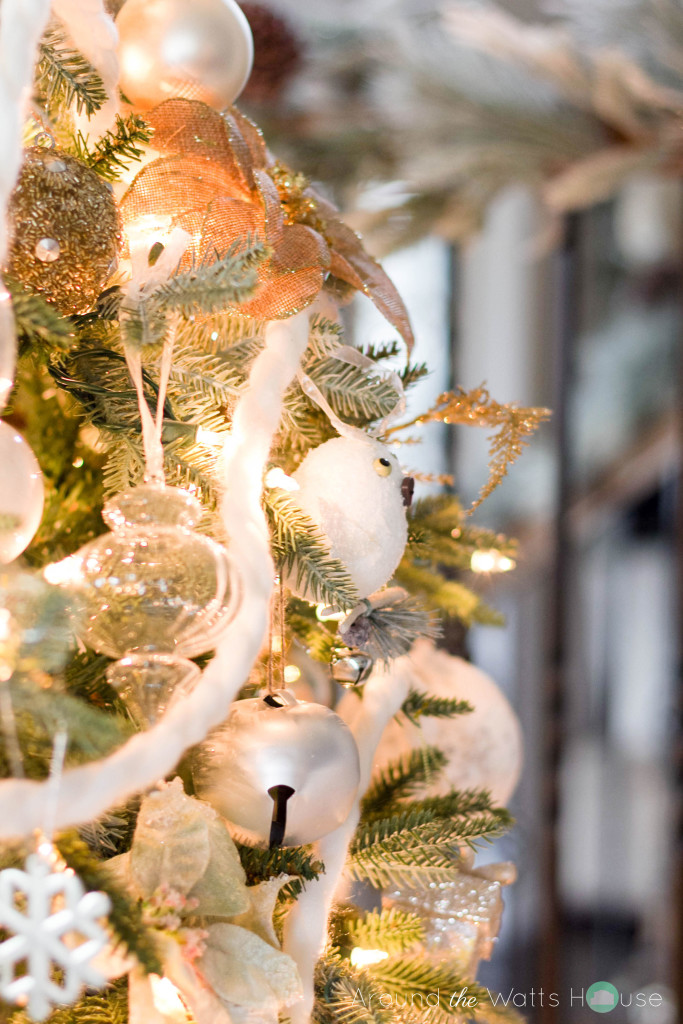 Classic shaped ornaments can be found scattered about the tree. This year I chose to stick with white, glass, and metallic ornaments, but that doesn't mean that it has to be boring!  Look for ornaments that are shaped as your favorite things, or embellished, like these mercury glass ornaments, etc. so they add that bit of flair that'll really make them stand out.  That's what I did here, and mixing them in with the classic ball ornaments evened out the look of the tree.
Tip: Add a fun banner across the tree to add a special message for your family to see everyday!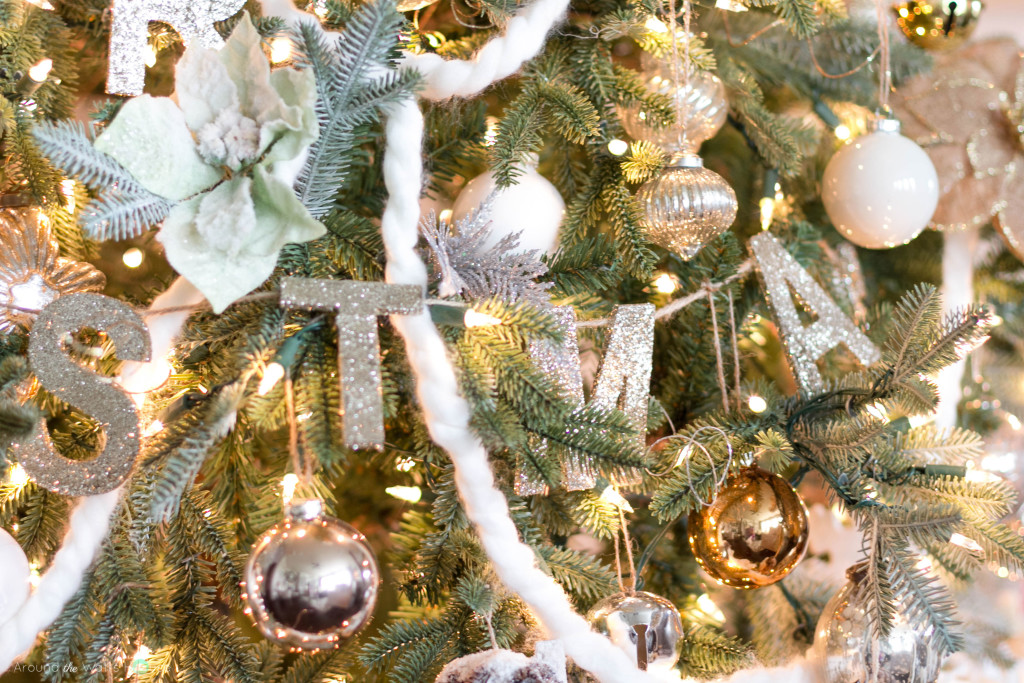 I think the addition of the poinsettias throughout the tree really gives the tree another level of elegance, that makes a big statement.  I had picked most of these out last year during the After Christmas Sale at Michael's, but the burlap clip-on poinsettias were a recent find that I love, and really ties in the decor throughout the house to the tree.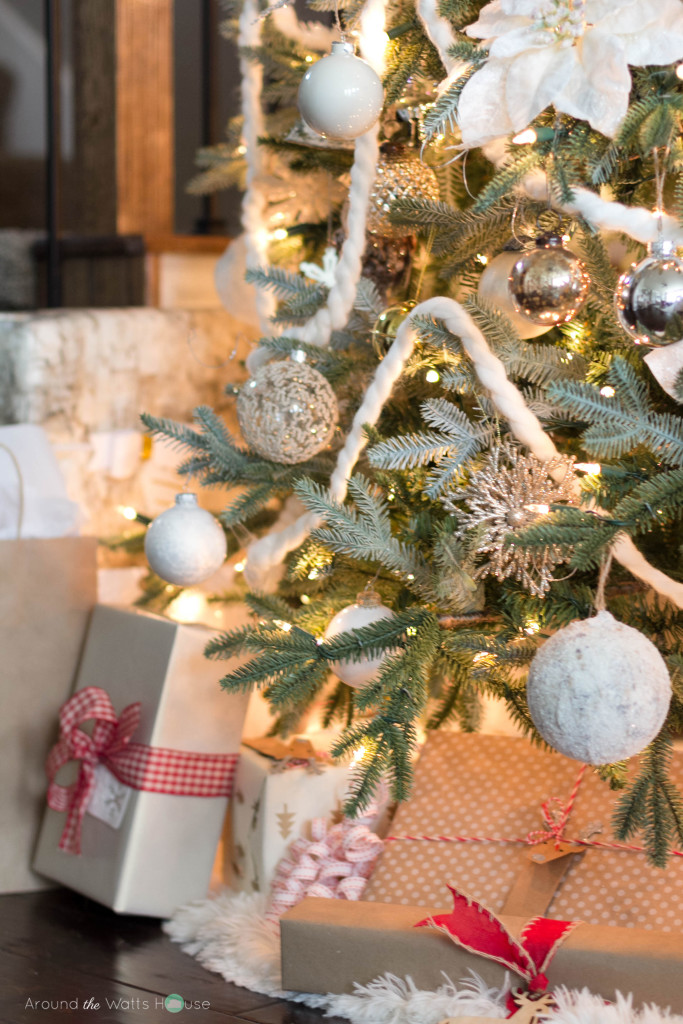 And of course, you can always add some fun pops of color to the bottom of your tree like we did here using paper that lends itself to the colors found in the tree, but adding the color in with the bows and tags you use to wrap your gifts with.
What I really enjoy about our tree this year is that it we've grown into it.  After having our old tree for the last seven years it was time for a new one.  We were lucky and got the new tree last year from Balsam Hill (on sale and using a gift card).  Take advantage of those sales people!  That should be my mantra don't you think?  Even more fun is now that our son is a bit bigger we were able to bring out our old glass ornaments again, bringing back so many great memories from each.  Rordan is really great about not messing with the ornaments.  Heck the only one that's broken an ornament this year is me!  Oopsie!  He even got to help us decorate the tree with the more child friendly ornaments.  That was a wonderful experience too!  My boy is big enough to help decorate the tree!  What?!?  So that's the greatest part about our tree.  Not the actual tree or ornaments, but the memories, and experiences around them.  I can't wait for next year to do it all over again!
-Iris
Now head on over to Flourish & Knot to see yet another gorgeous tree!