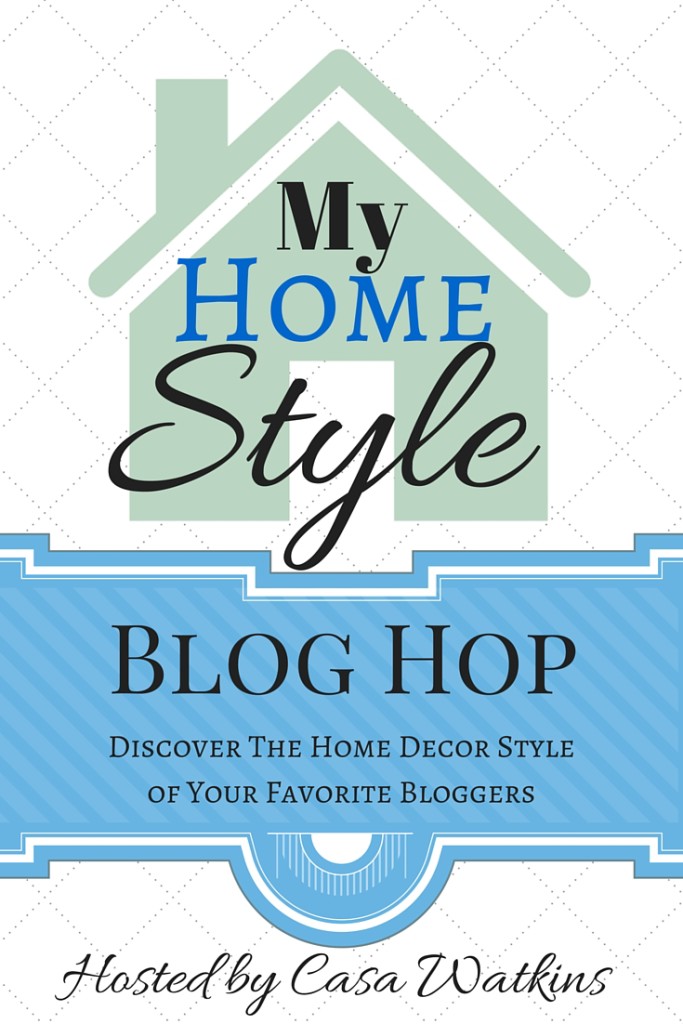 Friends, I have a treat in store for you all today!  I've joined 19 other bloggers to share our personal home decor styles in a blog hop hosted by my dear friend Stephanie, of Casa Watkins.  This group is full of talent and different points of views when it comes to decor, and I just know you will enjoy taking the tour!
If you are coming from Casa Watkins, welcome!  If you haven't visited her just yet, please do so. Stephanie has a beautiful way of incorporating color, and different cultural elements to create a gorgeous eclectic home.
As for me, I've been on a journey to figure out just what my style is, and after a year of in-depth consideration, I've landed on a few that stand out in my home and in my vision for my home in the future.  Coastal-Classic-Elegance to be exact.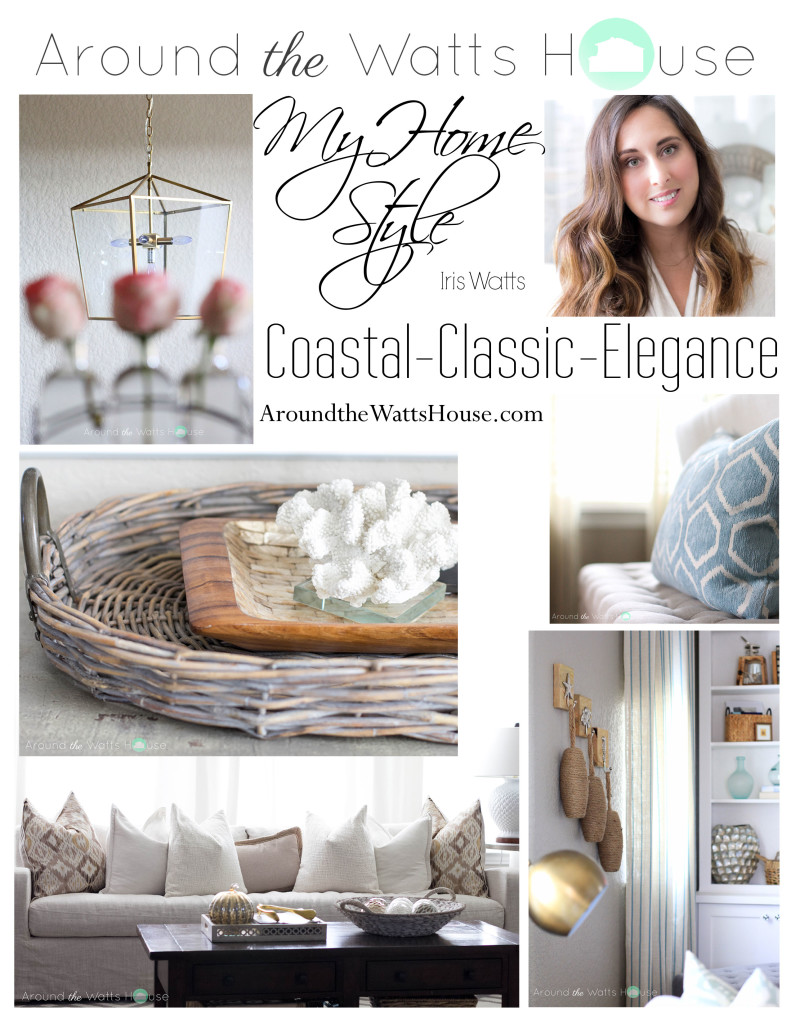 As you can see in the mood board above, I have a love of all things coastal.  I'm not sure exactly when or where it developed, but I have fond memories of vacationing near the ocean, and have been making it a point to add a beach vacation to our list at least once every few years.  Those are the times, I have found, that I am most relaxed in my life.  Laying around, soaking up the sun, or out in the water snorkeling, witnessing the beauty of the ocean.  Even now, as a parent, taking my son to the beach for the first time this year, I enjoyed sitting in the sand building a sand castle, and watching for crabs to peek out from under the sand.  I can only conclude that this is my effort to bring that sense of calm felt, to my home on a daily basis.  Being a mom, and one that does not do well sitting around, or going at a slow pace on a normal basis, I think it's a very much-needed reminder to slow down and enjoy the beauty that is my home and family.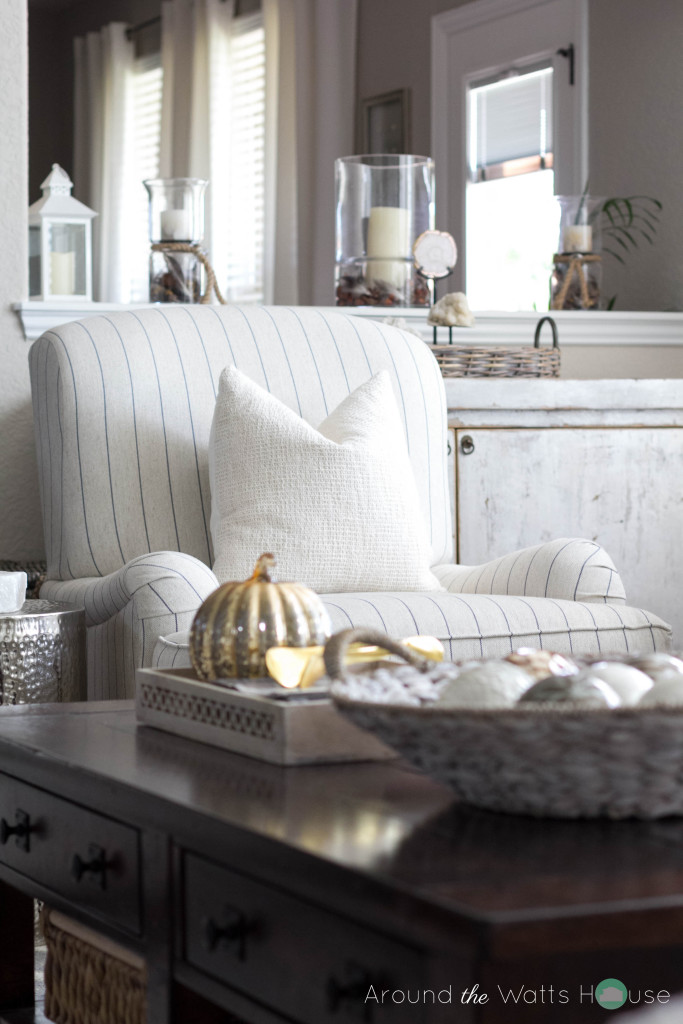 I find that I like to bring those coastal elements into my home in a very classic way, such as incorporating these blue and white chairs into my living room.  These chairs are very structured, but the choice of fabric makes it much more relaxed looking, lending to that coastal vibe I was hoping to achieve.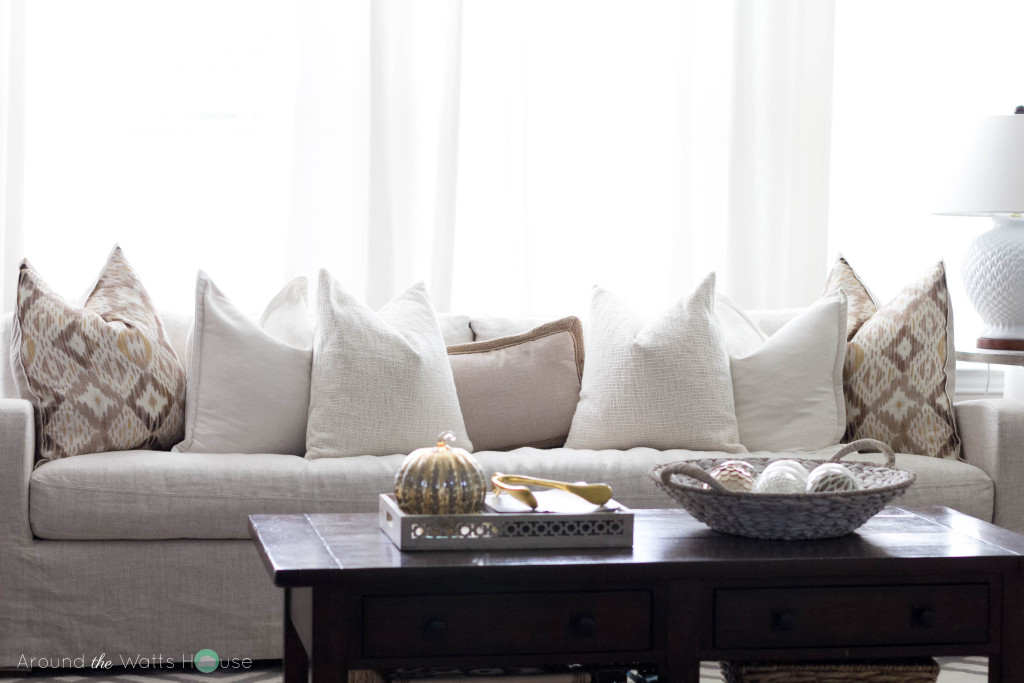 The addition of the  linen slipcovered sofa makes this room breezy, and relaxed.  Even dressed up for Fall, you still get a sense of it.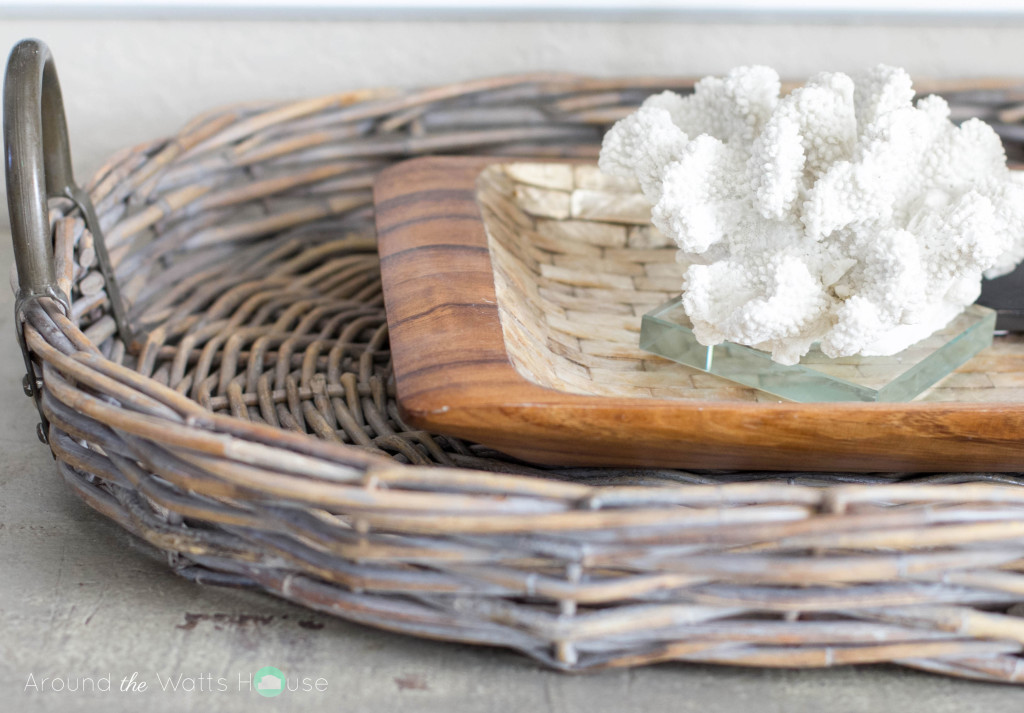 One important thing to know about me is that I love coral.  In any form, real or faux, I will take it!  I display it around the house in various vignettes throughout all seasons.  You can see below, that I have filled my cabinets with displays representative of the ocean.  It's been fun collecting for it over the past year.  Sort of like a scavenger hunt, I find myself always on the lookout for the perfect piece to add to the collection.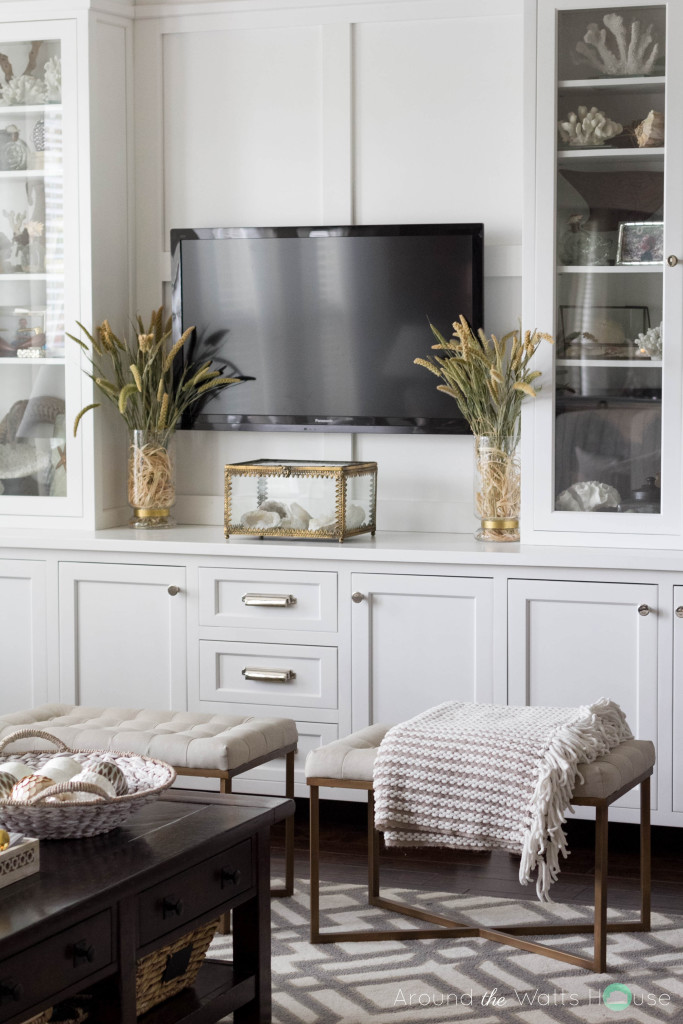 Throughout my home, you can find a variety of colors, but I tend to stick with calmer colors, representative of the ocean.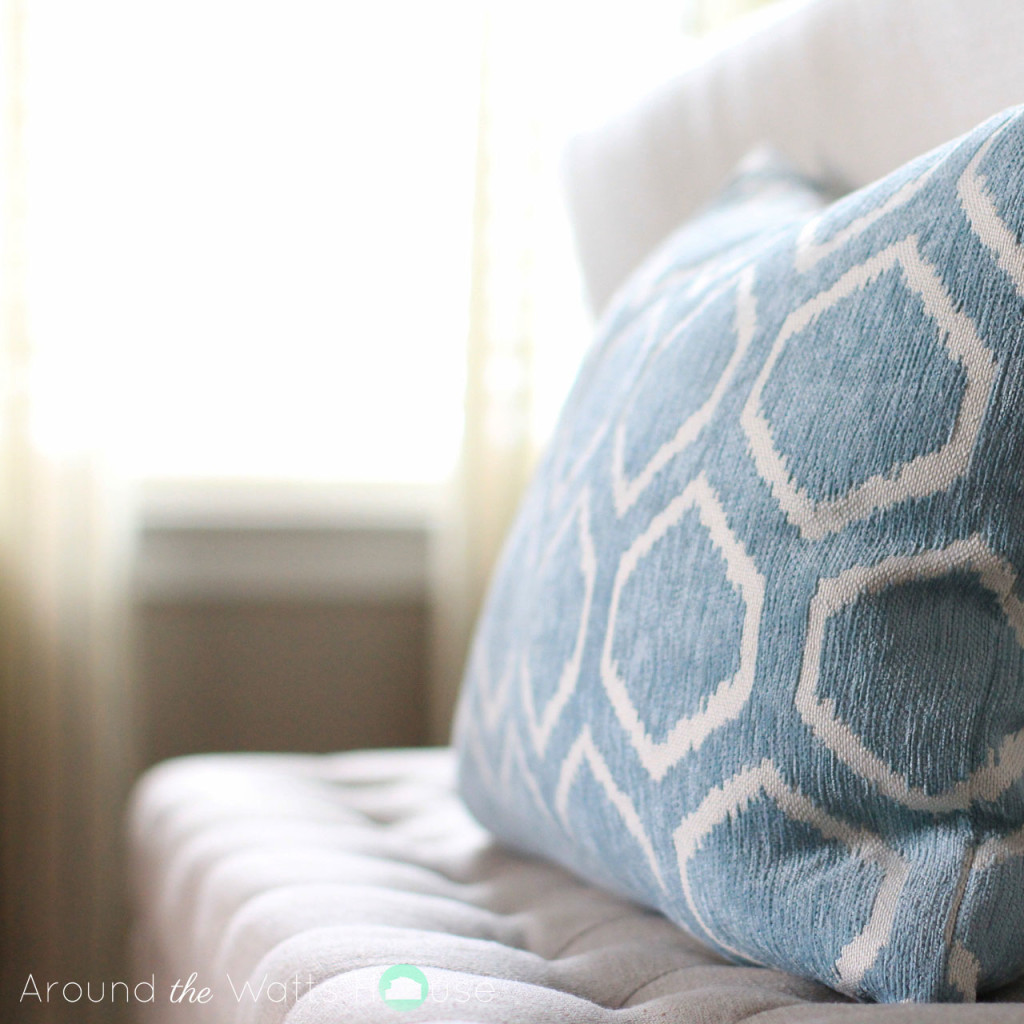 Here in my family room, the sand colored bench, paired with the blue of the pillow showcase this well.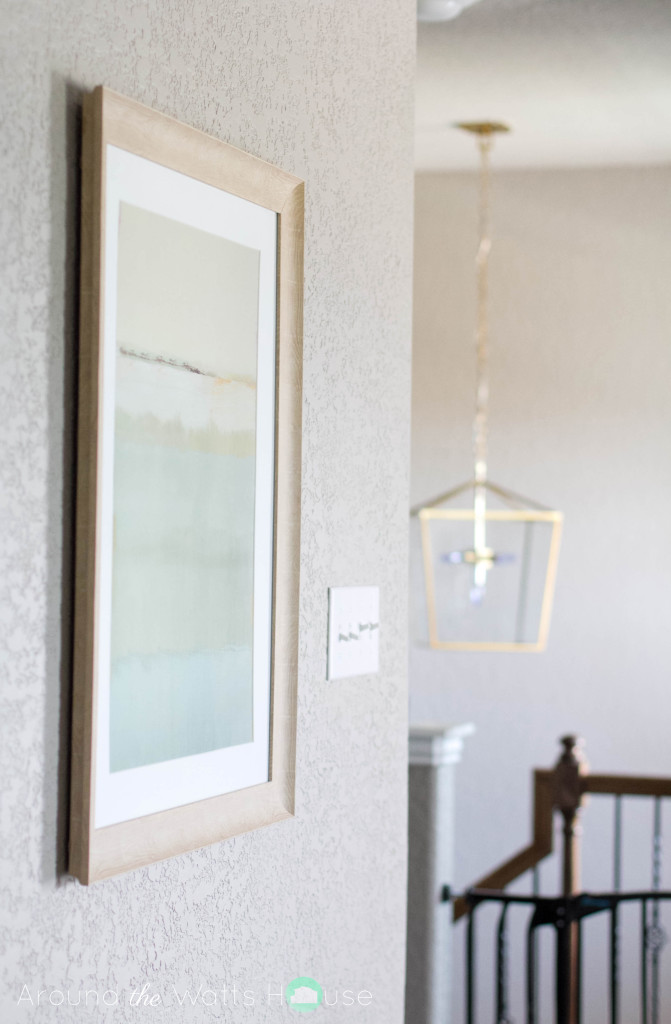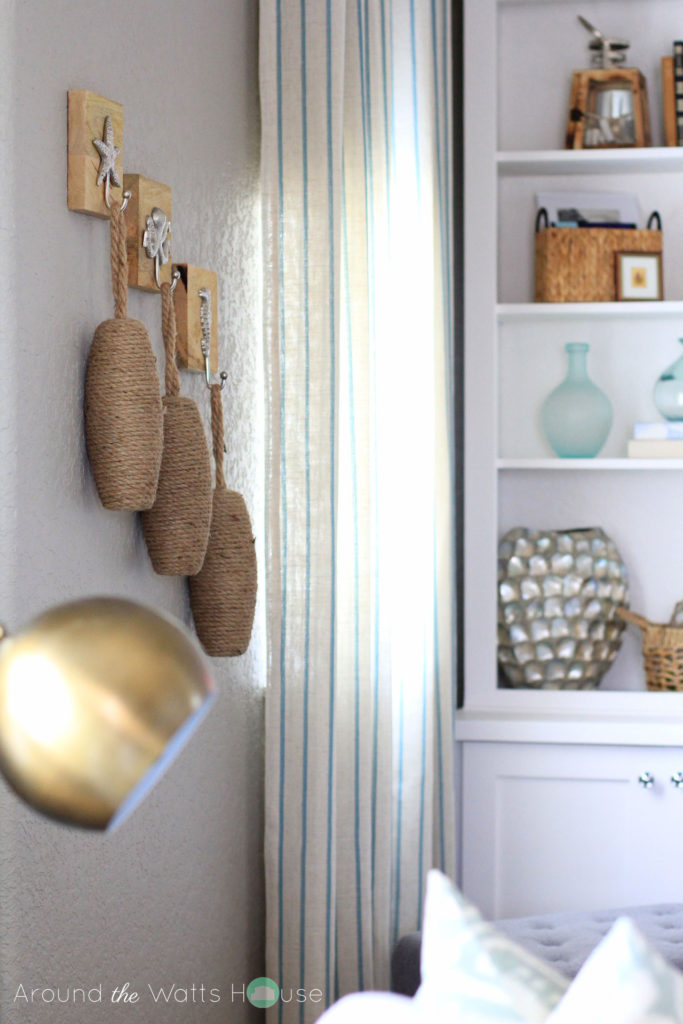 I've even gone as far as creating my own coastal art using decorative hooks and buoys in the family room!  Even though I enjoy the classic "beach-house" setup and decor, I feel like it can be a bit overwhelming for my own home; so my attempt to make this art was also a test to see if I could in fact make it look less "beach-house" and more classic.
That brings me to the other two categories I am sharing today.  "Classic" can be defined in my house in many ways, like the chairs above, but one that stands out is the use of white cabinetry throughout.  Being a builder grade home, we weren't offered these as upgrades.  Once we moved in and I started exploring my decor styles, I quickly realized that it was one element of decor that I was drawn to, and needed to incorporate into my home if I were going to be completely happy with it.
With budget in mind, as it always is, and a stifled sense of creativity after first becoming a stay at home mom, I set out to alleviate the issues by building my own built-in for our family room.  You can see a glimpse of it in the picture directly above.  It was quite the adventure, but one that I am glad I set out on, because I found exactly what I was looking for.  The satisfaction of creating something, and getting my white built-in's finally!
A year later, we were lucky to find a local carpenter to work with to build a cabinet for our living room.  His price couldn't be beat, even if we were to attempt it ourselves, so we happily let him take the reigns and create the cabinet of my dreams.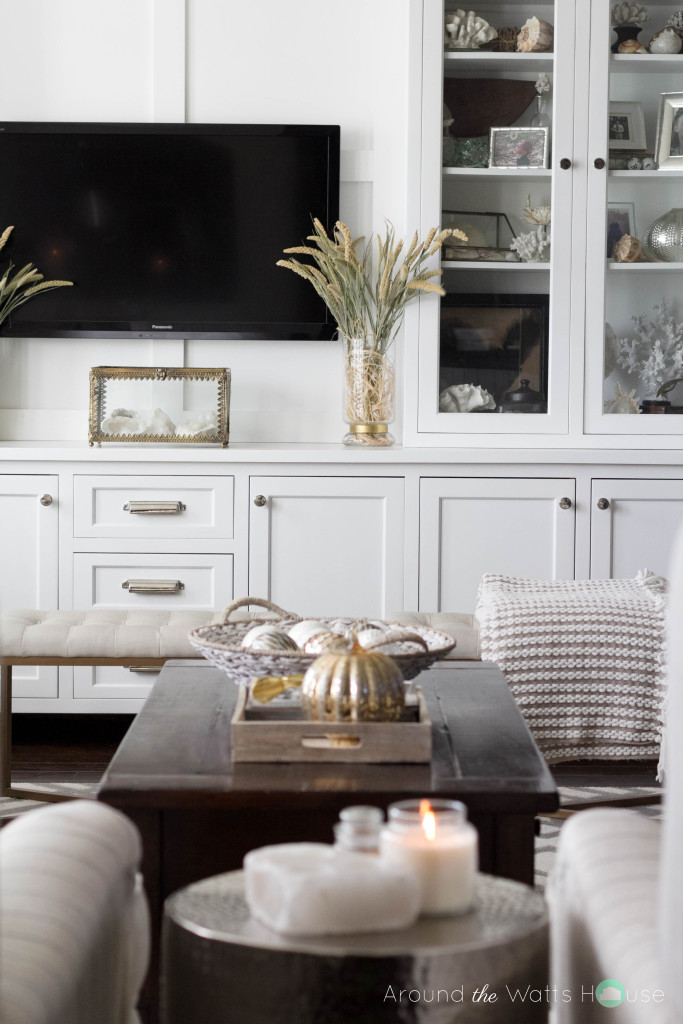 Again, just a small peak of what it looks like.  It completely transformed our living room, and I dare say our home.
As for the term "elegance", I didn't come up with this on my own to describe my style.  Actually, I have been told by many that they find my decorating style to be elegant, and after a few looks around, I can see how they could interpret it as such.  Maybe it's that I'm drawn to the softer, lighter, and daintier pieces of decor, or the way I choose to display natural elements such as these geodes and crystals in a frilly gold box?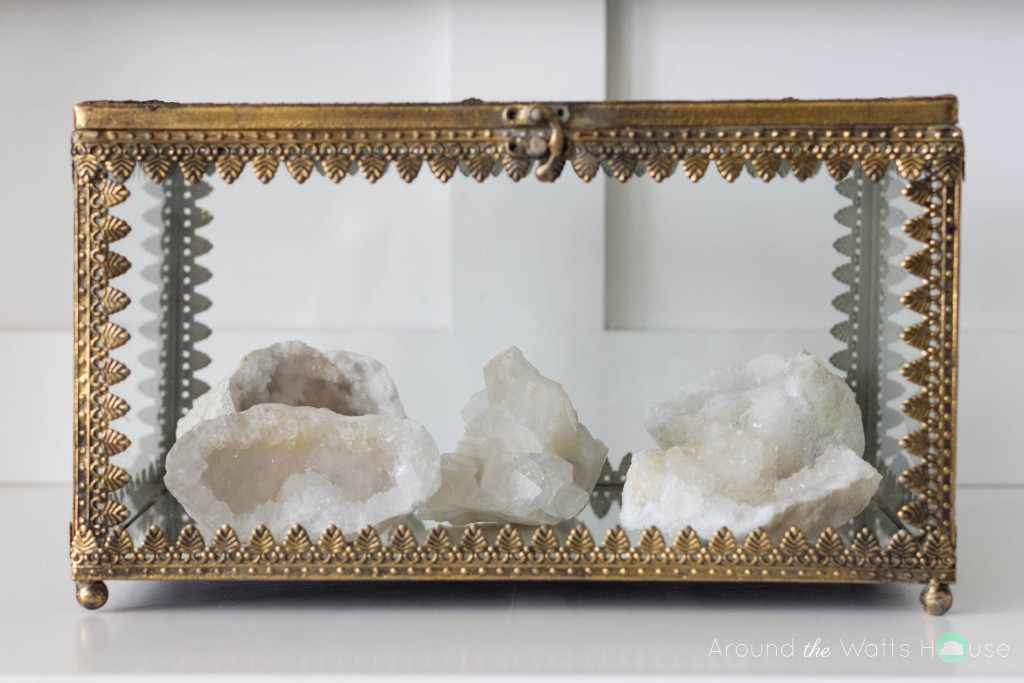 It could even be the use of candles through my spaces, like these pillar candles in glass hurricane displays.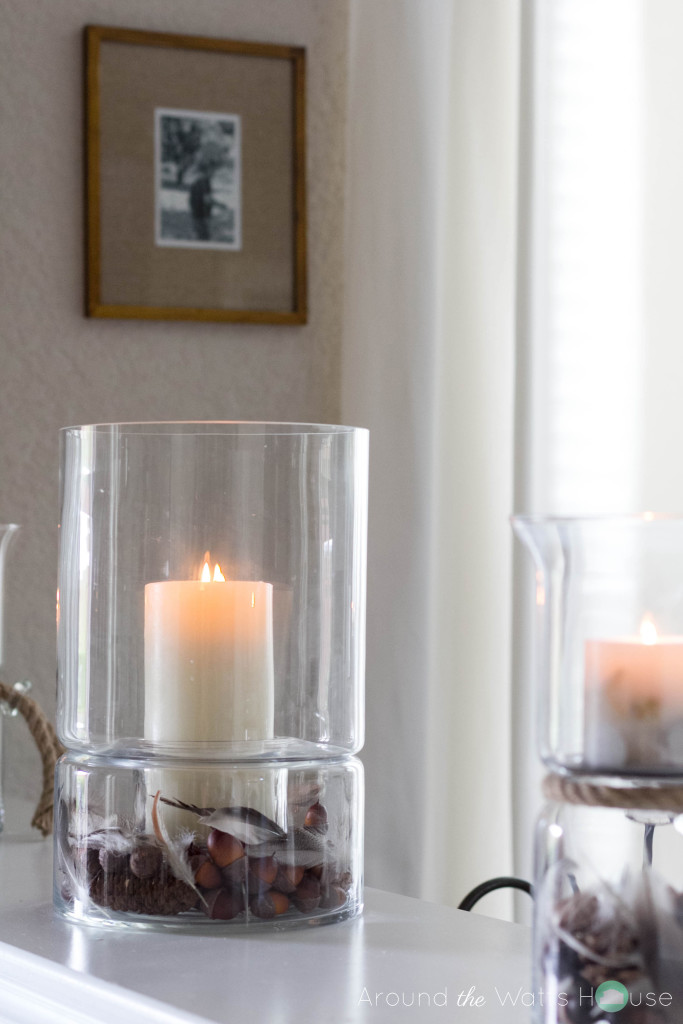 It's one element of my style that I am still getting familiar with.  I look forward to continuing to explore it along with the others, and I'm sure many more to come throughout my lifetime.
One thing's for sure.  I'll be sharing it here, as long as I can!  If you'd like to see more of my home, please feel free to browse around in the Decorate category of my blog.  You will see the evolution of my style from the beginning of this blog to today, with my most recent home tour for Fall.
So that's it for me friends!  I hope you found some inspiration, or maybe even see some of your own style in my home.
Now head on over to Petticoat Junktion, and pay Kathy a visit!  Her ability to bring an old piece of furniture back to life is inspiring, and I am certain you will enjoy what she has to share.
Don't forget to check back tomorrow and Wednesday to visit the next bloggers being featured!  Here are links to each.
Tuesday:
Wednesday:
Thursday:
Enjoy!
-Iris