Welcome to the 2017 edition of the New Year, New Room Refresh Challenge. I love watching rooms come to life with just a bit of extra effort, and that's what this series is all about. With a group of us refreshing different spaces in our homes I'm pretty sure you will find at least one of us that reflects your personal style, and I hope you'll get some ideas to takeaway for your own space.
Last year for the challenge I worked hard to clean up my holiday decor, and put my living room back into order. It was such a great start to the year decor wise, and I'm looking forward to the challenge this year for the same reasons. Since I'm in my office quite a bit during the week working on blog posts or editing photos, I figured it was time to give it a face lift again. A few years ago I completely redesigned the space from a junky catchall room to a functioning office/kids art space. The makeover caught the attention of a few magazines as was featured on their websites. I was on cloud nine with the success of the makeover, and the space worked well for us for a while, but here we are two years later and I find myself blogging more and crafting more than I had ever intended to, and in turn have accumulated quite the collection of craft supplies. Top that off with furniture pieces being stored in here due to the remodels we are working on, and I have found myself back in the same situation I was in before the first makeover. Ugh, I know! I hate feeling like a failure when it comes to organization and design, but I guess that's life. At least that's my life, but it's something I will continue to improve upon, and one day I just know that I'll find a happy medium of ideas that work in general, and work for me personally. Since lifestyle guides my designs, and of course my lifestyle has changed since I first made the space over, I have to expect that the needs of the space have also changed. It's not an excuse, but I'm not one to just sit around (unless it's after dinner and I want to watch some good TV, haha!), so we are busy around here. I tend to overwhelm myself with day-to-day activities that tend to leave the massive clean-up on the back burner, which is why challenges like this are so important for me to take part in. Not only do I get to stretch my decorating abilities a bit, and have a bit of fun doing it, but I also get to focus and clean up a space in my home that needs it.
Here's the plan!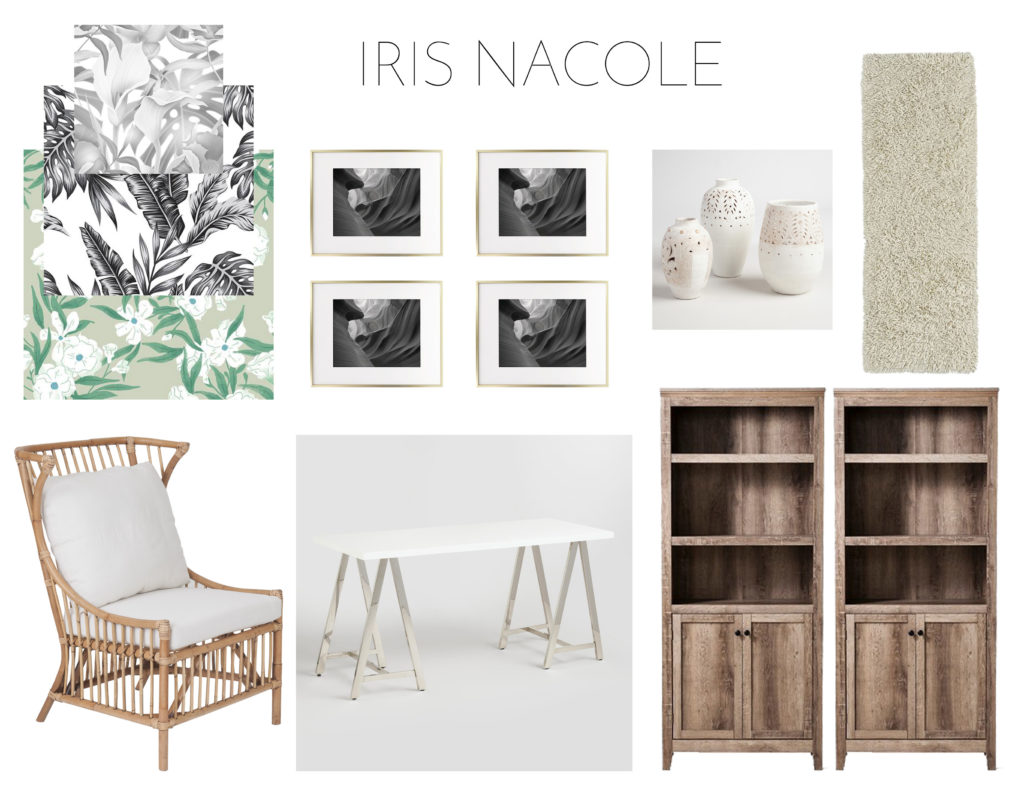 Since joining the challenge, I have been thinking hard about the outcome of this makeover. Overall I am hoping for a functional and organized space that reflects my personal decor style right now, and one that doesn't require a ton of new pieces to do so either.
About a year ago I moved the art space that I designed for my son to his playroom and replaced it with two bookcases from Target. They have provided me with a good amount of extra storage, but as it is now, I can't even get to them with all of the junk in the way. Once that initial mess is moved out, I'm hoping to pull everything away from the walls and give the space a fresh coat of white paint to tie the space in with the overall look of the house. Once that's done, I'm going to put it all back and work on reorganizing the bookcases. I'm not looking forward to all that manual labor, but it must be done to complete the makeover so I'm going to have to suck it up and do it anyways. Speaking of bookcases, the ones on the main wall will be getting a much needed makeover. I've toyed with the idea of removing them altogether and replacing them with wider DIY ones, but that's going to be a call I make down the road. I can't commit to too much, unless I know it's going to be productive to the overall outcome. I'll let you know what we end up doing in a couple of weeks. Some other things on my list are to add new art to the space, change up the curtains, and swap the larger rug with a smaller shag rug, like the one in my living room. I hope to bring in my World Market desk to the space as well, so I have more counter space to work on. I am also switching out my desk chair with a new rattan chair I found on Wayfair.com. It's SO cute! Behind the white bookcases, I'm going to accent the wall with removable wallpaper form Walls Need Love, a sponsor for my makeover. They have a ton of designs to choose from, and I managed to narrow it down to the three options you see in the mood board. I think I've made my decision on which one I will go with, but again that'll be something I share with you all in the weeks to come. I'd love to know which one is your favorite though! Finally I'll be decorating the space with some new decor items from World Market, also a sponsor of this makeover.
Well there you have it! It's time to get to work around here, so I'll be back with a new update next week. Be sure to check in with the other bloggers taking the challenge to see what they will be doing. I'm excited to see them myself!
-Iris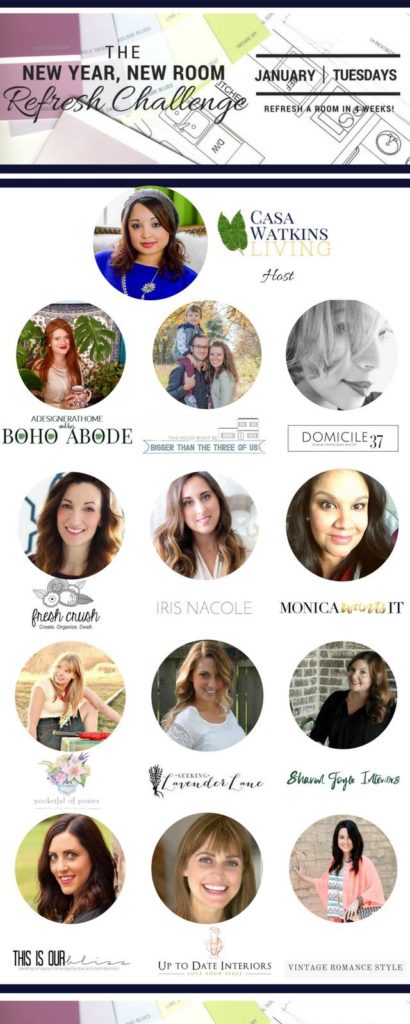 Casa Watkins Living // A Designer At Home // Bigger Than The Three Of Us // Domicile 37 // Fresh Crush // Iris Nacole // Monica Wants It // Pocketful of Posies // Seeking Lavender Lane // Sharon Joyce Interiors // This Is Our Bliss // Up To Date Interiors // Vintage Romance Style