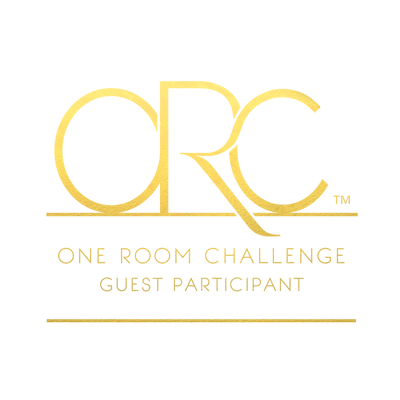 Click here for a link to my Instagram account.  I'm giving a video tour of my space before the makeover on my InstaStory!  Hurry, it'll be gone by tomorrow! 
Wow, it's that time again!  Time for the fall round of the One Room Challenge.  Learn more about the ORC here at Calling it Home.  If you are just finding me, hello and welcome!  I'm Iris, an Interior Design/Craft/Lifestyle blogger.  This will be my fourth round to participate in the One Room Challenge as a guest participant.   I had it in my head that I would be sharing an entirely different space with y'all today, but as fate would have it, my closet has become a priority in an effort to get my home organized.  I'm pretty excited about it too, since I've been daydreaming about walking into my closet, and picking out clothes with ease.   I mean, who doesn't feel a little stress when getting dressed, especially when you are rifling through a laundry basket full of just-cleaned clothes to pick out your outfit for the day?
Confession, it hasn't always been this way.  I used to be "pretty good" about laundry, ironing, etc., back when I was working.  Today though, I just can't seem to get it together, despite having a laundry room that I love, and a pretty nice wardrobe to work with.  I wash clothes, let them sit in the dryer for an extra day, shove them into a laundry basket, haul them up to the bedroom, and there they sit.  My gosh, that might even be somewhat acceptable if I didn't have an entire room, my walk-in closet, to put them into!  I can't however, because the space has been full of older pre-baby (2012) clothing that I refused to let go of, in hopes that I might one day fit into that XS shirt again, which isn't happening anytime soon.
During the planning process for the space I got tired of working around all of these useless clothes, and after hearing about a shelter for battered women and children that I could donate to, I went through my entire wardrobe and pulled out every last piece of clothing that wouldn't fit me, and donated it to them.  I would much rather help keep a family clothed, than have clothes sit, take up space, and collect dust.  With that move I feel more than ready to tackle this makeover.
To be honest though, even after removing so many items of clothing, I'm left with a space that looks like a catch-all room.  Seriously, I escape that sort of space!  I need an attic, or basement, to store all of our junk, but that just wont happen around here, unless our next ORC is about transforming our attic into a new storage space.  Who knows, it just might be!  Seriously though, I swear my next home will have an unusual amount of closets, and storage built into it.
So friends, that's where I'm starting this challenge.  With a mess of a space that needs to be cleaned out and have all current closet systems moved out.  One being the beast I built a few years back while I was bored of my daily routine.  It's not my best piece of work, and the design itself lends to its demise.  You see, I'm short, and my desire to store clothes up higher than my head was a bad idea, which caused me to avoid accessing those items of clothing.  Truly I should have just stepped up on my step-stool and reached for them, but I just wasn't all that motivated.  Yes, I realize how lazy that sounds, and I'm pretty embarrassed about it, but I'm facing the facts here friends.
Knowing that I wanted to participate in the ORC this fall, I started planning for the spaces I had in mind a few months back.  While looking for affordable closet systems  I ran across an article showcasing Ikea's new closet system: the Elvarli.  It looks exactly as I had hoped my new closet system would look, and fits perfectly with my "boutique" style goal for the space so we set out to Ikea, which is about two hours away, and purchased the system sight unseen since the store hadn't put the display together yet.  I have all the boxes currently sitting in the space, which is lending to the catch-all look.  I can't wait to get to work this week and really get this space cleaned out so I can put it together!
Let's talk design for a second, since that's why you are here.  (Sorry for talking your ear off, but it all needs to be said.)  Personally I enjoy clothes shopping.  It was a pastime for me before getting pregnant, and though I've been to the mall since, it just hasn't been the same.  Walking in with a little one in tow, trying on clothes while trying to calm/quiet him, since he seems to think he is a real life alarm and makes the loudest noises you've ever heard, is just not that relaxing, so I try to avoid it at all costs.  I still buy clothes, kid in tow, but not from stores that offer cute dressing room setups, where people would probably not expect to hear the noises that come from my little family.  Him: "Beep-Beep!" Me: "Shh!"  Him: "Hoooonk!" Me: "Shhhhh!"  Him: Even louder noises. Me: "Seriously, stop being so loud!" Silence. Me: "Don't hit the mirror!  It will break and cut you!"  Haha, can you relate?  I'm doing the next best thing with this makeover though.  I mean, if I can't go to it, why not bring it to me!  I'm focusing on function of course, to store my clothes in an organized manner.    With the closet systems I'm planning to use that should be covered.  To top that off, I want the space to be beautiful, inviting, and feminine.  As you can see from my mood board for the space, I think I might have hit the mark.  Now let's see if I can bring it to life!  Follow along with me here, and on my social media accounts over the weeks to come to see!
Thanks for stopping in!  Feel free to click the pictures above and tour my past ORC spaces.  Hopefully they will also bring you some inspiration for your own home!
Until next week!
-Iris
Be sure to check out my One Room Challenge Boutique before you go!  You'll find products ranging in price to help you recreate the look yourself!
What to expect from Iris Nacole during this challenge:
Week 1- Introduction of Space/Plan
Week 2- Before/Progress Pictures/Space Planning (Paint color, layout, products purchased.)
Week 3- Progress Pictures/ Setbacks-if any/ Plan changes-if any
Week 4- Progress Pictures/ Setbacks-if any/ Plan changes-if any
Week 5- Me panicking that my space must be done in the next few days in order to have it ready in time to reveal.
Week 6- The BIG REVEAL!