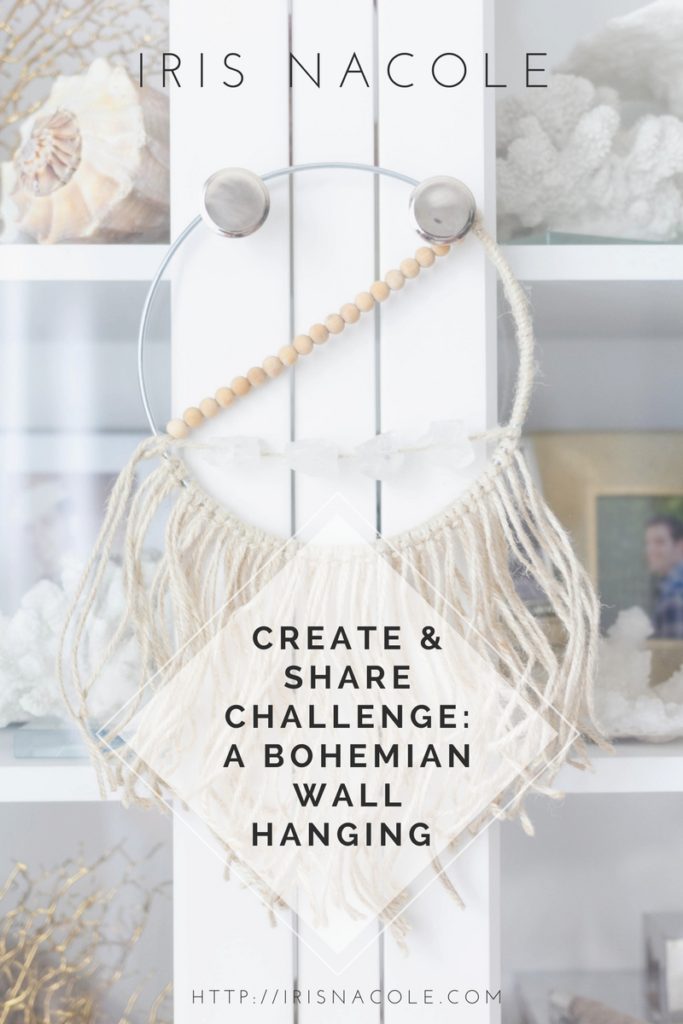 I'm joining up with my friends in the Create & Share challenge this month, to see what we can all come up with when using rope.  The vast amount of projects you're going to see from us will be exciting, and I hope you visit each and every blog to see just how we each came up with our projects!  Just scroll to the bottom of the post for links! 🙂
I've been on a bit of a boho kick as of late, and I've been eyeing some really beautiful wall hangings for sell online.  Instead of spending my money on those though, I decided to attempt my own, and I think it came out pretty nice!
Here's how you can make one for yourself.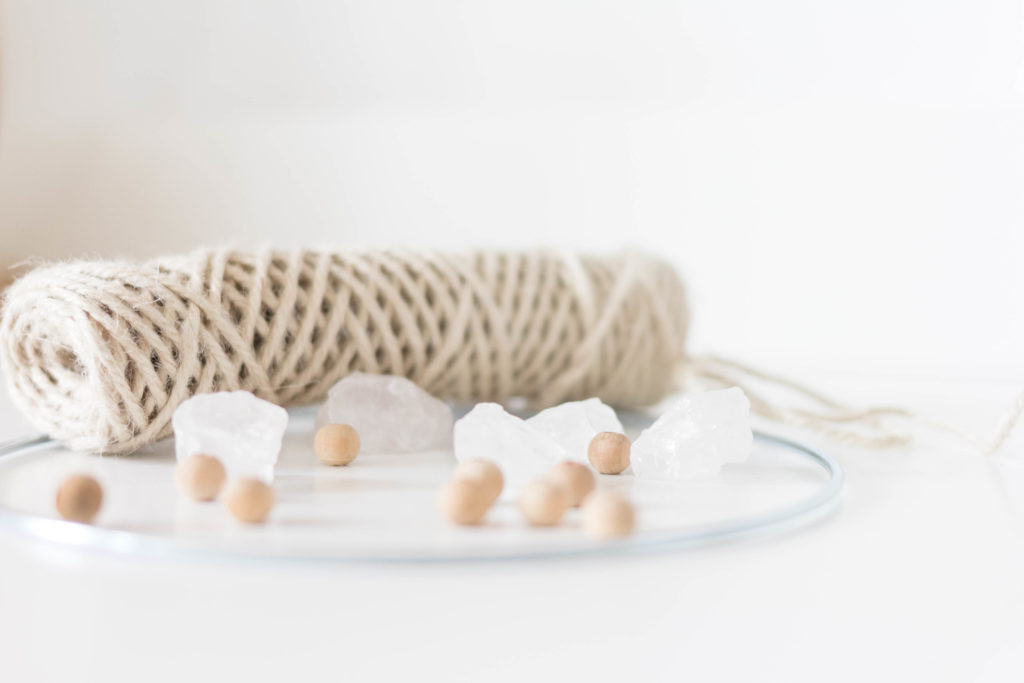 Supplies:Twine, Wooden Beads, Crystal Beads, Metal Ring
Directions:Start by preparing your strings of twine.  Decide on your desired length of twine, and double that to accommodate the looping method below.
Fold twine in half, holding it above the metal hoop.
Wrap the lower half of twine around the metal hoop, and feed it through the opening.
Pull twine through the opening until tight, and repeat until the bottom half of the hoop is covered.
It should look like this once you are done.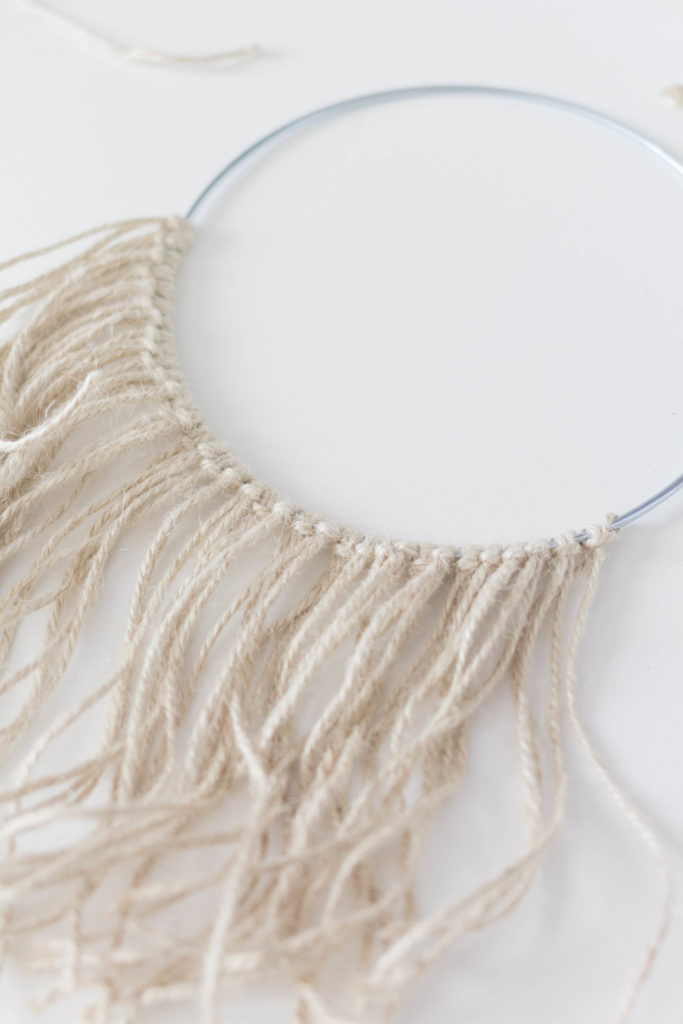 If you feel that your twine is too long, cut it to the desired length.  I did this by cutting at a diagonal towards the center to create a shorter look than I had originally intended to have.  Remember, it's your project, so have fun with it!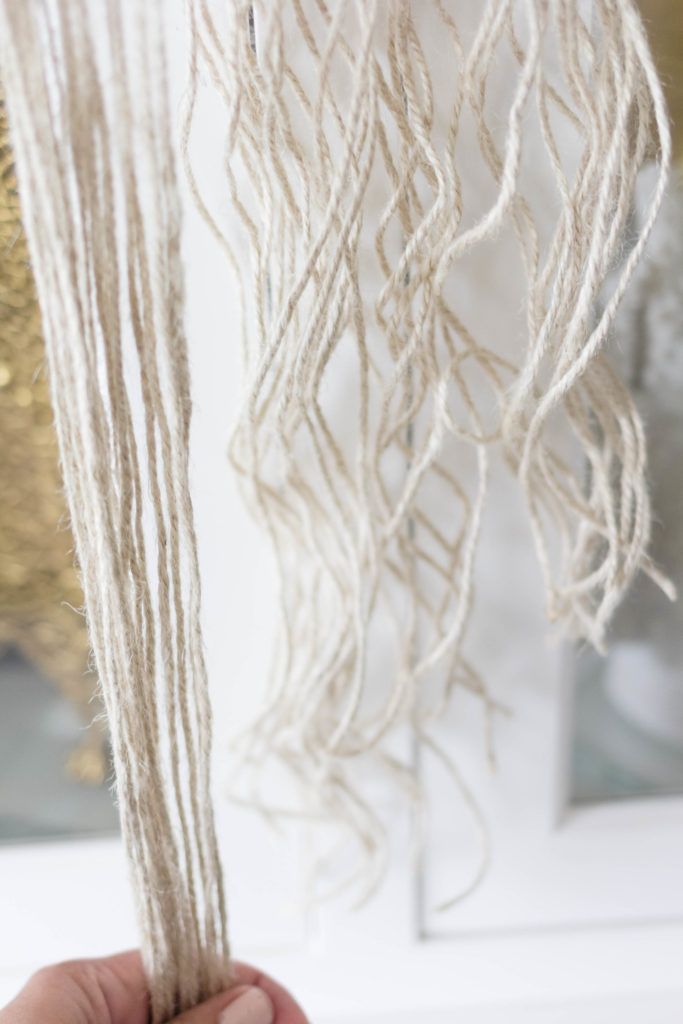 Next, string your wooden beads onto a separate piece of twine.  Leave about five inches of twine on each side of your beads, and tie each end to opposite sides of the hoop.  Do not cut the excess twine just yet.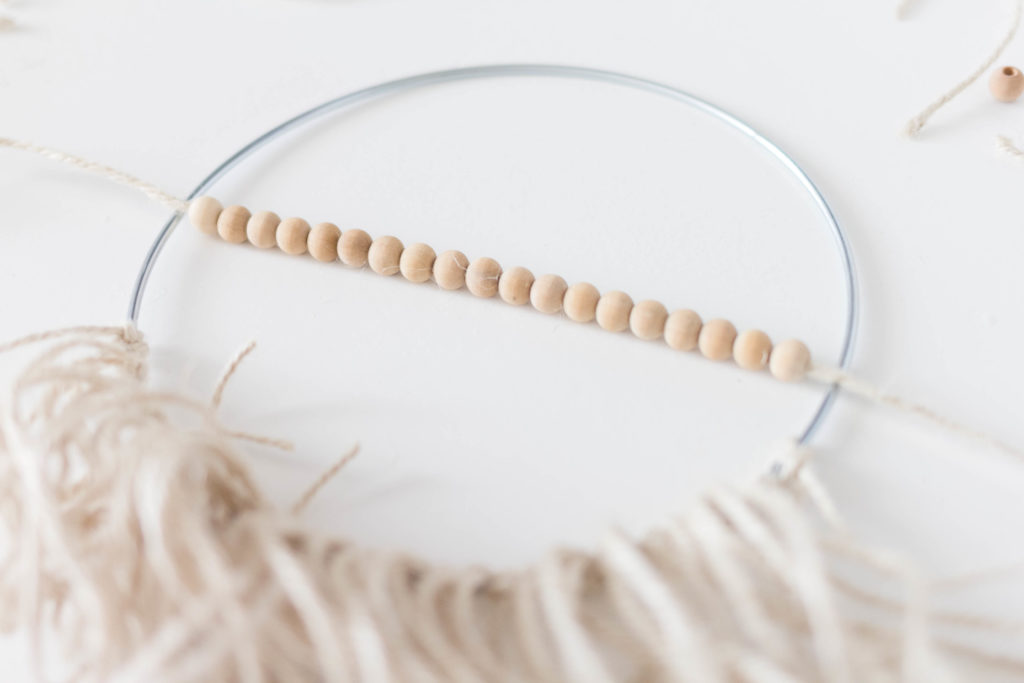 Now repeat the process with your crystal beads.
Once you have secured both strings to the hoop wrap your excess twine around the hoop located between the two beaded string.  Secure with a knot, and trim excess twine on the side you wrapped the twine.  Leave the excess to hang with the twine below.  Cut to length.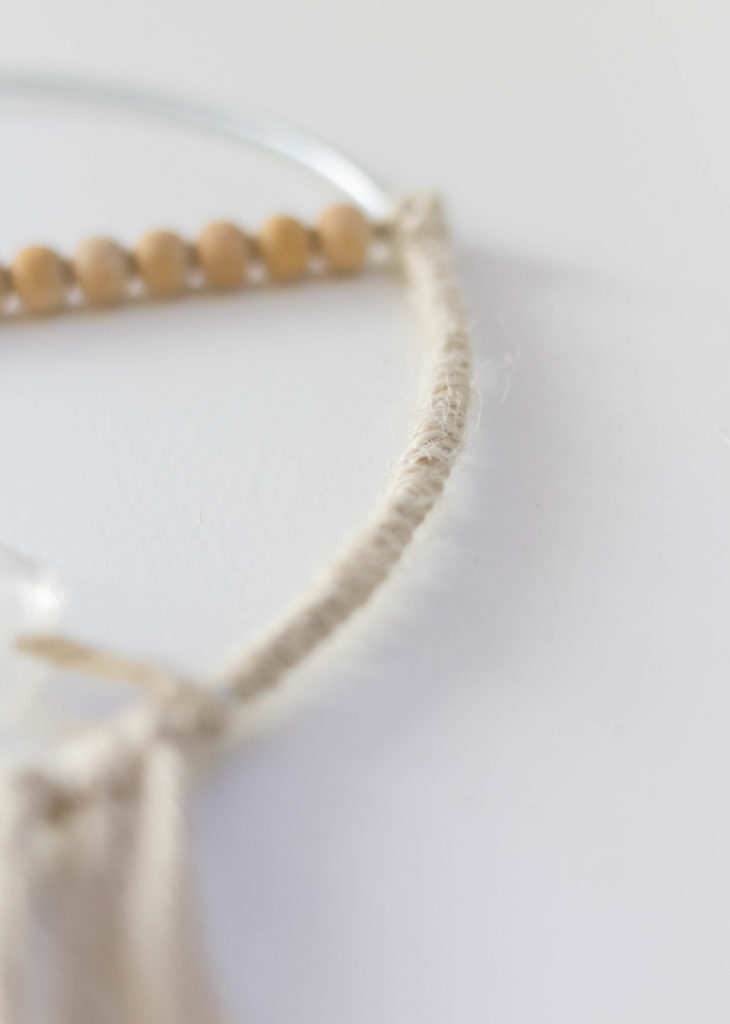 Pretty, right?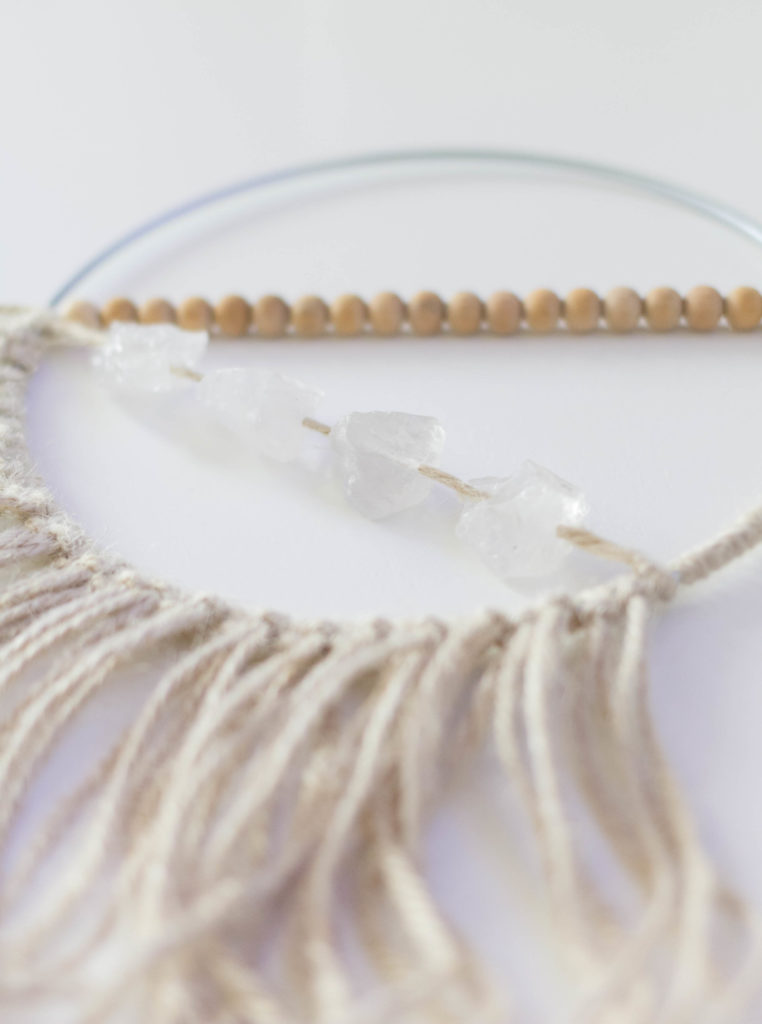 I have mine hanging in my living room now.  It fits in perfectly!  I hope you enjoy this project, and remember, if you don't get it right the first time, try again.  It took me THREE attempts to get mine to look this way!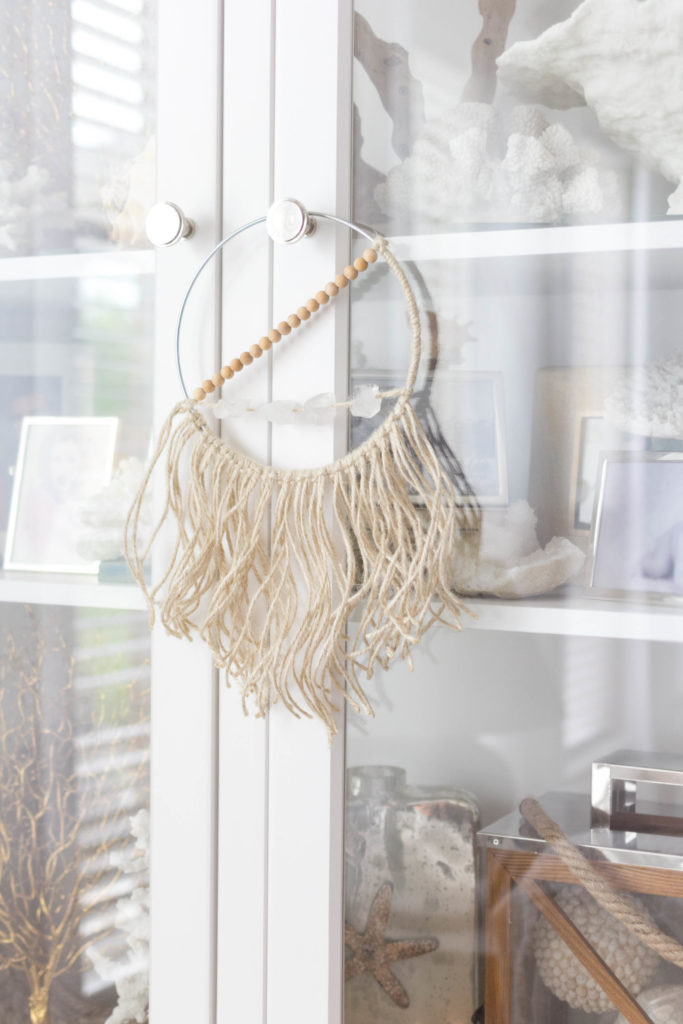 Until next time!
-Iris
Not very crafty, but love the look?  Here are a few of my favorite wall hangings that you can buy today!
This post contains affiliate links.  If you were to make a purchase based on my link/suggestion, IrisNacole.com will receive compensation at no cost to you.  All opinions are my own, and as always, I share only my most favorite things with y'all.  Thank you for supporting IrisNacole.com! 

You might like these posts from IrisNacole.com as well!
See the other rope challenge projects here!
Twelve on Main – DIY Rope Plate Charger
My Life From Home – DIY Sisal Rope Tassel Basket
Green with Decor – DIY Christmas Joy Sign
Our House Now A Home – Storage Box Using Rope and a Cardboard Box
A Shade of Teal – How to Make a Rope Lamp

Pocketful of Posies – DIY Boho Macrame Play Tent
Iris Nacole – Bohemian Wall Hanging
Kim Six Fix – Rope Wrapped Dollar Store Pumpkin
Vintage Romance Style – Easy DIY Barnwood Rope Name Sign
DIY Beautify – How to Make Pedestal Rope Bowl
Farmhouse 40 – DIY Upcycled Bar Stool
Knock It Off Kim – Fall Braided Rope and Burlap Wreath
C'Mon Get Crafty – DIY Rope Wire Basket
Casa Watikins Living – DIY African Inspired Jute Planter