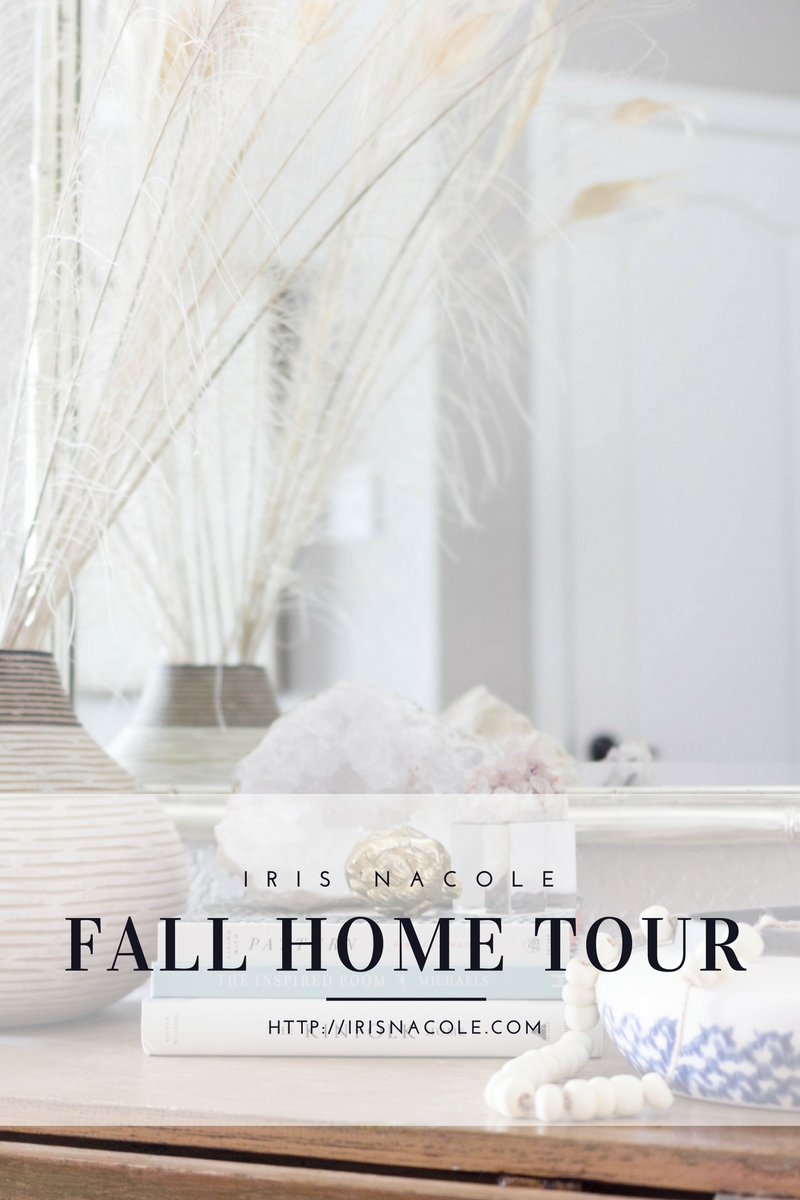 I wait for it each year.  That feeling I get as summer is on its way out and fall is slowly creeping into our lives.  It's not a matter of a cool breeze blowing in, or anything like that really, it's just this feeling I get, and I finally got it a couple of weeks ago and I'm so excited about it!
Despite my being in tune with the season change, around here in Texas it's still blazing hot, and the only sign of fall is in the stores.  I'm waiting for that cool breeze to come so I can finally enjoy going outdoors again.  You might know, I hate being outside during the summer, unless I'm around a body of water that is.  I just don't fair well in the heat, which is why I plan to take full advantage of our fire pit and our newly made over backyard once it starts to cool down.
Until then, you and I can enjoy my fall decor on my porch, and inside the house via this home tour.  Before we start, I'd like to thank Meg, of Green With Decor, for hosting this tour.  I have visited all of the homes so far, and I can say, with all of the different styles being shown, I think there is something for everyone.  Be sure to check the bottom of the page for links to all of the tours!
Let's start out on the porch shall we?  Normally I go all out, buying a ton of pumpkins, decorating with hay, and all sorts of farm-like decor.  This year, I wanted the outside to reflect as closely as it could to the inside, which is why I chose a basic wreath, plants with fall colored leaves, and mums in terracotta pots.
My ultimate decorating goal this season is that you will see my home without too much going on in it.  I must have overdone it last year from season to season, because simple is all I seem to desire these days.  Just my home, as I like it, but with touches of the season sprinkled throughout.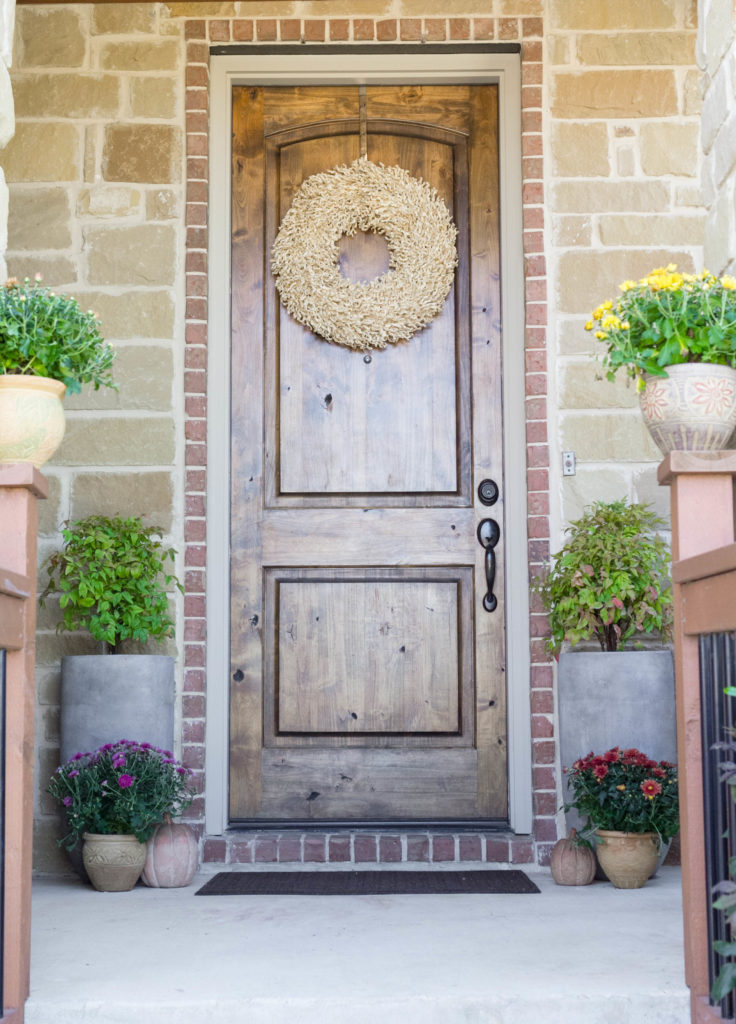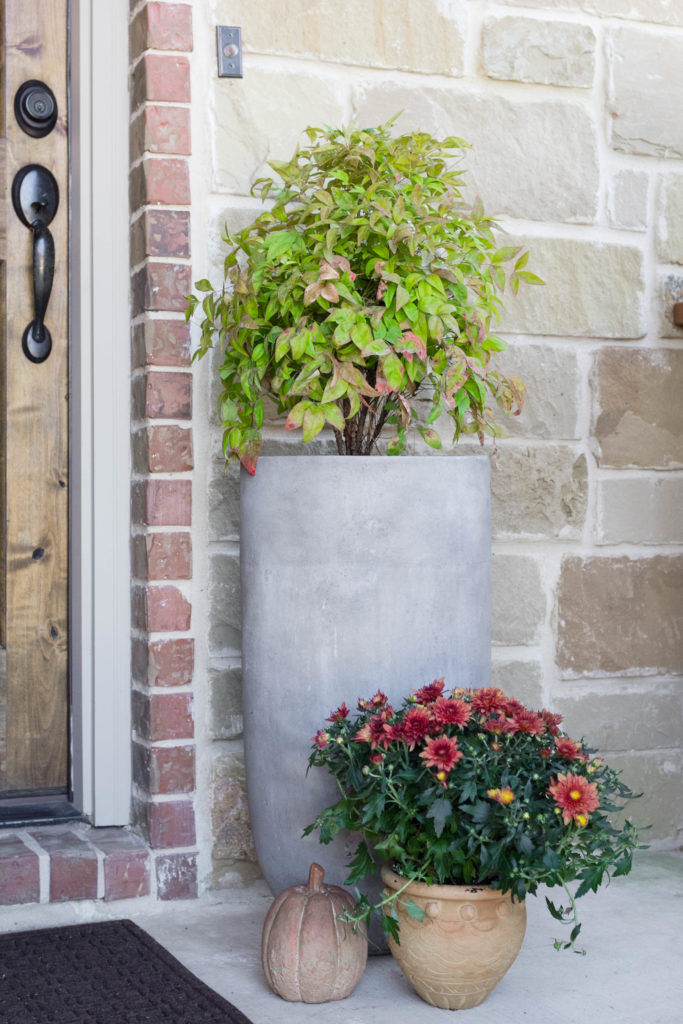 Let's move on inside the house now.  Our entryway has gone through a small makeover in the last few months.  Some of you may remember the changes from my summer home tour, but if you missed it you'll see that I moved my large foyer table out, and moved this little beauty in.  Hands down, it is one of my favorite furniture finds, and decorating it has been so enjoyable in comparison to the larger table.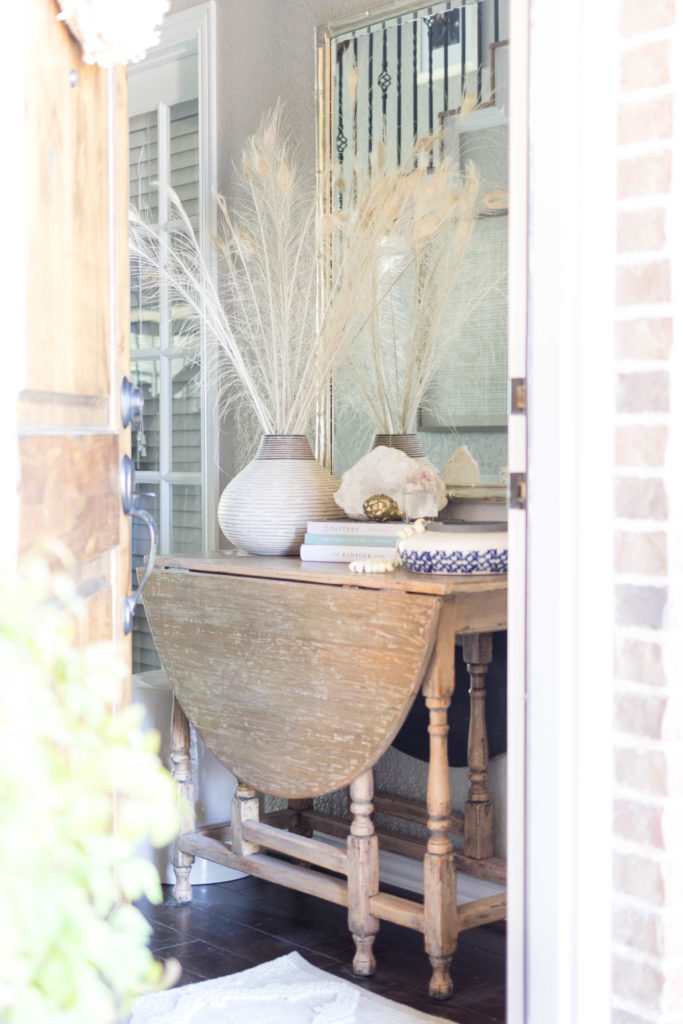 I love collecting crystals, so when I ran across these two they were immediately added to the ever growing collection.  I read today that crystals should be put away with your summer decor, but I have to argue against that point. I mean, when has a crystal belonged only to one season?  Anyhow, I won't be following that advice, and I urge you to also go against the grain if you really love something, especially if it involves your home.  Make yourself and your family happy, and don't worry about what's "in" and "out".  Rant over now.  Let's talk about those beautiful bleached peacock feathers!  You can imagine my surprise when I saw them in my local craft store on sale for less than 40 cents each.  Let's just say I didn't argue with the price, and depleted their inventory pretty quickly.  Haha!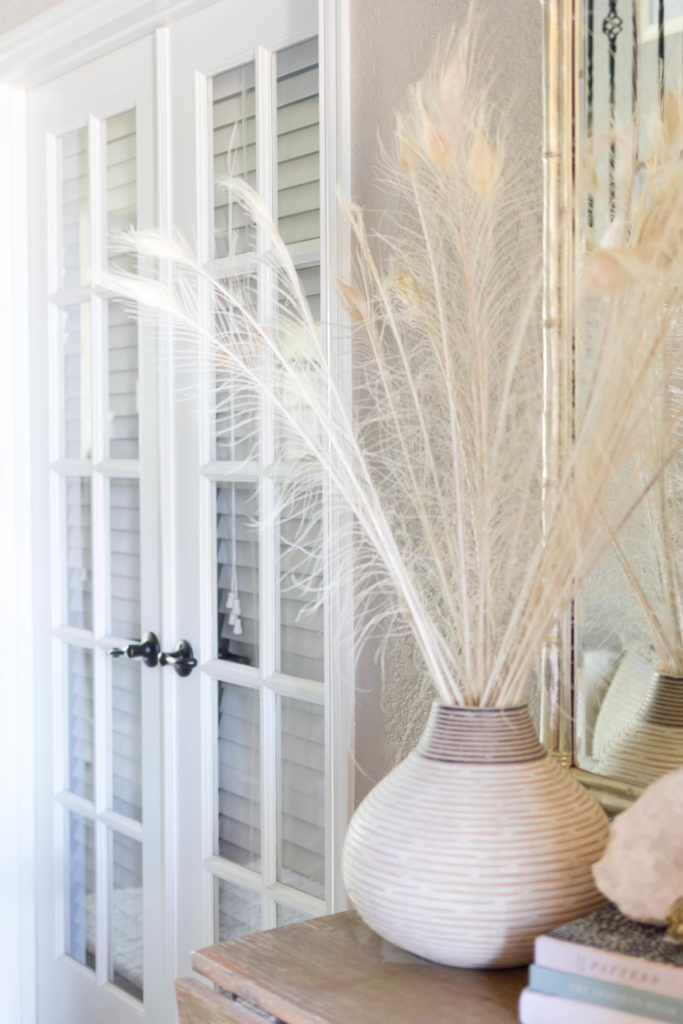 The rest of the space is pretty simple.  I added this adorable metal wreath to my niche, and added a faux fur pillow to the bench to make it a bit more cozy.  I also added a new runner to the space, which has been such a nice change.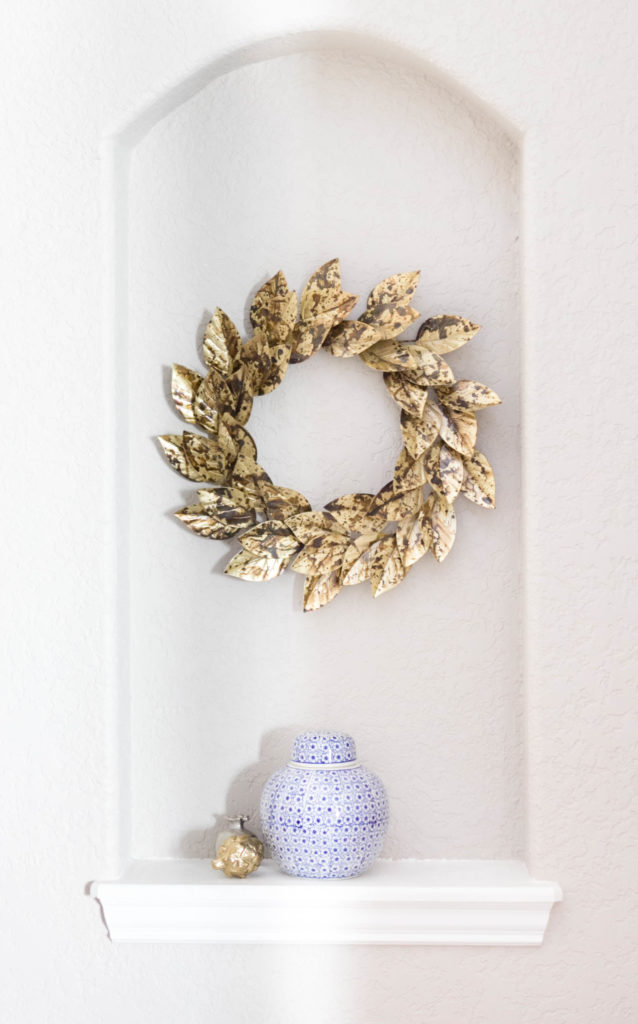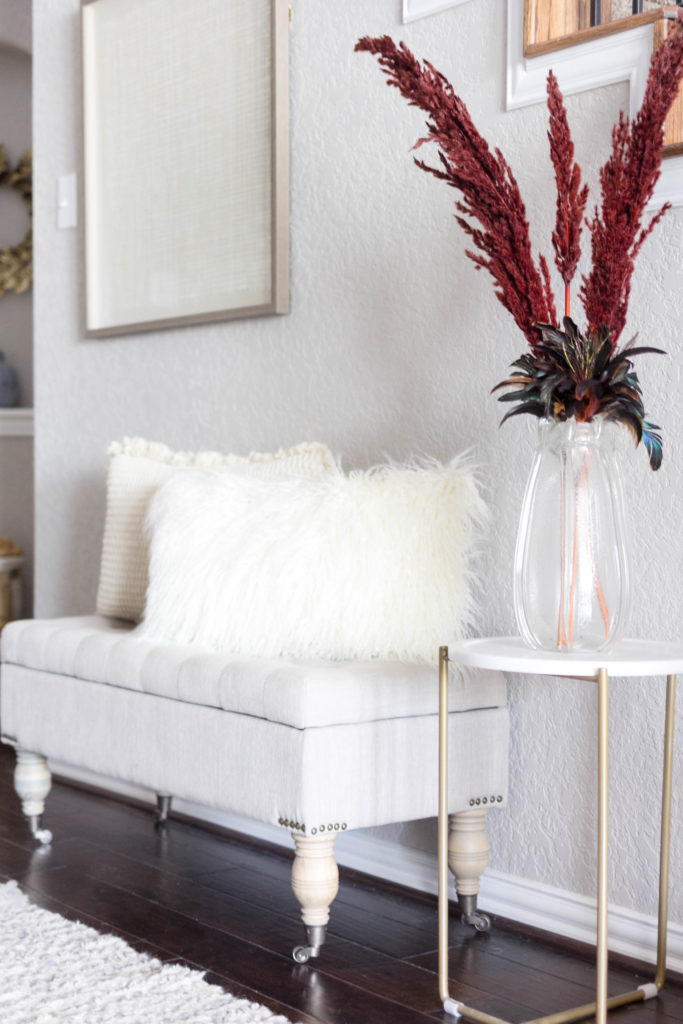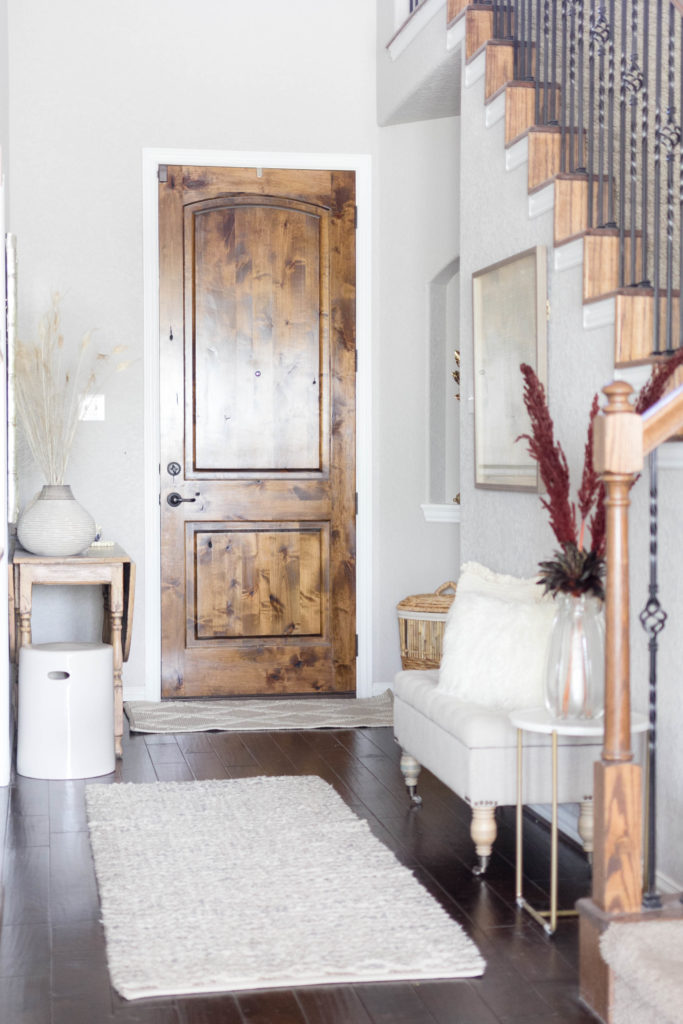 Let's move on into the living room.  I had this image of a moody space, with dark pillows and floral accents. Lots of brass too.  For one reason or another I just couldn't make it come to life this season, and I'm not all that bothered by it.  I guess I wasn't all that into the idea anyways, because instead of dark and moody I gravitated towards feathers, macrame, bold pops of color, and a light and bright pallet.  Isn't it funny how that works?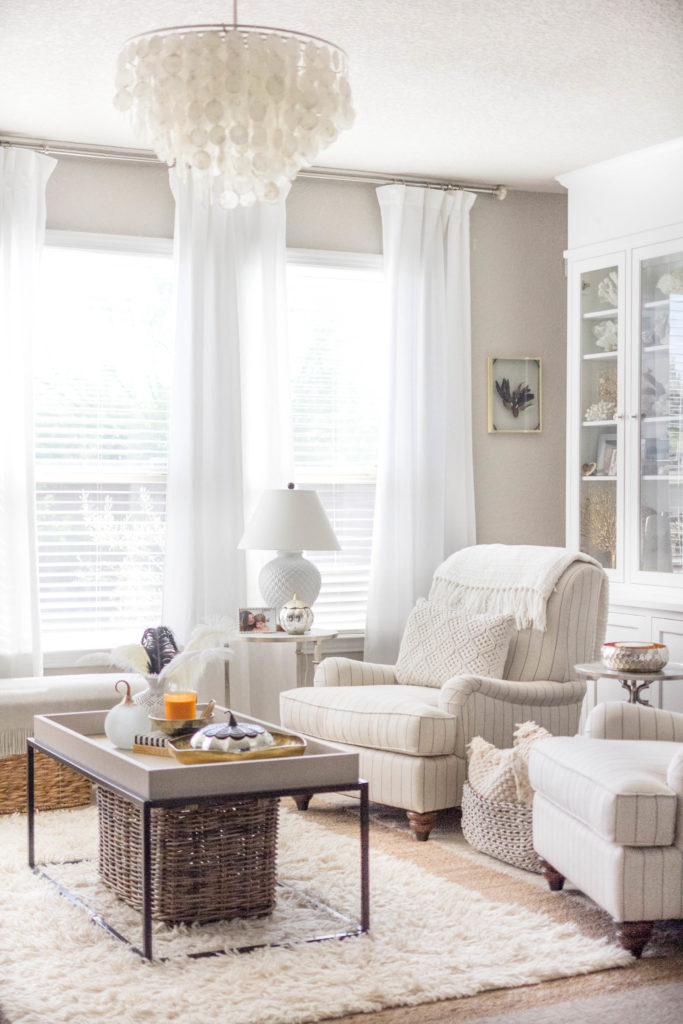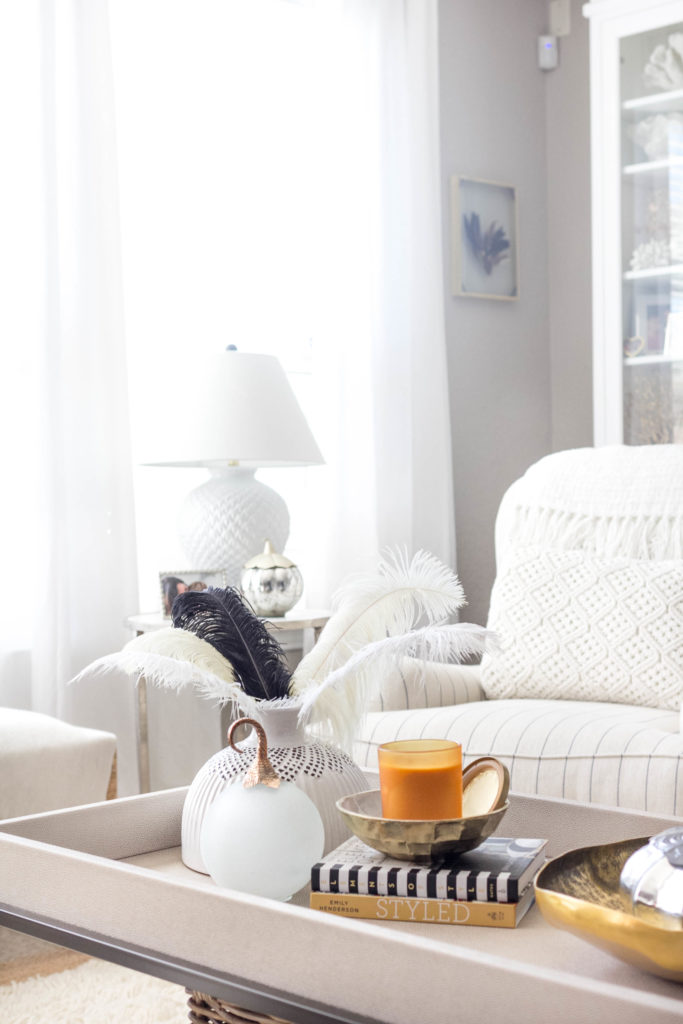 I managed to get the look by using a mix of old, new, and thrifted decor.  I'd like to say it's a bit eclectic, which is where I feel like my decor compass is pointing right now.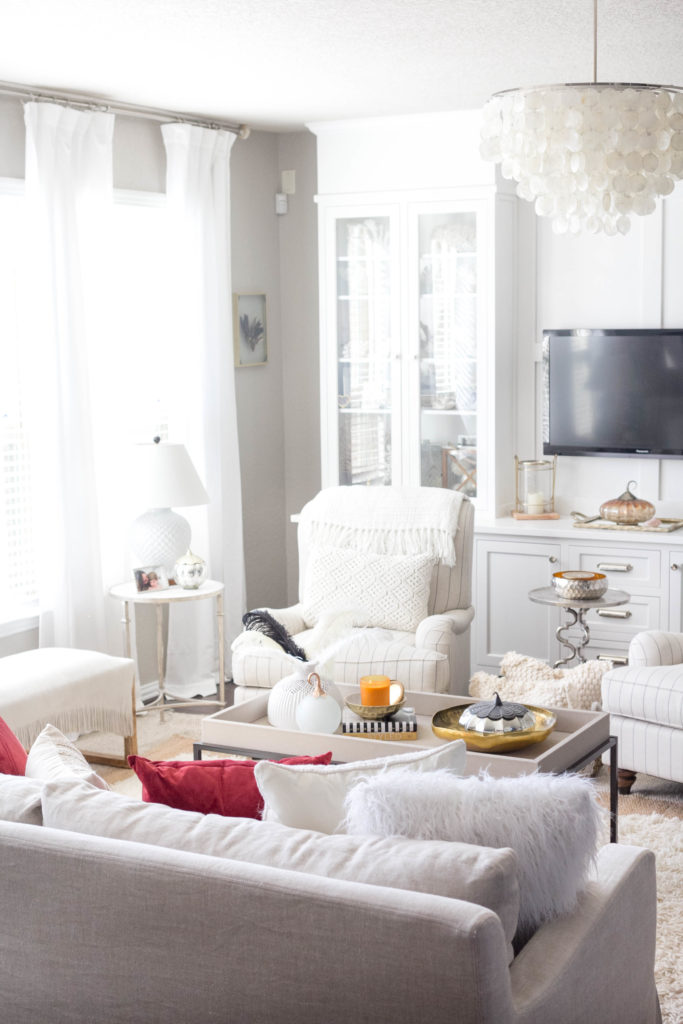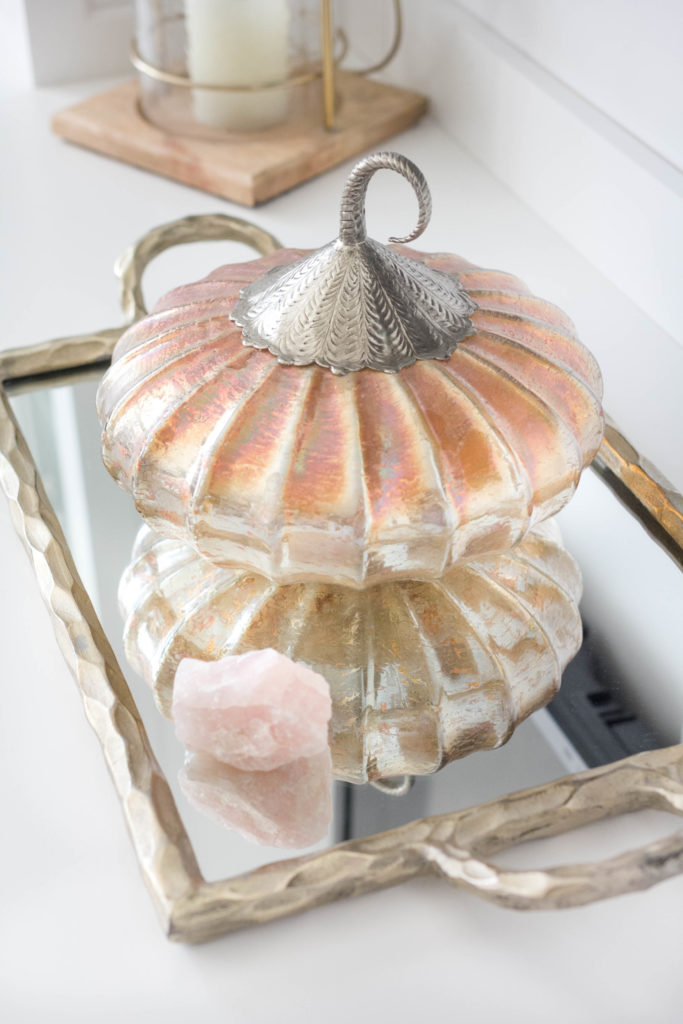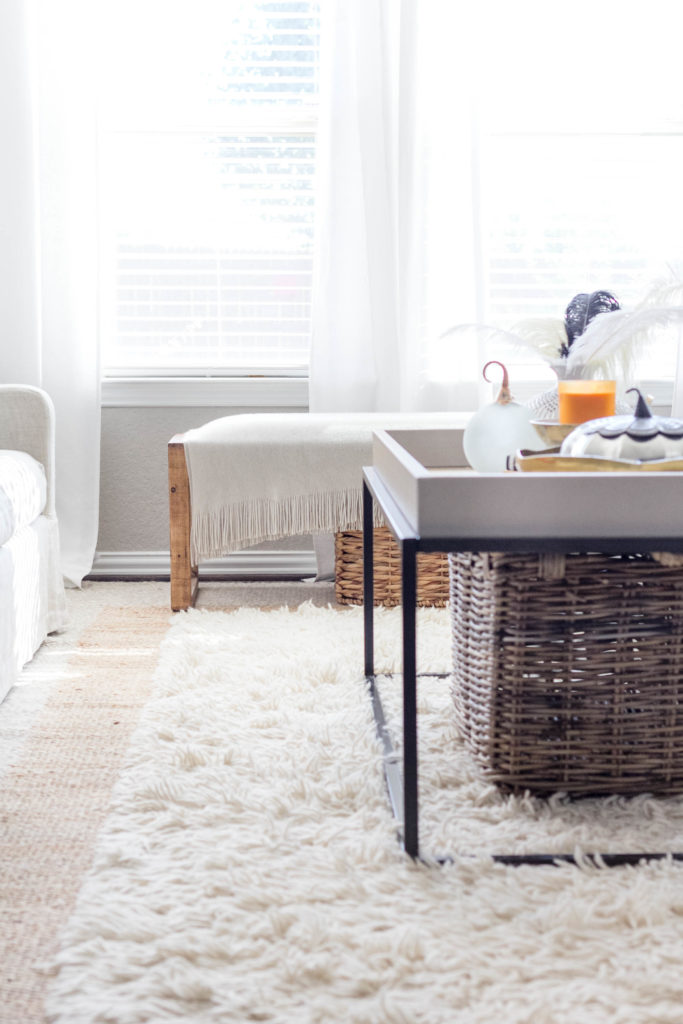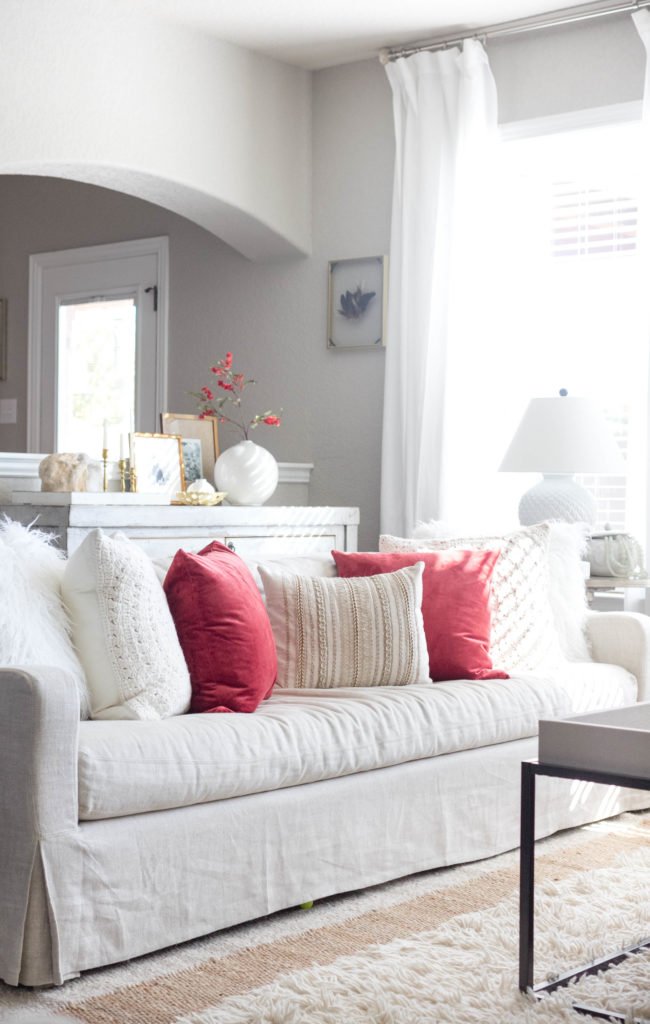 Notice my "Inspired By DIY" art up on the wall?  It worked out perfectly that I managed to get the second one finished just in time for me to photograph the tour.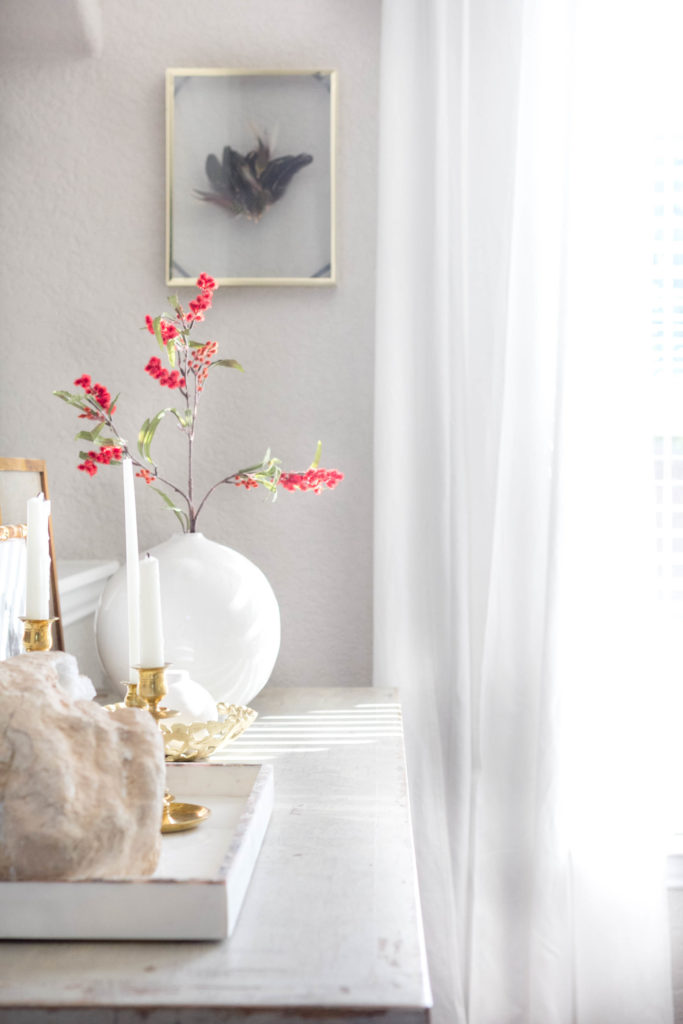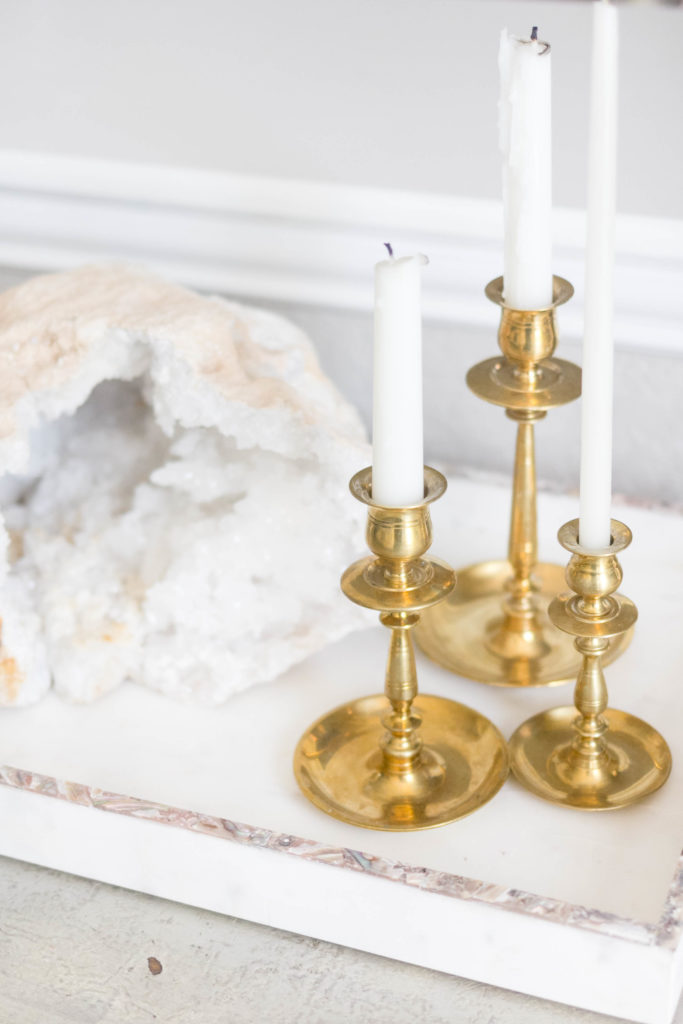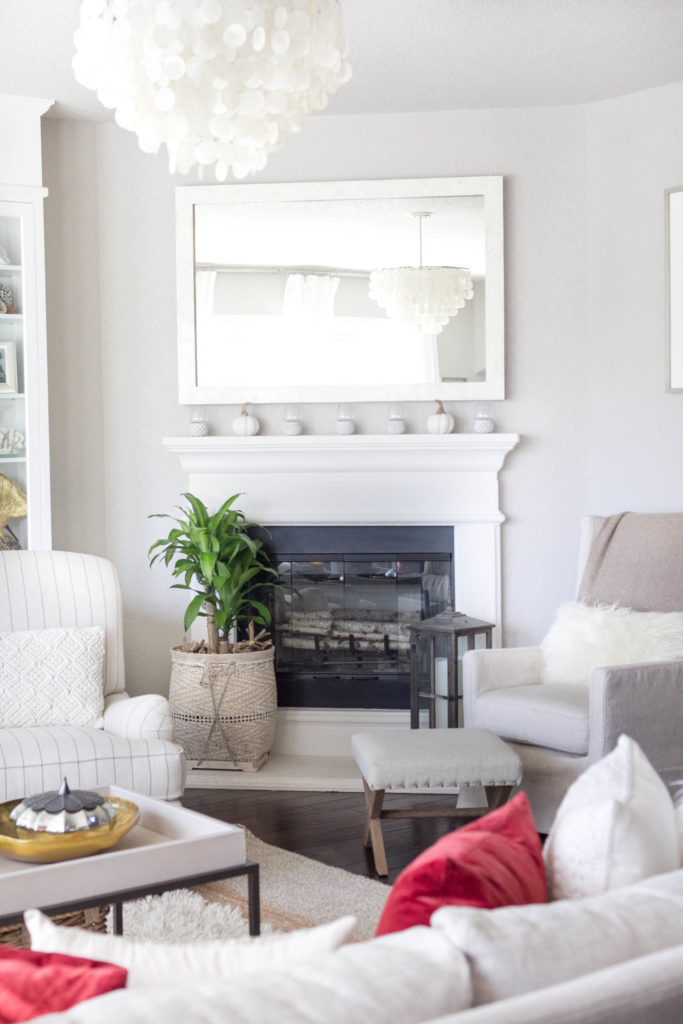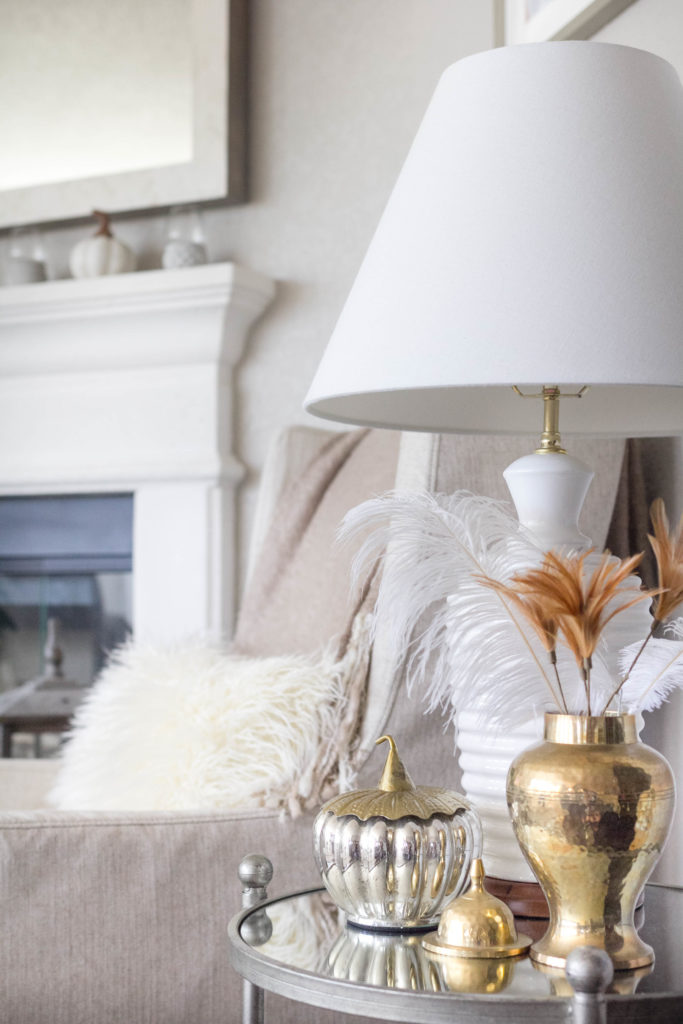 And finally, our family room.  We spend a lot of family time in this space, so it has to be comfortable for us.  We recently made some necessary changes to the space that I love.  For one, we got rid of our large coffee table, which had no business being in a space where a child like mine runs around and around and around, non-stop in the evenings.  The smaller round table makes for a much easier obstacle, though I'm not 100% sure that we'll be keeping it, since it came damaged.  We will see!  We also moved our larger chairs out, and replaced them with these rattan armchairs, which I'm in love with!  To make the space cozier, I added faux sheep skins to the chairs, and we added a gorgeous rug layered onto our jute rug.  I switched up the decor on the shelves with some existing pieces to freshen up the space as well.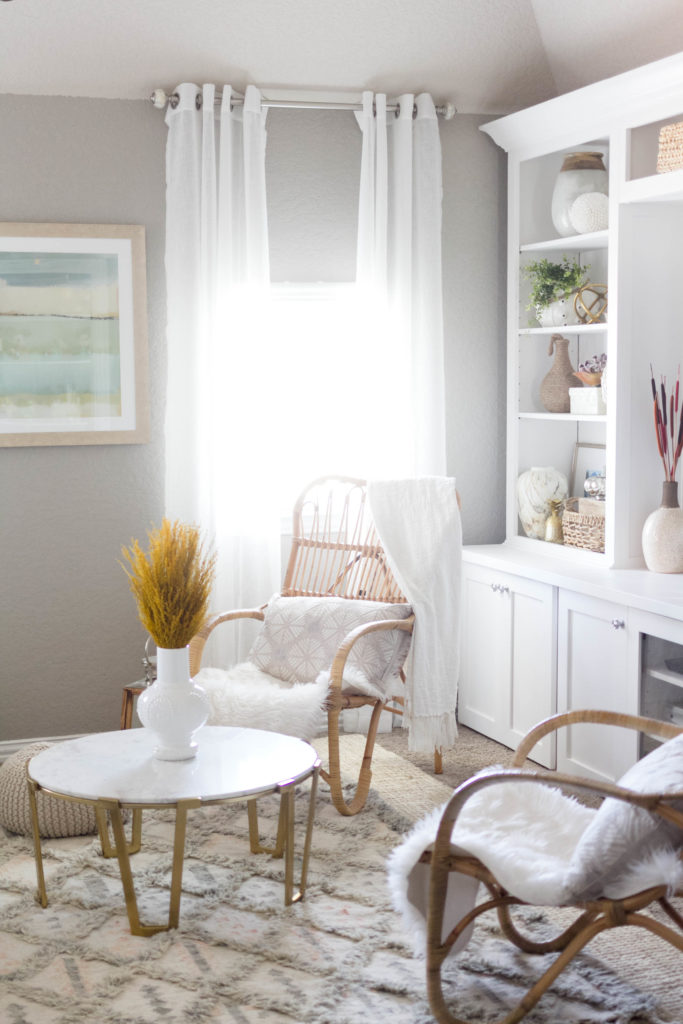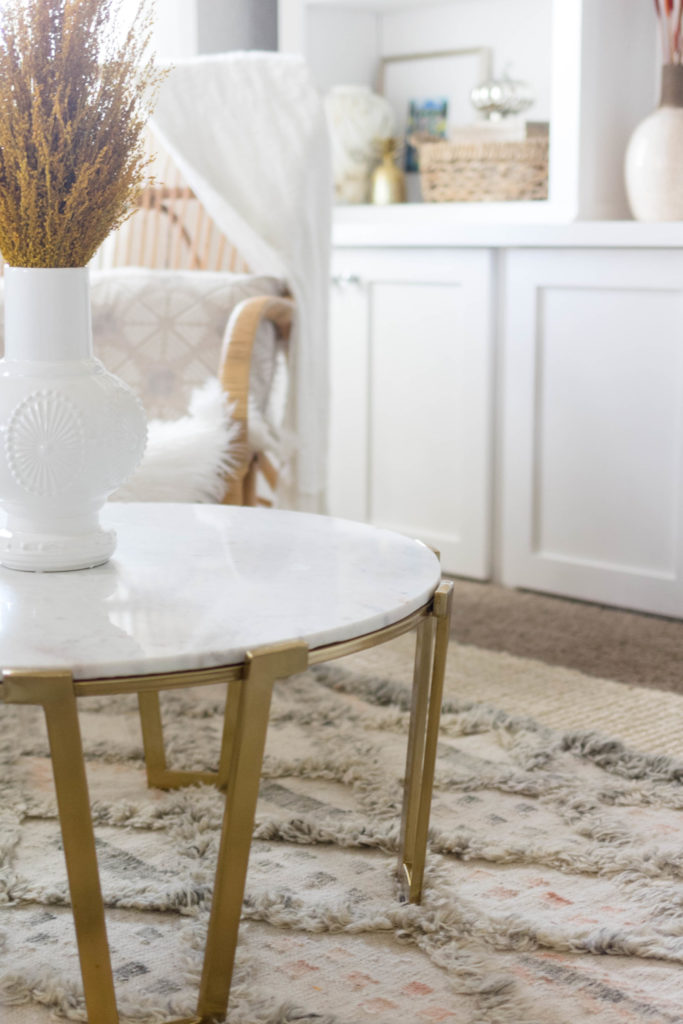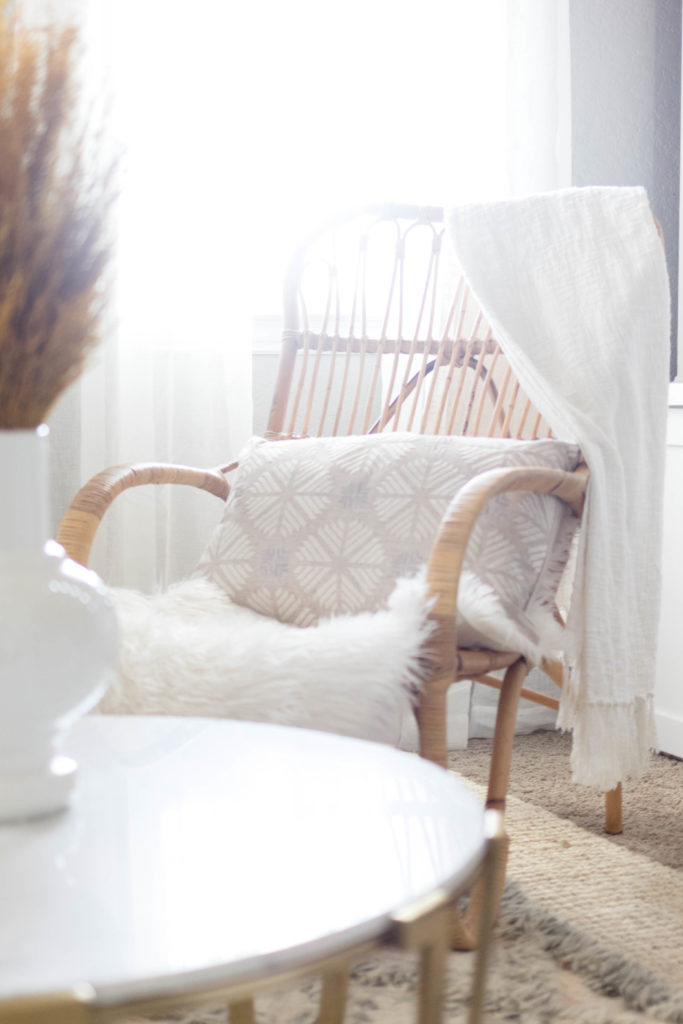 The neutral, leather, sweater, and faux suede/fur pillows are so comfortable.  Granted we kick most of them off the couch before we sit down, but the ones that remain are cushy and enjoyable to sit with.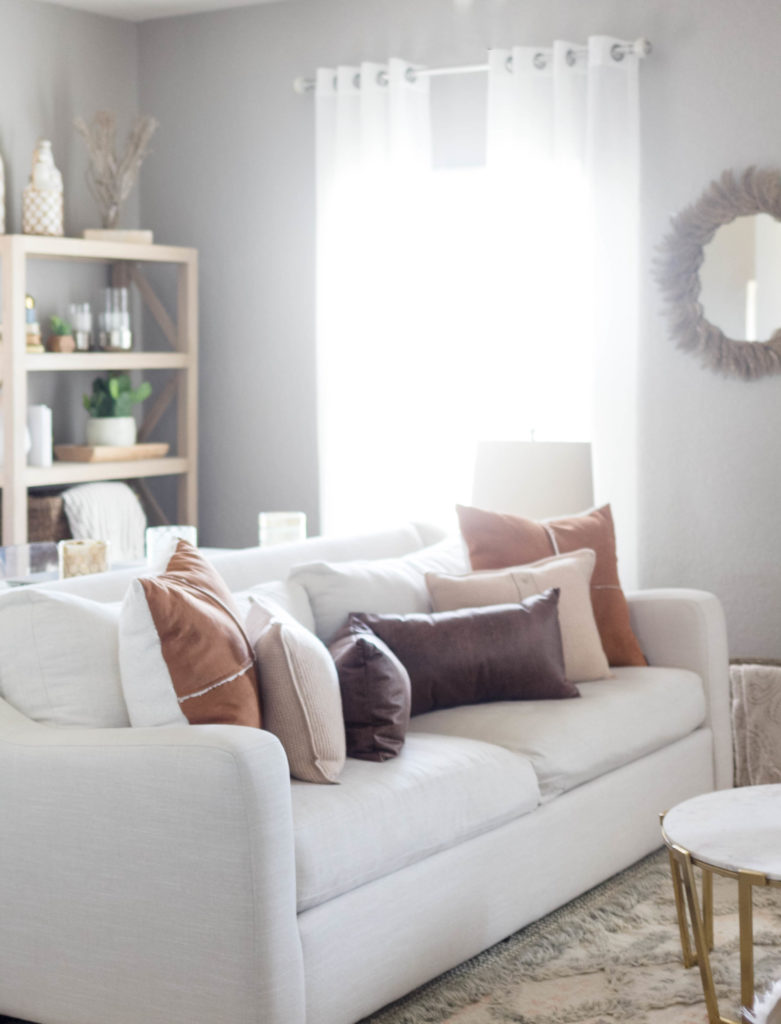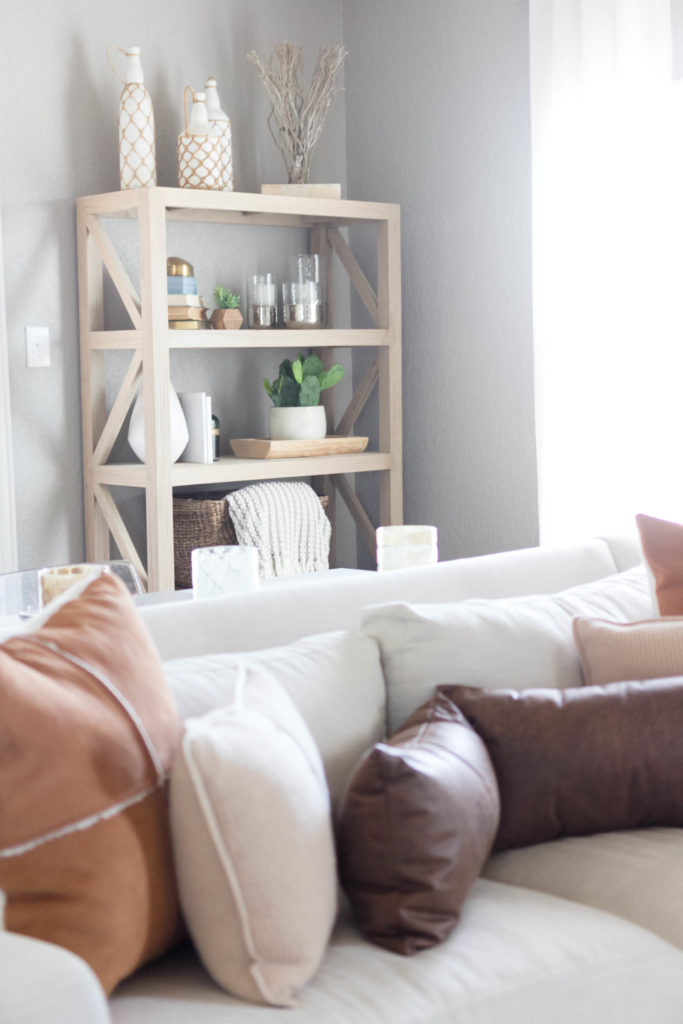 Oh and you'll see that I purchased a desk for this space too.  Before we had a bench that didn't get much use, but this desk has proven to be useful in blogging.  I can sit here and type away, or complete a craft project while the rest of the family is in here, instead of holing myself up in my office.  It's so nice!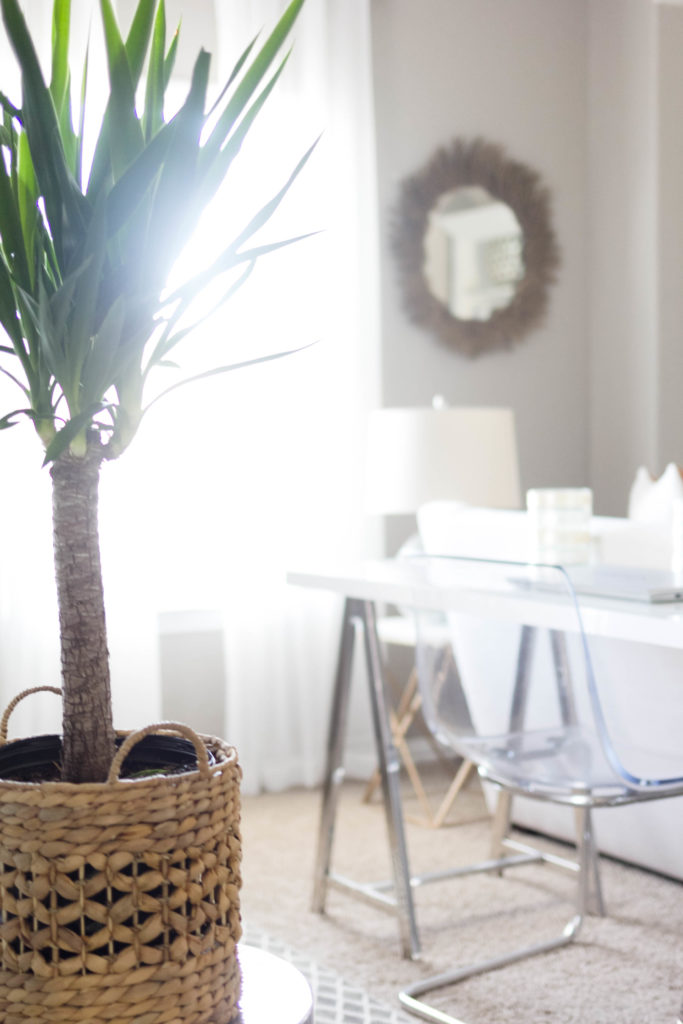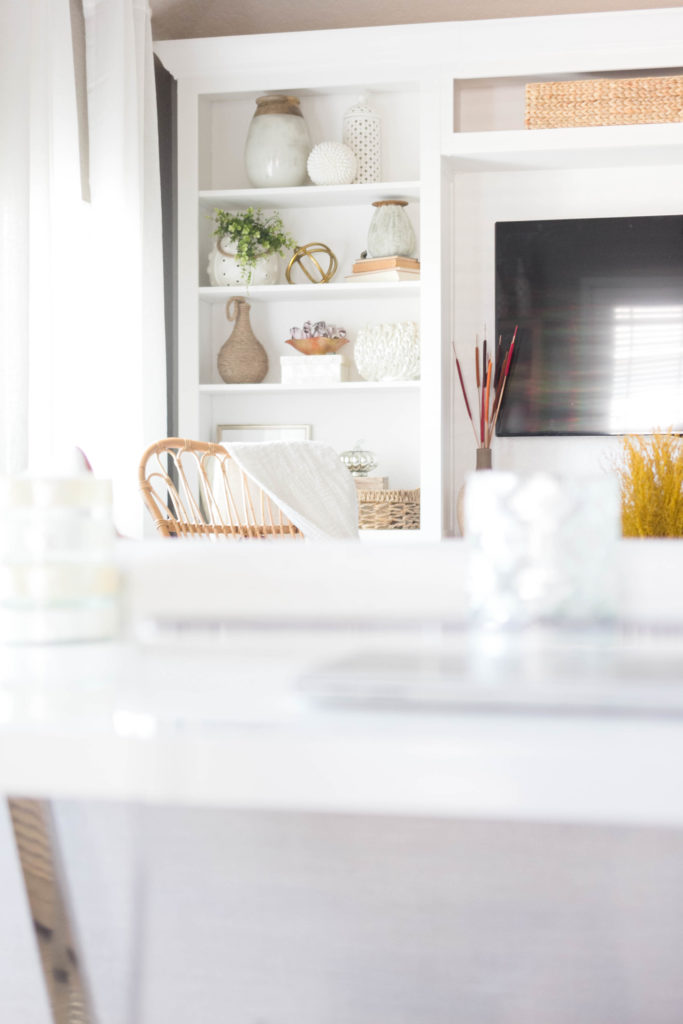 That's all I've gotten around to decorating for this tour.  Our kitchen will be painted in the coming week, and our dining room should be finished in the month, so hopefully I'll have those spaces to share with you all around Halloween.  Oh yeah, didn't you know?  I am a Halloween decorating freak!  I'll be "spookifying' our home very soon to prepare, and I can't wait to share it with y'all!  Stay tuned!
Thanks for visiting!
-Iris
Like the look? Shop it here! (If you have any questions about a particular items, please ask me about it in the comments.)
This post contains affiliate links.  If you were to make a purchase based on my link/suggestion, IrisNacole.com will receive compensation at no cost to you.  All opinions are my own, and as always, I share only my most favorite things with y'all.  Thank you for supporting IrisNacole.com! 


Monday
Tuesday
Wednesday
2 Bees in a Pod – Vicki's house
Thursday
2 Bees in a Pod – Jenn's house
Friday