I often find that recreating something from scratch leaves you just as satisfied as purchasing the made for retail product, if not more so.  It's the, "I can do that!" mentality that drives me to participate in this wonderful "Inspired By DIY" series, hosted by my friend Jess of Domicile 37, month after month.  Okay, honestly last month got the best of me, but I am back with this month's theme challenge: West Elm!
Of course you all know by now that it's one of my favorite stores, so I had already come across something being offered on their website that I truly wanted to recreate for myself.  This feather art is amazing, but at those prices, and being armed with the knowledge that I can most certainly do that myself, and having this challenge ahead, I knew it would be my next project.  It was fun to put together, and of course the hunt for materials is always thrilling, especially when it involves thrifting!
I set out to my local Goodwill last week, knowing that it has a great selection of frames on most days, and with hopes that I would find the "right one" for this project.  Lucky me, I ran across not one, but two of these beauties being used in a similar fashion; displaying a homemade piece of art.  I had both of them in my basket ASAP.  Lucky too, since a lady immediately asked me what I planned on doing with them.  She was sweet about it, but I wonder if maybe she would have wanted them for herself since she was also planning on framing some new projects of her own.
Since I couldn't find anymore frames in the same size I decided to visit the Dollar Tree to see if I would have any luck finding some for the second piece of glass needed to complete the project.  They had ONE, so off I went with that one to create what you see here.  I'm still on the hunt for another one so I can complete the second piece I had planned on making.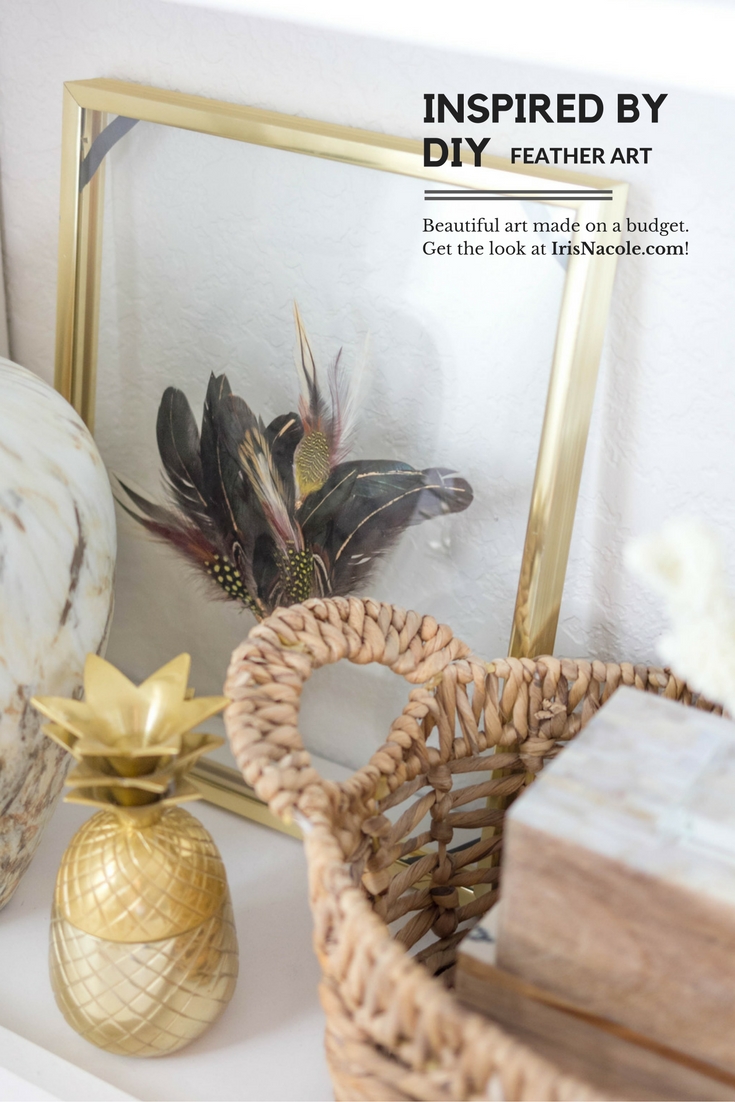 I love it, do you?  I hope so, and here's how you can make some of your own!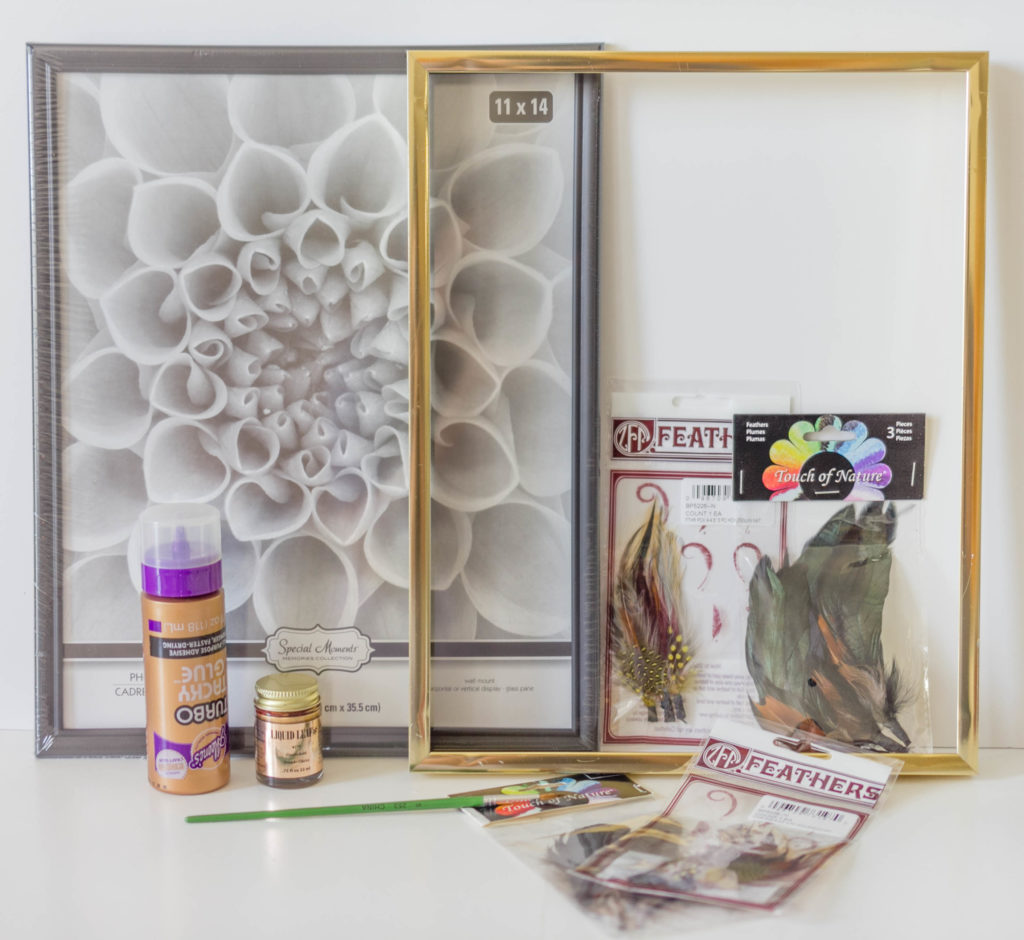 This post contains affiliate links.  If you were to make a purchase based on my link/suggestion, IrisNacole.com will receive compensation at no cost to you.  All opinions are my own, and as always, I share only my most favorite things with y'all.  Thank you for supporting IrisNacole.com! 
Supplies: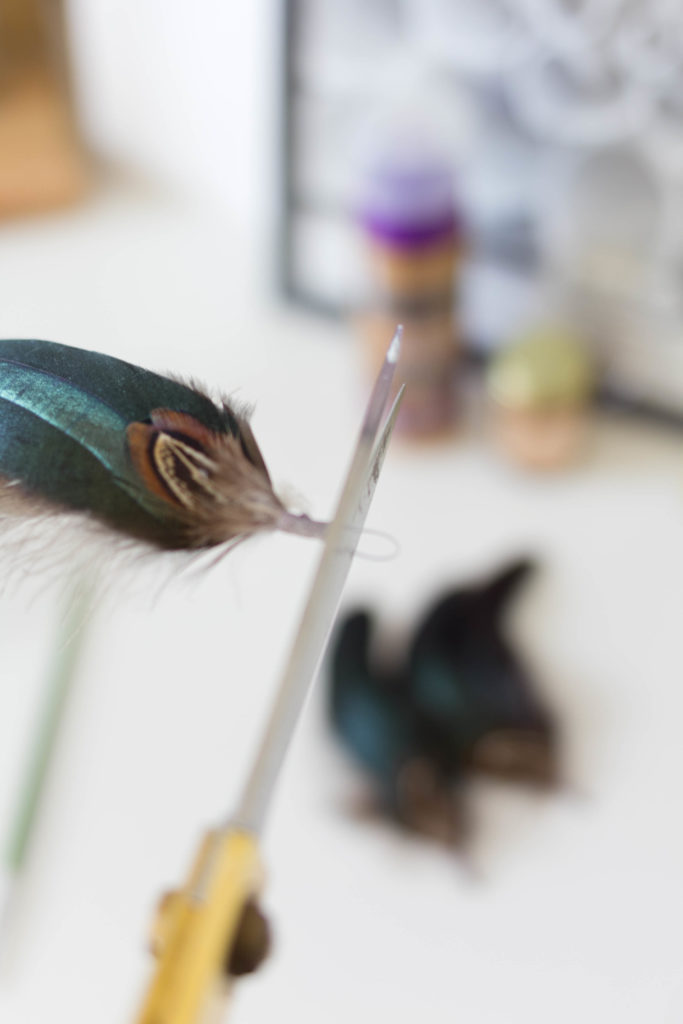 Remove the hanging loops from the bottom of the feather. (Optional)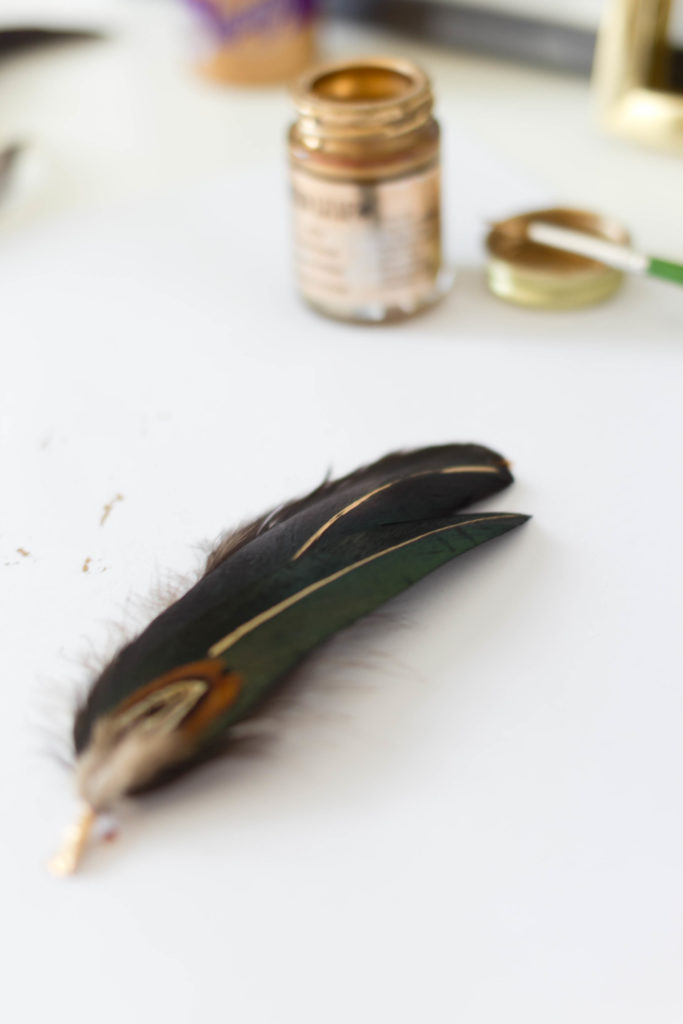 Paint onto feather using Liquid Gold.  Here I painted the quill and the stem of each feather.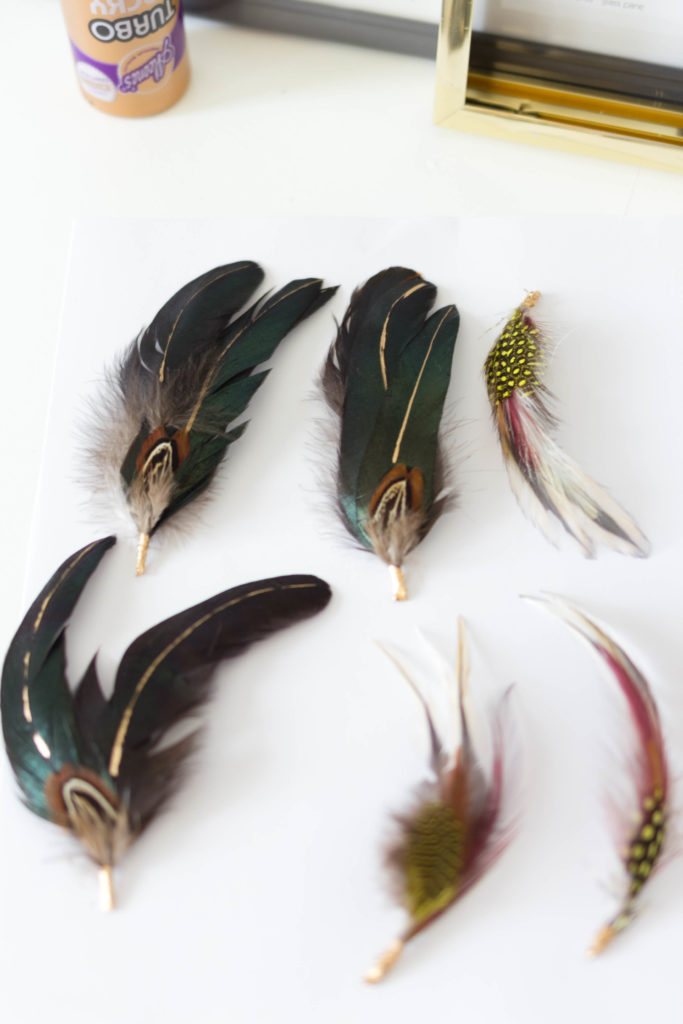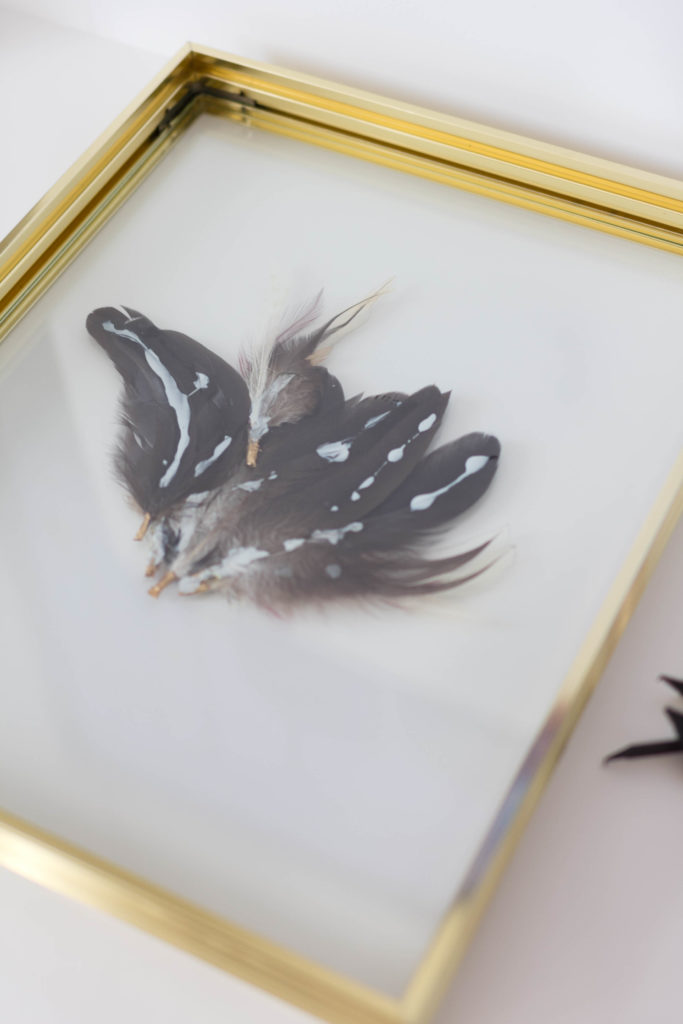 Decide on desired arrangement and glue feathers down on to the back pane of glass.  Have fun!  You can come up with so many different options!  Once dry place the top pane of glass onto the front of the feathers.  Secure glass inside your frame.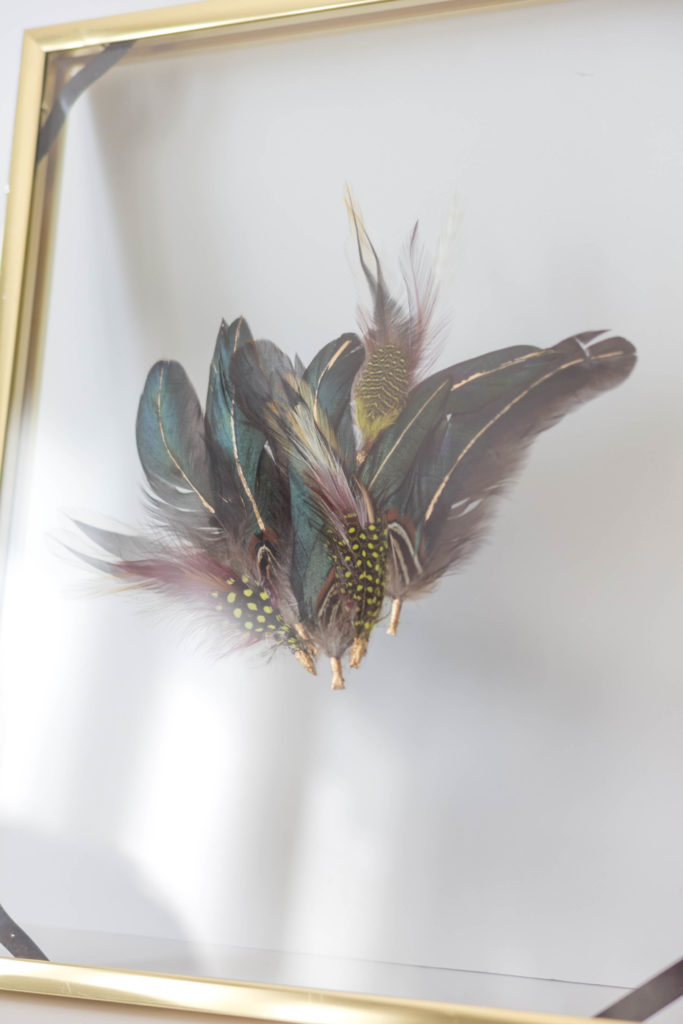 Display your new art in your stylish room and enjoy!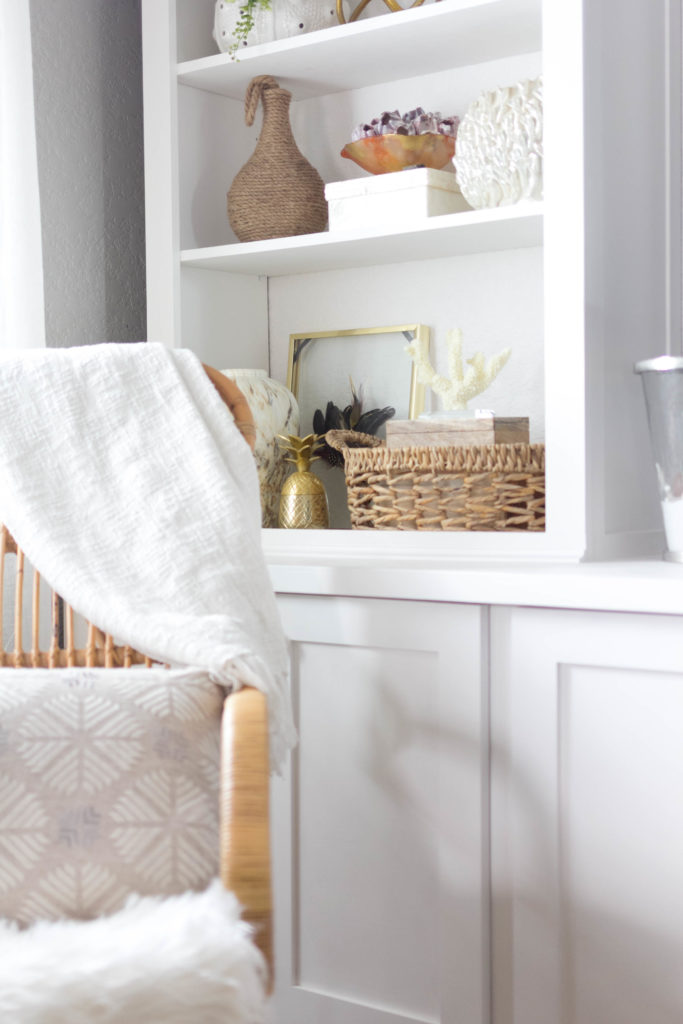 I know crafting isn't for everyone that visits Iris Nacole, so for those of you lovelies that don't care to craft, but have great style, here are some West Elm options I know you will love!

Be sure to stop by my fellow Inspired By DIY contestant's blogs to see what they came up with too!  Oh, and stay tuned for my early fall home tour coming to the blog this week!  I'm excited about it, and hope you are too!
Until then,
Iris
Like this post?  You may enjoy these as well! 
Iris Nacole // This is Our Bliss // PMQ for Two // Maggie Overby Studios // Up To Date Interiors // Domicile 37