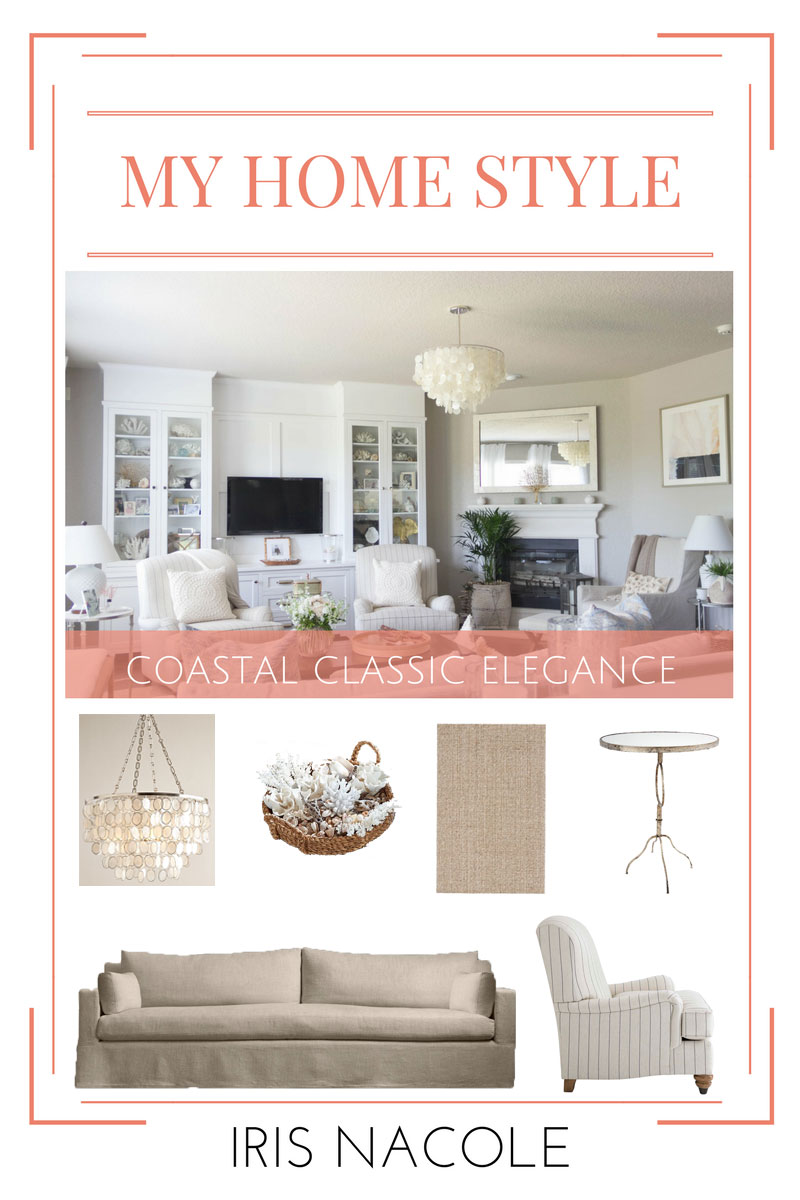 I'm excited to be back to blogging today, especially since my friend Stephanie of Casa Watkins Living has invited us back this year to share our home styles with y'all!  Last year I participated in two different "My Home Style" blog hops.  One being done about this time, and another around the holidays.  Be sure to check those out, as well as start over at Steph's blog to see her personal style, and get links to all of the participant's posts.
So how would I describe my home style?  Last year I came up with three words that described it best.  Coastal, Classic, Elegance.  No matter the season, my coastal style is prominent, and I try and make it blend with the holiday decor I put out.  It's a lot easier than you'd think, but even more so if you aren't one of us that decorates for each season, but finds what you like and sticks with it.  I admire you if you are one of those people.  My life would be so much calmer if I were too, but alas I am not, and I crave change almost quicker than the seasons can change themselves.  I guess that's what drew me to blogging, so I could share that with y'all!
Since this is actually a "Before & After" edition of the "My Home Style" series, I had better share a quick look at where we started.  Mind you, this is only the living room, but take into consideration that what you are about to see is my best effort at the time, and every other space in my home was either empty, or sadly, decorated even worse.  Here we go!
BEFORE: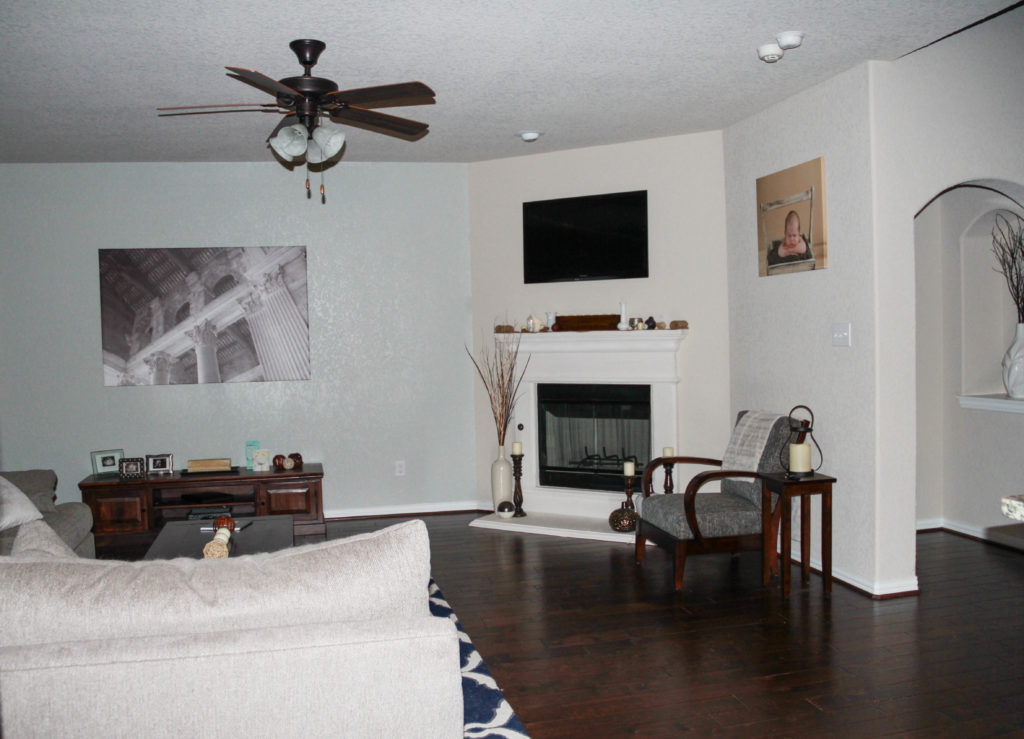 Yikes, that was bad!  What a cave!  Still it contained a lot of valuable pieces, such as the art on the walls, and family heirlooms displayed on the mantel.  I thought it was good back then, but once the decorating bug bit, it didn't stand a chance.
AFTER: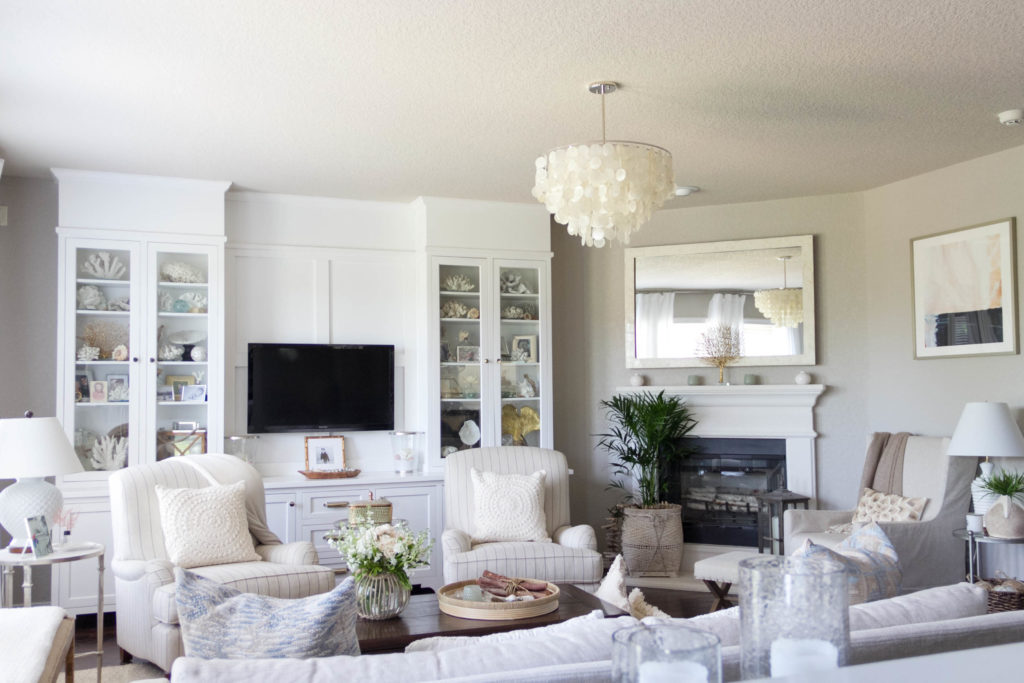 Much better!  So much more in line with my overall vision for this space.  So let's talk a little about what I did to get here.  First off, my overall design was based on the coastal style.  What does that mean to me?  Well, it means I wanted a light and airy ambiance.  I don't live anywhere near the coast, but I can dream and pretend I do with my decor choices.  I achieved the look by painting the walls a neutral color (Behr Perfect Taupe mixed at 50%) that offsets the white fireplace and built-in just enough, but still keeps the space bright.  I brought in light furniture upholstered with linen fabric.  To create the easy going atmosphere I hoped for, I chose slip-covered furniture which you see a lot in coastal homes.  I didn't want it all to be one note so I added a bit of pattern to the space with the fabric choice in the club chairs.  Natural weave baskets, and of course some distressed wood go a long way in many styles, especially the coastal style, so you will see those here as well.  All of these pieces are very classic pieces too, since they can easily be decorated around in many styles.  Of course, personally I couldn't forget my coastal inspired decor which consists of a lot of glass pieces in varying shades of blue, white, and clear (think ocean).  I also added some shells, coral pieces, and some sea-fans to the mix.  My favorite piece though is this gorgeous capiz chandelier I found to anchor the room, which it does in a magnificent way.
Anyone that's ever had a decorating conversation with me will know that I can't seem to escape that touch of elegance no matter what I am doing.  Even when I'm trying to grunge it up I just can't get away from it!  I don't know, I guess I am elegant?  Haha!  Okay, if you know me in person, I am far from it, but I must have been some sort of Lady in another life.  One that likes the finer things in life and got them easily.  In this life though, I look for bargains to get the look.  Seriously, I'm always on the hunt.  I shop online, in stores, thrift stores, etc.  The silver legged marble side table is one of my favorite examples in this space.  I found that on sale at TJ Maxx, for about $100.  Um, yes please!  You could also consider the style of pillows I chose, lamps, honestly all of these accessories tend to be on the dainty side, except for a few, and when I think "dainty", I think "elegant".  Of course, that's not always the case in decor, but it is here.
I thought sharing a few pictures of how I decorated for summer would give you a better look into this style of mine.  I've also compiled a list of items that I've found for sell to help you achieve the look too.  Just click the image to take you to the site to get more info on the item.  I hope they help!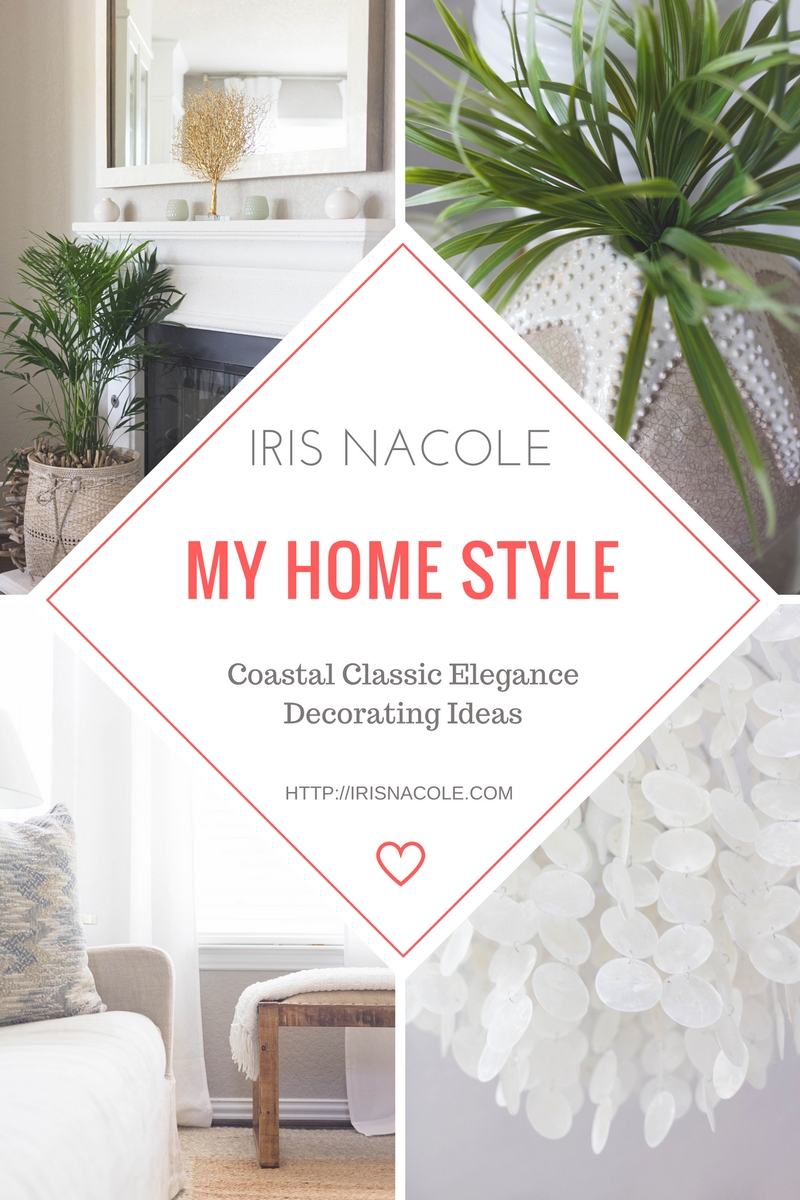 This post contains affiliate links.  If you were to make a purchase based on my link/suggestion, IrisNacole.com will receive compensation.  All opinions are my own, and as always, I share only my most favorite things with y'all.  Thank you for supporting IrisNacole.com! 

Now hop on over to see how my fellow blogging buddies describe their home style!  Enjoy!  Oh, and be sure to check back in with us to see the many updates to our home we've been working on over the past year.  It's all about to done and to say we are excited is an understatement.  I'll be sharing those and of course our new fall decor with y'all very soon!
-Iris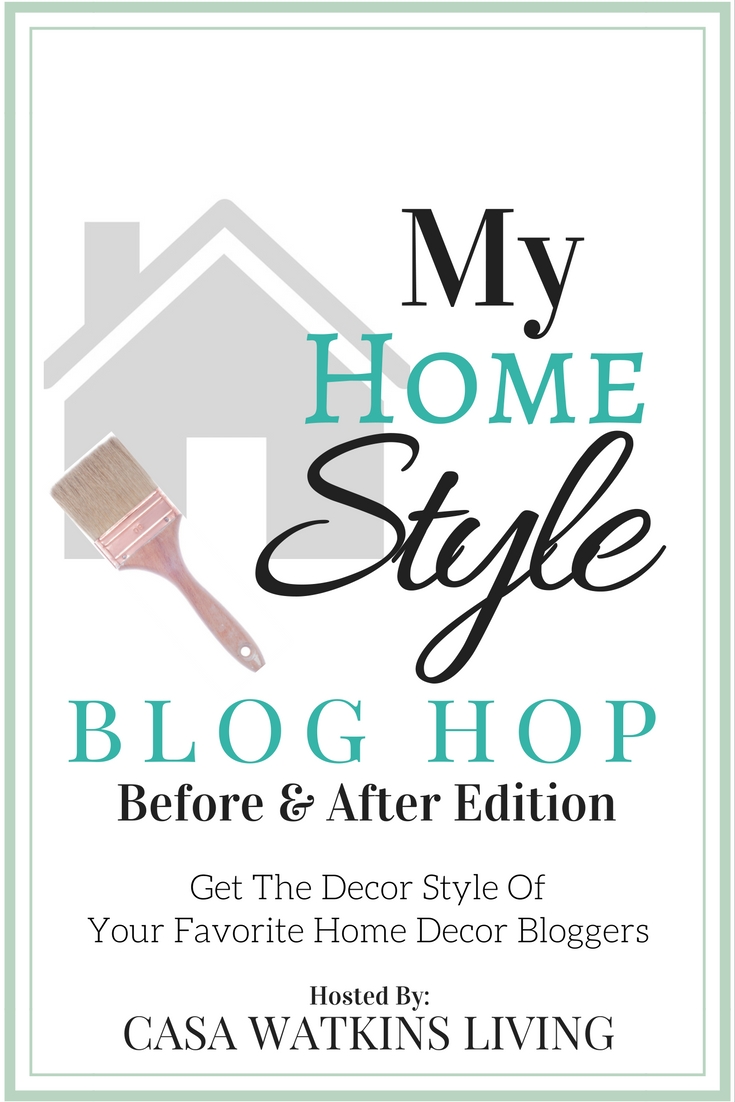 MONDAY
TUESDAY
WEDNESDAY
THURSDAY
FRIDAY