Welcome, friends!  Some of you may know that I've had huge plans to makeover this space in our home for about a year now.  It involved a revamp of the stairway, replacing spindles, risers, etc.  I even wanted to change out the door in here, but once we painted the space white, and added the faux board and batten feature to the stairway wall it all sort of took on a new life and I really like how it looks together, so our plans have been put on hold for a bit.  I think my husband is extremely happy about that fact.  Haha!  One day I'll need to write a post on what it's like to live in a constant renovation state.  Short story, it's stressful and exhausting.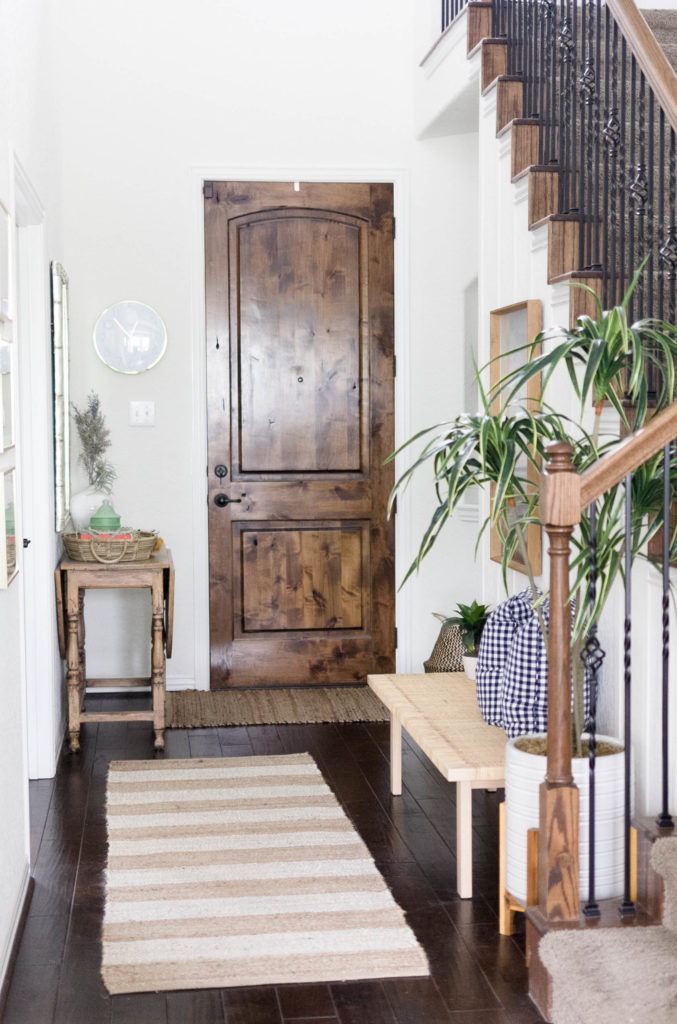 Once our faux board and batten project was done, the space was calling for a coastal-farmhouse styling.  Luckily I have quite a few pieces that would work perfectly in the house already.  Actually all that it took really was the addition of the rattan coffee table from IKEA, that I've been using as a bench.  It's the perfect length for this space!  That and this beautiful piece of artwork that I found at HomeGoods.  I tried quite a few pieces here, before finding this one, and none of them gave the same effect as this one.  The idea of leaving only one piece of artwork on this big wall was daunting, but once it was up I knew it was the right choice.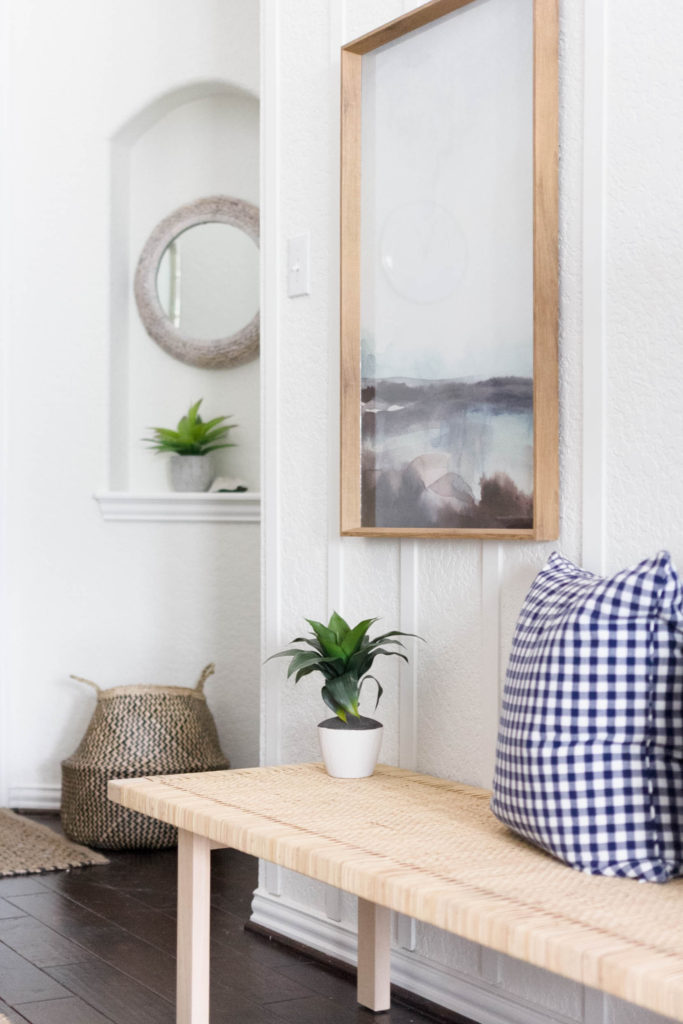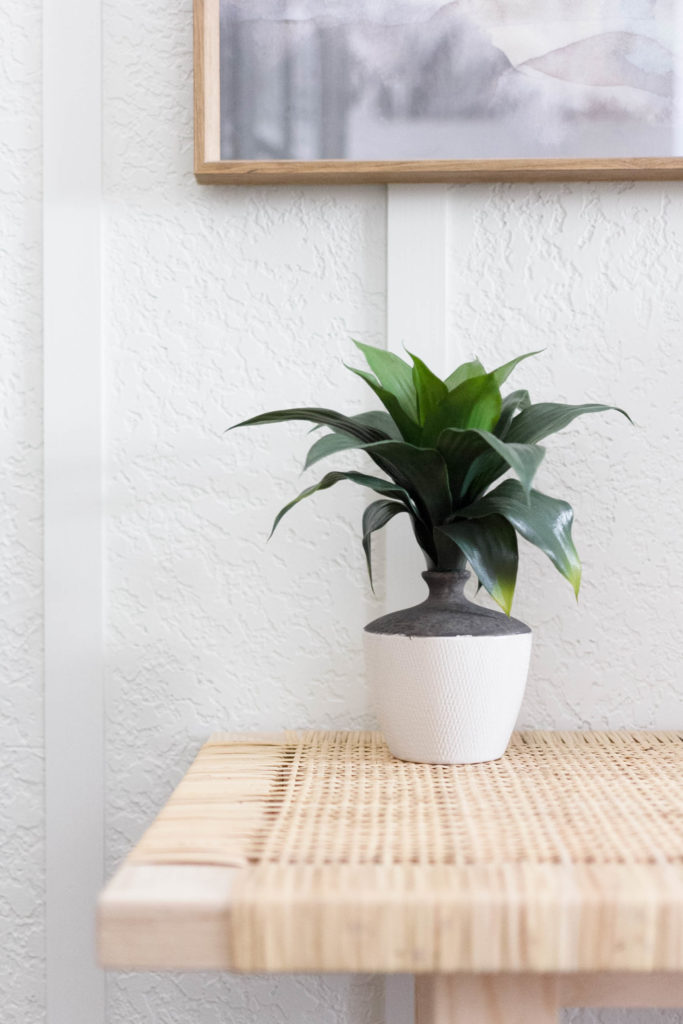 Our mudroom addition has been the biggest plus out of all the renovations/makeovers we've done to the house this year.  It's cleaned up here for pictures, but I usually have at least three purses, jackets, keys, shoes, etc in this space.  I'm so glad we decided to tear out the useless niche and replace it with this.  We get so much more use out of it!  Can you believe we made it out of prefab kitchen cabinets from Lowe's?  You can see some of the process in my Powder Room/ Mudroom Makeover post series.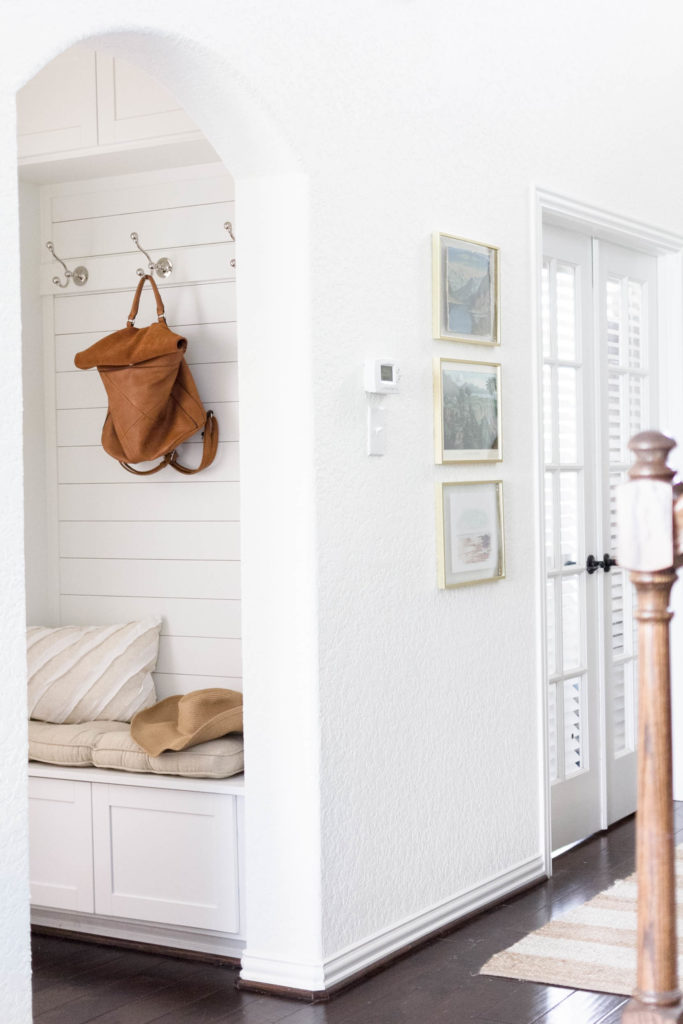 Can you tell our jute runner sheds a lot?  Haha!  I seriously just swept the entire hallway before taking this photo, so buyers beware of that one little unfortunate side effect.
Back to the makeover.  I've been on the hunt for really great vintage landscape art pieces to use around the house, and while out on a few antiquing adventures the week of my birthday I found a couple.  The third piece is just something I found online and printed out, but it's not cutting it next to these beautiful original pieces, so I'm still on the lookout for one more piece.  Wish me luck!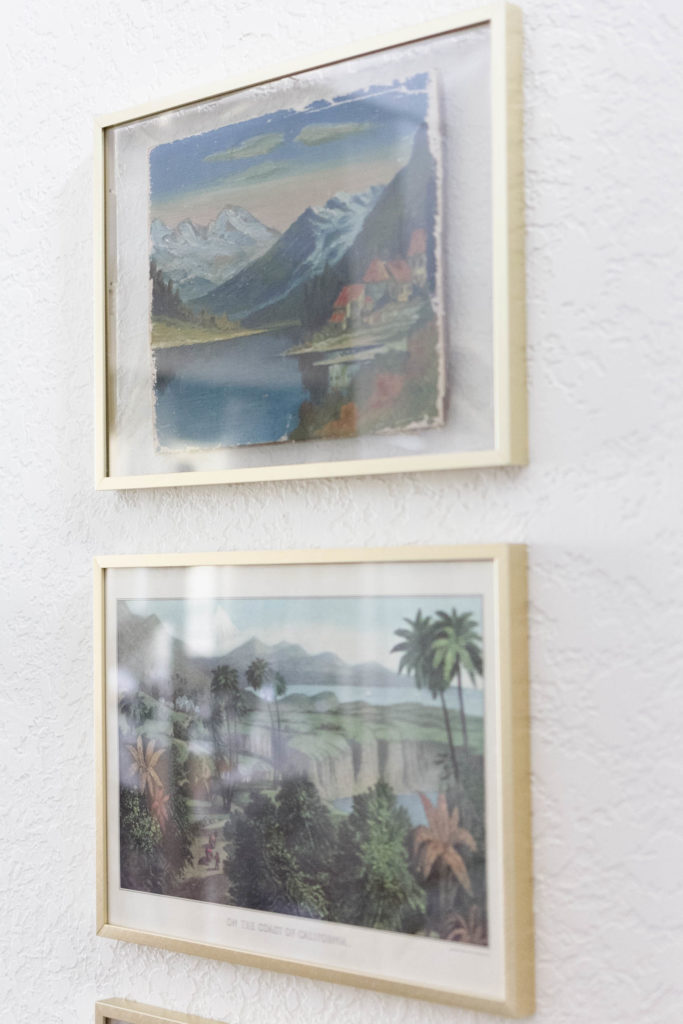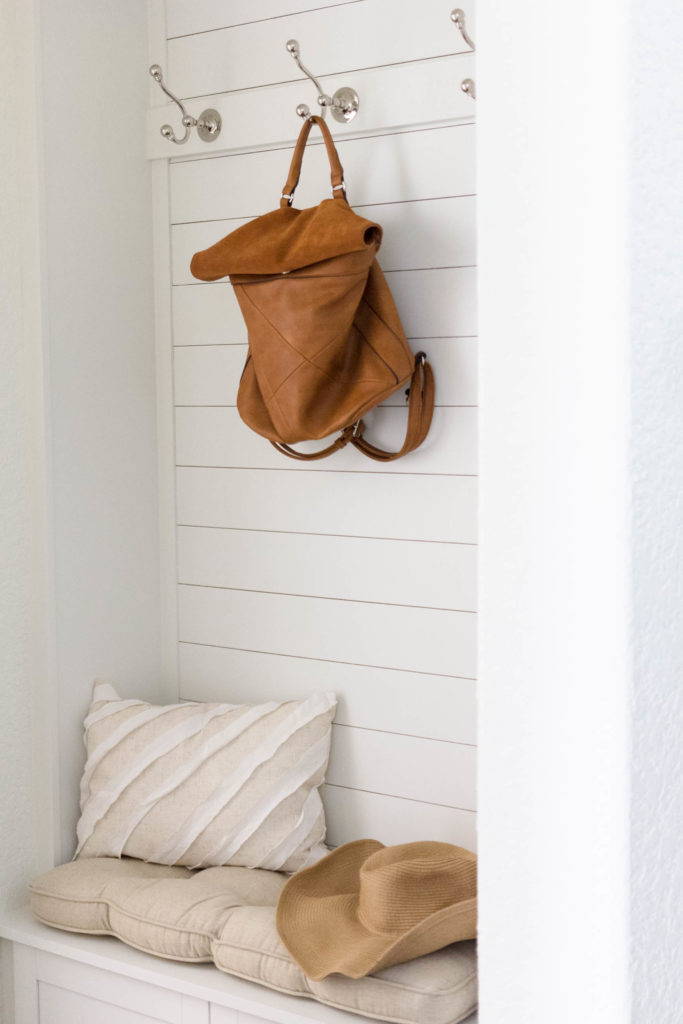 This tall tropical plant fills the negative space by the stairs perfectly, which is sort of upsetting since it was purchased for an entirely different room.  Haha, I guess we will keep an eye out for something else for that space, because this is staying right here.  Eep!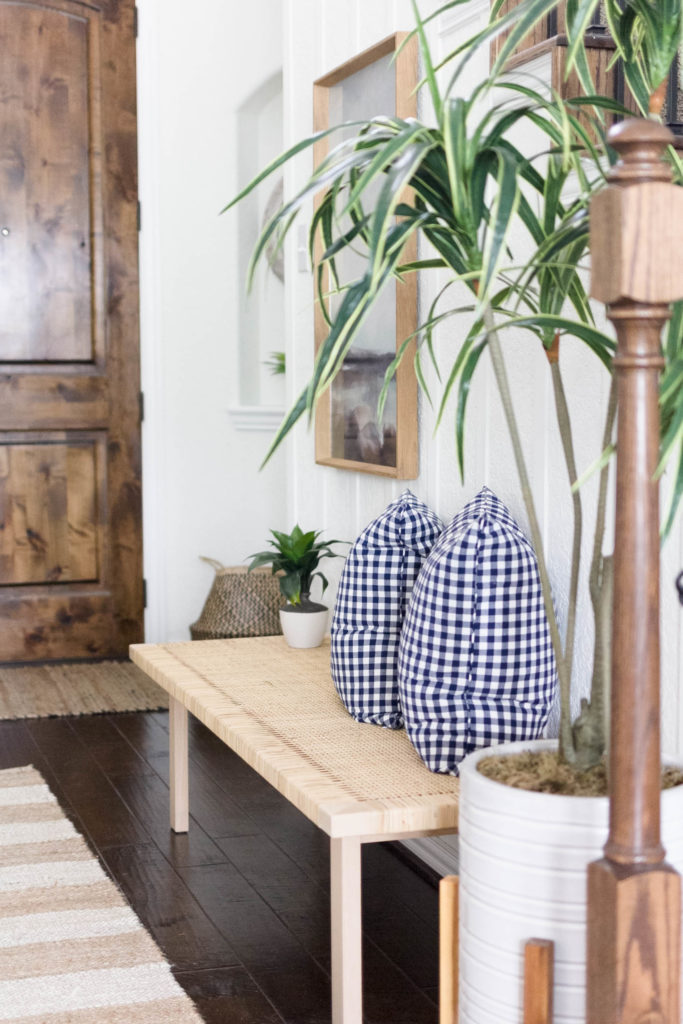 The gingham pillows give a pop of pattern and color, again in the negative space on this wall.  I love it, and I swear if I ever get around to painting the living room I'll share the summer makeover I did in there and you'll see how they all tie together.  I like to do that since the entryway flows directly into our living room.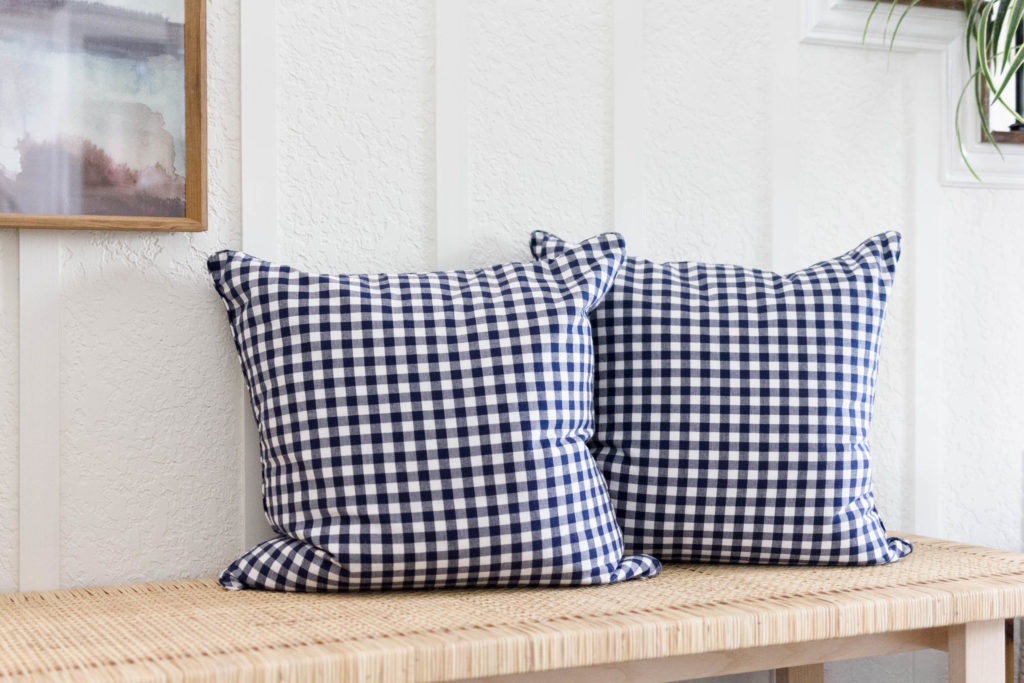 The console table got a mini-makeover too!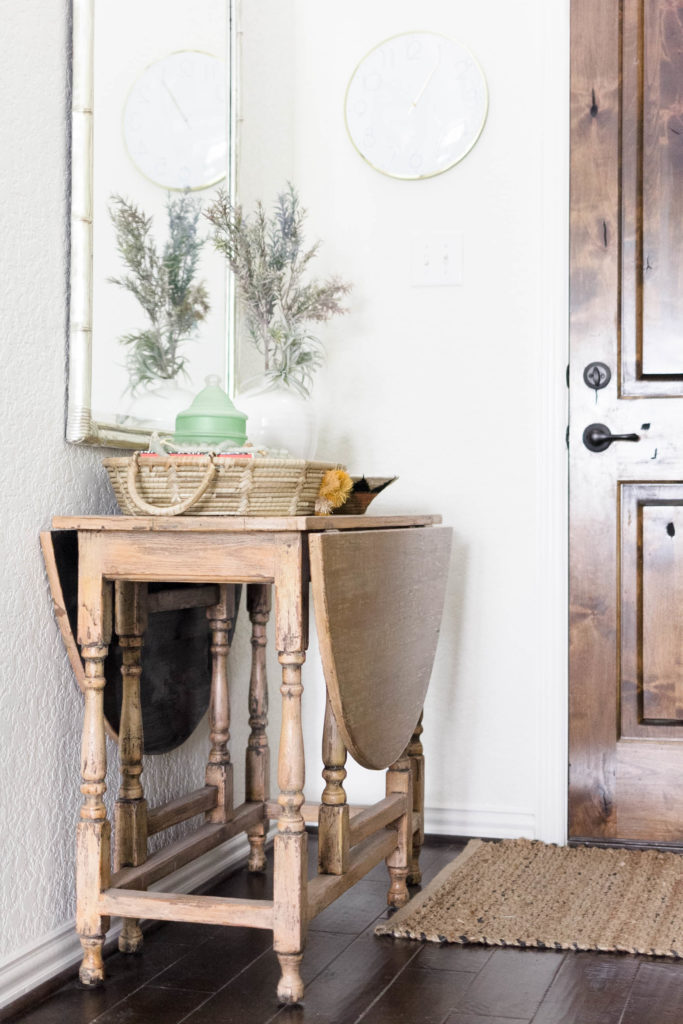 I found this basket on sale at Target about a month ago.  It's the perfect size to hold my books and a few little decor items together.  During the day I usually have a burning candle sitting in the little sea glass canister.  It's the perfect size to place most jars into.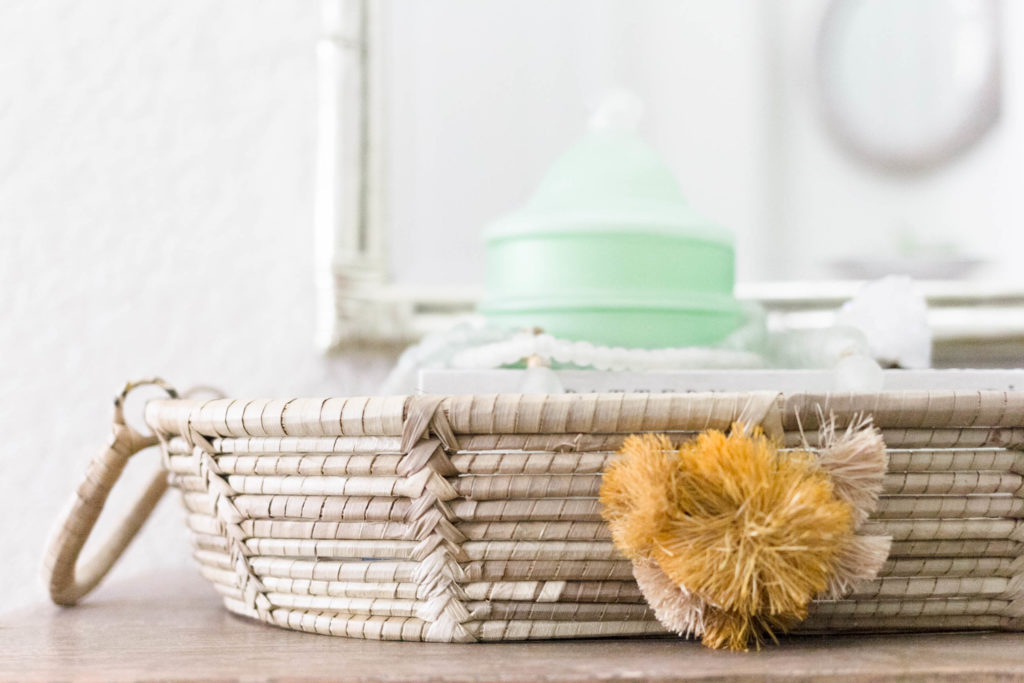 A cute tropical arrangement for my simple white vase adds a bit of color to the look.  I like how they are all muted, dusty sorts of colors.  I found these at Michael's on sale for 50% off.  I seriously can't resist buying my faux floral stems when they are on sale.  Sometimes the prices can be outrageous when they aren't!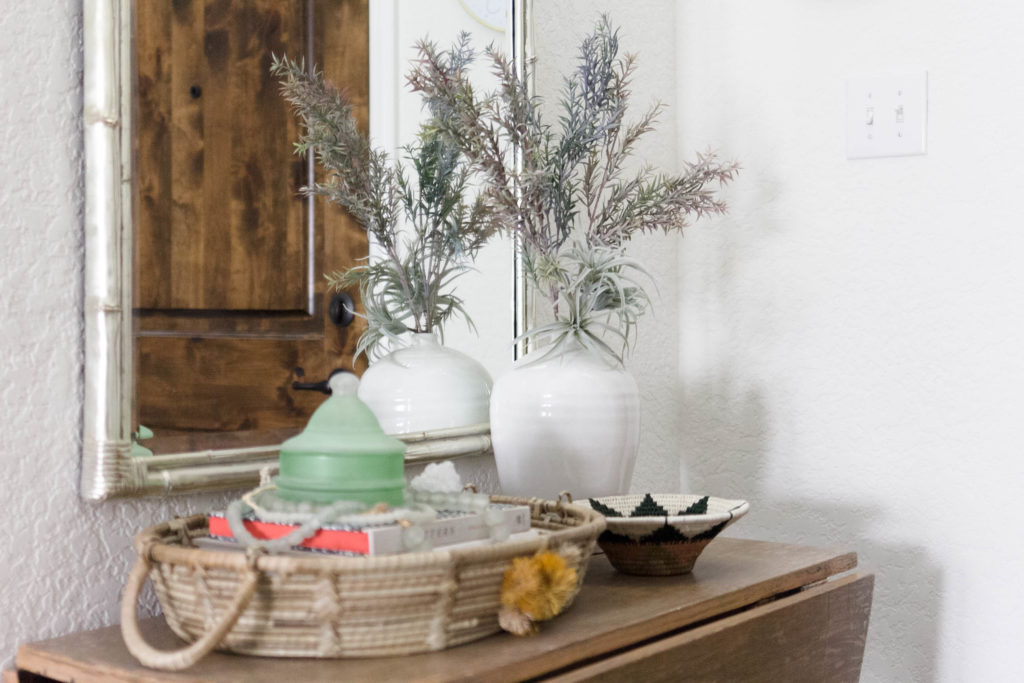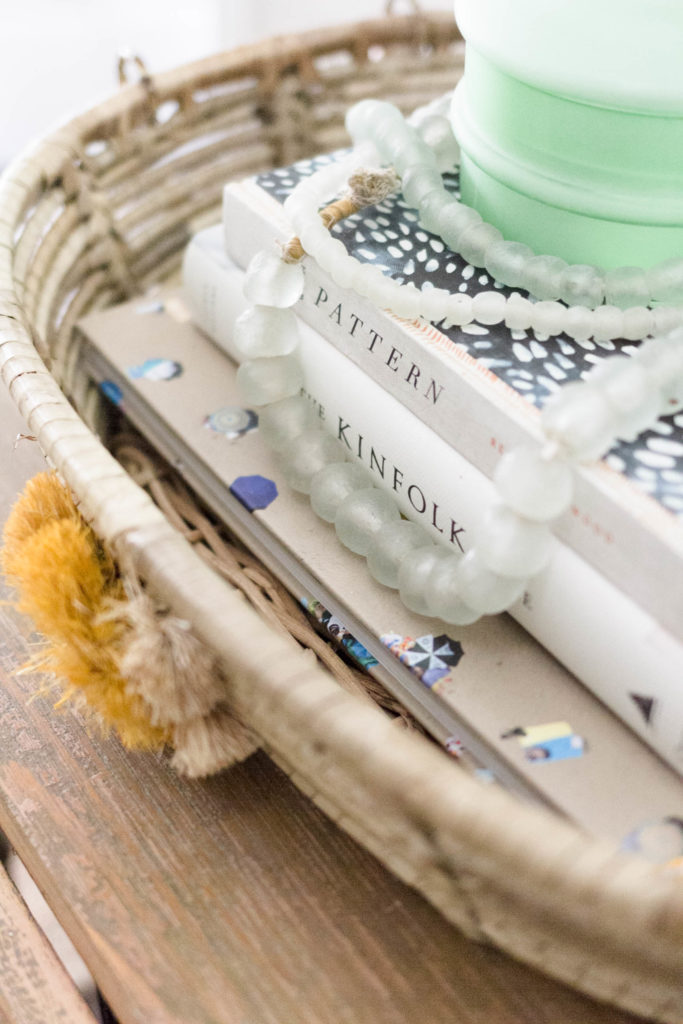 That's about it.  It's much brighter in here with the new white paint, and I feel as though the styling of the space is welcoming to guests as well as the family each time we/they enter our home.  I'm thinking it'll look pretty similar throughout fall, because the design works perfectly any season.  If anything I will switch out the arrangement, add some holiday decorations, etc., but the overall look is staying.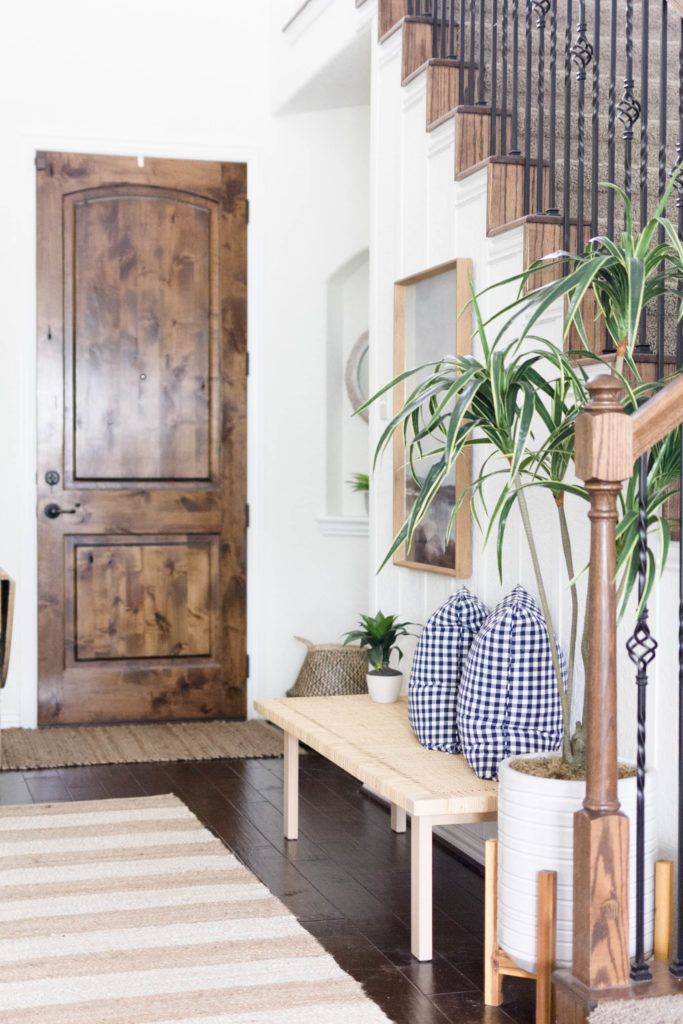 So how do you like it?  Like I said, I had been daydreaming of a space that looked entirely different, but I am so pleased that I was able to come up with something we all love around here without a huge renovation being involved.
Until next time, friends!
-Iris
Have you seen our most recent makeovers?