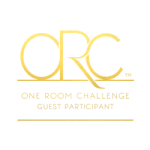 Hello again!  Guess what?  It's One Room Challenge time!  That's right, I'm going to be a "Guest Participant" in the One Room Challenge again!  I am amazed with how quickly the months have flown by since the last challenge.  Truly, I feel like I just completed the fall challenge, yesterday!  Scratch that, I feel like I completed last spring's challenge, yesterday!  It has been an amazing journey, however quickly it has all passed.  Thanks to participating in the One Room Challenge, I've had the pleasure of having both of my previous One Room Challenge spaces recognized by national outlets, such as House Beautiful, This Old House, Domino, and the Formica Group.  You can find those features here if you are interested in seeing them.  Even if that never happened though, I've enjoyed connecting with fellow One Room Challenge Guest Participants, and seeing how their spaces have turned out, as well as following along with all of the Featured One Room Challenge Designers picked by Linda of Calling it Home.  She sure does know how to pick them!  I've seen the list of designers, and I just know this is going to be a great season!  Most of all, I've enjoyed sharing the journey with you all, and hope that this go round is just as fun for all of us!
So let's get this party started shall we?  For this round, I am stepping out of my cozy comfortable, transitional coastal farmhouse ways and stepping into an exciting new world of cozy comfortable rustic mid-century modern style.  Why you ask?  Well, because my lovely husband, John, has graciously let me decorate our home to reflect my personal taste, and though I know he likes what I have done, he has much different style than I do.  In an effort to show him my gratitude, I am making over a spare room in our home for him to enjoy!  He doesn't like the term "man cave", so I'm going to call it a "men's lounge" instead.
Funny story about that whole "man cave" thing.  In every episode of House Hunters, I think we've seen them all, in which a man says he wants "his own space" my husband always turns to me and tells me he doesn't relate to the need of having his own space within the household, and I've found that to be true.  As High School Sweethearts, you'd probably think we'd both want our own space by now, but we are completely the opposite, craving time together as a family constantly.  Honestly, we both understand that some people really need that time alone to recharge though, so no judgement here, we just have our own opinions about what we need for our family to feel functional and on track.  So in essence I'm sort of pushing this space on him.
He doesn't mind necessarily though, because years ago, when we built our home, he vowed to give me the entire master closet, and chose to use the closet in this space instead.  It has worked out well for us, especially since having our first child!  Each morning my husband wakes up to get ready for work, and each morning he treks to this space to get dressed, in order to avoid waking the rest of the family.  "Trek" may be stretching it since it's only two doors down from the master.  Haha!  Anyways, I'd like for him to be able to do that in an environment that feels like his own.  I'd like for it to be a place where he can sit and watch the news for a second before he heads out the door.  A place where when he gets home, he can put his feet up for a second before eating dinner.  Sure our little one will be right there next to him, but he'll enjoy it just the same.  Overall, I'd like to create a space that shows him how much I appreciate his support over the years.  He has always been the one to encourage me to follow my dreams of this or that, and never lets them seem out of my reach.  He's a pretty wonderful guy in my book.
Okay, enough of the mushy stuff.  Let's get to the good stuff, like the plan!  As a design enthusiast I enjoy dreaming up a space in my head and then putting it to paper.  Then taking that plan and utilizing one of my favorite design tools, the mood board!  Here's how this space is playing out in my head right now.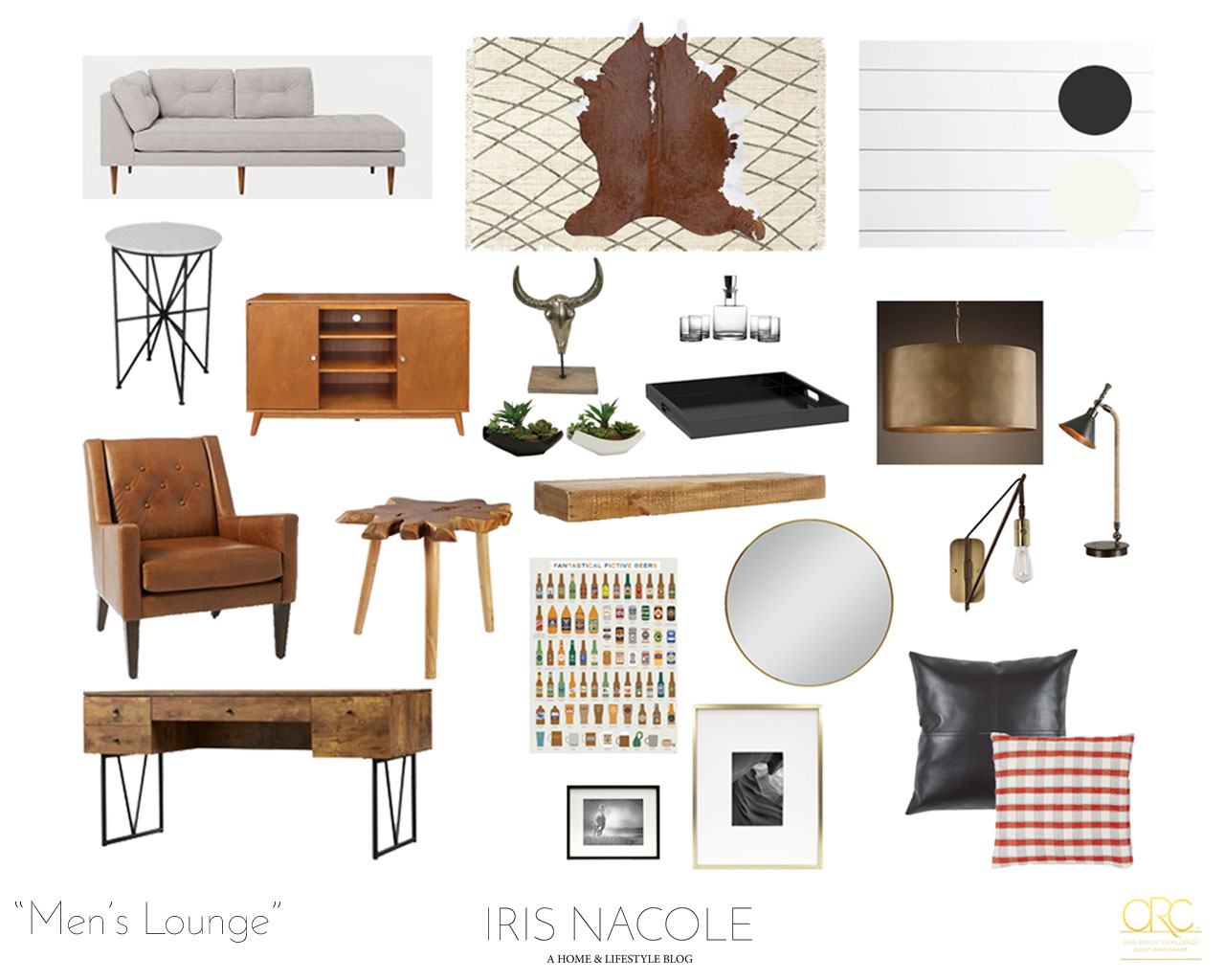 I'd say my husband is a serious guy, but he's very kind and playful too, and has a great eye for design and style, so I want the decor in this space to emulate that.  I decided to work with a few things I know he loves, like mid-century modern furniture, and longhorns.  He's a UT graduate so it comes naturally.  Instead of keeping the space strictly mid-century modern, I'm throwing in a few rustic pieces like the desk, and the cowhide rug, to represent the longhorn vibe I'm hoping to achieve.  You may see a few actual longhorns pop up in the room before it's all said and done too.  Not the real deal though, because that would be crazy, and I don't have the space either.  Haha!  So that it's not overtly serious with all the wood tones and black and brass accents, I'm splashing some color here and there too.  I found this amazing art piece at HomeGoods that isn't pictured in the mood board, but I can't wait to show it to y'all, because well, it's amazing!  Haha!  I also found this beautiful checkered and striped pillow at West Elm on our trip to the outlet mall that I fell in love with upon first sight.  By the way, have I told you how amazing the outlet mall is for decor and furniture shopping?  Seriously, get to your nearest one and see for yourself!
To be completely transparent, since I know how quickly this challenge can pass by, I've been preparing for this space for the past two weeks and have most of the items needed already. I've been lucky enough to have Lamps Plus, and Rugs USA  sponsor a few of the items needed to make this space complete, and I can't wait to go into detail about those choices in upcoming posts!  Along the way, I've consulted with my husband, and we both really enjoy the direction we are going with this space.  Even though I'm ready to shove it all into the space today, I can't because we have to replace the carpet first.  Let's just say that after two sick kitties calling that space home-base for a year, it's not in the best shape, so it's extremely necessary that we replace the carpet. I'm just keeping it real, friends.  Keeping it really real.  We have a dilemma though.  We can't find the exact information of the carpet we have in the house.  Somehow we have misplaced our items list from the building process, so now we are on the hunt for it, and/or a similar style carpet.  I don't really want to compromise though, so I'm going to be searching like a mad woman for that darn list for the rest of the week.  Wish me luck or say a little prayer for me to find that darn thing, please.
Here's the plan:
Figure out carpet type and have it replaced.
Choose a black and white paint color for the walls.
Install a shiplap accent wall.
Paint the entire room.
Make a wooden shelf and install it.
Install furniture.
Style the space.
Sit back and enjoy all of our hard work!
In the grand scheme of things it's not that much to accomplish, but again, life goes on during all of this, and something is bound to pop up that will throw us off track, so we will see!
Ready for some inspiration pictures?
Beautiful spaces, right?  I haven't decided where I'll be using the black paint just yet, or if I will at all, so that's still in the works too.  What do you think?  Let me know!
Now head on over to Calling it Home to follow along with the Featured Designers, and don't forget to subscribe, and to come back next week for an update on our progress, and more info on the items I have chosen for this space!
-Iris
You may also enjoy: