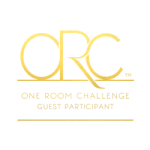 Welcome to week three of our One Room Challenge journey!  If you are just joining us, welcome to IrisNacole.com!  You can catch-up on our progress here, as well as see previous One Room Challenge makeovers from previous seasons.  I hope you enjoy what you see and continue to visit to see how this space turns out!
As a reminder, here is our mood board for the space.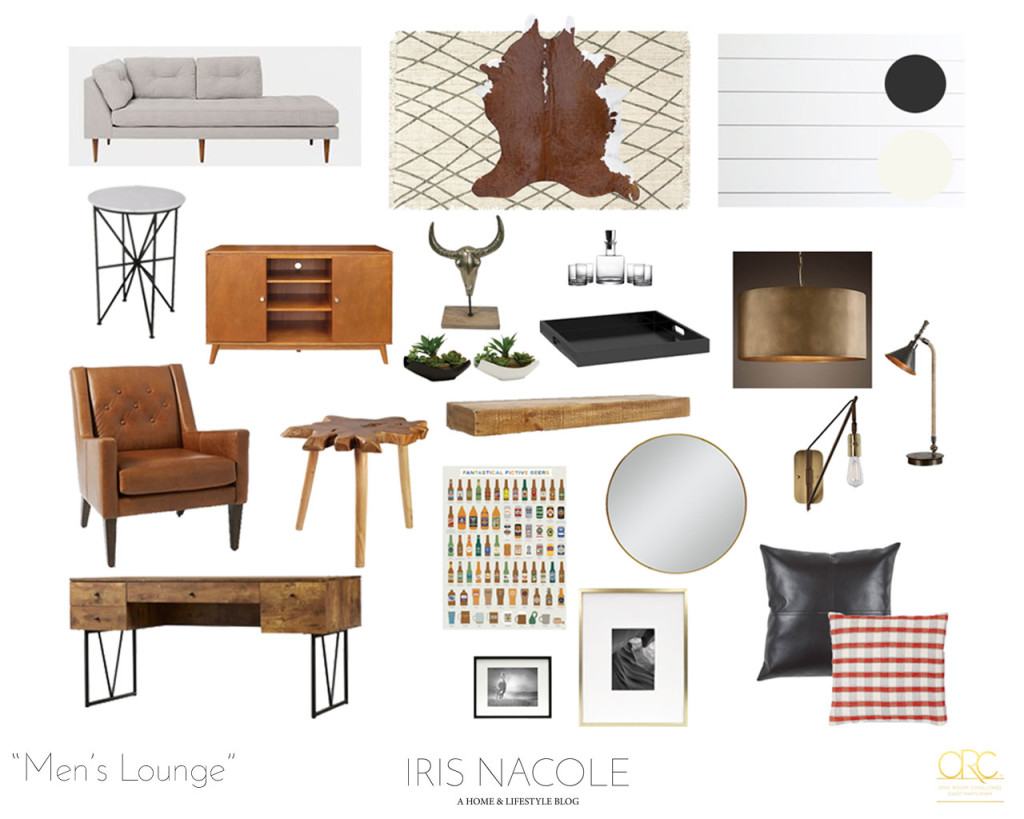 This post contains affiliate links.  All opinions are my own.  For more information, please visit my disclosure page.  Thank you for supporting my blog!
Last week I shared our flooring choice for the space, along with a few of the items we found on a shopping trip.  Well guess what friends?  I completely spaced and shared the wrong shelves with y'all.  Funnily enough, my husband nor I noticed until just a few days ago.  The ones we actually found are from Pottery Barn, and they are the Holman Shelves, in Rustic Wood.  I had originally picked up the shelves I shared last week, only to find that they didn't have the correct size, so we went with these instead.  Honest mistake, but I wanted to correct it for y'all.
So let's get y'all up to date on our progress from this past week!  I tried my hand at using a paint sprayer to paint the room in Benjamin Moore's Simply White.  Let's just say I could use a bit more practice before giving an honest opinion on how that went.  The walls are painted though, including the ceiling, so that's  a win, right?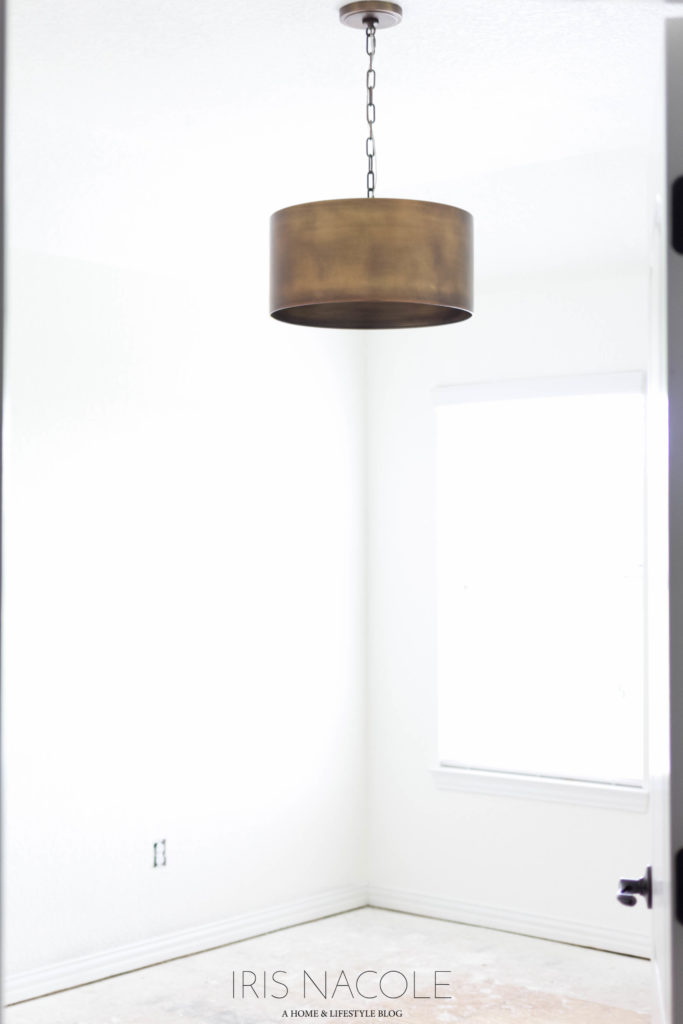 So pretty!
You can see that we also added the ceiling light fixture to the space.  It's the Restoration Hardware Antiqued Metal Drum in Vintage Brass.  If you have been following me for a while, you'll recognize this light as the light from our dining room.  Since we are updating the areas downstairs and the dining room is getting a new light fixture, we decided to move this one up here so that we wouldn't waste such a beautiful piece, and I think it's the perfect fit!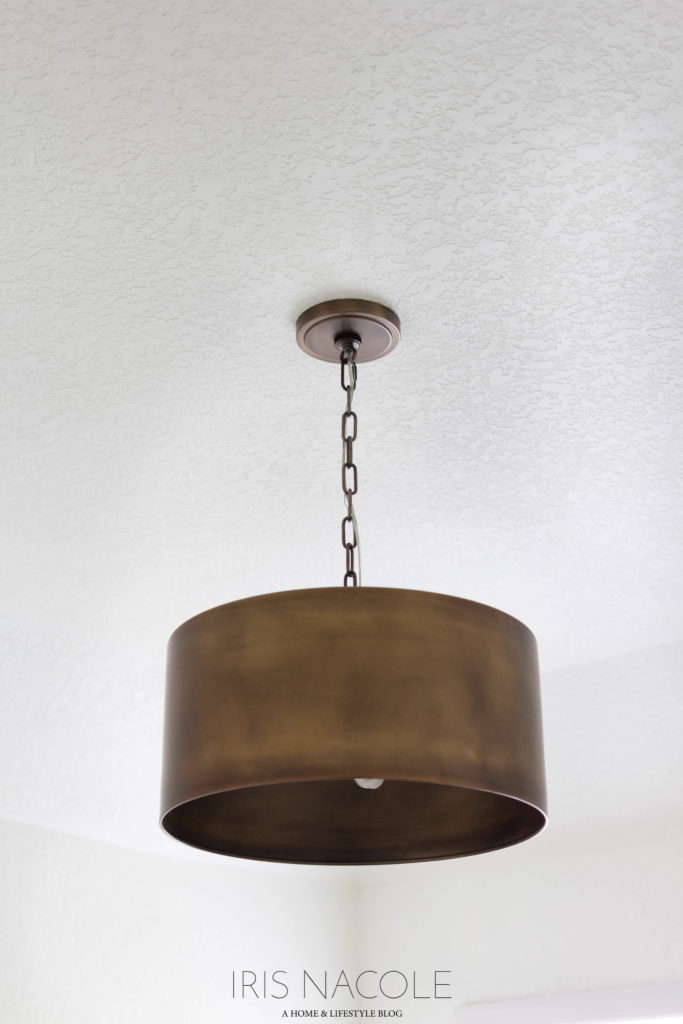 In other news, our flooring came in, but we are waiting for the transition piece to come in on the 25th, before we are able to schedule the install.  We also noticed that the smell of cat urine has dissipated after removing the carpet, and painting the room.  I think I can still smell it, but John says he thinks it's gone completely.  We are going to attempt to paint the sub floor with Kilz to see if we can eliminate the smell just in case it's being masked right now by the newly painted walls.  Hopefully that'll help us avoid the massive bill that was quoted to us in order to replace only three small sections of the sub-flooring.  They couldn't even remove a couple of the spots we were concerned about due to the structure, so we would be paying a lot for something that may/may not even work.  We'll be starting that project in a couple of days.  John has volunteered to paint the floor since I painted the room.  Plus I don't think I could stand the smell of oil based Kilz, which apparently is pretty toxic.
I'm excited to have the flooring go in though!  Just look how pretty it is with the newly painted walls!
So that's where we are at in our progress this week.  Hopefully I'll have some exciting news to share with y'all next week, like we have somehow managed to find the missing piece of flooring at a store and have been able to schedule the install.  Even better that the Kilz worked and we don't have to shell out anymore money for this space!  Haha!  Until then!
-Iris
Thank you to our sponsors, Lamps Plus, and RugsUSA!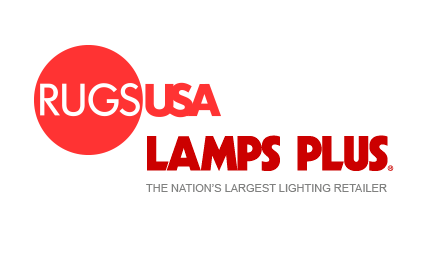 Take a look at the Featured Desinger's spaces!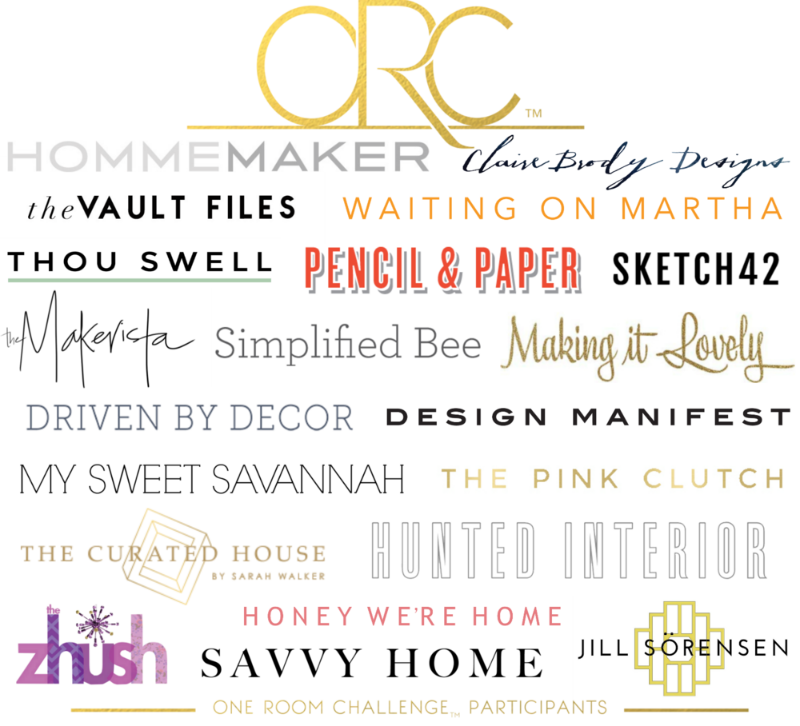 You may also like: